The Caribbean offers a variety of beautiful islands that cater to couples seeking a romantic honeymoon.
Whether you're looking for luxurious resorts with top-notch amenities or secluded beaches with stunning views, the Caribbean has it all.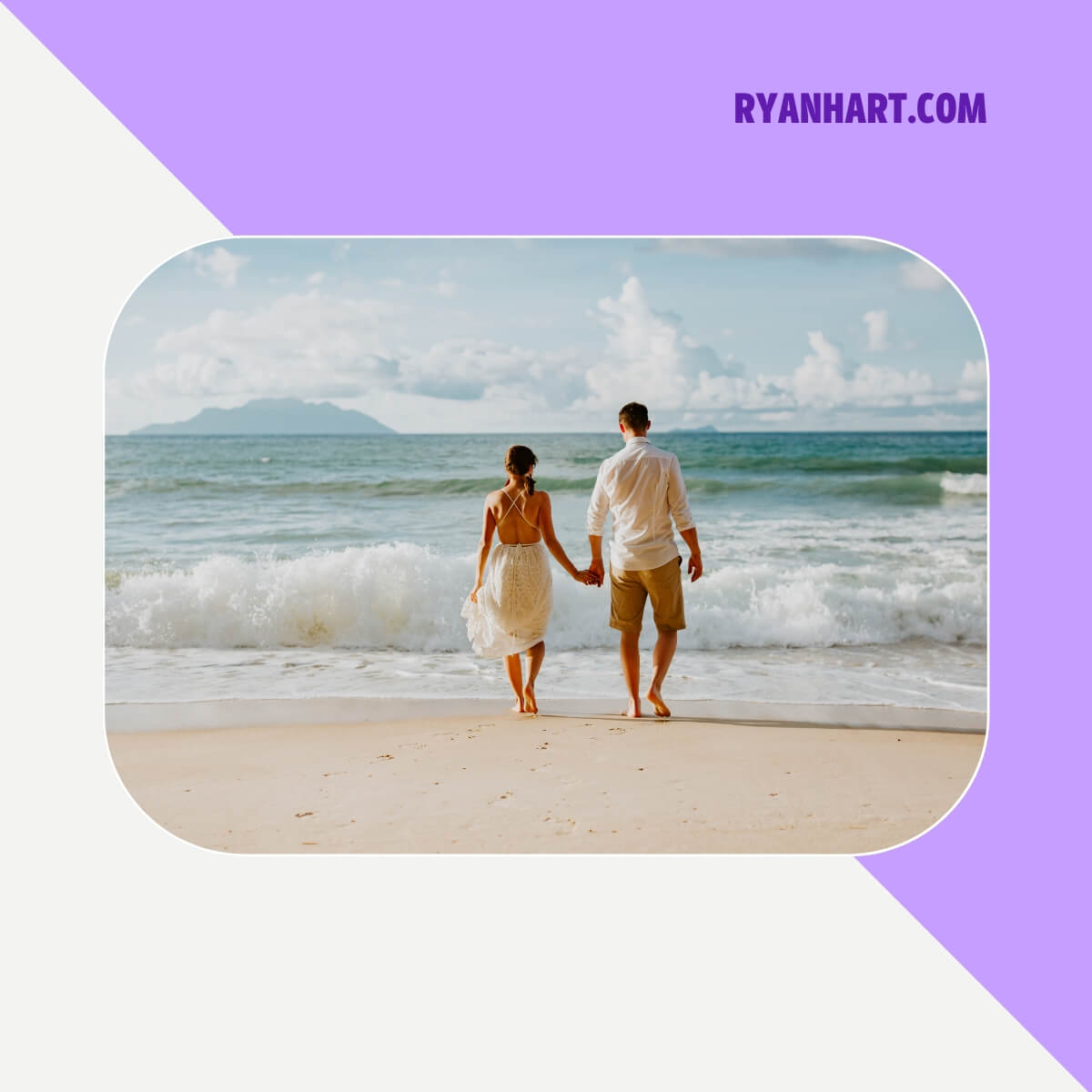 What is the best honeymoon destination in the Caribbean?
Here is a list of the top Caribbean honeymoon islands:
1. St. Lucia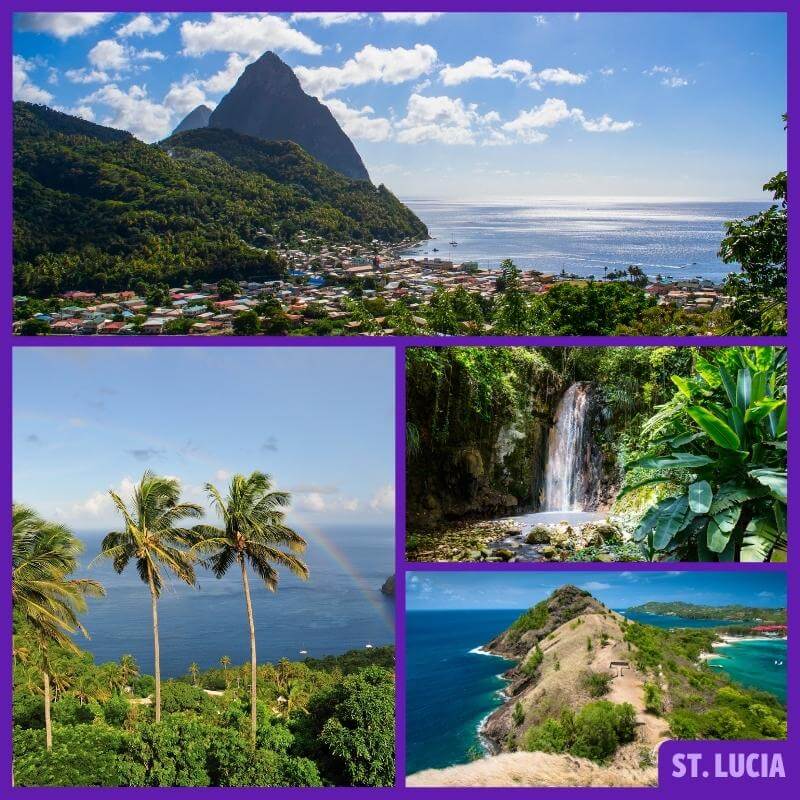 St. Lucia offers natural beauty, luxurious resorts, and endless opportunities for adventure and relaxation.
It has breathtaking beaches that cater to all preferences, ranging from secluded coves to vast stretches of sand. Many of the island's luxury resorts are on the beach, offering easy access to crystal-clear water and stunning sunsets.
If you're a fan of snorkeling or diving, St. Lucia's coral reefs are not to be missed. The island's crystal-clear waters are teeming with various marine creatures, including vibrant fish, sea turtles, and even shipwrecks.
St. Lucia is also a great destination for adventure-seekers. The island's lush forests and Piton Mountains offer excellent hiking trails, while its many rivers and waterfalls provide opportunities for swimming and even zip-lining.
And if you're looking for a truly unique experience, why not try a sunset cruise or a candlelit dinner on the beach?
If you're interested in exploring St. Lucia's culture, visit the town of Soufrière. This charming town has many historic buildings and landmarks, including the Pitons and the Diamond Botanical Gardens. And if you're a fan of rum, be sure to visit one of the island's many distilleries for a taste of St. Lucia's famous spirit.
St. Lucia is the perfect Caribbean island for a romantic and adventurous honeymoon.
2- Jamaica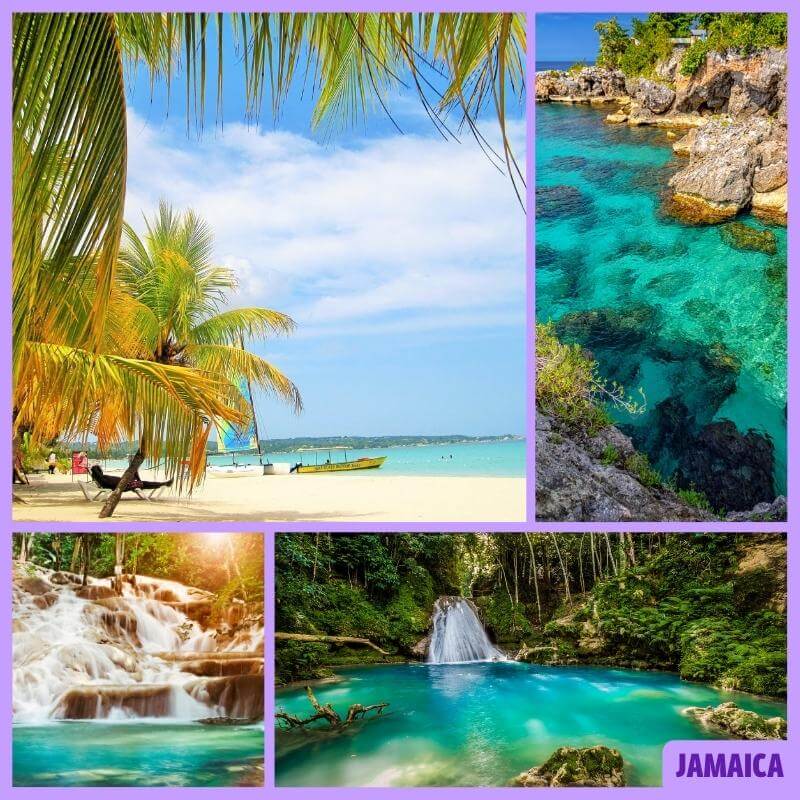 Jamaica is a honeymoon destination that offers natural beauty, white sand beaches, clear and warm waters, and tons of activities. The island is known for its reggae music, spicy jerk cuisine, and laid-back culture.
Jamaica has some of the best beaches in the Caribbean, including Negril's Seven Mile Beach, Doctor's Cave Beach in Montego Bay, and Frenchman's Cove in Port Antonio. These beaches offer crystal-clear water and soft sand, perfect for sunbathing, swimming, and snorkeling.
Jamaica is also home to some of the best coral reefs in the Caribbean, making it a great destination for scuba diving and snorkeling.
If you're feeling adventurous, you can go hiking in the Blue Mountains National Park, horseback riding on the beach, or surfing on the North Coast. It also has some of the best golf courses in the Caribbean, including the White Witch Golf Course in Montego Bay and the Cinnamon Hill Golf Course in Ocho Rios.
The island is known for its nightlife, with plenty of bars and clubs in Montego Bay and Ocho Rios. Enjoy a romantic candlelit dinner at one of the island's fine dining restaurants, or take a sunset cruise along the coast.
Jamaica is a great choice for a Caribbean honeymoon, offering natural beauty, adventure, relaxation, and romance.
3- Aruba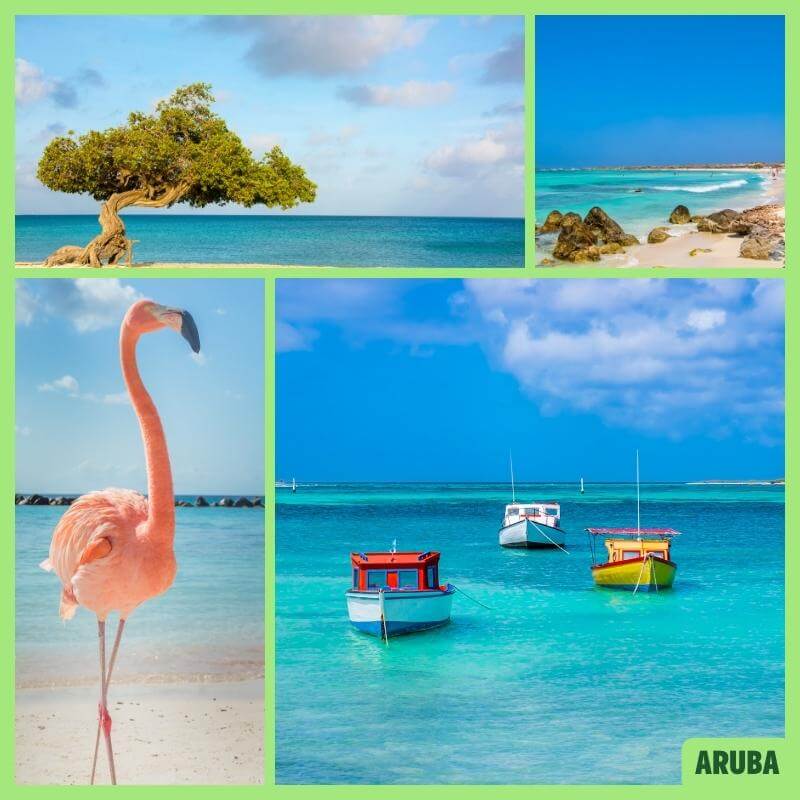 Aruba offers everything you could want for a romantic getaway, from luxurious resorts to pristine white sand beaches.
Aruba is known for its all-inclusive resorts, which offer honeymoon packages, including everything from candlelit dinners to private plunge pools.
One of the most popular activities in Aruba is exploring the island's coral reefs. Whether you're an experienced diver or a beginner, there are plenty of opportunities to see the amazing underwater world of Aruba.
If you prefer to stay on land, there are also plenty of golf courses and shopping opportunities to keep you busy.
At night, Aruba comes alive with a vibrant nightlife scene. Whether you want to dance the night away or enjoy a quiet drink with your loved one, there is something for everyone.
With its beautiful beaches, crystal-clear waters, and luxurious resorts, it's no wonder that Aruba is one of the top honeymoon destinations in the Caribbean.
4- Turks and Caicos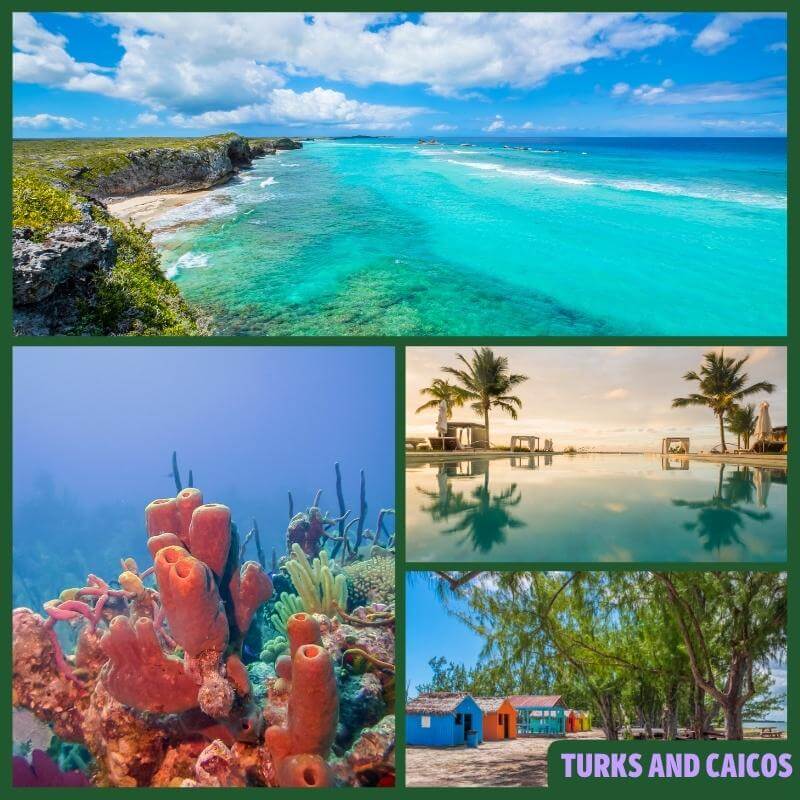 Turks and Caicos is the perfect choice if you're looking for a honeymoon destination offering pristine beaches, turquoise waters, and a relaxed atmosphere.
This British Overseas Territory comprises 40 islands and cays, with Providenciales being the most popular among tourists.
One of the main attractions in Turks and Caicos is its beaches. Grace Bay Beach, located on Providenciales, is often ranked as one of the best beaches in the world. The island also offers a variety of water sports, such as snorkeling, scuba diving, and paddleboarding.
Turks and Caicos is known for its fresh seafood and international cuisine. The island's restaurants offer a range of options, from casual beachside dining to fine dining experiences.
Overall, Turks and Caicos is the perfect honeymoon destination for couples who want to relax and enjoy each other's company in a beautiful tropical setting.
5- Antigua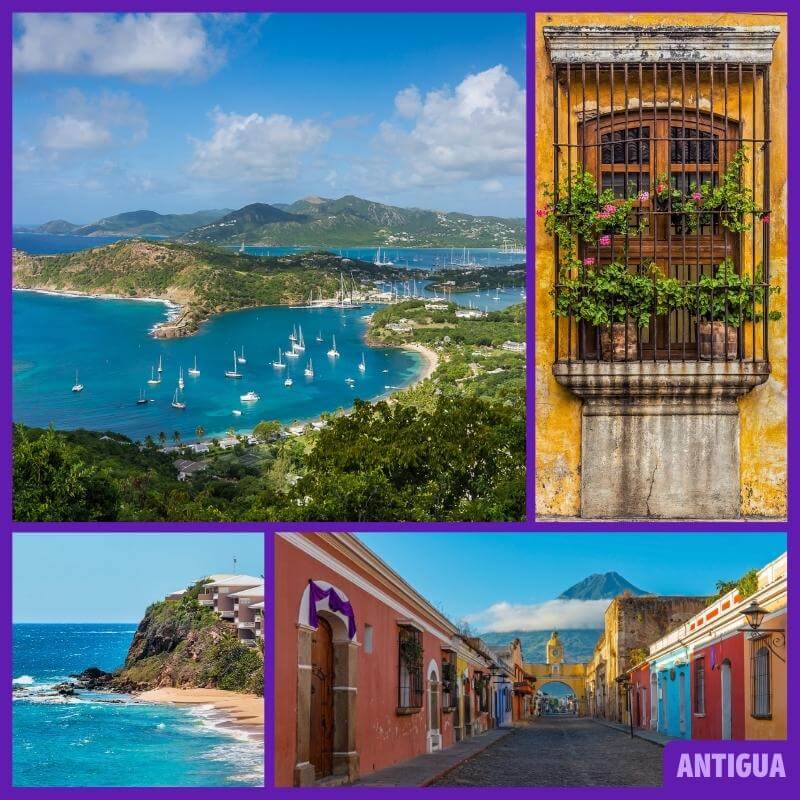 Antigua is also known for its beautiful beaches, including Half Moon Bay and Dickenson Bay. These beaches offer plenty of options, whether for swimming, sunbathing, or even water sports.
If you're looking for something more adventurous, consider taking a helicopter tour of the island or a snorkeling excursion.
One of the most popular resorts in Antigua is Sandals Grande Antigua. This adult-only resort has been voted the "World's Most Romantic Hotel" year after year and is situated on Antigua's finest and most popular reef, Dickenson Bay. The resort offers a variety of accommodations, including beachfront suites and private villas with pools.
If you want a more secluded and intimate experience, consider staying at the Carlisle Bay Resort. This 82-suite retreat is situated on a secluded bay and offers stunning views of the Caribbean Sea. The resort features a variety of amenities, including a spa, fitness center, and multiple restaurants.
6- The Bahamas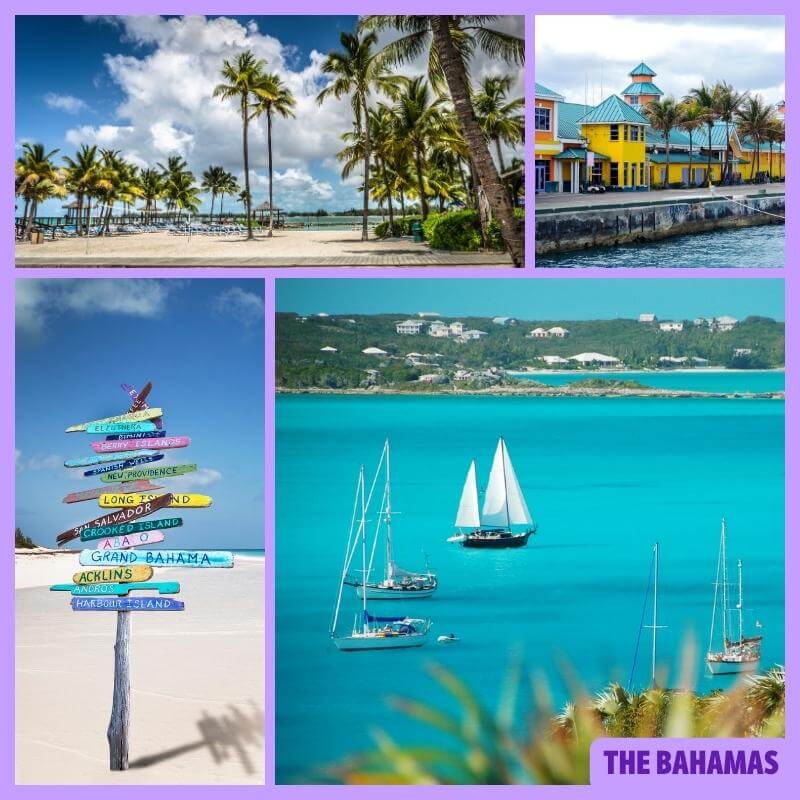 With over 700 islands in the Bahamas, you'll have plenty of options to find some privacy on your honeymoon.
Nassau, the capital city, is one of the most popular destinations in the Bahamas. You'll find a mix of colonial architecture, vibrant nightlife, and world-class resorts here.
The Sandals Royal Bahamian is a top choice for honeymooners, offering all-inclusive packages with butler service and VIP airport transfers.
If you're looking for a more secluded and intimate experience, consider the Exumas. This chain of islands is home to some of the most pristine beaches in the world, including the famous Pig Beach, where you can swim with friendly pigs.
The Grand Isle Resort and Spa is a luxurious option, with spacious villas and a private beach. For a more adventurous honeymoon, head to the Out Islands, which offer a more laid-back and authentic Bahamian experience. You can go island hopping, snorkeling, fishing, or simply relax on the beach.
The Abacos, Andros, and Eleuthera are all great options, each with its unique attractions and activities. No matter where you choose to go in the Bahamas, you'll be surrounded by natural beauty, warm hospitality, and endless opportunities for romance and adventure.
7- Barbados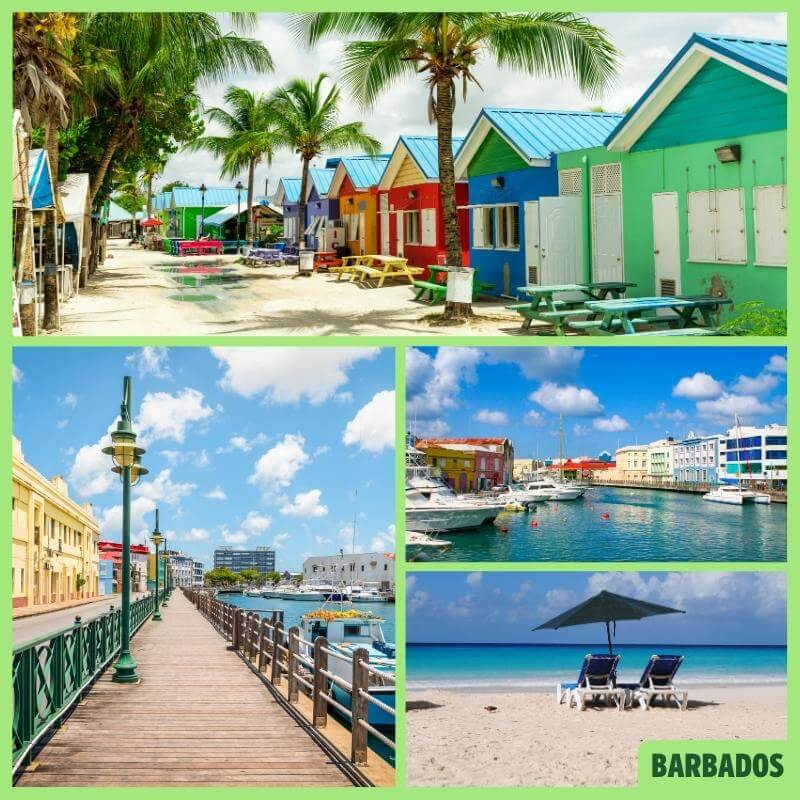 Barbados has plenty of all-inclusive resorts that cater specifically to honeymooners. Sandals Resorts, for example, has two all-inclusive resorts on the island, offering luxurious suites and amenities perfect for any romantic getaway.
Barbados is home to some of the most beautiful beaches in the Caribbean. You'll find it here whether you're looking for a secluded spot to relax with your partner or a lively beach with plenty of fun activities.
Some of the best beaches in Barbados include Crane Beach, Bottom Bay, and Accra Beach.
Barbados has a rich history and culture worth exploring during your honeymoon. Visit the historic Bridgetown and its Garrison to learn about the island's colonial past. You can also visit the Barbados Museum & Historical Society to learn about the island's culture and heritage.
Barbados is known for its delicious cuisine, a fusion of African, Indian, and British influences. Make sure you try some of the island's specialties during your honeymoon, such as flying fish and cou-cou, macaroni pie, and pepperpot.
Barbados has a vibrant nightlife scene, with plenty of clubs and restaurants to choose from. Head to St. Lawrence Gap, the island's main nightlife hub, to experience the best of Barbados' nightlife.
8- Anguilla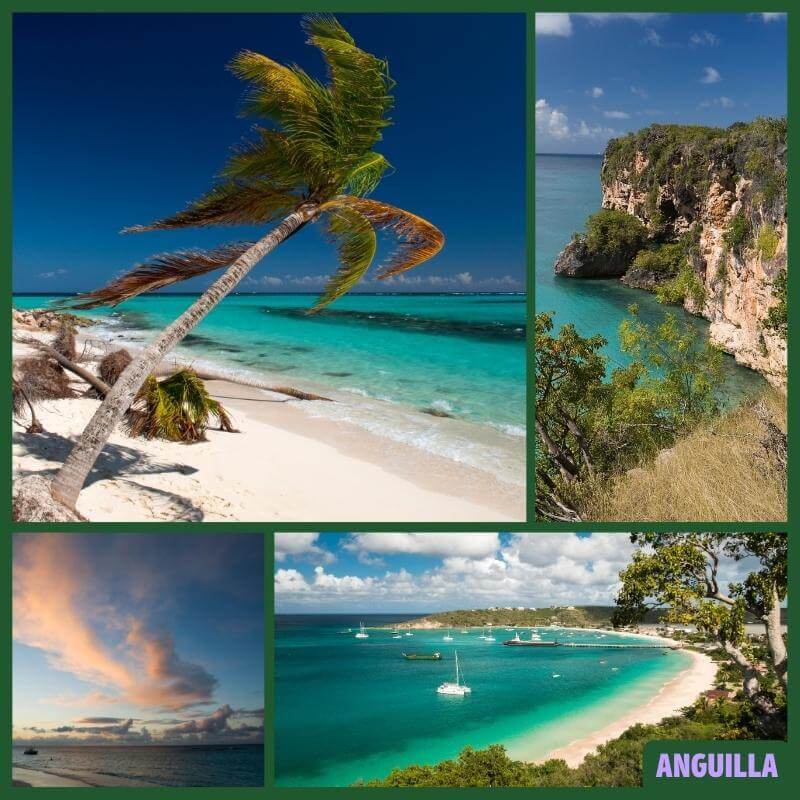 If you're looking for a secluded and intimate honeymoon destination, Anguilla is the perfect choice. This British overseas territory is a small island in the northeastern Caribbean, known for its pristine beaches and luxury resorts.
Anguilla has a relaxed and easy-going atmosphere that makes it an ideal destination for couples seeking a peaceful and romantic getaway. The island is home to some of the best honeymoon resorts in the Caribbean, providing couples an unforgettable experience.
To get to Anguilla, you must book a connecting flight through St. Maarten or San Juan, Puerto Rico. The island is most accessible for East Coast or Southern U.S. travelers.
There are plenty of activities to enjoy, such as snorkeling, diving, and sailing. You can also explore the island's rich history by visiting Wallblake House, a restored plantation house from the 18th century.
Anguilla is also known for its exceptional dining scene, with many restaurants offering fresh seafood and local cuisine. Some of the top dining spots include Blanchards Beach Shack, Jacala, and Veya.
9- Grenada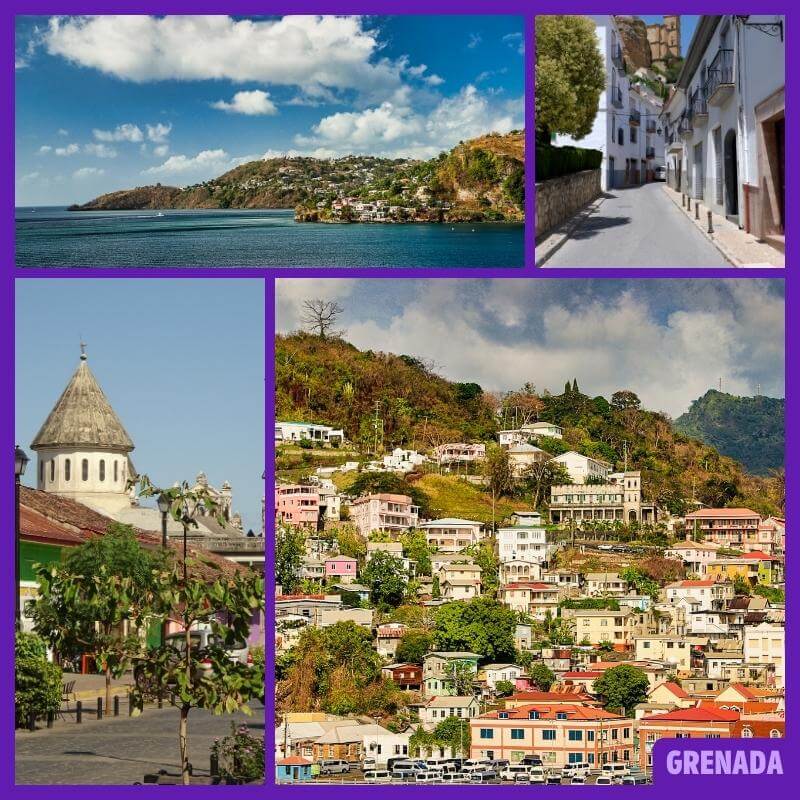 Grenada is a hidden gem in the Caribbean that is perfect for honeymooners looking for a romantic and
secluded getaway. This island nation is known as the "Spice Island" because it produces nutmeg, cinnamon, and other spices.
The island is also home to beautiful beaches, lush rainforests, and stunning waterfalls. When it comes to accommodations, Grenada has a variety of options for honeymooners. There are several all-inclusive resorts that offer packages specifically designed for couples.
The island is home to several hiking trails that lead to waterfalls and other natural wonders. You can also explore the island's underwater world by scuba diving or snorkeling.
One of the highlights of Grenada is its food. The island's cuisine is a fusion of African, Caribbean, and European influences. Some of the must-try dishes include oil down (a hearty stew made with breadfruit, salted meat, and vegetables), callaloo soup (a creamy soup made with leafy greens), and roti (a wrap filled with curried meat or vegetables).
Grenada is a perfect destination for honeymooners who want a mix of relaxation, adventure, and culture.
10- St. Vincent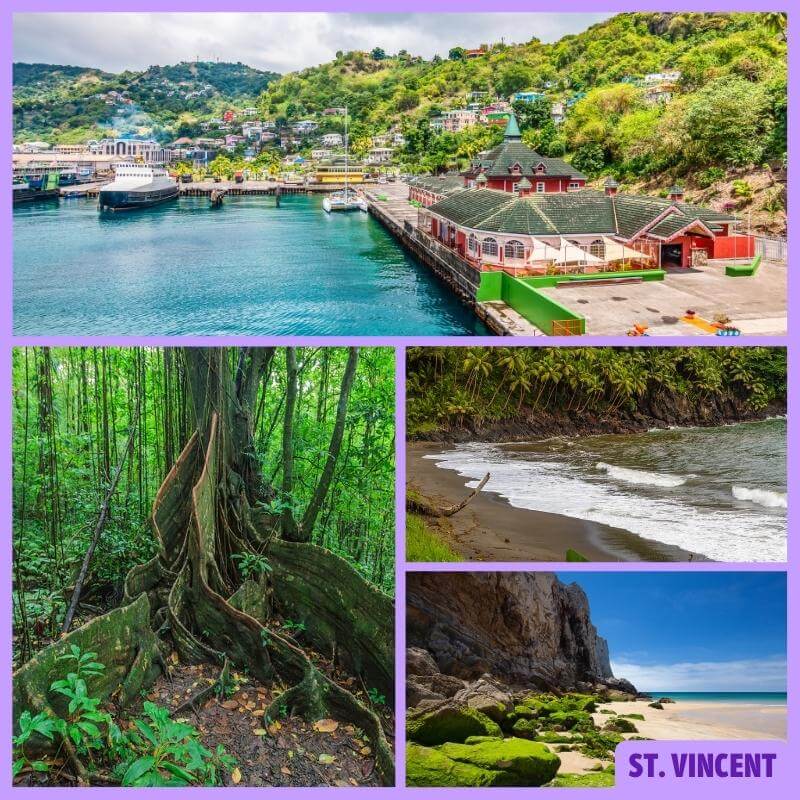 If you're looking for a honeymoon destination that offers adventure and relaxation, St. Vincent and the Grenadines may be just what you need.
One of the best things about St. Vincent is that it's not as crowded as some other Caribbean islands, so you can enjoy a more private and intimate experience with your partner.
There are so many secluded beaches where you enjoy and soak up the sun or participate in some of the island's many outdoor activities, such as hiking, snorkeling, or kayaking.
For a truly unforgettable experience, consider taking a yacht charter around the island chain. This will allow you to see some of the more remote areas of St. Vincent, the Grenadines, and some other islands.
You can also take a guided tour of the island's many waterfalls or visit some of the local markets to sample some of the island's delicious cuisine.
Some of the top honeymoon resorts on the island include the Blue Lagoon Hotel and Marina, the Buccament Bay Resort, and the Petit St. Vincent Resort.
With its stunning natural beauty, welcoming locals, and wide range of activities and accommodations, it's no wonder why couples choose to spend their first days as newlyweds on this beautiful Caribbean island.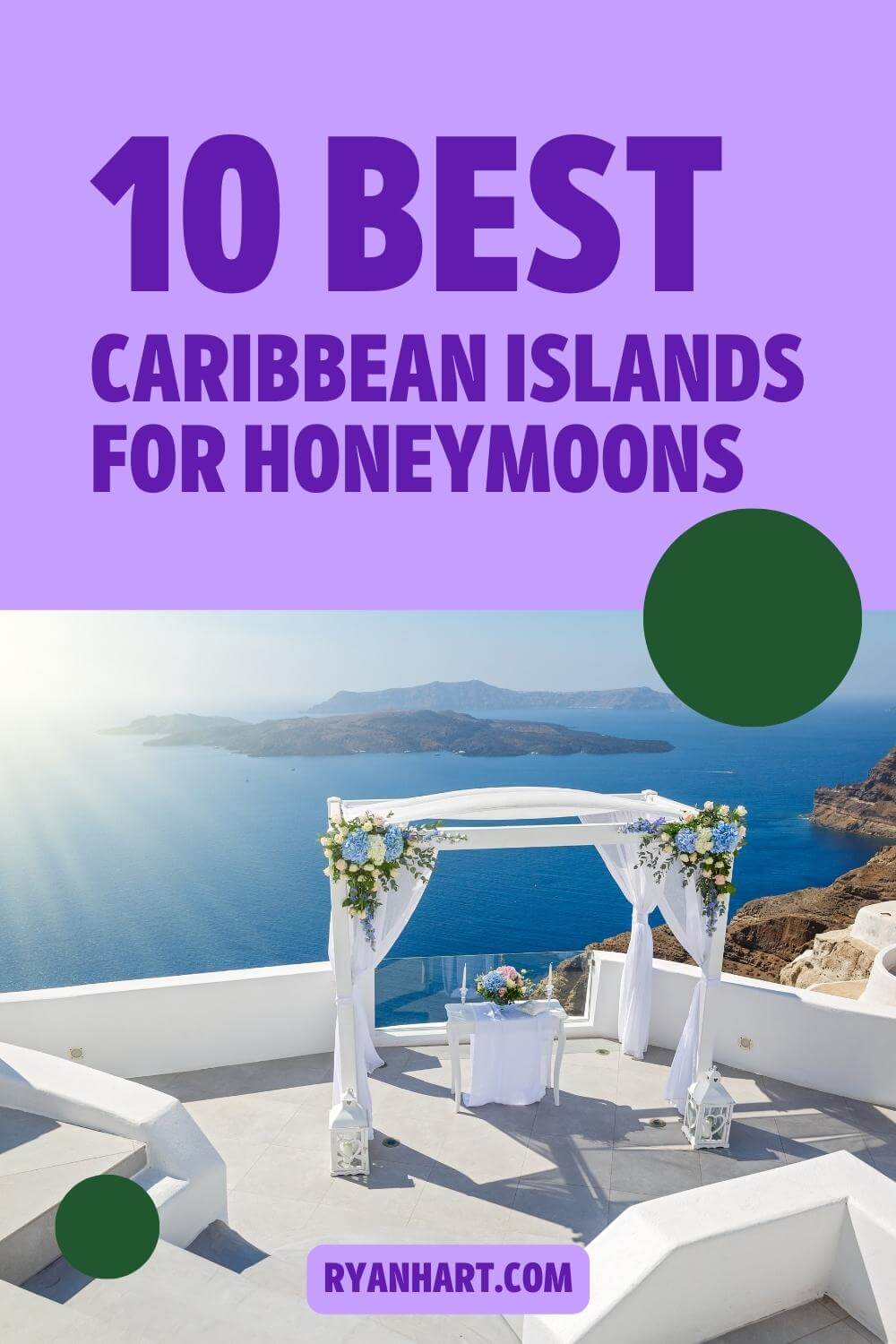 Frequently Asked Questions
What is the most popular Caribbean honeymoon destination?
St. Lucia is considered the most popular Caribbean honeymoon destination. They have a variety of activities for couples, including hiking, snorkeling, and exploring the island's natural beauty. The island also has many luxury resorts and all-inclusive packages available for honeymooners.
What are some adults-only, all-inclusive Caribbean honeymoon options?
Adults-only all-inclusive resorts can be a great option for couples looking for a more intimate and romantic experience. Sandals Resorts, Secrets Resorts, and Excellence Resorts are just a few options available. These resorts typically offer more privacy and luxury amenities, such as private plunge pools and couples massages.
Where is the cheapest place to honeymoon in the Caribbean?
If you want to save money on your honeymoon, consider the Dominican Republic. This island offers many affordable all-inclusive resorts and has a variety of activities available, such as exploring national parks and relaxing on the beach. Other affordable options include Jamaica and Puerto Rico.
Which Caribbean island is known as the honeymoon island?
Aruba is often referred to as the "honeymoon island" due to its romantic atmosphere and beautiful beaches. The island offers many luxury resorts and activities for couples, such as sunset cruises and snorkeling. It's also a popular destination for weddings and vows renewals.