With its crystal-clear waters, pristine beaches, and luxurious resorts, Antigua is the perfect destination for a romantic retreat.
But with so many resorts and hotels to choose from, how do you know which one is right for you?
Don't worry, I've got you covered.
In this article, we'll be taking a look at the best resorts for couples in Antigua. From intimate boutique hotels to sprawling all-inclusive resorts, there's something for every kind of couple on this list.
So grab your significant other, pack your bags, and get ready for a romantic Caribbean adventure!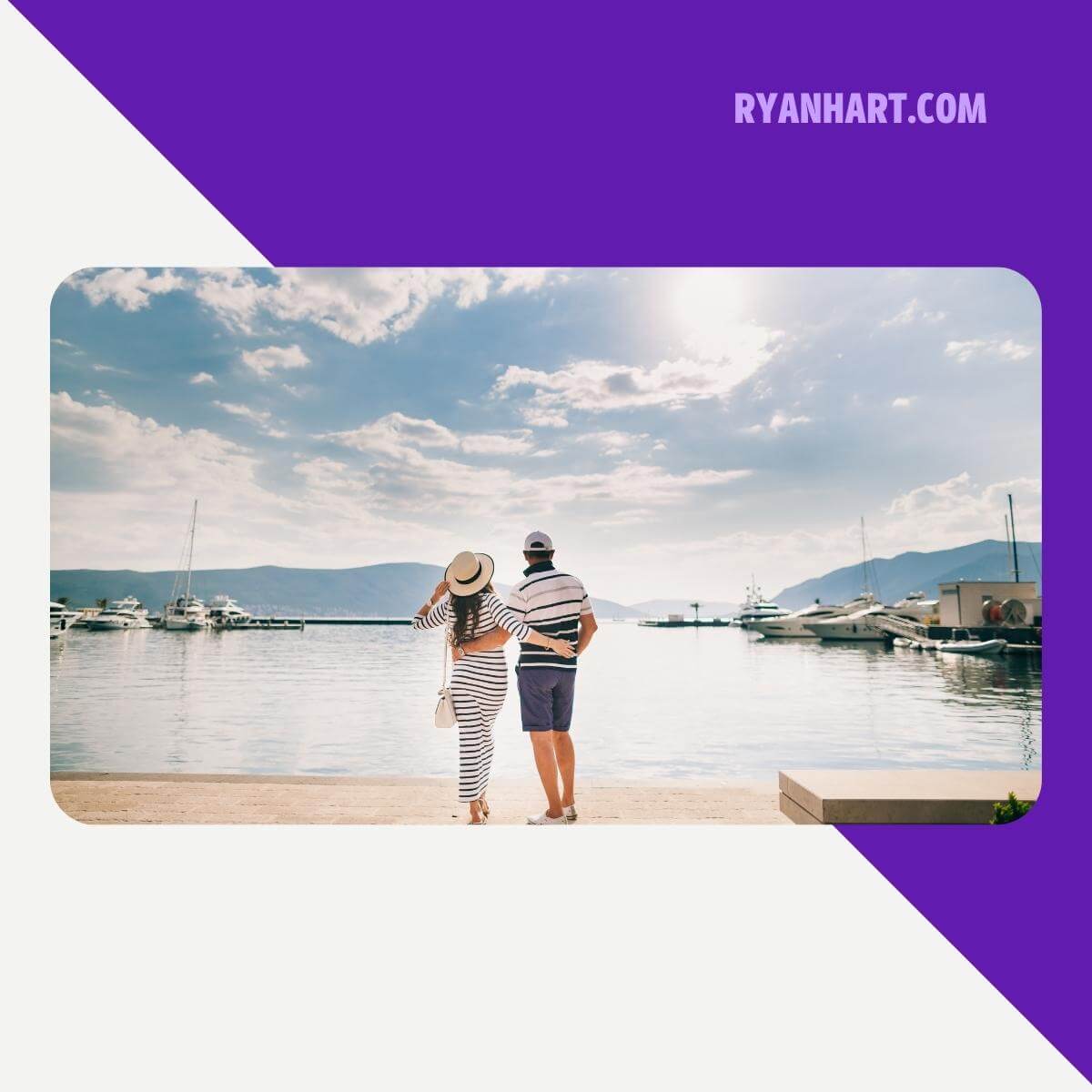 What is the best resort in Antigua?
The best Antigua resorts for romantic getaways include these island favorites: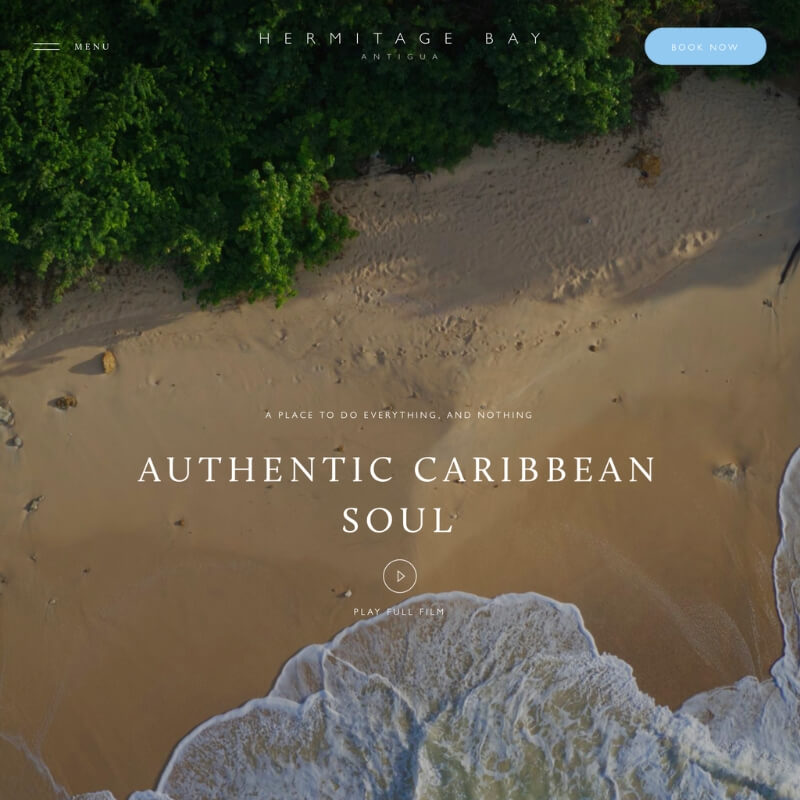 Hermitage Bay Resort offers the authentic feel and soul of the Caribbean and its many cultures, nestled on a hillside above the tranquil and aquamarine waters of Hermitage Bay, Antigua. This five-star, award-winning resort is among the most luxurious of Antigua resorts.
The Hermitage Bay Resort opened in 2003 and was constructed using sustainable practices. The resort offers garden, hillside, and beachfront options for couples who wish to relax and renew themselves and their relationship.
And when the couples are ready to feed their souls, the Antiguan-based fresh cuisine can be served under the romantic Caribbean moonlight.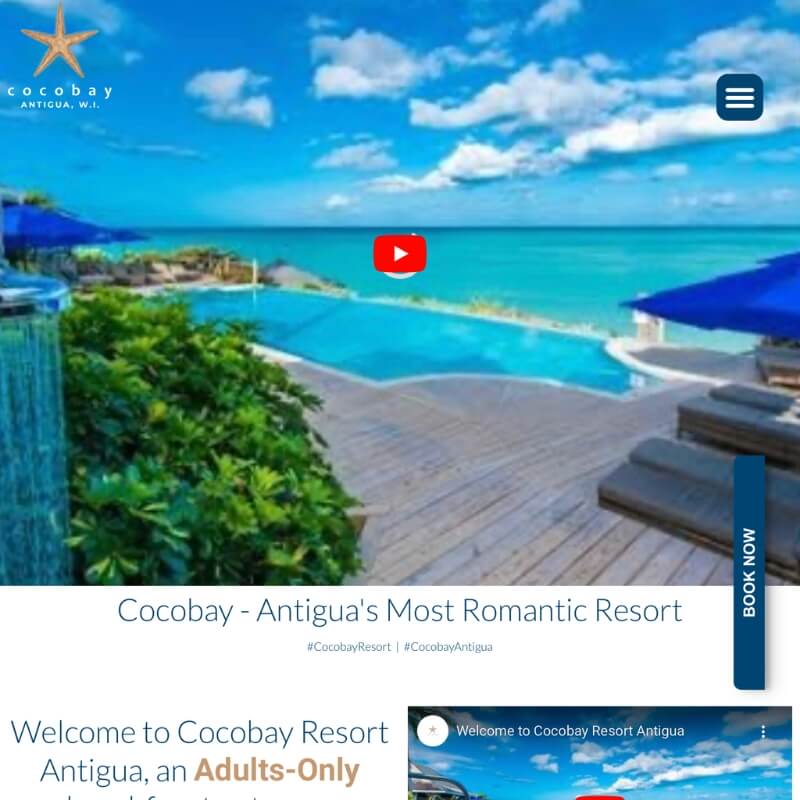 Cocobay Resort is billed as one of the most romantic Antigua resorts. Cocobay promises romance-filled adventures in one of its cozy cottages dotting the hillside above dual white sand beaches.
The dramatic ocean vistas are complemented by several infinity pools and even private dining experiences across the property in custom-made, intimate dining locations.
Cocobay specializes in romantic getaways – and couples packages, for those saying I do, or those celebrating a lifetime of memories, and everyone in between.
Check out the cliffside wellness options for an extraordinary couple's shared experience.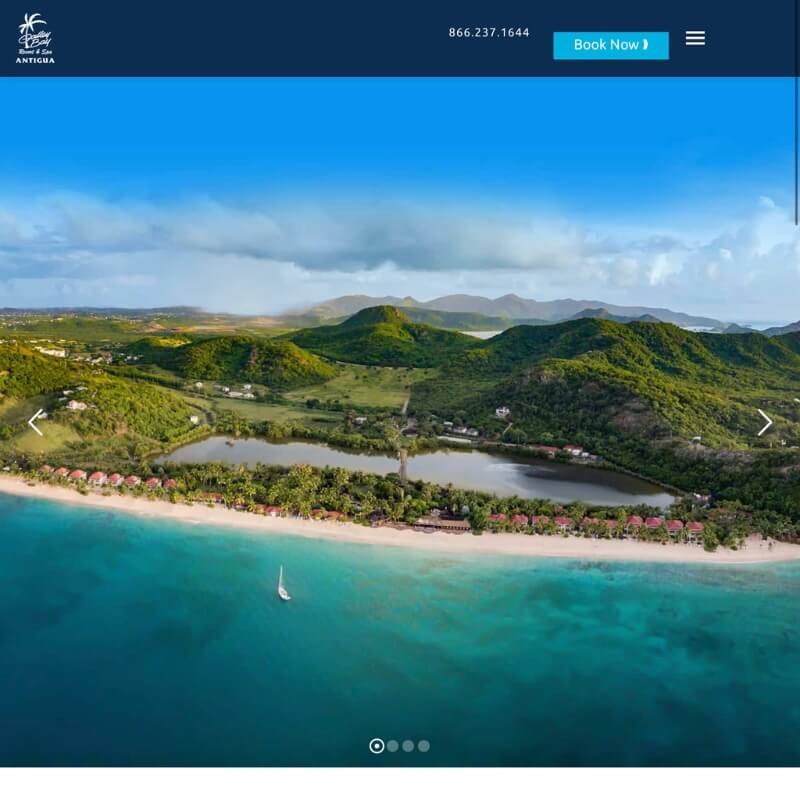 The Galley Bay Resort and Spa is an adults-only, award-winning, all-inclusive Antigua resort on one of the island's best beaches amid lush tropical gardens and paths.
Galley Bay offers tranquility and adventure for each couple visiting the resort's award-winning grounds on the island of tropical paradise without being pretentious.
Whether it is a honeymoon, wedding, or anniversary, you can choose from three open-air restaurants, various watersports above and below the Caribbean blue waters, a tropical spa retreat by the peaceful bay waters, a fitness center, snorkeling, tennis, and even croquet.
This secluded Antiguan oasis has been recognized among the best of the carribean hotels.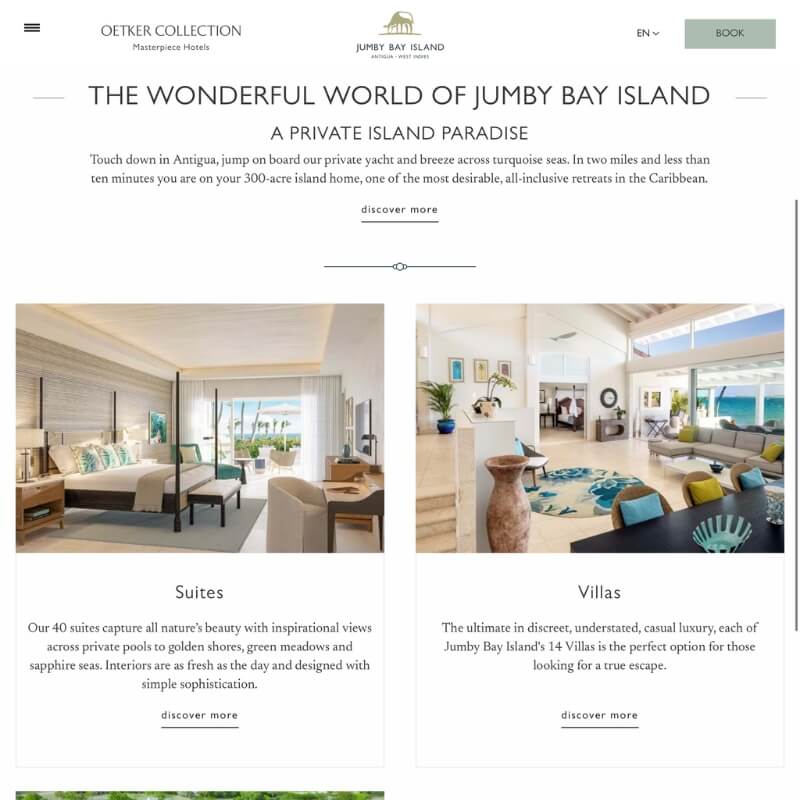 Jumby Bay Island Resort is an Oetker Collection/Masterpiece Hotel and a couple's paradise accessed by the resort's private yacht after landing at Antigua's airport.
Jumby Bay Island Resort is located on the resort's 300-acre island. This Antigua resort is among the most desirable of the Caribbean's all-inclusive retreats for romantic and unscripted getaways.
Couples can select from suites, villas, and private residences for a secluded island experience, delicious dining experiences, and all land and water sports/activities offered at Jumby Bay Island Resort.
Sandals Grande Antigua, located in the island's famous Dickenson Bay, is consistently voted among the world's most romantic resorts for couples and one of the best all-inclusive resorts chosen for a destination wedding.
In addition to the beachfront village, Sandals, which is an adults-only resort primarily designed for couples, offers six pools, six hot tubs, seven bars, eleven world-class dining establishments, unlimited premium liquors, and private candlelit dinners.
Popular activities include SCUBA, snorkeling, paddleboards, kayaks, and local adventure tours.
Sandals is one of the Antigua resorts that offers a free wedding for guests staying three nights or longer.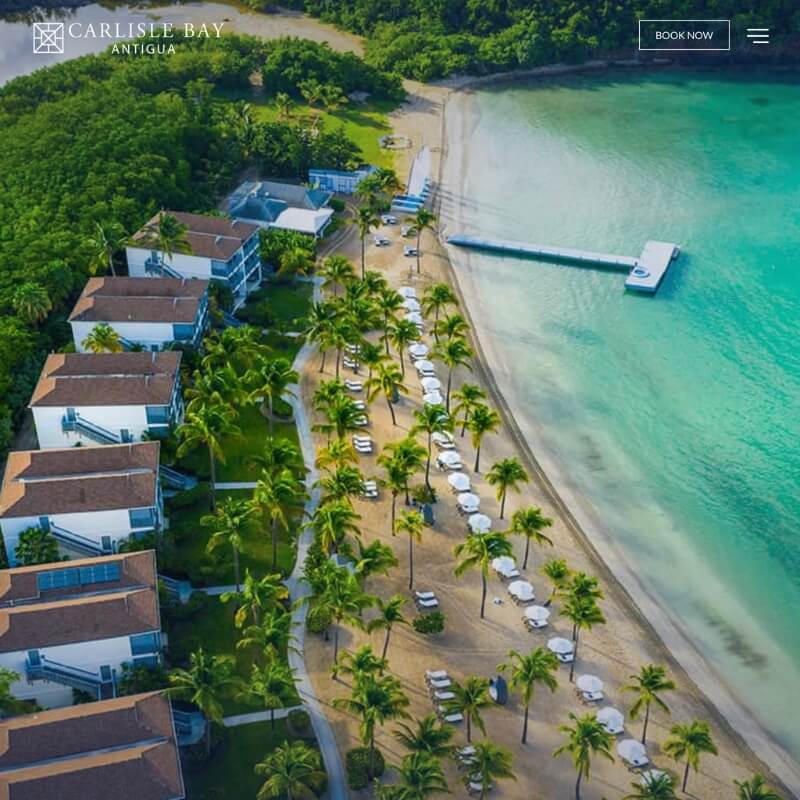 Carlisle Bay is one of the luxury Antigua resorts that is an excellent option for a romantic getaway or a destination wedding/anniversary.
The resort, which overlooks the white Caribbean sand and the nearby emerald green rainforest, offers various complimentary non-motorized watersports, a holistic spa retreat, private Pilates and yoga, boat excursions, an outdoor gym, as well as high-quality tennis and pickleball facilities – with equipment provided at no cost.
With four distinctive restaurants onsite, guests can enjoy world-class cuisine, local favorites, and potent signature potables while making memories that last a lifetime.
Curtain Bluff Resort, located on a rocky bluff on the island's south side, offers an intimate yet breathtaking and inviting seaside resort that is among the best of Antigua resorts offering an all-inclusive option for couples.
This Caribbean elegance, known for being among the Caribbean's best value options for couples, offers spacious suites only steps from the warm, tranquil Caribbean waters and white sandy beaches surrounded by lush tropical gardens.
Couples can enjoy the resort's legendary lunch buffet in the open-air Sea Grape restaurant. Stay fit and busy in this tropical paradise, waterskiing, kayaking, swimming, playing tennis, bocce ball, and shuffleboarding, to name a few.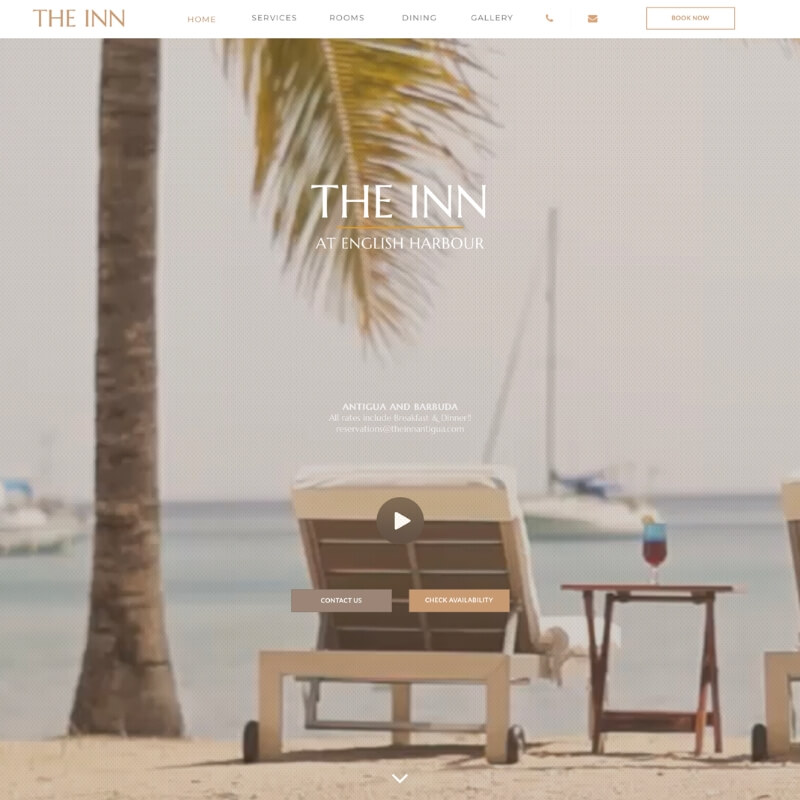 The Inn at English Harbour is located on a hilltop overlooking English Harbour, with a sandy beach and private dock accessing the Caribbean Sea.
This five-star, award-winning resort, known for its Caribbean hospitality, is surrounded by a green and hilly landscape along the Antiguan coast.
The Inn, with its various couples package deals, is designed to offer moments of tranquility that lead to a sense of well-being, whether you are celebrating recent nuptials or years of a happy and satisfying marriage.
For fun or a relaxing time, couples can enjoy the beachfront swimming pool, watersports, tennis courts, and fitness center or explore the island's offerings.
The Blue Waters Resort and Spa offers a timeless laid-back type of luxury on 17 acres of tropical gardens only available in the heart of the Caribbean Sea.
The Blue Waters Resort and Spa, located on Antigua's northwest tip, is in Soldiers Bay. It is an award-winning family-owned resort with more than four decades of historical roots.
In addition to the wellness spa, where couples can rejuvenate and renew, there are al fresco dining experiences for those seeking an elegant or beachside meal or several lounges serving signature cocktails highlighting the island's best ingredients.
Nonsuch Bay Resort is a modern, multiple Traveler's Choice Award Winner. This all-inclusive, adults-only resort offers the perfect setting for couples in search of privacy, adventure, elegant dining, offshore excursions, or the option to do nothing but enjoy each other's company.
The Escape at Nonsuch Bay Resort is considered a boutique section of the larger resort and includes restaurants and lounges only available to Escape guests. Rooms for couples at Nonsuch Bay are available with a garden view or pool suite.
Nonsuch Bay also offers Escape With Love or Honeymooner's Retreat - pre-planned packages that include wellness spa treatments, pool options, and private dining.
What makes Antigua a great destination for couples?
Antigua is a beautiful island with white sandy beaches, clear blue waters, and lovely sunsets. It's a perfect place for couples to relax, enjoy each other's company, and create lasting memories.
There are plenty of activities to do in Antigua including excellent snorkeling, kayaking, sailing, and scuba diving. The island is also home to some incredible restaurants with delicious local cuisine.
Whether you're looking for a romantic getaway or an adventure-filled vacation, Antigua has something for everyone!
Can couples get married or renew their vows in Antigua?
Absolutely! Many resorts in Antigua offer wedding and vow renewal packages. They can help you plan a beautiful ceremony on the beach or at another romantic location on the island.
They can also help you find a photographer and other necessary vendors. The resorts usually have a variety of packages to choose from, so you'll be able to find one that fits your budget.
Do Antigua resorts offer all-inclusive packages?
Many Antigua resorts offer all-inclusive packages, which include meals, drinks, and activities. This makes it easy for couples to enjoy their vacation without worrying about extra costs.
The island is known for its beautiful beaches and luxurious hotels that are perfect for a romantic getaway. Whether you choose to stay in a beachfront villa or an intimate resort, Antigua provides plenty of options for couples looking to relax and reconnect.
What is the best time to visit Antigua for couples?
The best time to visit Antigua is between December and April when the weather is warm and dry. However, couples can still enjoy a great vacation during other times of the year.
There are plenty of activities to enjoy, such as exploring the local history and culture, swimming in the crystal clear Caribbean waters, or enjoying a romantic evening stroll through the streets.
No matter when you decide to go, Antigua is sure to provide an unforgettable experience. So pack your bags and get ready for a Caribbean adventure unlike any other!
Bottom Line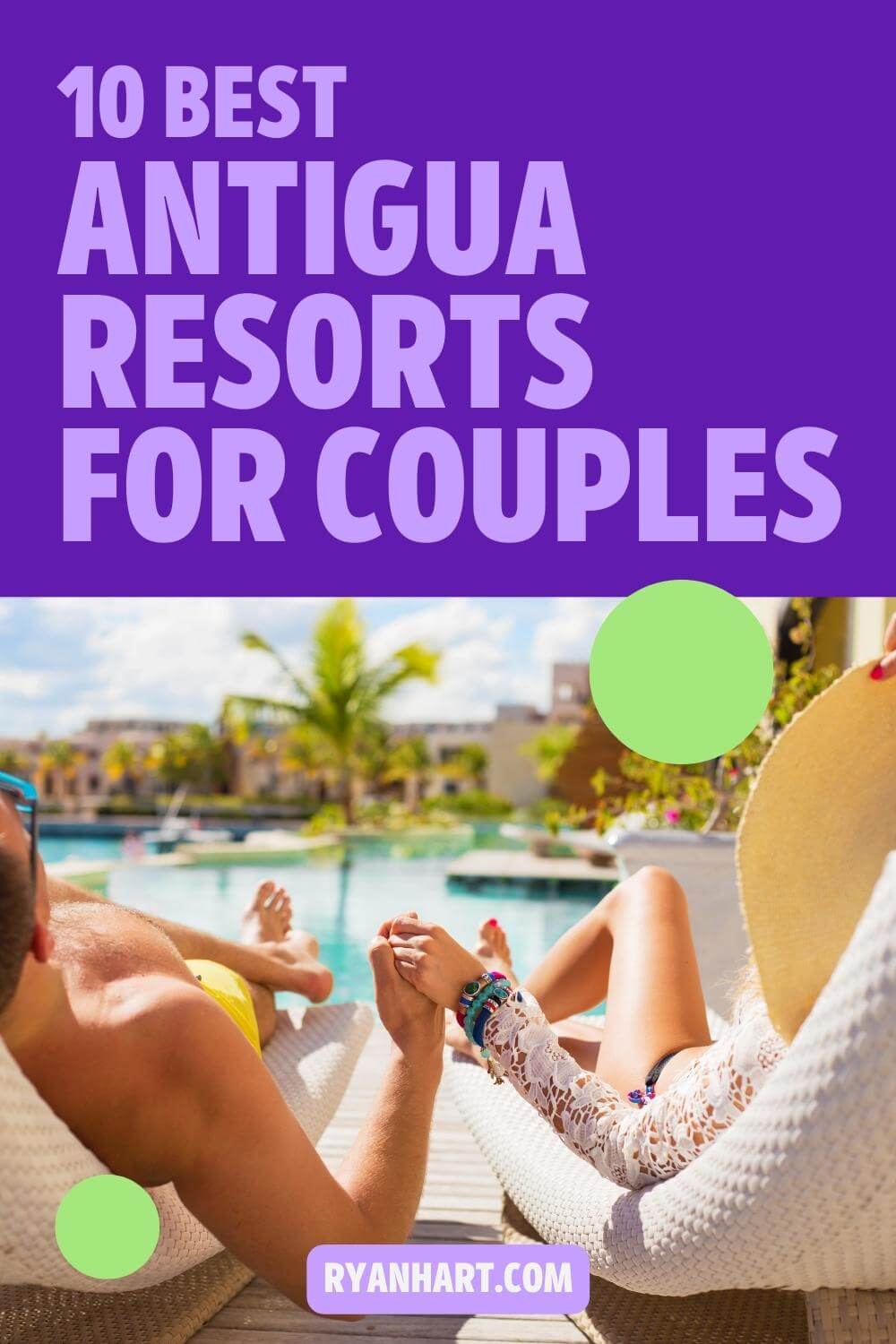 As we wrap up our guide to the best Antigua resorts for couples, it's clear that this beautiful island has a lot to offer for those seeking a romantic escape. From luxury resorts with adults-only options to all-inclusive packages that make your vacation stress-free, there's something for every couple in Antigua.
The island's stunning beaches and crystal-clear waters provide the ideal backdrop for romance, while activities like snorkeling, sailing, and sunset cruises offer opportunities for adventure and bonding. And if you're thinking about tying the knot or renewing your vows, Antigua's resorts have you covered with their special wedding packages.
So, when planning your next couples' retreat, don't overlook Antigua – a paradise where love and adventure meet, providing the perfect setting for an unforgettable trip with your special someone.