Secrets resorts offer couples a perfect blend of luxury and romance, with their all-inclusive amenities and breathtaking locations.
These resorts provide an affordable escape where couples can relax, indulge in gourmet dining, enjoy top-notch entertainment, and create cherished memories together.
With 22 resorts worldwide to choose from, selecting the best Secrets resort to visit can be a challenging decision.
In this article, we have curated a list of our favorite Secrets resorts that will cater to your desires for a truly unforgettable getaway.
So, keep reading to discover the ideal resort that will whisk you away to a paradise of love and luxury.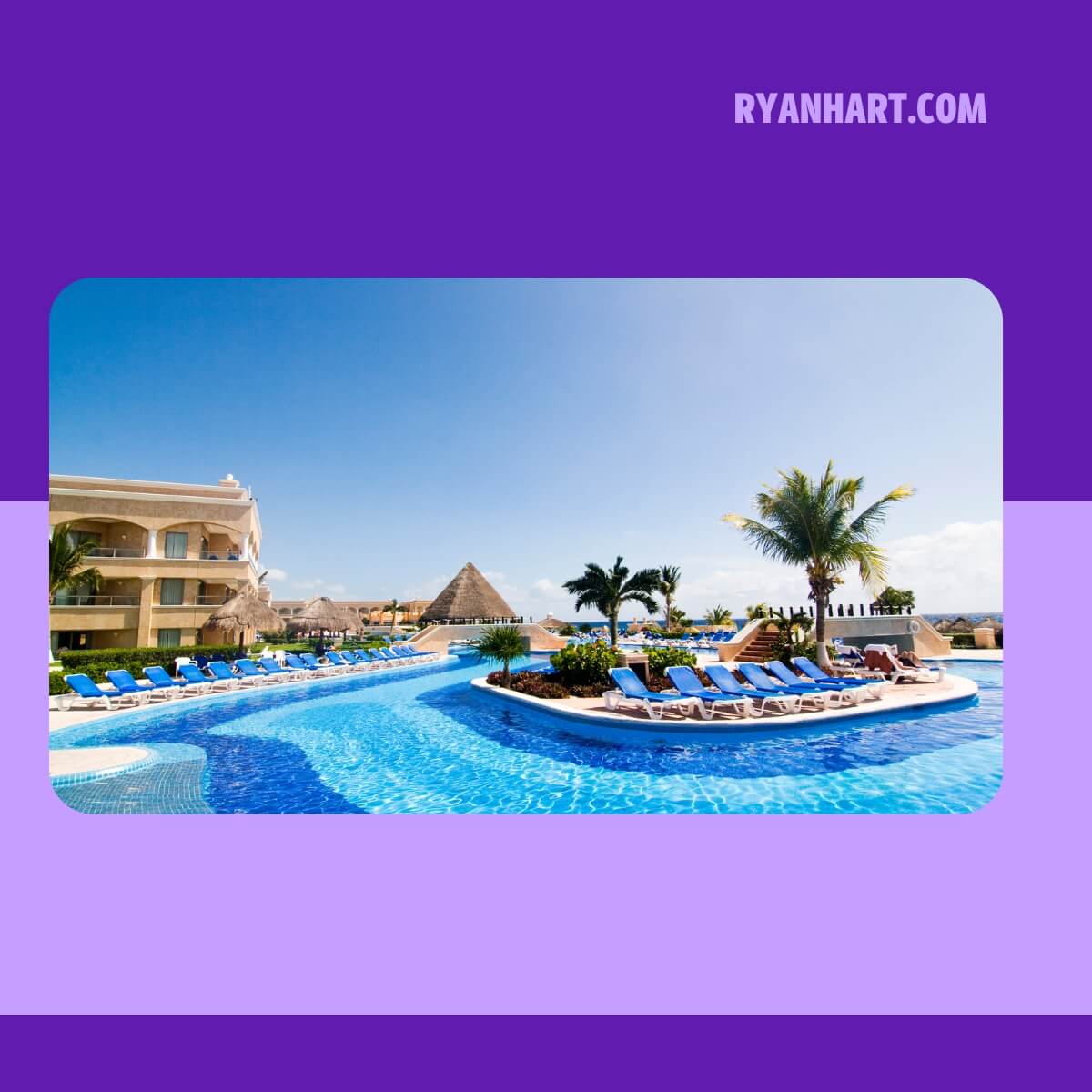 What is the best Secrets resort?
Determining the "best" Secrets resort is subjective and depends on individual preferences and needs. However, there are several highly acclaimed Secrets properties that consistently receive rave reviews from couples.
Here is a list of the top Secrets resorts worldwide: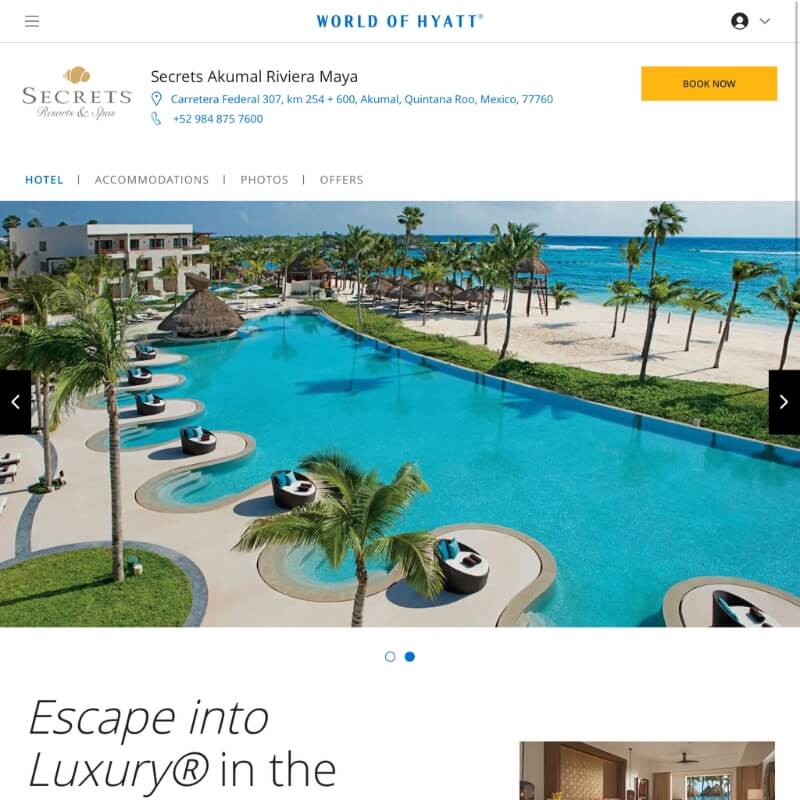 Secrets Akumal Riviera Maya is a resort located in Quintana Roo, Mexico, right on the ocean! It includes amenities like an on-site restaurant, room service, a fitness center, a pool, and a spa.
You can also hire a concierge and use the large event facility for your wedding. Do you have Hyatt points? This hotel will honor them! Its ocean view must be seen to be believed.
Who will love this resort:
This hotel is among the best Secrets resorts thanks to its proximity to the ocean and beautiful weather. Mexico is a dream vacation destination for people who love the summer. Even better, the weather here is rarely bad, meaning you can relax on the beach for days.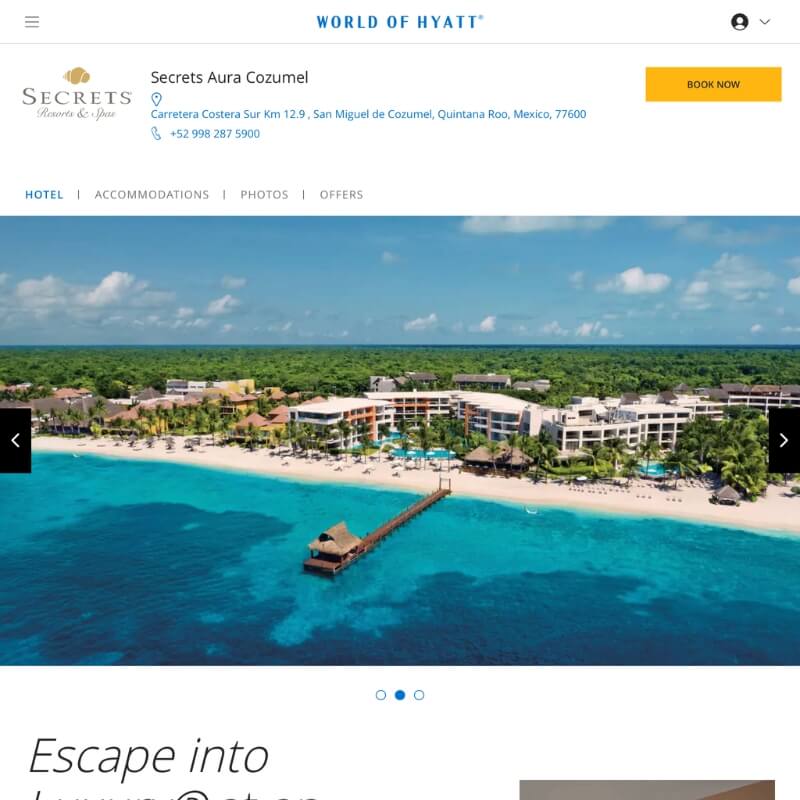 Secrets Aura Cozumel is another gorgeous Mexican resort located in a beautiful tropical part of the country.
This resort is situated on an extensive oasis and includes a world-class spa, a PADI dive center and pier, and even an underwater wedding venue. It's a unique adventure that's sure to excite you!
Who will love this resort:
Anyone with an adventurous side will love this resort! Their unique amenities (such as the diving and SCUBA activities) give this resort a little bit of an "edge." That makes it unique among the best Secrets resorts and an excellent choice for anyone who wants something a little different.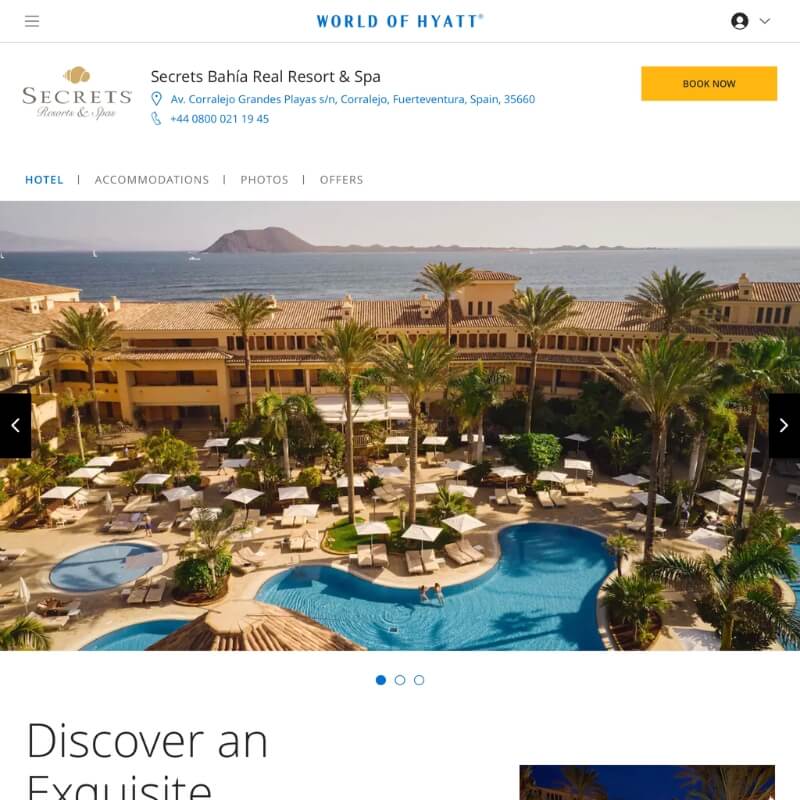 Secrets Bahía Real Resort & Spa is a World of Hyatt resort with an adult-only experience! This is not a place you can or should take the kids. It includes beautiful views of the Atlantic Ocean, crisp blue water pools, lush gardens, a relaxing spa, and seven different restaurants. We think you'll love the gorgeous architecture and the calming and peaceful atmosphere.
Who will love this resort:
Are you planning your honeymoon or a romantic getaway? You need to visit this resort. It's designed specifically for relaxation and will give you and your loved one the low-key and fun experience you deserve. Will you make new friends? Absolutely!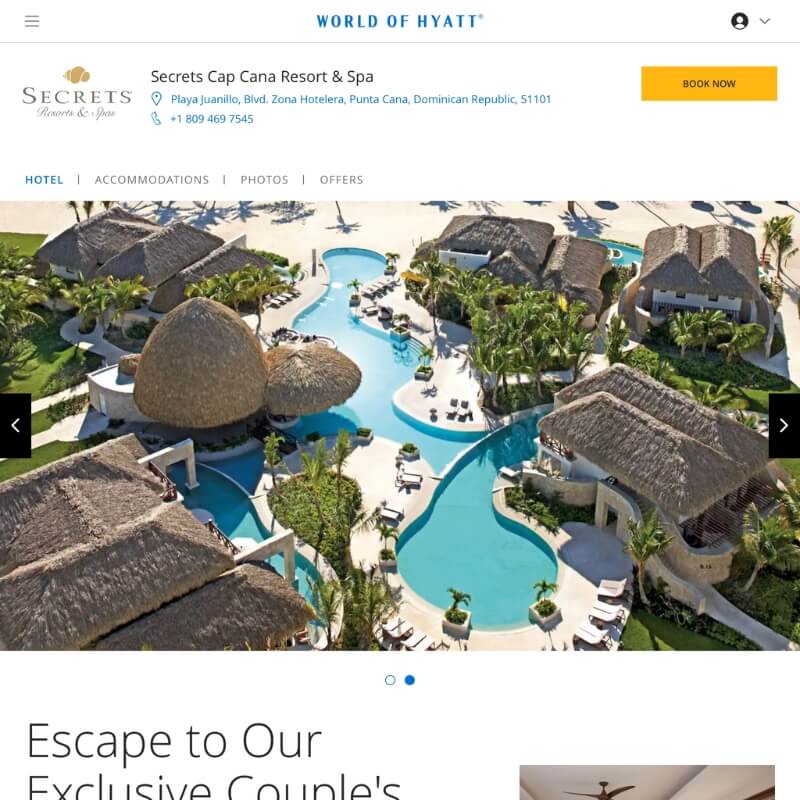 Secrets Cap Cana Resort & Spa is a sprawling couples getaway on Juanillo Beach. This luxurious escape focuses heavily on luxury and romance, including a trademark Unlimited-Luxury experience.
Unlimited-Luxury includes daytime activities, theme parties, live nightly entertainment, 24-hour room service, mini-bars, concierge support, and sprawling pools.
Who will love this resort:
It's time to spoil yourself and your partner: book this resort if you need a romantic experience that will rejuvenate your love life! It's the kind of all-inclusive resort you simply can't turn down if you want to give your partner the exciting life they deserve.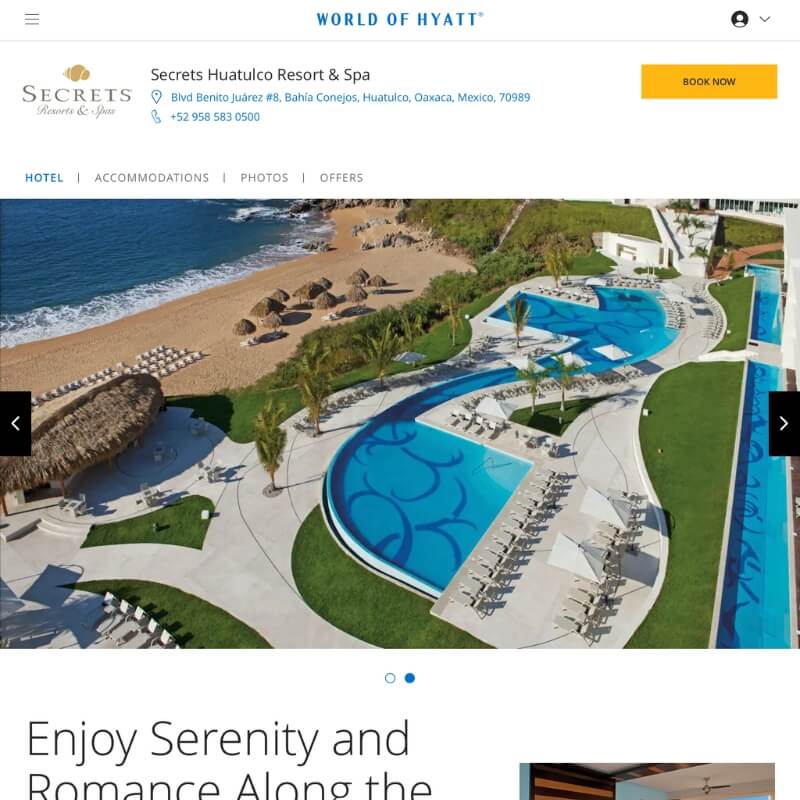 Secrets Huatulco Resort & Spa is a coastal destination among the best Secrets resorts. Why? It's positioned on a secluded coastline in Conejos Bay, giving it a fun and exciting atmosphere.
You'll also get Secrets' signature Unlimited-Luxury experience, unique adventures on rock formations, gourmet dining, and scheduled activities.
Who will love this resort:
Do you want a vacation that truly feels like you got away from the rest of the world? Then try this resort. While you'll still be around other vacationers, this experience is secluded enough to feel like a private experience for you and your partner.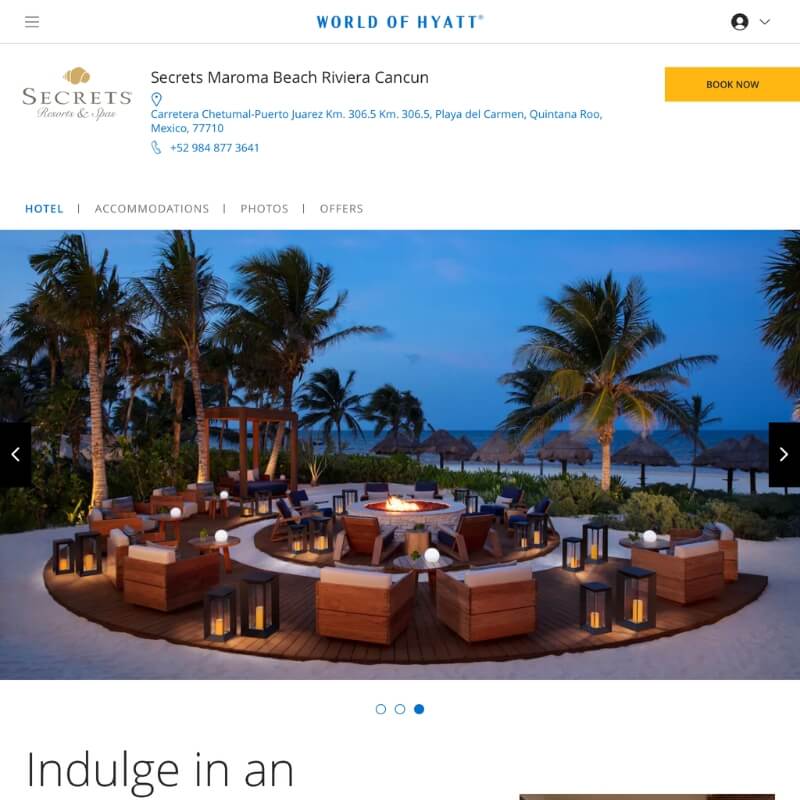 How do 500 acres of sandy beaches in Cancun sound? Probably fantastic! Secrets Maroma Beach Riviera Cancun offers that and so much more! Like the best Secrets resorts, it's part of the World of Hyatt loyalty program and the Unlimited-Luxury accommodation.
You'll explore fantastic outdoor settings, relax in a Secrets Spa by Pevonia, and get 24-hour room service.
Who will love this resort:
Is Cancun your idea of heaven? Then you need to check out this resort ASAP! It provides that luxurious experience you always get from Secrets and the atmosphere of Cancun. Try to book ahead of time for this resort because it's one of the most popular options from Secrets.
Secrets Lanzarote Resort and Spa
is a Canary Islands resort with amenities unique to the area. How do boat trips to an unbelievable volcanic coastline sound? How about gourmet restaurants with top-rated food offerings? Would you like breakfast, lunch, and dinner delivered to your door every day? If so, this resort is the option for you!
Who will love this resort:
Anyone who wants to explore the Canary Islands should visit this resort now. It provides the luxury comfort you want and fun adventure-based activities. If you want a more active vacation with many new experiences, try out this resort.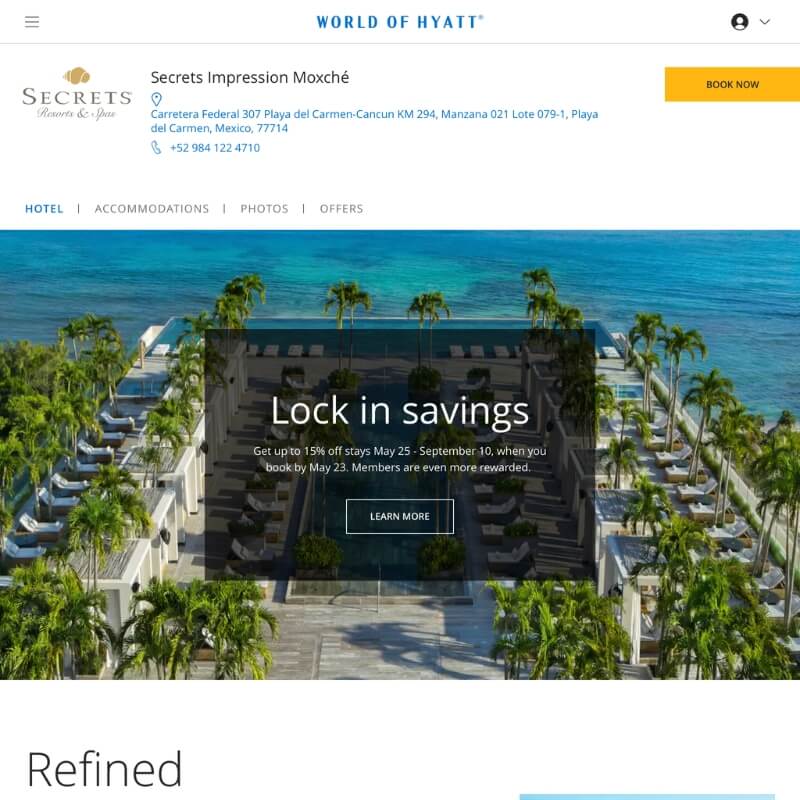 Secrets Impression Moxché is among the best Secrets resorts for a reason: attention to detail. Like all Secrets vacation destinations, it includes extensive privacy and unlimited luxury.
However, it also has beautiful infinity pools, modern suites with the latest Smart amenities, dedicated butler service, and Endless Privileges: the new way to live like royalty!
Who will love this resort:
Are you ready to get waited on nearly hand and foot? You'll adore this Secrets resort! Designed for complete luxury, it's the kind of place you can't imagine exists until you finally visit it! It works as a solo adventure but also provides romantic amenities you'll adore.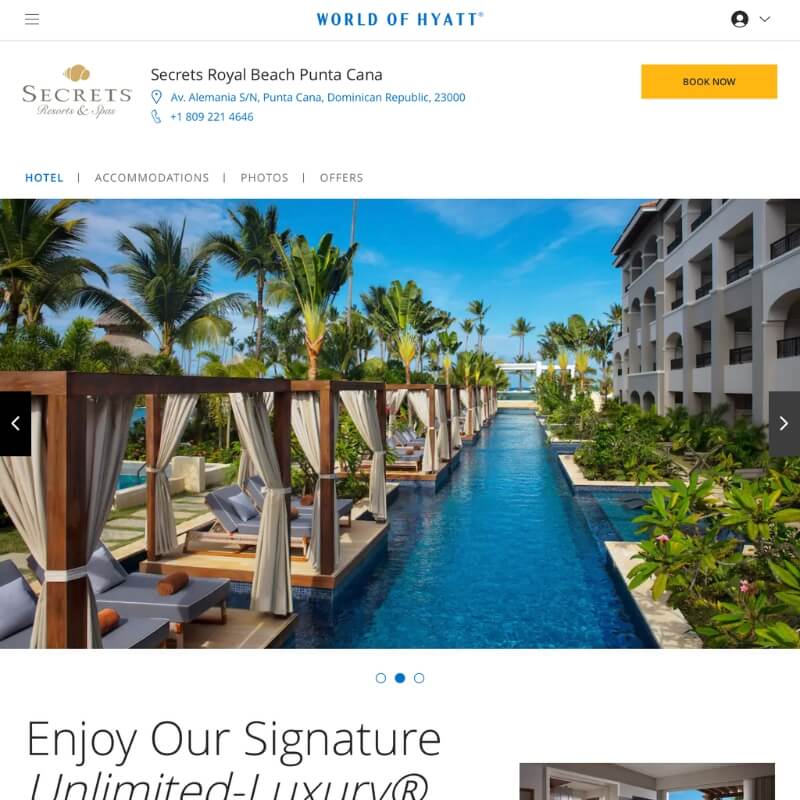 Secrets Royal Beach Punta Cana is a picturesque adventure that takes you to the Caribbean for a beautiful experience.
As an all-adult luxury resort, you don't have to worry about kids and can enjoy outdoor walkways, a fantastic spa, and secluded pools. Bring your partner or make new friends and see where life takes you! You never know what to expect at Secrets.
Who will love this resort:
Are you looking for a romantic experience you'll never forget? Try this resort. It's among the best Secrets resorts for meeting new people. However, it has the same Unlimited-Luxury and secluded atmosphere, meaning you can also curl up with a book and enjoy your own company.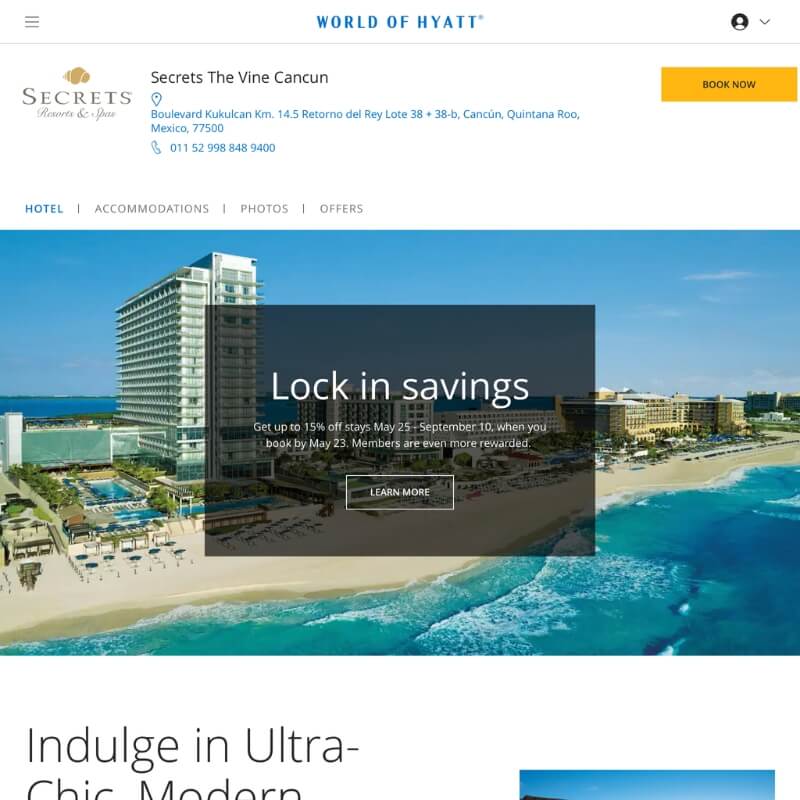 Secrets The Vine Cancun is another Cancun resort that provides world-class amenities. How does a AAA Four-Diamond resort sound? Or an extensive wine collection made from the best grapes in the Yucatan Peninsula? If you love wine and want to enjoy the best Mexico offers, book a trip to this resort ASAP: trust us on this one.
Who will love this resort:
Wine lovers must book a trip to this resort as soon as possible! It has one of the best collections of vintages in Mexico, some of which you can't get anywhere else. Beyond the wine, you can access all the amenities and luxuries you'd expect from the best Secrets resorts. Win-win!
What makes Secrets Resorts different from other resorts?
Secrets Resorts are adults-only, all-inclusive resorts that offer a luxurious and romantic experience. They are known for their stunning locations, world-class amenities, and personalized service. You can expect to be pampered with gourmet dining, premium drinks, spa treatments, and various activities.
What is included in the all-inclusive package?
The all-inclusive package at Secrets Resorts includes unlimited gourmet dining, premium drinks, 24-hour room service, daily activities, and nightly entertainment. You can also enjoy non-motorized water sports, such as kayaking, snorkeling, and paddleboarding.
Can guests leave the resort to explore the surrounding area?
While Secrets Resorts offer plenty of activities and entertainment options on-site, guests are free to explore the surrounding area. The resort staff can help arrange tours and excursions to nearby attractions, such as local markets, historical sites, and natural wonders.
What is the cancellation policy at Secrets Resorts?
Secrets Resorts have a flexible cancellation policy that varies by resort and season. Guests are encouraged to check the specific cancellation policy for their reservation to ensure they are aware of any fees or restrictions.
Bottom Line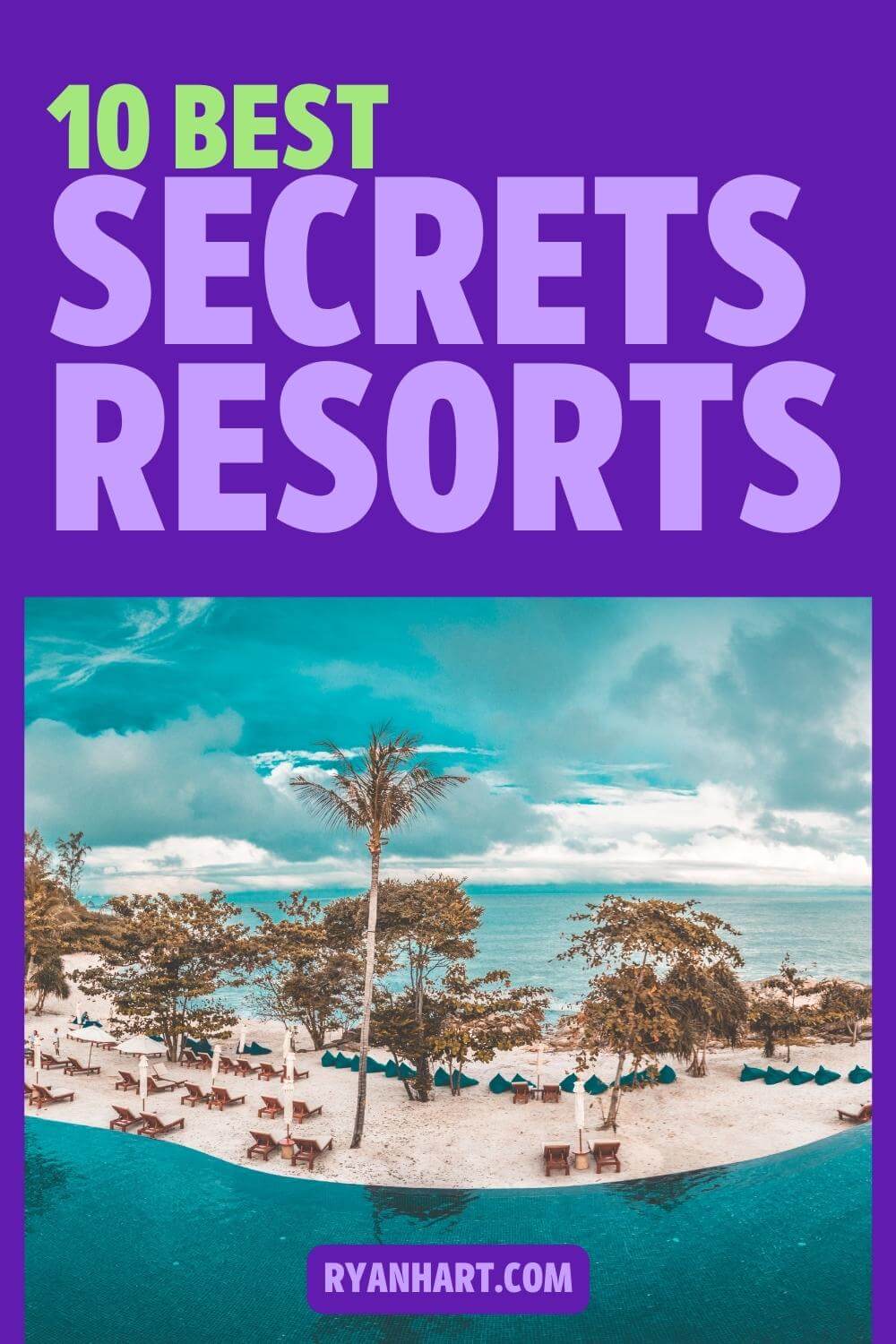 Secrets Resorts and Spas are the perfect destinations for anyone looking for a luxurious and relaxing vacation. From the stunning locations to top-notch amenities and activities, Secrets has everything you need to make your vacation memorable.
The all-inclusive packages make it easy to enjoy your vacation without having to worry about additional costs, and the exceptional service from the staff ensures that you feel pampered throughout your stay.
With a range of locations across Mexico, Jamaica, and the Dominican Republic, you're sure to find a Secrets Resort that meets your needs. So, if you're looking for a vacation that combines luxury, relaxation, and fun, then look no further than Secrets Resorts and Spas.