Sandals is a resort chain that provides amazing destination vacations centered on luxury, comfort, and fantastic amenities.
However, there are so many options to choose from that picking the perfect place can feel impossible.
Thankfully, we're here to help! We sorted through their many options and selected the ten best Sandals resorts we know you'll love!
What is the best Sandals resort?
The best Sandals resorts offer a compelling mix of comfortable amenities, beautiful views, and fantastic rooms where you can relax. Expect things like pools, spas, room service, and more.
We carefully researched each of these resorts to find the best choices for you. Each mini-review below will highlight why we chose the resort and who will love it the most.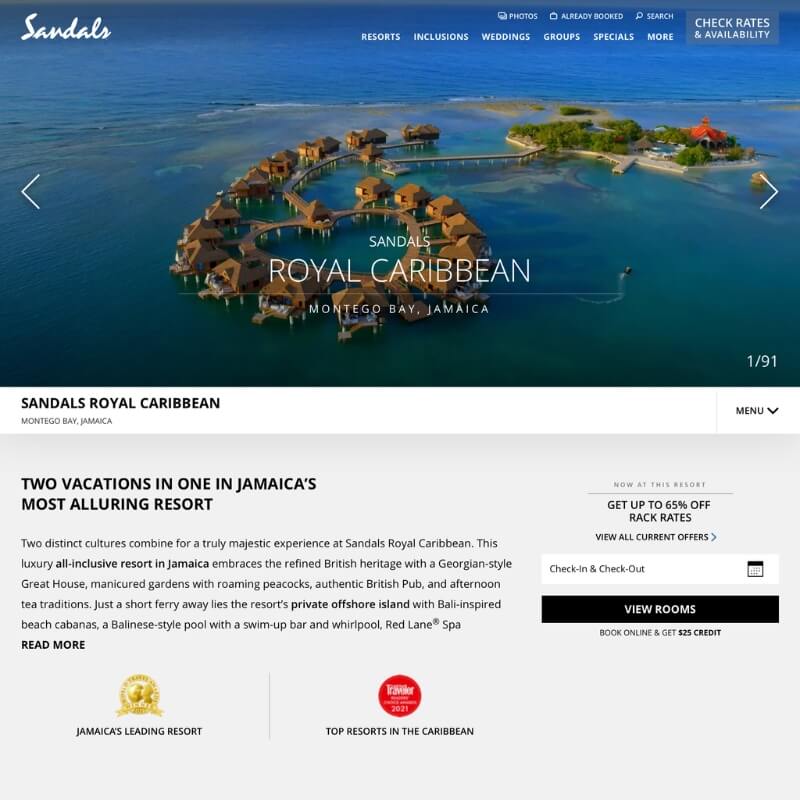 Sandals Royal Carribean is an all-inclusive resort located in beautiful Jamaica. It utilizes gorgeous Georgian-style architecture throughout the sprawling facility.
There's a Bali-inspired beach, a beautiful Balinese pool, a swim-up bar, a whirlpool, and over-the-water bungalows. It's been consistently voted as one of the top resorts in the Caribbean and the best in Jamaica.
Who will love this resort:
Are you traveling to Jamaica and want to stay at the best resort in the country? You can't go wrong with this option. You'll love the beachside destinations, the hand-delivered drinks, and the heart-shaped dock that shows fine attention to detail.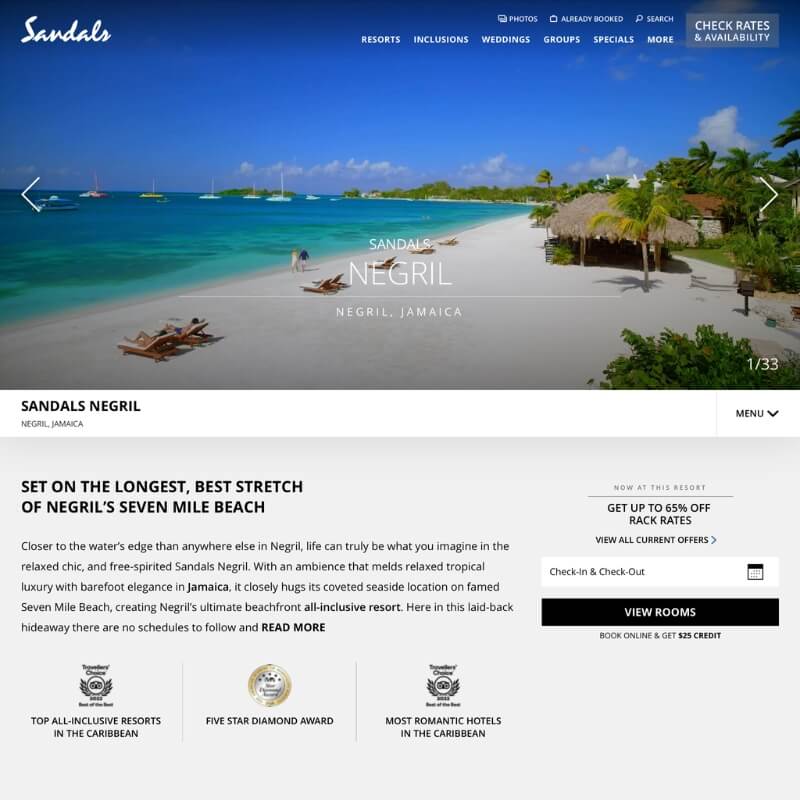 Sandals Negril is another Jamaican resort on the beach that boasts the best stretch of Negril's seven-mile beach. It includes the same all-inclusive benefits as other sandals resorts, including a relaxed atmosphere, five bars, seven restaurants, SCUBA diving experiences, paddleboards, kayaks, four pools, three whirlpools, and a well-stocked bar in each room.
Who will love this resort:
Anyone who wants to vacation in Negril will love this resort. With its well-maintained beach, gorgeous views, and multiple activities, it's hard to top. Here's something cool: they offer free wedding experiences for three nights or longer stay. How can you beat that?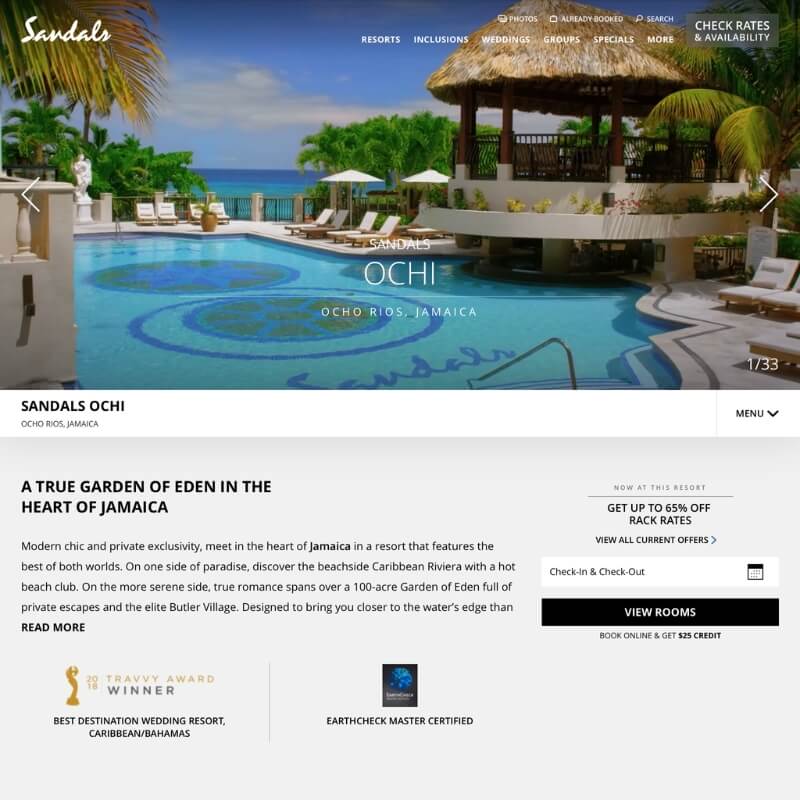 Sandals Ochi is one of the best Sandals resorts in Jamaica and has won "Best Destination Wedding Resort" in the Caribbean and Bahamas for its 100-acre escape. It includes 11 unique bars with different atmospheres and drink types. There's even an 18-hole golf course, 16 world-class restaurants, and multiple pools where you can relax with friends.
Who will love this resort:
Do you want an active vacation without ever leaving your resort? Sandals Ochi is the place for you! You can have fun in multiple exciting ways without ever leaving the property. That said, you're also welcome to check out nearby towns if you like.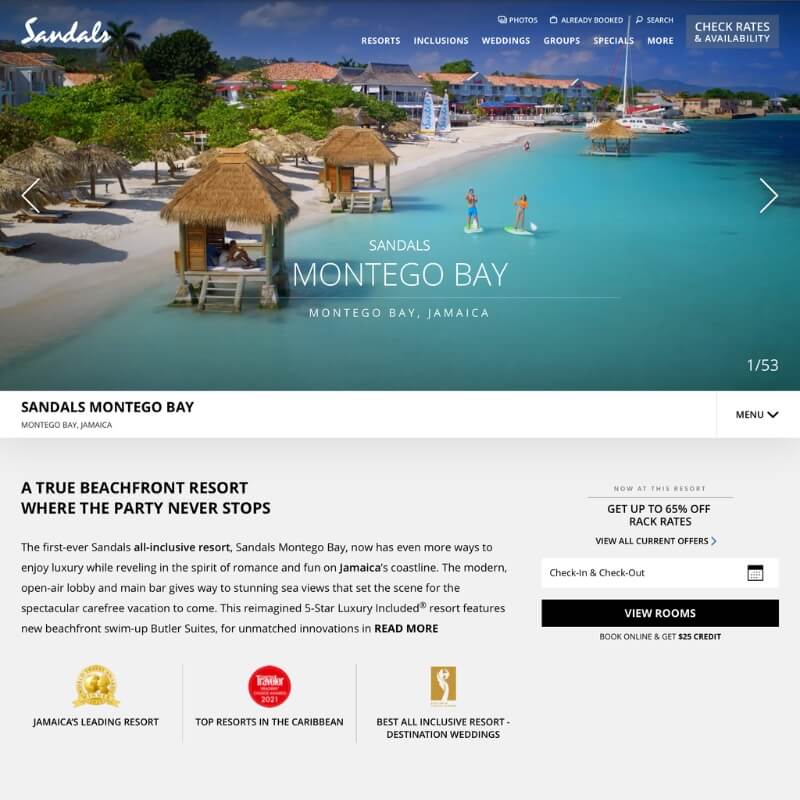 Consistently voted as one of the top resorts in the Caribbean (and Jamaica's leading resort), Sandals Montego Bay is an all-inclusive destination perfect for weddings and general vacations. As a five-star hotel, you'll get three gourmet restaurants, multiple bars, an over-the-water chapel, an extensive beach experience, and much more. It's an excellent option for anyone who wants an all-inclusive stay!
Who will love this resort:
As one of the best Sandals resorts, there are not many people who won't love this destination vacation. We strongly suggest it for anyone who wants a little more adventure: there are kayaking and SCUBA trips and boating experiences for the whole family.
How does a 220-acre resort up against the ocean, across lush tropical scenery and hilly regions, sound to you? Sandals Regency Latoc offers it and so much more! You'll get to check out nine five-star restaurants, relax on a half-mile beach, or even stay within Sunset Oceanview Bluff Village, a "resort-within-a-resort" with even more luxury amenities.
Who will love this resort:
While Sandals Regency Latoc has the same amenities you'd expect from the best Sandals resorts, Sunset Oceanview Bluff Village really makes it stand out. It's a great option if you want a truly hands-on experience where you'll be spoiled by the resort team.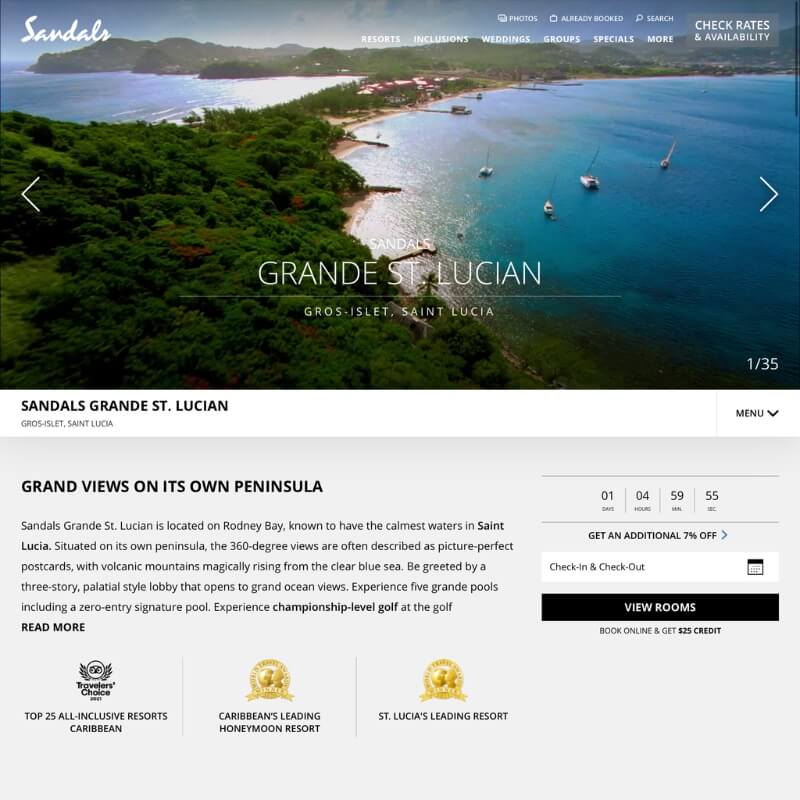 Sandals Grande St Lucian is a perfect getaway with a secluded atmosphere on a private peninsula! This location gives you perfect 360-degree views of the ocean, as well as volcanic mountains and more. It includes an extensive championship-level golf course and country club, five pools, several restaurants, and room service if you're feeling lazy that day.
Who will love this resort:
If you want a truly personalized resort experience, try this option! With a secluded and comfortable location, it'll feel like you're in your own private world. Then, you can hit the links on an extensive golf course and show off your skills. Who could ask for anything more?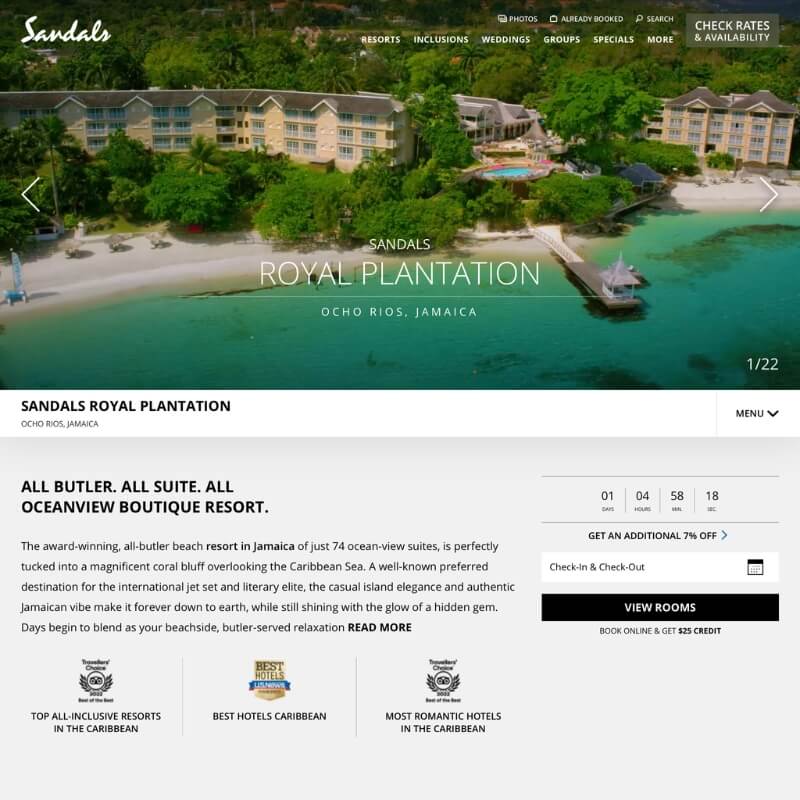 Sandals Royal Plantation is consistently voted as one of the most romantic hotels in the Caribbean. Once you come here, you'll see why: it has 74 oceanview suites tucked into a comfy coral bluff. It uses a unique retro-chic style that makes it blend well with its surroundings. Even better, you'll see beautiful peacocks and other animals roaming the grounds.
Who will love this resort:
Do you want a relaxing Jamaican vacation with your partner? This resort is the best option for you! It includes the romantic amenities you deserve, such as 24/7 room service, delicious restaurants, and much more. It's the kind of resort you won't believe exists until you visit it.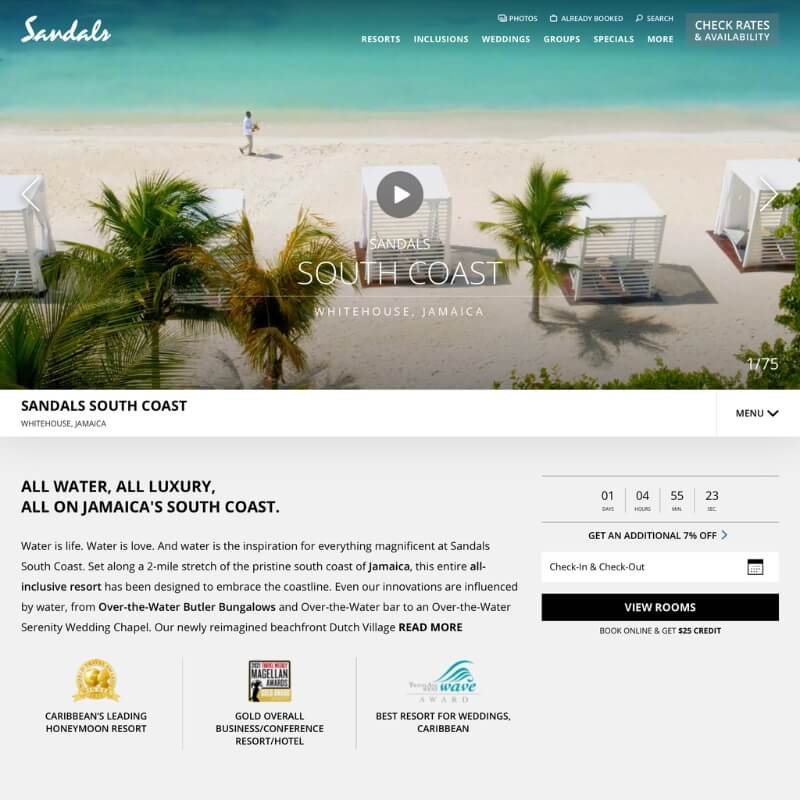 Sandals South Coast has embraced a water-based theme and integrates multiple over-the-water bungalows throughout its facility. There are also over-the-water bars and over-the-water wedding chapels. How does a swim-up suite sound? Well, their reimagined Dutch Village beachfront resort wraps around the whole village to create a truly unique experience.
Who will love this resort:
If the idea of a swim-up suite appeals to you, try out this unique resort! Its fascinating design will immerse you in a watery environment you can't get anywhere else. Note: it also features the same quality of amenities you get at the best Sandals resorts. Score!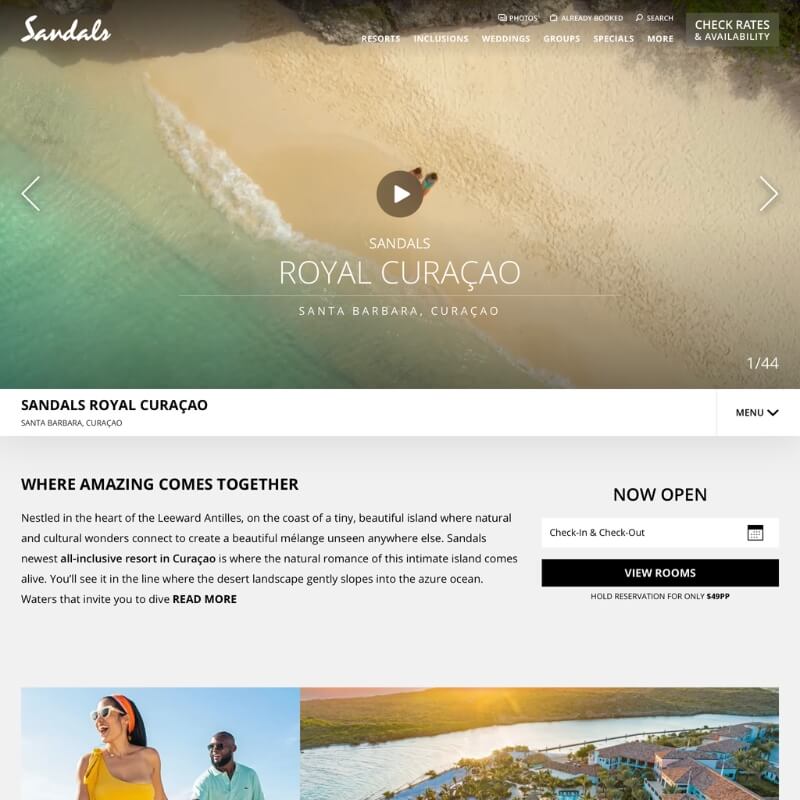 Sandals Royal Curacao is located in the Leeward Antilles on the coast of a tiny, private island!
Unmatched privacy helps this resort stand out from the other best Sandals resorts on this list. However, there's plenty of room to explore on the island.
The sprawling 44-acre resort is located on Santa Barbara beach with multiple pools, luxury suites, world-class restaurants, daily activities, and room service you'll love.
Who will love this resort:
If you want a private-island experience, we strongly suggest this resort. It includes all the unique amenities you get from Sandals and an out-of-this-world island atmosphere. There are not many places in the world where you can live in such luxury on such a small island.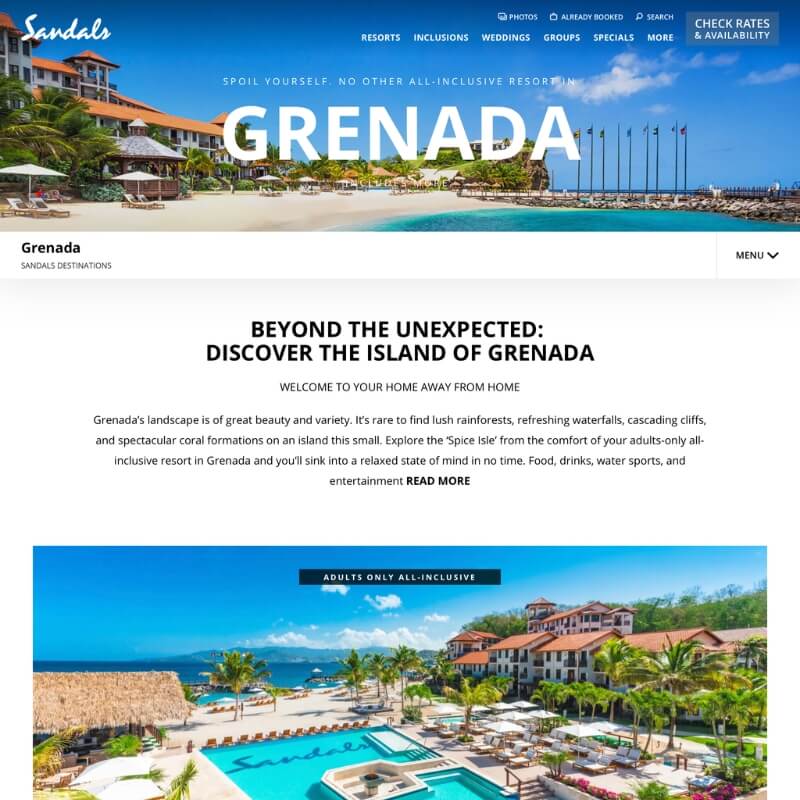 Sandals Grenada immerses you in the landscape of this beautiful region, including cliffs, coral formations, rainforests, and much more.
This adults-only resort also includes water sports, daily entertainment options, multiple restaurants, and several bars. Skypool Suites include a private infinity pool, while others have swim-up room designs and SCUBA-diving fun.
Who will love this resort:
Are you planning on visiting Grenada? Then try out this resort experience! It will give you the beautiful tropical vacation that you want and deserve.
Just as importantly, it provides many amenities that make it unique and exciting among Sandals resorts.
What types of activities are available at Sandals Resorts?
Sandals Resorts offer a variety of activities, including water sports, land sports, fitness classes, spa services, and entertainment. Some resorts also offer scuba diving, golf, and excursions to nearby attractions.
All resorts feature luxurious accommodation options, ranging from romantic beachfront villas to family-friendly suites. Each resort is tailored to provide guests with an unforgettable vacation experience.
Can you get married at Sandals Resorts?
Sandals Resorts offers all-inclusive wedding packages, including everything from the ceremony to the reception. You can choose from a variety of wedding locations, such as the beach, garden, or gazebo. Packages include such details as the officiant, photographer and videographer, music, cake, and a champagne toast. They also provide a wedding specialist to help you plan your perfect day.
What is included in the all-inclusive package at Sandals Resorts?
Sandals Resorts' all-inclusive package includes accommodations, unlimited dining at various restaurants, premium liquors, water sports, land sports, fitness classes, entertainment, airport transfers, and tips. Some resorts may also offer scuba diving and golf as part of the package.
What is the dress code at Sandals Resorts?
The dress code at Sandals Resorts is resort casual during the day and resort evening attire at night. Resort casual includes shorts, sundresses, and sandals, while resort evening attire includes dress pants/trousers or jeans, dress shirts, and closed-toe shoes for men, and dresses, skirts, or dress pants with blouses for women.
Bottom Line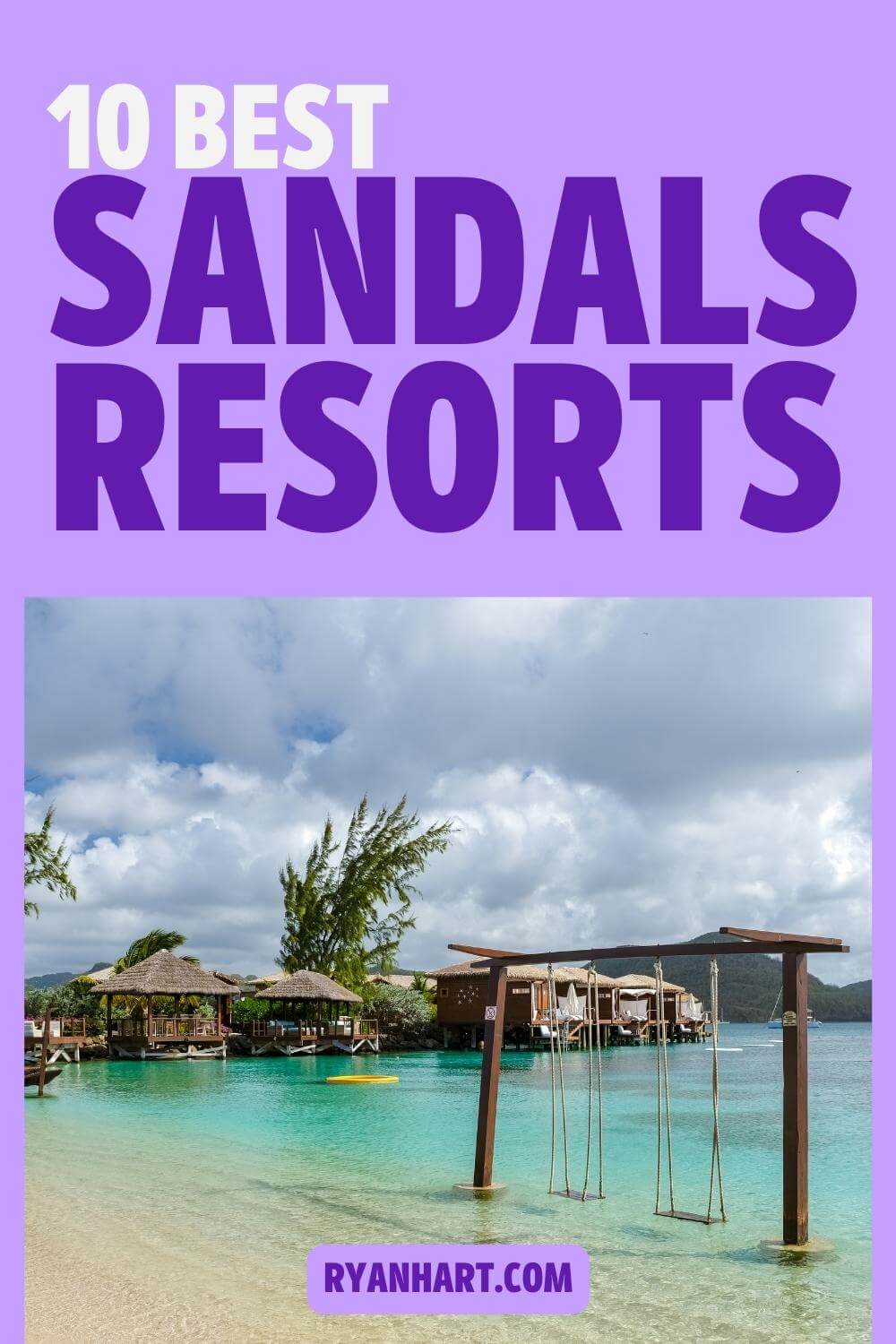 Sandals Resorts are truly the ultimate vacation destination. With breathtaking views, top-notch amenities, and exceptional service, you're sure to have the time of your life.
Whether you're celebrating a special occasion or just need a break from the everyday hustle and bustle, Sandals Resorts provide the perfect escape. With so many locations to choose from, you're sure to find the perfect resort for your needs.
From relaxed romantic getaways to adventure-packed vacations, Sandals has it all. So, grab your bags and get ready for an unforgettable experience – Sandals Resorts are sure to make it a trip you'll never forget!