When it comes to planning a vacation in the Virgin Islands, the problem isn't finding a resort — it is choosing the right one out of the many options.
The Virgin Islands are an extremely popular vacation place and have become known as a luxury spot filled with some of the best resorts in the world.
Choosing the right resort for your vacation goals comes down to many factors. Some are made for honeymooning couples, while others have more activities for all ages. Read on to learn about the best resorts in the islands to help you choose.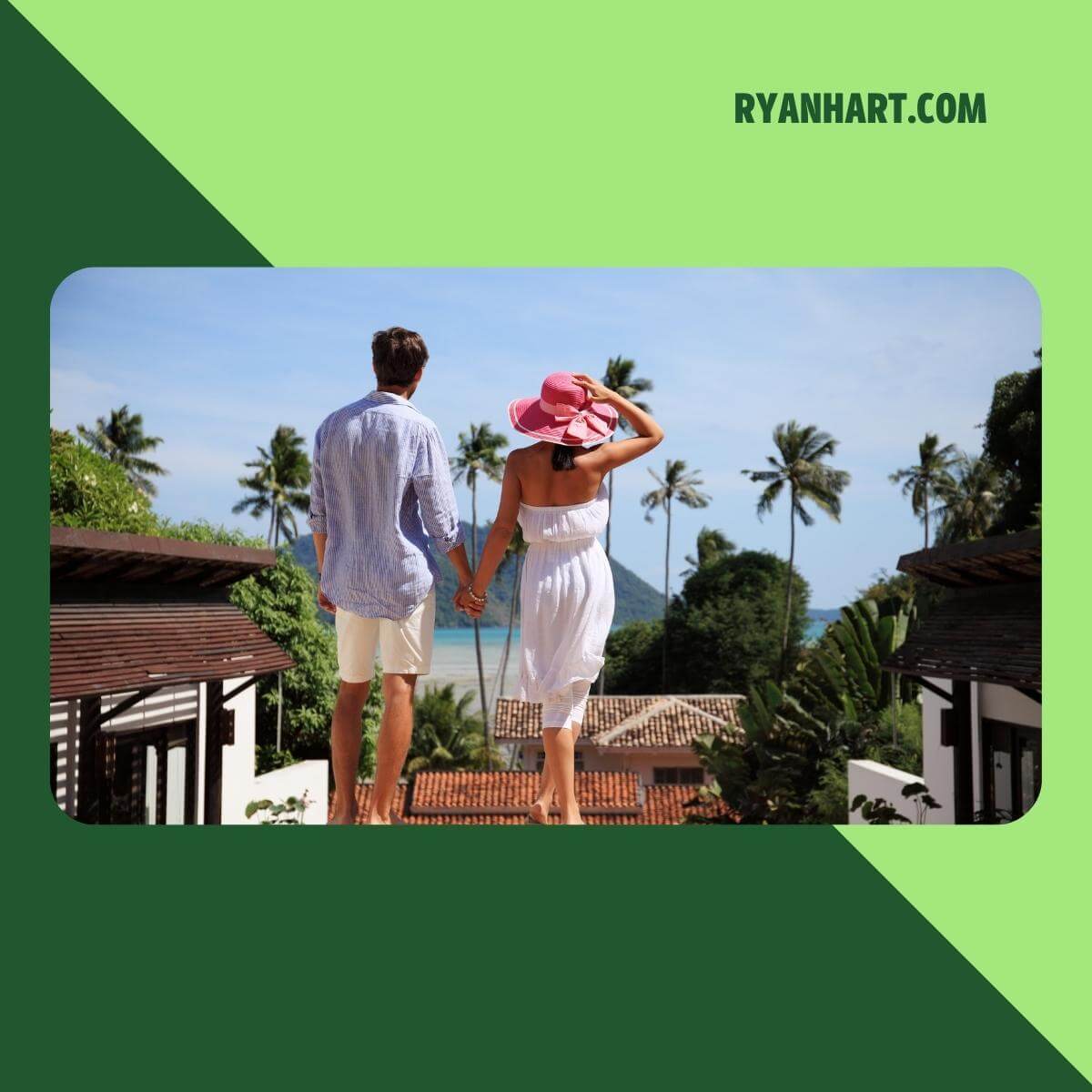 What is The Best Resort in The US Virgin Islands?
From the white sand beaches of St. John to the bustling nightlife of St. Thomas, there is something for everyone. Here are some of the top resorts for couples in the US Virgin Islands: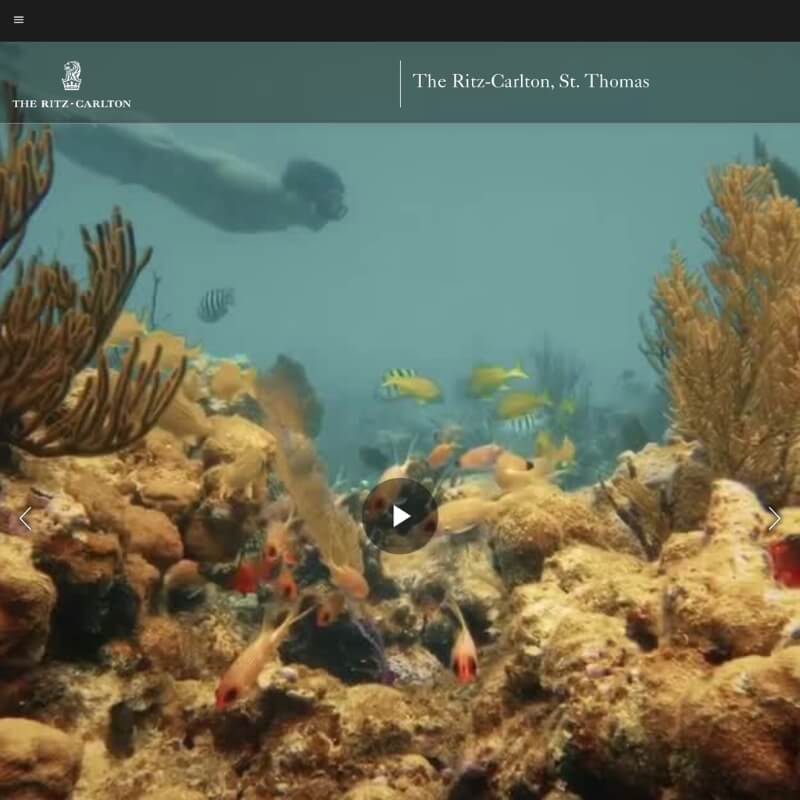 The Ritz-Carlton is synonymous with luxury, and it is no different in the Virgin Islands. This recently-renovated resort is designed in beach-inspired colors to combine a Caribbean feel with modern luxury.
Instead of an opulent interior, the hotel draws attention to the lush beauty outside its windows. With an award-winning Sicilian restaurant and amenities galore, the Ritz-Carlton is the perfect place for a romantic couples' getaway.
Each room or suite offers a stunning view of the turquoise waters and white sands of the nearby beach, immersing you in paradise during your stay.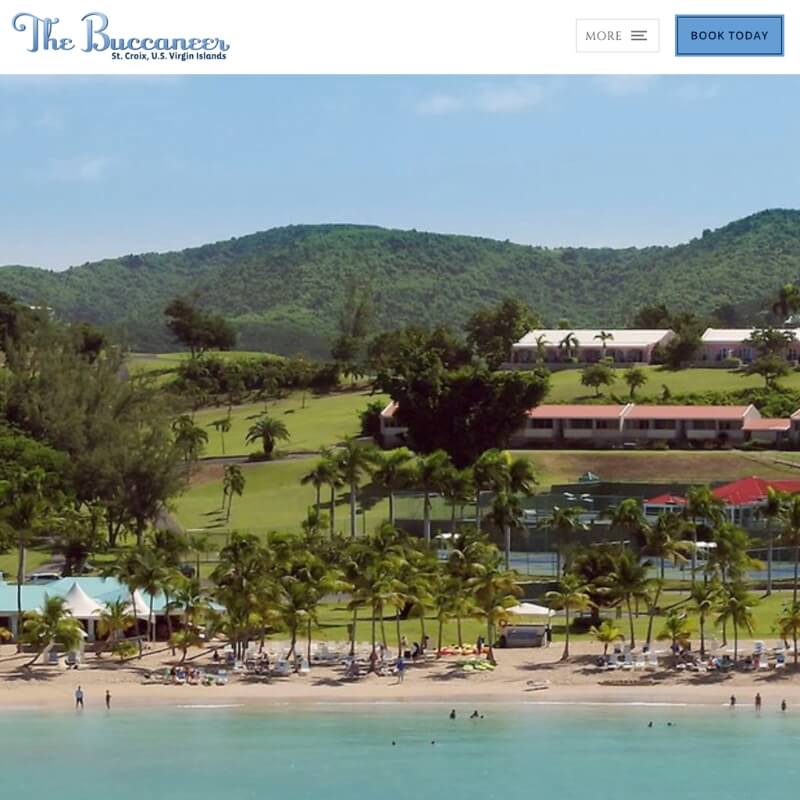 The Buccaneer Resort is located on the island of St. Croix. It has a fascinating history, which reaches back in some form to the 1600s!
The Buccaneer has existed in its current form since 1947. Though much has changed since it first opened, it maintains many original attractions and fixtures, including its famous cocktail menu.
The luxury resort offers private balconies in each of its rooms so guests can enjoy the surrounding views of the Caribbean. It also has a six-bedroom villa for larger parties, ideal for intimate getaways or family vacations.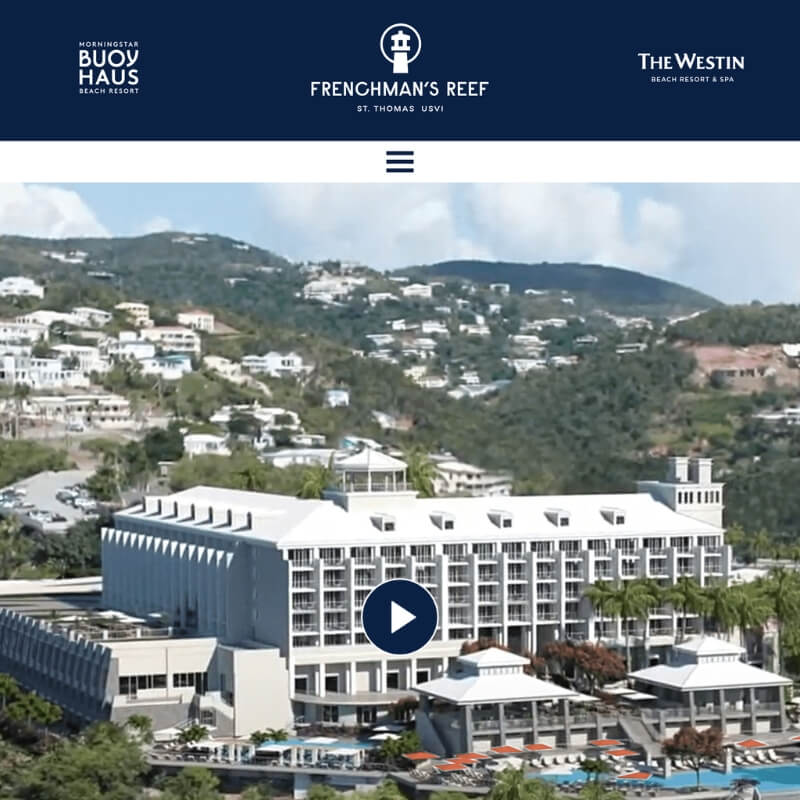 Frenchman's Reef is located on the island of St. Thomas. This brand-new, all-inclusive resort is the product of extensive renovations and has only been open to the public since the spring of 2023.
There is something for everyone here, whether you want to relax and be pampered or explore the island. The resort is built to highlight the natural beauty of the Virgin Islands, drawing your attention to the white sand beaches right outside your room.
World-class dining, poolside service, and snorkeling are all a part of the luxury experience at Frenchman's Reef, too.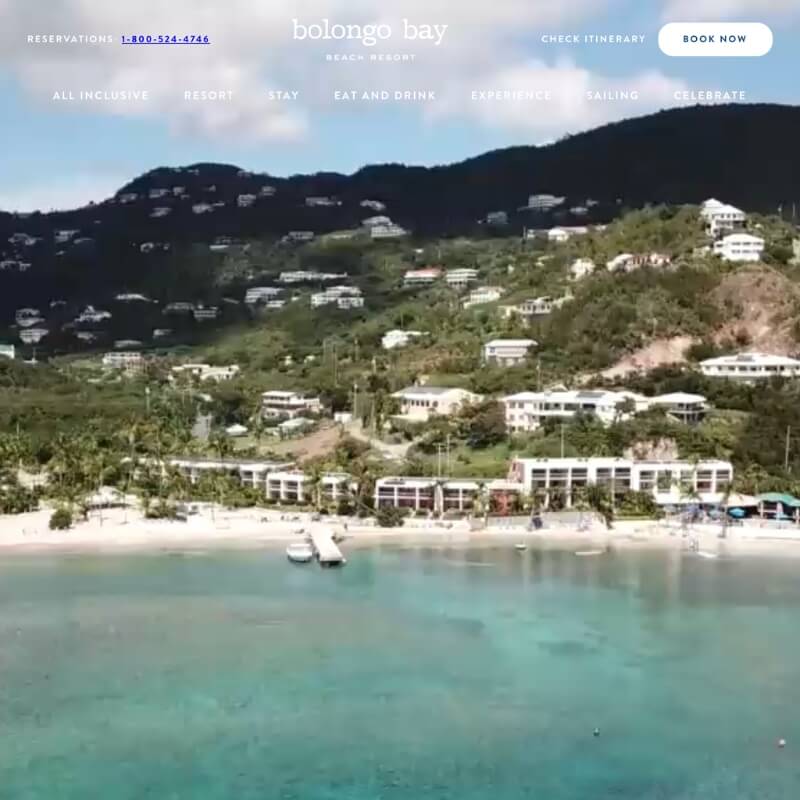 Bolongo Bay Beach Resort is a bit of a hidden gem among the Virgin Islands resorts. This family-owned property is located on the southern coast of St. Thomas, offering a welcome relief from the hustle and bustle of busier areas. Moreover, it is also family-owned and -operated, ensuring you get a truly personal experience during your stay.
The simple but beautiful rooms offer an unhampered view of the beach. You'll have the opportunity to relax in your room, stroll on the beach, and enjoy cocktails and world-class dining at the resort's beachside restaurant.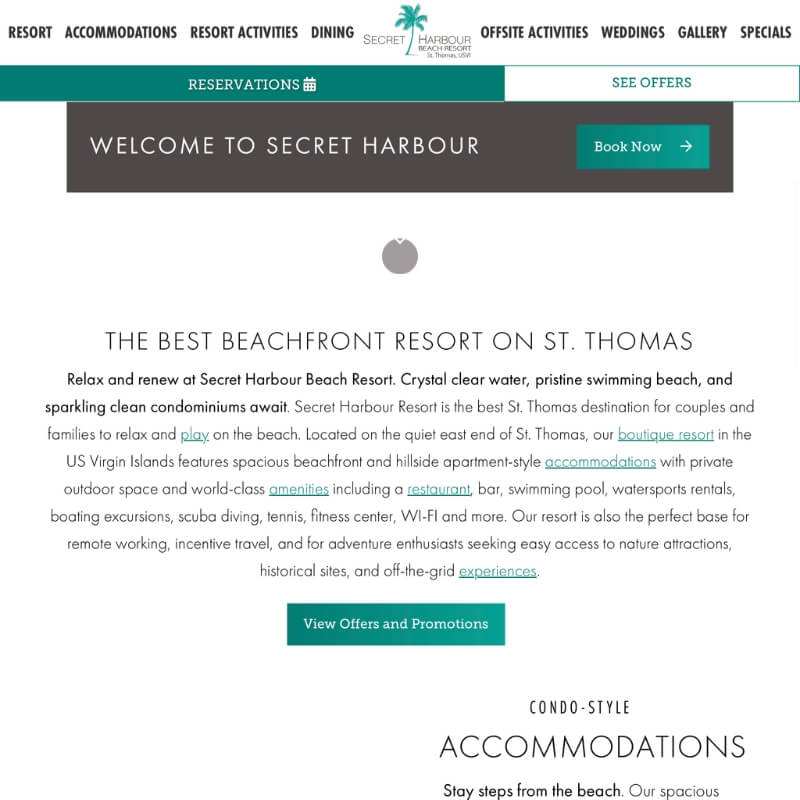 Many island resorts cater to either couples or families, but Secret Harbour Beach Resort, located on St. Thomas, welcomes everyone. This beautiful spot has something for guests of all ages, whether you're looking for a honeymoon getaway or a fun family vacation.
One of the most unique features of Secret Harbour is that it offers apartment-style rooms, meaning it truly is a home away from home. You will also get to explore the resort and many of the island's natural attractions. Scuba diving, boating, or relaxing on the beach — they're all possibilities here.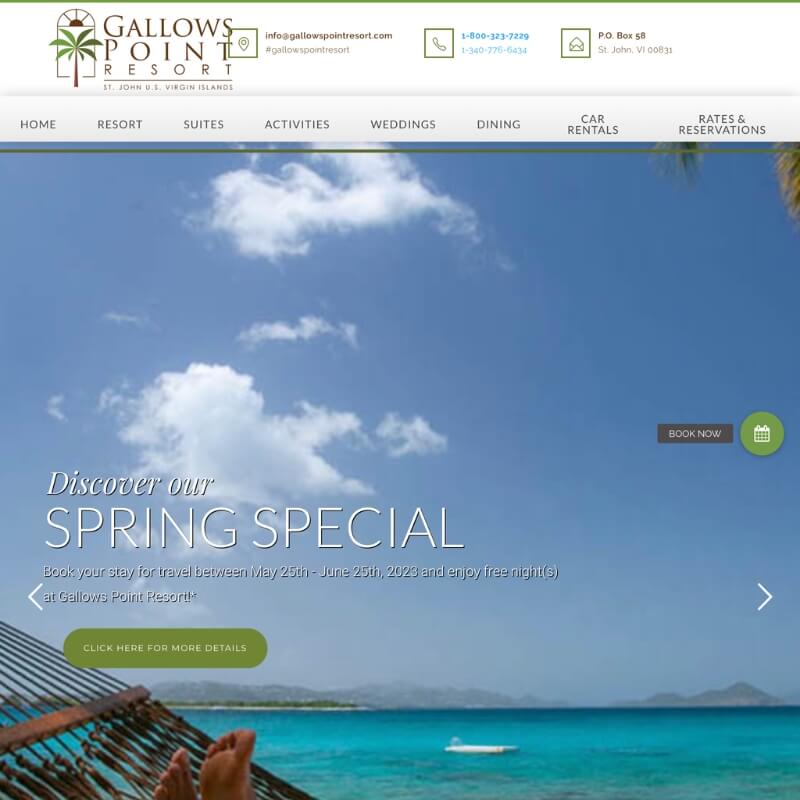 Don't let the threatening name throw you off — Gallows Point Resort
In addition to the luxury accommodations, there are countless things to do at the resort and on the island, including the Virgin Islands National Park. In fact, Gallows Point proudly claims to have more amenities than any other resort on St. John.
From five-star dining to watersports, every day at Gallows Point will be packed with fun.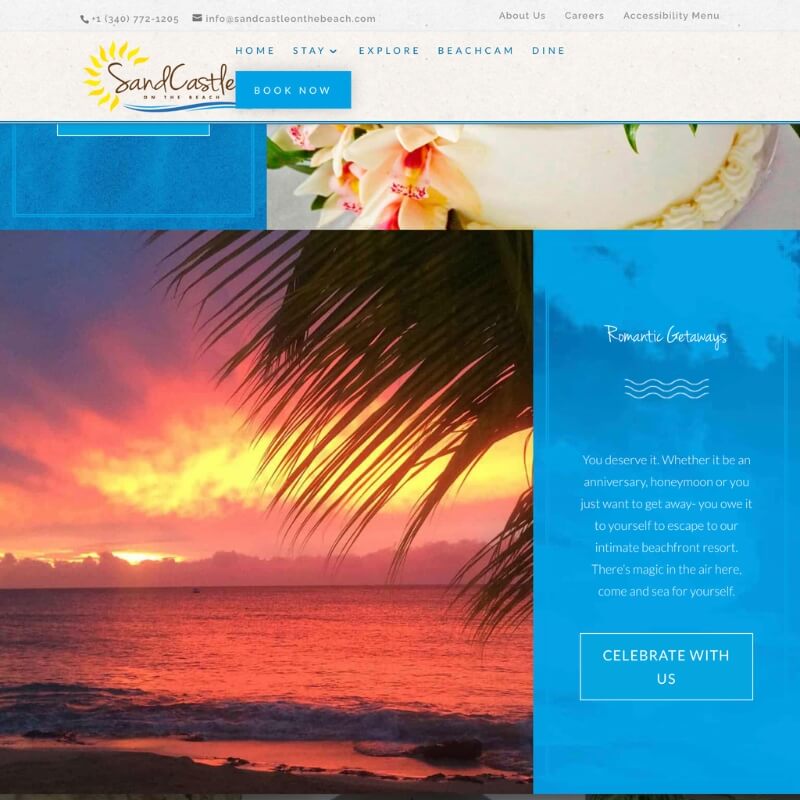 Sand Castle on the Beach Resort is a couple-owned hotel in St. Croix. The result of a decades-long love affair with the island, this resort finally came into being in 2017. It now serves visitors of all kinds with a personal touch.
In addition to the standard rooms, the resort also features vacation villas so that you can have an entire living space during your stay. In addition to the beautiful white sand beach, the resort has two pools, a library, and daily complimentary breakfast.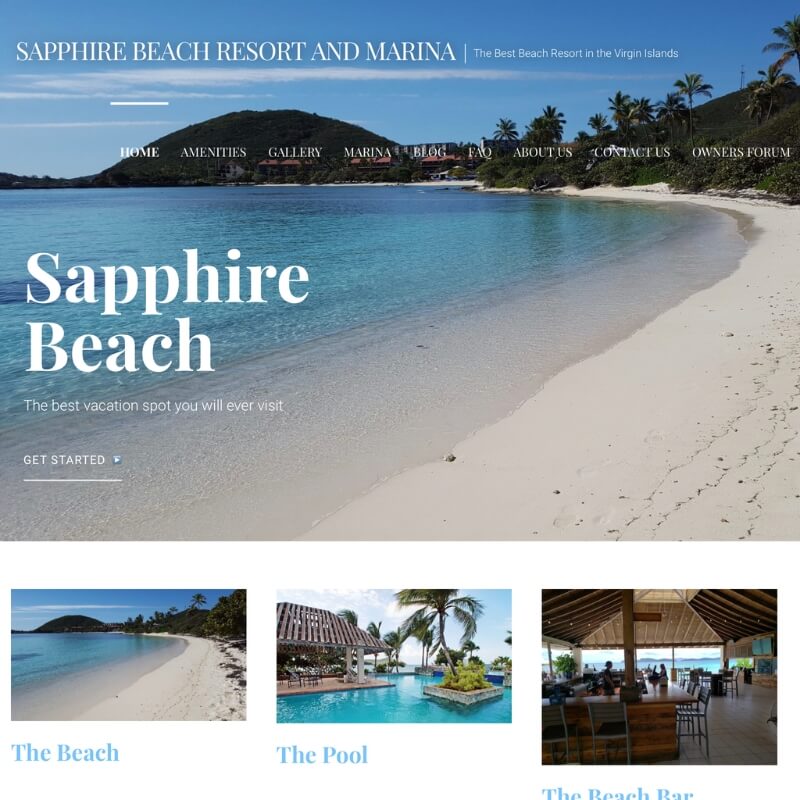 Sapphire Beach Resort and Marina is an award-winning place to stay on St. Thomas. A private hotel offers a unique and protected feel you won't find at most large, public resorts.
When you visit Sapphire Beach, you will feel like you have escaped to your own private paradise. But that doesn't mean there is nothing to do! The resort offers everything from live music at the bar to boat rentals and much more.
Marriott's Frenchman's Cove, A Marriott Vacation Club Resort is a stunning resort located in Charlotte Amalie, St. Thomas in the US Virgin Islands.
You'll be pleased to know that the resort is conveniently located near many popular attractions, including Morningstar Beach and Bluebeard's Beach. The resort offers a range of amenities, such as a pool, an on-site restaurant, and a lounge. You'll have access to top-notch room amenities, including a kitchenette, air conditioning, and a flat-screen TV.
When it comes to food and drink options, you can enjoy an on-site restaurant, a lounge, and a poolside bar. The resort offers free parking, and you can also find several restaurants nearby, such as PRIME at Paradise Point and Pizza Amore.
You'll have plenty of opportunities to exercise during your stay, with access to a pool, fitness center, and fitness classes. The staff is multilingual and provides excellent service. If you're interested in historical sites, you can visit 99 Steps, Blackbeard's Castle, and Fort Christian.
Lastly, the resort offers great views of the harbor, making it an ideal choice for your next Caribbean vacation.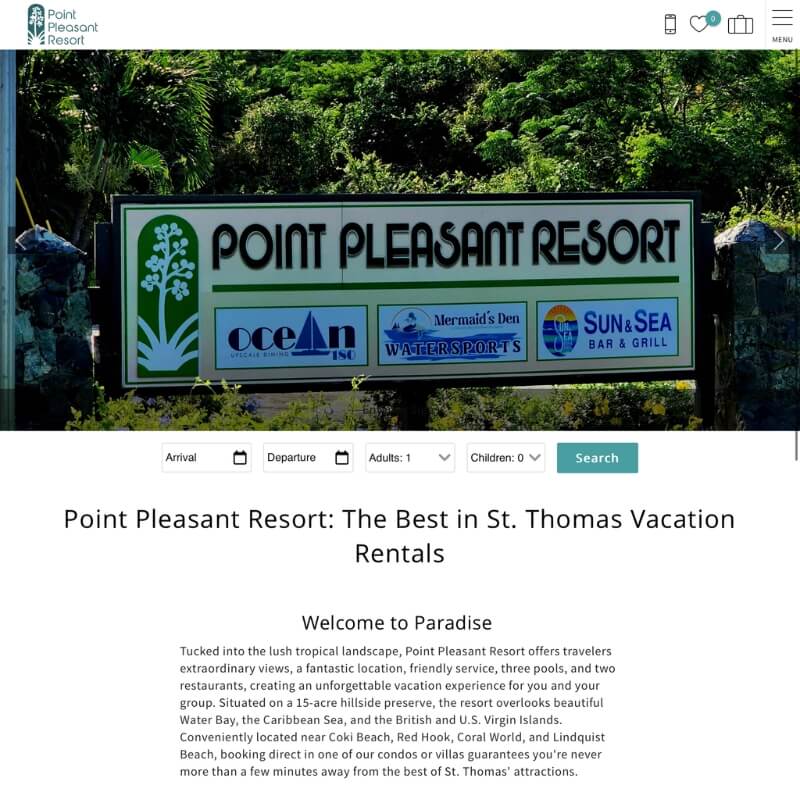 Point Pleasant Resort is a lush private paradise on a secluded stretch of beach in St. Thomas. But despite its feeling of privacy, Point Pleasant is within mere minutes of some of the most popular attractions on St. Thomas as well as Coki Beach and Red Hook.
Unlike most resorts where guests stay in single rooms or suites, Point Pleasant offers full villas. You will feel like you are truly at home as you explore the resort, whether heading to the beach to relax on the sand or into town.
Frequently Asked Questions
What are US Virgin Islands Resorts?
US Virgin Islands resorts are beautiful places to stay when you visit the islands. They offer comfy rooms, delicious food, and fun activities for you to enjoy during your vacation. Whether you're looking for a luxury resort or a budget-friendly option, there's something for everyone! With unbeatable views of the Caribbean Sea and easy access to local attractions, US Virgin Islands resorts offer the perfect way to experience all that this stunning destination has to offer. So start planning your dream vacation today!
Are US Virgin Islands Resorts good for couples?
Yes, US Virgin Islands resorts are perfect for couples! Many resorts have romantic settings, private rooms, and special activities just for couples to make your trip unforgettable. From secluded beaches to luxurious spas, you will find a wide variety of activities that are perfect for any romantic getaway. Whether you're looking for an all-inclusive experience, a luxury retreat, or just some time away from it all, US Virgin Islands resorts have something for everyone.
When is the best time to visit the US Virgin Islands?
The best time to visit the US Virgin Islands is from December to April. The weather is warm and sunny, and there's less rain than in the summer months. There are plenty of activities to do, from snorkeling and fishing to hiking and shopping. The Virgin Islands also offer some of the best beaches in the Caribbean, with miles of sand and crystal-clear waters. Whether you're looking for relaxation or adventure, there's something for everyone!
Do I need a passport to visit the US Virgin Islands?
If you're a U.S. citizen, you don't need a passport to visit the US Virgin Islands. However, it's a good idea to bring a government-issued ID, like a driver's license, for identification. Also, you may want to bring along any travel documents that could be helpful, such as proof of payment for your stay. Finally, if you're traveling with minors, it's important to bring their birth certificates or other documents that prove parentage. This will help expedite the process of crossing borders and ensure a smooth trip overall.
Bottom Line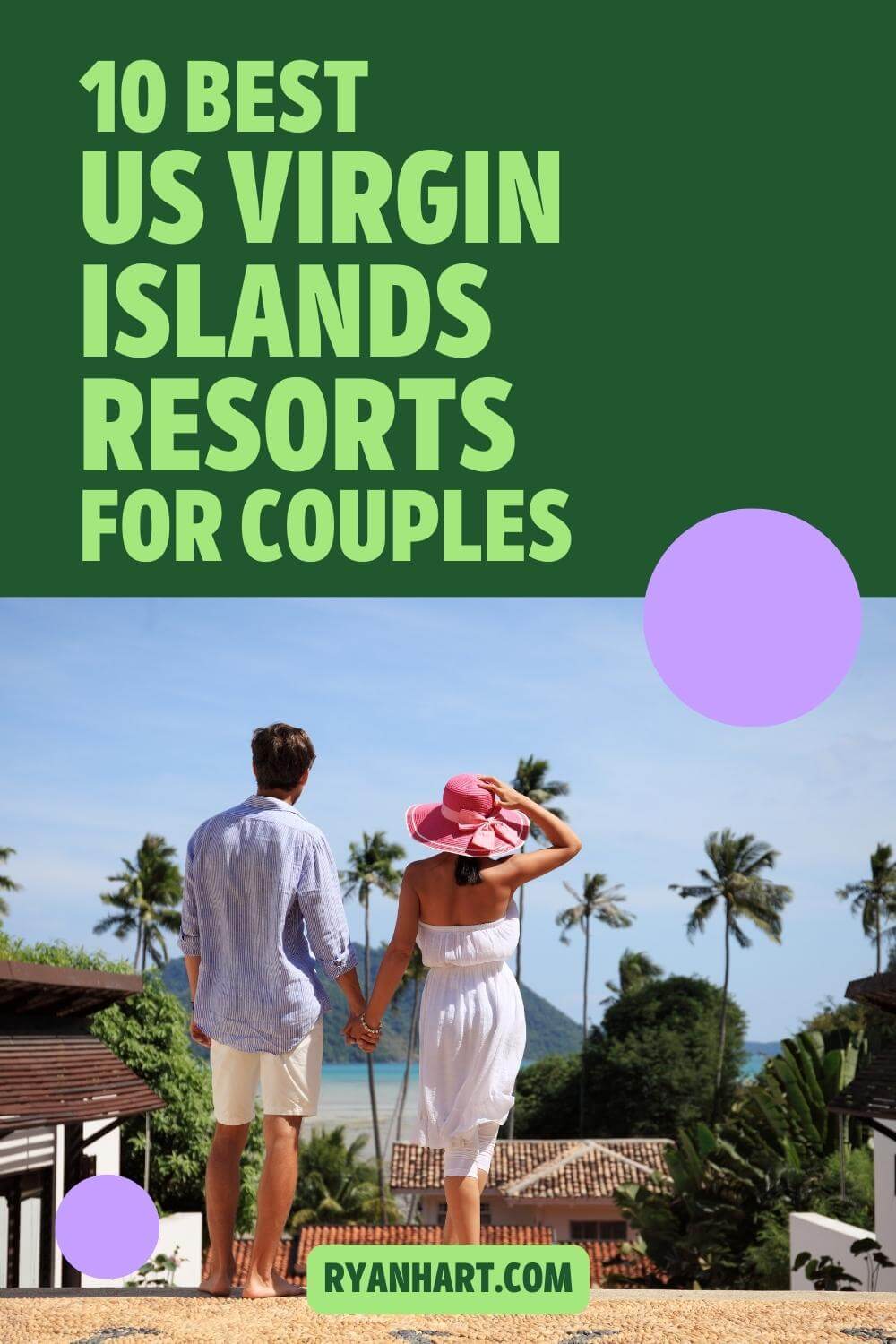 As we come to the end of our article about US Virgin Islands resorts, remember that these beautiful places are perfect for a romantic getaway or a fun-filled vacation.
With stunning beaches, clear blue waters, and exciting activities, you'll create memories that will last a lifetime. So, take your time and explore the different resorts to find the perfect one for your trip.
Whether you want to relax on the beach, go on an adventure, or enjoy delicious food, there's something for everyone in the US Virgin Islands. Pack your bags and get ready for an unforgettable vacation at a wonderful resort!