Beach weddings have become an increasingly popular choice for couples, and it is not hard to see why. What more beautiful place could you choose to celebrate your marriage than by the majesty of the ocean?
There is much to be said for ditching the traditional wedding venues and celebrating in the sand and the surf. Our top wedding invitations for a beach wedding will help you find the perfect design for your big day.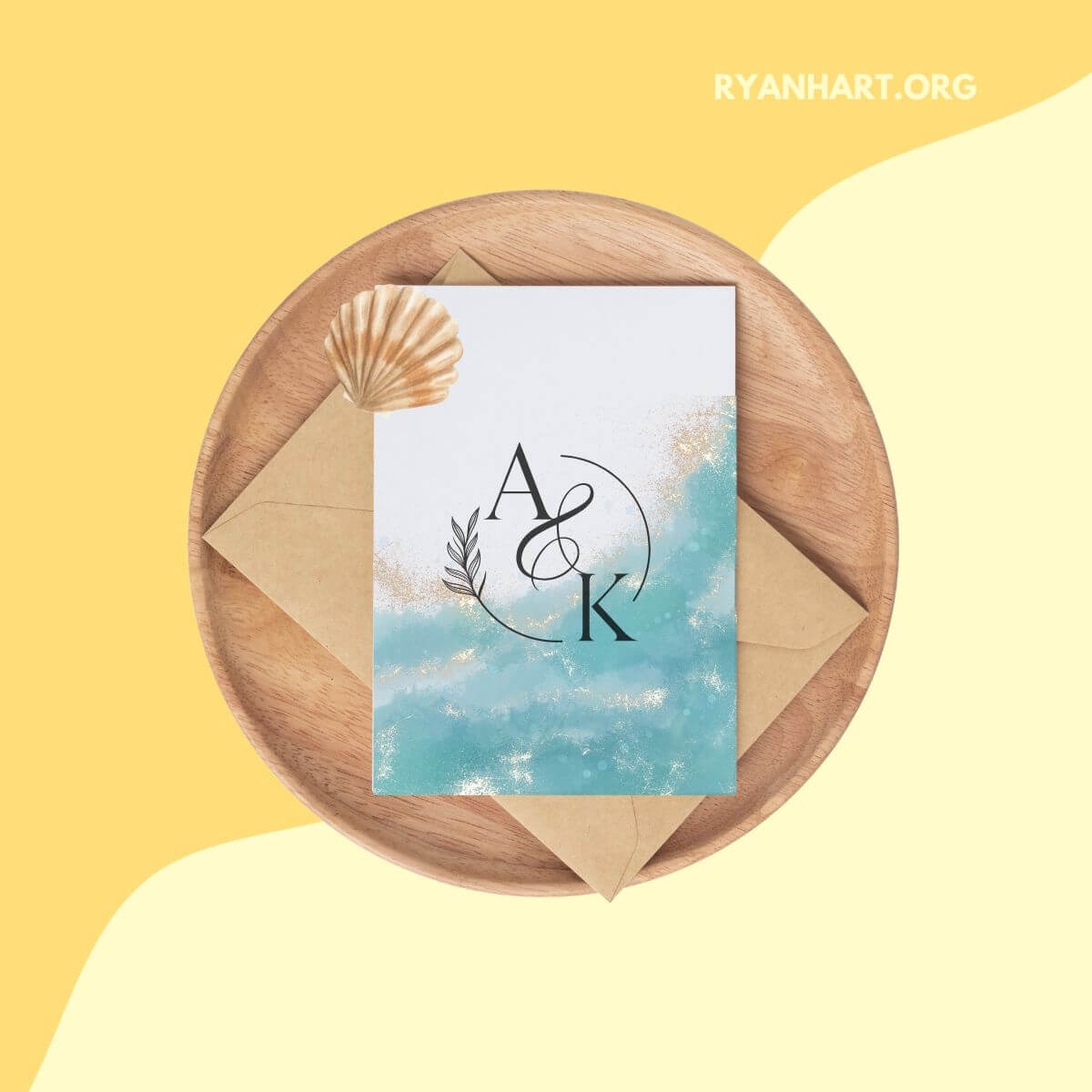 What are the best beach wedding invitations?
Beach weddings come in all themes and styles, from chic affairs on the rocky New England coast to relaxed celebrations on a luxurious tropical island. The ideal beach wedding invitation sets the stage for what to expect.
Like any wedding invitation, it should include all the details of your special day, as well as information on how your guests can find your wedding website and other details. If you are looking for the perfect invitation for your seaside wedding, check out our top recommendations below.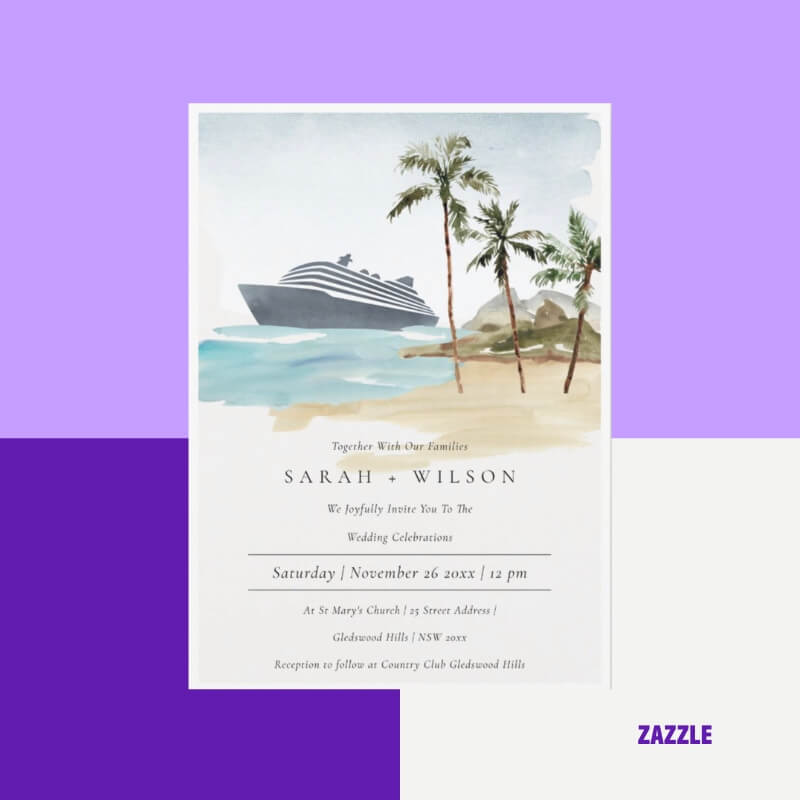 If you want your wedding invitation to communicate all the best things about a tropical vacation, the Tropical Seascape Beach Cruise Palm Wedding Invite from Zazzle is a perfect choice. Featuring an attractive watercolor illustration of a cruise ship approaching the shore, this invitation design is both eye-catching and elegant.
There are plenty of ways to customize the invitation, from paper color and type to font and finish. The complete invitation set includes an RSVP card, an insert for wedding details, and a matching thank you card.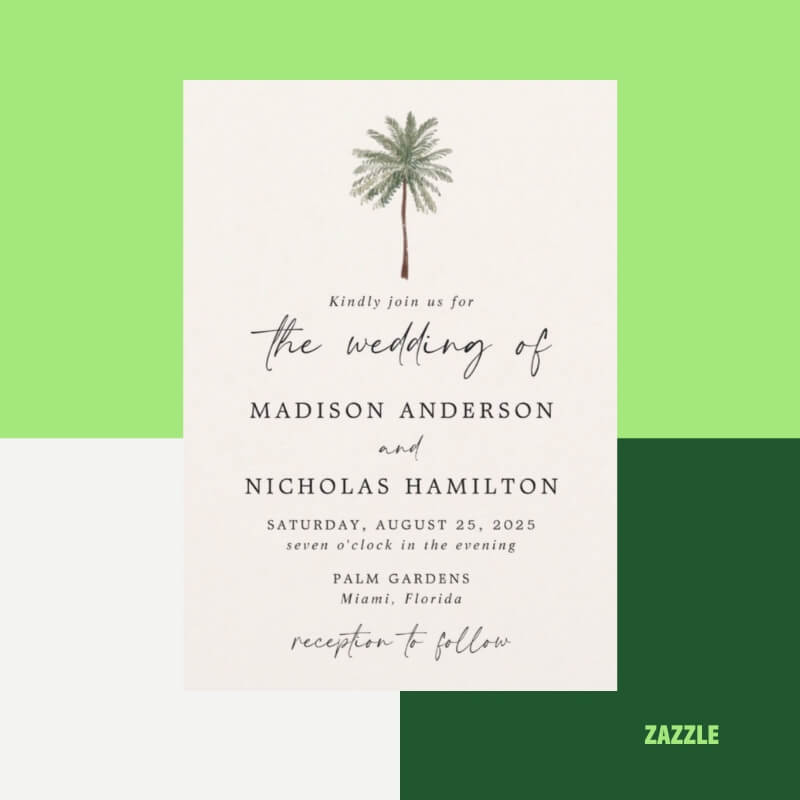 They say a picture is worth a thousand words, as evidenced in Zazzle's Minimal Palm Tree Wedding Invitation. Featuring a simple palm tree illustration above your wedding details, this invitation is elegant minimalism personified. It also includes hand lettering to make your invitation stand out.
The back of the invitation is solid sage green to accent the theme. If your beach wedding is all about simple, natural beauty, this is the perfect invitation to match.
This Tropical Beach Palm Trees Watercolor Wedding All-In-One Invitation is sure to catch your guest's eyes because of its attractiveness and unique design. This invitation set features a watercolor illustration of palm trees that continue seamlessly between each piece of paper in the set.
When you hold the invitation and RSVP card together, you'll see a full picture setting the theme for a wedding in tropical paradise. The all-in-one design makes it both unique and convenient, perfect for the couple that combines style and practicality.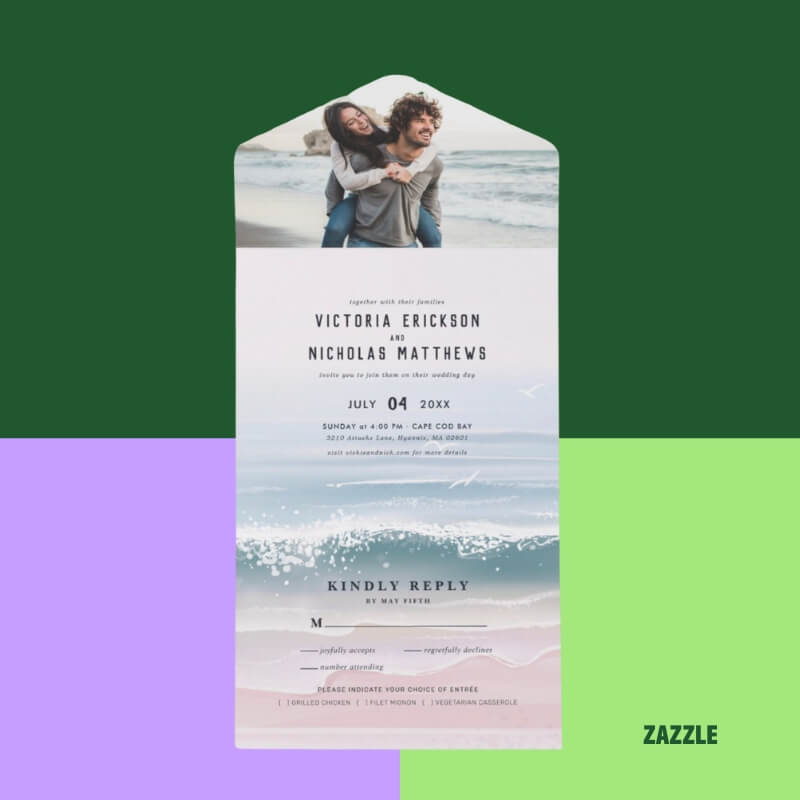 This Coastal Ocean Beach All in One Wedding Invite features some truly beautiful art that you can make entirely your own. Featuring a beachside scene, you can customize it further by adding your own designs (with options to contact the artist for more detailed personalization).
The all-in-one design allows you to include all your wedding details, from information about the reception to any other activities you want to share. If you love the idea of a truly personal invitation for your beachside wedding, this is a great invitation choice.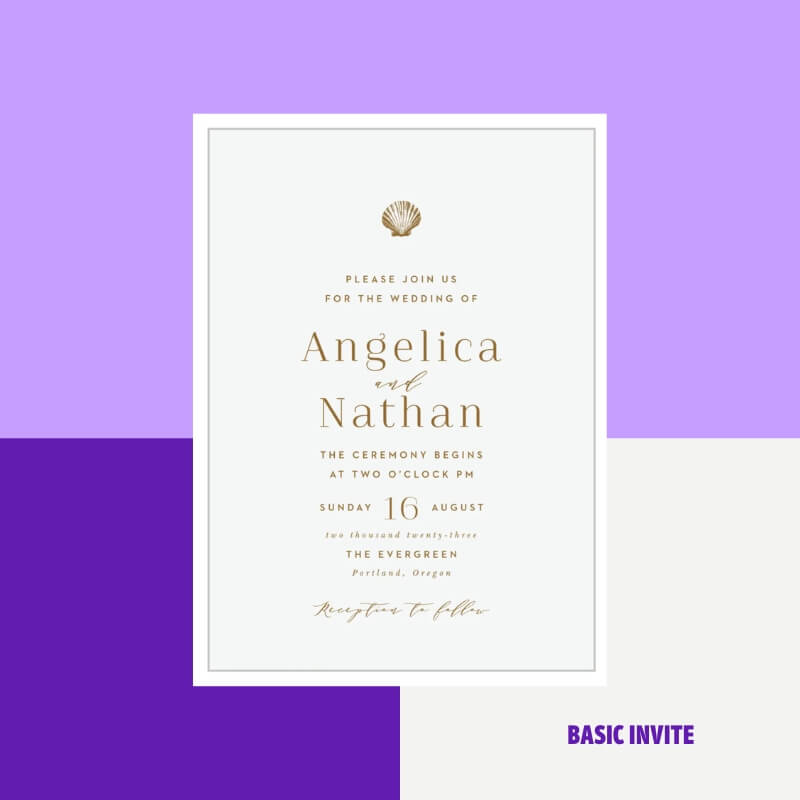 The ocean has endless natural beauty, giving many options for decorating your special day. These Tiny Seashell Invitations keep things simple with a single seashell illustration in elegant gold. You can customize the invitation with a foil overlay to make the illustration and text stand out even more.
With a stylish combination of text and hand lettering, this invitation is ideal for an upscale coastal wedding, whether your big day is on the rocky beaches of New England or a tropical island.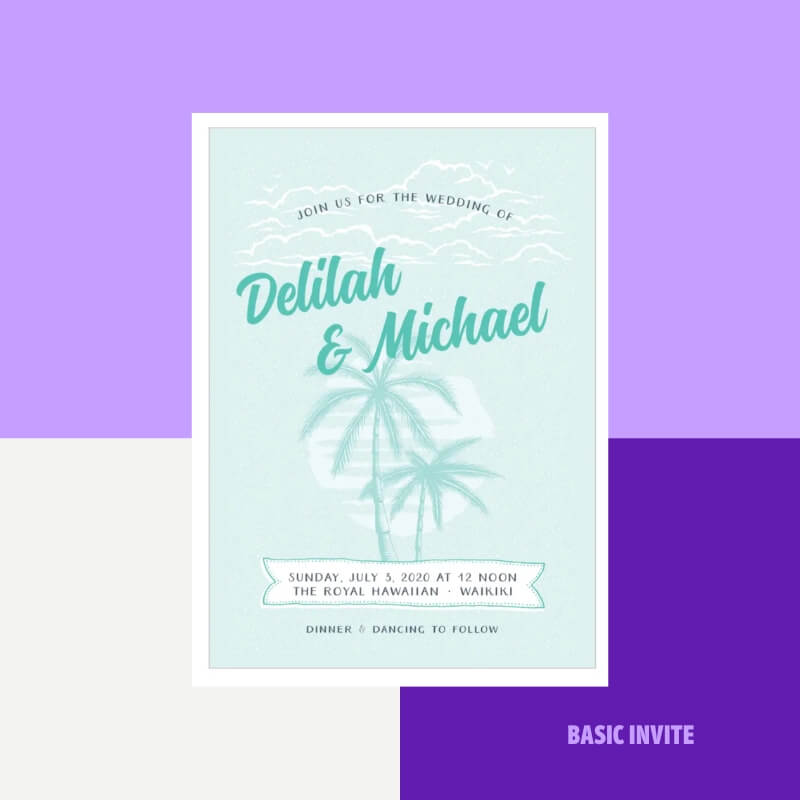 Are you getting married in a paradise of sunshine and turquoise water? This Modern Beachside Wedding Invitation is a fun and colorful announcement for your big day. It features a soft aqua background with a single palm tree and a skyline of clouds and seabirds.
The minimalist design keeps things simple, so you may want to include other cards with more details about the wedding ceremony and reception. If you love bright colors and fun designs, this is an excellent invitation for your beach wedding.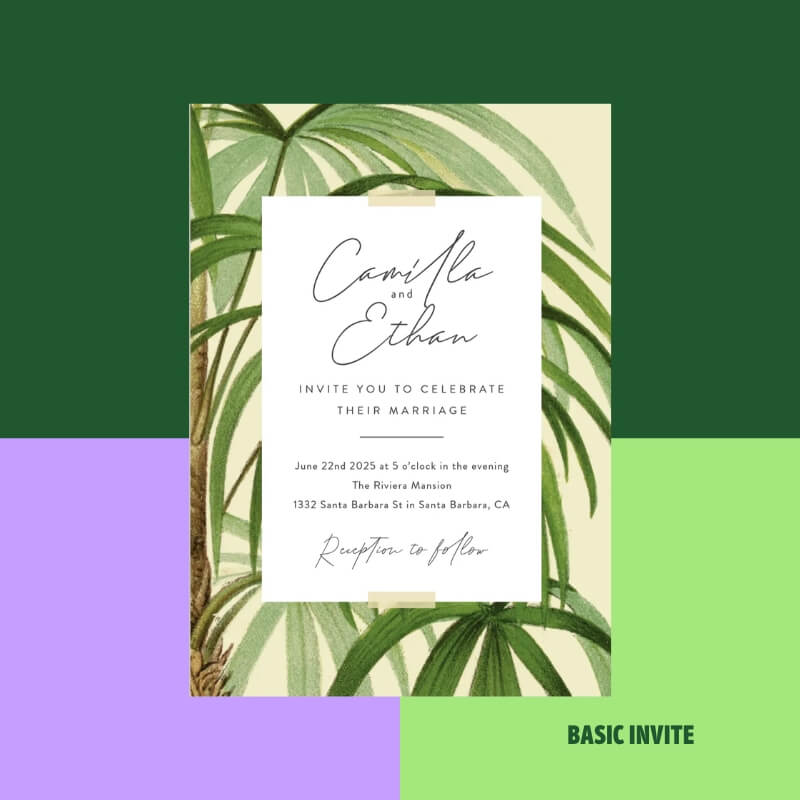 Palm trees are a popular theme for beach weddings, but that doesn't mean using them can't be unique. These Painted Palm Invitations put the viewer right up close in the lush, tropical plants in a beautiful watercolor illustration. The text box features elegant calligraphy announcing the details of your wedding ceremony.
These invitations set the scene to perfection but leave plenty of interpretation about the event itself — these can be for a high-end, elegant affair or a casual, fun beach party!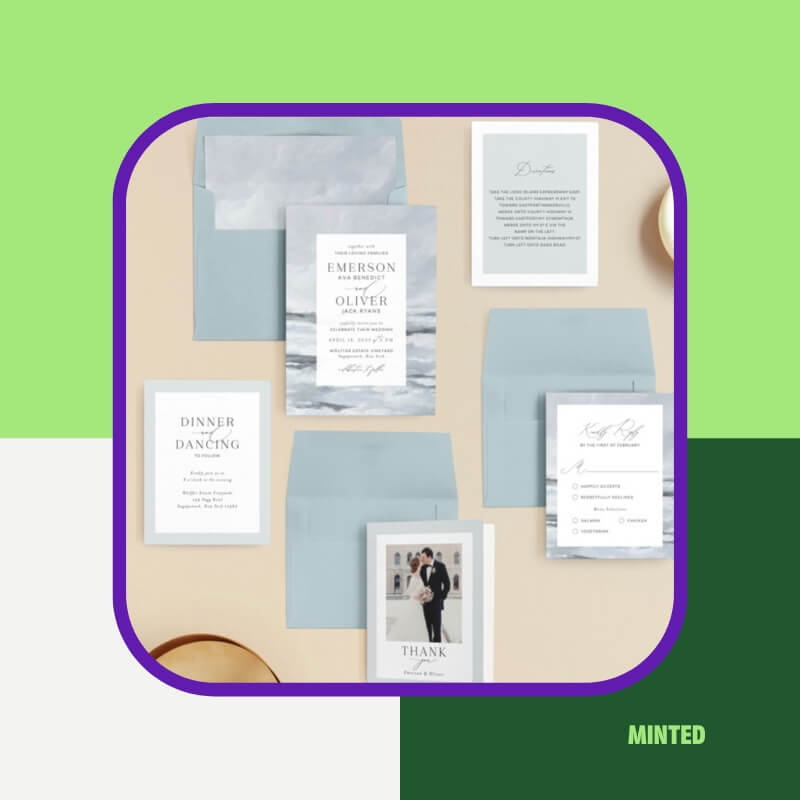 The Water's Edge invitation from Minted features a beautiful watercolor ocean scene, putting you right in the surf. Suggesting rolling waves under a cloudy sky, this invitation is perfect for a beach wedding of any kind — but it is particularly well-suited to a non-tropical beach.
The central text box can be customized with the calligraphy option of your preference. If you are getting married on the beaches of the East Coast or the cool coastline of the Pacific Northwest, this beautiful invitation is the perfect choice for your big day.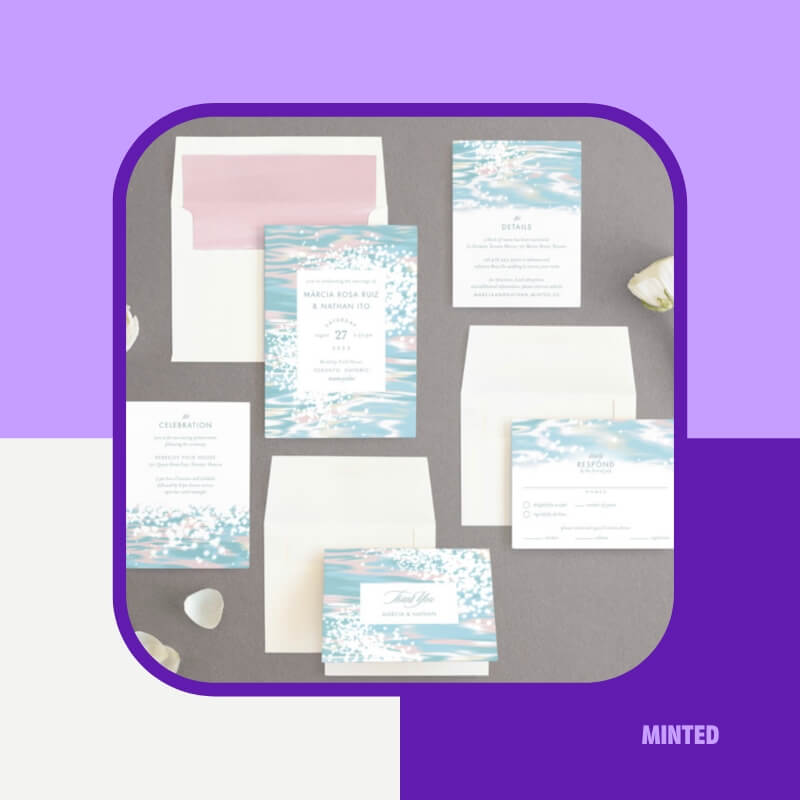 Getting married in a place of natural beauty, like the beach, offers many options for themes and decor. This unique Glisten wedding invitation features a design that suggests the reflection of sunlight on the ocean.
The sparkling waves provide a beautiful background for the central text, featuring your names and wedding details. There are multiple customization options for color theme, font, and the shape of the text box. If you want a beach-themed wedding invitation that truly stands out, this design is for you.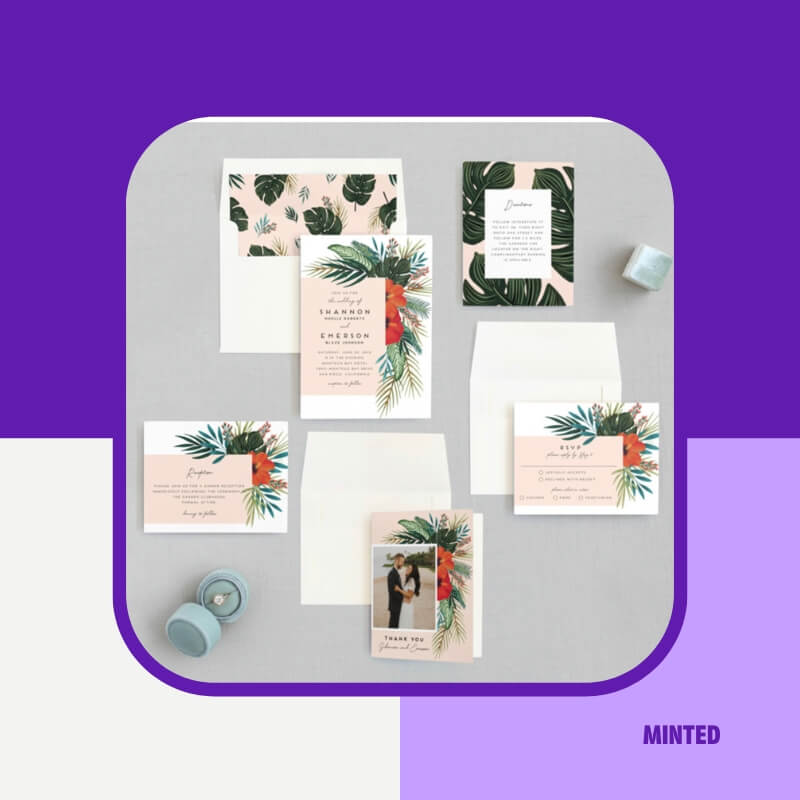 If you're not one for understated elegance, you might like this Tropical Oasis wedding invitation. Featuring a large illustration of tropical flowers and palms, this design captures the attention immediately. Colorful and attractive, it is ideal for a tropical destination wedding.
It sets the stage for a wedding in a place of wild natural beauty, the perfect backdrop for the happiest day of your life. If your wedding is set for an island destination, this is the perfect invitation for announcing the news to your friends and family.
Bottom Line
Beach themed wedding invitations are perfect for a beach ceremony or destination wedding. They help set the mood for your guests right from the start.
Fun and pretty designs, like seashells or palm trees, will make everyone excited for your big day. Your invitations will also be a special keepsake, reminding you of your beautiful beach wedding for years to come.
Designing your own invitations can be a bit tough, though. You might not know where to start or how to make them look just right.
Plus, finding the perfect paper and printing can be tricky. But don't worry! You can find amazing beach themed templates online.
Our recommended templates make it easy to create invitations you'll love. With a little help from the web, you'll have stunning beach themed wedding invitations in no time.