Whether you are looking for an indoor or outdoor wedding venue, you want to celebrate your big day somewhere beautiful. If you and your significant other love nature, you can find many mountain wedding venues all over the country (and even outside it!).
They provide the perfect backdrop for your wedding day, surrounding you and your guests with natural beauty during the celebration.
These mountain wedding venues offer every experience, from luxury to rustic, in a stunning natural setting.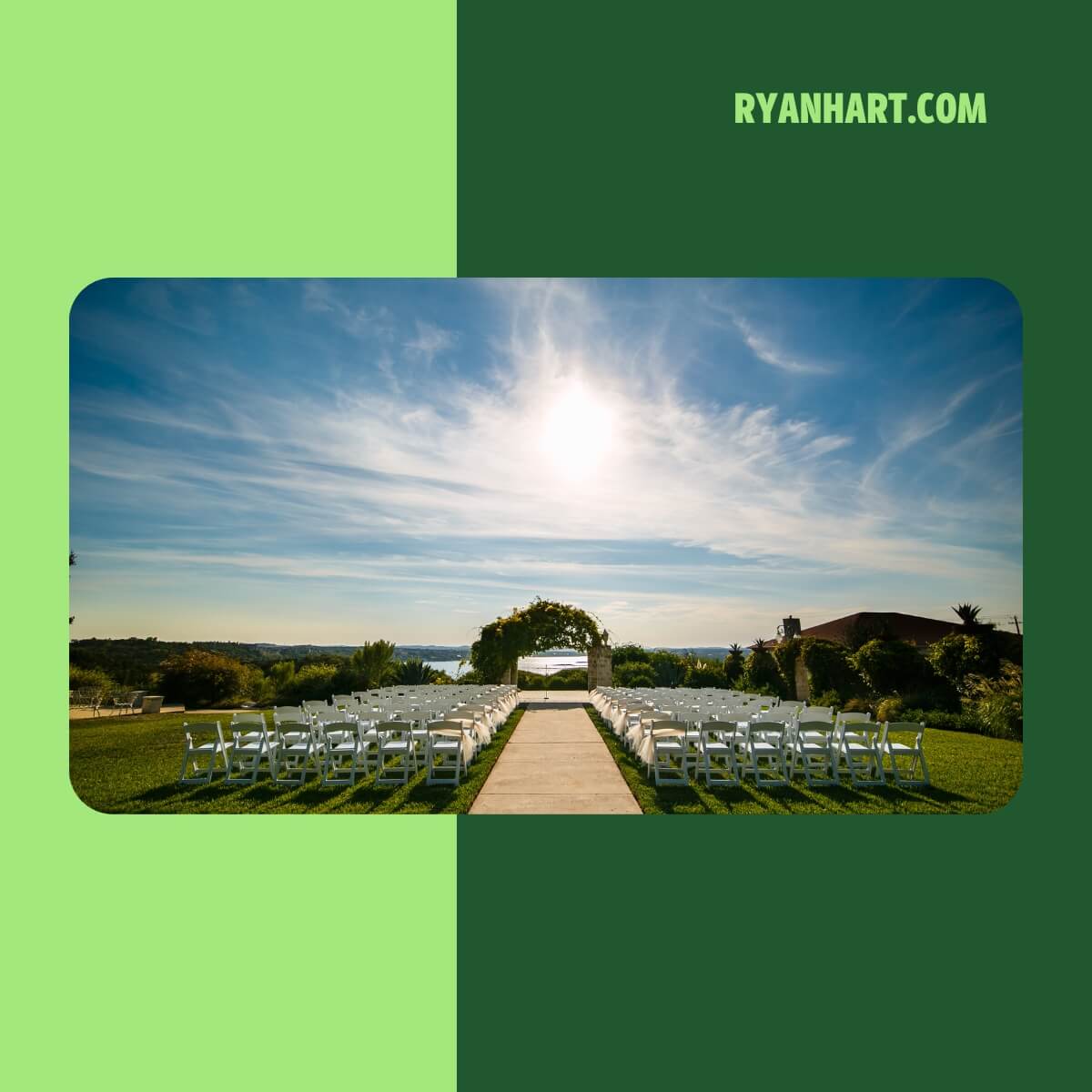 What are the best mountain wedding venues?
The United States has three major mountain ranges: the Appalachians, the Rockies, and the Sierra Nevada. However, there are more than 73,000 mountains in total throughout the country! Of course, if you're planning to cross the border into Canada, you have even more options.
Many of these mountain towns host hundreds of weddings each year. These venues range from large luxury resorts to small, intimate historic buildings. They have one thing in common: they all feature stunning views of the surrounding mountains.
Check out our guide below to learn about the best mountain wedding venues!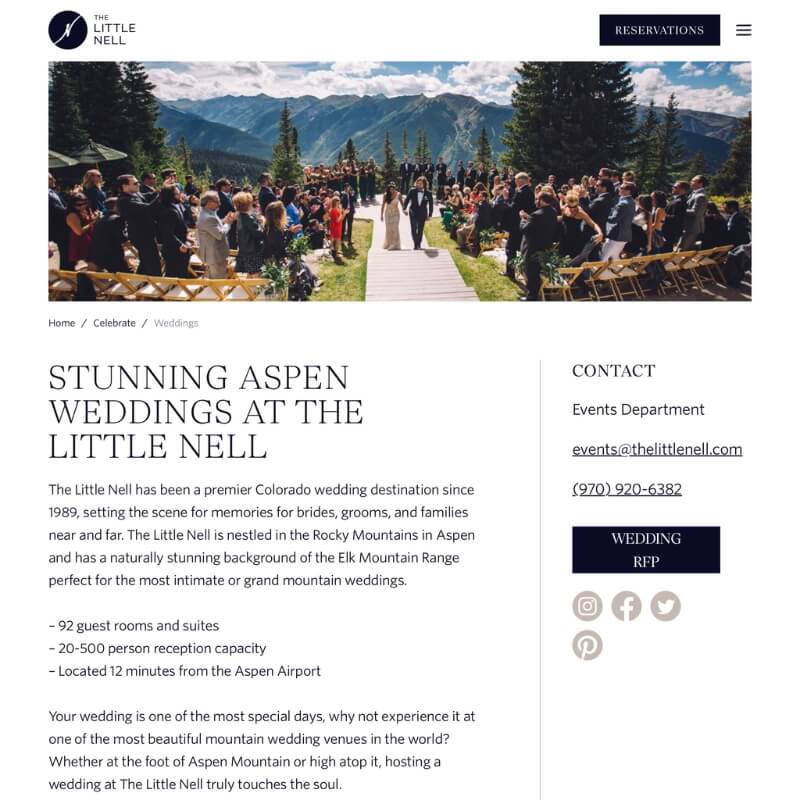 The Little Nell is located in Aspen, Colorado, one of the most beautiful mountain destinations in the country.
Since 1989, it has been an extremely popular wedding venue, offering a breathtaking mountain backdrop for weddings of all kinds.
The Little Nell is a mere 12 minutes from the Aspen Airport by car and provides space for up to 500 guests.
Your wedding ceremony and reception will be surrounded by the Elk Mountain Range, a beautiful backdrop that no decoration can achieve.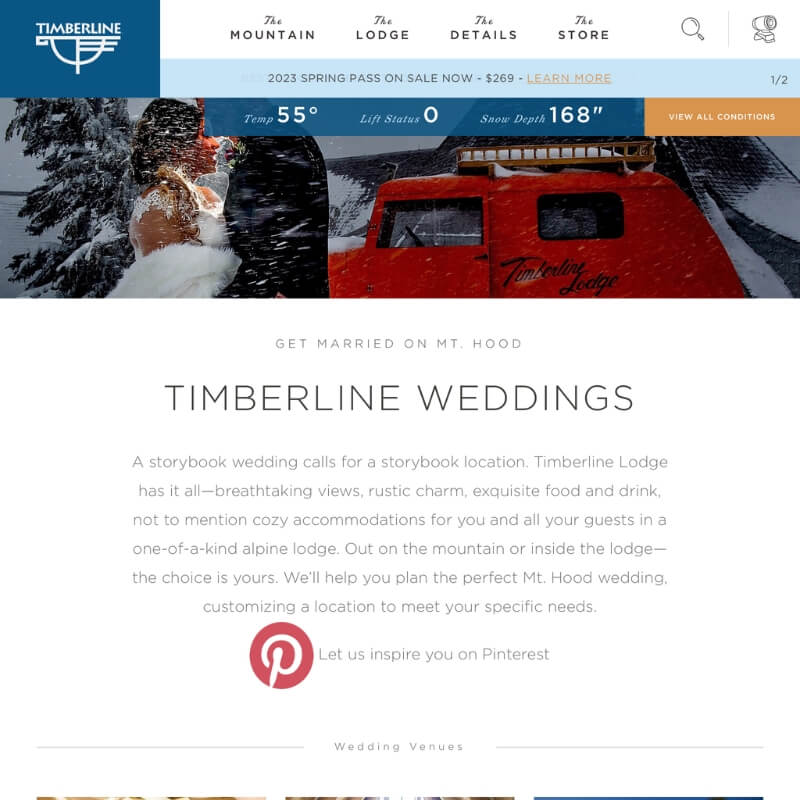 Timberline Lodgen is a historic property in Mount Hood, Oregon. Built in 1937, it has become one of Oregon's most incredible resorts and wedding venues.
The lodge has five areas for wedding ceremonies and receptions, ranging from intimate spaces perfect for a small celebration to grand halls to host all your family and friends.
With Mt. Hood framed in the background, you have no need for decoration — the surroundings themselves are perfect! You can even get married on the side of the mountain during the summer, surrounded by wildflowers.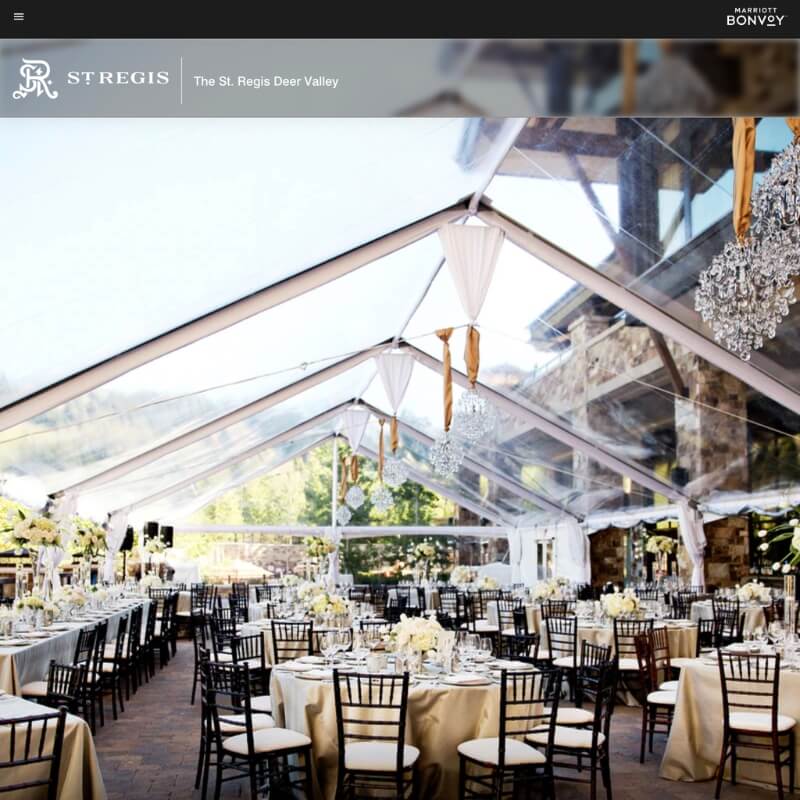 Utah has some of the most unique and stunning mountain and desert views anywhere in the country. The St. Regis Deer Valley is in Park City, surrounded by the Wasatch Mountains. These provide a stunning backdrop to your wedding at one of the St. Regis' 11 venues.
These range from small, intimate spaces to the luxurious Astor Ballroom, which has room for up to 300 guests. You can also hold your celebration outside in the beautiful Utah nature.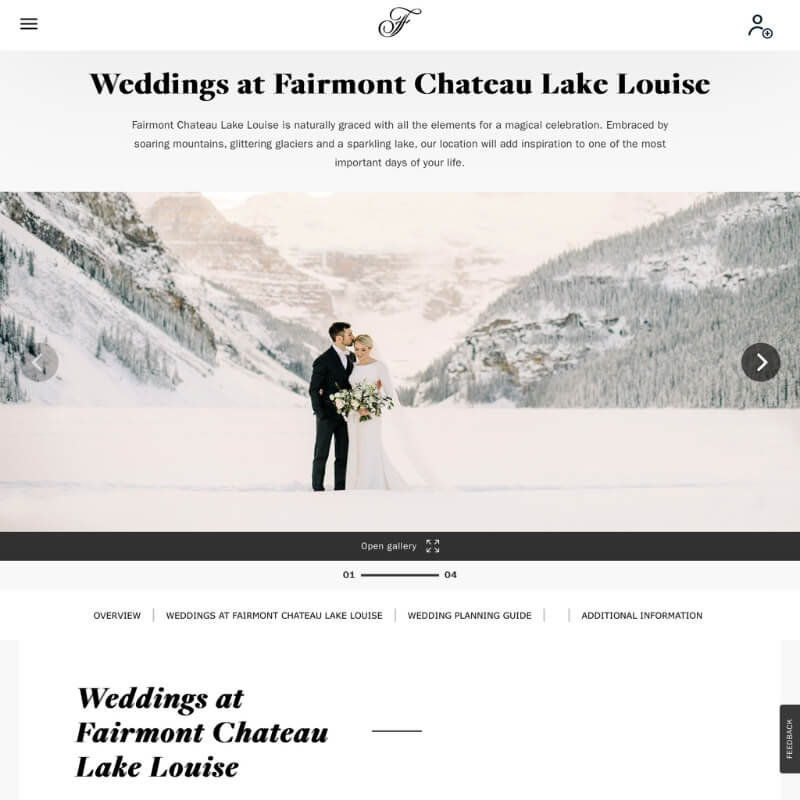 The Fairmont Chateau Lake Louise stands above Lake Louise, a breathtaking, glacier-formed lake in Banff National Park.
The enormous luxury resort is surrounded by the Canadian Rocky Mountains, ensuring you will have natural beauty on every side of your celebration. The Chateau even has an entire wedding planning team to help bring together all the details of your special day.
You can choose from various indoor and outdoor venues for a ceremony as intimate or as large as you need.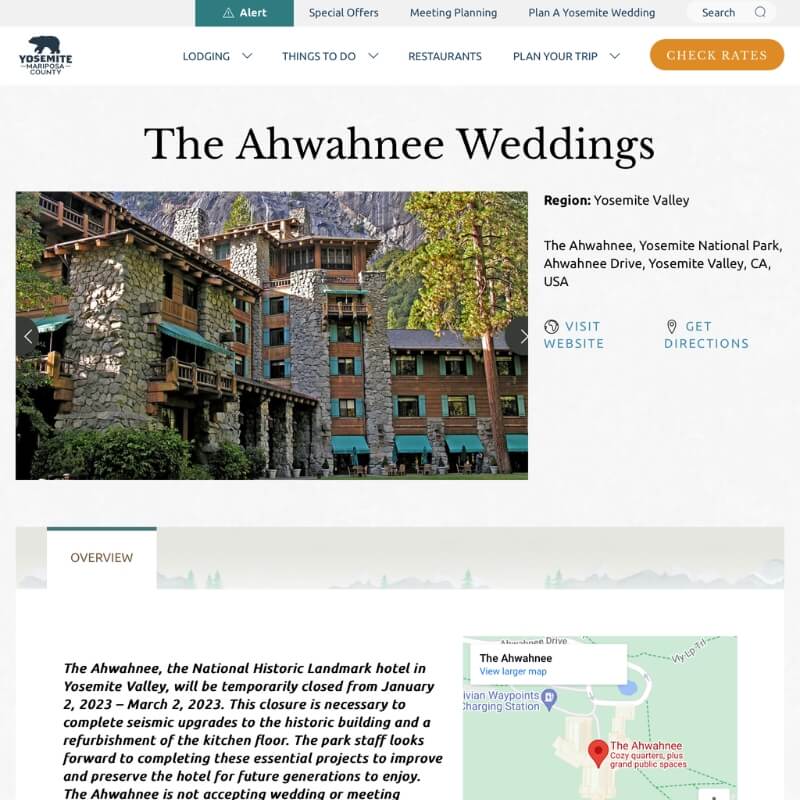 The Ahwahnee Hotel is located in Yosemite National Park. The hotel is a historic property built to complement the natural surroundings of the park.
When you visit here, you will feel immersed in the breathtaking beauty of Yosemite. You can celebrate your wedding outdoors in nature or indoors in Ahwahnee's famed Half Dome.
Meanwhile, the Solarium provides a beautiful space for an intimate reception or farewell breakfast, while the surrounding mountains offer the perfect backdrop for the whole day.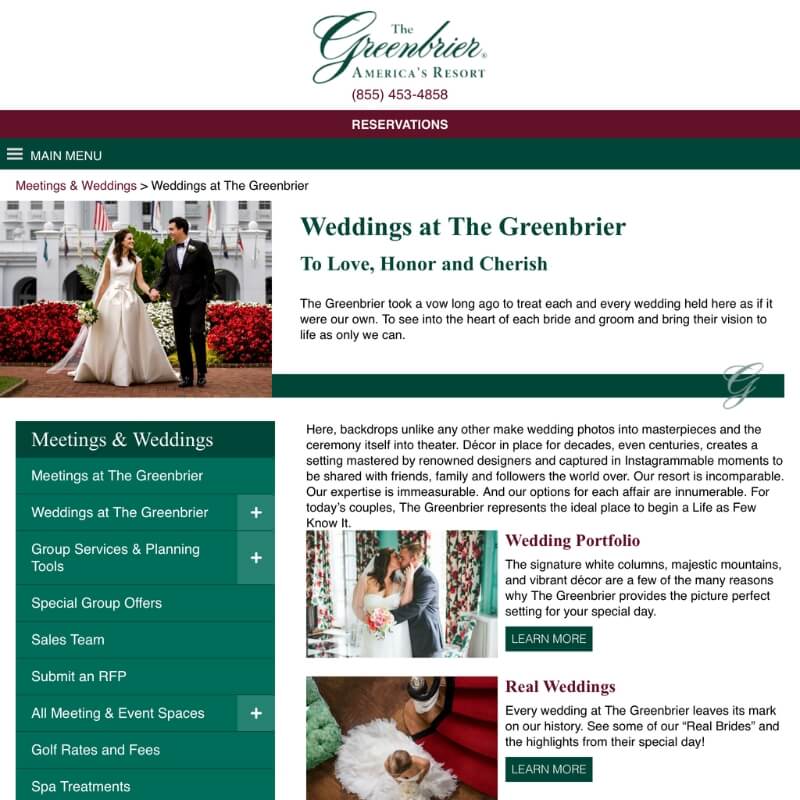 West Virginia is at the heart of the Appalachian Mountains, one of Earth's most ancient mountain ranges. The Greenbrier, located in White Sulphur Springs, is a luxury resort surrounded by stunning views of Appalachia.
This national historic property offers five-star accommodations for your guests and a full wedding planning package by request. That means you have access to wedding professionals on hand to make your big day run as smoothly as possible.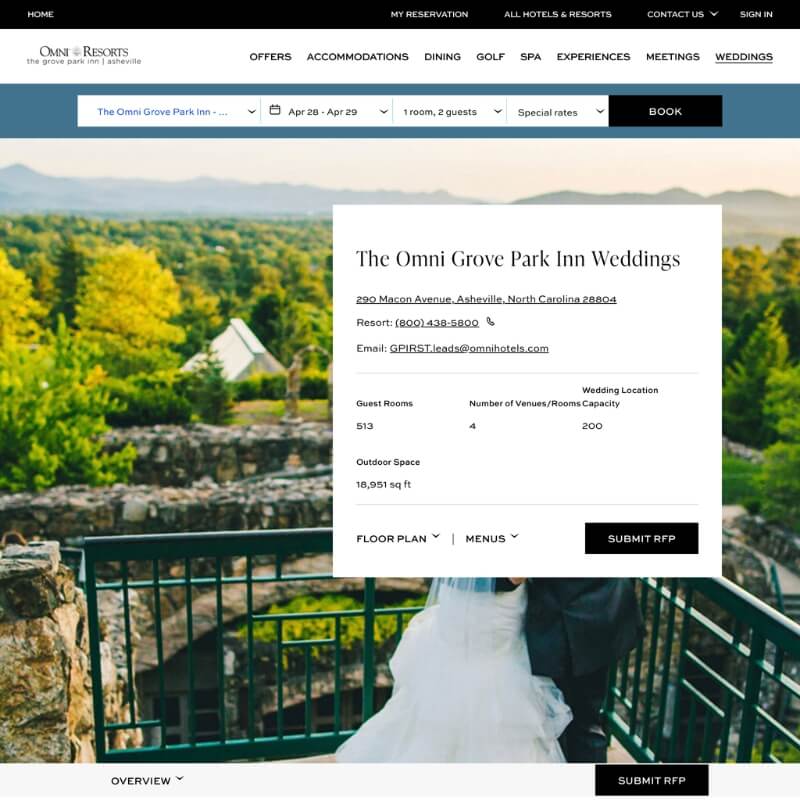 The Omni Grove Park Inn is located in Asheville, North Carolina, in the foothills of the Blue Ridge Mountains. This resort offers both indoor and outdoor venues for your ceremony.
If you are planning an intimate wedding, you and your significant other can say "I do" on the Vanderbilt Terrace, surrounded by mountain views. The Omni Grove Park Inn also offers a wide selection of wedding services and equipment, from catering to ceremony set-up.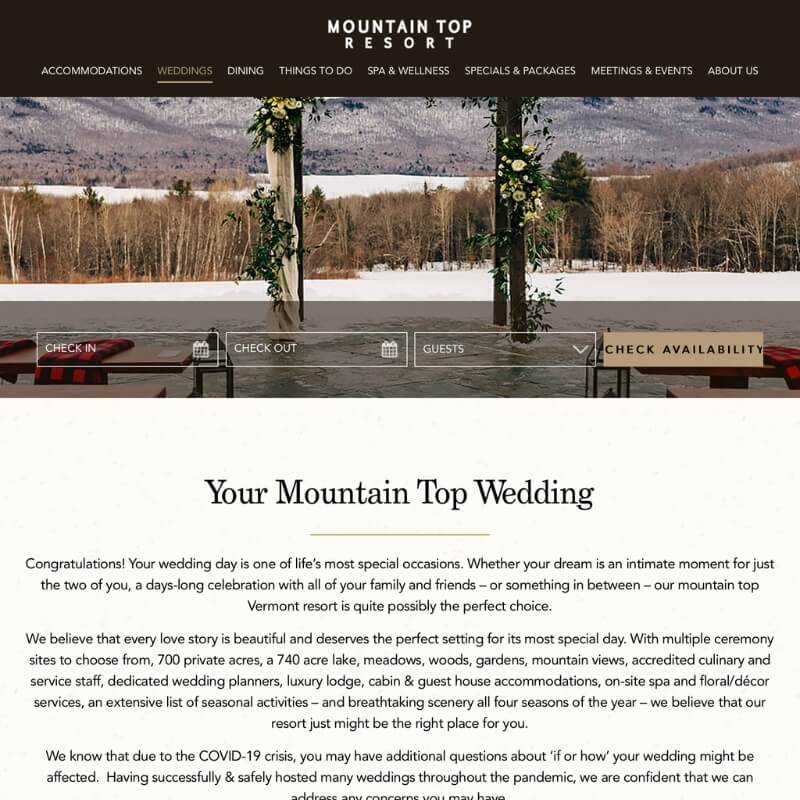 When you think "mountains," New England probably isn't the first place that comes to mind. But the The Mountain Top Inn & Resort in Chittenden, Vermont, is the perfect mountain venue for your big day.
The resort has over 700 acres for your ceremony, including multiple indoor and outdoor sites. In addition to the breathtaking mountains, the view includes a lake, cultivated gardens, and woodlands.
The Mountain Top Inn is perfect for a wedding at any time of year.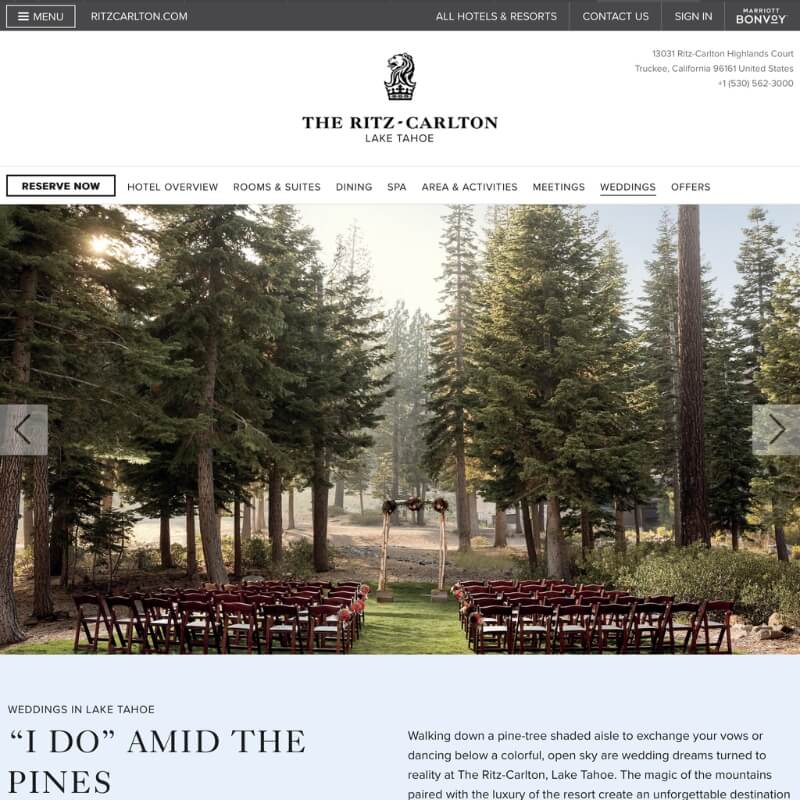 The Ritz-Carlton is a name that communicates luxury, but in Lake Tahoe, things are at a new level. Here, you can celebrate your wedding day in nature in the lush pine forests or in the grand Ritz-Carlton Ballroom.
Whatever you plan, you can rest easy knowing that your big day will be beautiful. When you plan your wedding at the Ritz-Carlton Lake Tahoe, you will be assisted by an expert wedding coordinator to help you every step of the way.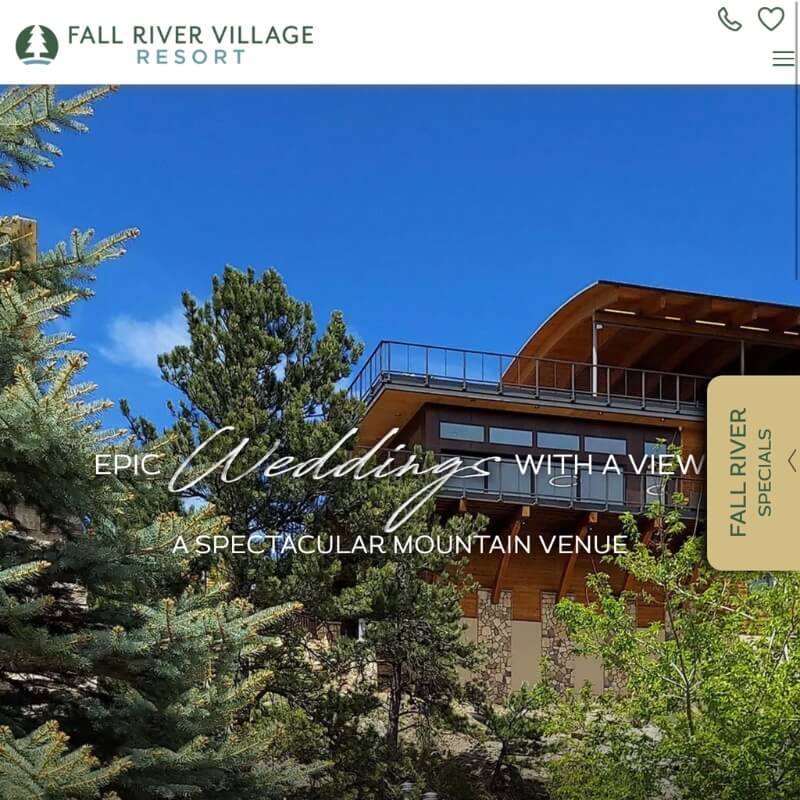 As the name implies, SkyView at Fall River Village in Estes Park offers some truly spectacular scenery. Located in the heart of the Rocky Mountains, this stunning wedding venue is unlike any other.
Every part of the resort is designed to offer an unhindered view of the mountains so you feel totally immersed in the beauty of nature. You can celebrate your wedding indoors in sight of cathedral windows or on the rooftop deck in the glorious outdoors.
Are mountain wedding venues suitable for all seasons?
While mountain wedding venues can be beautiful year-round, accessibility and weather conditions may vary depending on the season. It's important to research and choose a venue suitable for your desired wedding date.
Are there any potential challenges when hosting a wedding at a mountain venue?
Some challenges may include unpredictable weather, transportation, and accessibility for guests, and coordinating with local vendors. Proper planning can help mitigate these issues.
What makes mountain wedding venues unique and appealing?
Mountain wedding venues offer stunning natural scenery, panoramic views, and an intimate atmosphere, creating a memorable and romantic setting for your special day.
Bottom Line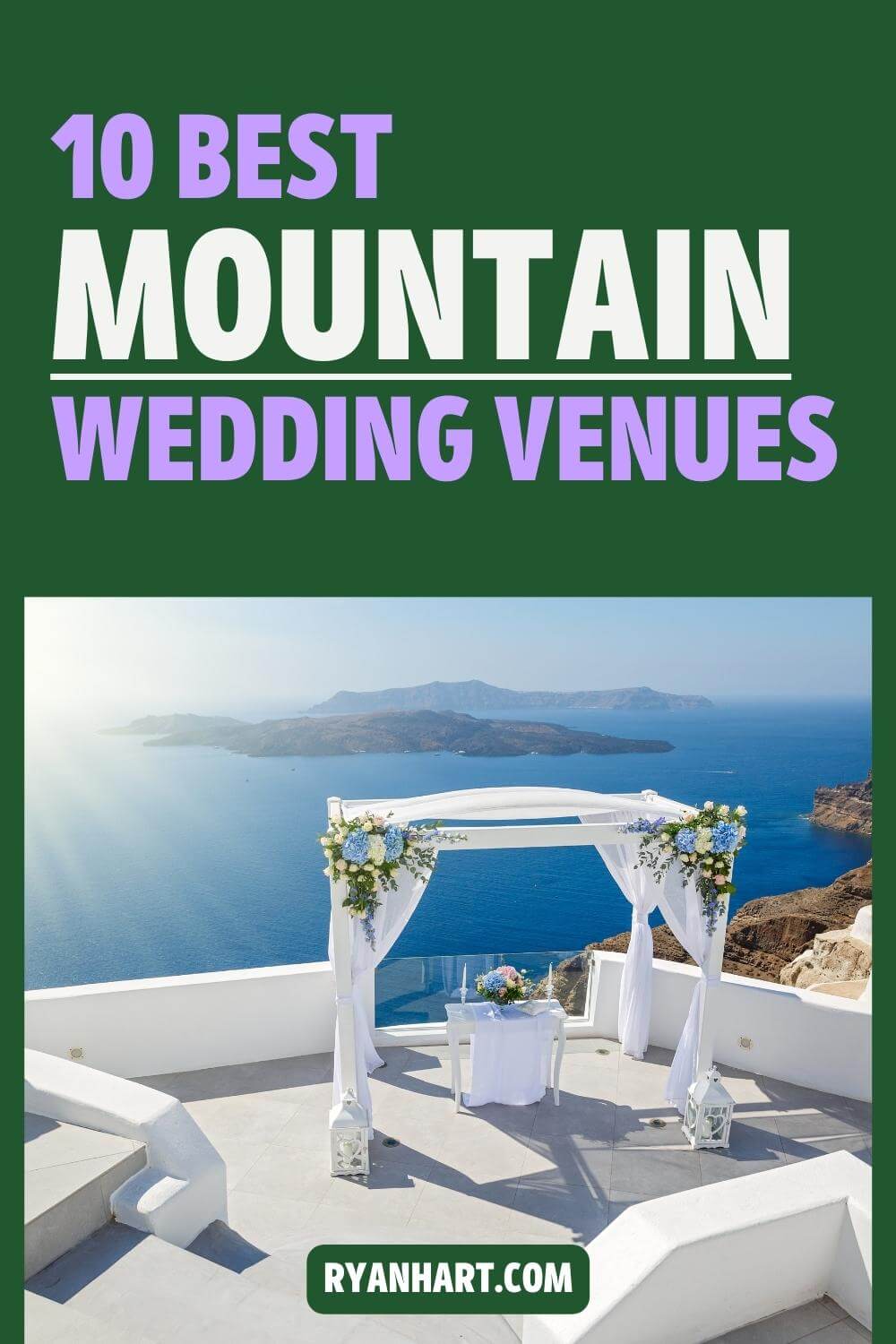 Mountain wedding venues are perfect for couples who love nature and want a beautiful, memorable setting for their special day.
With stunning views, fresh air, and a magical atmosphere, a mountain wedding can be a once-in-a-lifetime experience.
Choosing the right venue is essential, so make sure to consider factors like location, accessibility, capacity, and available amenities.
Keep in mind that mountain weddings can have some unique challenges, like changing weather and guest accessibility, but with careful planning and the help of local vendors, you can create a dreamy and unforgettable celebration.
So, if you're ready to tie the knot surrounded by breathtaking landscapes and the serenity of nature, consider a mountain wedding venue for a day you and your guests will cherish forever.