The Caribbean is full of amazing places to visit, so it is no wonder it has become a hotspot for destination weddings!
Aruba is a beautiful place to celebrate your wedding. Here, you can find everything from luxury resorts to cozy bungalows on the ocean.
If you and your significant other are looking for the perfect place for your destination wedding, we've compiled the best Aruba wedding venues for you to explore.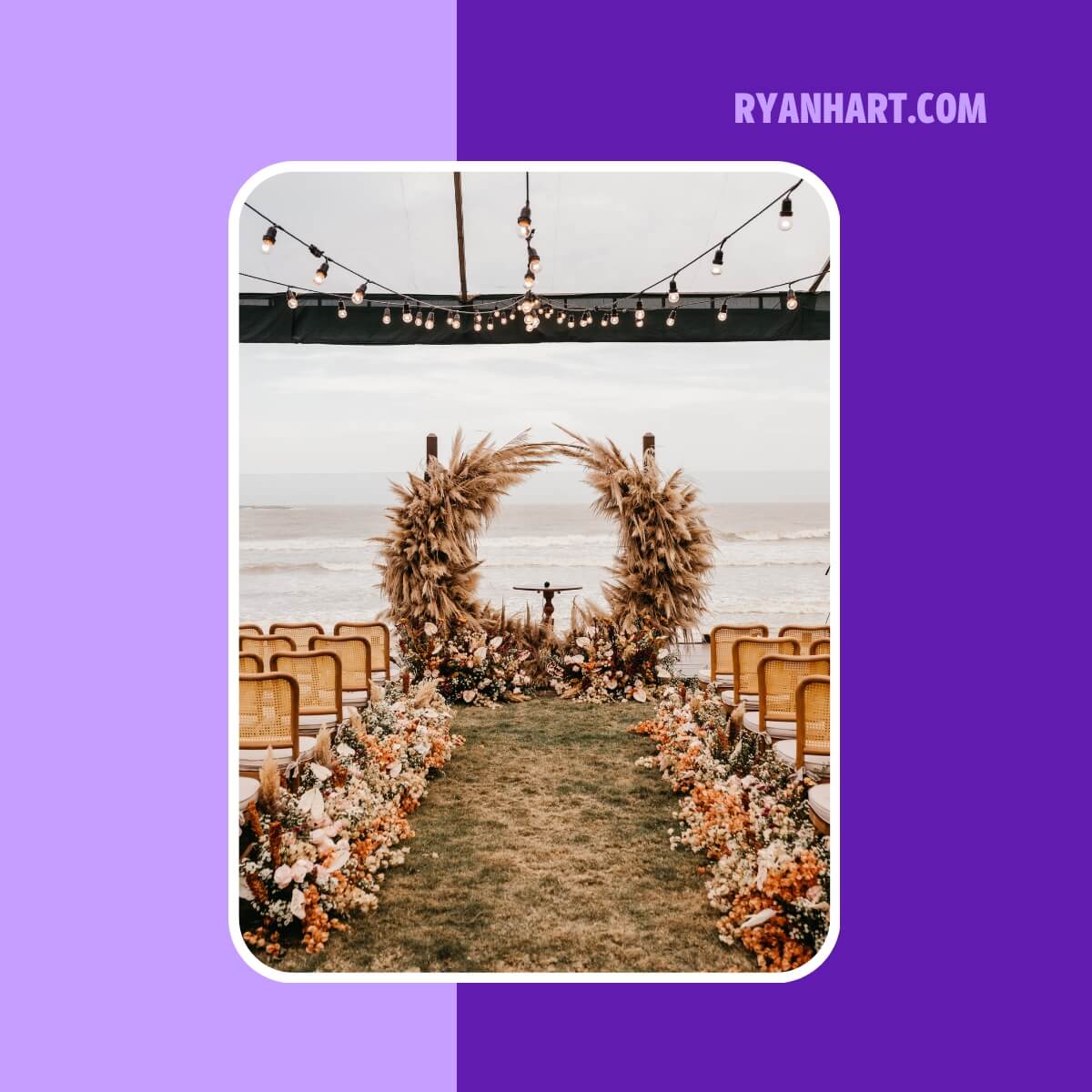 What are the best wedding venues in Aruba?
When you think of destination weddings, you probably think of a couple saying their vows under a beach canopy. While there are plenty of Aruba resorts that offer that experience, there are many other experiences available as well!
When considering your options, ask yourself what kind of experience you are looking for.
Do you plan to invite a lot of guests or have a low-key, intimate celebration? Do you want a wedding planner to help you with all the details or are you a DIY person?
These and other questions are worth exploring as you research having a wedding in Aruba. To get started, check out our list of top Aruba wedding venues here!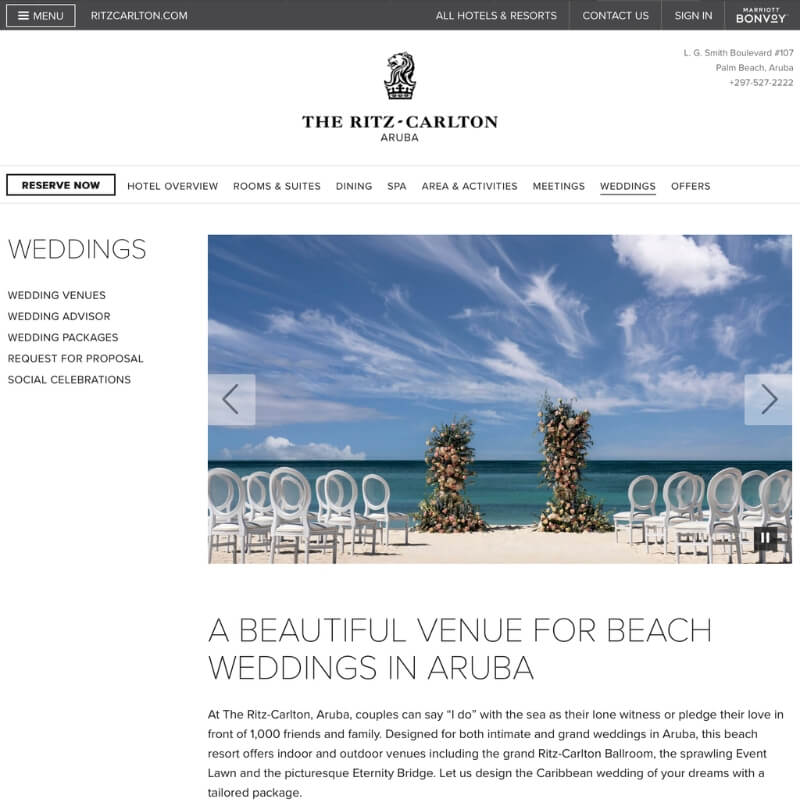 The Ritz-Carlton Aruba is located in Palm Beach, a luxury resort providing the perfect place for your wedding.
Whether planning an intimate celebration or a grand gala, the Ritz-Carlton offers the space for all your needs. You can celebrate your nuptials on the white sand beaches surrounded by the Caribbean or in the resort ballroom in style.
Wedding packages and an on-site wedding advisor are also available to make planning your big day easier than ever.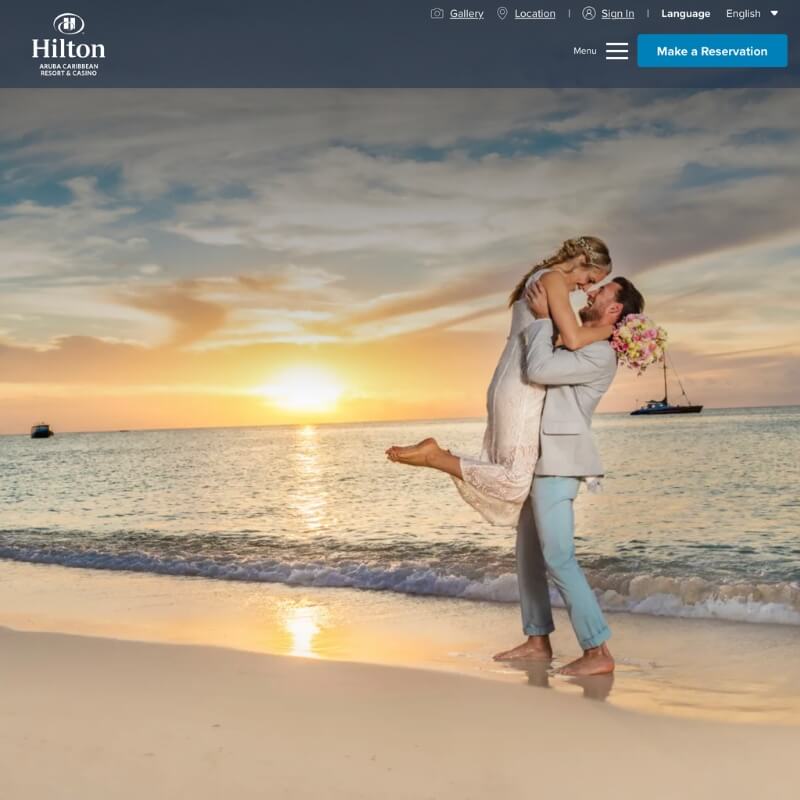 The Hilton has locations all over the world, all of which are designed to communicate luxury and elegance. But the Hilton Aruba Caribbean Resort & Casino takes things to a new level. The resort features both indoor and outdoor venues for your ceremony and reception, whether you want to celebrate surrounded by palm trees or in an opulent ballroom.
The on-site wedding coordinators are at hand to assist you with all your planning needs, from equipment to decorations, music, and more.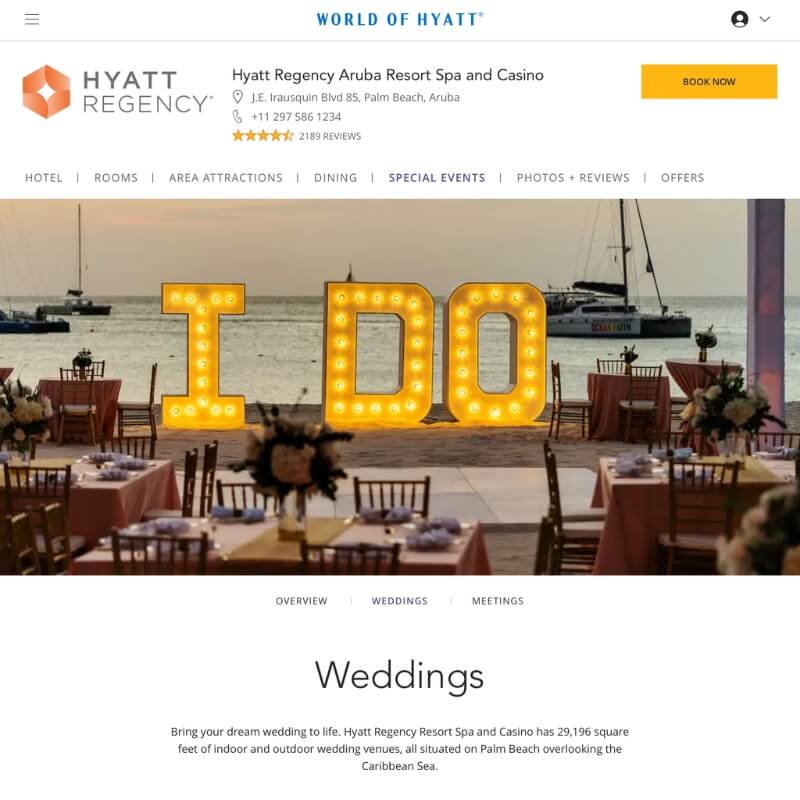 The Hyatt Regency Aruba Resort Spa and Casino offers stunning surrounding views of the Caribbean Sea, complete with blue waters, palm trees, and much more.
Here, you will find indoor and outdoor spaces where you and your significant other can exchange vows.
Say "I do" under a floral arch on the beach or in a ballroom alongside the casino. Simple or elegant or anything in between, the Hyatt offers something for every couple.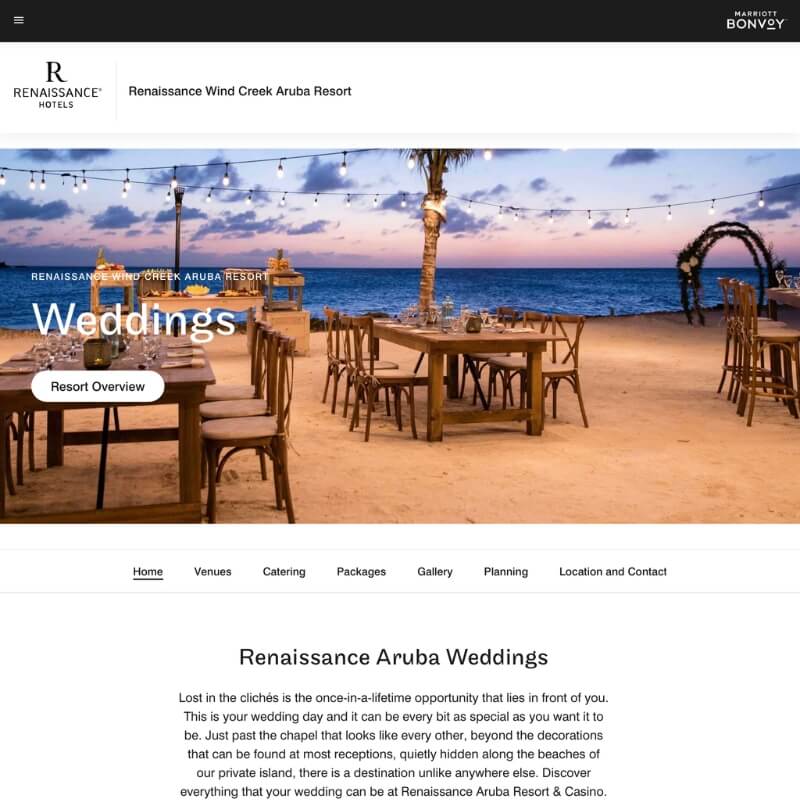 The Renaissance Aruba Resort & Casino in Oranjestad offers a once-in-a-lifetime experience, which is exactly what your wedding day should be!
Here, you can celebrate saying your vows at one of the resort's countless locations, from secluded spots around the tropical island to the Festival Plaza and the Renaissance Convention Center.
This all-inclusive resort personifies the best and most beautiful things about the Caribbean while still offering you the chance to make your wedding day uniquely your own.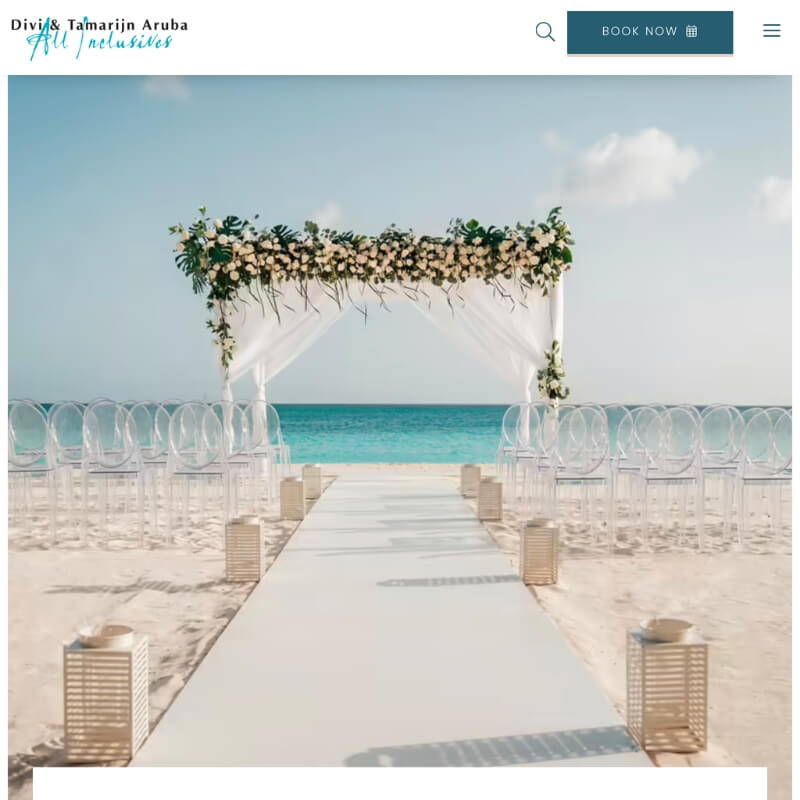 The Divi & Tamarijn Aruba All Inclusive Resort has everything you need to plan a gorgeous destination wedding.
When you plan your wedding here, you will have access to on-site planning coordinators and other professionals to help you complete every detail.
The Divi & Tamarijn offers the choice of three venues: the Pure Ocean, a beachside venue with room for up to 80 guests; the Divi & Tamarijn Aruba, with space for an oceanfront barbecue; and the Links, an elegant golf course surrounded by nature.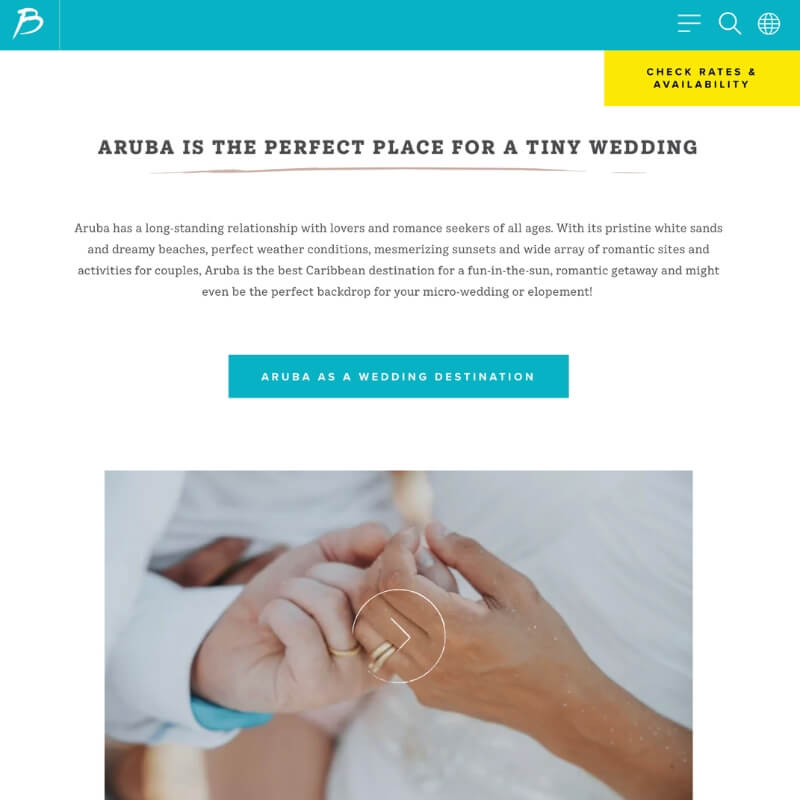 Who said that you had to have a big destination wedding? If you want to celebrate an intimate ceremony with just your closest family and friends, the Boardwalk Boutique Hotel in Palm Beach is the perfect place.
This luxury hotel specializes in hosting "micro-weddings" alongside the stunning Caribbean.
You and your guests can rent up to three oceanfront casitas to enjoy and celebrate your nuptials on the beach or in the resort's lush gardens.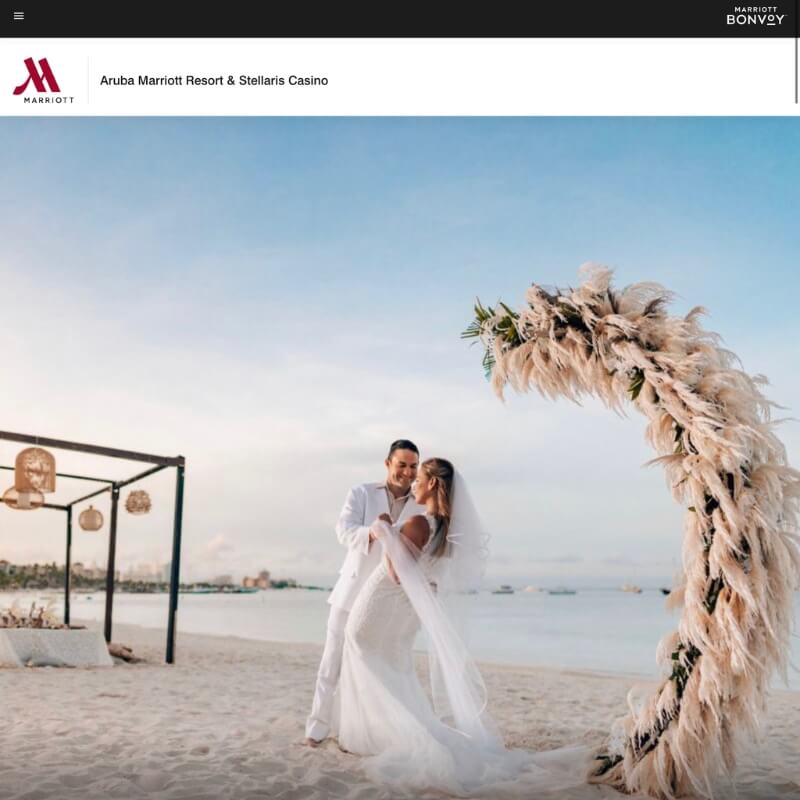 The Aruba Marriott Resort & Stellaris Casino is an upscale event space in Palm Beach.
Here, you can plan an elegant wedding ceremony within sight of the ocean. The grand ballroom in the resort holds up to 880 guests, making Aruba Marriott the perfect choice for weddings with large guest lists.
The on-site chef can help you plan a customized menu, while other experts are on hand to help you arrange everything from table settings to flowers and more.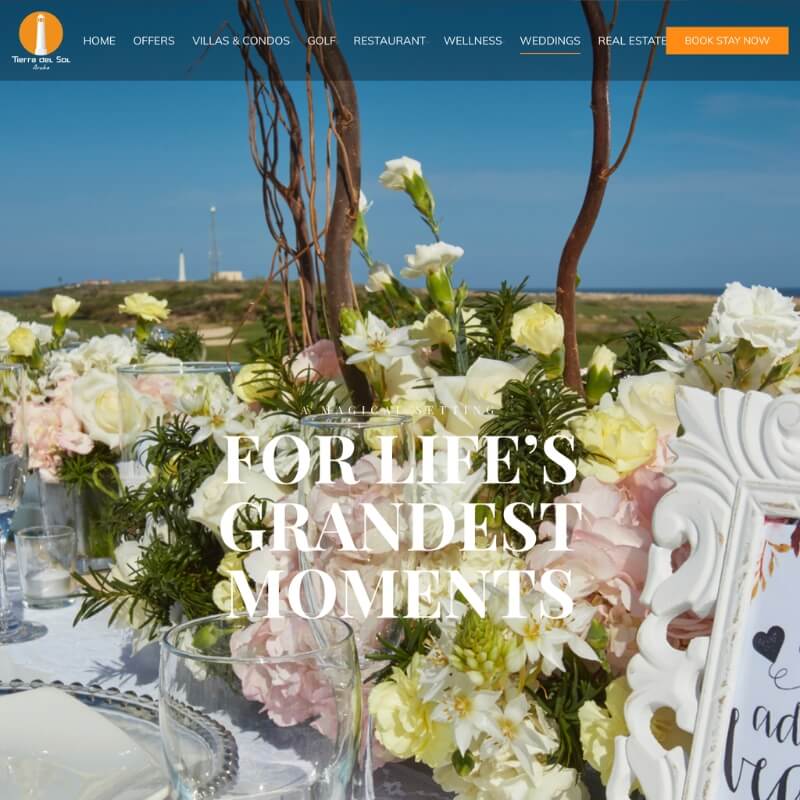 Tierra del Sol Resort is one of the best-known resorts in Aruba, featuring an award-winning golf course as part of its many amenities.
There are many options for celebrating your wedding here, each offering its own unique and beautiful scenery.
You can choose from a beachfront wedding with views of the lush coastline, a party in the tropical gardens, or a ceremony with the famous California Lighthouse in the background.
Whether you're looking for something small and elegant or large and lavish, Tierra del Sol offers something for every couple.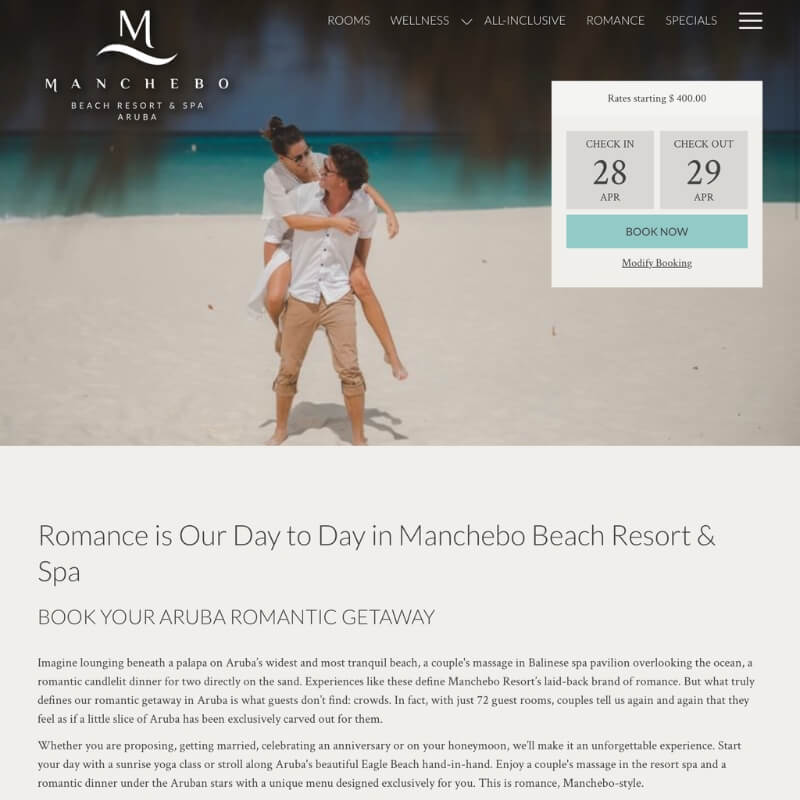 Manchebo Beach Resort & Spa in Eagle Beach is the perfect place for a romantic getaway, offering a Balinese spa, white sand beaches, and much more. But it is also a wonderful place to host a destination wedding.
With 72 guest rooms, Manchebo Beach Resort is smaller than many other Aruba hotels, so you can be sure your wedding won't be disturbed.
The resort team includes wedding planners, caterers, chefs, florists, and many other professionals who are there to make your day run smoothly.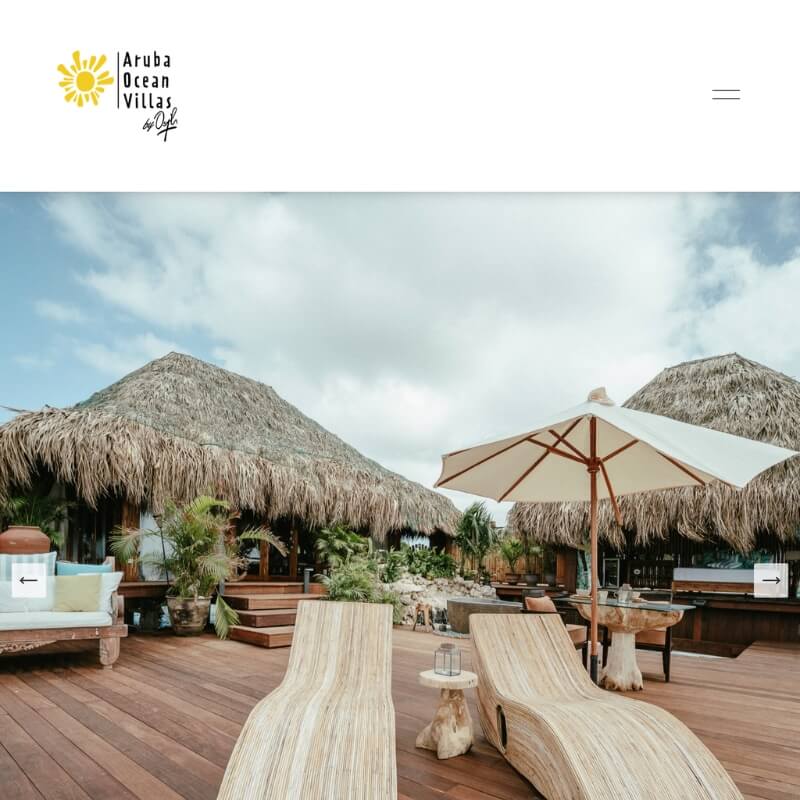 The Barcelo Aruba is a five-star resort specializing in hosting destination weddings. Here, you can find an experience of Aruba that seems to come right out of a story: white sands, turquoise water, gorgeous sunsets, and lush gardens.
The wedding team at the resort is ready to walk you through every step of planning your big day, from setting up the reception tables to arranging the flowers.
If you're looking for an extraordinary experience for your Aruba wedding, this is the place to get it.
Can I have a legal wedding ceremony in Aruba?
Yes, legal wedding ceremonies are possible in Aruba. You need to submit required documents and follow the local guidelines to make your wedding official.
Do Aruba wedding venues offer all-inclusive packages?
Many Aruba wedding venues, especially resorts and hotels, offer all-inclusive packages that cover the ceremony, reception, accommodations, and even catering services.
What is the best time of year to have a wedding in Aruba?
The best time for a wedding in Aruba is between April and August, when the weather is consistently warm and dry, and there's less chance of rain.
Are there any restrictions or requirements for outdoor weddings in Aruba?
Outdoor weddings in Aruba generally require permits, especially for beach weddings. Be sure to check with the venue and local authorities for specific rules and regulations.
Bottom Line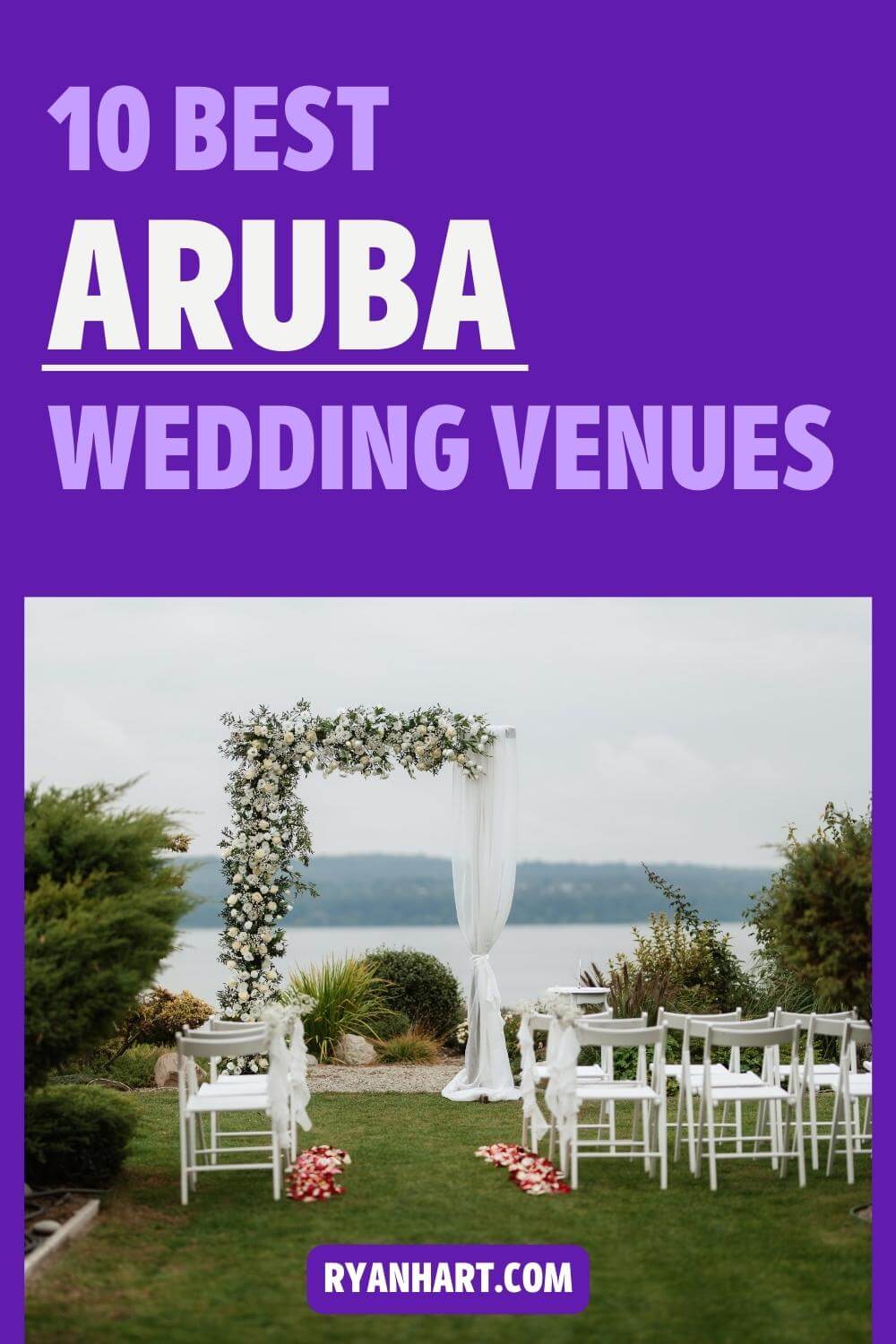 Aruba is a magical place to have your dream wedding. With so many amazing venues to choose from, you can't go wrong!
Whether you want a beach wedding with your toes in the sand, a romantic garden ceremony, or a fancy resort celebration, Aruba has it all.
The island's warm weather and beautiful scenery will make your special day even more unforgettable. Plus, your guests will love the chance to explore this island paradise.
So, if you're ready to say "I do" in one of the most stunning locations in the world, start planning your Aruba wedding today. Your perfect day awaits, and the memories you make will last a lifetime!