There are so many aspects to planning a wedding; it can feel overwhelming. Once you have your invitations picked out and your envelopes stuffed, it is time to send them out to your guests.
Hopefully, you have stamps on hand. If you don't, there are many types of wedding stamps available. These can add a personal aspect to your invitations so your guests know they are something special before they even open them.
Our wedding stamps guide will help you choose the perfect ones for your invitations.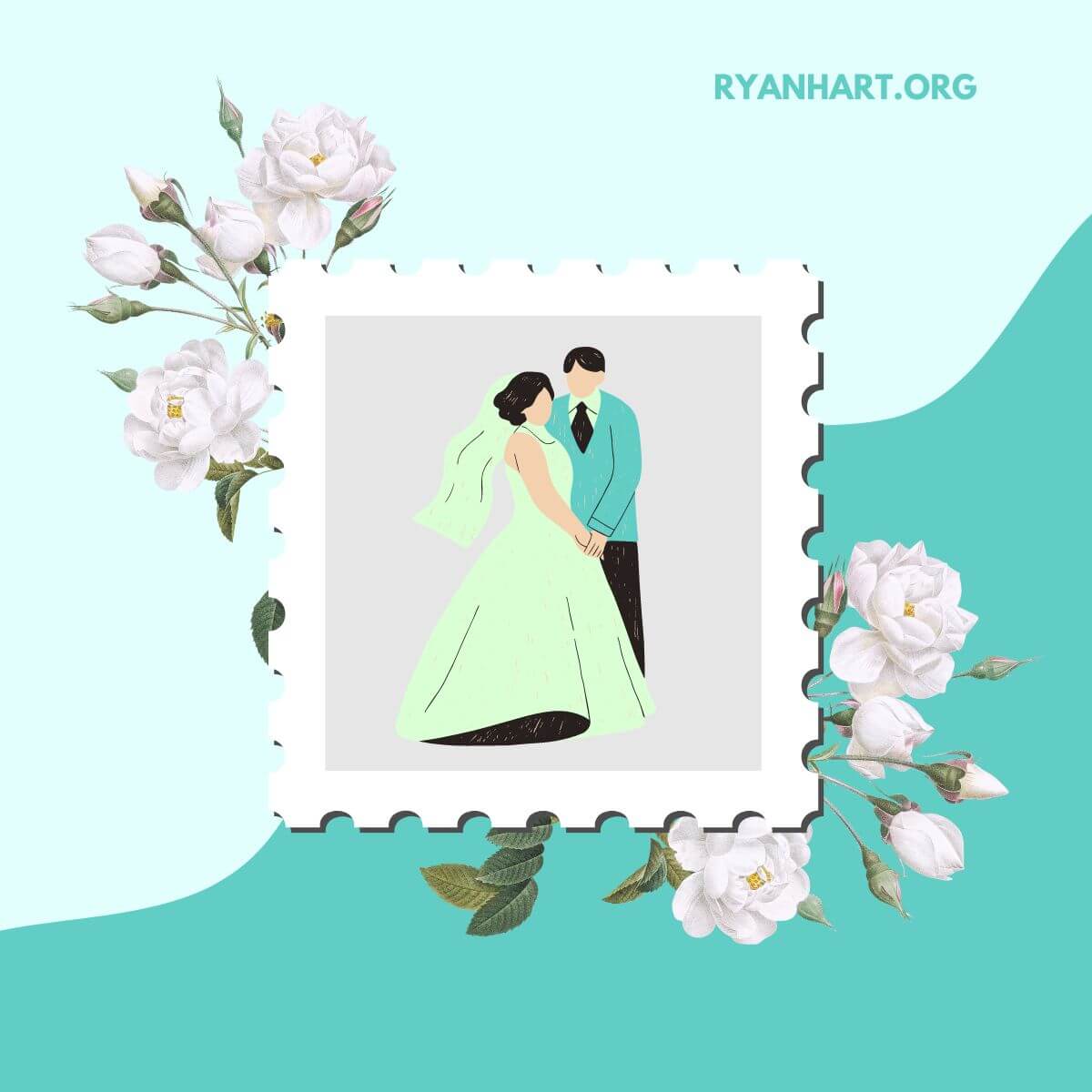 What are the best stamps for wedding invitations?
You might think that a stamp is just a stamp, but it is a bit more complicated when it comes to sending wedding invitations. There are a few things you should consider when choosing the right stamps for your invites.
Consider choosing First Class or Forever stamps. This ensures that postage will be paid, usually up to several ounces.
This is significant because wedding invitations are generally mailed along with other stationery, such as rehearsal dinner invitations, RSVP cards, travel details, and other information.
All this extra paper makes these envelopes heavier than most mail (and explains why putting wedding invitations together is referred to as "stuffing" envelopes).
Self-adhesive stamps are also a good idea when mailing in bulk. Stuffing envelopes can be a long and exhausting process, and you probably don't want to add licking dozens of stamps to that. So self-adhesive stamps take this step out completely.
Lastly, consider the color palette and style that you want! Wedding stamps come in every design imaginable, from classic and romantic to fun and modern. Check out our recommendations for the best wedding stamps for every style.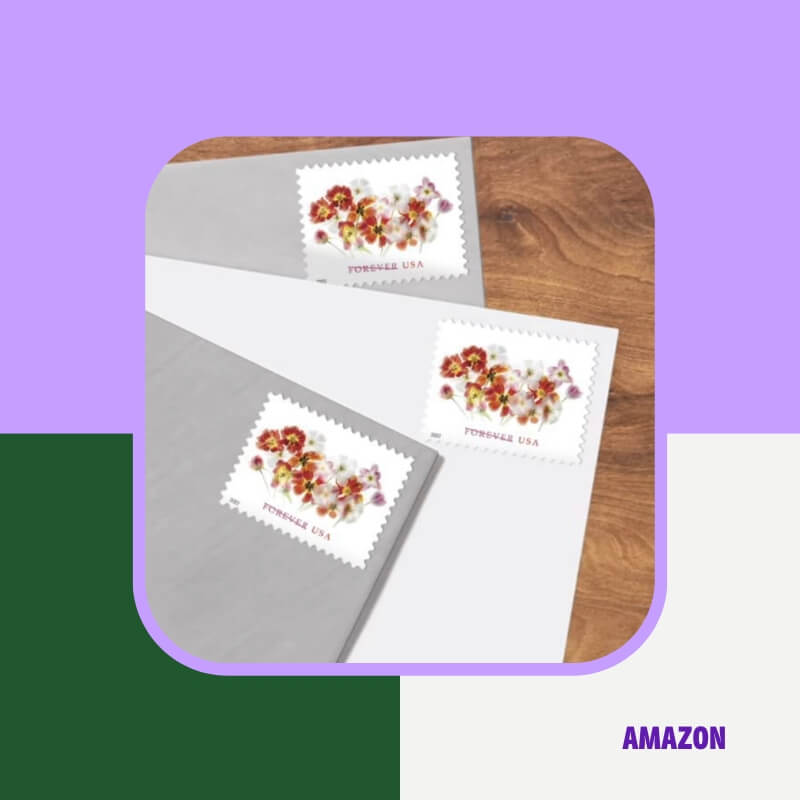 These US postal forever first-class Tulips Forever stamps are a beautiful addition to a wedding invitation envelope. Featuring an illustration of multicolored pansies in red, orange, pink, and white, the stamp includes the words "FOREVER U" along the bottom. They are self-adhesive, so you won't have to lick hundreds of stamps while sending out your invitations.
These attractive stamps are suited for weddings of every theme and type, making them an excellent choice for any wedding invitation.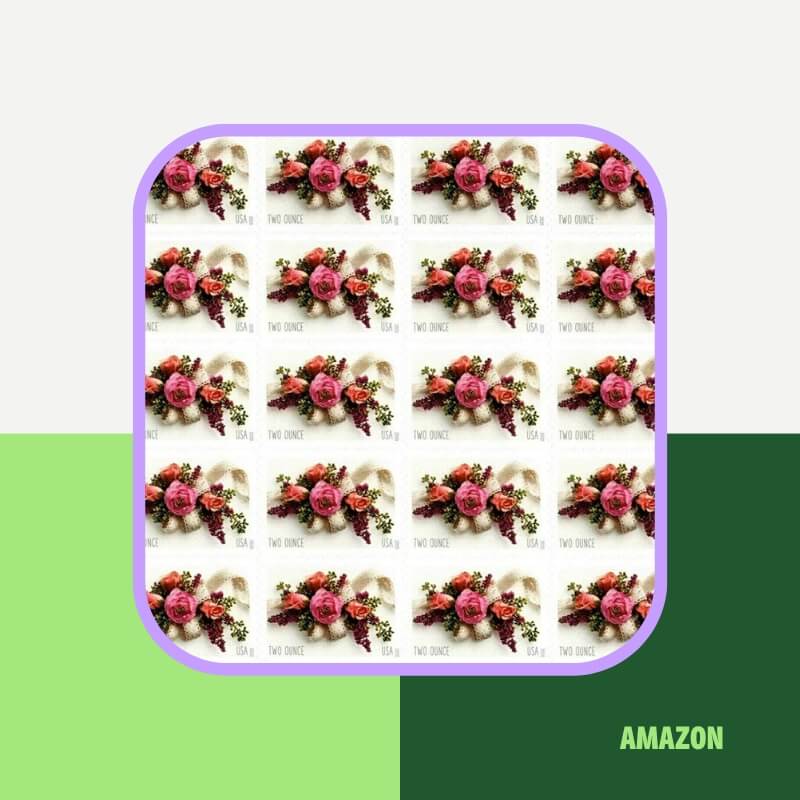 These elegant Garden Corsage wedding stamps are a timeless addition to any invitation envelope. Featuring a romantic corsage of pink ranunculus, peach roses, heather, and green leaves, the stamp is eye-catching and classic.
These two-ounce stamps are ideal for thicker stuffed envelopes weighing up to two ounces. Because of their higher carrying capacity, you won't have to put multiple stamps on a single envelope — and that saves you money, helping you stay within your wedding budget.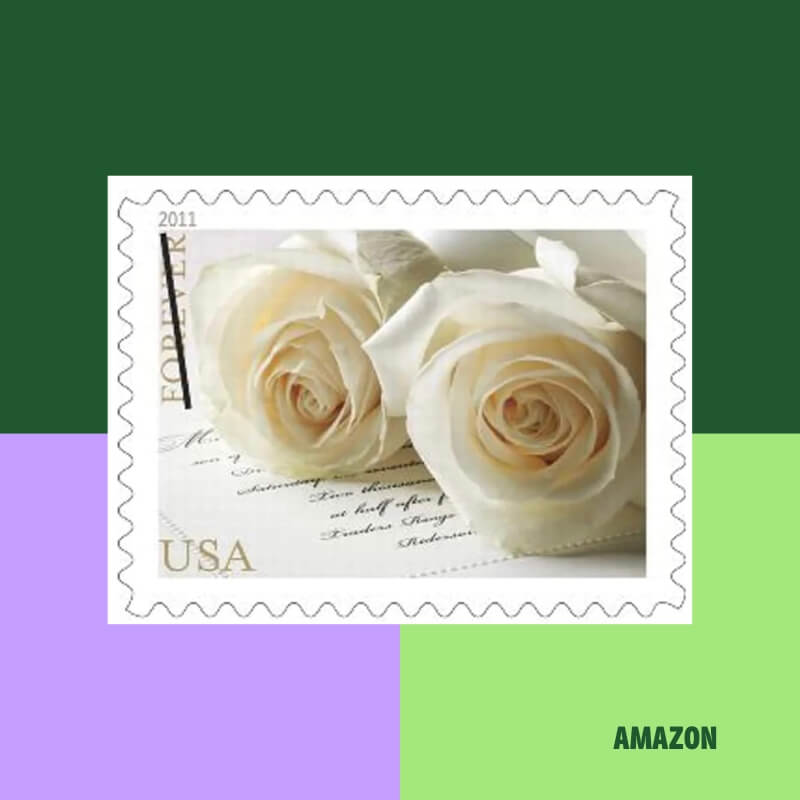 TheWhite Rose Wedding Commemorative Postage stamp features two white roses on a white background. This elegant design fits weddings of every style and is a timeless way to announce your big day.
These are also Forever stamps, so you can be sure that your postage will be covered no matter what. If you love a simple and elegant vibe for your wedding day, these stamps are the perfect way to set off your invitations to perfection.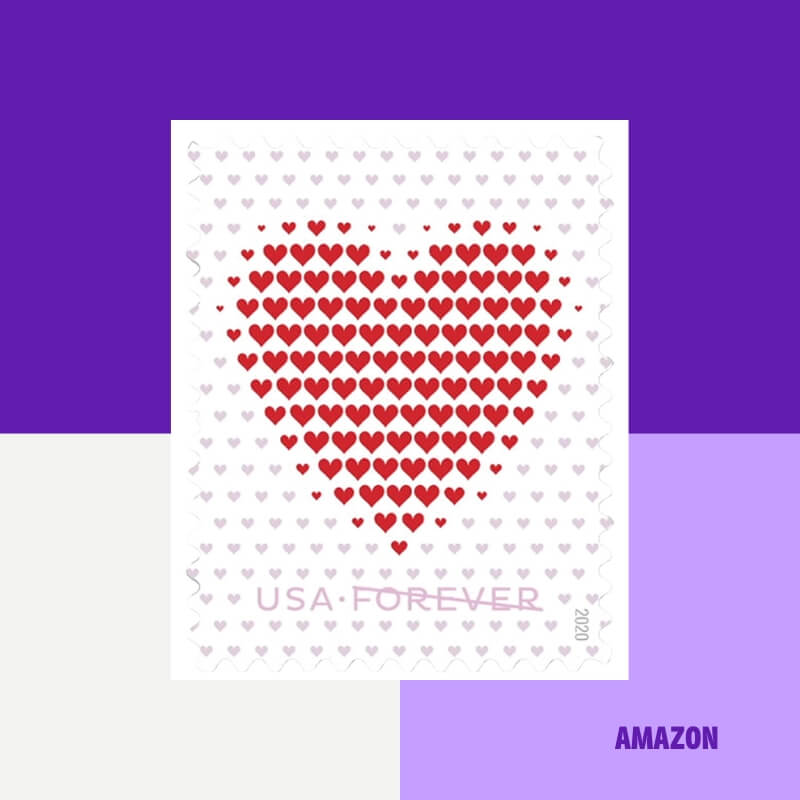 If flowers aren't your style, you will love these fun and modern Made of Hearts stamps. Featuring an eye-catching red design of a large heart made of smaller hearts, they are the perfect way to set the tone for your wedding.
These Forever stamps ensure that your invitations will make it safely to your guests. If you love playful, unique designs, these stamps are a great way to announce your impending nuptials to the world.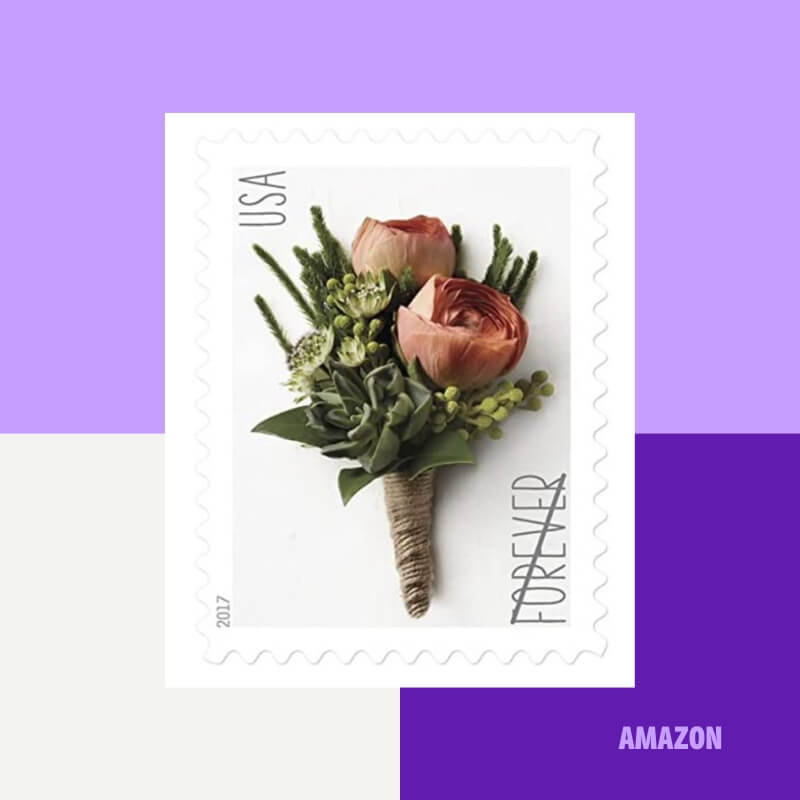 The Celebration Boutonniere stamp was created by The Imperial Mint, one of the world's most respected high-quality stamp designers. Known for its one-of-a-kind stamp designs, The Imperial Mint is considered elite.
The Celebration Boutonniere design features an elegant flower design with unique botanical elements. These high-quality Forever stamps also ensure your postage will reach its destination safely. If you love one-of-a-kind designs that really stand out, these stamps are perfect for your wedding invitations.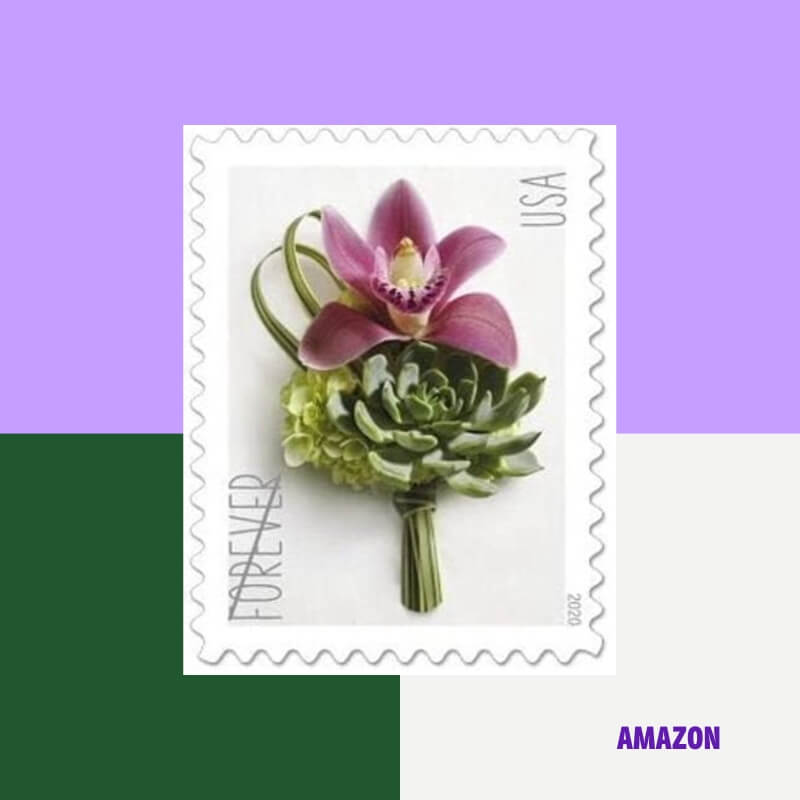 These Contemporary Boutonniere stamps feature a chic collection of green hydrangeas, succulents, and pink orchids. They add a pop of color to your wedding invitation envelopes and look stylish and modern — unlike some floral designs, which can look old-fashioned.
Designed by a professional art director, these stamps are a perfect fit for a wedding that follows the current trends. If you love a colorful, minimalist look for your wedding day, these Contemporary Boutonniere stamps are a great addition to your invitations.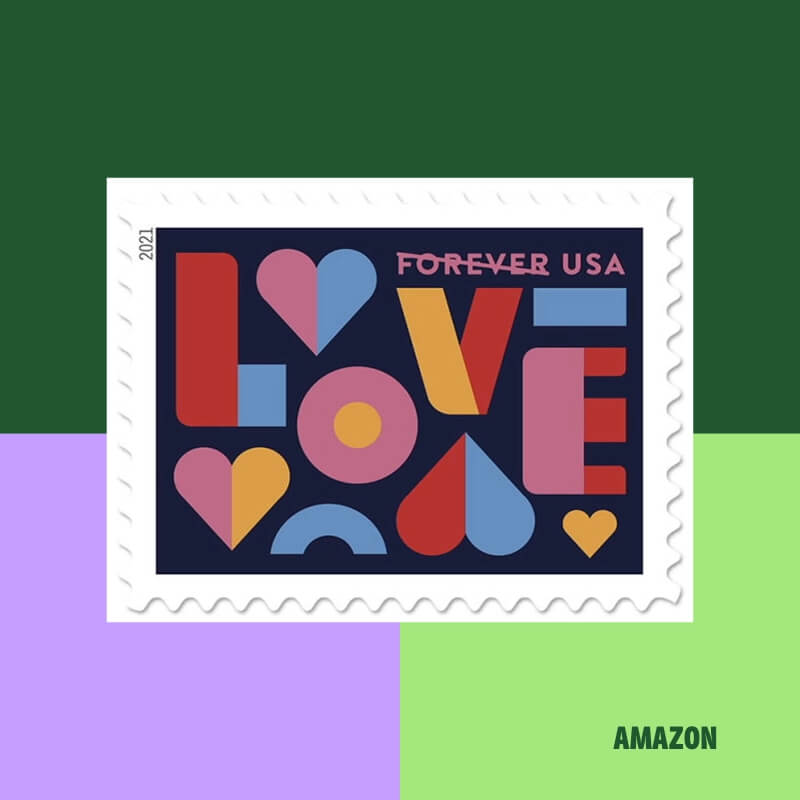 These whimsicalLove 2021 Forever Postage Stamps add a touch of color and playfulness to your wedding invitation envelopes. If you aren't about the classic soft colors of older weddings, you might love these ultra-modern and eye-catching designs.
These stamps have an element of whimsy with large block letters, hearts, and alternating colors. And, of course, because they are Forever stamps, you don't have to worry about changing postage prices.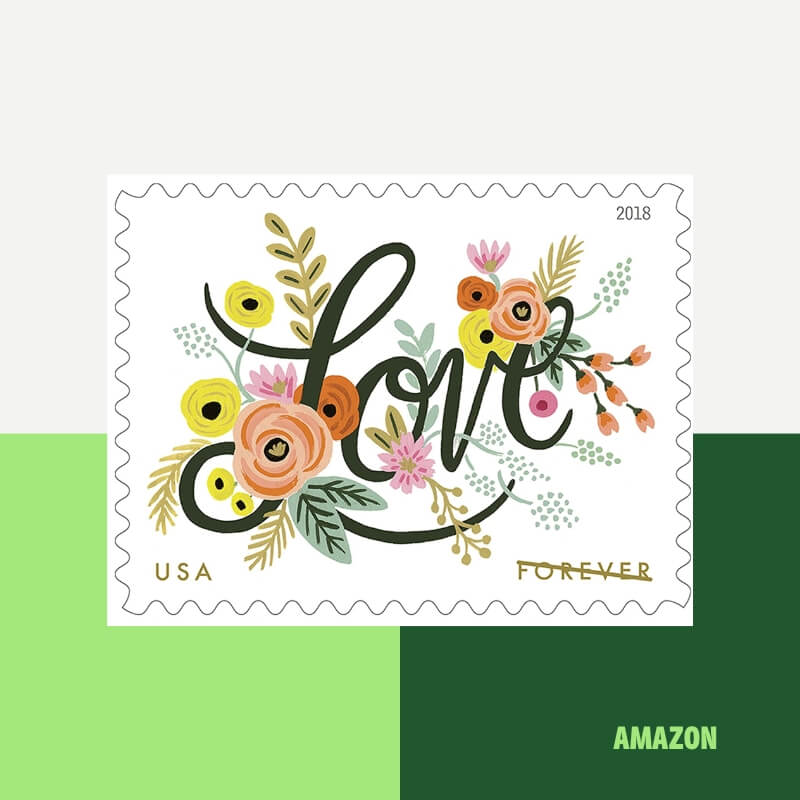 The Love Flourishes Forever stamps feature an attractive script surrounded by a border of illustrated flowers. These are hand-painted and include a pattern of roses, dahlias, berries, peonies, and leaves in shades of peach, pink, yellow, and gold.
This stamp certainly stands out from the crowd, with a timeless, charming design full of color. It also covers postage costs up to one ounce and has a self-adhesive backing. If your style is a fresh take on classic wedding themes, this is a gorgeous stamp for your wedding invitations.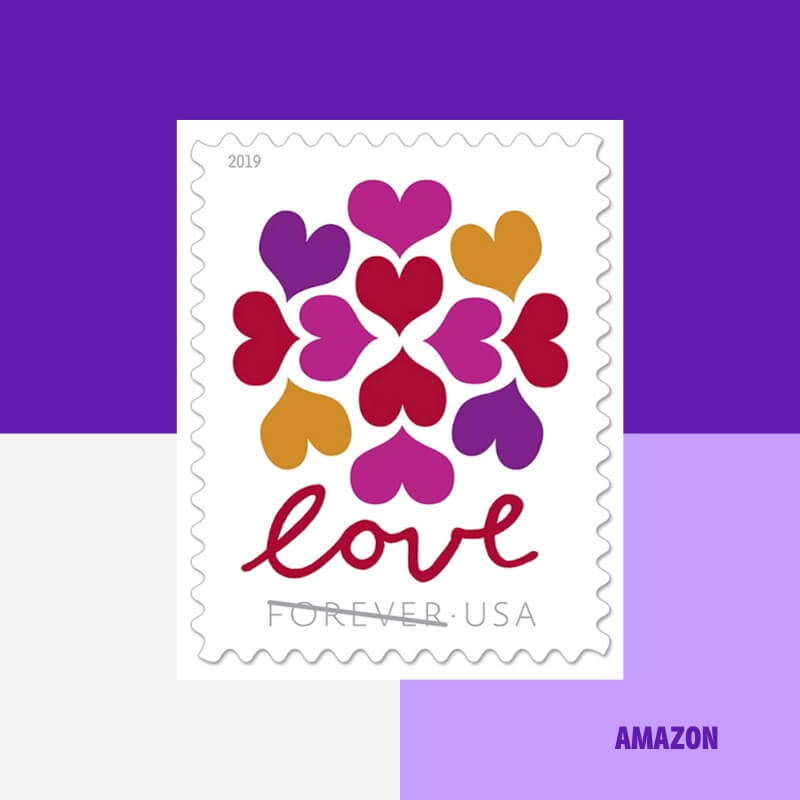 The Hearts Blossom stamps feature a bright, colorful, and fun heart design that is totally unique. Featuring a design of hearts in bright shades of magenta, purple, and yellow over script spelling "love", this stamp is eye-catching and attractive.
It is also approved for first-class mailing and features self-adhesive backing to simplify stuffing your wedding invitations. These fun and modern stamps are a perfect fit for weddings with a casual, modern style.
TheLove 2022 Forever First Class Postage Stamps include two designs in attention-catching, attractive colors. Each one features script of the word "love" surrounded by flowers and vines. One is in blue and depicts a collection of poppies and dandelions, while the other, in coral, has a design of daisies and vines.
This series was inspired by European folk art and is perfect for weddings of every theme and style. If you love artistic flair in every part of your wedding decor, these are the stamps for you.
Bottom Line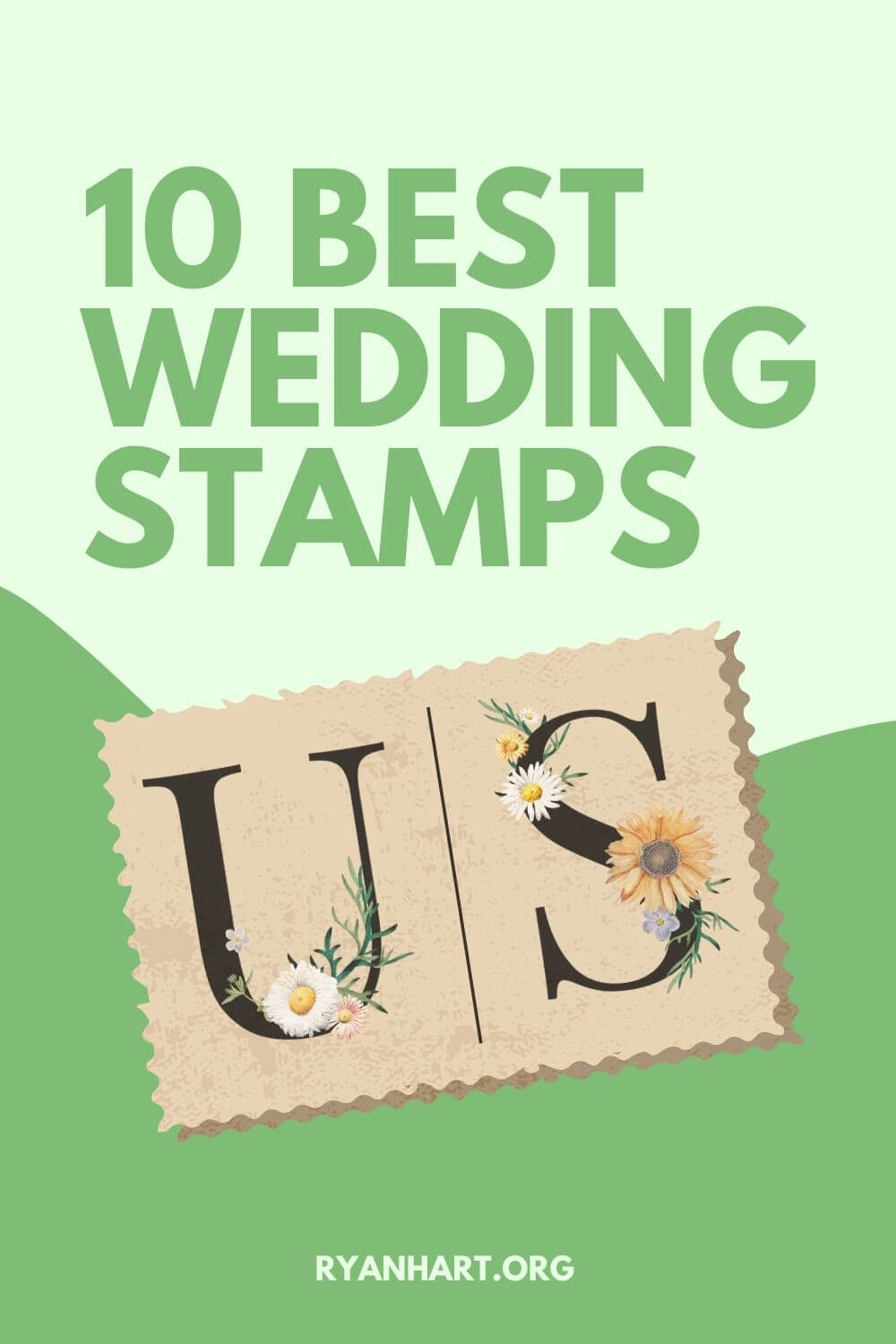 Decorative postage stamps can make your wedding invitations extra special. They add a little touch of magic to your invites.
When your guests receive your invitation, they'll see the beautiful stamp and feel even more excited for your big day. It's a small detail, but it shows you care about every part of your wedding.
However, finding the perfect stamps can be a bit hard. You might not know where to buy them or which design to choose.
Also, you need to make sure the stamps have enough postage for your invitations. Heavier or all-in-one invites might need more than one stamp.
But don't worry! You can find lots of great designs online or at your local post office. Just remember to weigh your invitations before buying stamps, so you know how much postage you need.