Renting dishware for a wedding reception has become increasingly popular in recent years. After all, what are you planning on doing with so much china and glassware after your big day?
The catering company you use for your wedding reception may often include dinnerware. But if your caterer doesn't provide tableware or you are making your own food, you need to make sure your guests get everything they need.
Depending on what you are serving, that can mean anything from stemware to salad plates, soup bowls, dessert plates, coffee cups, flatware, and much more.
In other words, setting the table for your wedding reception can be a pretty pricey affair! Many couples have found that renting dinnerware is their best option. It is also more eco-friendly, as these dishes are reused rather than thrown out.
To rent dishes for a wedding reception, you must find a company specializing in wedding rentals. Most of the time, this includes not just dinnerware but also linens, decor, chair covers, and many other items.
Some of them even provide lighting and specialty items such as photo booths. If you are considering renting dinnerware for your wedding reception, read on to learn about the best wedding dinnerware rental companies in your area.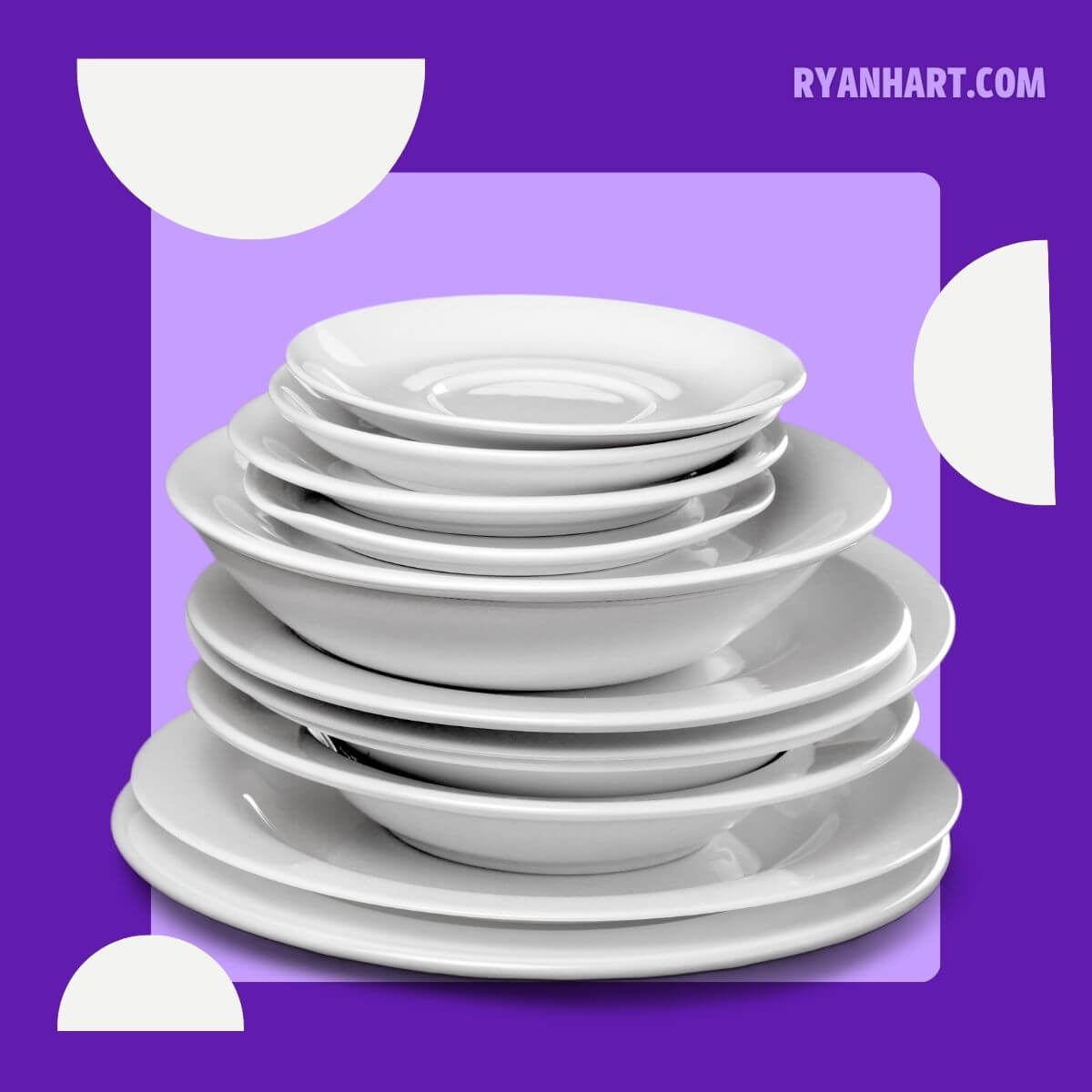 Where can you rent dishes for a wedding reception?
Renting dinnerware is becoming more popular as a budget-friendly and more sustainable option. So if you are looking for a great wedding dinnerware rental company, check out our detailed guide to learn how to get started.
Here is a list of our favorite companies that ship nationwide:
Bright Event Rentals lets you rent all the tableware you need for your special day.
They even offer planning services — either with a professional at their company or via their special app — to help you determine how much of each item you need based on your guest list and seating chart.
You can choose from a selection of china, stoneware, glassware, and enamelware in various colors and styles. If you need more than dinnerware, you may also want to check out their linen and furniture rental options, as well as bar items, lights, and more.
Quality Rental offers rentals for everything you need for an entire wedding meal, from flatware and salad plates to demitasse cups for after-dinner coffee. You will find a wide variety of styles designed to fit every wedding plan and budget.
This family-owned business will deliver to your wedding venue throughout Southern New England or further cities depending on location. If you are looking for an all-in-one wedding dinnerware rental company in this area for a reasonable price, Quality Rental should be at the top of your list.
Event Source is a second-generation family business serving locations around Columbus and Cleveland, Ohio, Detroit, Michigan, and Pittsburgh, Pennsylvania. This wedding dinnerware rental company offers sustainable, beautiful items for every wedding celebration. That includes everything from flatware and glassware to china, bar equipment, and even furniture.
You can find specialty items such as table numbers, ramekins, butter warmers, dish covers, soup tureens, and salt and pepper shakers. If you are planning a wedding in one of these areas, Event Source might be the rental company of your dreams.
Borrowed BLU has been one of the most upscale luxury dinnerware rental companies since it was founded in 2011. With hundreds of elegant dinnerware options, this service has everything you need to host the elite wedding of your dreams. You will find styles of every type, from classical romantic to modern and trendy or rustic and sophisticated. You can even rent heirloom china sets to achieve a vintage look that is totally unique for your wedding day.
If you're planning an upscale event and want your wedding reception to be unforgettable, check out Borrowed BLU for your luxury dinnerware needs.
There is dinnerware for every type of wedding style, as the rental options from Otis and Pearlprove! This company offers vintage china and stoneware so you can have a wedding right out of your favorite decade. Of course, there are many styles within the broader vintage category, giving you the options of colored glass, floral china, etched stoneware, and much more.
You will also find retro tea servers, table decorations, serving dishes, and even furniture if you want more rentals for your big day. Otis and Pearl is perfect for the bride or groom with classic taste.
Beyond Elegance is a family-owned business with more than two decades of providing elegant dinnerware for events of all kinds. And it isn't just dinnerware — the company also offers linen and chair cover rentals, lighting, chair sashes, decor, photo booths, and much more. But elegant dinnerware is definitely the name of the game at Beyond Elegance, with countless options in every style imaginable.
You can even choose from black, gold, or stainless steel flatware. Beyond Elegance offers a free consultation to interested couples. If you are in the Sharon, Pennsylvania area, this company is worth checking out.
Allure Party Rentals offers dinnerware, table linens, and many other items for rent throughout much of Florida. They have an impressive selection, as they cater to weddings and large events of all kinds. You will find fine china and glassware in many styles ranging from classic to modern and serving ware for buffet tables, bars, and more.
Allure Party Rentals is a reasonably-priced wedding dinnerware rental company with many options for every style and budget. They are a solid option to explore if you are planning a wedding in Florida.
What is dinnerware?
Dinnerware is a special set of plates, bowls, and glasses used during a wedding celebration. It is often more fancy and elegant than everyday dishes. It helps to make the wedding meal feel even more special for the bride, groom, and their guests.
Wedding dinnerware can come in different colors, patterns, and materials, like porcelain or fine china, to match the wedding theme or style.
How do you rent dinnerware for a wedding or event?
Here are some things to think about when renting dinneware:
Style: Pick a style that matches your theme. Fancy or simple, it's up to you!
Colors: Choose colors that go with your wedding. Mix and match or keep it all the same.
Size: Get the right size plates for your food. Big plates for dinner, small ones for dessert.
Budget: Know how much you can spend. Stick to your budget so you don't worry later.
Quantity: Count your guests. Make sure you have enough for everyone, plus a few extras.
Quality: Pick dinnerware that looks nice and won't break easily. You want your guests to enjoy their meal.
Delivery: Find out if the rental company will bring the dinnerware to you. It's nice to have help.
Setup: Ask if the company can set up the dinnerware. This will save you time.
Cleanup: Check if the company will pick up the dirty dinnerware. You won't have to clean after the party.
Contract: Read the rental agreement. Make sure you understand everything before you sign.
Bottom Line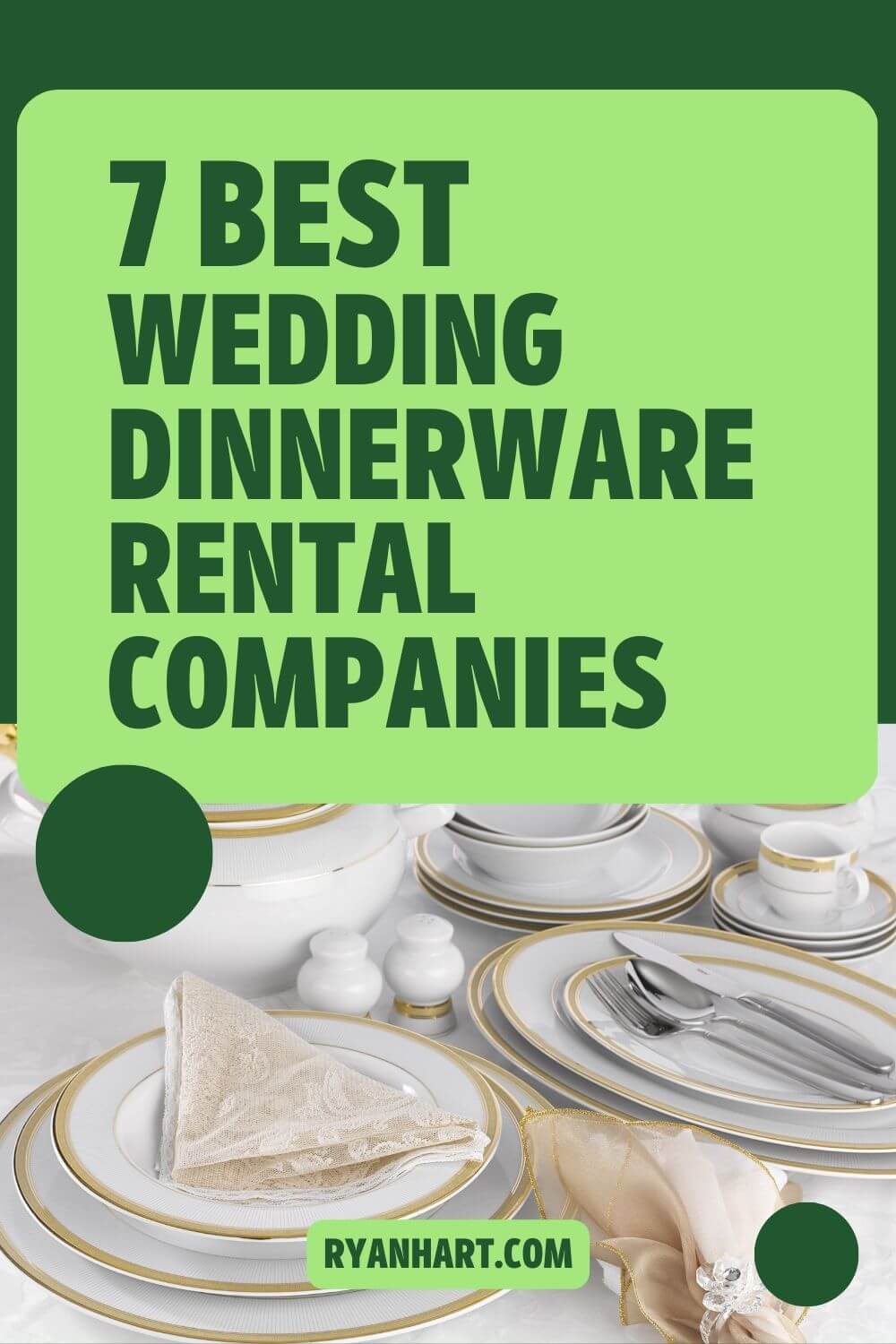 Renting dinnerware for your wedding reception can be affordable option if plates and silverware are not provided by your caterer or event venue.
When you rent dinnerware online, you get to choose from different types of plates and silverware to match your wedding theme. You won't need to buy lots of expensive dishes you might not use again. Plus, the rental company often helps with setup and cleanup, so you can focus on enjoying your day.
But, sometimes renting dinnerware can be a little tricky. You might not find the exact style or color you want right away. It's important to start looking early to find the perfect match.
Also, keep an eye on your budget, as costs can add up. Make sure to read the rental agreement carefully and ask about extra fees. Remember, communication is key!
With a little planning and teamwork, you can overcome these challenges and have the perfect dinnerware for your wedding reception or event.