Puerto Rico welcomes millions of tourists every year to explore its warm beaches, luxury resorts, and tropical forests. If you are considering a destination wedding on the island, there is no shortage of options. Big, small, trendy, or classic — there is a venue for every couple.
In fact, many of these venues specialize in weddings and offer packages that include many other wedding services. So if you're considering Puerto Rico for your nuptials, you need to check out these unmissable destinations.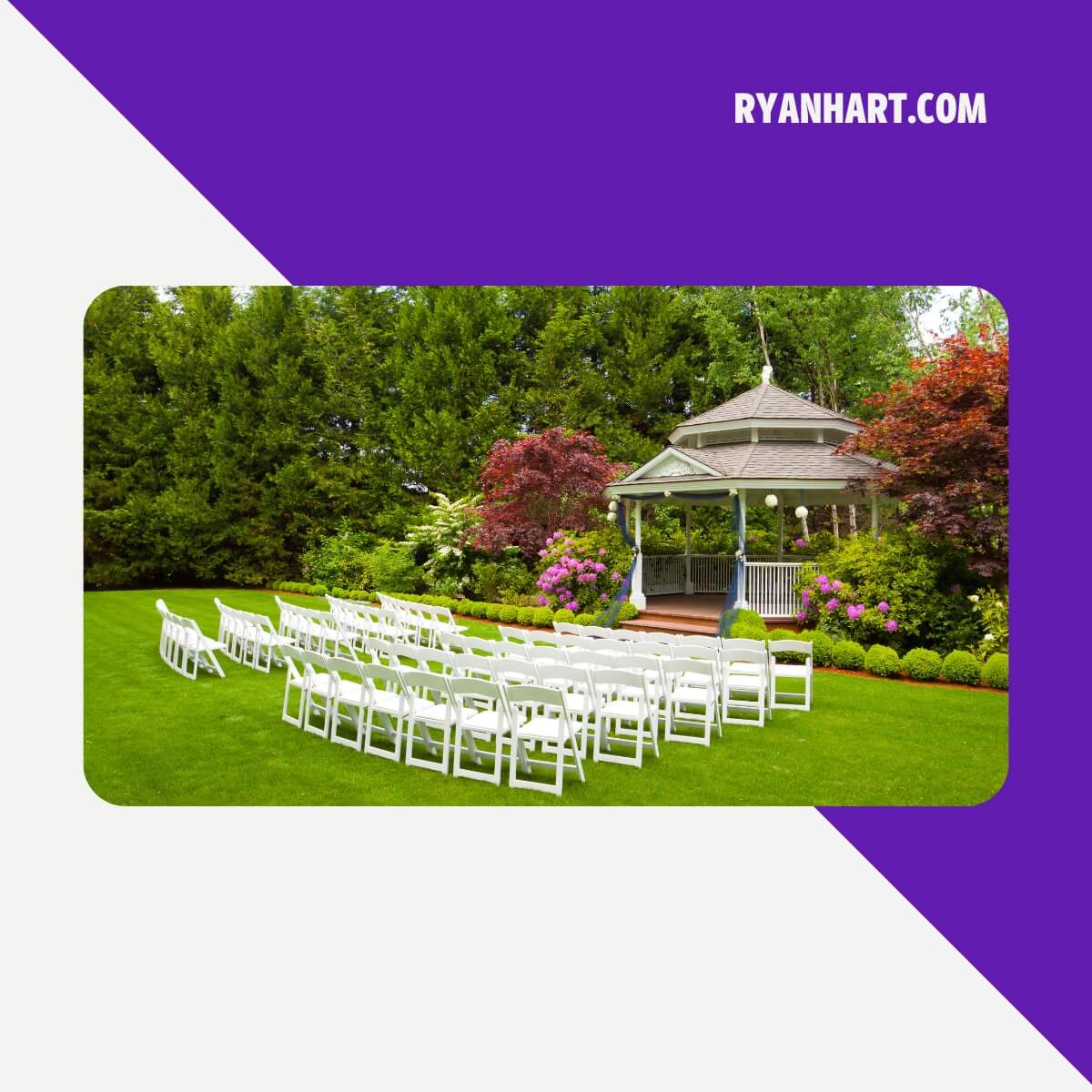 Where is the best place to get married in Puerto Rico?
Puerto Rico is an extremely popular tourist destination, but it's also a busy spot for destination weddings! Couples come to celebrate their special day in the island's five-star resorts, intimate haciendas, and historical hotels.
There is truly something for every wedding style on this stunning tropical island. Check out our suggestions below to start planning the happiest day of your life!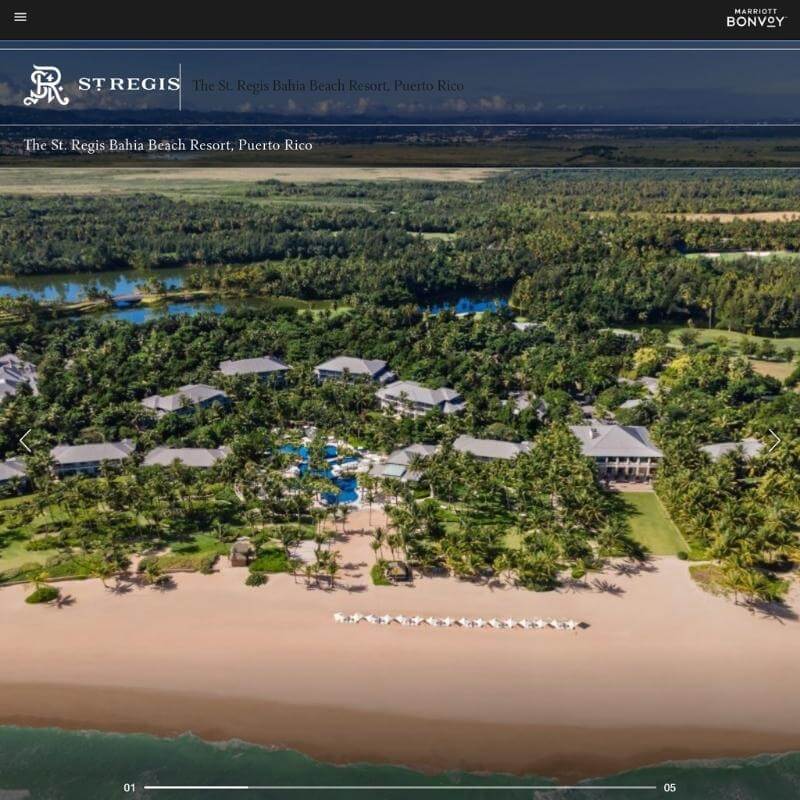 The St. Regis Bahia Beach Resort is one of the most stunning tourist destinations in Puerto Rico.
This resort is situated on what was once a coconut farm within view of both the ocean and El Yunque National Forest. Today, it is a five-star hotel and resort where people come to vacation and celebrate together.
St. Regis Bahia Beach Resort features eight private event rooms, including the Astor Ballroom. It also offers two miles of private beach if you prefer to celebrate your wedding right on the Atlantic Ocean.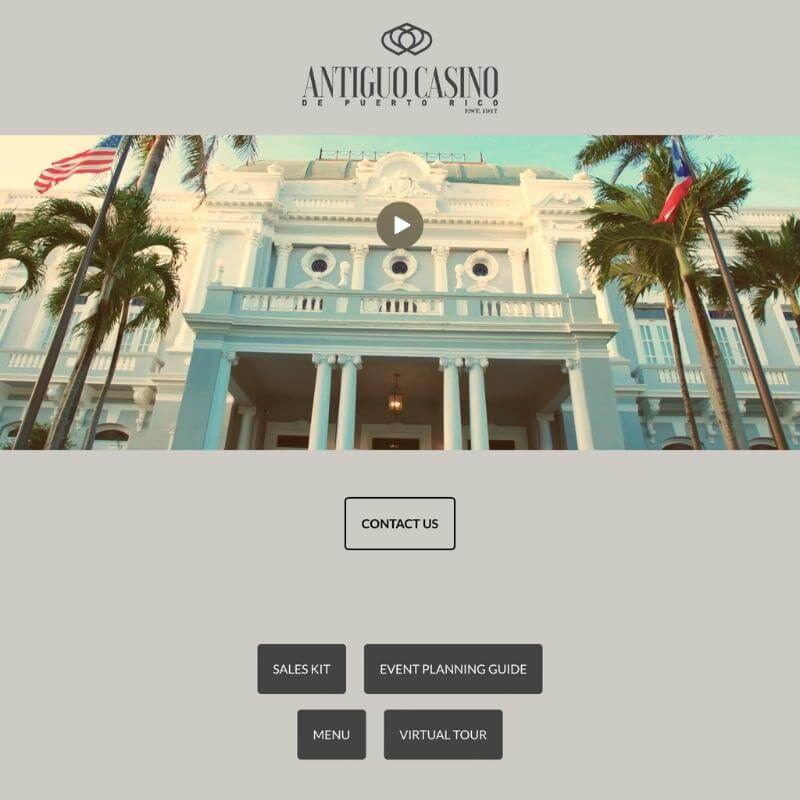 Antiguo Casino is one of the most upscale event venues in San Juan. The historic building dates from 1917 and features some of the most stunning architecture anywhere in the country, from its sweeping main staircase to its white marble floors.
Located on the island's north side, Antiguo Casino offers breathtaking views of the ocean alongside its mirrored halls. If you are looking for a wedding venue in Puerto Rico that truly spells timeless elegance, Antiguo Casino is the place to go.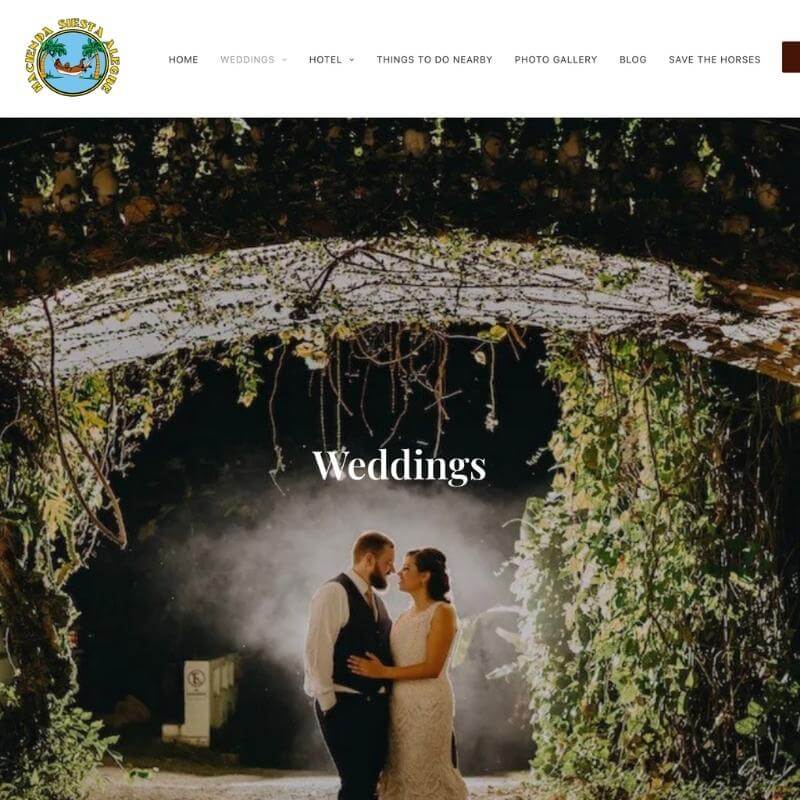 Hacienda Siesta Alegre has become one of the most famous wedding destinations in Puerto Rico. This open-air event venue offers a unique experience of five-star comfort on the edge of the tropics.
Hacienda Siesta Alegre has been voted the most romantic wedding venue in Puerto Rico, offering a stunning garden space to celebrate your special day. The resort is also famous for its Love Bridge, the perfect place for your wedding photos.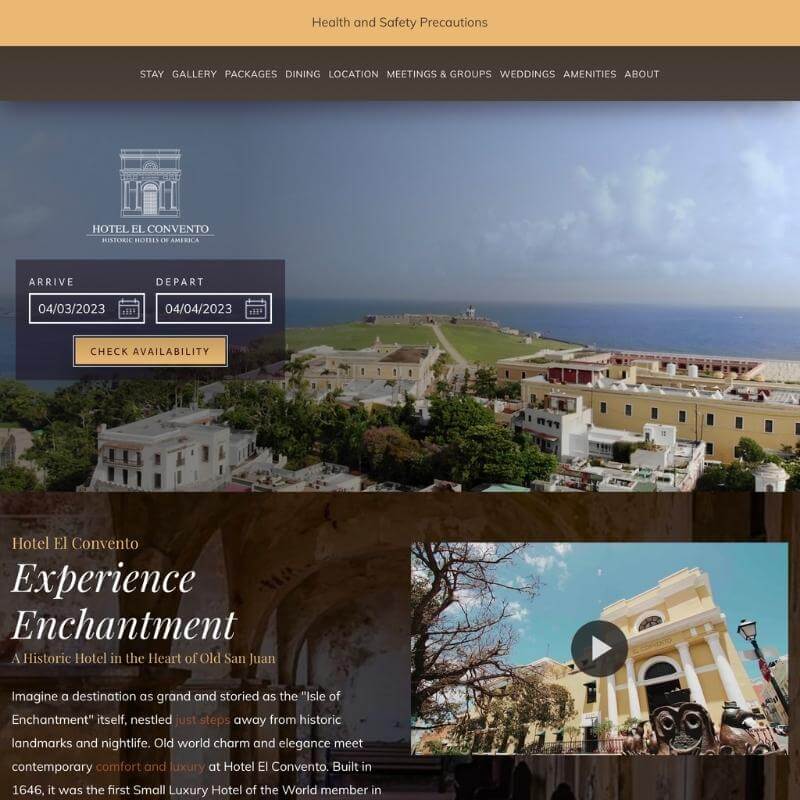 Hotel El Convento is a historic building located in Old San Juan. Built as a Carmelite convent in 1651, this stunning structure has stood for nearly 400 years! It was transformed into a hotel in 1959 and is now one of Puerto Rico's most fascinating and beautiful places to stay.
It has become an extremely popular site for weddings and other events, featuring European-style architecture, a beautiful terrace, and on-site restaurant. If you are looking for a small historic venue with tons of charm, Hotel El Convento is the place for your wedding.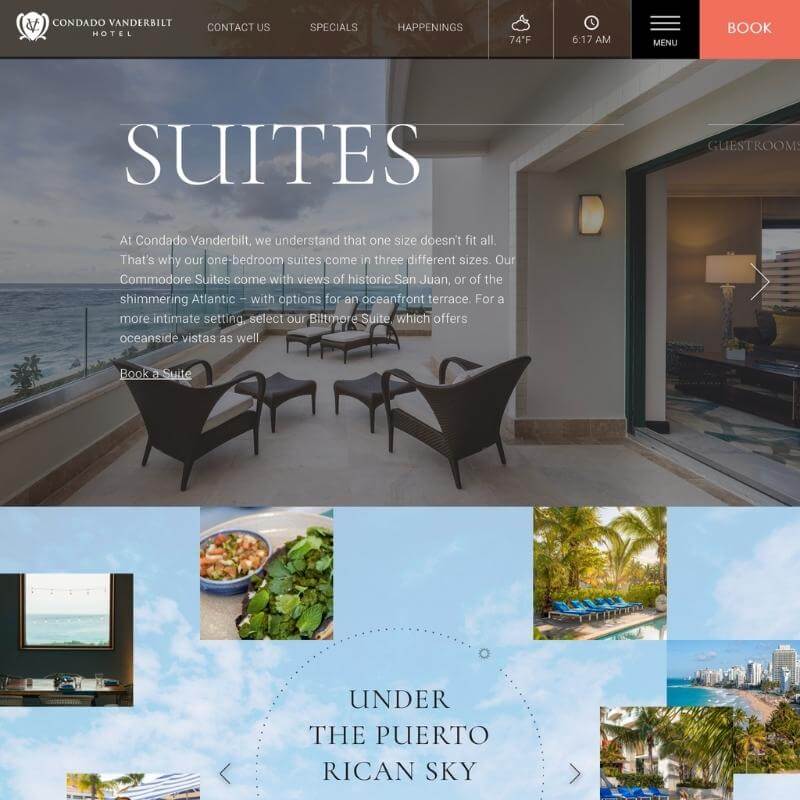 The name Vanderbilt is associated with luxury hotel experiences worldwide, and the Condado is no exception. This gorgeous resort offers surrounding views of both the Atlantic Ocean and the historic district of San Juan.
Featuring plenty of comfortable suites for your guests and a trendy on-site restaurant, the Condado is a popular place for events of all kinds. With four rooms for the ceremony and reception, the Condado also offers the services of an expert wedding planner and professional chef to help plan your big day.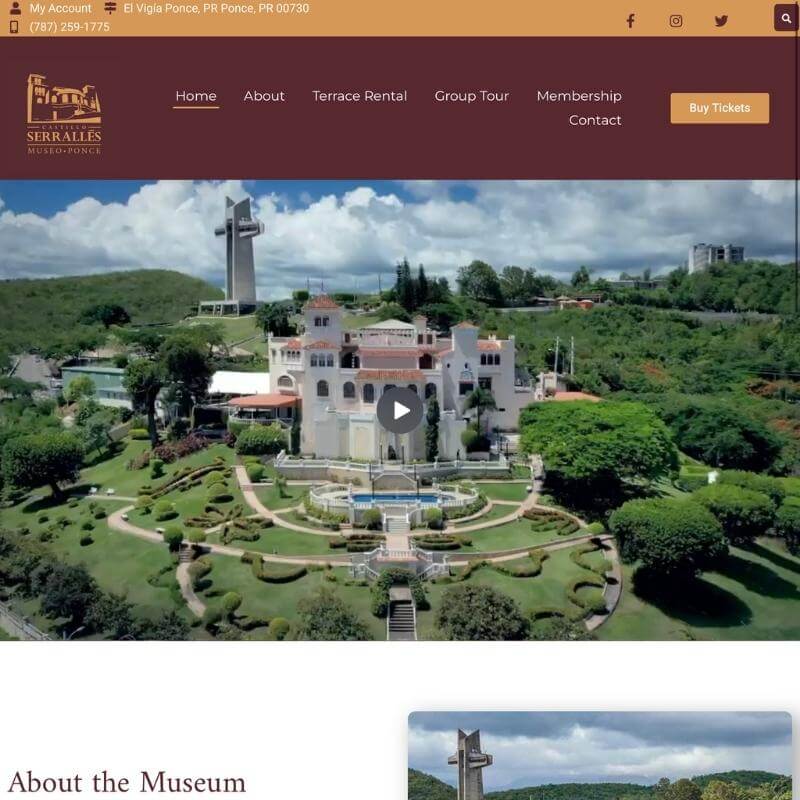 Museo Castillo Serralles is a historic family home that now operates as a museum in Ponce, Puerto Rico. Built in 1930, the home is known for its educational displays and impeccably manicured gardens.
Both the interior and the grounds have made it a popular spot for destination weddings, particularly in the Japanese Gardens. When you book your wedding at Castillo Serralles, you will have access to the sculptured terrace and grounds, a perfect spot for your celebration — and some fantastic photos.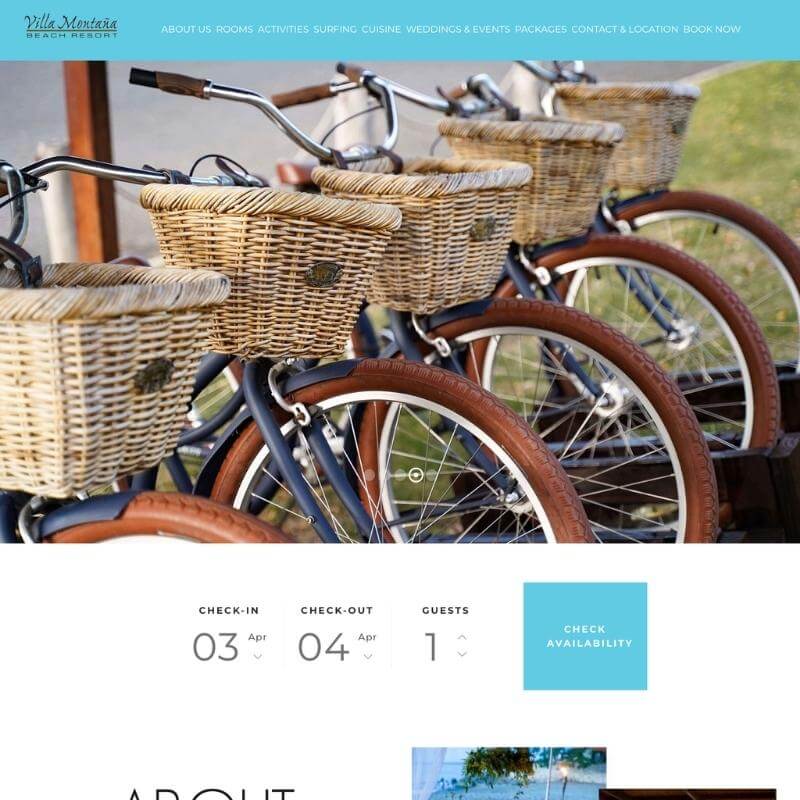 Villa Montaña is a stunning retreat made to make you feel like you have escaped to paradise. This resort lies on three miles of private coastline, making it the perfect place for a luxury vacation getaway — or an intimate wedding.
The resort's award-winning restaurant specializes in authentic Puerto Rican cuisine, with services on hand for your wedding day.
Meanwhile, the lush resort has several stunning locations to hold your celebration, including the Garden Ballroom. With an on-site wedding coordinator, Villa Montaña has been voted one of the top wedding venues in Puerto Rico for six years running.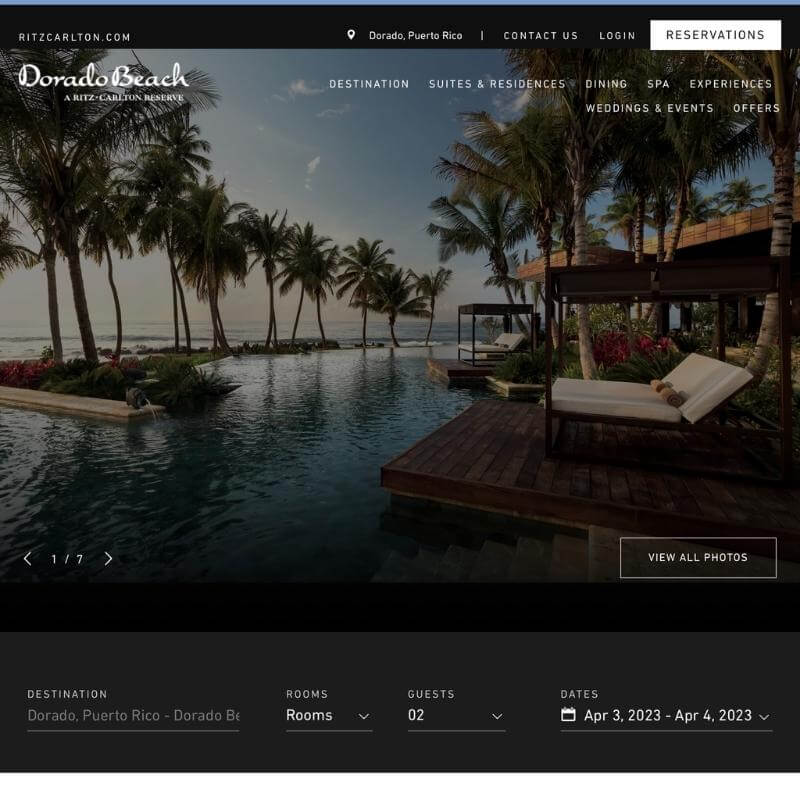 The name Ritz-Carlton is synonymous with luxury. At Dorado Beach, you will find a retreat away from the world — one that is perfect for a destination wedding.
Styled as a private oasis with everything you need right at hand, Dorado Beach is a stunning place for your special day, whether celebrating with 50 people or 300.
The resort offers a full wedding package, from on-site stylists to coordinators, private chefs, florists, and entertainers. If you want a lavish all-in-one wedding experience, Dorado Beach is perfect for your nuptials.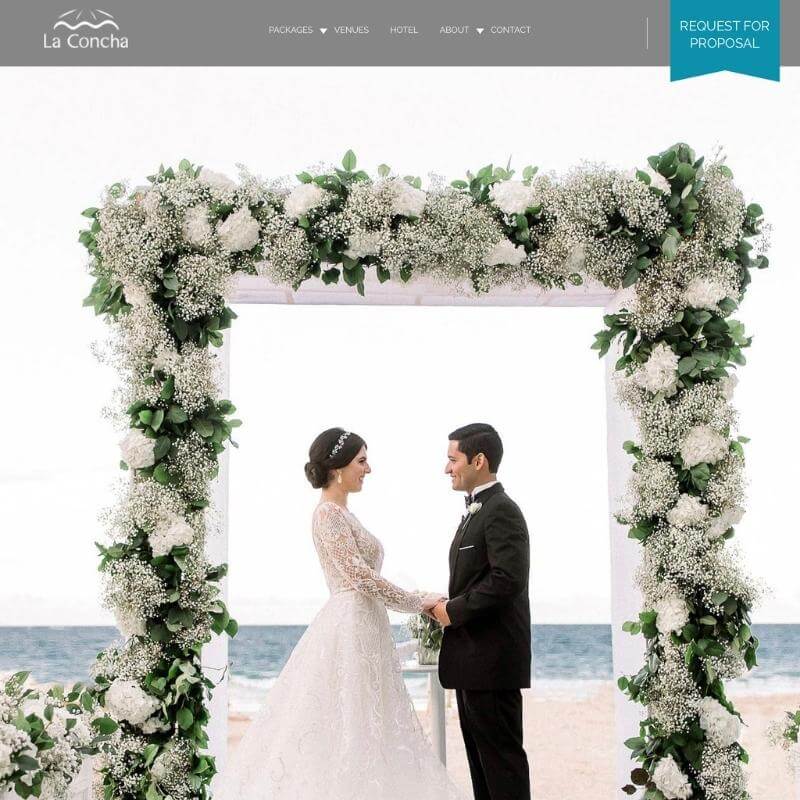 While many destination wedding spots double as resorts and tourist hotspots, La Concha in San Juan, Puerto Rico, is slightly different. This intimate resort is all about romance, offering everything you need to plan your wedding.
You can plan your beach wedding with a team of experts, from wedding coordinators to private chefs. Then you can celebrate your day in the ultra-chic, modern surroundings of La Concha. If your wedding plans are all about style and experience, this is the venue for you.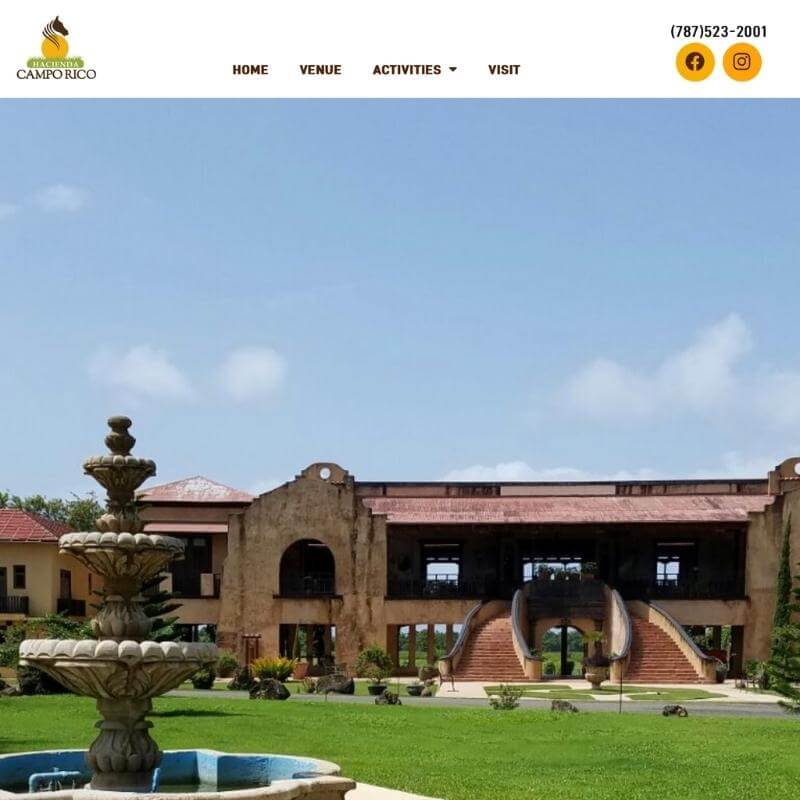 If upscale resorts aren't your style, you might prefer the tropical retreat of Hacienda Campo Rico. This hidden gem is located on a 2,000-acre property in Carolina, Puerto Rico, a short distance from San Juan.
Tourists come here to enjoy a more rural experience of Puerto Rico, from ziplining and horseback riding to exploring in an ATV. However, it's also a wedding venue.
You'll celebrate your wedding day framed by turn-of-the-century architecture and the canopy of El Yunque National Rainforest. If you want a truly unique venue, Hacienda Campo Rico is for you
How much does it cost to have a wedding in Puerto Rico?
On average, a wedding in Puerto Rico might cost between $10,000 and $35,000. This price can change based on things like where you have the wedding, how many guests you invite, and what kind of decorations and food you choose.
Let's talk about some things that can affect the price of a wedding in Puerto Rico. First, the location is important. Some places, like fancy hotels or popular wedding venues, might cost more money to rent. If you choose a public beach or a park, it might be less expensive.
Next, the number of guests you invite can change the cost. More guests means more food, drinks, and maybe even a bigger place to have the wedding.
Finally, the decorations, flowers, and food you choose can make a difference in how much your wedding costs. If you pick fancier options, your wedding might be more expensive.
Is Puerto Rico a good place to get married?
Puerto Rico is a great place for a destination wedding because it is a beautiful island with lots of amazing things to see and do. The island has warm weather all year long, which means you can plan your wedding at any time without worrying about it being too cold.
There are many pretty venues to have your wedding, like sandy beaches with crystal-clear water or lush, green gardens filled with tropical flowers. Puerto Rico's colorful culture and friendly people will make your wedding day even more special and memorable.
Plus, getting to Puerto Rico is easy because it is a part of the United States, which means you don't need a passport to visit if you're coming from the U.S. So, if you're dreaming of a wedding in a tropical paradise, Puerto Rico could be the perfect place for you!
What is the best time of year to get married in Puerto Rico?
The best time of year to get married in Puerto Rico is during the months of December to April. During these months, the weather is usually warm and sunny, which is perfect for a beautiful outdoor wedding.
This time of year is also known as the "dry season," which means there is less rain. With less rain, you won't have to worry as much about your special day getting wet or having to move your celebration indoors.
Bottom Line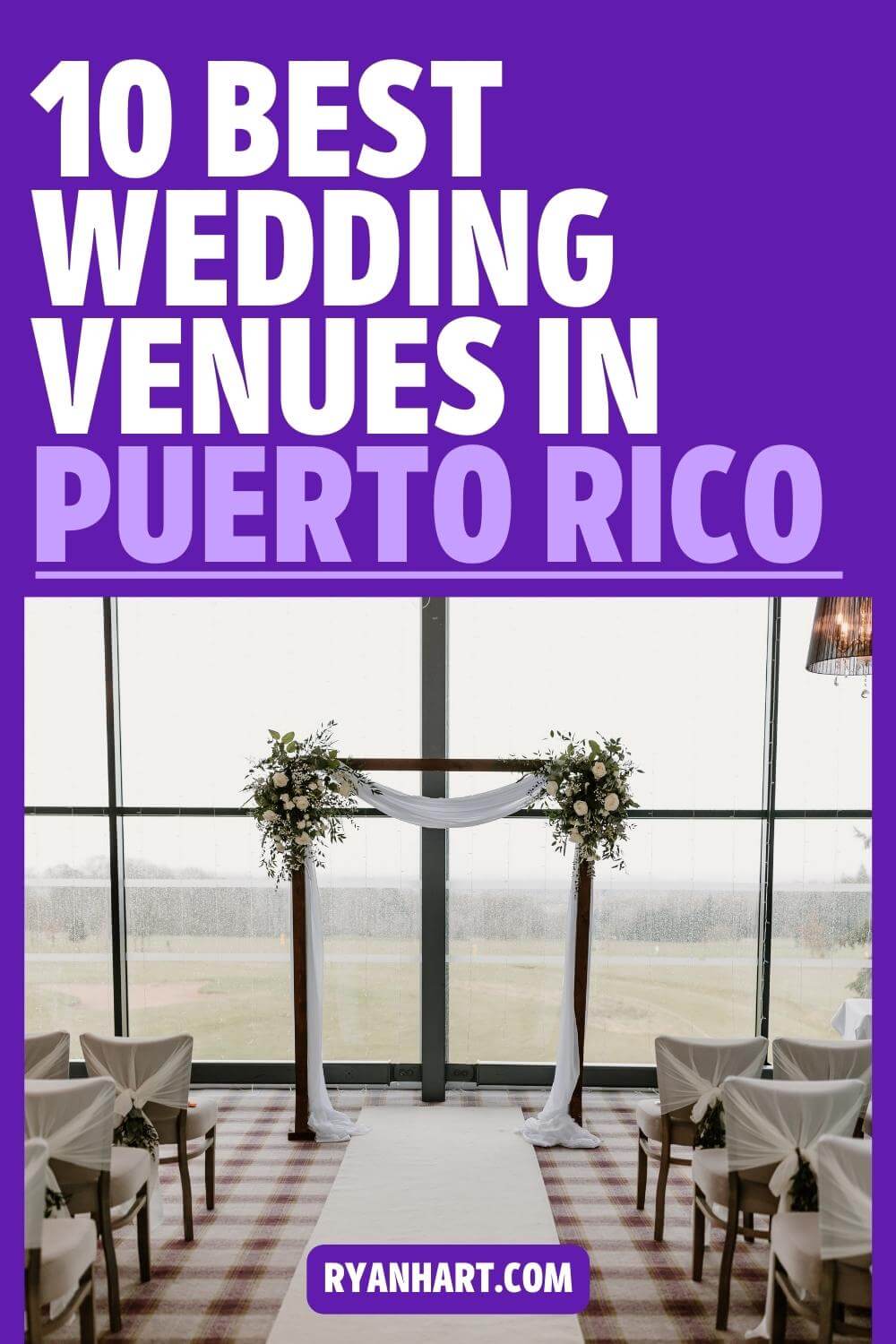 Puerto Rico is the perfect destination for a wedding because it has so many beautiful places to celebrate love.
From stunning beaches with soft, golden sand to lovely gardens filled with bright, colorful flowers, there is a special spot for every couple.
The island's warm weather and sunny skies make it a great place for an outdoor wedding. Plus, Puerto Rico's rich culture and friendly people will make your wedding day even more special.
Before planning a wedding in Puerto Rico it's important to choose the right time of year to have your wedding.
The best months are usually December to April because the weather is warm and there is less rain.