Lancaster, Pennsylvania, is a surprisingly popular destination wedding spot because it provides high-quality and unique ceremonies in a cozy and relaxing outdoor environment.
It's also relatively inexpensive compared to other cities in the area.
However, finding the best option requires a lot of research that you might not have time to handle before your big day.
Thankfully, we've worked hard to provide you with the best wedding venues in Lancaster, PA.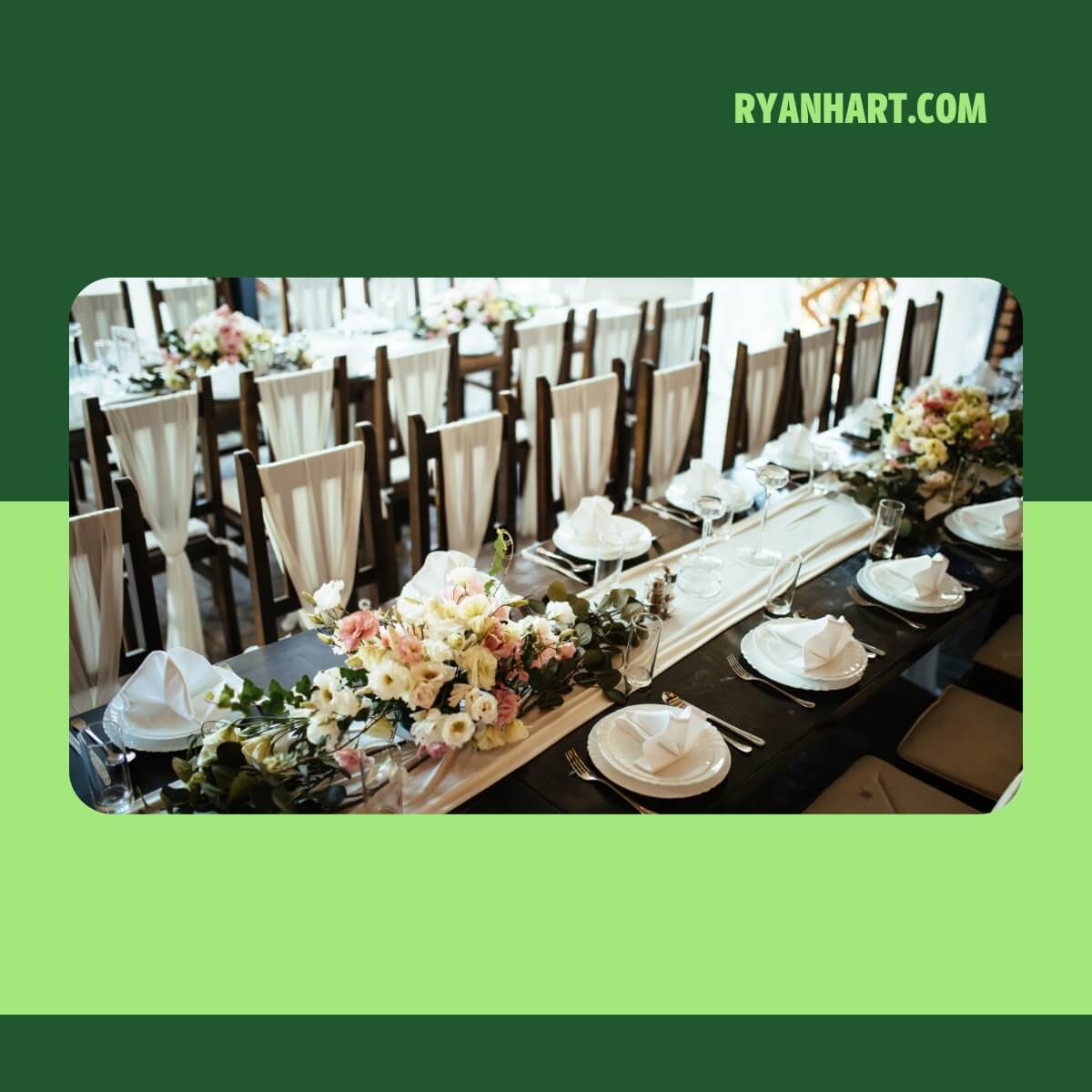 Where is the best place to get married in Lancaster?
Here are the ten best wedding venues in Lancaster, PA, including what amenities they offer and who we think will love working with them: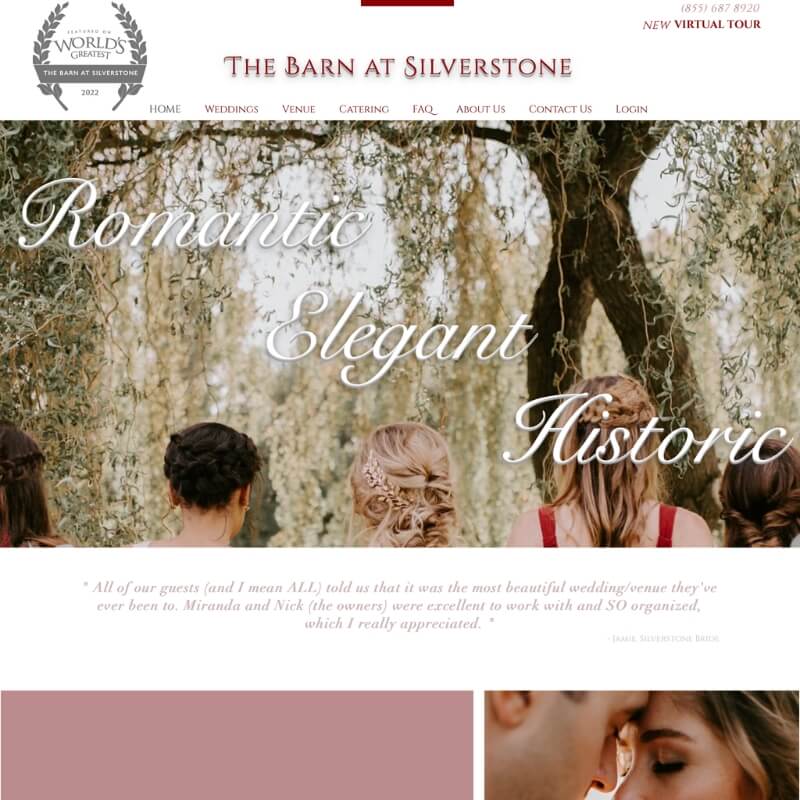 The Barn at Silverstone is a beautiful outdoor wedding destination with an expansive, old-school barn reception area. This open celebration space provides gorgeous brick walls, beautiful scenery, and delicious food that everyone in your party will likely enjoy.
Who will love this wedding venue:
If you want a romantic and elegant wedding, try out The Barn. It provides catering support for your ceremony and is consistently voted highly by many publications.
Even better, its wedding support will ensure you feel comfortable with every step of your wedding planning process.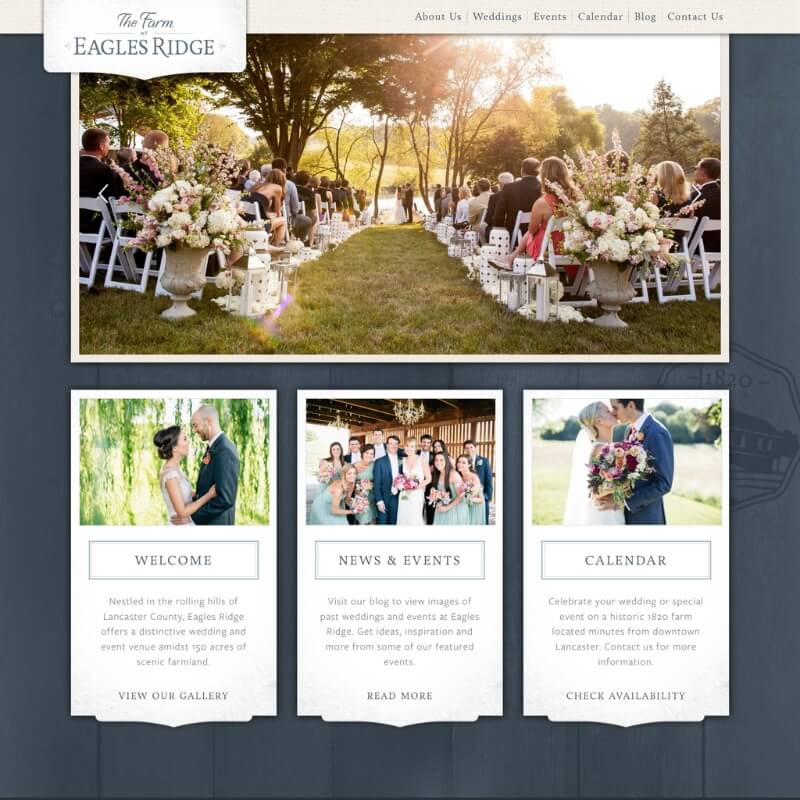 The Farm at Eagles Ridge immerses you in beautiful outdoor views, gorgeous scenery, and natural beauty. It's on 150 acres of quiet and peaceful land and is not far from Lancaster, meaning you and your party can check out many of the fun destinations in this rapidly growing city.
Who will love this wedding venue:
We strongly suggest this destination for anyone who wants a beautiful outdoor wedding with fantastic scenery. It's also an excellent option for anyone who enjoys a nearby town's amenities. We also found that their prices were fair compared to other wedding venues in the area.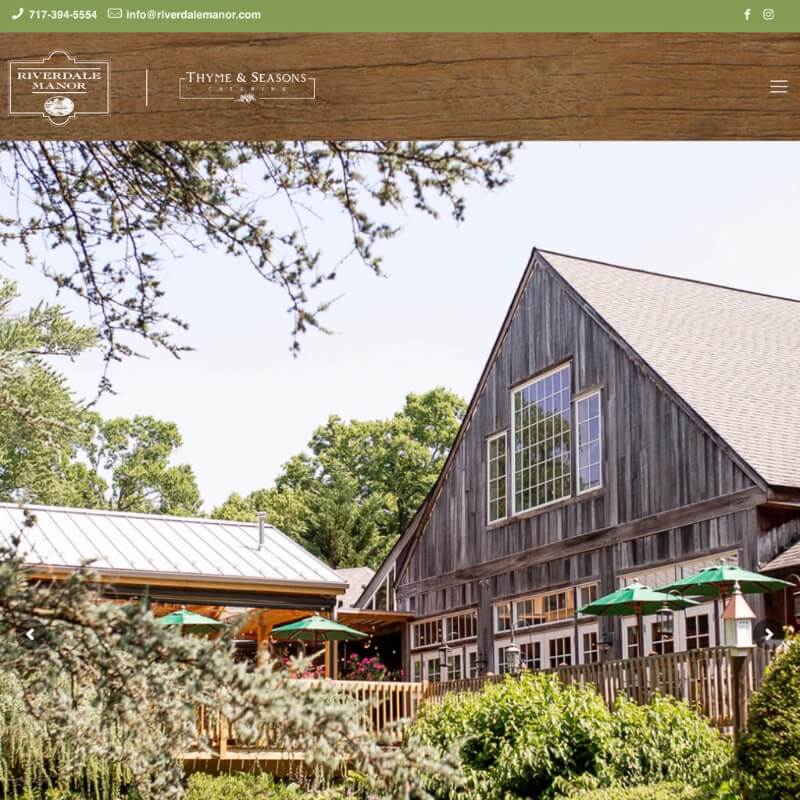 Riverdale Manor stands out from other wedding venues in Lancaster, PA, for a few reasons. First, it offers options like winter weddings, a gorgeous farmhouse, expansive grounds to explore, a garden to enjoy, and a ballroom for dancing. It also provides catering from Thyme & Seasons to make it better.
Who will love this wedding venue:
Anyone who wants a diverse wedding experience will love this destination venue. Its expansive grounds provide a unique and exciting place to celebrate. It also has multiple amenities for your stay that make it even better, including in-depth catering and wedding planning.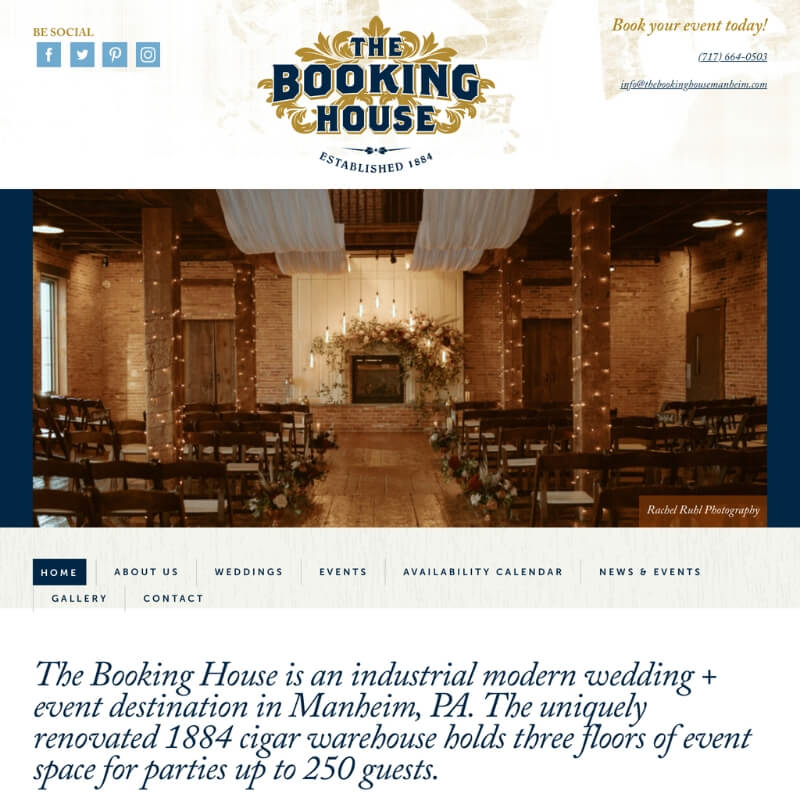 The Booking House is an event center that supports weddings with multiple services. For example, there's the "cigar lounge and man cave" for the groom and a bridal suite, a bar, and dining options. They also have no guest minimum and can include tables to rent.
Who will love this wedding venue:
Compared to other wedding venues in Lancaster, PA, this destination provides fairer pricing and a surprisingly high-quality experience. So if you're on a budget and need to manage your wedding expenses carefully, this option is excellent because you'll still get a fantastic experience.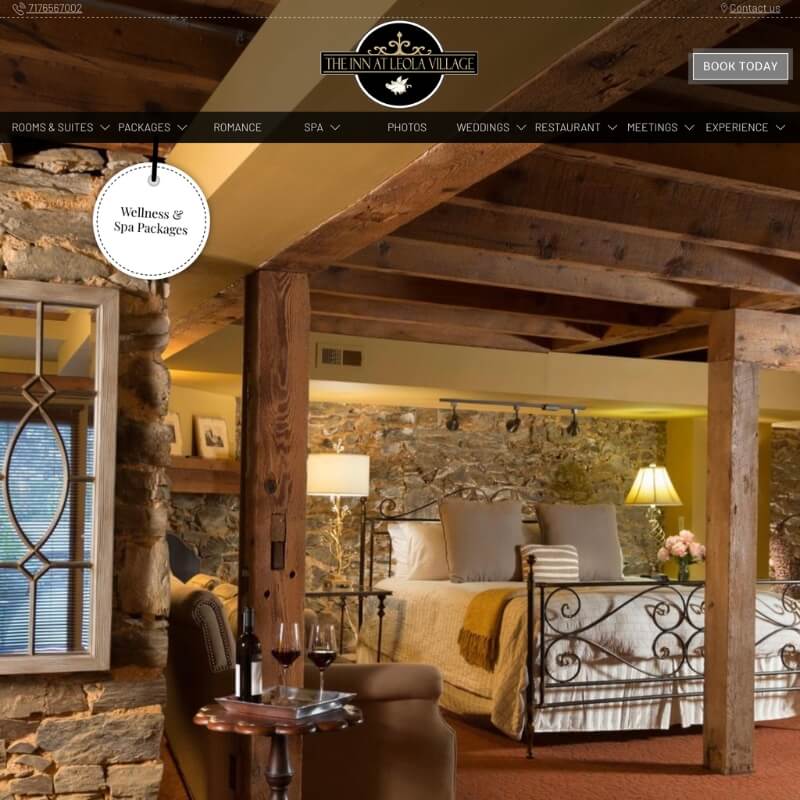 The Inn at Leola Village is a great destination that can provide support for multiple services. For example, you can book rooms and suites for your guests, set up a spa destination, meet at a fantastic restaurant, and even explore the sprawling grounds around the facility.
Who will love this wedding venue:
Try this venue if you want an all-inclusive package that provides everything you need for your wedding. We love that it includes other activities that appeal to multiple people, especially the spa. They'll also help with all your planning to ensure things go smoothly.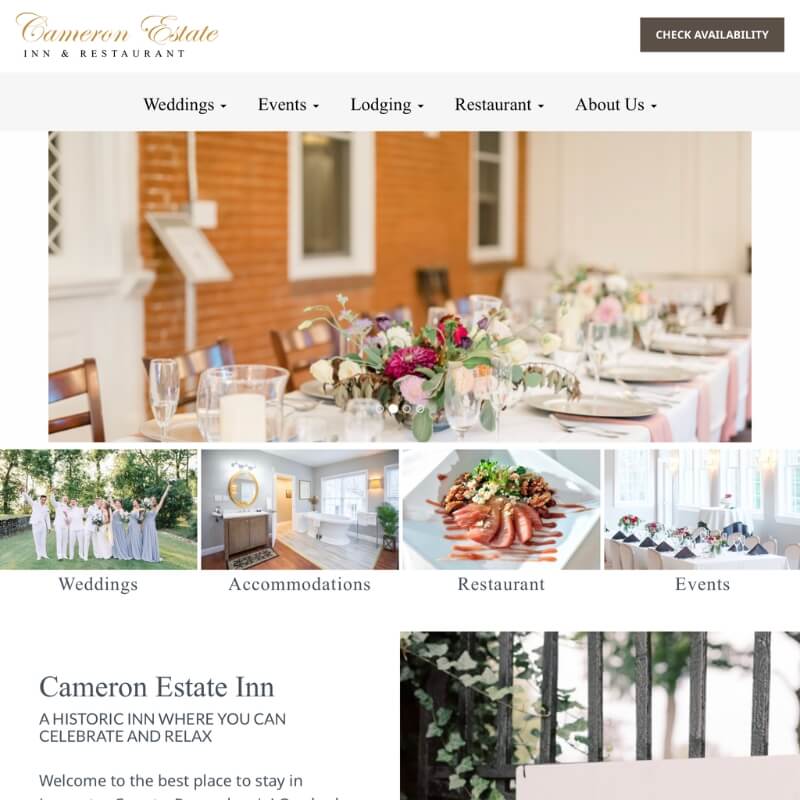 Cameron Estate Inn is an inclusive wedding venue with almost everything you need. There's a sprawling house where you'll stay during your wedding and in-depth reception venues. In addition, the sprawling grounds outside the house will give you a fun and exciting place to explore.
Who will love this wedding venue:
Are you trying to turn your ceremony into a big and exciting family event? You'll likely enjoy this wedding venue because you'll stay onsite and can enjoy their many activities. It's like one last big family party before you tie the knot and start your married life.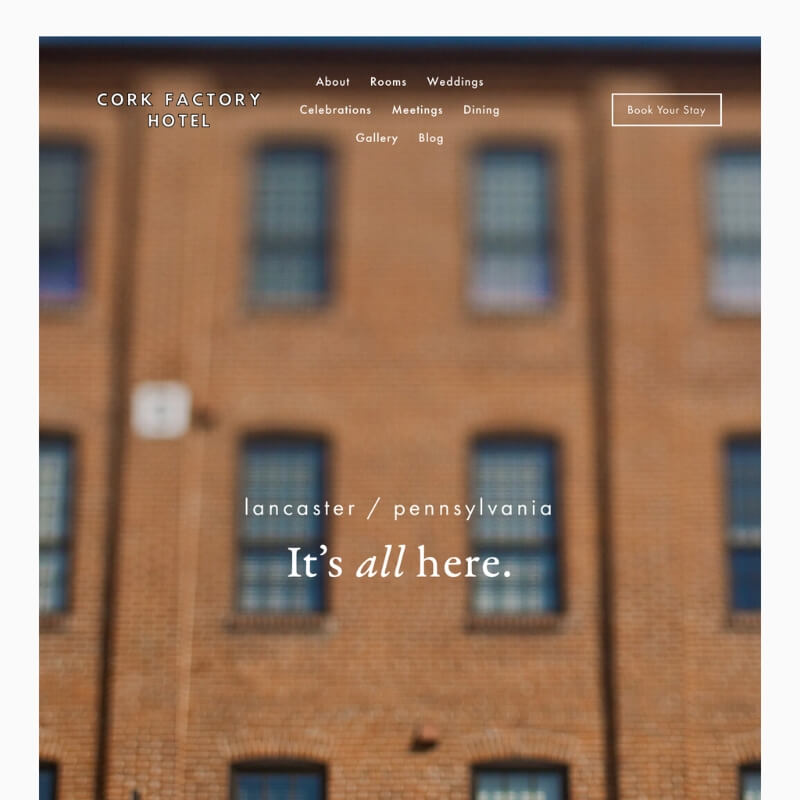 The Cork Factory Hotel is a destination near Lancaster that includes an onsite restaurant, comfortable event spaces for weddings, and accommodations like catering and more.
It's a beautiful old-school hotel environment that will provide the high-quality experience you deserve.
Who will love this wedding venue:
You'll enjoy this wedding venue if you want a comfortable, in-town experience in a cozy and traditional hotel. It has the beauty you don't see in modern venues and multiple amenities, making it an excellent option for a smaller, more intimate celebration.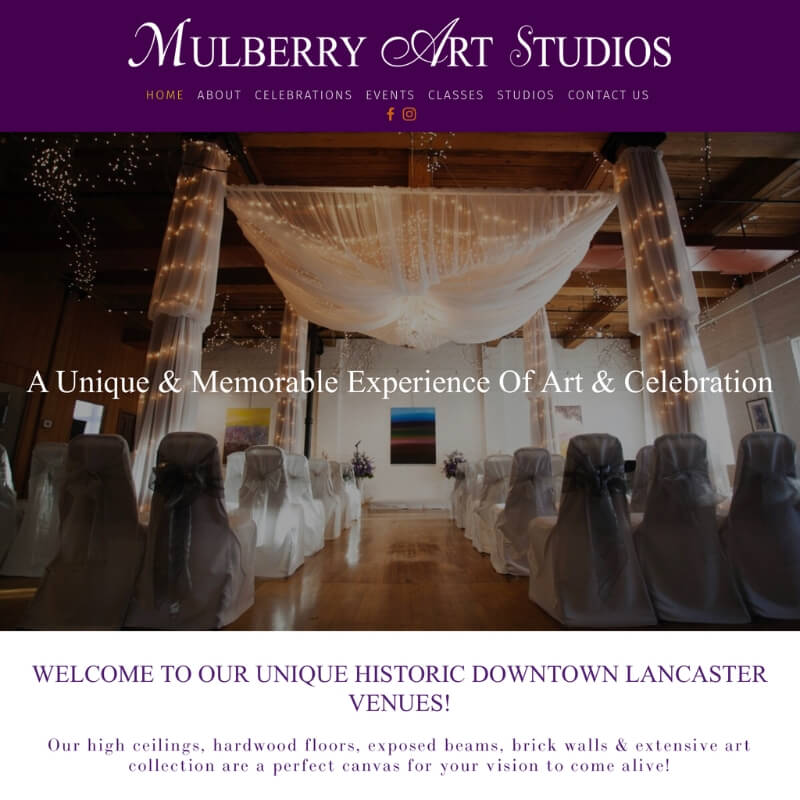 Mulberry Art Studios is a unique Lancaster, PA, venue because it focuses heavily on art and art-based events. However, it also hosts weddings and receptions.
It includes unique decorations, studio spaces where you can practice art, and even multiple classes you and your partner will enjoy for your big day.
Who will love this wedding venue:
Are you interested in making your wedding more of an adventure? Then, you'll love this unique destination! It includes fantastic artwork and creative light designs and gives you access to unique and engaging artistic exploration.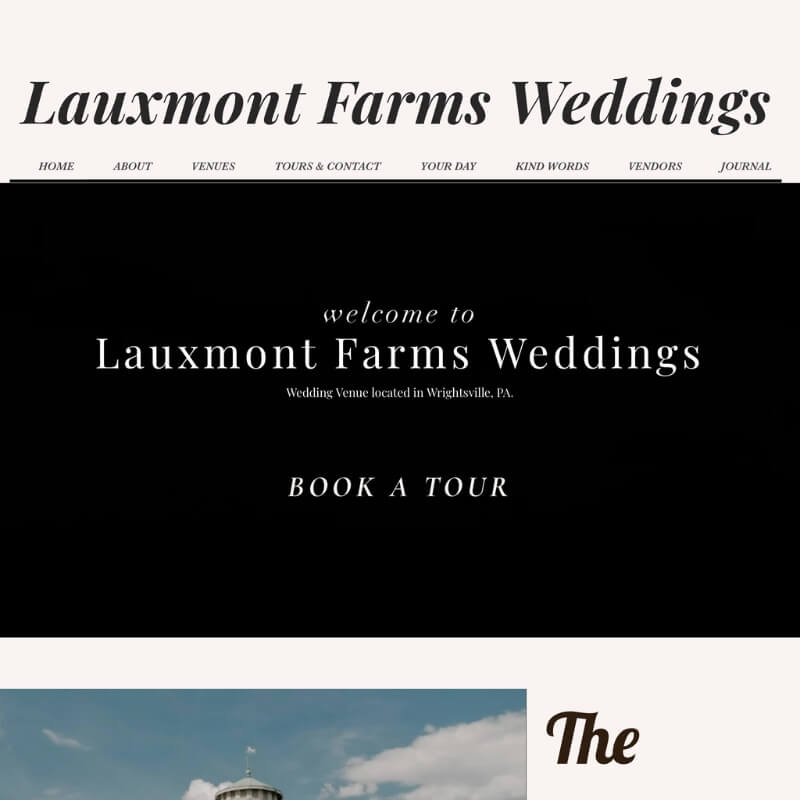 Lauxmont Farms has become one of the most popular destination wedding options in Lancaster, PA, because it provides many acres of land to explore, wedding planning support, a Japanese garden, an attractive rotunda, and a sunken garden where you and your partner can tie the knot.
Who will love this wedding venue:
Anyone wanting a gorgeous, old-school, and rustic wedding will love this venue. Like other rural wedding venues in Lancaster, PA, it includes beautiful and sprawling acres of land.
However, its Cobblestone Courtyard is a unique and engaging experience you'll love for your rural wedding experience.
Barn weddings are a fun and popular option for many people, and The Country Barn is one of the best wedding venues in Lancaster, PA. It includes a country barn wedding, a beautiful manor, high-quality catering, reception support, and other unique benefits that make it a great place to get married if you love outdoor weddings.
Who will love this wedding venue:
This should be your first option if you're interested in a high-quality barn wedding in Lancaster. It provides a unique and exciting experience that just about anyone will love.
Even better, it has the cozy and relaxing environment that you want on a sprawling and engaging property. That makes it an excellent option for many people.
How do I book a wedding venue in Lancaster, PA?
To book a wedding venue in Lancaster, PA, you should first decide on a date and budget. Then, research venues that fit your criteria and schedule a tour.
Once you find a venue you love, sign a contract and pay a deposit to secure your date. Finally, plan the details of your event, such as food and decorations. With a little bit of planning and research, you can have the wedding of your dreams in Lancaster!
How much do wedding venues in Lancaster, PA cost?
The cost of wedding venues in Lancaster, PA varies widely depending on the venue, time of year, and day of the week. On average, couples can expect to spend between $3,000 and $10,000 for a wedding venue in Lancaster, PA.
What types of wedding venues are available in Lancaster, PA?
Lancaster, PA offers a variety of wedding venues, including barns, farms, country clubs, hotels, and historic buildings. Each venue has its unique features and pricing.
Couples considering a wedding in Lancaster should research the venues to select one that best suits their tastes and budget. By selecting a venue, couples can begin to craft their dream wedding in Lancaster!
What is the maximum capacity of wedding venues in Lancaster, PA?
The maximum capacity of wedding venues in Lancaster, PA varies widely depending on the venue. Some venues can accommodate up to 500 guests, while others are more suitable for smaller, intimate weddings.
It is important to research venues ahead of time to ensure they will be able to meet your needs. Most wedding venues in Lancaster offer a variety of amenities and services, such as catering, décor, and outdoor spaces for weddings.
Bottom Line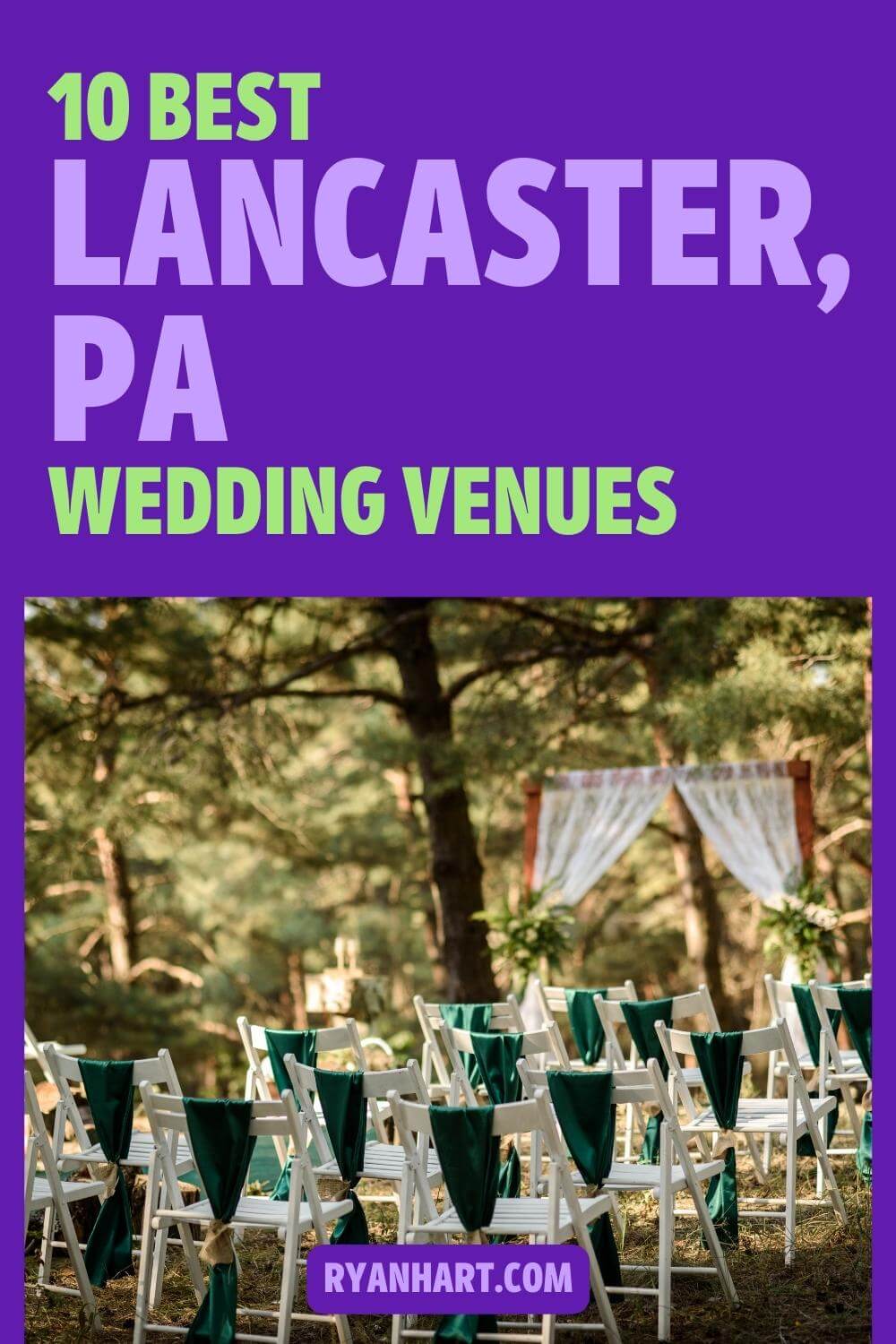 Lancaster, PA is a wonderful place to get married. With its beautiful scenery, rich history, and charming atmosphere, it's no wonder that so many couples choose to tie the knot here.
Whether you're looking for a rustic barn wedding or an elegant ballroom affair, Lancaster has plenty of options to suit your needs.
Remember to consider factors like budget, location, and guest capacity when choosing your venue, and don't be afraid to ask questions or seek help from a wedding planner. With the right venue and a little bit of planning, your special day is sure to be a success.