Brides and bridesmaids alike will spend most of the big day on their feet, from prep time at the church to walking down the aisle to dancing the night away at the reception.
That's a lot of strain on the feet. This is why bridesmaid slippers should be a part of your wedding party swag bag or the main bridesmaid's gift.
Make them casual or go for luxury; either way, bride and bridesmaids' slippers are a must! Now, not any slippers will do. You need something durable, pretty, and fashionable for the big day.
Here we share the five best places to buy bride and bridesmaid slippers.
Where to Buy Bride and Bridesmaid Slippers
The following retailers have everything from plush to fun and won't disappoint. Here are the best places to buy brides' and bridesmaids' slippers.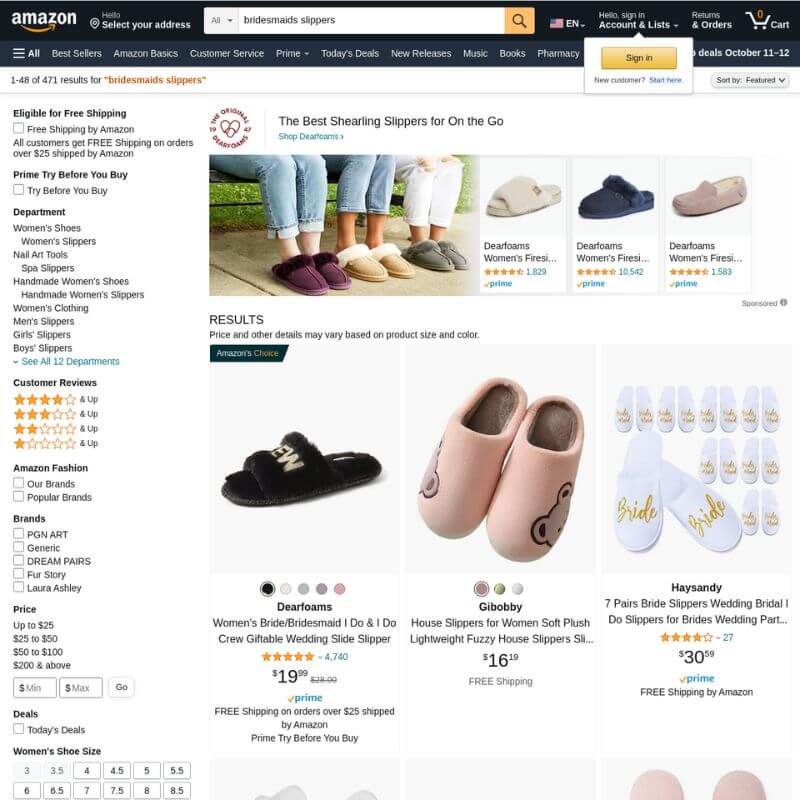 Amazon is an online retailer that offers almost anything you can imagine, including the bride and bridesmaids' slippers. The company offers quick shipping, comprehensive buyer reviews and videos, and detailed descriptions of products, all within their app.
Millions around the globe trust the company to deliver the goods they need. Amazon does much of their own delivery, and when you go to each product page, they detail the shipping dates before you put the product in your cart.
Highlights:
You can find brands like Dearfoams, Snoozies, and many others. You can also check out the sellers before you buy.
Variety is the spice of life, and it's pretty spicy at Amazon with plenty of options in fabric and colors.
You can customize your product with "Bride" or "Bridesmaid," anything that works for your group.
What Amazon Does Best:
Variety, availability, and quick shipping. When you head to Amazon for your bride or bridesmaid slippers, there are so many options you're sure to find something perfect for your big day!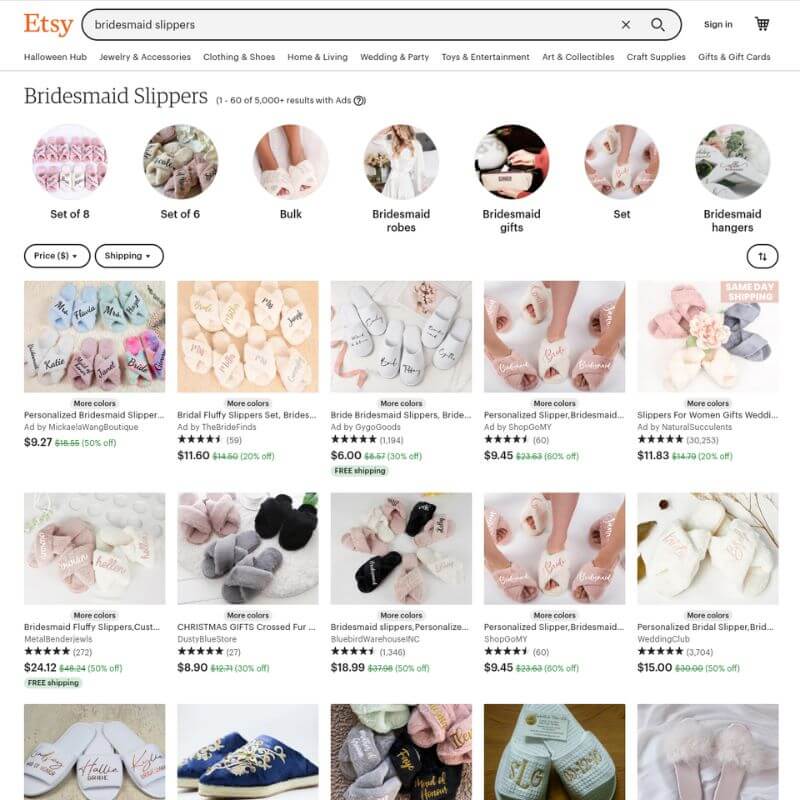 Etsy is a global marketplace that offers unique and creative products; the brand likes to keep the human connection at the heart of its business. The platform has millions of customers who log on to find those unique pieces for the special person and special moments in their lives.
Already known for custom products made by artisans, Etsy also has a wedding shop that groups all wedding supply retailers in one place.
Highlights:
Cute and unique designs in assorted sizes can be found in the over 16K on-page search results.
They have so many other unique finds to create a grab bag your wedding party is sure to love!
You can buy just a few, a group of ten, or in bulk. So, they have exactly what you need!
What Etsy Does Best:
Customization & a personal touch! Etsy shop owners are all about that personal touch, from answering your questions to offering customizations and personal notes in the packaging.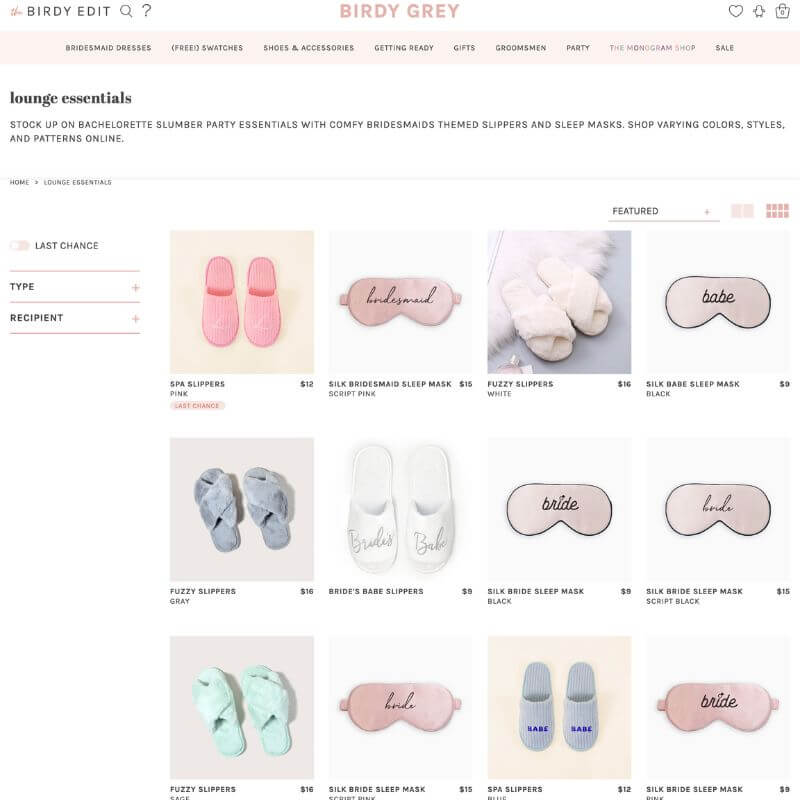 Birdy Grey was founded by Grace and Monica, who both had backgrounds in fashion, beauty, and corporate operations. The company is famous for its $99 bridesmaid dresses. Their goal is to make shopping for your wedding party easy and are open to answering questions when you need a little help.
Their bride-to-be and bridesmaid's plush terry slippers and satin sleep masks are perfect for a sleepover, pre-wedding spa day, or on the day of the big event.
Highlights:
Birdy Grey offers slippers to match your robes, PJ sets, socks, bikinis, and thongs.
You don't have to run around getting sizes; their bride and bridesmaid slippers are one size fits all.
These are perfect for your swag bag, and the cute sleep masks come in their own travel storage bag.
What Birdy Grey Does Best:
Pricing and shipping! Their slippers start at just $16! Birdy Grey ships in-stock products within eight days.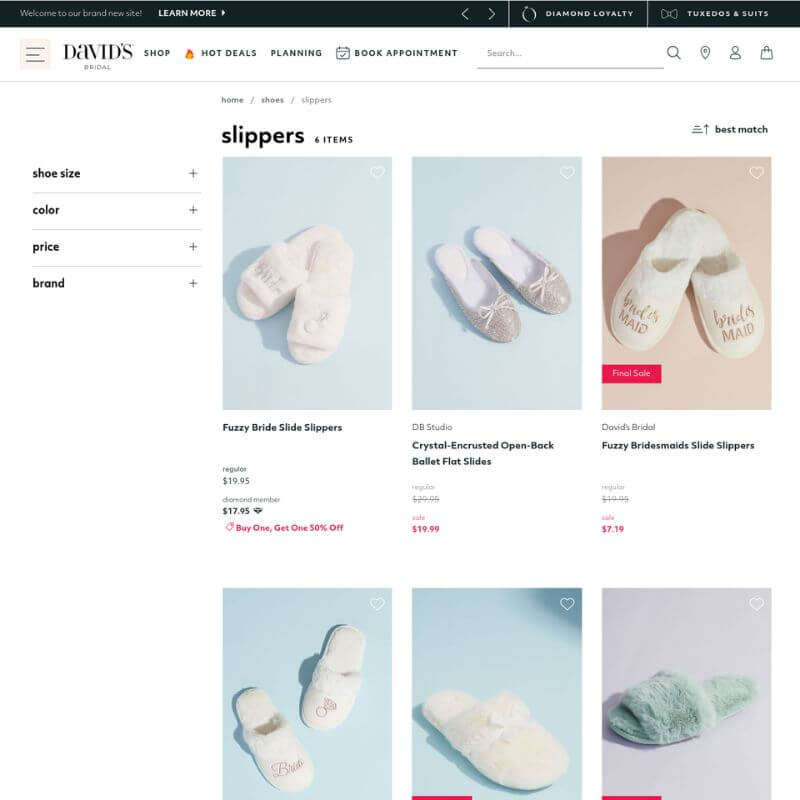 David's Bridal is the go-to for brides around the world. One in three brides in the US gets their dress from the retailer. While they only offer less than ten bride and bridesmaid slippers styles, they are priced as low as $11, and you can get free personalization on products that have this option available.
Highlights:
You're sure to find the perfect bride and bridesmaid slipper for your budget. Prices are under $25 and as low as $11 on sale.
They are all about diversity, inclusion, and equity. So, if it's important to shop from this kind of retailer, this is the shop for you!
Don't just go for the bridesmaids' slippers; the website offers many wedding planning tools to help you plan the big day!
What David's Bridal Does Best:
Great pricing! While there may not be a lot of options, the products they sell are priced well.
Check Prices at David's Bridal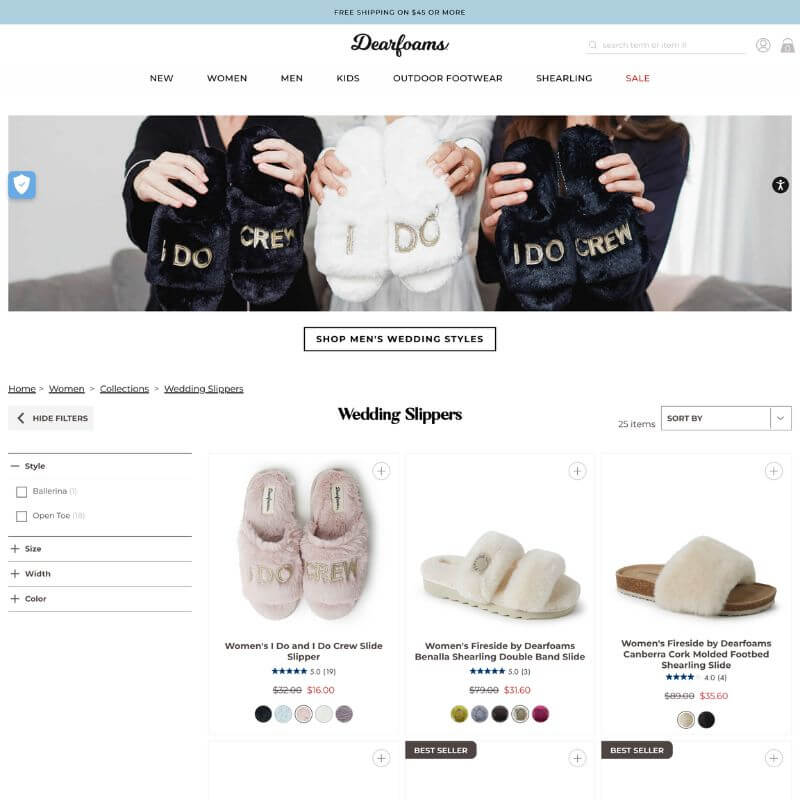 Dearfoams developed the world's first foam-cushioned, washable slipper. Seventy years and one billion pairs later, they are still churning out stylish and high-quality slippers. Their bridesmaid slippers will probably be the only ones you find on the market that are so comfortable and durable that you'll wear them for years to come.
Highlights:
24 Styles from which to choose
Not just a pretty face! They have a plush lining, cloudlike memory foam insole, and supportive outsoles.
They come with a one-year warranty against manufacturers' defects
Get a discount when you sign up for their emails and get 20% off your order!
What Dearfoams Does Best: Comfortable and Durable Slippers! Let's face it; this is their primary offering – comfortable slippers that provide support and last way beyond the wedding day!
What are Bridesmaid Slippers?
Bridesmaid slippers are a type of footwear that the bridal party typically wears while getting dressed for a wedding ceremony.
They are typically made from satin or silk and have a low heel. Some slippers also come with embellishments such as beads or sequins.
While they are not required footwear for the bridal party, many women choose to wear them as they can add a touch of luxury to the wedding ensemble.
In addition, bridesmaid slippers can also be a practical choice for women who spend a lot of time on their feet during the wedding ceremony and reception.
If you are considering buying bridesmaid slippers, select a style that complements the rest of your outfit such as your robe.
Bottom Line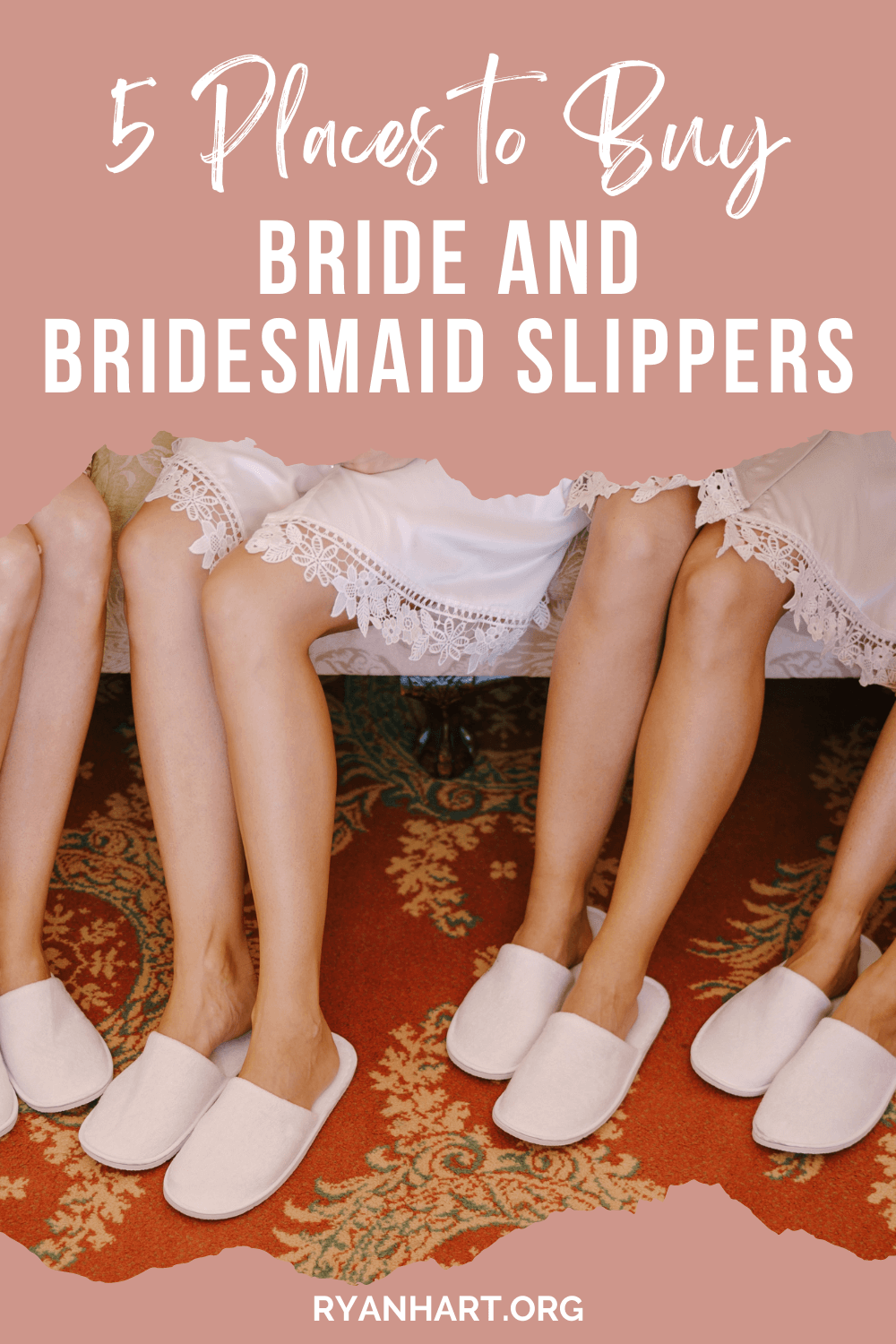 When it comes to your wedding, you want everything to be perfect, from the dress to the flowers, every detail matters. And that includes what your bridesmaids wear on your big day.
While you may be tempted to run out to the nearest department store and pick up a pair of slippers for each of your bridesmaids, there are several reasons why you should consider buying them online instead.
First, you'll have a much more comprehensive selection to choose from. Second, you can often find better deals online. And finally, you can have the slippers shipped directly to your bridesmaids, so you don't have to worry about transporting them yourself.
So if you're looking for an affordable way to keep your bridesmaids comfortable on your wedding day, consider buying their slippers online.