Your wedding is fast approaching, and you're working hard to get everything together. Make sure to remember those small touches and mementos for your bridal party.
Imagine your wedding party getting ready on your special day, moving from the dressing room to the makeup chair to get perfectly coiffed for your big day.
Now imagine them all wearing matching robes! It's a beautiful way to create camaraderie and signify the friendships you share.
When choosing your robes, consider the style of your wedding. For formal events, go for satin; for casual beach weddings, choose cotton or linen.
Or you could always shop for your bridesmaid's style. If your girls are divas, you may want to ensure you select opulence over a casual look.
But where do you begin to look for bridal party robes? We have all the details on the five best places to buy bridal party robes.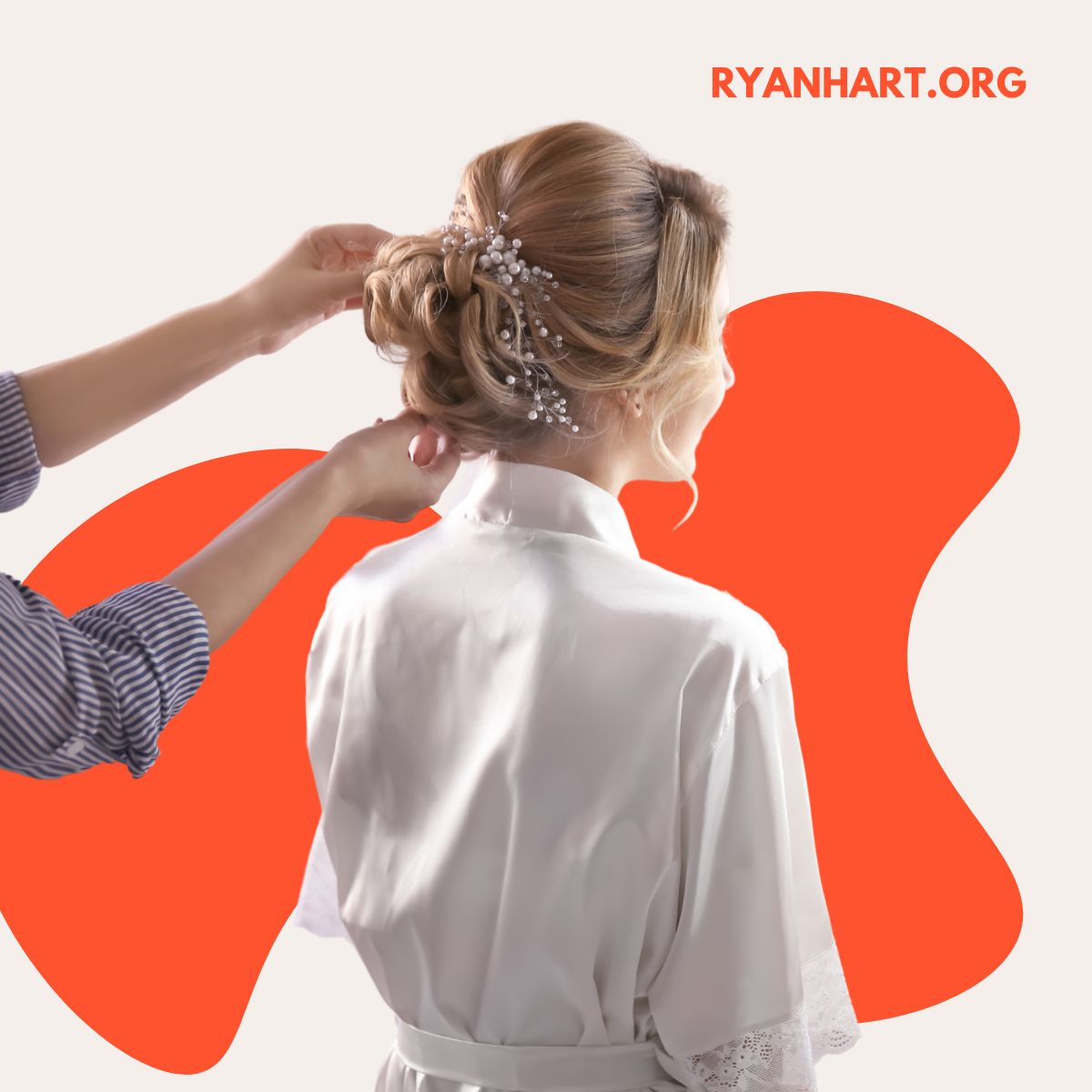 Where to buy bridesmaid robes for getting ready?
We've found the top five retailers to find bridesmaid robes for getting ready on your big day. Our selections offer varying price points, variety in styles, and excellent quality.
It's best to look through what all of these retailers and wholesalers have to offer before making your choice. Get a list of everyone's sizes before shopping so you only choose from products that will suit everyone's frame.
Let's get started!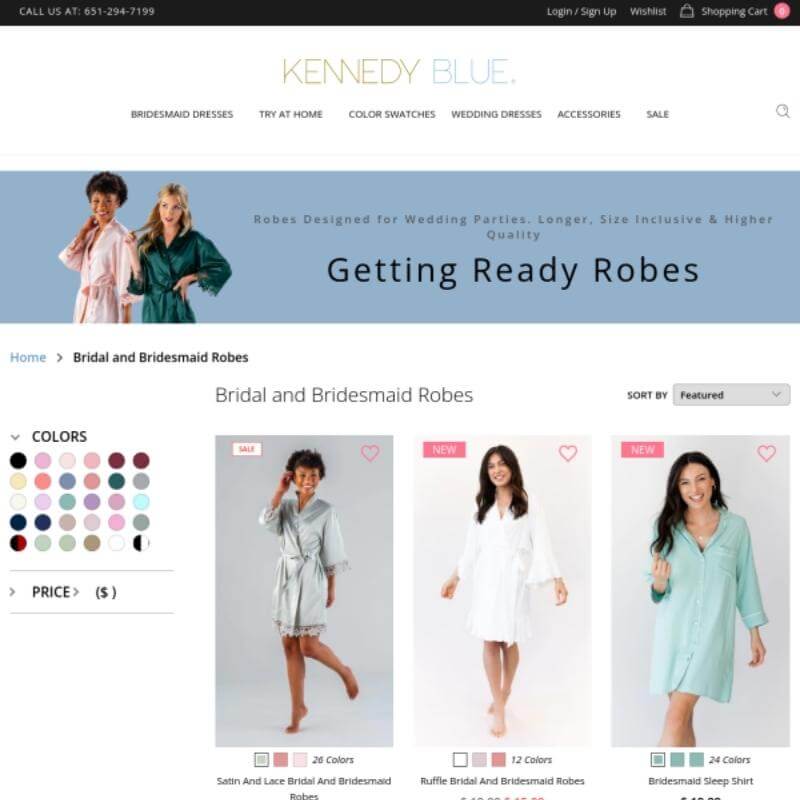 Kennedy Blue is an affordable destination for bridesmaid robes and accessories. They offer a wide variety of styles to suit any wedding party, and their robes are made from the highest quality fabrics to ensure a comfortable and flattering fit.
Highlights:
Products are designed in the USA
Robes are available in standard (00-12) and plus size (14-24) options
Multiple styles and dozens of colors to choose from
100% satisfaction guarantee
Affordable robes starting at just $14.99
What Kennedy Blue Does Best:
If you're looking for the perfect getting ready robes with inclusive sizes and high-quality materials, look no further than Kennedy Blue.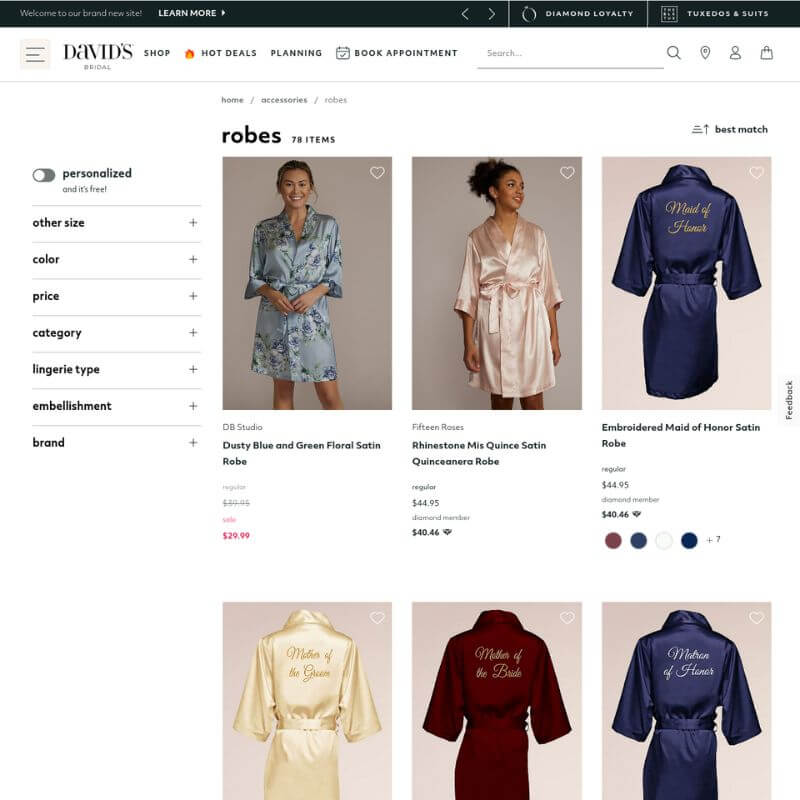 It's almost a given that David's Bridal has everything you need for your wedding, so why wouldn't they have bridal party robes?
The company has been around since the fifties and offers sizes for all body types. The go-to special event wardrobe retailer provides a variety of colors and patterns to customize your selection.
Highlights:
Available in over thirty colors
Robes in satin, cotton, jersey, and lace
Personalize with monograms, a special message, or anything you can imagine
Available in sizes ranging from zero to 2X
David's Bridal has over three hundred stores to serve brides in Canada, the UK, and the US.
What David's Bridal Does Best:
David's Bridal is the market's most popular wedding attire supplier. They do bridal best and cater to their brides.
Check Prices at David's Bridal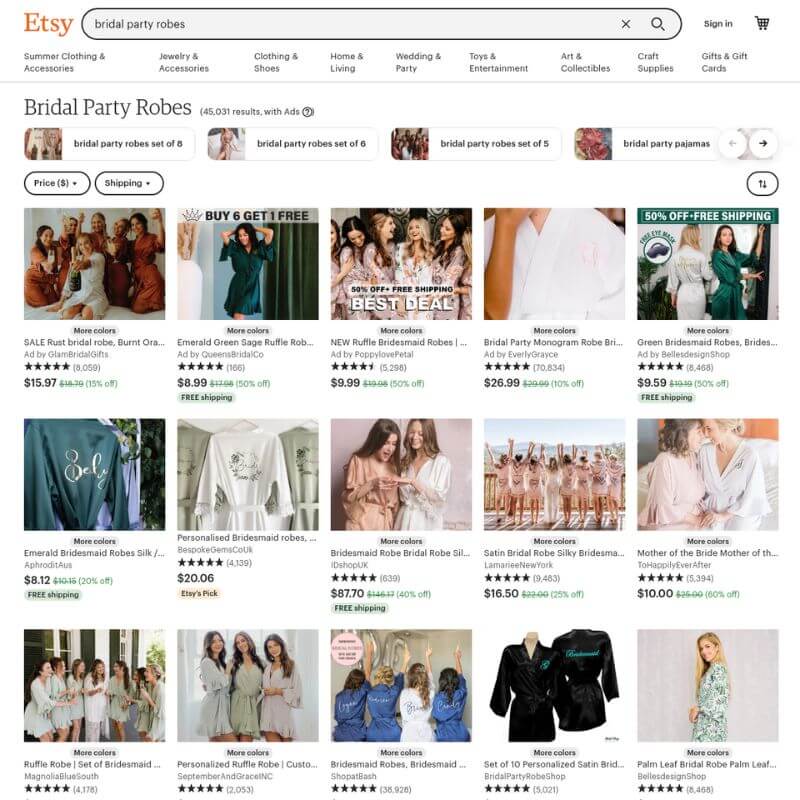 Etsy, an online global marketplace, is all about community and supporting small businesses.
What's so great about Etsy is that you're not buying from a big box store or large wedding retailer. Instead, there are unique finds from small shops around the world from which to choose.
Even better, there's nothing like opening a package from Etsy. There's always a note from the seller, making the experience personal.
When you purchase your bridal party robe, you can elect to have them delivered in bridesmaid gift boxes.
Highlights
Party robes are available in satin, cotton, jersey, and even a heavy waffle knit or flannel for winter brides.
Variety is available from the various wedding shops on the website; you're sure to find something to coordinate with your wedding colors.
You can find pretty affordable prices if you put in the research searching through the over 1700 robes listed (at time of publishing)
Etsy offers kids bridal party robes, so your junior bridesmaid and flower girl can be one of the girls for the day!
Personalized notes and packaging for your special occasion
What Etsy Does Best:
Etsy makes it custom and personal. You can talk directly to the seller and make your bridal party robes exactly how you want them!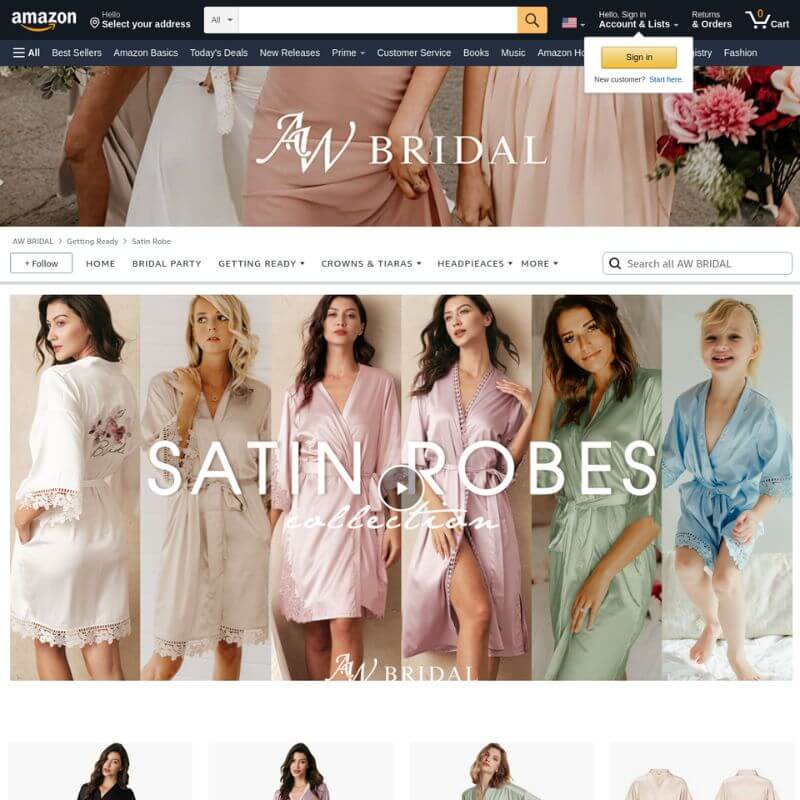 Online retailer Amazon sells about anything you can imagine, including bridal party robes.
The website is easy to navigate, and it's great to load your cart up with your choices and have everything in one place to narrow them down and save items for later. So it's great when you need to take your time to make the perfect selection!
Highlights:
Bridal party robes available from XXS up to a size 5X
Amazon is known for reliable and quick delivery, so it's an excellent choice even in a pinch
Variety, variety, variety in terms of color, fabric, length, and style
There are bridal party robes available at every price point
The reviews Amazon includes with each product, including photos and videos, are extremely helpful
What Amazon Does Best:
Amazon gets your bridal party robes to you quickly at a price to match any budget.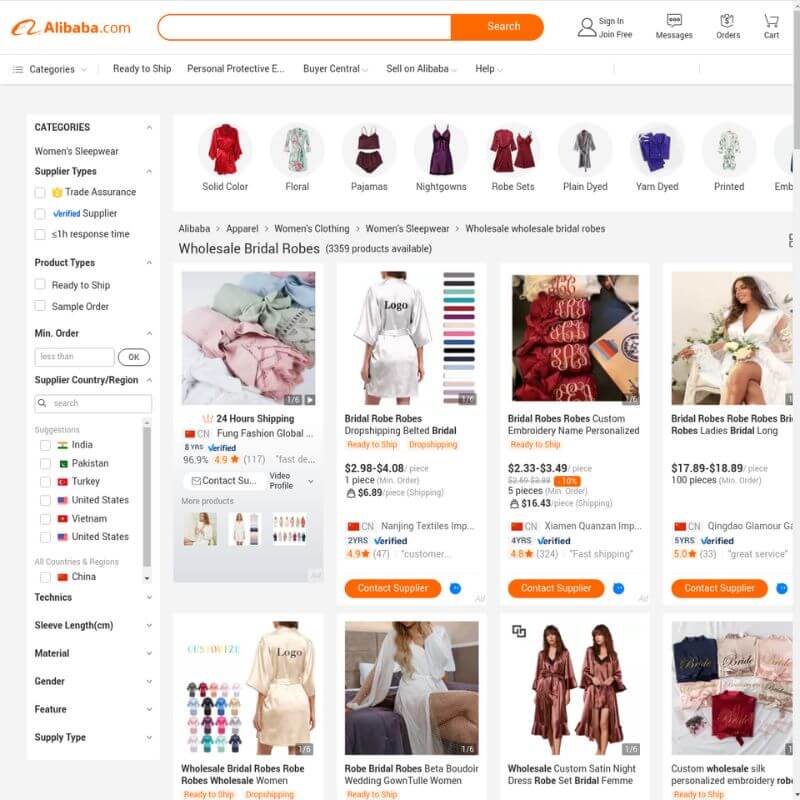 Alibaba is the world's largest online e-commerce company. If you can imagine, they sell more than Amazon and eBay combined!
So, of course, they offer everything you need for your wedding, including bridal party robes. Many people turn to them for their low prices, but beware – you need to order early as these items are shipping from China.
Highlights:
When ordering, pay attention to the minimum quantity required to order
A large variety of colors and fabrics are available
Remember to order up as items are sold in Chinese sizes
Wholesale pricing is available on all of their products
There are so many shops, so there is plenty of variety and options from which to choose.
What Alibaba Does Best:
Alibaba is about giving you what you need at a great price and in large quantities.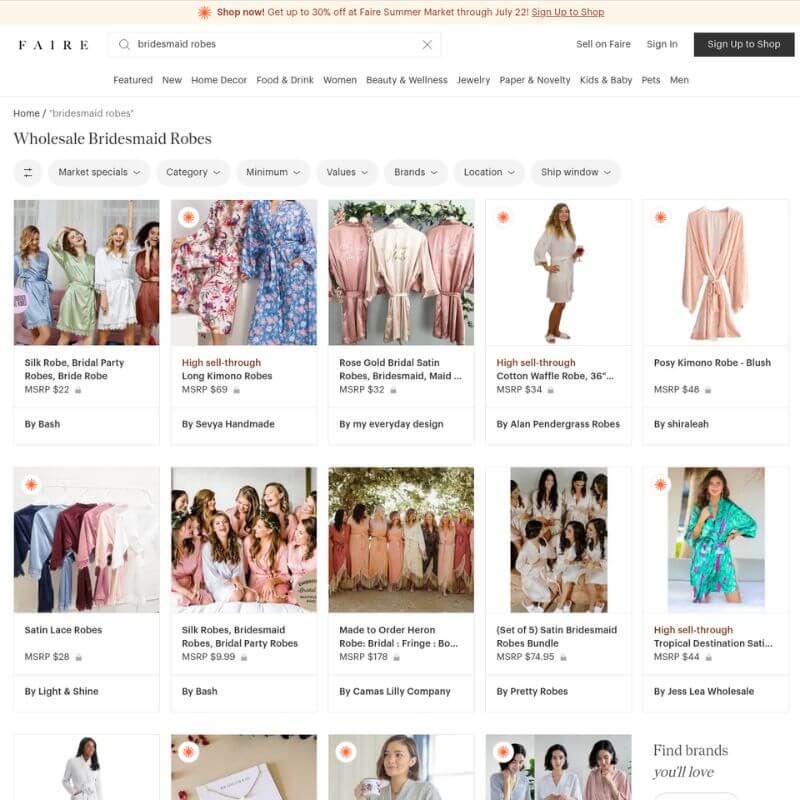 Shopping on Faire does require a seller ID, but it's worth it when you need something unique for a large wedding party. Founded in 2017, the company connects small businesses with e-commerce companies worldwide.
Highlights:
With a large variety of brands selling through Faire, not only are you finding quality pieces, but they are also really unique.
Available in cotton, satin, waffle, linen, and more
Not only are there many colors from which to choose, but the number of patterns is also incredible!
Kids Bridal Party Robes are also available.
Sizes ranging from 0 to 24
What Faire Does Best:
Faire offers excellent wholesale pricing and a variety of custom brands from around the globe.
What are Bridal Party Robes?
Bridal party robes are a fun and practical way to help your bridal party get ready on the big day. Not only do they make a great photo op, but they can also help keep everyone calm and comfortable while getting their hair and makeup done.
Robes also come in handy for changing your dress or outfit before the ceremony. They're available in a wide-range of styles and colors so you can find the perfect match for your wedding theme.
They are usually white or ivory-colored robes with a lacy design but can be purchased in many different styles and designs.
Robes can also be personalized with the names of the bridal party members or with other unique messages.
And best of all, the bridal party can reuse them for future bachelorette parties or bridal showers. So if you're looking for an easy way to pamper your bridesmaids, consider giving them their own personalized robes.
Can You Customize Bridesmaid Robes?
Yes, there are several ways to customize bridal party robes.
One popular option is to have the robes embroidered with the bride and groom's names and wedding date. This is an affordable way to create a keepsake that the bridal party can treasure for years.
You can also personalize them with each bridesmaid's name, nickname, or a funny catchphrase such as "Bride's Tribe."
Another popular option is to dye the robes to match the wedding colors. This can be a fun way to add a pop of color to the wedding day wardrobe.
Finally, many brides like to have their maid of honor wear a robe different from the rest of the bridal party. Individual robes can be a great way to add personality to the wedding day look.
No matter what style you choose, customizing your bridal party robes is a great way to ensure everyone feels included on your big day.
Bottom Line
A getting-ready robe is a unique and thoughtful gift that will help make the morning of the wedding day more memorable. They're comfortable, stylish, and perfect for photos.
The bride will love how chic she looks in her personalized robe, and her friends will appreciate having something comfortable to wear while they get ready.
Plus, who doesn't love a good photo opportunity?