The best beach wedding dresses look like they were made to be worn on the sand!
Unfortunately, many bridal gowns aren't made with the beach in mind. Thankfully, these ten wedding dresses are all great options for outdoor weddings.
Whether you're looking for ruffles or something sleek, you'll find what you're looking for on this list.
What is the best beach wedding dress?
Lightweight fabrics, beach details, and comfort are all essential qualities in a beach dress. These ten dresses are all beach-friendly, and there are options that every bride will love.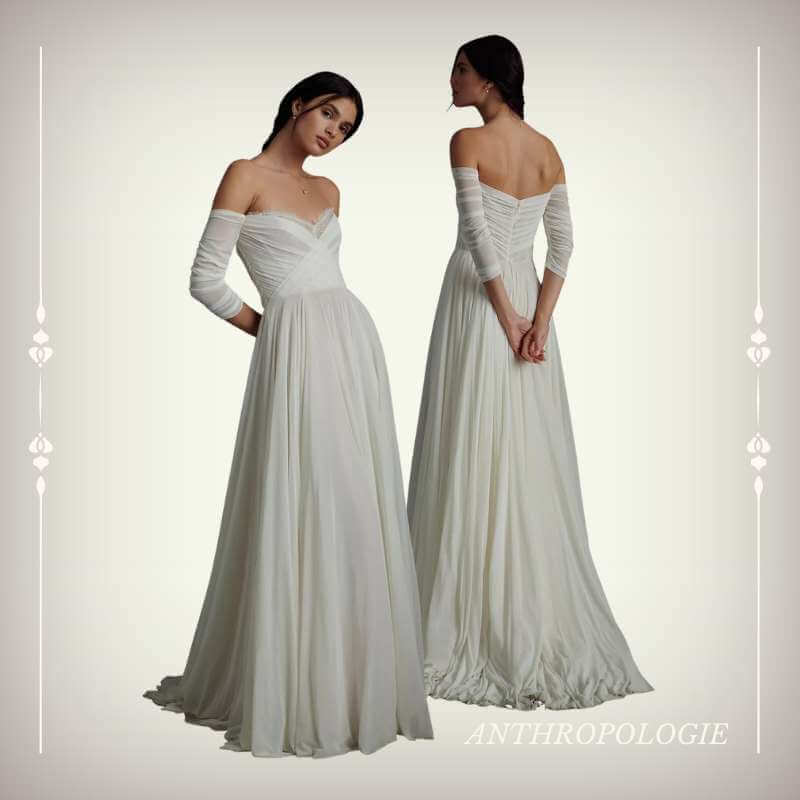 Watters is a family-run design team that's been making bridal gowns for more than 35 years! They specialize in creating gorgeous wedding dresses that are anything but ordinary. The Miles Gown is a stunning off-the-shoulder gown that perfectly exemplifies the brand's unique style!
When you look closely at this dress, you'll notice many romantic details, like its airy layers of fabric and the eyelash lace at the bodice. The dress is fitted along the bust and waist but is loose at the hip, giving it a flattering fit. It's a statement dress that photographs beautifully!
What makes the Miles Gown a great choice
If you want a beachy wedding dress that will make you feel like a fairy tale princess, this is the gown of your dreams!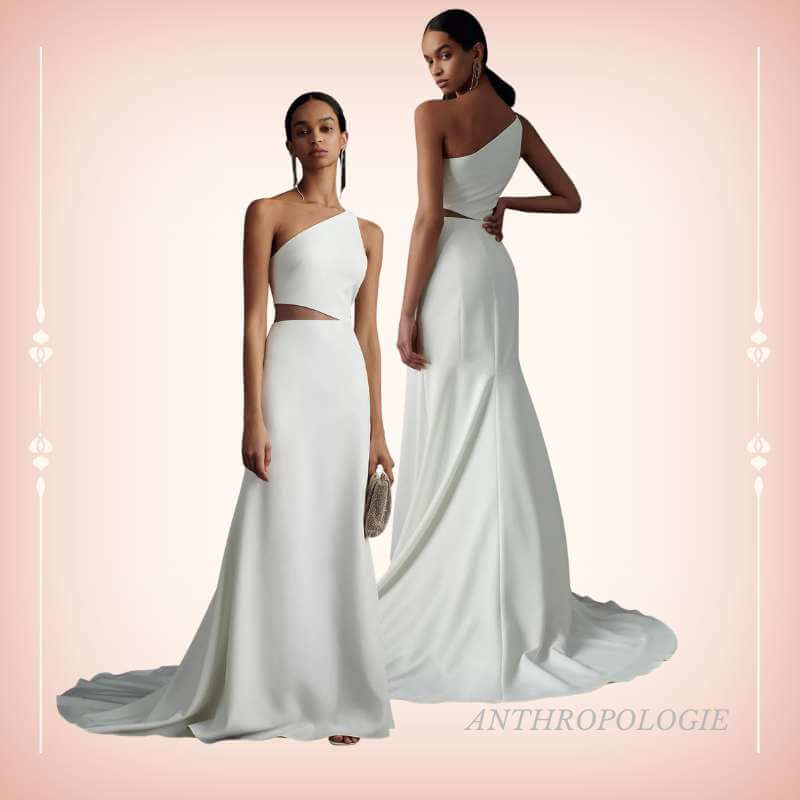 Jenny Yoo is a wedding dress designer that's focused on modern femininity! You can see that perspective when you look at this beautiful fit-and-flare gown. The Blanca Gown has a classic design, but modern details like a side-waist cutout and a one-shoulder neckline make it feel unique!
Since the dress is made of a soft, breathable stretch crepe, it's comfortable to wear even in warmer weather. Brides that are looking for flowy wedding dresses will love the cascading train! This is a contemporary wedding gown that still feels completely timeless.
What makes the Blanca Gown a great choice
Some wedding gowns have ornate designs, but this dress is ideal for brides that want something simple, stylish, and classic.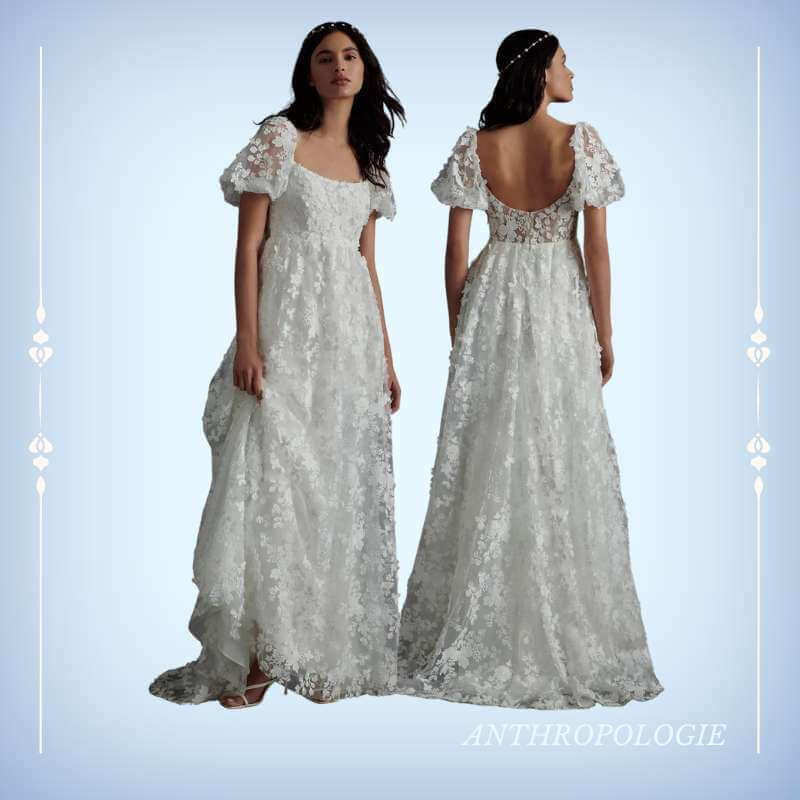 This A-line wedding gown feels both youthful and gorgeous! The fully lined dress has a sheer layer of fabric covered in delicate floral appliques. It has a scoop back that's completely sheer, making this an excellent choice for brides that plan to wear their hair up!
What's special about the Lilia Gown is how flexible it is. The puff sleeves can be worn on or off your shoulders, allowing you to create a wedding day look that's entirely your own. You can try both looks to find the style that you prefer.
What makes the Lilia Gown a great choice
If you want a lightweight and comfortable wedding gown that still feels romantic, you will fall in love with this dress!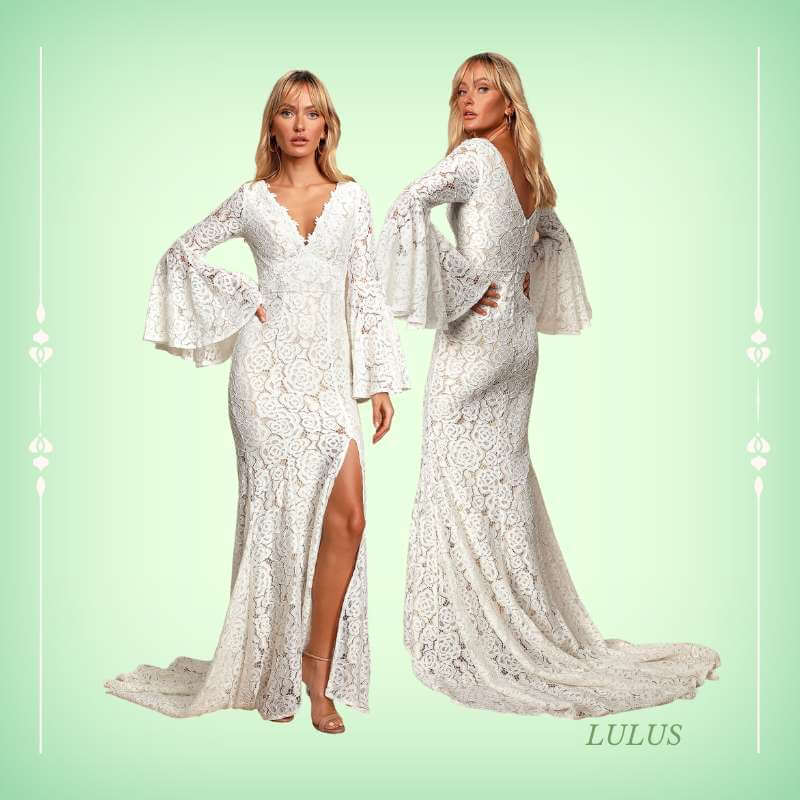 Details like a princess-seamed bodice, floral appliques, and dramatic bell sleeves make this dress a standout! This ivory lace bell sleeve maxi dress is a breathtaking Bohemian dress with features that make it incredibly flattering. It has a mermaid silhouette, a side slit, and a gorgeous train made from sheer lace.
Not only is this dress stunning, but it's also comfortable to wear. Some wedding gowns aren't designed for sunny days, but this dress looks like it belongs on the beach!
What makes the Lace Bell Sleeve Maxi Dress a great choice
Brides looking for tropical wedding dresses will adore this lightweight and lacy gown.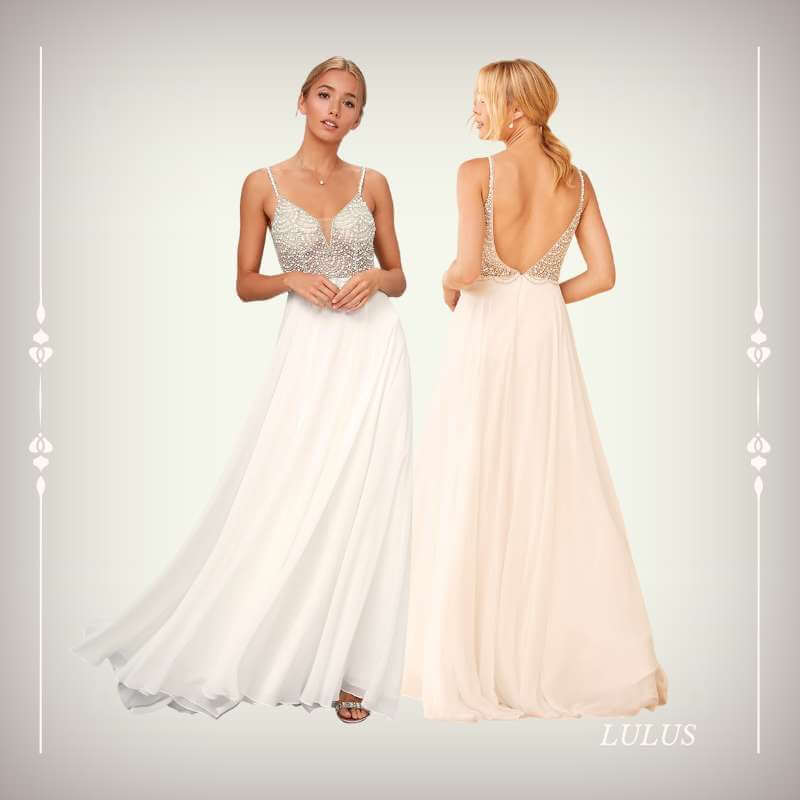 Who says you can't look glamorous at a beach wedding? With a bodice covered in beads, sequins, and rhinestones, this beaded rhinestone maxi dress would fit right in on an old Hollywood red carpet. While these details radiate elegance, the flowy Georgette maxi skirt gives this dress beachy vibes.
The bodice has cups that are molded and lightly padded to provide support. Since it has a high waist, it has a very flattering fit. It's a simple gown that still has plenty of sparkle.
What makes the Beaded Rhinestone Maxi Dress a great choice
If you're dreaming of a beach wedding but still love elegant wedding gowns, this dress is the best of both worlds.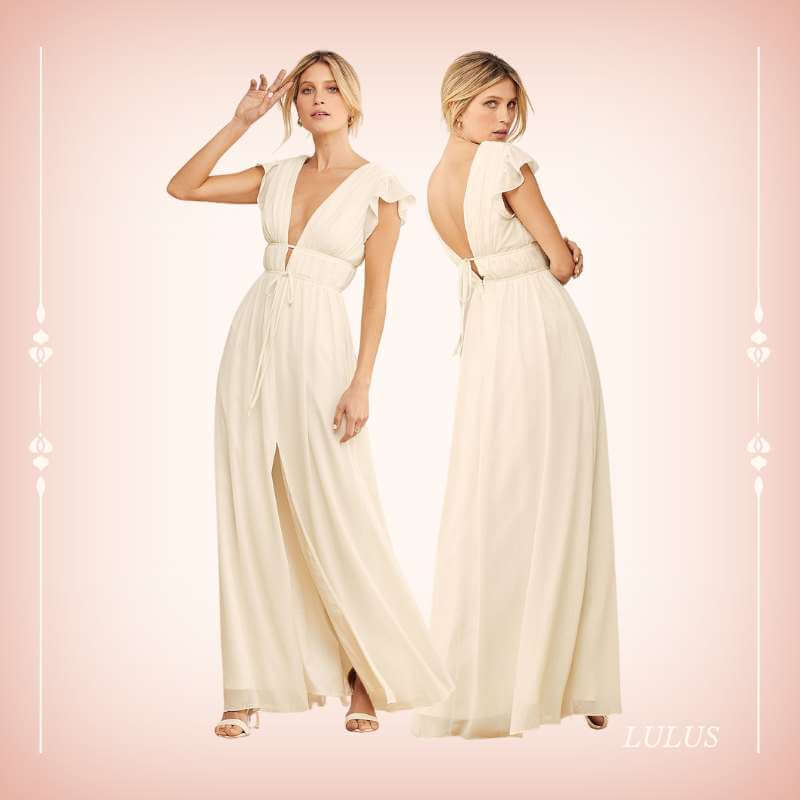 It's not always easy to find casual beach wedding dresses, but this woven chiffon gown from Lulus is laid back and beautiful. The I'm All Yours Cream Ruffled Maxi Dress has a fairly simple design, but details like a plunging v-back and neckline make it a standout.
The banded empire waist gives the dress a Grecian vibe that's very distinctive. It has tie details at the front and back of the dress, adding some visual interest to the classic down. There's even a slit in the skirt to show off your legs on your big day!
What Makes the Ruffled Maxi Dress a great choice
Brides that are drawn to distinctive necklines will love this deep-v neck.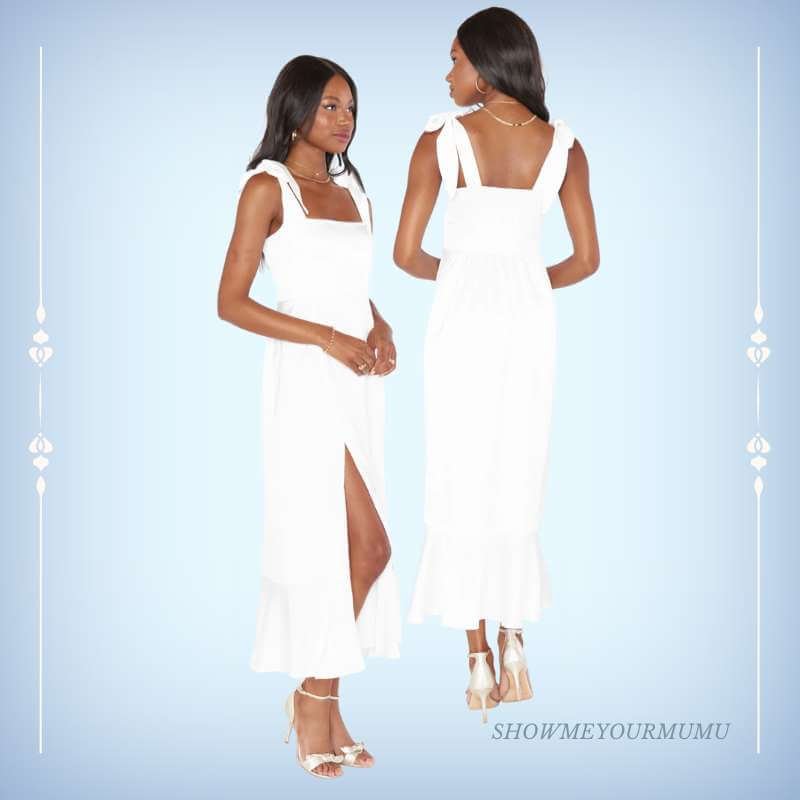 The Garden Midi Dress is made from luxe satin, but it still feels fairly casual. It's an excellent option for a beach wedding and perfect for other bridal events, like rehearsal dinners and wedding showers.
The self-tie straps on this midi dress make it easy to get the perfect fit. Since the bodice is smocked, the dress is very comfortable to wear. This lightweight, fully-lined dress looks both elegant and effortless.
What Makes the Garden Midi Dress a great choice
If you prefer midi-length dresses to maxi, this is the gown you've been searching for!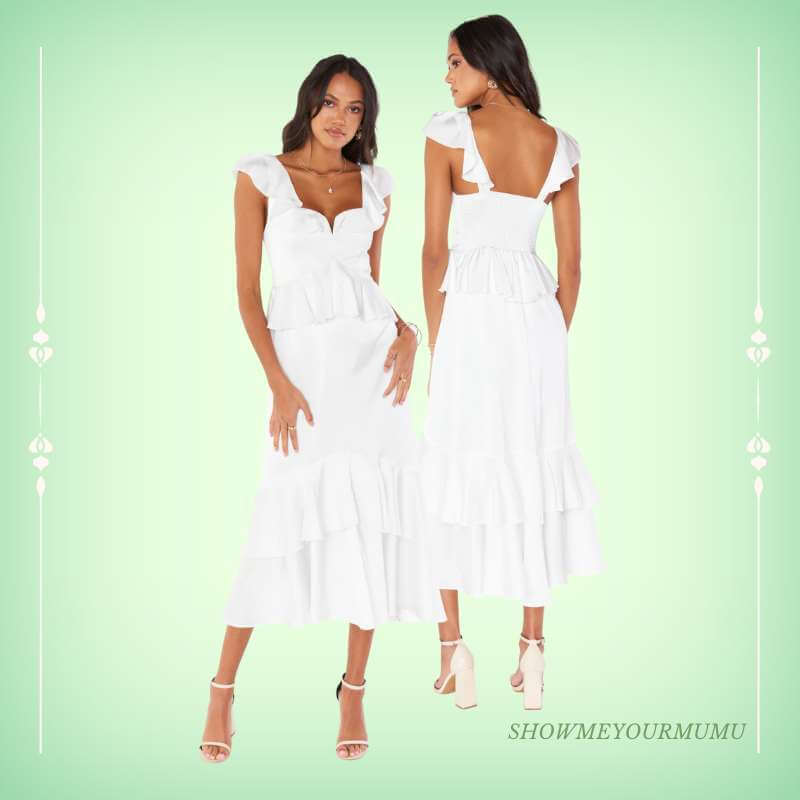 Not every bride wants to wear a traditional gown on her wedding day. The Reese Ruffle Dress has an unusual tiered design to resemble a two-piece set and has plenty of flattering details, like a smocked back and fluttered sleeves.
Even though this is a simple, casual wedding dress, it's fully lined and has details that give it a great fit. It even has boning along the front of the dress. Any bride that's a fan of ruffles will want to give this dress a closer look.
What makes the Reese Ruffle Dress a great choice
While this satin dress is available in a traditional white, it also comes in other colors, like a soft beige and gorgeous champagne tone.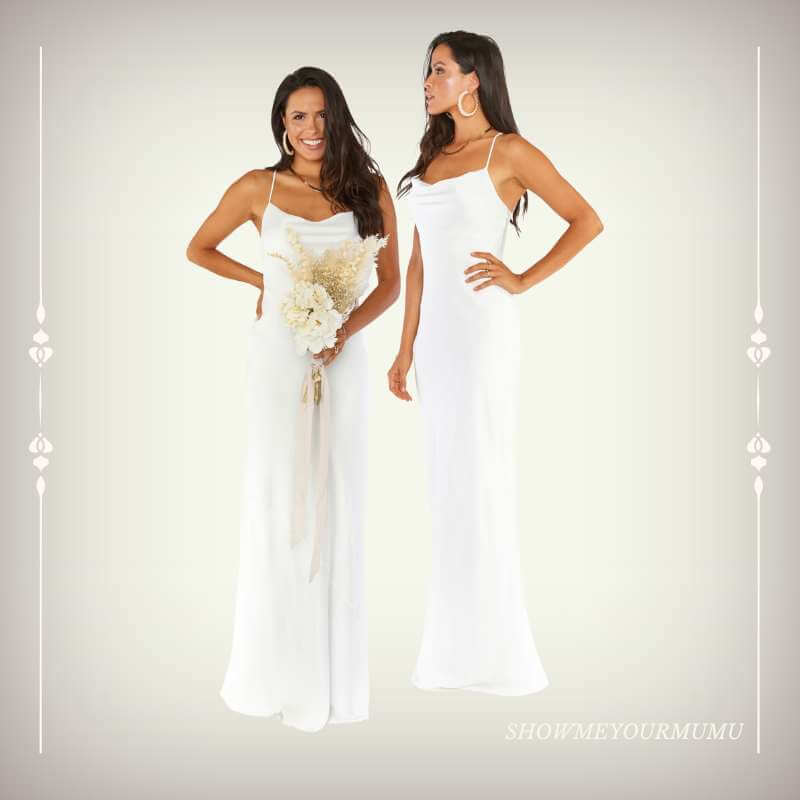 Slip dresses are absolutely perfect for beach weddings. This maxi slip dress is exquisite but casual and comfortable enough to wear in hot sunny weather. It has a bias cut that makes the fabric drape beautifully.
The dress also features a cowl neckline with a built-in shelf-bra, allowing brides to skip bras and shapewear. In the back, there are adjustable criss-cross straps. While this gown may be simple, it makes a statement.
What makes the Maxi Slip Dress a great choice
Not every bride wants an elaborate wedding gown; if you'd prefer something more laid-back, you should give this dress a look.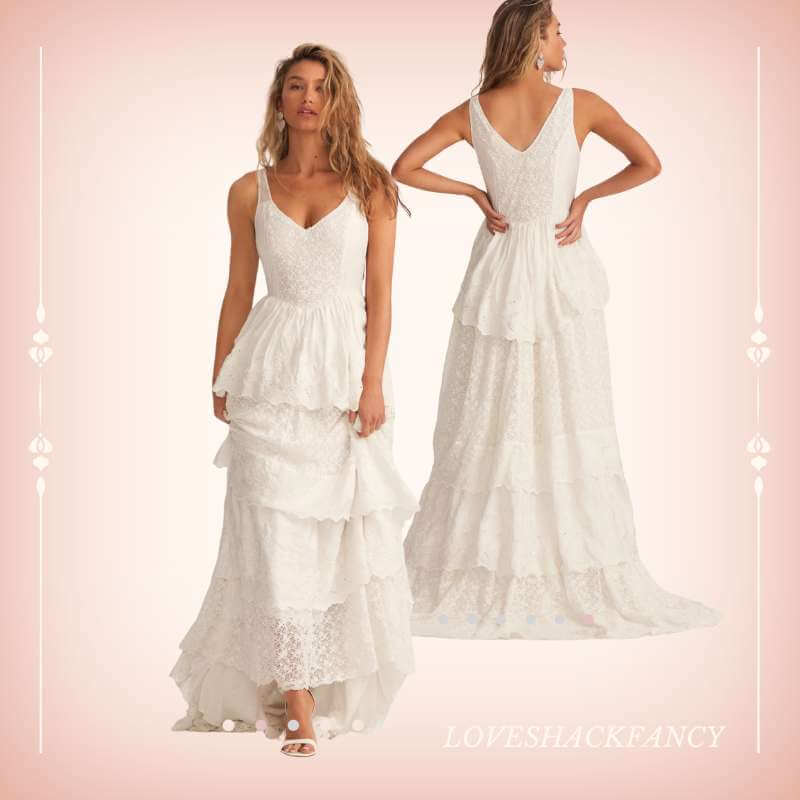 LoveShackFancy is known for its gorgeous romantic dresses. This tiered wedding gown perfectly exemplifies what makes this brand special. It's made from an eyelet fabric, and the entire dress is embroidered.
Even though this is a detailed wedding dress, it's made from 100% cotton, making it very breathable. The gown is also lined with 100% silk and has a train in the back, but it is slightly shorter in the front, allowing you to show off your shoes!
What makes the Sarabi Gown a great choice
If you prefer wearing natural fabrics on the beach, you should check out this cotton and silk dress!
Bottom Line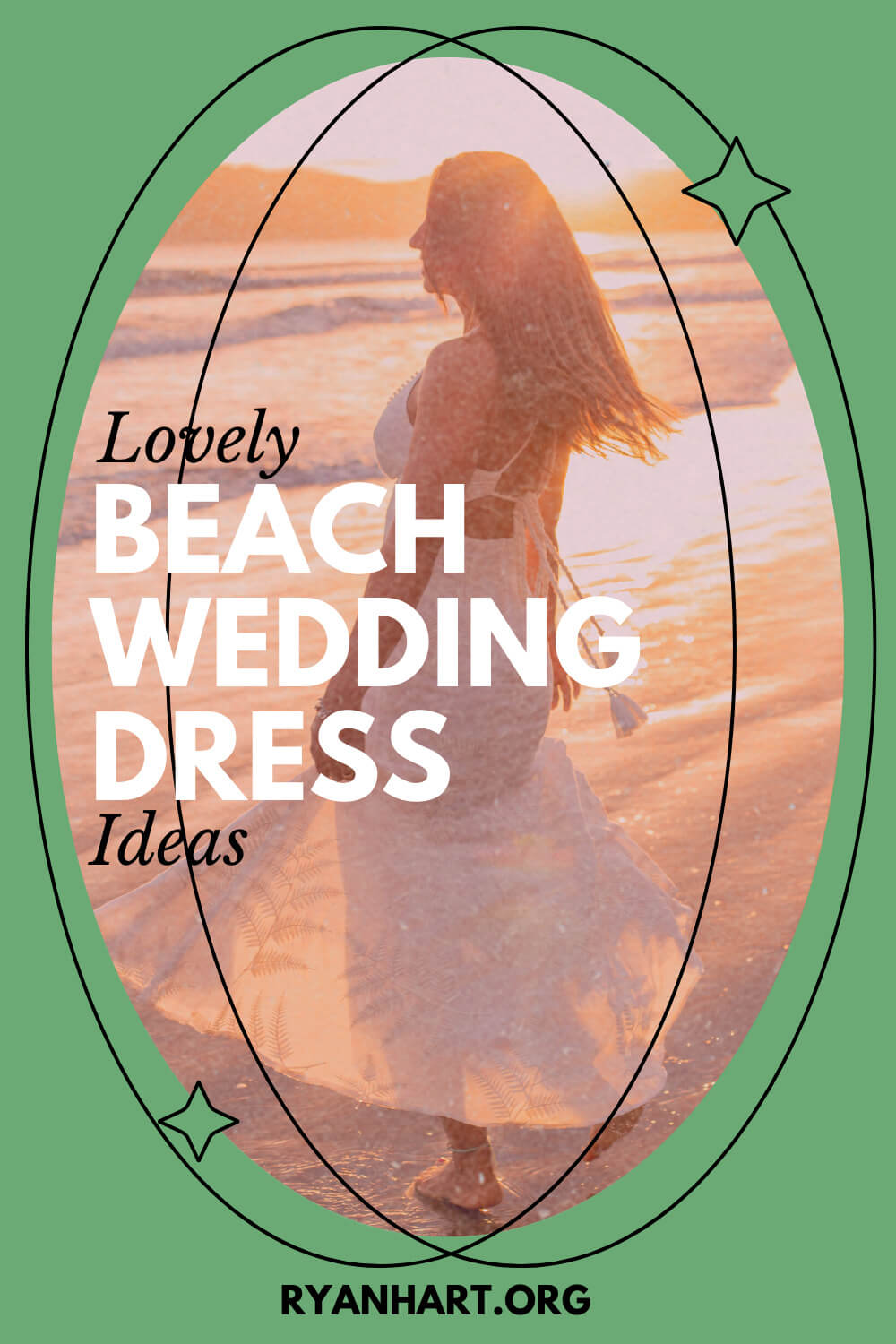 Walking down the beach aisle in a dress fit for the occasion is the dream of every bride. It should be light, airy and romantic to match such a beautiful setting.
We recommend a color pallet of whites, nudes and soft pastels as they reflect the color of sand, sea and sky with perfection.
Fabrics such as light linens, organza, tulle, georgette and chiffon are ideal for this type of wedding dress. They will look beautiful when hitting your silhouette and blowing softly in the ocean breeze.
Style-wise, you should keep it simple but glamorous to perfectly compliment the natural beauty of nature surrounding you.