The right elopement dress can make you feel confident, comfortable, and beautiful on your special day.
When it comes to choosing the best elopement dress, there are a few things to consider:
Ceremony location and season: Depending on where you're getting married, you may want to opt for a lightweight, breathable fabric or something more structured and warm.
Personal style: Whether you prefer a classic, timeless look or something more bohemian and free-spirited, there's an elopement dress out there that's perfect for you.
Your partner's outfit: Ask your partner what they would like to wear to the ceremony in order to confirm you are on the same page about your elopement aesthetic.
In this article, we'll take a look at some of the most popular dresses to wear to an elopement ceremony: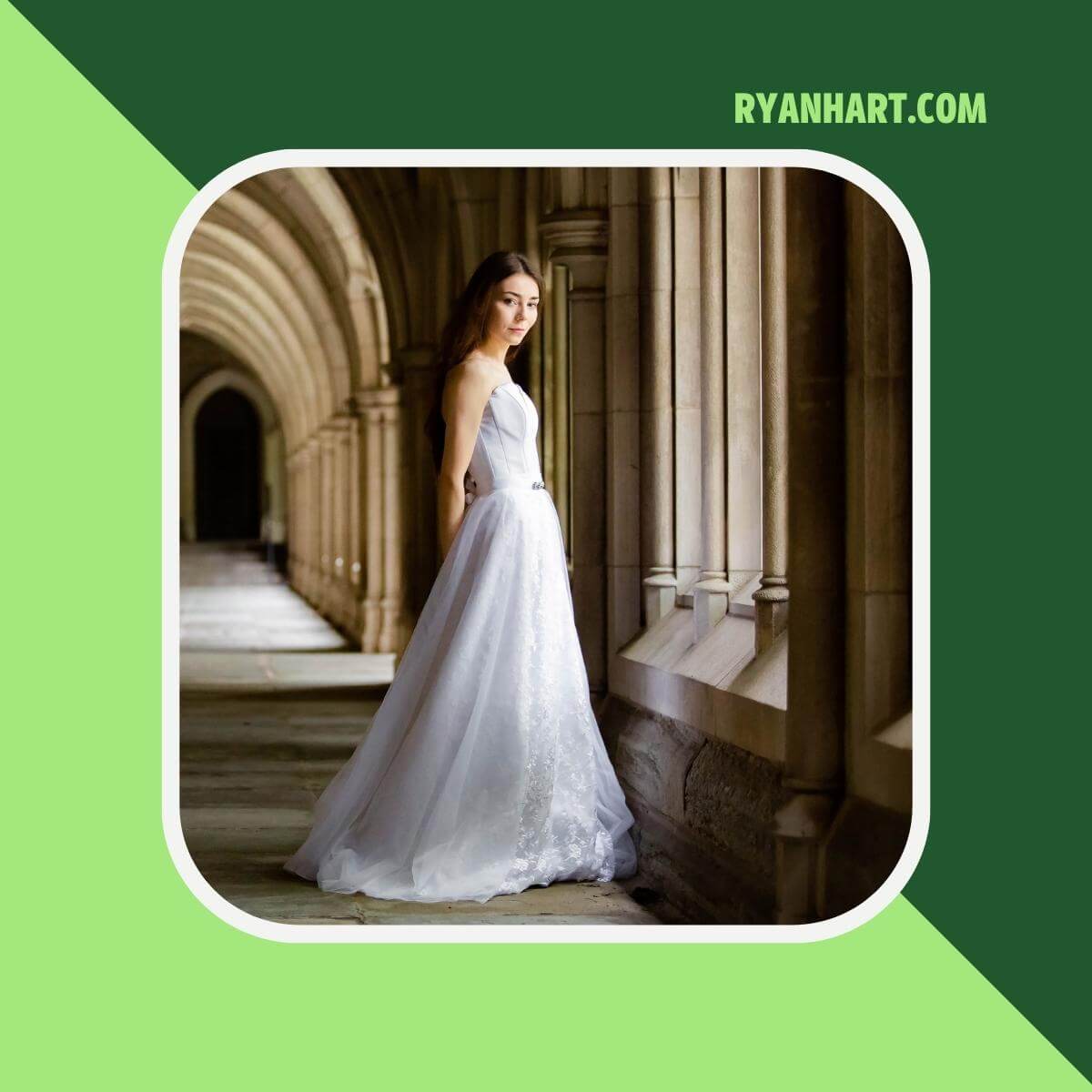 What is the best wedding dress for eloping?
When picking an elopement wedding dress for your ceremony, consider your personal style, where you're eloping, and what your partner will be wearing.
With those tips in mind, here are our favorite elopement wedding dresses: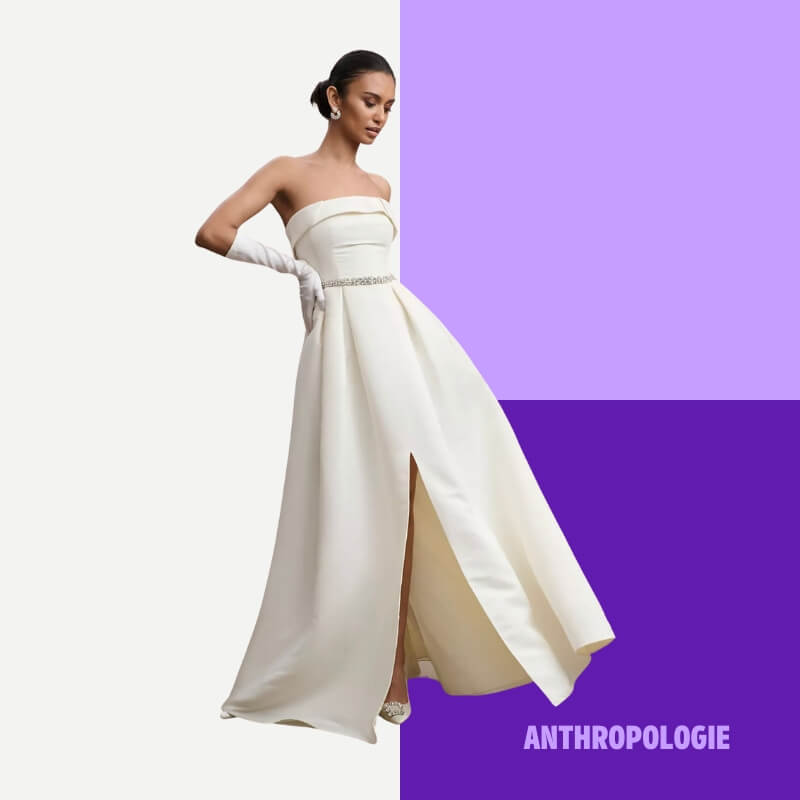 Do you want to look like a beautiful runway model on your big day? The Sachin & Babi Brielle Strapless Embellished A-Line Gown is one of the most gorgeous elopement wedding dresses.
It has a strapless design, ivory color, and a flowing style that produces an attractive style that feels both contemporary and traditional without feeling fussy or old-school.
Who will love this dress?
If you want a modern dress with a bit of flair and a lot of style you will love this dress. Its strapless design gives it more comfort, and the high front slit shows off your legs.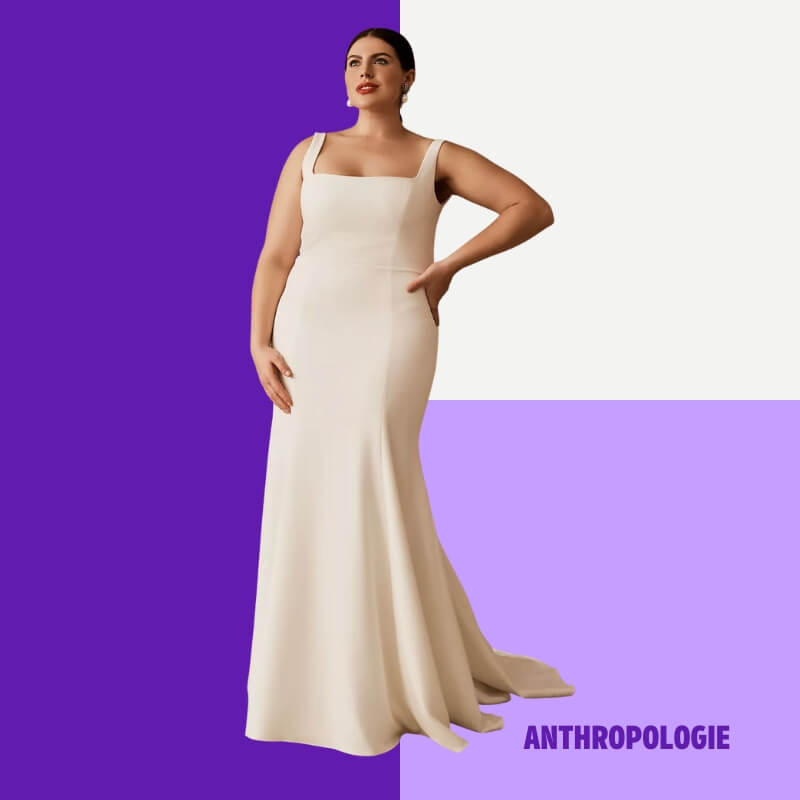 Modern elopement wedding dresses often include looks that you might not get away with during more traditional ceremonies. For example, the Square-Neck Fit and Flare Crepe Wedding Gown integrates a lace-frilled open-back design that will raise eyebrows while looking beautiful on just about any woman who wears it.
Who will love this dress?
Do you want to turn heads at your elopement ceremony? This dress will do just that. An attractive open back and a simple overall design integrate traditional elegance with a more contemporary minimalism that will appeal to many brides.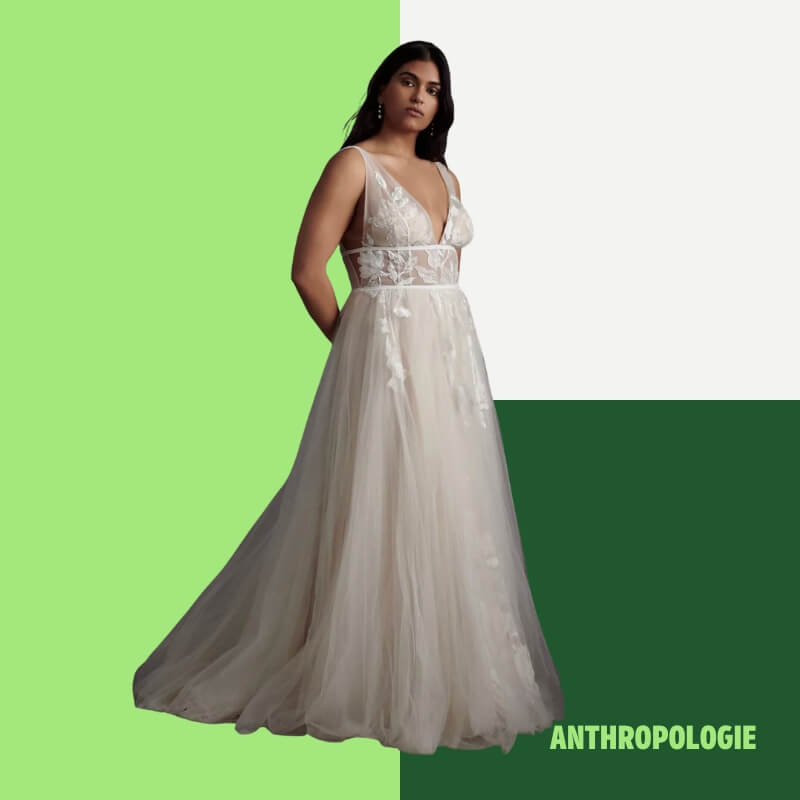 This A-line tulle wedding gown integrates a traditional wedding train with subtle modern touches, making it attractive among elopement wedding dresses.
For example, its strap design combines a v-front, adding a little sexiness to its look. However, the beautiful lace designs and attractive tones make this dress work well for many women.
Who will love this dress?
Brides who want a classy but boundary-pushing wedding dress will love this design. While it's far from being outrageous or risky, it offers just enough subtle rebellious touches to stand out from other wedding dresses.
Women interested in an attractive elopement dress with a bit of punk style love this V-neck ruched-sleeve mesh wedding dress.
It's off-the-shoulder design includes an open front and back with sleeves that give it a rebellious edge. However, its smooth-flowing lines and gorgeous fabric give it a touch of old-school beauty.
Who will love this dress?
We think that this dress works best for those with a rebellious streak, as its open top gives it a more rock-and-roll flair. However, it's not so over the top that it will draw unnecessary attention to you on your big day. It's just traditional enough to please most people.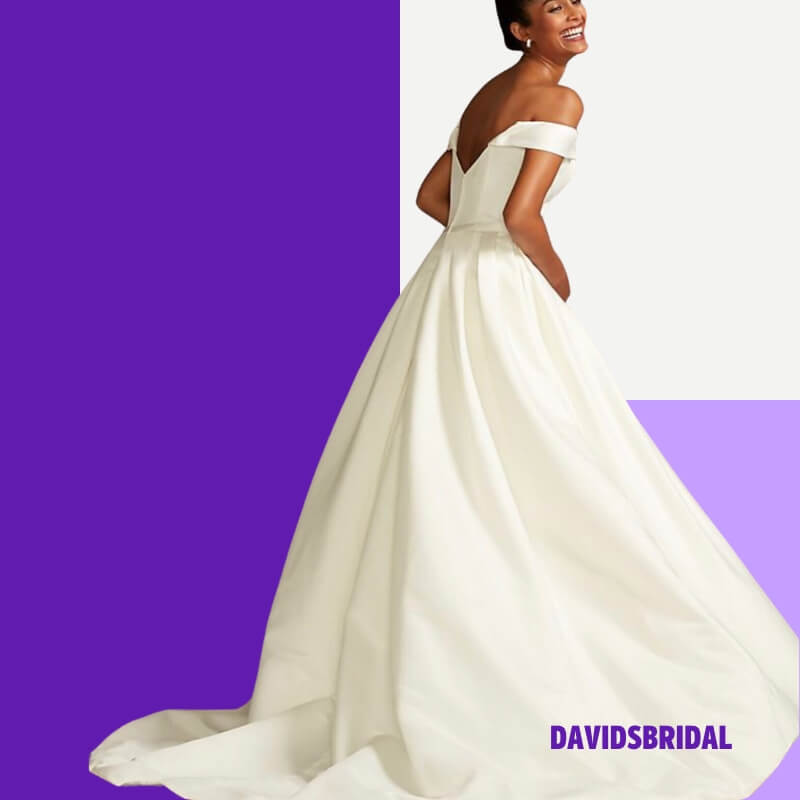 This Off the Shoulder Satin Wedding Dress is a beautiful dress with a somewhat traditional feel that still has a touch of modern uniqueness.
The off-the-shoulder design includes comfortable arm straps that keep your dress from getting too risque.
Even better, the comfortable fabric breathes easily and gives you plenty of room for movement on your big day. And, perhaps best of all, this dress includes two side pockets!
Who will love this dress?
Women who want something more traditional without feeling fussy will find this dress works perfectly for their needs. Its more extensive train gives it the comfortable and flowing feel you want for your big day.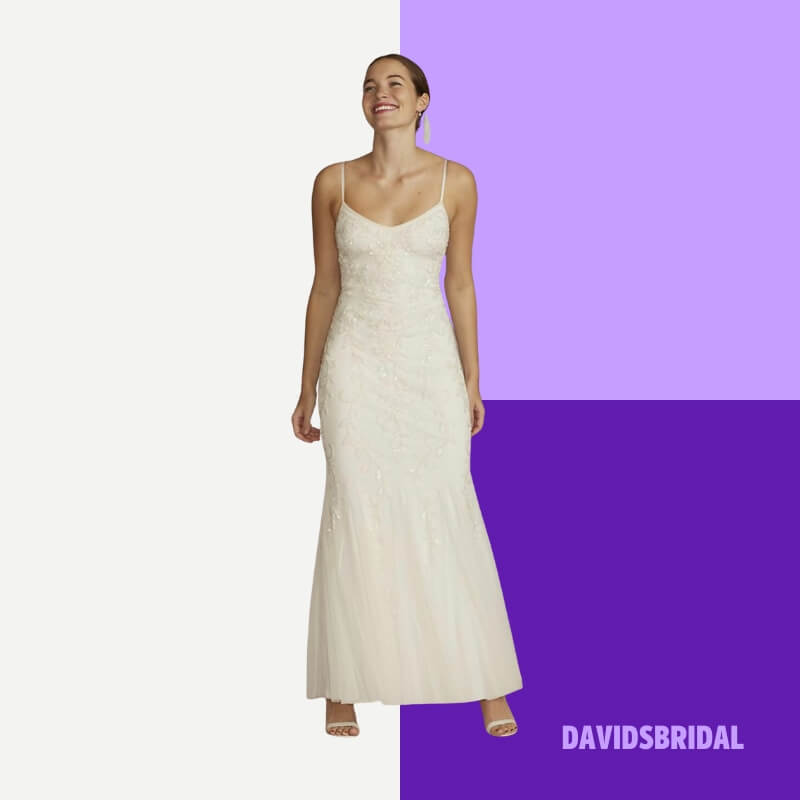 Are you more interested in a no-nonsense dress that will show off your physique without being too revealing?
This Floral Beaded Godet Sheath Wedding Dress features a simple design with a mermaid silhouette and thin spaghetti straps, making it far more comfortable than other dresses. In addition, its simple lacy style flows easily and comfortably down most bodies.
Who will love this dress?
This budget-friendly wedding dress is excellent for women who don't want to spend an arm and a leg planning their elopement. It's a beautiful, simple, and elegant dress that offers great value without sacrificing quality.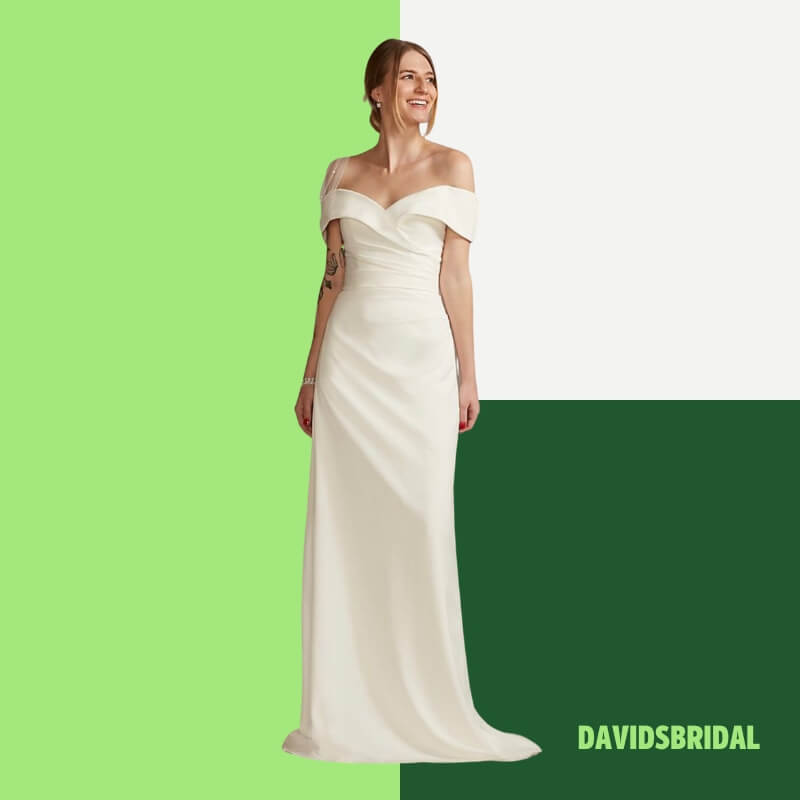 This Crepe Off-the-Shoulder Sheath Wedding Dress is another great option for brides that want a modern-style elopement wedding dress.
The broad straps fit comfortably off the shoulders, giving you an open back and neck. The attractive, elegant soft white color and basic design provide a minimal look that fits well into any ceremony.
Who will love this dress?
Any woman who has an outgoing personality will love this elopement wedding dress. It makes a striking fashion statement and showcases your natural beauty without making you feel like you're working too hard for attention.
Are you shopping for a ? You'll likely love the Josie Embellished Cami Maxi Wedding Dress.
Designed with a modern runway-style feel, its shorter train won't trip you up on your big day. That said, its elegant lines and attractive plunging v-shaped neckline will catch eyes and make you look like a true beauty queen.
Who will love this dress?
Any woman that plans to be active on her wedding day will love this smooth, elegant, and easy-to-wear dress. However, it also works well for women who want a simpler dress that won't get in the way or trip them up unexpectedly.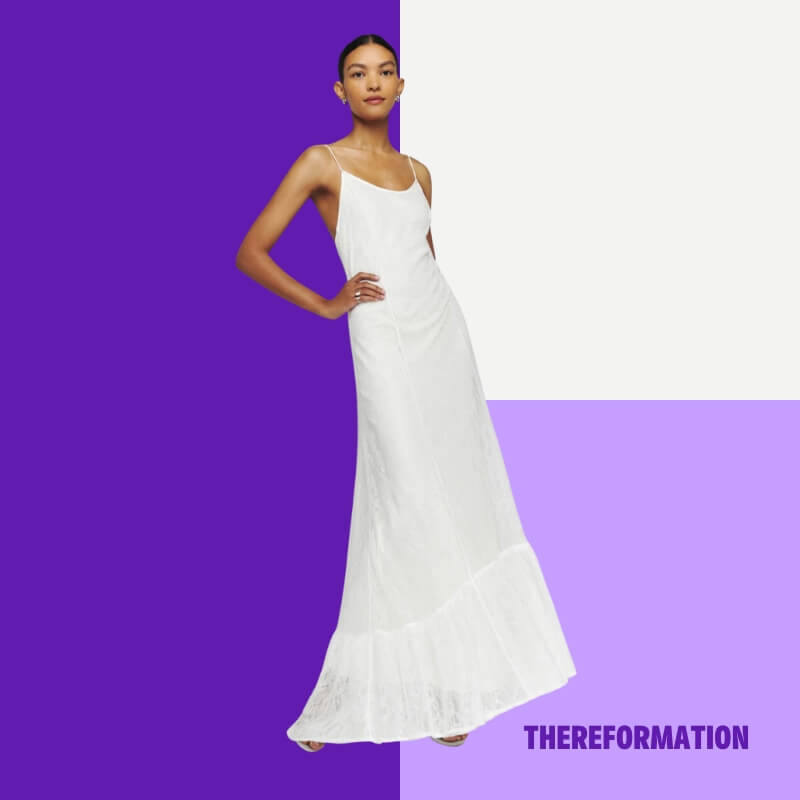 Women who want a great all-purpose dress may love the Shae Dress. Its spaghetti straps minimize shoulder discomfort and open into a slightly scooped neck that looks great on just about everyone.
In addition, the low open back is decorated with lace and ruffles, giving this dress a wedding flavor that will work perfectly for your ceremony.
Who will love this dress?
Do you want a wedding dress that you can use beyond your big day? You'll love Shae Dress. It's designed to look great during your ceremony and feel comfortable when you hit the reception dance floor. It'll work perfectly for other significant events as well.
TheBlu Silk Dress integrates a sleeveless top and cowl neck with an otherwise comprehensive, flowing style, making it a great wedding dress for more modest women.
Its a-line skirt flows well at the bottom to create a wedding-appropriate look. The cinched waist also creates an appealing style, which makes this an excellent option for women who want to look great without being too flashy.
Who Will Love This Elopement Dress?
Here's another dress you can wear long after your wedding is a pleasant memory. Its almond color helps it fit almost any situation, and its open arms offer more comfort. You could wear this dress just about anywhere and turn heads.
What makes a wedding dress perfect for an elopement?
The best elopement wedding dresses are usually simple, comfortable, and easy to wear. They should match the intimate and unique nature of an elopement ceremony.
Look for lightweight fabrics, elegant designs, and styles that suit your personality and the location of your special day.
Make sure to try on several styles and get a few opinions from your family and friends before making a decision. With the right dress, you'll have an unforgettable elopement day!
Do I need a traditional white wedding dress for my elopement?
No, you can choose any color or style that feels right for you. Many brides opt for non-traditional colors, like blush, champagne, or even bold shades, to make their elopement dress unique and memorable.
You can also choose something simple and timeless, like a classic wedding gown that will last for years to come. Whatever you decide, make sure it speaks to your personal style and makes you feel amazing on your special day.
How do I choose the right size and fit for my elopement dress?
To find the perfect size, measure your bust, waist, and hips, and compare them to the sizing chart provided by the dress designer. It's important to choose a dress that fits comfortably and allows for easy movement, especially if your elopement involves travel or outdoor activities.
Don't forget to consider the climate and terrain of the area you'll be visiting when selecting a dress – if you're hiking or doing any other outdoor activities, make sure your outfit is suitable for those conditions.
Can I wear a long train on my elopement wedding dress?
While you can choose any style you like, a long train might not be practical for an elopement, especially if you're planning to hike or walk through uneven terrain.
Consider a shorter or no train for easier movement and a more relaxed look. If you're looking for a more traditional look, consider adding a veil or small headpiece.
When selecting your dress, be sure to keep the fabric and silhouette in mind - certain fabrics may not work well with long trains, while others are better suited to short or no trains.
Bottom Line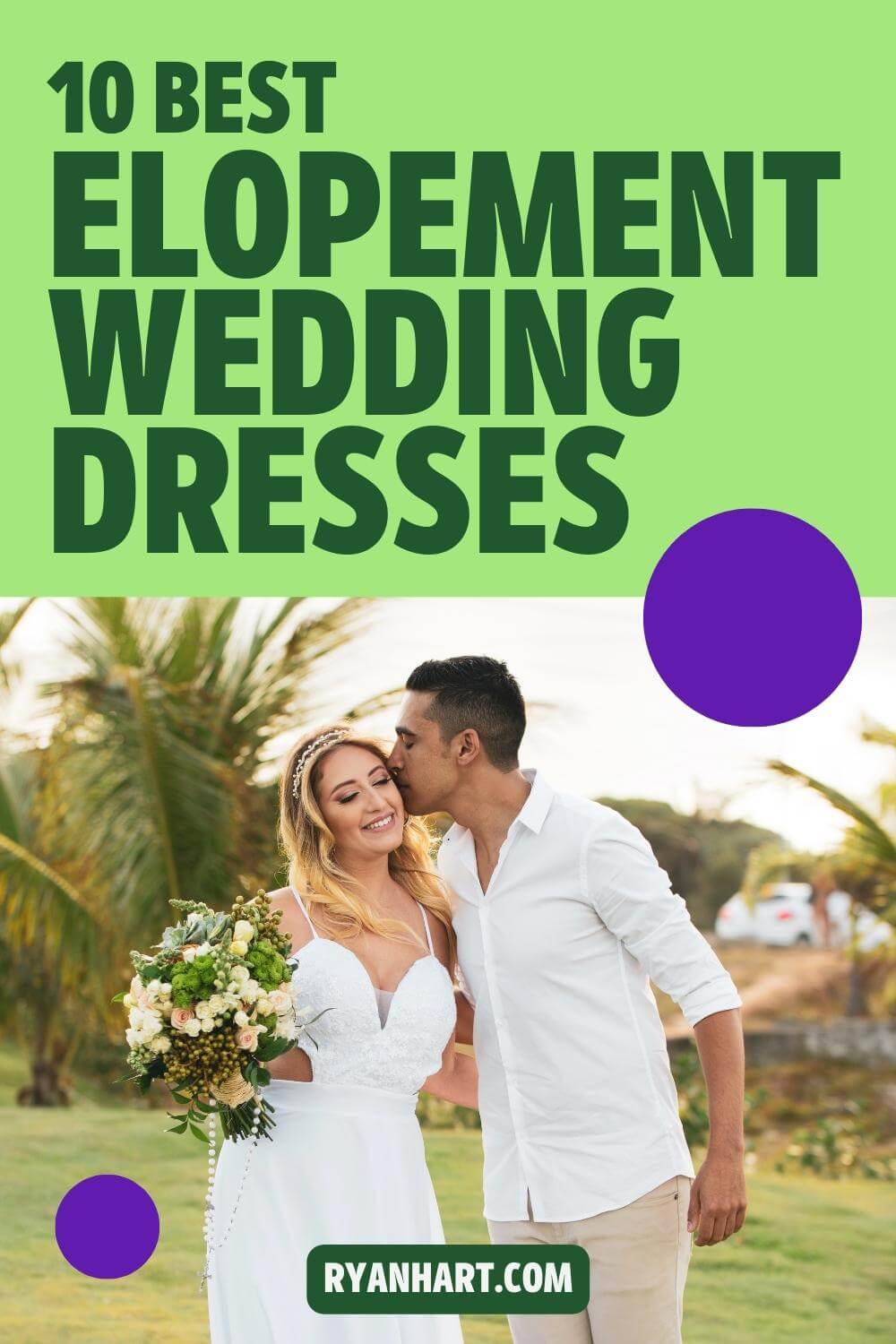 Finding the best elopement wedding dress is all about choosing a gown that reflects your personal style and fits the unique nature of your special day.
Remember to consider the location and activities planned for your elopement, as well as your own comfort and ease of movement.
Whether you choose a casual, beach-ready dress or a more formal gown for a city hall ceremony, the most important thing is that you feel beautiful and confident in your choice.
Don't forget to explore various options, including online retailers, bridal boutiques, and even pre-owned dresses, to find the perfect dress at the right price.
With some research and planning, you'll surely find the dream gown that will make your elopement an unforgettable experience.