Every bride knows that the biggest part of wedding planning is choosing just the right dress. But why purchase one that will sit in your closet after being worn only once?
Consider renting a wedding dress instead. Not only will you save a lot of time and frustration when choosing a dress but you'll also save money, too!
Your wedding dress should make you feel more beautiful than anything else you'll ever wear. But that doesn't mean you need to spend thousands of dollars to achieve that feeling.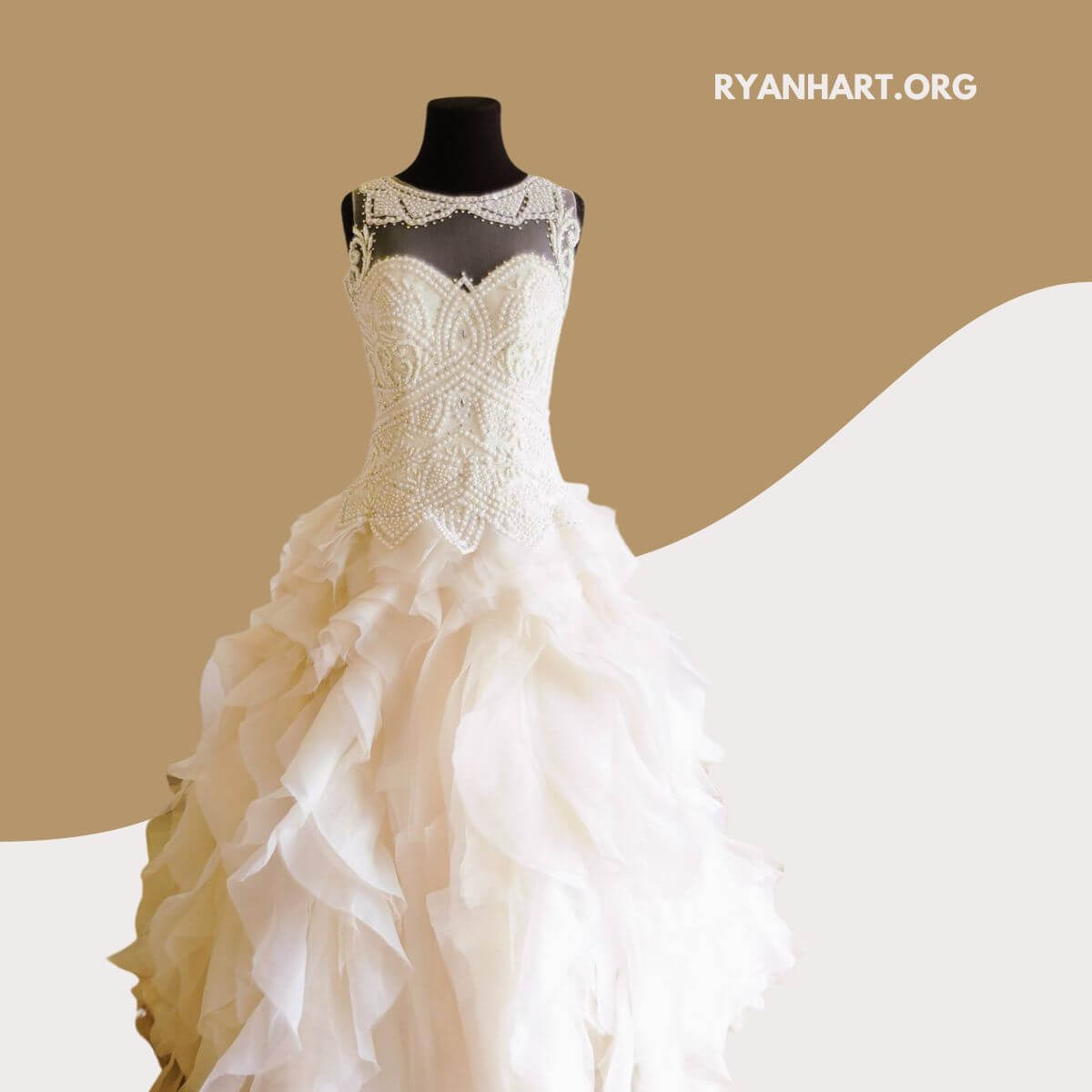 Where is the best place to rent a wedding dress?
Here is a list of our favorite wedding dress rental companies: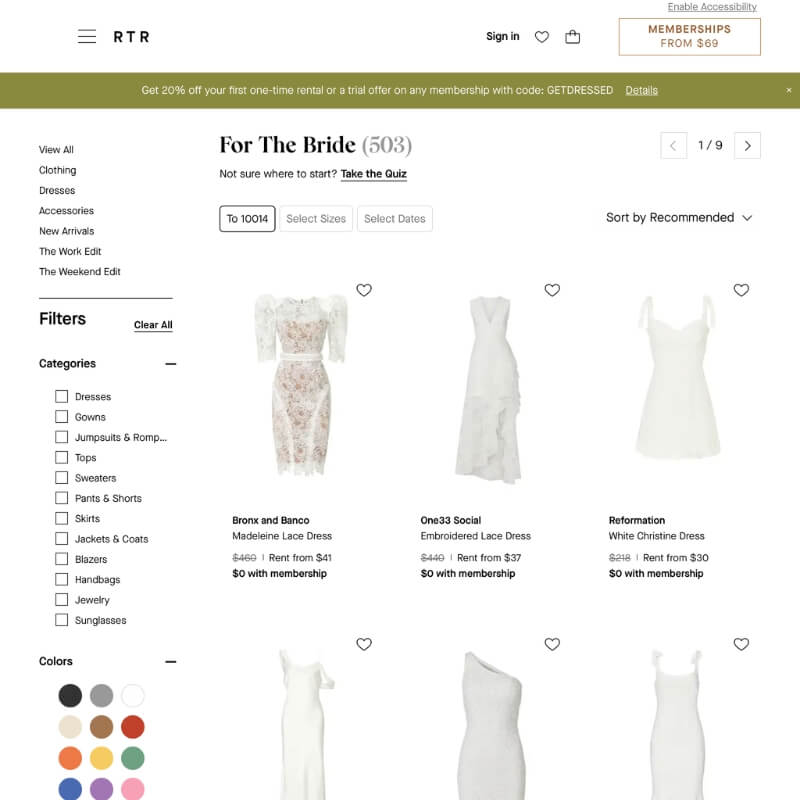 The first thing to remember about your wedding is that changing outfits throughout the day is OK. Though most brides want a lacy, frilly, or whimsy style dress for the ceremony, there is nothing wrong with changing into something more comfortable for the reception.
When you look at wedding dress rentals from Rent the Runway, you'll be able to find a great variety of dresses and wedding day-appropriate outfits. You can rent a ceremony dress that's either long or short.
Perfect examples are the Francois Drape Gown, which is long, and the Rixo Libby Dress, a short gown. And when it's time for the reception, you may want to change into the Black Halo Pravella Jumpsuit or even the Nookie Treasure Sequin Jumpsuit. These are just a few of the dresses and outfits you can choose.
What Rent The Runway does best:
Rent The Runway is excellent at accommodating every bride's tastes. You can dress in fancy or casual, silky or lacy, and there are even colored dresses that your bridesmaids would be proud to wear.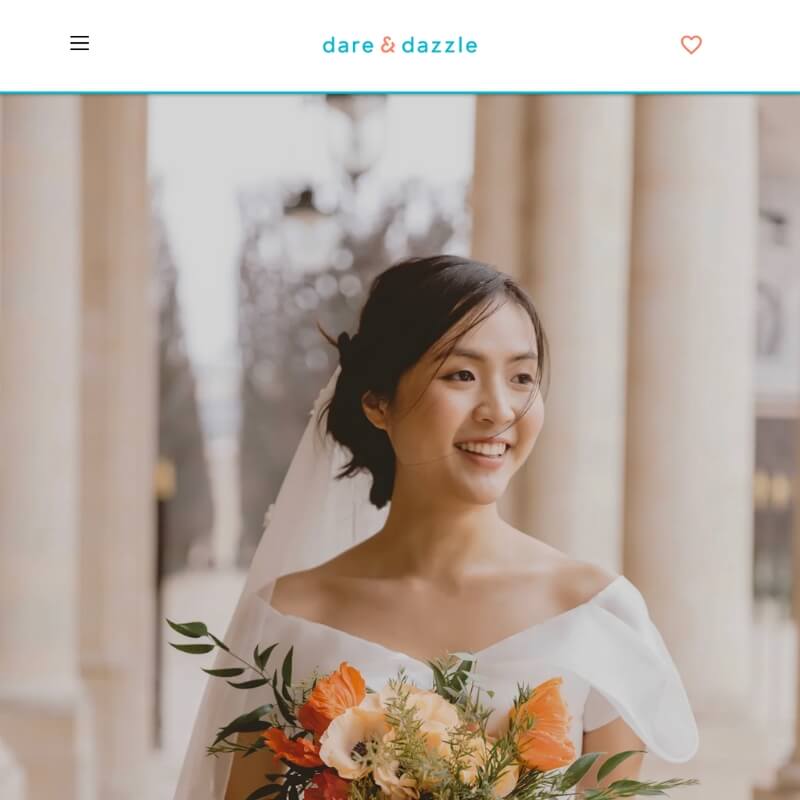 Dare and Dazzle is also a great source of wedding dress rentals. And if you don't know where to start or are overwhelmed by the process, Dare and Dazzle offer consultations in person or online. In-person consultations are 90 minutes long and available to anyone local to California.
Online consultations run for 45 minutes, and both types must be scheduled in advance. But the benefits don't stop there.
This is also your one-stop shop for bridal accessories and bridesmaids' dresses. You'll find that there are many fashionable dresses to choose from, all of which are eco-conscious.
What Dare and Dazzle does best
In one visit you and your bridesmaids can find the perfect dresses that will make your wedding day unforgettable and have everyone looking and feeling beautiful.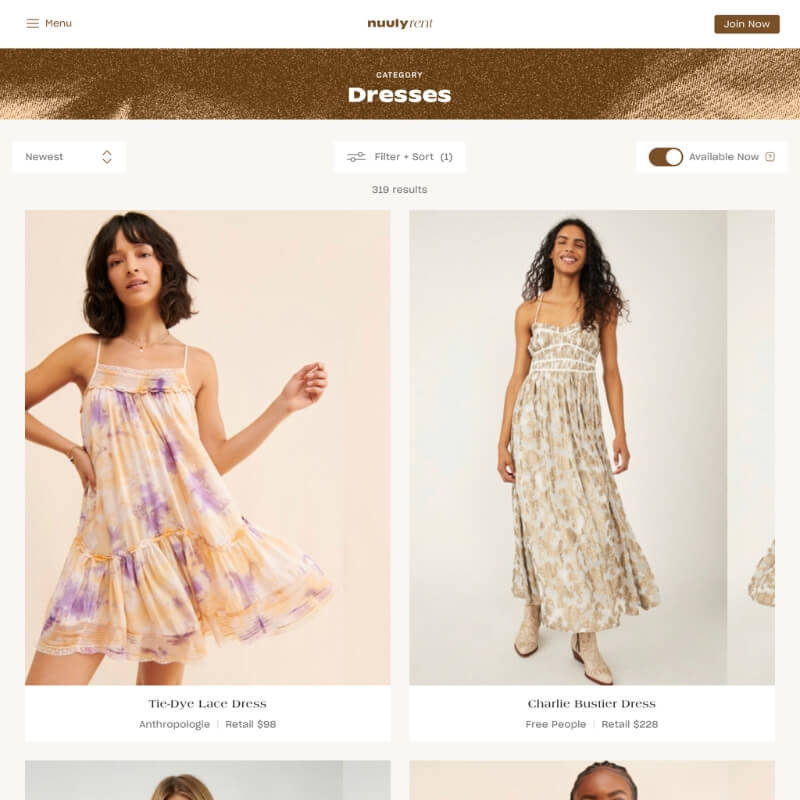 Nuuly is good for more than just wedding dress rentals. You can browse beautiful dresses online and choose from some of the top brands in the industry.
The site makes it easy to search for dresses based on brand, cost, and popularity among other brides-to-be. But it's also the best online outlet for finding new sweaters, pants, jeans, jumpsuits, jackets, shorts, and maternity wear.
You can rent almost any style of clothing you can imagine from one retailer. There are categories for work clothes and vacation outifts, so you'll be the best-dressed wife on your honeymoon even after the wedding.
What Nuuly does best
Whether you want a traditional wedding dress or something out of the box, Nuuly has what you want. With so many clothes to choose from, you may not need to shop anywhere else for your wardrobe.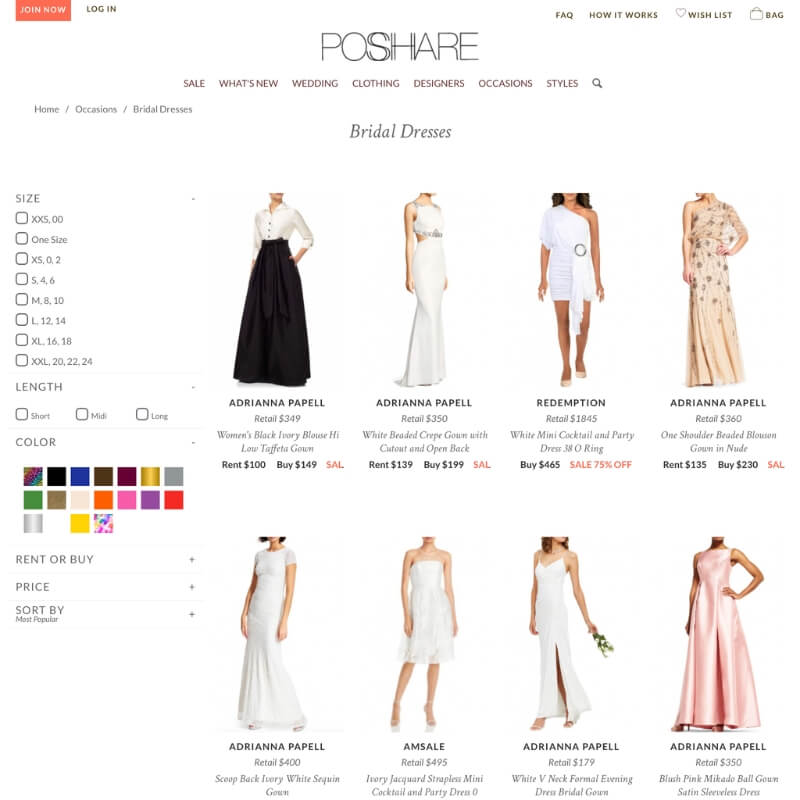 Poshare will have every woman at your wedding feeling like a million dollars. In addition to wedding dress rentals, you can also get bridesmaids and mother-of-the-bride dresses.
While shopping for dresses, you can search for your preferred length. When it comes to wedding dresses, there are options for renting and buying, so you have a lot of flexibility.
And with dresses to fit every budget, Poshare can help you find your perfect choice quickly and easily.
What Poshare does best
Searching for a wedding dress doesn't have to be overwhelming. Poshare will have you choosing a dress in no time at all.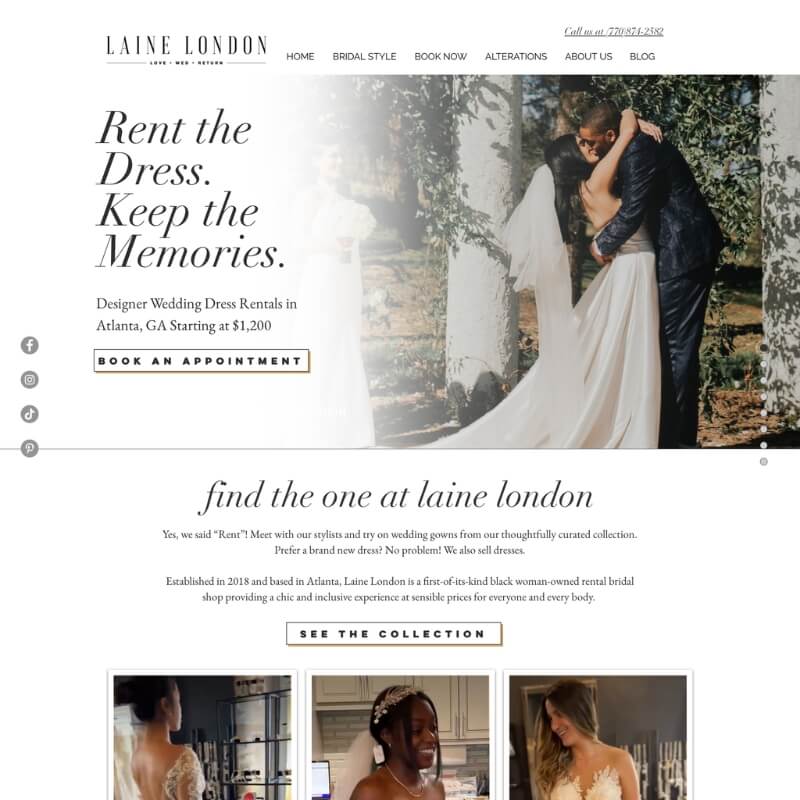 Laine London is a dream come true for the busy bride. They make the whole process of wedding dress rental more efficient than you would expect.
You can browse wedding dress styles online and, if you happen to be in the Atlanta area, can schedule an onsite fitting of the dress or dresses you choose.
When renting your wedding dress from Laine London, you will be paired with a personal stylist. They offer virtual appointments if you can't meet them in person.
Either way, you can try on dresses until you find the one you can't resist. And when you do choose which dress to rent, you'll automatically get up to 3 alterations if you need them.
Rental periods are anywhere from seven to 14 days, and afterward, all you have to do is return the dress to Laine London. They will even clean and press the dress so you don't have to do it yourself.
What Laine London does best
You'll have help every step of the way when you rent your dress from Laine London. Their experts make it easy to find the dress of your dreams without the process turning into a nightmare.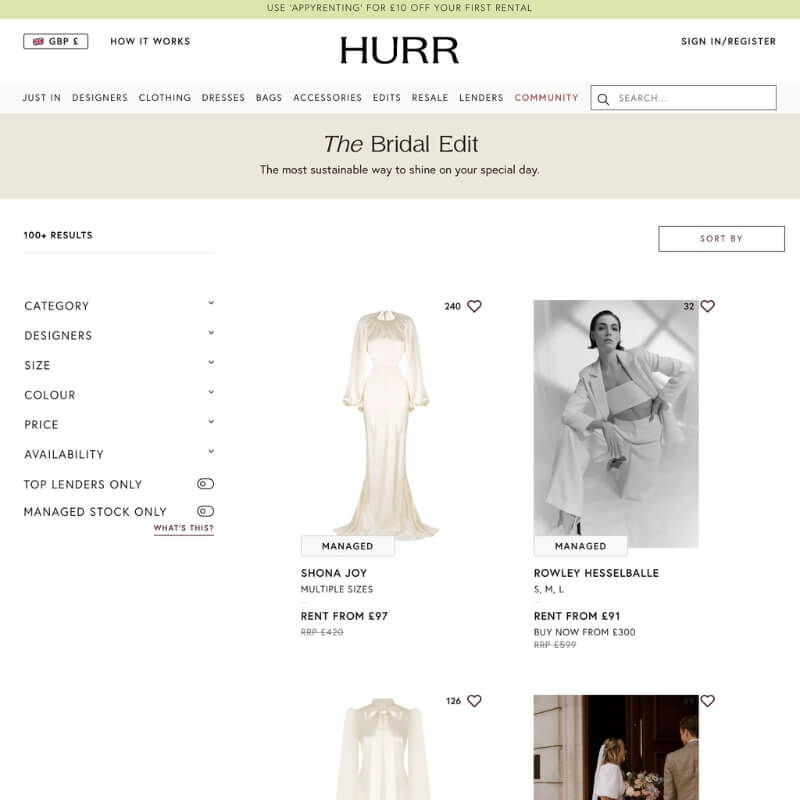 For the UK-based bride, you can't go wrong with Hurr. The best part about this business is that they automatically pair dresses with the perfect accessories and shoes, so you don't have to figure it out yourself.
From dresses to outerwear to tops and bottoms, Hurr has everything you need to look gorgeous for your big day. And they will customize your wedding dress to be truly unique to you.
What Hurr does best
Hurr is ideal for the pickiest brides out there. You can search for a dress based on specifications like the neckline, sleeves, waistline, and back of the dress. Or you can search for a dress based on where your wedding will take place, i.e., the beach, a garden, a mansion, etc.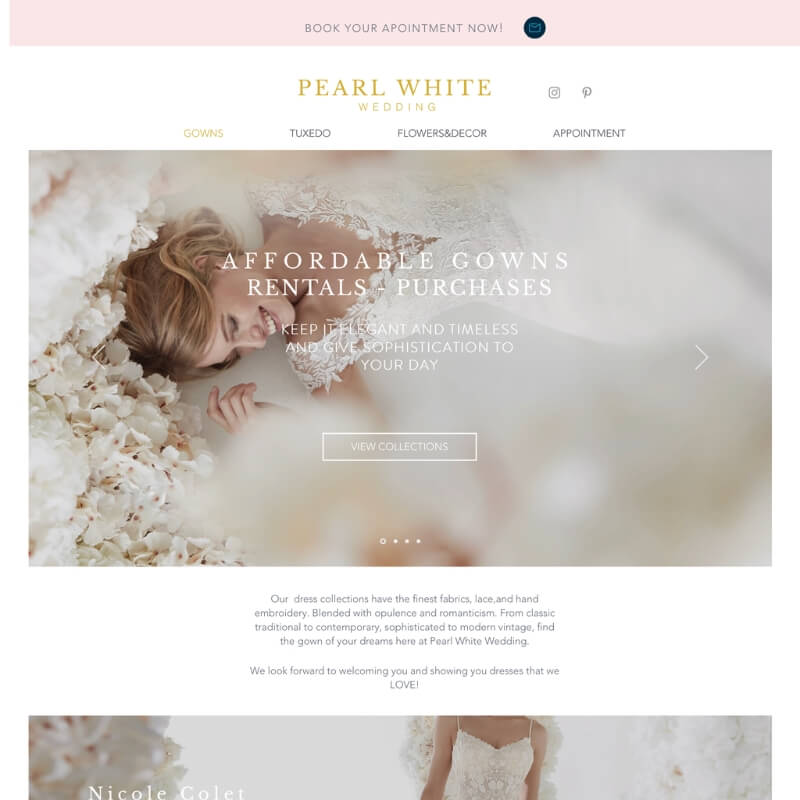 Pearl White Wedding is great for more than just brides. While you can rent your wedding dress from them, they also rent tuxes, so you and your fiance can find your wedding day outfits simultaneously. But you'll also be able to get dresses for your bridesmaids and even tea ceremony dresses.
Everyone in your party will look equally impressive when renting or purchasing outfits from Pearl White Wedding. So no matter what types of dresses you are looking for, you will find them here.
What Pearl White Wedding does best
Being able to dress your whole wedding party with the help of White Pearl Wedding will be invaluable to you when you are ensconced in plans for the happiest day of your life.
Bottom Line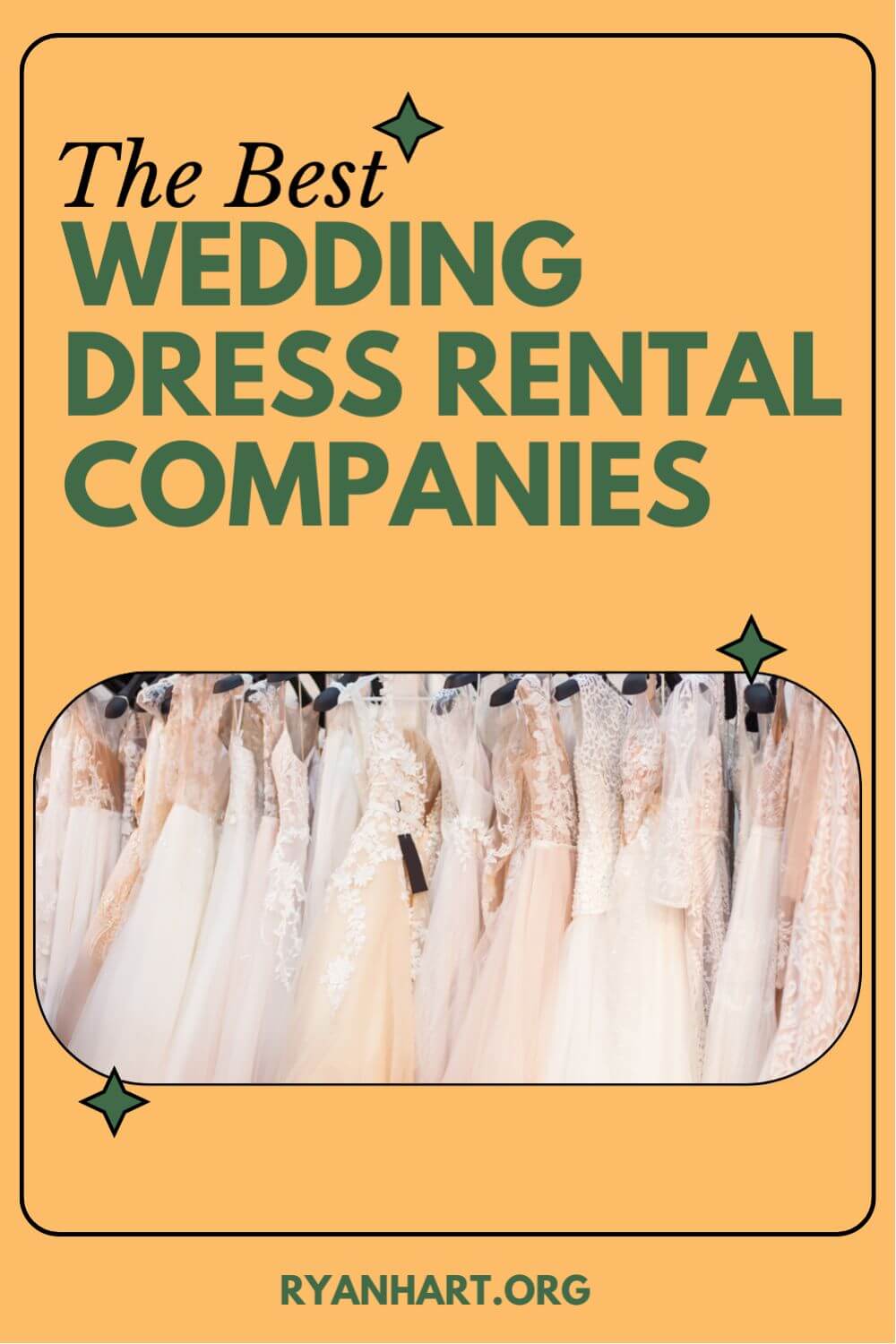 Renting a wedding dress is a great alternative to buying an expensive gown for several reasons.
First of all, renting can save you a lot of money. Wedding dresses can be really pricey, but when you rent, you'll usually pay just a fraction of the cost. This means you can still wear a stunning dress without breaking the bank.
Another great reason to rent your wedding dress is that you'll only wear it once. After the big day, most wedding gowns end up sitting in a closet, never to be worn again.
By renting, you can enjoy wearing a beautiful dress for your special day without worrying about what to do with it afterward. Plus, renting is a more eco-friendly option, as it reduces waste and promotes reusing items.
So, if you're looking to save money, be kind to the environment, and still look fabulous on your wedding day, consider renting your wedding dress!