The bridal party plays an essential role in supporting the bride on her wedding day and adding to the overall beauty of the occasion. As such, choosing bridesmaid dresses that complement the bride's gown and wedding theme is vital.
There are many factors to consider when choosing bridesmaid dresses, including color, style, and fabric. With so many options available, it can be challenging to narrow down the choices.
Fortunately, a few online retailers make the process a whole lot easier. Here are ten of the best places to buy bridesmaid dresses online: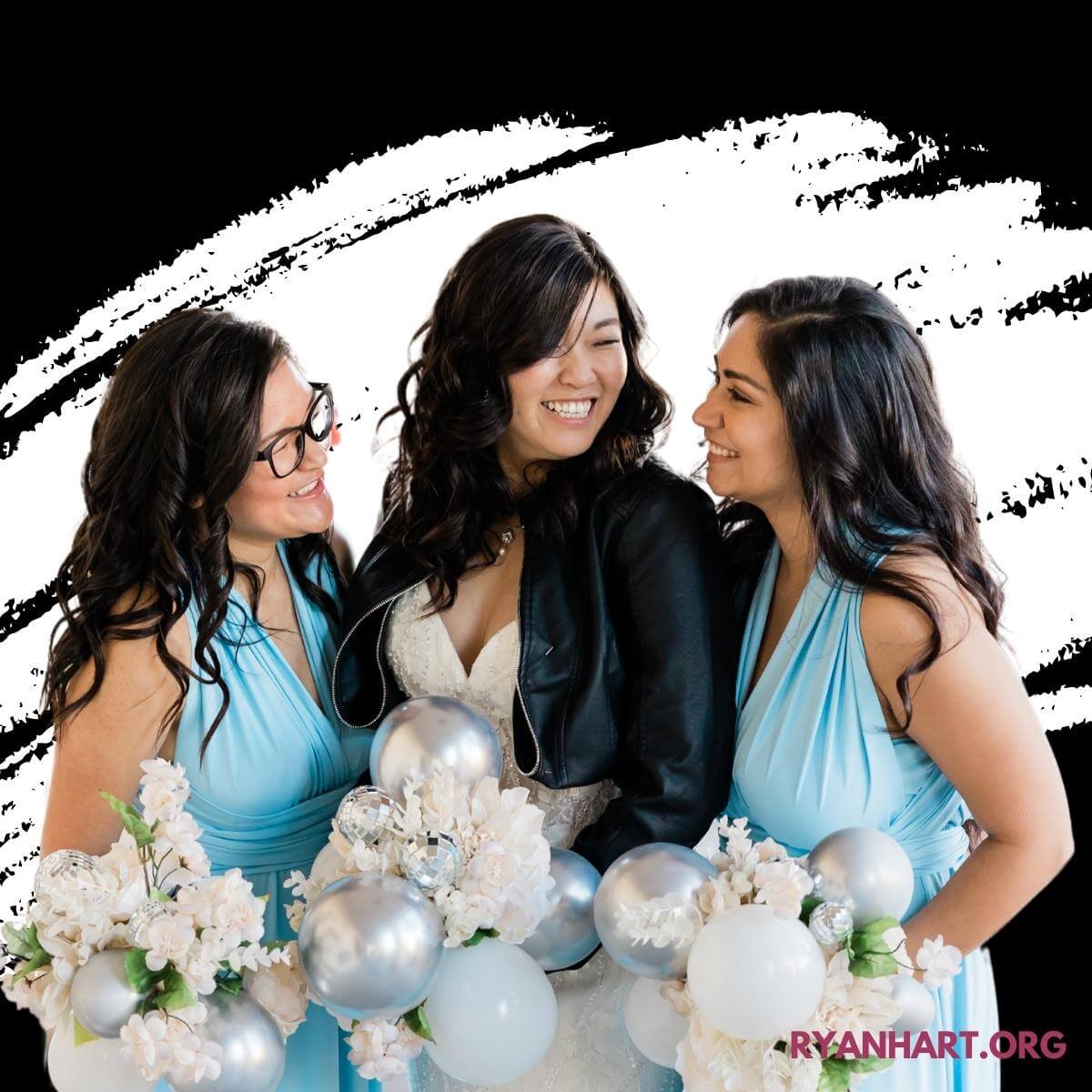 Where to Buy Bridesmaid Dresses Online?
Need help finding the perfect bridesmaid dress? Look no further! Here are our top picks for where to buy bridal party dresses online.
1. David's Bridal
Whether looking for a classic and elegant dress or something fun and flirty, you're sure to find the perfect style at David's Bridal. Plus, with various colors and sizes available, it's easy to find a dress that will flatter everyone in your bridal party.
And if you're on a budget, don't worry - David's Bridal has a great selection of affordable bridesmaid dresses so you can keep more money in your pocket.
So whether you're looking for the perfect dress for your big day or just want to find a stylish and affordable option for your bridesmaids, David's Bridal is the place to shop.
2. Lulus
Lulus has a great selection of bridesmaid dresses that will make you and your girls look fabulous on your big day. You're sure to find the perfect dress with so many styles available.
The site has a wide range of prices to stay within your budget. You can also filter by color, style, and size to find the perfect dress for each member of your wedding party.
Lulus also offers free shipping on orders over $50, so you can save even more money on your purchase. Lulus is the perfect place to shop for bridal party dresses, with many options available.
From classic A-line dresses to modern maxi dresses, Lulus has a dress for everyone. Prices start at just $68. So look at their dress collection and find the perfect one for your besties.
3. BHLDN
BHLDN is a one-stop shop for all things weddings, and their selection of bridesmaid dresses is incredibly chic.
Whether you're looking for a classic strapless silhouette or something more unique, BHLDN has a dress that will suit your style. And with sizes ranging from 0 to 26, you're sure to find a perfect fit for every member of your bridal party.
Best of all, BHLDN bridesmaid dresses are affordable, so you can stay within your budget while still outfitting your bridal party in beautiful dresses they'll love.
4. Etsy
Etsy offers a great selection of bridesmaid dresses, with something to suit every taste and budget. The site features dresses from independent designers and boutiques, so you're sure to find something unique.
And with Etsy's convenient search options, it's easy to find the perfect dress for your wedding party. Just enter your preferred style, color, and size, and you'll discover a range of beautiful dresses.
Whether you're looking for a classic silhouette or a trendsetting design, you're sure to find the perfect dress on Etsy.
5. Nordstrom
Nordstrom is a trusted name when shopping for wedding attire, and their bridesmaid dresses are no exception.
Featuring a variety of styles and colors, Nordstrom has a dress to suit every bride's vision. From classic silhouettes to modern cuts, there is something for everyone.
With so many options, Nordstrom makes it easy to find the perfect dress for your big day. So if you're looking for bridesmaid dresses that are sure to impress, Nordstrom should be your first stop.
6. ASOS
ASOS is a British online fashion retailer that offers a wide range of clothing and accessories for men and women. The company also sells a variety of bridesmaid dresses, making it an excellent option for anyone looking for affordable, stylish options.
ASOS offers a range of color options, so you can find the perfect dress to match your wedding theme. Their dresses are perfect for any type of wedding, whether a formal affair or a more laid-back event.
7. Reformation
The Reformation is a popular bridal retailer specializing in modern, stylish dresses. The company was founded in 2009 by Yael Aflalo, a fashion designer frustrated by the lack of fashionable, affordable options for bridesmaids.
Reformation's dresses are made from sustainable materials and produced in an environmentally friendly way. The company is committed to providing bridesmaids with beautiful, quality dresses they will want to wear again.
Reformation's designs are inspired by vintage silhouettes and often feature bold prints and bright colors. So if you're looking for stylish and affordable bridesmaid dresses, check out Reformation.
8. Show Me Your Mumu
Show Me Your Mumu is a bridesmaid dress designer that offers a wide range of styles to suit any wedding theme.
Founded in 2007 by besties Cali Yost and Jaymi Reid, Show Me Your Mumu is all about having fun while looking good—and their bridesmaid dresses are no exception. They use luxurious fabrics like silk chiffon and satin charmeuse that will flatter any body type.
Best of all, bridesmaids can wear their dresses again and again, so you can get plenty of use out of them long after the wedding.
With their mix-and-match approach to bridesmaid dresses, Show Me Your Mumu makes it easy to create a unique look for your wedding party. So if you're searching for something special for your big day, check out Show Me Your Mumu.
9. Azazie
Azazie is a leading bridal party dress company that offers various styles at affordable prices. With everything from classic to modern designs, Azazie has a dress for every type of bridal party.
Whether you are looking for a strapless gown for the maid of honor or a short dress for the flower girls, Azazie has something to suit your needs.
Azazie's online tool makes it easy to find the perfect dress for each member of your bridal party. With just a few clicks, you can browse through hundreds of different dresses and narrow down your choices based on color, price, and style.
With so many options available, Azazie will have the perfect dress for your big day.
What is a Bridesmaid Dress?
A bridesmaid dress is a garment worn by a bride's attendants or bridal party during a wedding ceremony. Generally, the bride will coordinate the color scheme and style of the dress with her gown or the wedding theme.
Historically, bridesmaids wore dresses similar to the bride's own. Today, it is more common for them to wear clothing that complements the bride's gown while allowing each attendant to express their style.
Contrary to popular belief, there is no hard and fast rule that bridesmaid dresses must be identical. Many brides choose to have their bridesmaids wear different dresses that complement each other.
The important thing is that all the dresses fit within the overall theme and look of the wedding.
When it comes to choosing bridesmaid dresses, the sky is the limit. There are thousands of styles, colors, and fabrics available.
The best way to narrow down the options is to start by considering the overall theme and aesthetic of the wedding. Once you have a general idea of what you're looking for, you can begin browsing through different dress styles.
Bridesmaid Dresses FAQ
Who Pays for Bridesmaid Dresses?
In many cultures, it is traditional for the bride to provide her bridesmaids with dresses. However, in modern weddings, the cost of bridesmaid dresses can often be a significant expense for the bride and her family.
Brides now ask their bridesmaids to cover the cost of their dresses.
Some bridesmaids feel they should not have to pay for the privilege of being in the wedding party. Others argue that asking them to shoulder the financial burdens is fair. Ultimately, the bride and her family decide who pays for the bridesmaid dresses.
If you're considering asking your bridesmaids to pay for their dresses, you should keep a few things in mind.
First, ensure you give them plenty of notice so they can budget for the expense.
Second, try to be understanding if someone says they can't afford it - after all, you wouldn't want them to go into debt just to be part of your wedding party.
And finally, consider offering to pay for part of the cost or help them sell their dress online when the wedding is over.
How Much Do Bridesmaid Dresses Cost?
The average cost of a cheap bridesmaid dress is $150. But depending on the designer and the style, prices can range from $100 to $1,000.
So, if you're trying to stay on budget, some less expensive options might be worth considering. For example, consider asking your bridesmaids to wear a dress they own or look for dresses on sale.
Shopping for used dresses online or renting dresses are great options for budget-conscious brides. But if you're set on purchasing new bridesmaids' dresses, you can do a few things to keep the cost down.
First, try to avoid designer labels. Second, look for sales and take advantage of discounts. And last but not least, don't forget to negotiate!
With a little effort, you can find beautiful bridesmaid dresses that won't break the bank.
When Should You Order a Bridesmaid Dress?
Unfortunately, there's no one-size-fits-all answer to this question. It all depends on the style of the dress, the availability of sizes, and the manufacturer's lead time.
However, a few general guidelines can help you ensure everyone looks their best on your big day.
For starters, it's essential to give your bridesmaids plenty of time to find a dress they love that flatters their figure.
Ordering at least six months in advance will give them plenty of time to find the perfect dress and alter it to fit perfectly.
Another factor to consider is whether you plan on losing weight before the big day. If you are, you may want to wait to order your dress until you've reached your goal weight. That way, you can ensure that the dress will fit properly on the wedding day.
Additionally, ordering well before the wedding will ensure you have plenty of time to make changes if necessary. Finally, being prepared will help avoid any last-minute stressors leading up to the wedding.
So when it comes to ordering bridesmaid dresses, the general rule is: the sooner, the better!
How to Choose Bridesmaid Dress Colors?
When choosing bridesmaid dress colors, there are a few things to keep in mind.
First, consider the overall theme and color palette of your wedding. You'll want to choose bridesmaid dress colors that complement the other shades you've chosen for your big day.
You may want to stick with traditional colors like black, white, or ivory for a formal affair. For a more casual wedding, you can have more fun with the color palette and choose brighter shades.
Next, think about the time of year when you'll be tying the knot. Brighter colors may be more appropriate if you're getting married in the spring or summer. However, muted tones might be a better fit if you're planning a fall or winter wedding.
Finally, don't forget to consider your bridesmaids' complexion when choosing dress colors. Ideally, you'll want to pick hues that flatter their skin tone and hair color.
Once you've narrowed your options, it's time to start thinking about which colors will complement each other best. Then, to create a cohesive look, choose two or three colors that will work well together.
You can also have each bridesmaid wear a different shade of the same color for a more playful look. Whatever you decide, just make sure you choose colors that make you happy - after all, it's your big day!
To help you out, here are a few tips on how to choose bridesmaid dresses that will make your girls look and feel their best.
Bottom Line
Anyone who has been a bridesmaid knows that finding the perfect dress can be stressful.
Not only do you have to find a style that flatters your figure, but you also need to ensure that the dress coordinates with the bride's vision for the big day. And, of course, you need to stay within your budget.
We recommend shopping for bridesmaid dresses online six months before the wedding to help alleviate some of this stress. By giving yourself ample time to search for the perfect dress, you can avoid feeling rushed or pressured into making a decision.
Plus, you'll have a more diverse selection, and you're more likely to find a dress that fits your taste and budget. So if you're wondering whether it's worth buying your bridesmaid dress online, the answer is a resounding yes!