Bohemian fashion combines flowing fabrics, feminine details, and unique design choices, making this style a beautiful option for wedding gowns.
While boho wedding gowns can be breathtakingly beautiful, many bridal shops are filled with more traditional styles.
If you want to showcase your personal style on your wedding day, you'll love all of these gorgeous gowns. Read on to see some of the best boho wedding dresses for brides!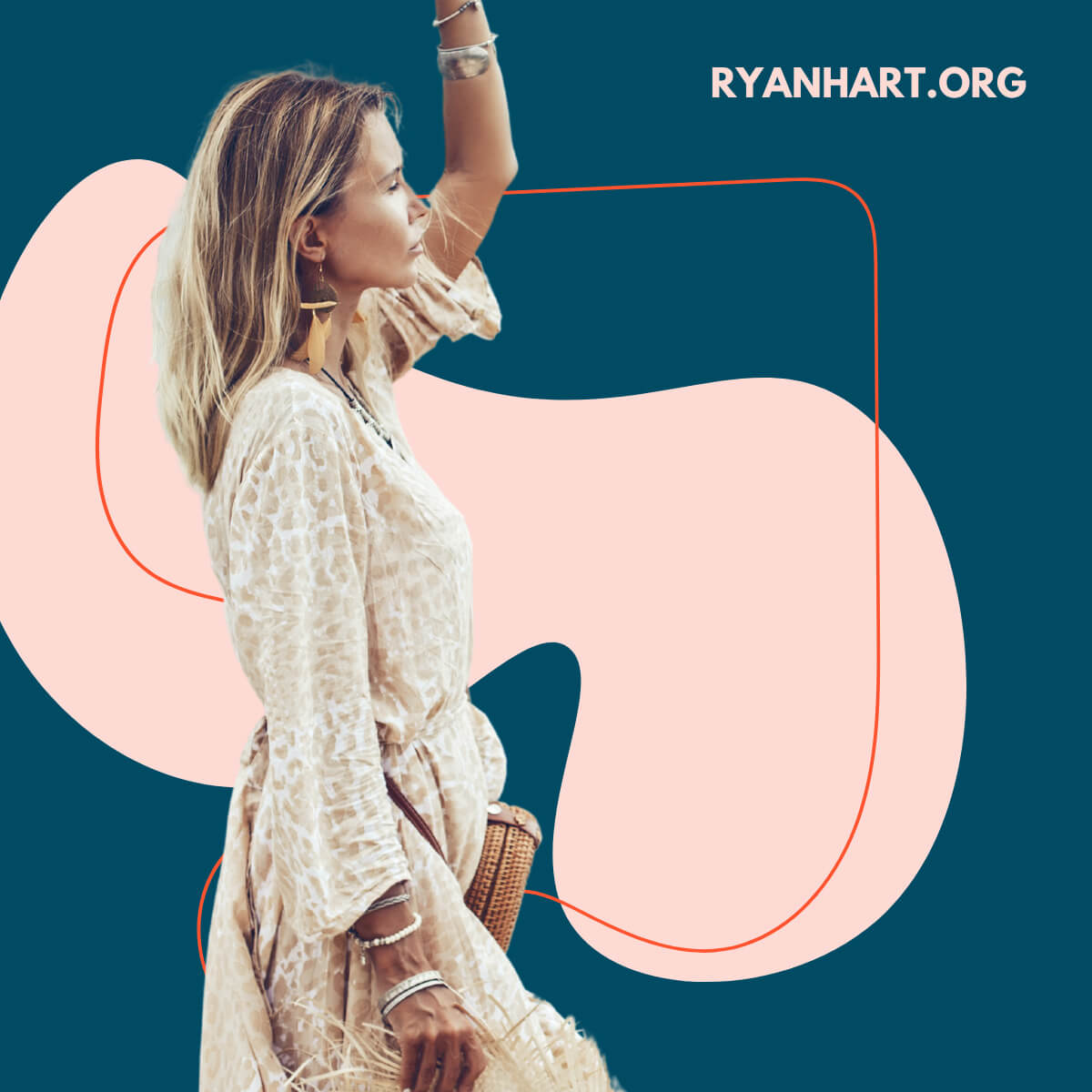 What is the best bohemian-style wedding dress?
The best boho-style wedding dresses are flattering, gorgeous, and comfortable to wear! Check out these gowns to find a dress that suits your personal style.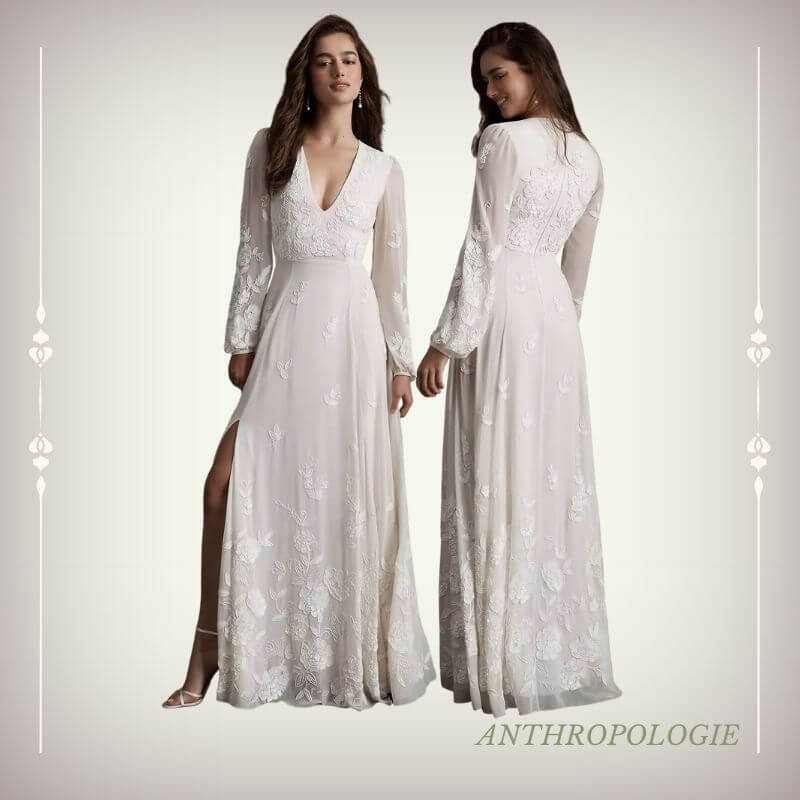 This romantic boho-style gown has a dramatic plunge neckline that will look stunning on its own or with a statement necklace. While the dress is fitted at the waist and bust, it's loose from the hip downward, so you'll be free to dance the night away.
Little details like floral appliques, beading, and sheer sleeves make this gown feel both simple and special. This dress has an easygoing elegance, but the deep v-neckline helps give it a sultry edge.
This relaxed fit gown is a fantastic choice for any bride, but it's an especially great option for outdoor weddings.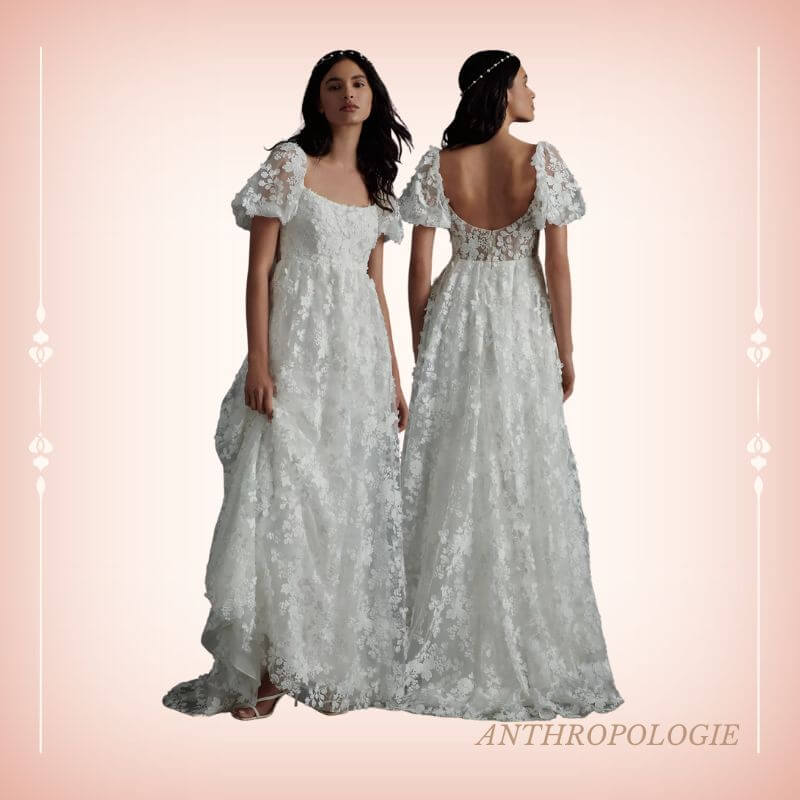 Brides looking for a boho wedding dress with sleeves will fall in love with this statement gown! It has dramatic puff sleeves that add dimension to the dress. You have the option of wearing the sleeves on or off your shoulder.
The entire dress is covered in floral appliques and intricate embroidery. It has an A-line silhouette that's extremely flattering on most body types. Try pairing it with a flower crown to really bring out the boho beauty of the gown!
Floral fabrics are a big part of boho fashion, and the floral appliques on this dress are a way to wear florals on your wedding day!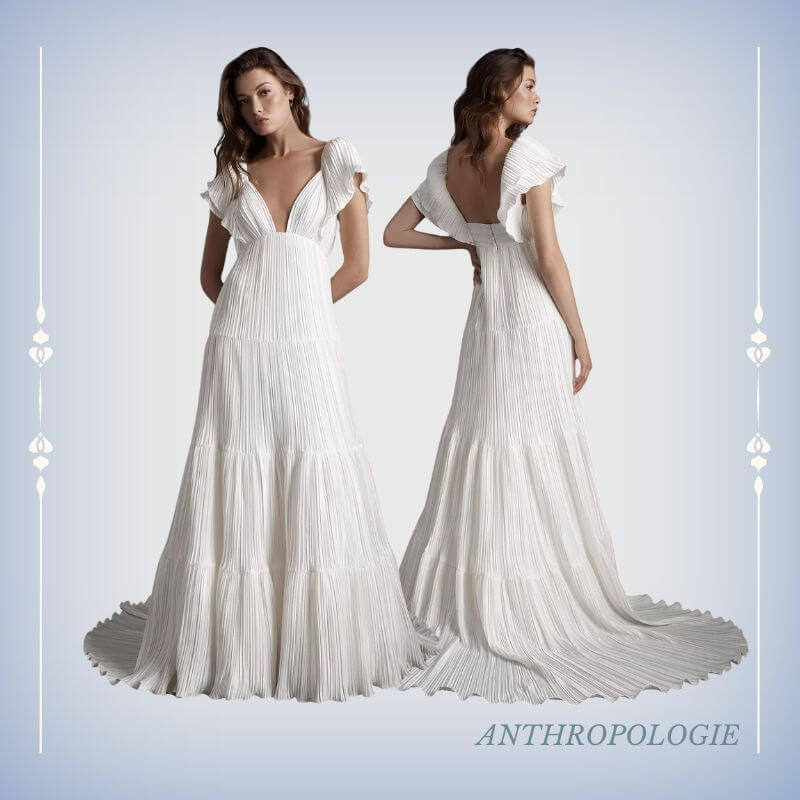 You'll feel like a goddess in this breathtaking gown. Thanks to a pleated charmeuse weave, the dress's fabric will look even more beautiful when you're in motion. Since the skirt is split into tiers, there are cascading layers of pleated fabric.
It has a deep plunging neckline, an empire waist, and adorable short flutter sleeves. The gown also has an open square back that's finished with buttons covered in fabric. While the fabric it's made from is lightweight, the dress is fully lined.
Since empire waist dresses create the illusion of a long frame, this dress is a fantastic option for petite brides.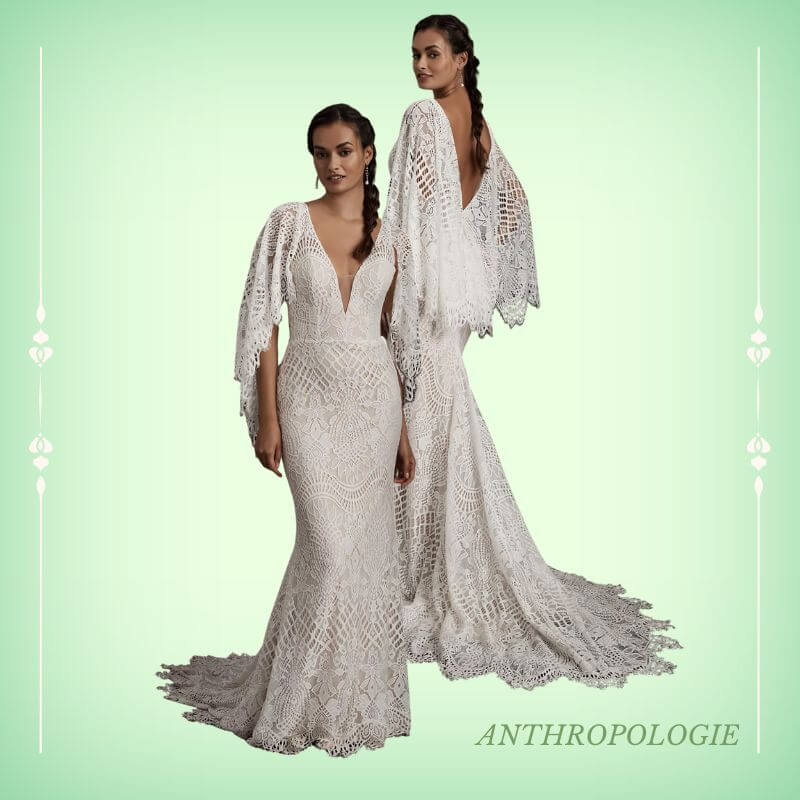 This gorgeous boho lace wedding dress has long cascading sleeves that resemble a cape. These statement-making sleeves are the perfect complement to the gown's long train. It's the ideal complement to the gown's open back.
The dress is covered in intricate lace from top to bottom, making it a true showstopper. While the lace and open back already make this gown stand out, it also has lots of other eye-catching details, like a plunging neckline with a sheer nude panel.
If you love wearing capes, shawls, and similar boho-style pieces, this lacy gown could be your dream dress!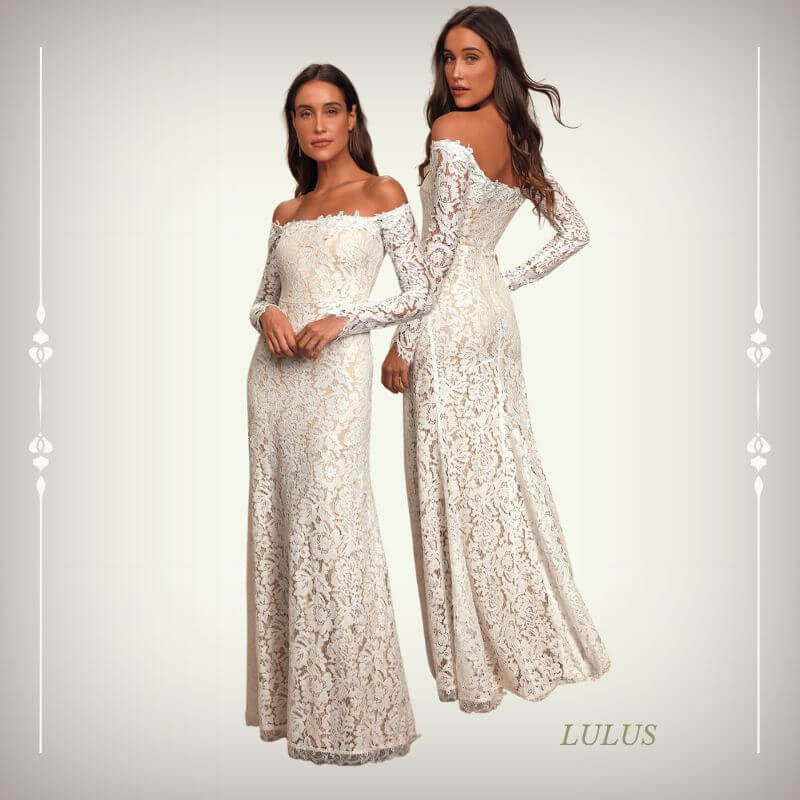 This lace gown is the perfect combination of Bohemian fashion and classic romance. The dress has a nude lining with a sheer floral lace overlay, which come together to create a dramatic look. An off-the-shoulder neckline slims the shoulders and draws the eye upward.
The gown also has other crochet lace details, like long sheet sleeves trimmed with an eyelash cuff. In the back of the dress are a hidden zipper and breathtaking drop seam that helps show off the train.
This is a universally flattering dress that can be paired with all kinds of accessories, like a statement necklace or a flower crown.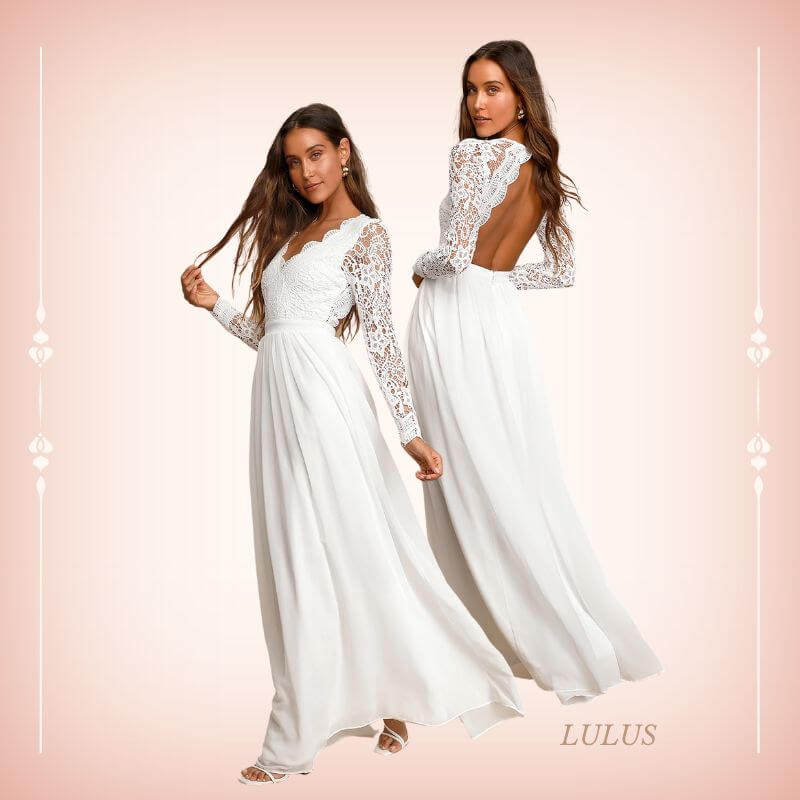 If you want a dress that feels timeless and unique at the same time, you're sure to love this romantic lace dress. Even though the dress has long sleeves, it also has an open back, allowing you to show off some skin.
The banded, fitted waist on the dress is extremely flattering, as is the deep-v neckline. While the dress's bodice is covered in crochet lace, the bottom of the gown is made from solid white fabric, creating a beautiful textural contrast.
There's no need to choose between an elegant gown and a Bohemian wedding dress! This gown is the perfect combination of both styles.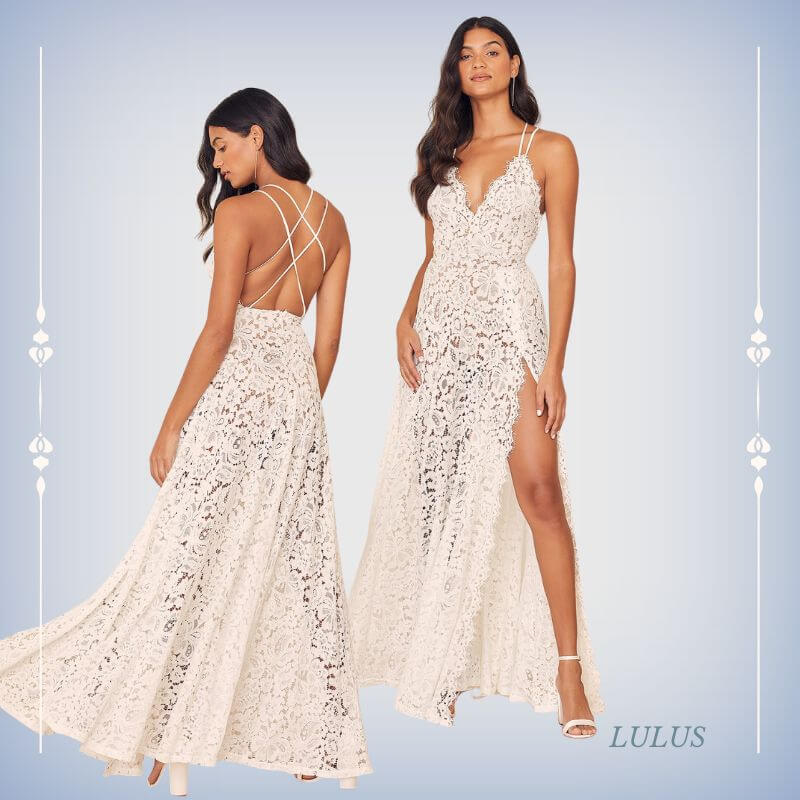 Finding the perfect boho beach wedding dress isn't easy, but this gown was made to be worn to the beach! At the top of the gown are dual satin straps that crisscross in back, showcasing an open back.
It has a fitted bodice with a deep v-neckline, a banded waist and rounded princess seams, which makes the dress incredibly flattering on any body type. The skirt of the dress is completely sheer, with a nude stretch knit bodysuit underneath.
Some wedding dresses can be heavy and uncomfortable, but you'll have a great time soaking up the sun in this flirty, lightweight lace dress.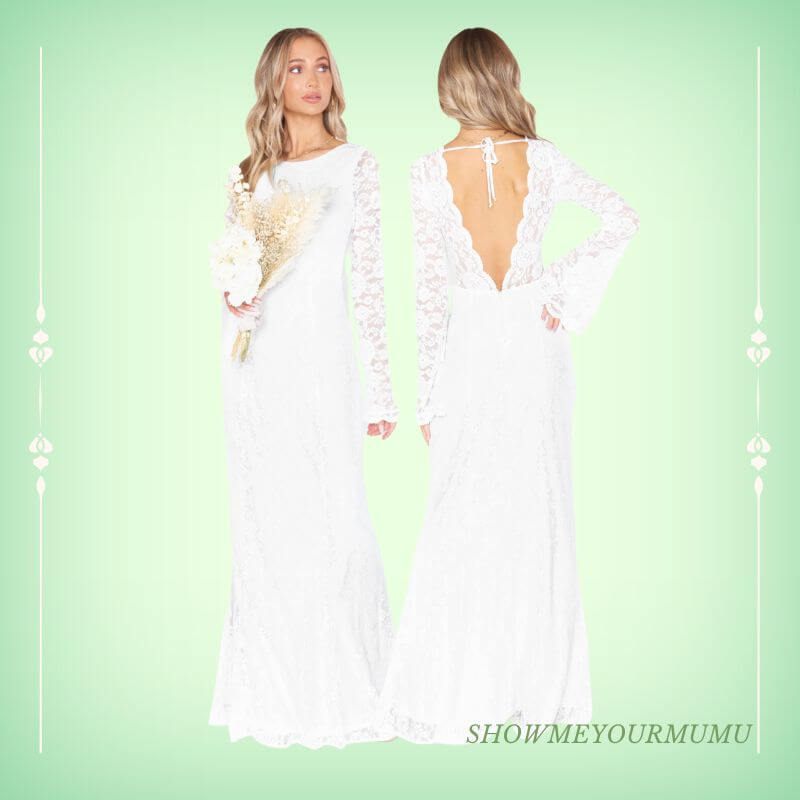 This modest lace gown is a wonderful option if you've been looking for a boho wedding dress with sleeves. While most of the dress is plain white, the sleeves are sheer and covered in lace.
It's simple in the front, but in the back, you'll find a plunging deep-v. The gown also has a tie detail that you can use to keep the dress completely secure while you dance and have fun! Since it's made from stretch lace, this is a dress you can be comfortable in all night long.
The open back on this dress is a nice alternative to plunging necklines.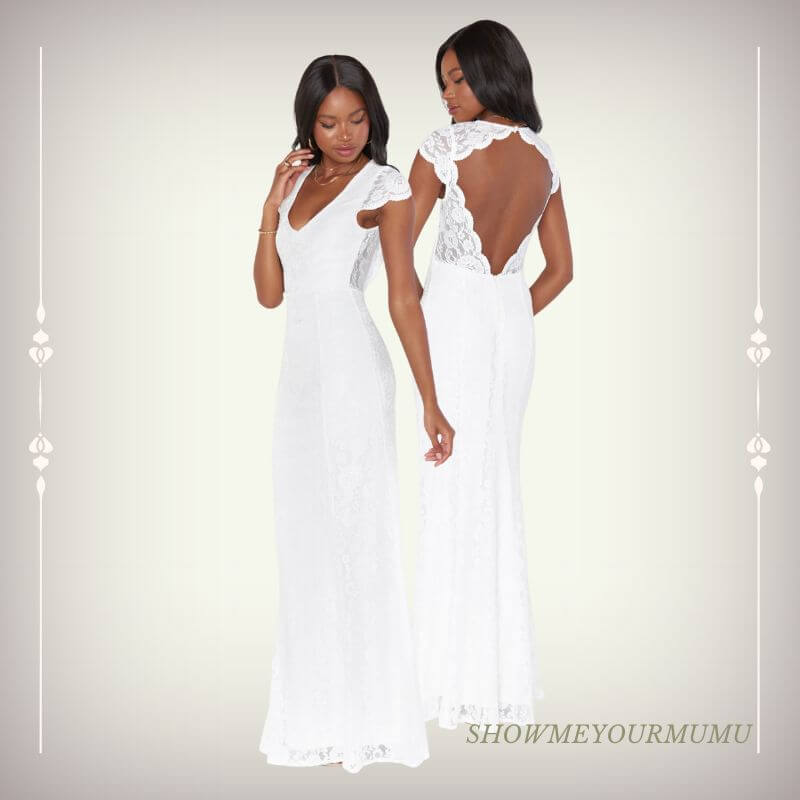 At first glance, this dress may look fairly simple, but details like a cut-out back and a deep v-neckline help it to stand out. Even though the dress has a snug fit, it's made from stretch lace, which makes it comfortable to wear.
The short flutter sleeves with fabric-covered buttons help to prevent any fit issues. While this dress stress is formal enough to wear on your wedding day, it can also be dressed down and worn for other occasions, like engagement photos or rehearsal dinners.
If you want a dress that fits you like a glove, but you also want to be comfortable, you don't have to make any compromises. This gown delivers on both qualities!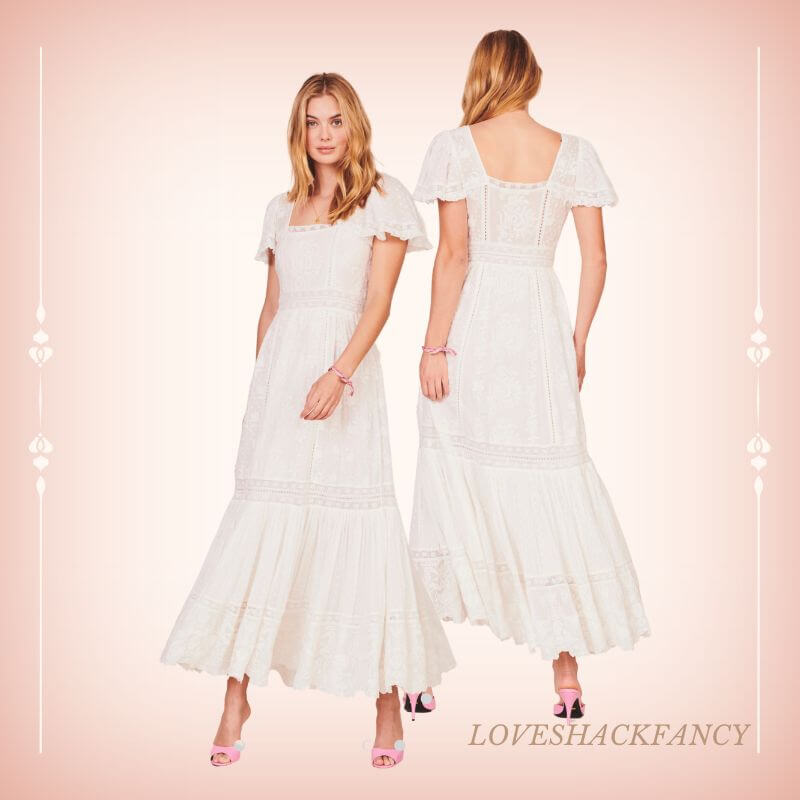 Since LoveShackFancy was founded in 2013, the brand has become known for its ethereal, romantic styles. This goddess boho wedding dress is the perfect showcase for those qualities and has all kinds of gorgeous and unique details, like flutter sleeves and inset lace details at the waist.
This gown is made from 100% cotton, making it a fantastic option for outdoor weddings. The square neckline is incredibly flattering, as is the full skirt with a scalloped edge.
This is a fairy tale gown that will make all of your wedding dreams come true!
What is a Bohemian wedding dress?
A Bohemian (aka Boho) wedding dress is an expression of free-spirited individuality and a unique sense of style. It is a look that celebrates the beauty of being an individual and the freedom to express yourself.
With its relaxed silhouettes and eclectic details, a boho gown is the perfect choice for a bride who loves to stand out. They are perfect for beach weddings and outdoor ceremonies, and they offer a stylish way to make a statement on your special day.
How can I make my wedding dress look more boho?
When trying to achieve a boho look it's all about the details. You can take an elegant, A-line dress and add a hint of bohemian flair with a floral applique or lace sleeve. Consider a beautiful belt or a headpiece to give it a bit of an edge.
For the bride who wants a truly boho look, a lace overlay or a high-low skirt can really make a statement. Have fun with it, and don't be afraid to add unexpected touches – like a colorful sash or a unique hemline – to complete the look.
What's the difference between boho and rustic?
The biggest difference between boho and rustic is the mood that each one conveys.
Boho wedding dresses are all about a free-spirited, whimsical feel. They tend to be flowy, with intricate lace details, and often feature delicate beading.
Rustic wedding dresses, on the other hand, have a more natural, earthy vibe. Think A-line silhouettes and airy fabrics that are perfect for outdoor weddings. Both styles are beautiful, but they each bring something different to the table.
Is Boho still a fashion trend?
The boho style has been a staple of fashion for years, and it's still a popular trend for today's modern wardrobe. From its breezy, carefree designs to the effortless silhouettes, bohemian-inspired looks are the perfect way to showcase your unique sense of style.
Whether you dress it up with a touch of glamour or keep it casual with jeans and a tee, boho pieces are an effortless way to make an impact and look stylish.
Bottom Line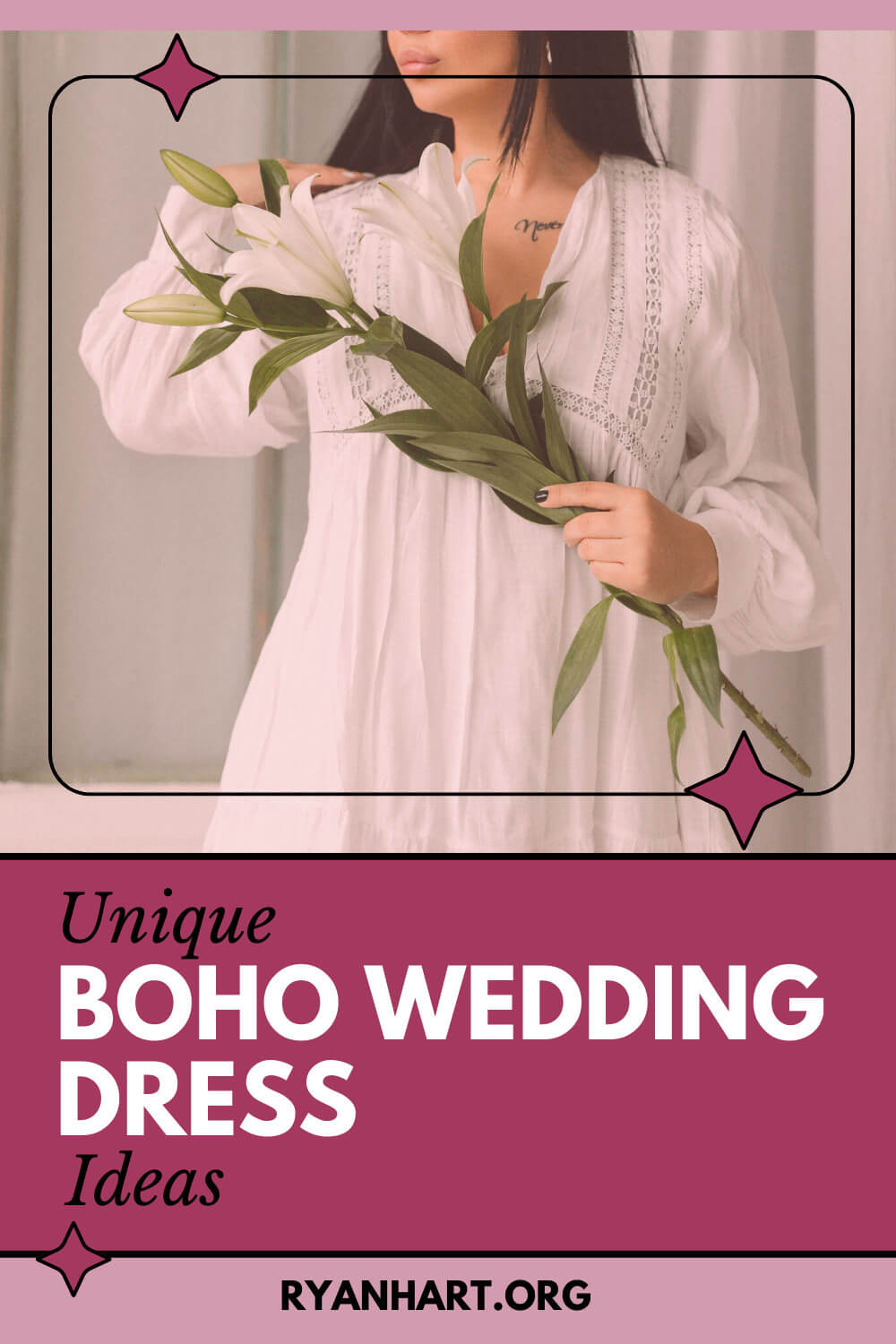 When it comes to choosing a bohemian wedding dress, it's all about expressing yourself and embracing your unique style! I suggest starting by finding a dress that has a relaxed silhouette to capture that breezy, boho vibe.
Look for delicate details like fluttery sleeves, pretty embroidery, and airy fabrics like chiffon, lace, or organza. I also advise considering a dress with a long train to add an element of romance and drama to your look.
Last but not least, experiment with accessories like a flower crown or a sparkly headpiece to truly embrace your inner free spirit!