When it comes time to plan your big day, it's important to consider the small things that might not seem immediately obvious—for example, wedding table numbers to help guests find their seats quickly and efficiently.
Thankfully, there are many different options available that you can consider, each with different styles and benefits.
Look through the list below to find a unique set of table numbers that work well for your needs and look nice on your reception tables.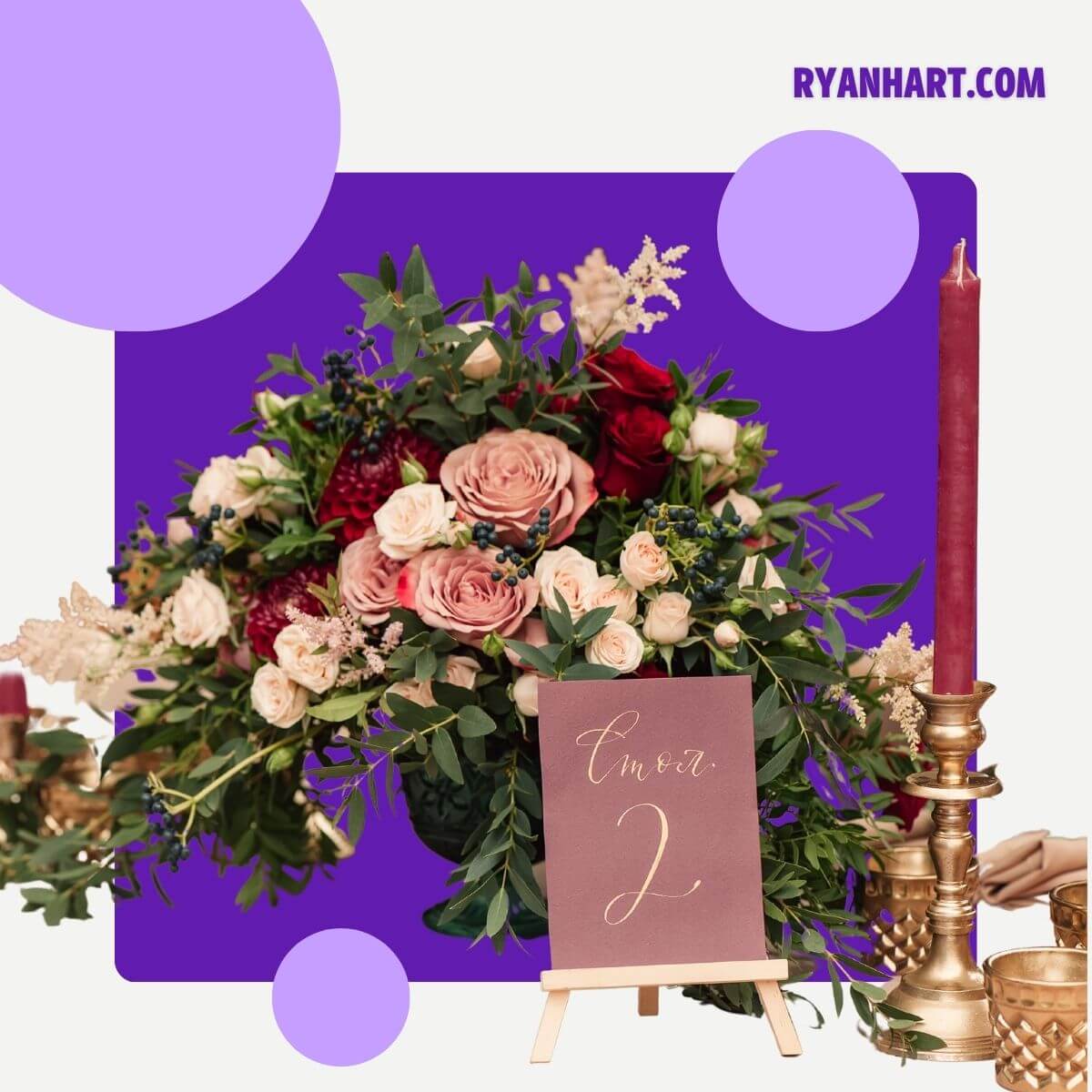 What are the best wedding table number templates?
The best wedding table number templates should fit nicely into your ceremony's look and style and match your budget.
Though the options highlighted throughout this article provide a solid and attractive look that should match many ceremonies, it's essential to check each out carefully.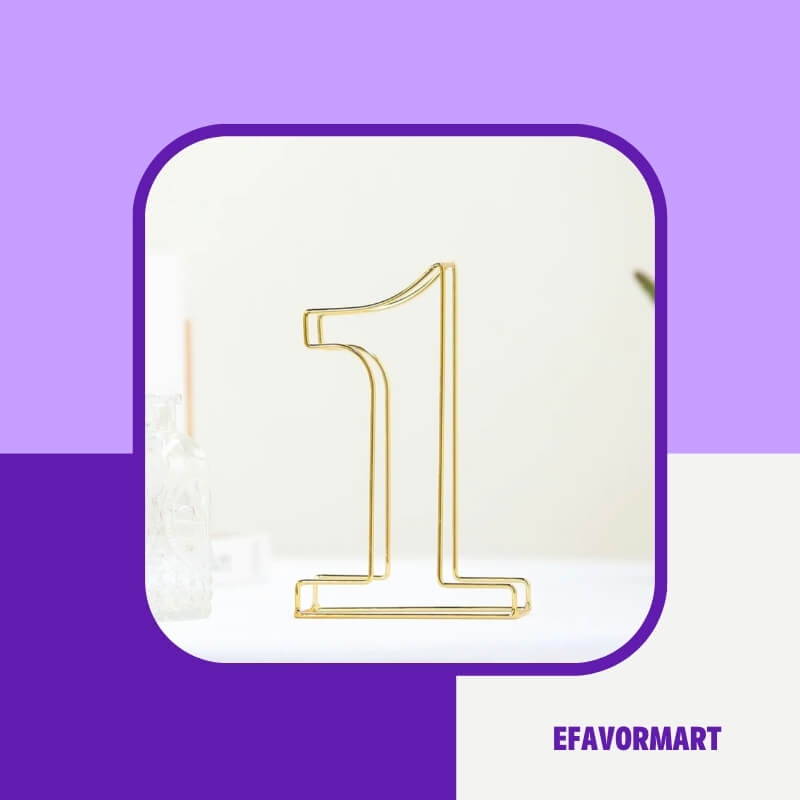 These gorgeous wedding table numbers create a 3D look using gold metal wiring. Standing eight inches tall and five inches wide, they're an excellent option for receptions and can be easily decorated with LED lights and flowers. While simple, they're attractive and come fully assembled.
Why we love these:
We strongly suggest this option for people who want an eye-catching style to help guests find their spot immediately. Furthermore, people who want setting up their numbers to be a quick and easy task will appreciate their simple design.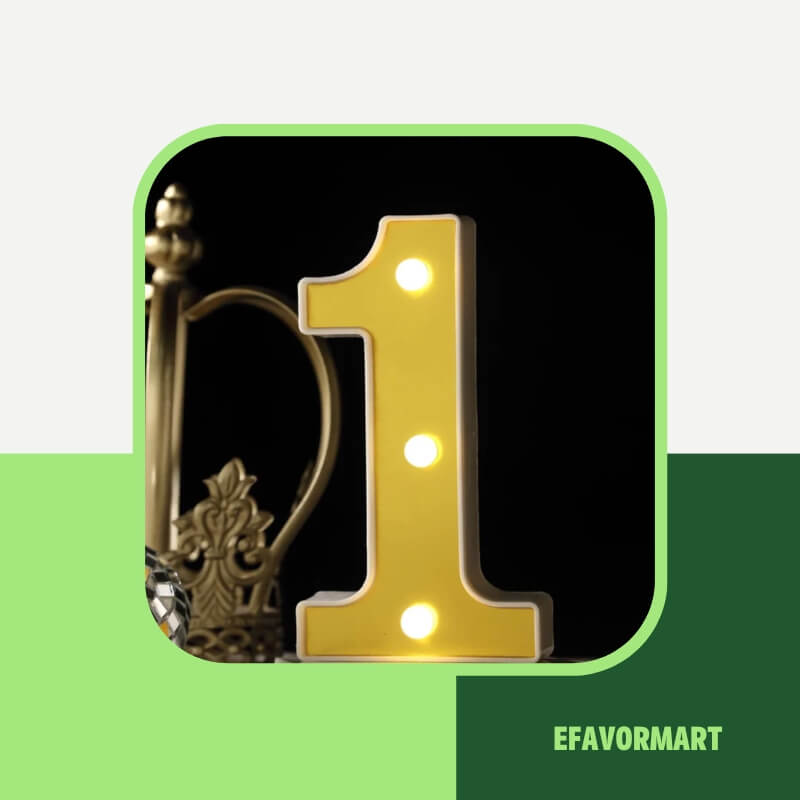 These shorter wedding table numbers are just six inches tall and 3.5 inches wide, providing a more compact look. They also have an LED light that requires two AAA batteries to operate. The three-LED design will provide 72 hours of light, which makes them perfect for most weddings.
Why we love these:
People who want illuminated table numbers will enjoy this option because they don't have to install LED lights themselves. Just as importantly, they're a little more compact and should fit on your wedding reception tables more easily.
Do you want something a little more refined and descriptive? This simple design includes a wooden stand and multiple printed cards that can slide easily into the bracket. In this way, your guests will quickly know where to sit and can find their seats quickly.
Why we love these:
Do you want a more elegant, attractive design matching your wedding's gorgeous style? Then, you will fall in love with these wedding table numbers, which include a simple but attractive look that fits well into most wedding styles.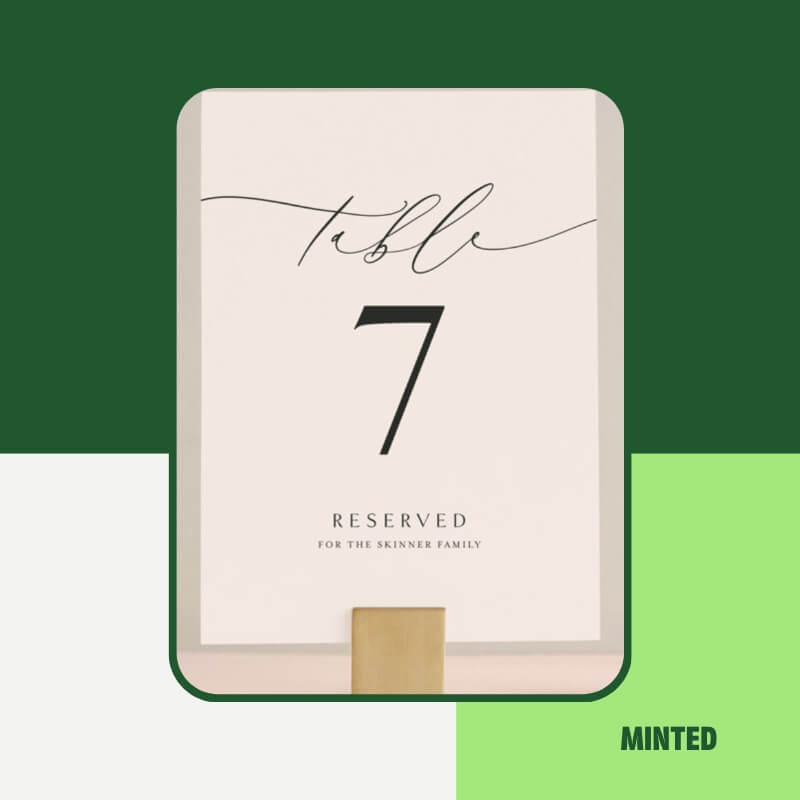 These beautiful wedding table numbers come in multiple colors, including white, black, gray, and maroon, and slide smoothly into a thick wooden stand. Their double-thick design helps keep them strong and makes them reusable for other wedding events or to pass on to another bride-to-be.
Why we love these:
These should easily fit your needs if you want thick and durable numbers. Designed to last, they can be reused and kept as a reminder of your big day, ensuring that you remember your wedding forever.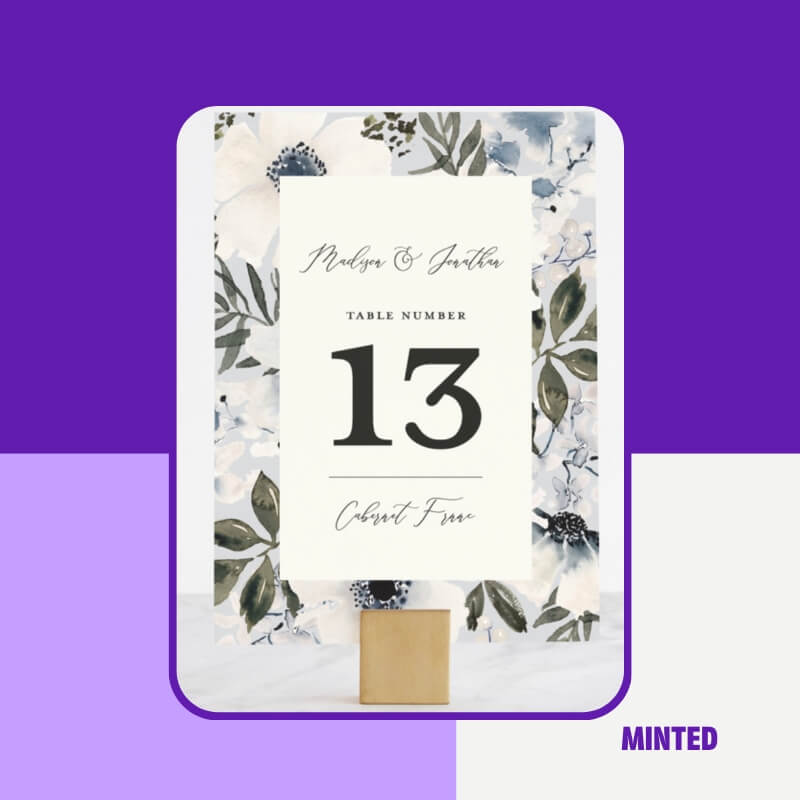 Like many of the best wedding table numbers,this option includes a small wooden stand and double- or triple-thick paper. However, this design also integrates gorgeous calligraphy style writing and a beautiful floral border that will make your numbers stand out on the table.
Why we love these:
You'll love these numbers if you love elegant and stylized text and a gorgeous border. Remember that you can choose triple-thick paper if you like to add to their durability and ensure that they don't bend or break on you during the reception.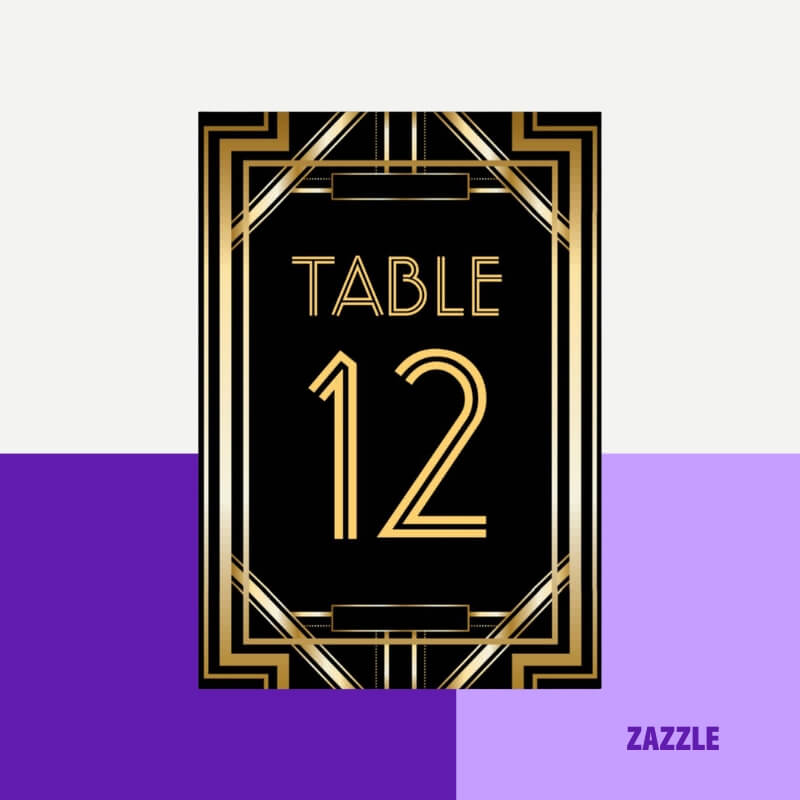 The Great Gatsby is one of the most influential American novels ever written, and its modern adaptation featured a 1920s style that perfectly reflected the era. This beautiful card design utilizes that movie's style to produce a gorgeous look that will sit nicely on almost any themed wedding table.
Why we love these:
If you're a big fan of the 1920s and want a flapper-themed wedding, these cards will work perfectly for you. But, even if you're not into the Jazz Era, these cards are elegant and beautiful and will look good with just about any wedding theme.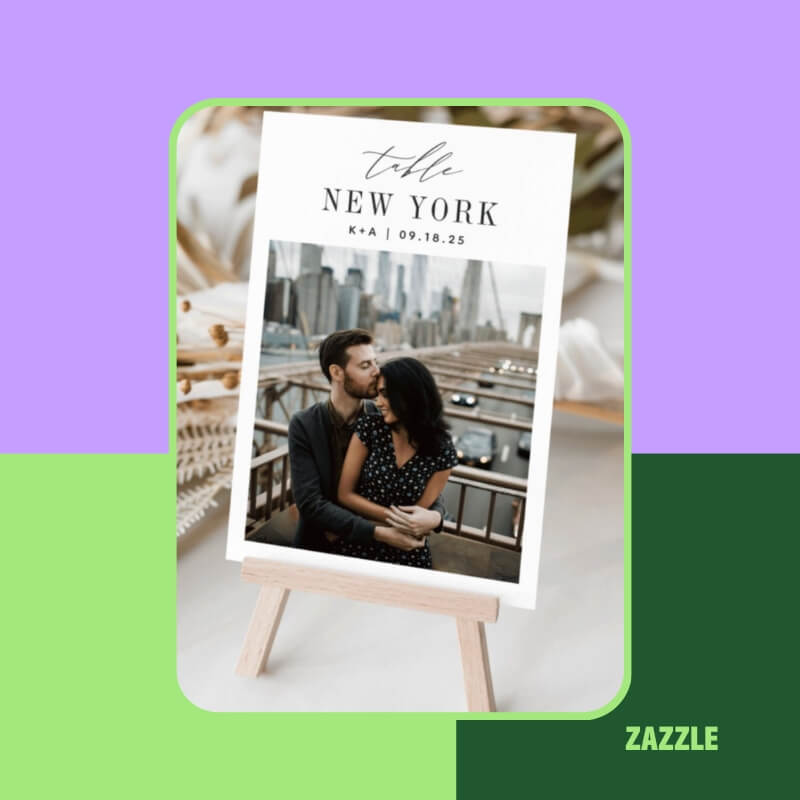 Are you planning a destination wedding and want cards to reflect it? These customized destination photo wedding table numbers let you insert a gorgeous photo of you and your partner, as well as some brief descriptive text, to produce a unique look for your ceremony.
Why we love these:
Anyone who's planning a destination wedding will adore these beautiful cards. They let you create a personalized style that includes the text you want with a font that works well for you. This way, you get a fantastic look that makes sense for your destination wedding.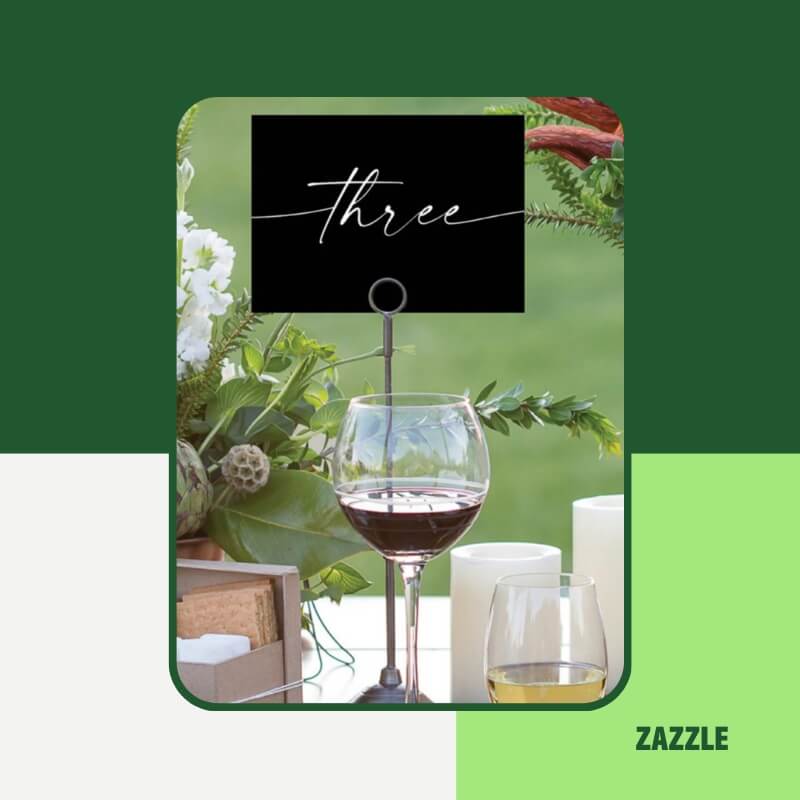 Do you like simple, elegant designs and want a look that complements your wedding? Then, you should try these gorgeous wedding table numbers. You'll get a fabulous and timeless look with a black background and cursive text.
Why we love these:
You'll love these gorgeous wedding table numbers if you like simple, elegant, and minimalist styles. Their simple motif and easy-to-pose design make them perfect for any wedding and easy to integrate at receptions and after parties.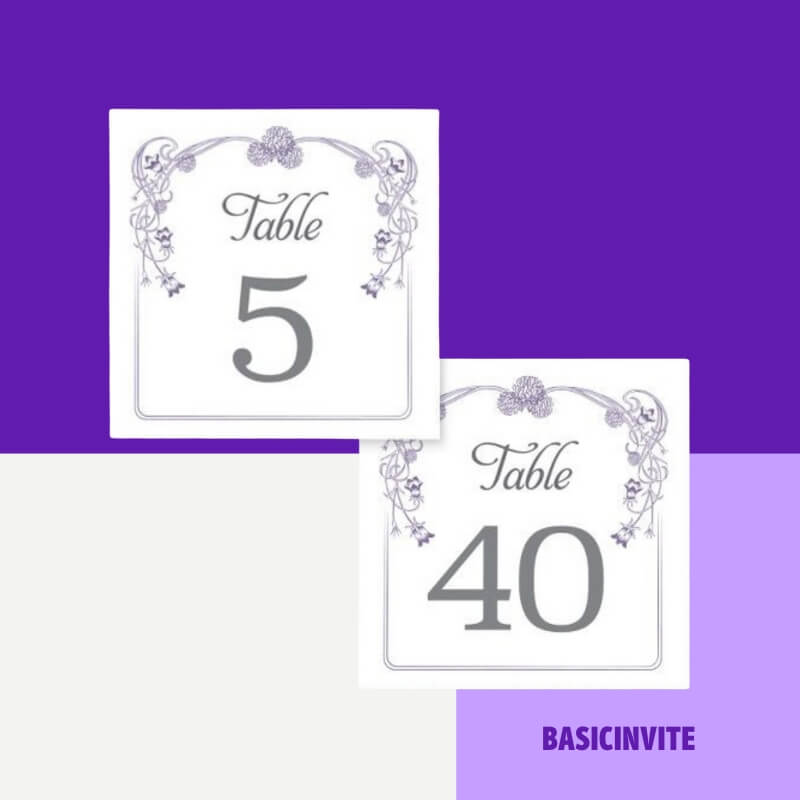 Do you want wedding table numbers that you can personalize for your ceremony? Then, you should try this unique product, which is easy to download and print. Its simple text-based design lets your guests know their table number, while the decorative top creates an eye-catching style you can't top.
Why we love these:
With a lightly decorative style and a beautiful overall look, these wedding table numbers will fit nicely into many styles. In addition, you can download as many as you need, print them, and save a little bit of the wedding budget.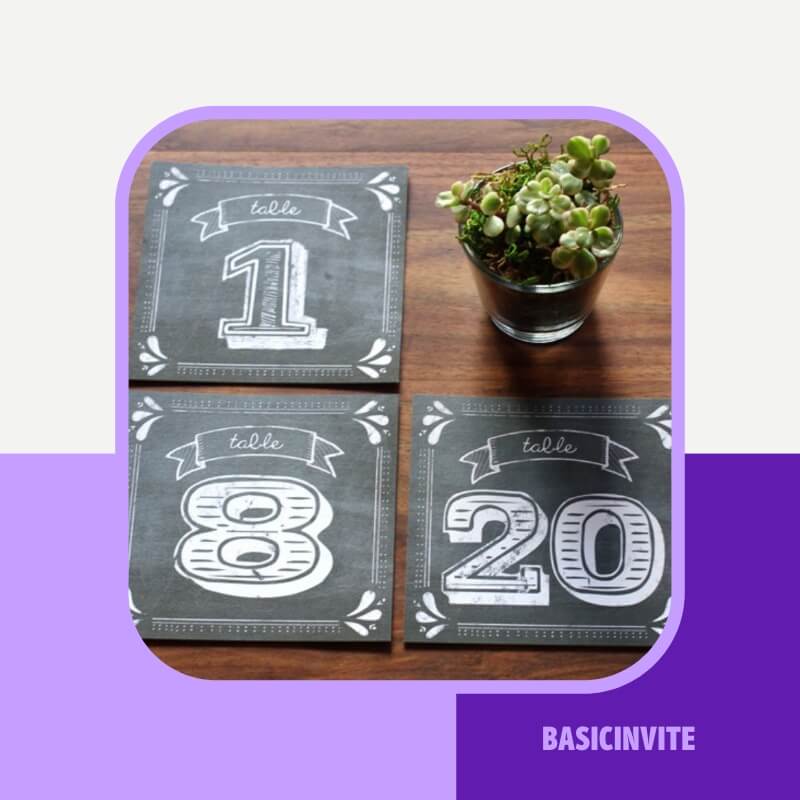 These printable wedding table numbers emulate a well-used chalkboard, with the text looking likely a finely drawn chalk number. That gives these numbers a lot of heart and character, as does their small size. As a result, they should be easy to fit into just about any ceremony or reception hall.
Why we love these:
If you're a teacher or someone in the educational field, you'll adore these attractive and inexpensive table numbers. In addition, you can easily print each of these numbers and use them in your wedding ceremony, saving you money and improving your overall experience.
Bottom Line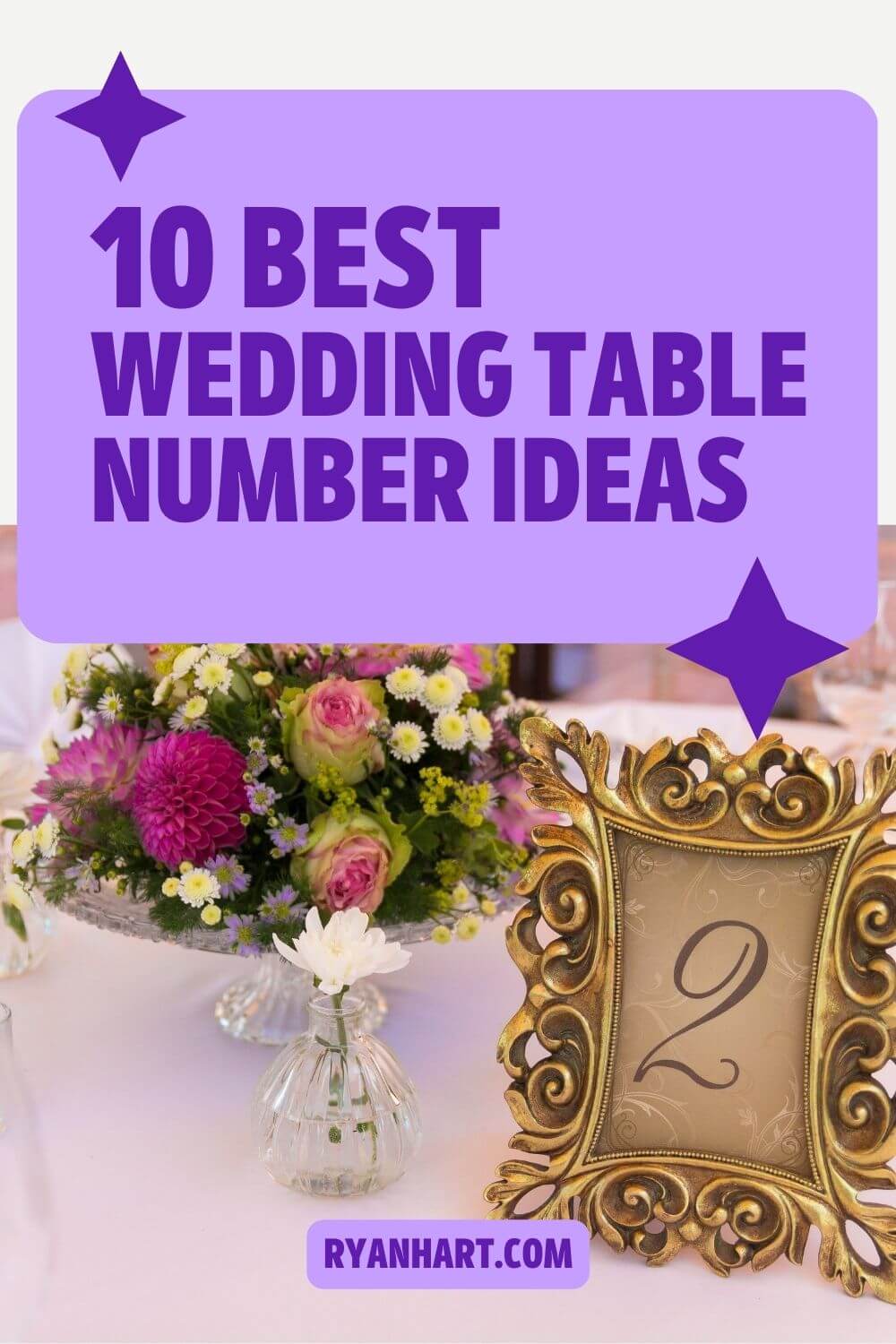 Custom wedding table numbers are a great way to add a personal touch to your wedding. They can be printed with your wedding date, name, and table number. You can also choose from a variety of styles and designs to match your wedding theme.
When choosing wedding table number templates, it is important to consider the following:
The style of your wedding
The colors of your flowers and decor
The fonts used in your invitations
The size of your guest list
Once you have considered all of these factors, you will be able to choose the perfect wedding table number templates for your special day.