Wedding rings symbolize everlasting love, and while much of the focus is on the bride's engagement ring, men's rings are starting to get some attention. Many still opt for the solid band, but more men are branching out into diamond wedding bands.
Often left for the last task on the wedding prep list, the choice is a very personal one.
Every man has his own preferences, so settling on the perfect ring can be difficult. Well, we're bringing you a little inspiration with the seven best diamond wedding bands for men.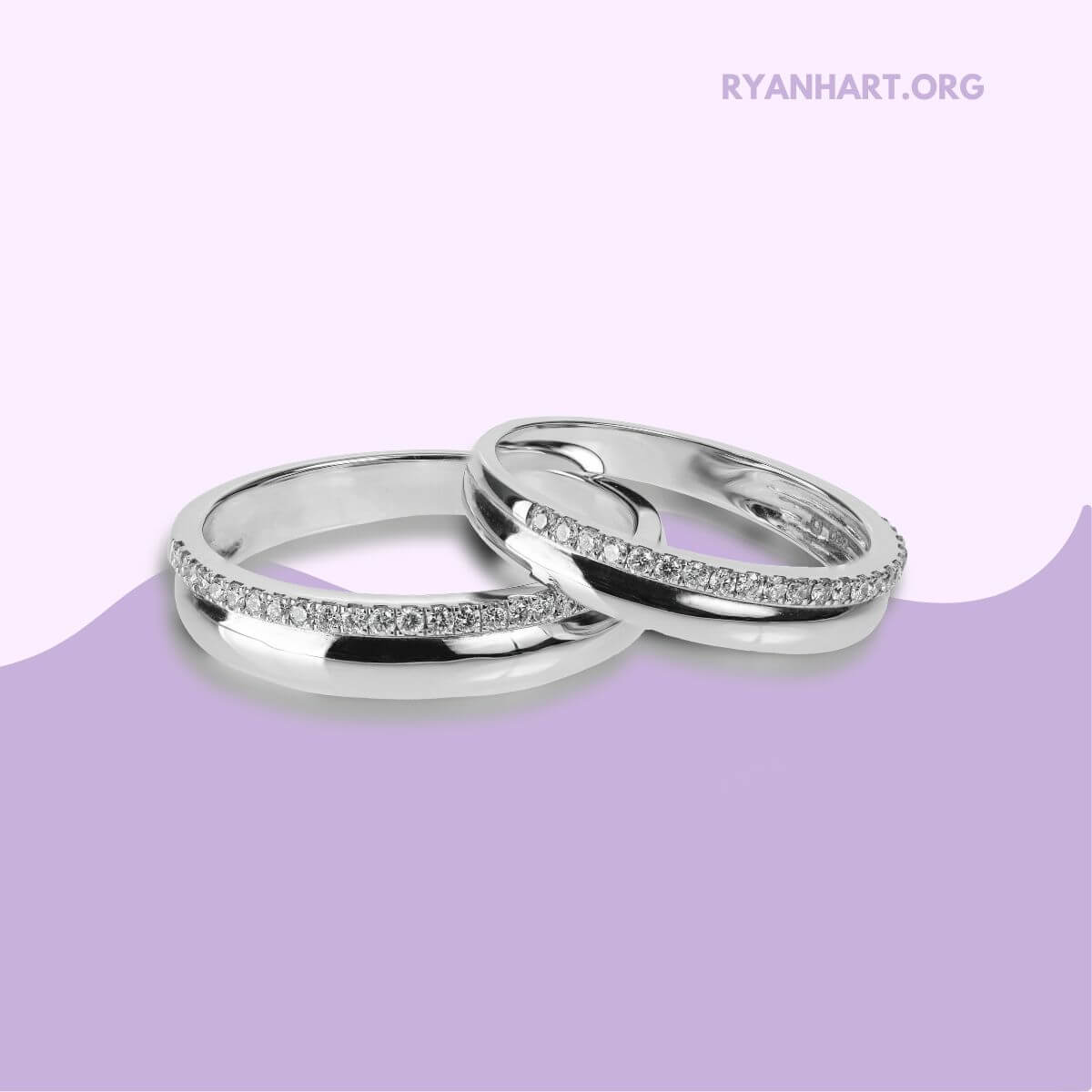 What are the best men's wedding rings with diamonds?
Choosing a men's wedding band with diamonds can be a nice touch and make the groom feel just as special as the bride. Traditionally, the bride purchases the groom's wedding band.
Many couples choose the men's wedding band together. Either way, if you're on the hunt for the perfect wedding band, keep reading as we share the seven best diamond wedding bands for men.
If you're wanting something to level up the traditional wedding band, choose a channel set. From the Art Deco era, it is designed with clean and symmetrical lines and still provides a conservative look, with diamonds added for elegance.
Blue Nile's Diamond Channel-Set Wedding Ring comes in 14K white gold or platinum with a 1/3 ct. total weight. It features illuminating prongless channel-set with stones that span the center of the band, adding a little shimmer and personality.
Why the Diamond Channel-Set Wedding Band is a Great Choice:
It's a wonderful way to add a little originality to a traditional men's wedding band. Blue Nile also offers free shipping and returns.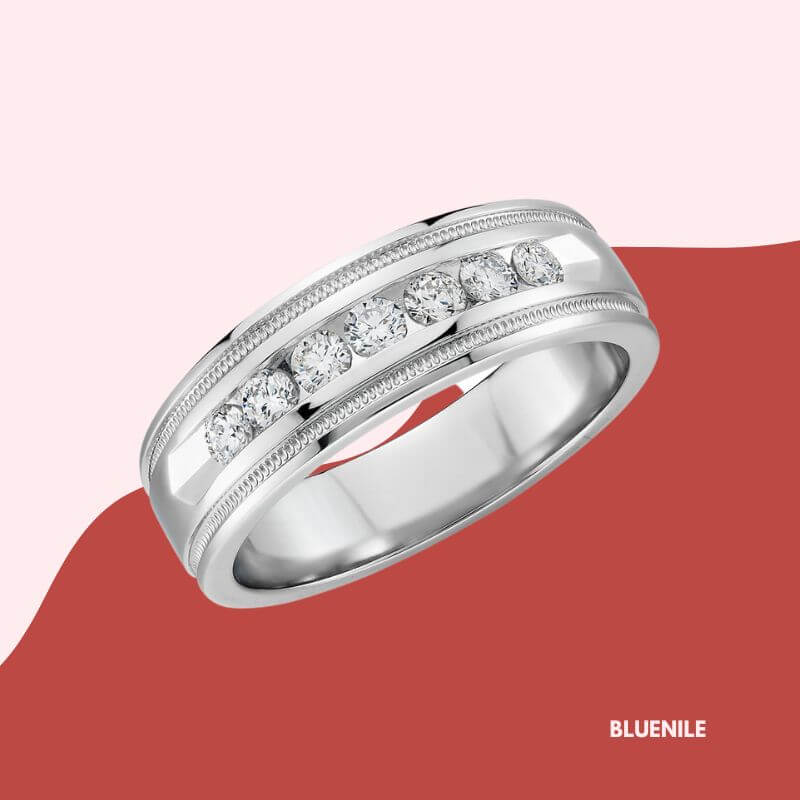 Another exquisite channel-set wedding band is the Milgrain Channel-Set Diamond Wedding Ring, also from Blue Nile. Available in 14K white gold or platinum, starting at $1592, it features seven round white diamonds housed between two milgrain detailed rows.
Used for over a century, milgrain is a technique that adds beads to create an interesting border. Guys can be rough on rings, channel settings protect diamonds, and the deep setting in the band ensures they don't get caught on clothing.
Why the Milgrain Channel Set Diamond Band is a Great Choice:
It is durable and stunning all at the same time and has a great price!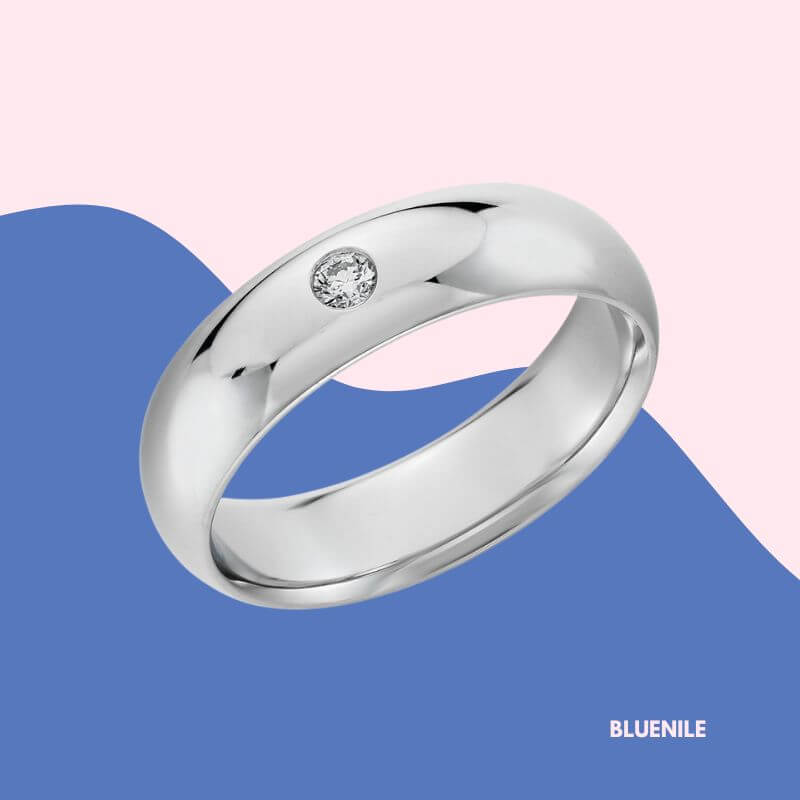 Fit is a huge part of the wedding band decision for men. There is a new trend in wedding bands – the comfort fit band. No matter the style of the ring, any can be designed with a comfort fit.
Comfort fit rings offer a curve on the underside, making it easier to get used to and less likely to bother the groom. The 6mm Single Diamond Comfort Fit Wedding Ring in Platinum makes a big statement very subtlety. Made of solid platinum and curved for comfort, the look is finished off with the beauty of one single diamond.
Why the Single Diamond Comfort Fit Ring is a Great Choice:
It's comfortable to wear, beautiful to look at, and comes at a great price.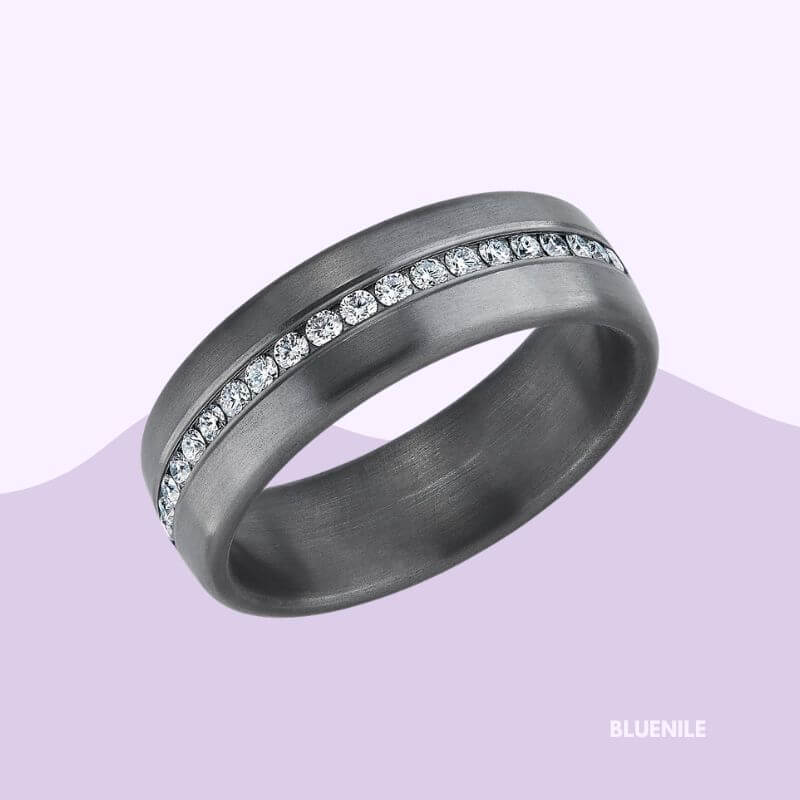 The gorgeous Satin Finish Diamond Wedding Band in Grey Tantalum offers a much heavier feel than titanium and is pretty scratch-resistant when wearing your wedding band on a daily basis.
While being durable, it also makes quite a statement with a row of flush set white diamonds halfway through the band. Tantalum has a beautiful rich color that shines. Tantalum is also less expensive than gold or platinum, which helps with the wedding budget.
Why the Tantalum Satin Finish Band is a Great Choice:
It has a comfortable fit and is durable enough for the man in your life.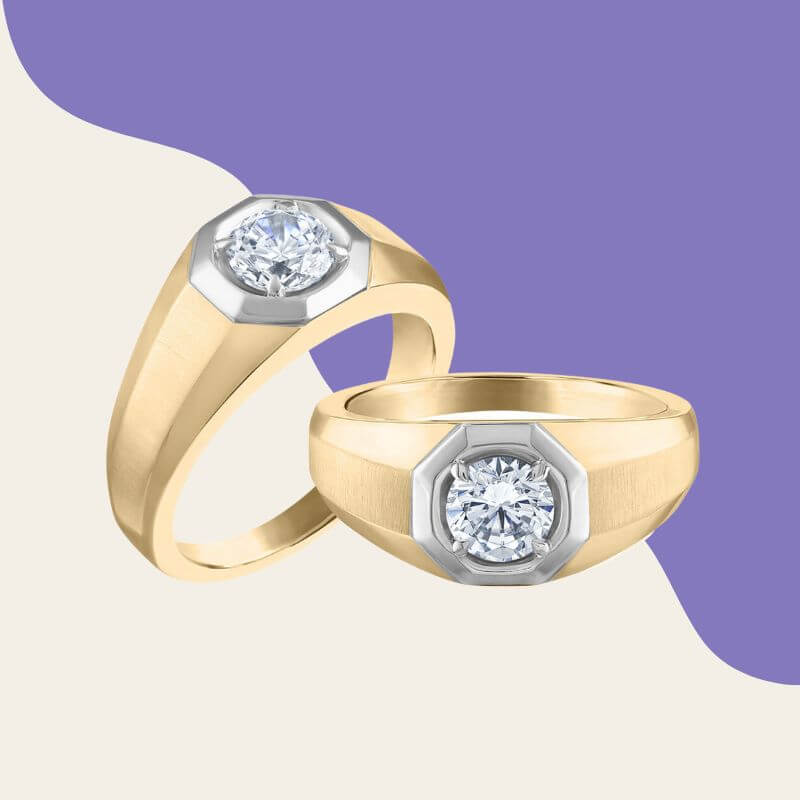 Helzberg Diamonds brings us this Light heart Men's Two-Tone 1 carat Lab Grown Diamond Wedding Bandin 14K yellow and white gold. Priced at $4K, it features a one carat round brilliant cut lab-grown diamond.
The stone is GCAL-certified and reflects bold light from fifty-eight facets like a natural diamond. The gold band features beveled details to add artful style to the band. When you choose lab-grown diamonds, you know they have been ethically grown.
Why the Two-Tone Lab-Grown Diamond Ring is a Great Choice:
Helzberg is the leader in lab-grown diamonds, growing diamonds from a tiny diamond seed.
Check Prices at Helzberg Diamonds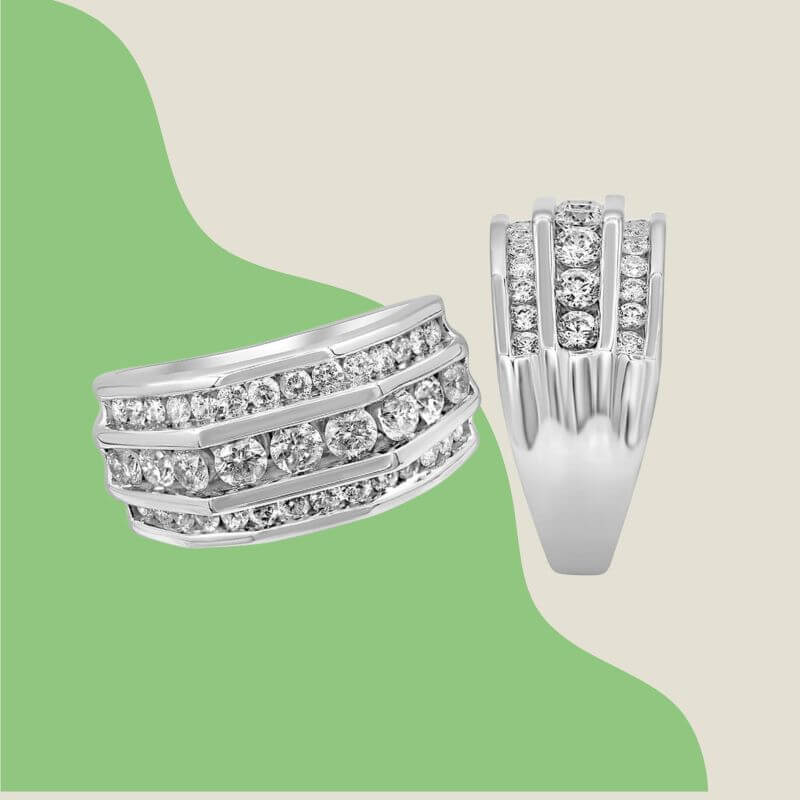 Another lab-grown creation from Helzberg, the Light heart men's two carat diamond wedding band has a three-row setting in 10K white gold. This stunning wedding band offers beauty as well as artisanship with thirty-seven GCAL-certified round brilliant cut lab-grown diamonds.
Ethically sourced and eco-friendly are important features for many people, and if this is you – this may be your ring! Chemically the same as earth-mined diamonds, they offer a beautiful look with no imperfections!
Why a Three-Row Setting Wedding Band is a Great Choice:
Helzberg is not only the leader in lab-grown diamonds but also offers high-quality jewelry, and has for over a century.
Check Prices at Helzberg Diamonds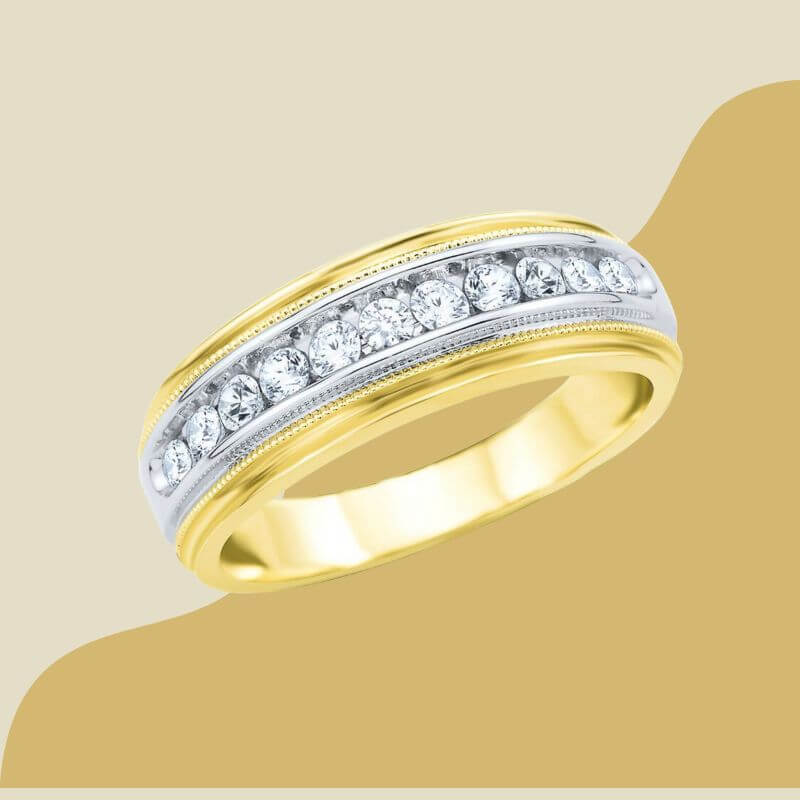 This beautiful half carat diamond band in 14K yellow and white gold combines the beauty of the two metal finishes surrounding a row of beautiful stones for just under $2000.
The combination of white and yellow gold offers additional color and depth to the look of your wedding band. The diamonds add just a little flash of sparkle to a traditional looking men's wedding band.
Why a Diamond Band in 14K Yellow & White Gold is a Great Choice:
It's affordable, traditional, and has a unique look.
Check Prices at Helzberg Diamonds
Can men wear diamond wedding bands?
While diamonds have traditionally been associated with women's wedding rings, there is no reason men cannot also enjoy the beauty of these stones.
Wearing a diamond wedding band can be an excellent way for a man to show his commitment to marriage.
Additionally, diamond rings are very classy and can add a touch of sophistication to any outfit. Whether you choose a simple band or a more elaborate ring, wearing a diamond wedding band is a great way to show you are serious about your relationship.
How much does the average men's wedding ring cost?
The typical cost of a wedding ring for men ranges from $350 to $5,000. However, the cost of a diamond wedding ring will vary greatly depending on the type of metal, the style of the ring, and the size of the diamonds used.
Gold and platinum are the most traditional metals for men's wedding rings, although tungsten and titanium are also popular choices. Gold rings are typically more expensive than silver or titanium rings, but platinum is the most expensive metal of all.
The style of the ring also affects the price, with simple bands typically being less expensive than more ornate designs. Finally, the size of the ring also impacts the cost, with larger rings costing more than smaller ones.
Bottom Line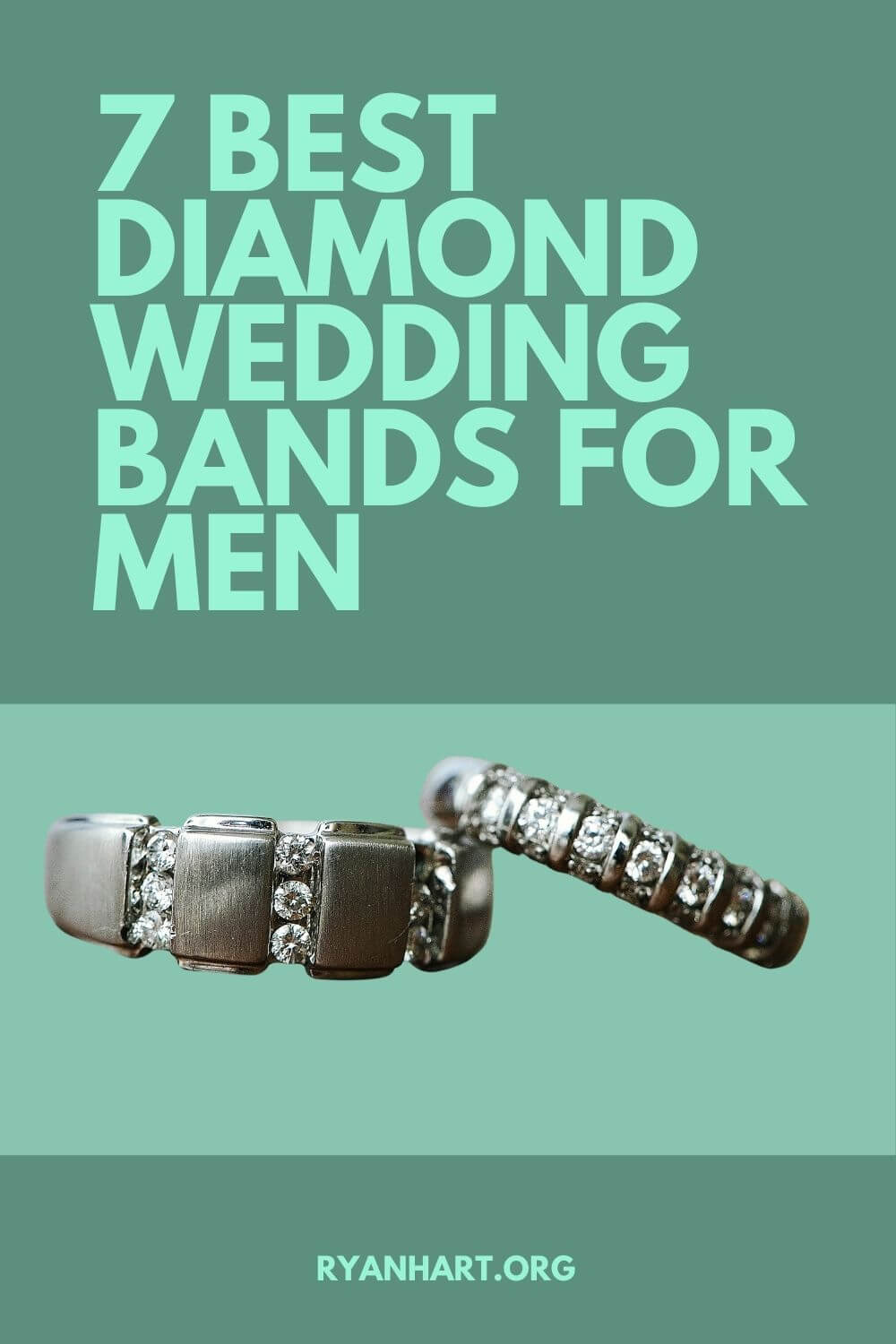 When choosing the perfect men's wedding band, there are a few factors to consider. First and foremost, you'll want to find a ring that suits your style.
A diamond ring may be a perfect choice if you're looking for something unique and eye-catching. And thanks to the wide selection of rings available online, it's easy to find the perfect diamond band for your big day.
When shopping for a diamond ring, it's essential to remember the "4 Cs." Carat weight, cut, color, and clarity all play a role in determining a diamond's quality and value.
Work with one of our recommended jewelers to find a ring that meets your budget and expectations. And remember to factor in the cost of jewelry insurance when buying a ring online.