In this post I'm going to share with you the Memorare Prayer to the Blessed Virgin Mary.
In fact:
The Memorare is one of the most popular Marian prayers and has been proven to work miracles over the last 500 years.
Ready to learn the Memorare prayer?
Let's get started.
Memorare Prayer to the Blessed Virgin Mary
Remember, O most gracious Virgin Mary, that never was it known that anyone who fled to your protection, implored your help, or sought your intercession, was left unaided. Inspired by this confidence, I fly unto you, O Virgin of virgins, my Mother. To you do I come, before you I stand, sinful and sorrowful. O Mother of the Word Incarnate, despise not my petitions, but in your mercy, hear and answer me. Amen.
Original Memorare Prayer in Latin
Memorare, O piissima Virgo Maria, a saeculo non esse auditum, quemquam ad tua currentem praesidia, tua implorantem auxilia, tua petentem suffragia, esse derelictum. Ego tali animatus confidentia, ad te, Virgo Virginum, Mater, curro, ad te venio, coram te gemens peccator assisto. Noli, Mater Verbi, verba mea despicere; sed audi propitia et exaudi. Amen.
Memorare Prayer Meaning and Origin
Through prayer we can honor the Virgin Mary, however we do not worship her. The Memorare is a simple prayer asking for her intercession or help in addition to the guidance we receive from God.
The original prayer was written in Latin and gets its name from the first word of the prayer, memorare, meaning "remember."
The Memorare prayer we know today was taken from a longer piece of text titled "Ad sanctitatis tuae pedes, dulcissima Virgo Maria" which translates to "To them at your feet, sweet Virgin Mary." The text was published in the 15th century.
Father Claude Bernard (1588-1641) popularized the Memorare prayer after it miraculously cured a deathly illness he was suffering from. He proceeded to share the Memorare with others and had over 200,000 leaflets printed with the prayer in various languages.
Mother Teresa of Calcutta (1910-1997) was also known to pray the Memorare often and it has been said that it was one of her favorite prayers. In fact, she would recite the prayer nine or ten times in a row when she needed a miracle, which became known as an express or quick novena.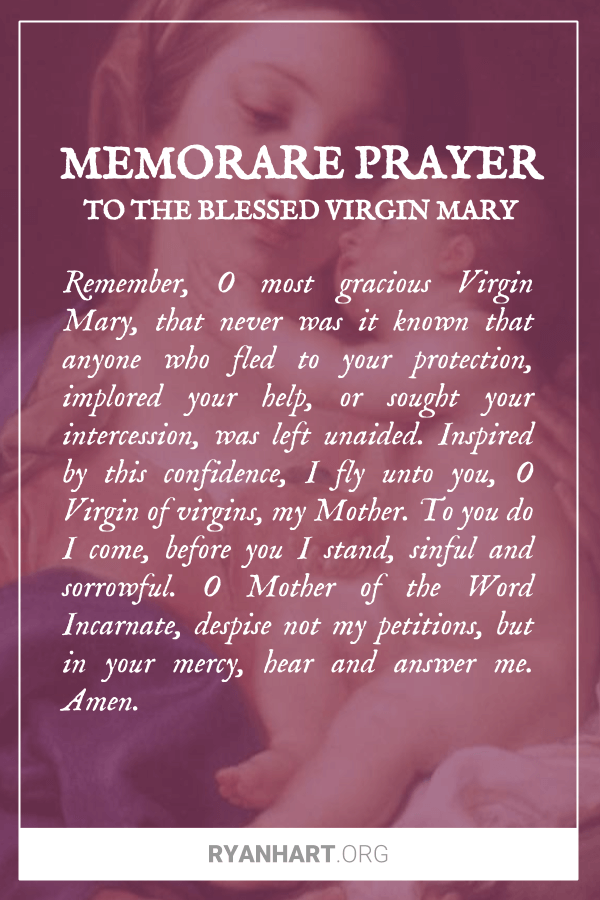 Now It's Your Turn
And now I want to hear from you.
What does the Memorare prayer mean to you?
Have you experienced any miracles after praying to the Blessed Virgin Mary?
Either way let me know by leaving a comment below right now.