Video chatting with random strangers can be a great way to kill time, meet new friends, and even find love.
Here are seven popular live video chat apps that let you talk with strangers. Before you get started, read our guide on how to stay safe while using these apps.
What are the best random video chat apps?
1. StrangerCam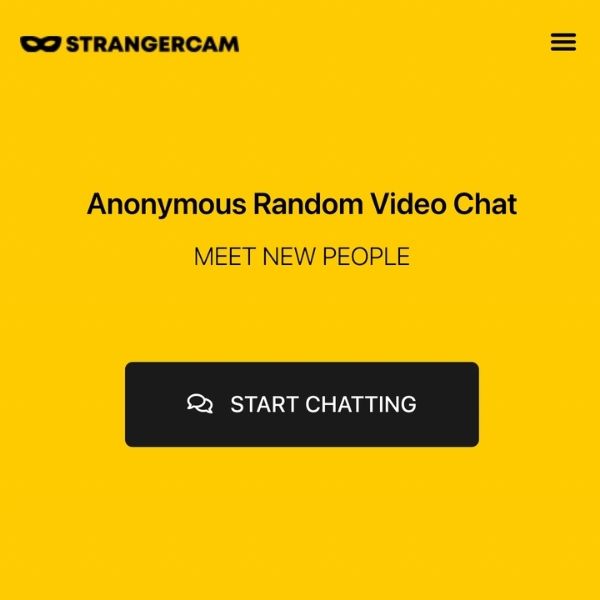 StrangerCam is a website that lets you chat for free with strangers via webcam without any registration and it also has an app for your Android and iPhone devices, which makes it very easy to get started.
There are a lot of random video chat apps out there but most of them are not as good as StrangerCam. Other anonymous chat rooms are either very slow or have serious technical problems that make the video call experience unpleasant.
This is not the case with StrangerCam. You can make free video calls right away to talk with strangers live on the internet.
The best part is that you can talk with people from all over the world, so you will never feel lonely again. You can meet people from your neighborhood or people who share your hobbies and interests, so you can make friends anywhere in the world!
Talking to strangers on a webcam always leads to some interesting conversations and you might even discover new passions, hobbies and maybe even new love stories!
2. ChatRandom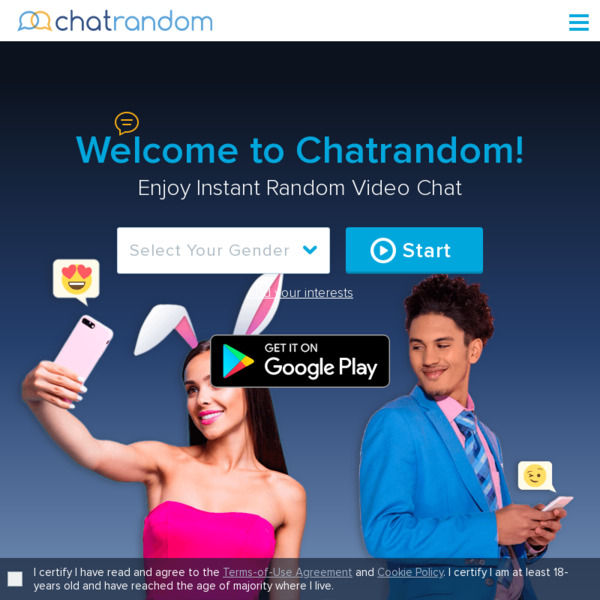 Chatrandom is the best random video chat platform for people who love to meet new people and chat with strangers online.
Their main focus is on making online chatting easy and safe. They have millions of users from all over the world, and are always adding new features that make their video calling app better.
You can connect to hundreds of strangers at any time of the day without leaving your house. Just launch the app on your phone, tablet or computer and you are ready to go. It's really simple!
The best part is that you don't even need an account to use their site, but if you decide to become a member you will get access to additional features.
Their most popular feature is the ability of users to connect with people from other countries.
You can talk to strangers and meet them from any part of the world using Chatrandom, and that is why this site is the best chat app to meet new friends.
Group chat rooms and random video chat apps are also a fun new way to date online. They offer a better way to chat anonymously compared to most dating apps.
People from all over the world visit this site in order to meet people who are online at random. Simply sign up and start talking to a stranger.
3. CamSurf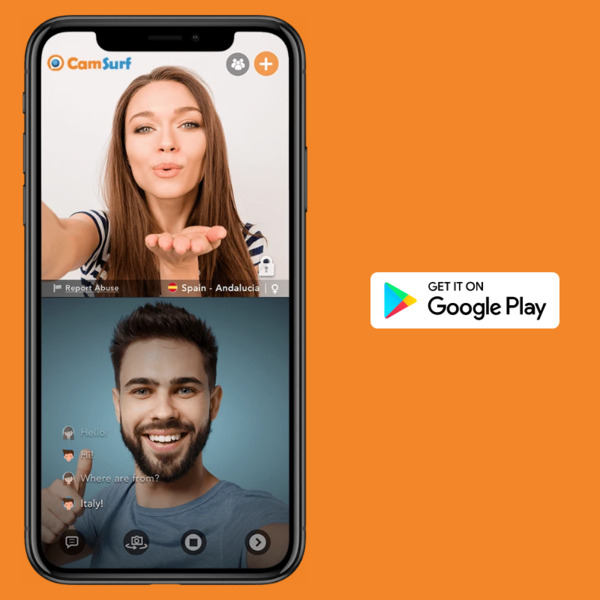 If you are looking for a random video chat app to talk with strangers, Camsurf is the right choice!
Camsurf is one of the best websites to meet people from different countries who share your same interests. It is a great way to video chat with other users online no matter what your interests are.
You don't have to be shy anymore! You can meet new people in a random "chatroulette" style free video calls, find your soulmate, or just have fun while talking to strangers.
The website has a really simple functionality so that you can find someone to talk to within seconds and instantly video chat. All you have to do is enter a username and hit the connect button. That's it! You will be connected with another user at random.
To make connection with other users easier, CamSurf offers different rooms that are full of interesting people from all over the world!
There is something for everyone: music, sports, dating, gaming, languages and more. Choose whatever you want and start a video chat!
4. Chatroulette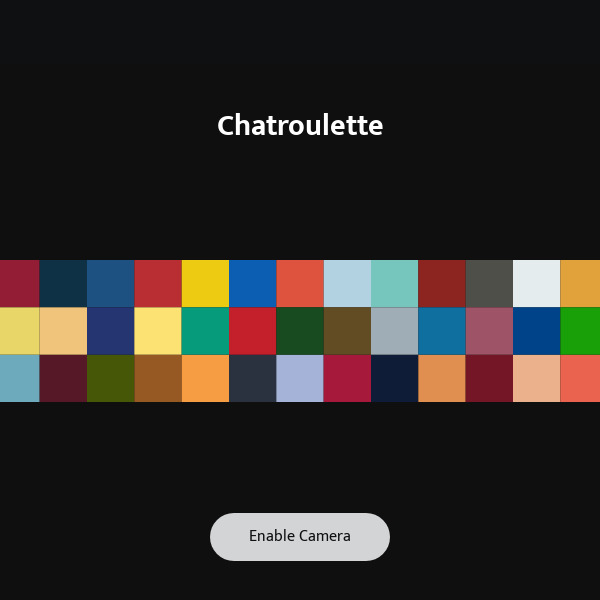 Chatroulette is the best random video chat app where you can meet strangers from across the globe. It gives you a chance to have interesting conversations and even flirt with someone you like, much like a dating app.
The site is totally free to use, and there are no limits on how long you can stay in a video chat room or how many random strangers you can meet. It is a lightweight chat platform so you can enjoy lightning fast connections whether you are on wi fi or using the app.
It's an easy way to pass time by talking with people from other countries and cultures, and it's a great way to learn about different ways of life.
A lot of people worldwide enjoy using Chatroulette because it's a fun way to make free video calls, but it also has its drawbacks.
Some folks find that it's hard to maintain a conversation with someone who doesn't speak their language, and plenty of others find that they don't have much in common with the random person they've met.
Thankfully many random video chat apps now offer real time translations so you can chat with people from different cultures even if there is a language barrier.
5. Shagle
Shagle is free to use and you can use it to make video calls with strangers online. It's a great way to meet with people in your area or find new friends who live in another part of the world.
The video chat on this site is completely random, anonymous and fun! You never know what will happen next in this fun environment.
You could be chatting to someone who lives locally or you could meet a complete stranger from an entirely different country.
Shagle is one of the best random video chat apps because it's so easy to use and there are loads of different ways that you can connect with people, including the ability to join public chat rooms.
Whether you fancy a naughty flirt or want to make friends with someone, Shagle has something for everyone.
6. Omegle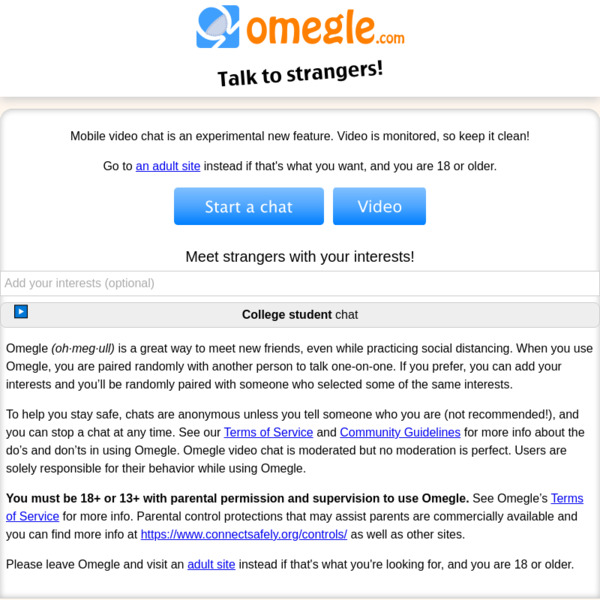 There are many different ways to meet new people online. You can try the old fashioned method of going to a bar, or you could go online and participate in one of the many chat rooms that are available on the internet. The best app for video chats is Omegle.
When using this random chat app, you can just talk with strangers from all over the world or in a specific location.
This site is completely free and there are no hidden costs or fees associated with it. It allows you to be anonymous and doesn't ask for any personal information at all when you sign up for an account. They offer premium features such as ultra high quality streams and video filters, completely free.
The live video talk aspect of Omegle allows you to see who you are chatting with, which makes it much easier to connect with people on a personal level compared to a social app like Instagram or Twitter. There is no awkward feeling of not knowing what to say, because your partner can see you as well as hear you.
You have the ability to choose who you want to talk with by using their gender filter, whether it be men, women, or someone random. Plus, you don't have to worry about filtering out fake profiles which makes the entire experience more fun.
They also offer a powerful community reporting system to filter out any unwanted characters.
There really isn't anything stopping you from connecting with someone who has similar interests as yours and even setting up a date with them after chatting online for a while.
7. Emerald Chat
Emerald Chat is made for those who enjoy video chats with strangers. There are millions of people on the internet who want to make new friends, too. You can talk to anyone you want in a private one-on-one conversation or a large group chat.
Emeraldchat is a random video chat app that allows friends to connect and talk with one another. It has a large base of users and it is easy to live stream with friends on the platform.
It is ideal for those who are looking to enjoy some fun and engage in lively discussions with the people they meet online. Emeraldchat has many other features apart from just providing you with the opportunity to meet strangers.
The app also allows you to browse through the profiles of the people who are already using it. You can get to know more about them, their interests, and even their location.
Emerald Chat is different from other video chat apps because they let you do private video chat with random people instantly. Their android and ios app lets you meet new people every day, build friendships, relationships and even find love (if that's what you're looking for).
The video chat rooms are always exciting and fun to use. There's never a dull moment on Emerald Chat. Share your interests and hobbies with others in the live chat rooms!
Bottom Line
There are numerous other video chat apps on the market that I didn't include, some less well known, others having already peaked in popularity. However, the anonymous chat rooms on the list are among the highest quality and most popular at the moment.
There's no guarantee that StrangerCam or ChatRandom will "win" in the end as the best random video chat app, but they do offer a fun and easy way to have a video call with strangers from around the world.
If you're interested in meeting new people and want to try out video chatting with a stranger, give one of these a shot - or try out a few and see which one you like best!