If you're over the age of 40, the thought of online dating (or worse, using a dating app) might fill you with dread. Aren't dating apps for 20-year-olds? As it turns out, the older demographic is the fastest-growing category of online dating.
But how do you choose the best option? Our list of dating apps rates the highest among singles over 40, with plenty of votes based on security, user-friendliness, and success.
If you're ready to find love online, check out our top recommendations!
What is the Best Dating Site for Singles Over 40?
Being middle age or even in your golden years doesn't mean it's too late for dating. Whether you are looking for a relationship after a divorce or just exploring online dating for the first time, there is something for everyone on these apps for dating over forty. Keep reading to find our top five sites for dating over 40.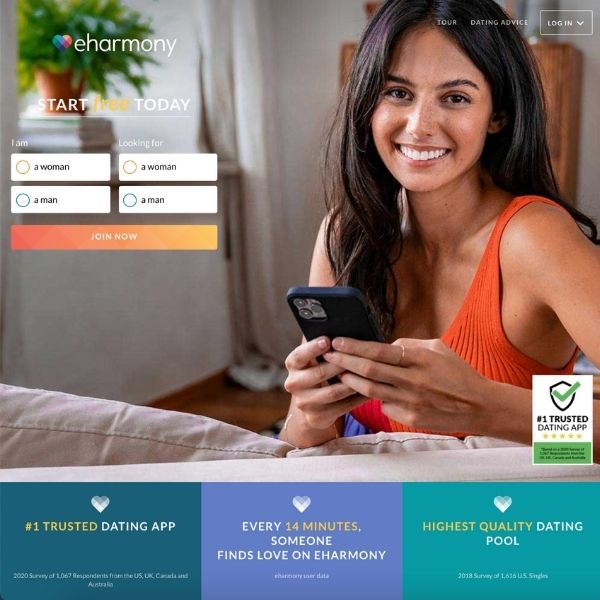 eHarmony is one of the oldest and most successful dating sites in existence. Founded in 2000, the website has been responsible for more than 600,000 marriages worldwide.
When you set up your profile, you will answer upto 150 questions about yourself and your relationship goals. Using a sophisticated match algorithm, eHarmony will connect you with the people most closely aligned with your interests, goals, and other qualities.
What eHarmony Does Best:
Age range specification: eHarmony lets you specify that you want to connect with people of a specific age range, such as those over 40.
Identity verification: To ensure the safety of its users, eHarmony vets its applicants extensively. This ensures they are who they say they are and are not in an existing relationship.
Extensive questionnaire: eHarmony's profile questionnaire is one of the most detailed in the world of online dating
eHarmony is an excellent choice for people who know what they're looking for and want a safe, trusted platform to try online dating.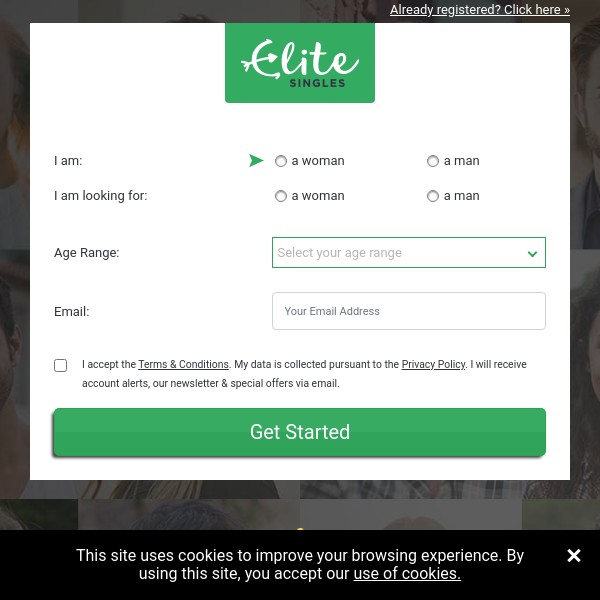 Elite Singles is a site designed to help connect people who have advanced degrees or special education. If that sounds elite, you should know that it's not about a litmus test for intelligence.
Instead, Elite Singles is a great place to match professional people with similar interests, goals, and values. This could be a great app for you if you are ambitious and career-driven.
What Elite Singles Does Best:
Finely-tuned algorithm: The app uses a complex algorithm so that you can expect quality matches over quantity.
Matches by location: Elite Singles keeps your matches within a 50-mile radius to help move the relationship from online to in-person whenever you're ready.
Daily matches: You get a tailored selection of matches every day.
Safety precautions: Elite Singles has fail-safes to ensure everyone, especially women, feels safe using the app. Including background checks, limiting direct messaging, and sending photos to paid subscribers.
Elite Singles is a great app for people with advanced degrees looking for an in-person relationship with someone with similar life experience.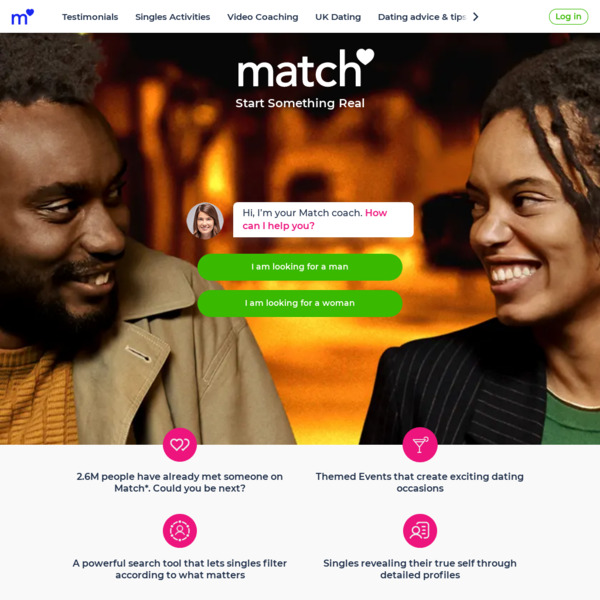 Match is one of the most successful dating apps available. This service is designed for people who are looking for solid relationships. Founded in 1993, Match has been around for the long haul, and it aims to help you find a relationship that's the same.
When you make your profile, don't expect to be approved instantly. That's because Match has an extensive vetting process to ensure you are who you say you are.
What Match Does Best:
Detailed filter options: Match lets you refine your search for someone who meets your exact criteria, including age, interests, location, and other specs.
Variety of tools: Match offers a wide variety of tools, including video calling and temporary profile boosting, to help you find the one.
Safety precautions: The app vets each profile extensively to be sure that users stay safe.
Match is one of the most successful dating apps in history. If you're looking for a long-term relationship without playing around, it could be an excellent choice.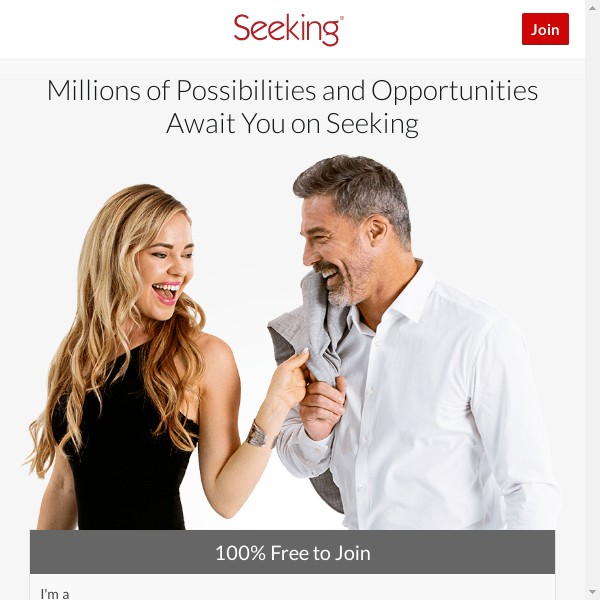 Seeking is an app designed to improve the experience of casual dating. Though the website also has some use as a platform for sugar-baby relationships, some people are looking for love.
One of the biggest draws of Seeking is that it focuses on the material of your profile, not your looks. While other dating sites prominently feature pictures (making it easy to make snap judgments of potential matches), Seeking prioritizes a personality connection.
What Seeking Does Best:
Personal connections: Seeking won't show your picture until after you start talking to someone, which means fewer snap decisions based on looks alone.
Detailed match algorithm: The app has an exhaustive profile template to ensure you match with someone suitable for you.
No time wasting: Seeking aims to remove the ghosting and conversation breakers and match you with someone worth your time.
Seeking could be a great choice for you if you're looking for an app that prioritizes quality over quantity and emotional connection over judgment based on appearance.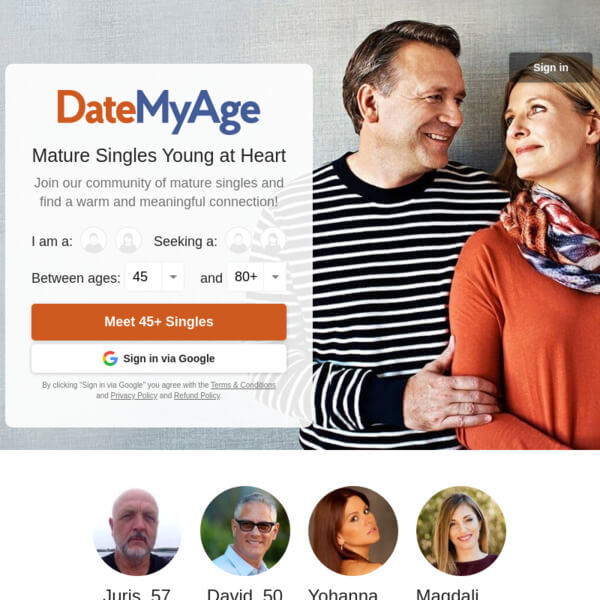 DateMyAge is a website and app designed for users over the age of 45. Online dating for people in middle age is growing in popularity, with plenty of sites geared toward a mature audience. DateMyAge allows everyone to connect with potential partners past the initial dating stage, whether you are looking for someone in their late forties or past retirement age.
What DateMyAge Does Best:
Free and paid versions: DateMyAge offers a basic and premium version, so it's accessible to everyone.
Global connections: The app prioritizes making matches worldwide so that you won't be limited to people in your city.
Safety features: DateMyAge vets all profiles extensively to help users be safe and find matches successfully.
DateMyAge is an excellent choice for people over the age of 40 who are looking to find matches with similar life experiences in a safe online environment.
Where do people over 40 meet people?
One great way to make new friends when you are over 40 is to join a club or group that aligns with one of your interests. Whether you're into hiking, knitting, or bird-watching, there's sure to be a group of like-minded individuals who would love to have you as a member.
Another great option is to take a class or participate in a workshop on something that interests you. Not only will you learn something new, but you'll also get to meet people with similar interests.
You can also try volunteering. Not only will you be helping a good cause, but you'll also meet like-minded people who share your values.
Finally, you can use the internet to connect with people. There are many online communities and dating apps where people of all ages can meet and interact. Whether you're looking for friendship or romance, there's sure to be a community that's right for you.
And if all else fails, there's always the tried and true method of meeting people through mutual friends. So don't worry - making new friends over 40 is easier than you think!
Why is dating after 40 so hard?
One of the main reasons why dating after 40 is so hard is because there are simply not as many eligible singles in the same age range.
In your 20s and 30s, it's easy to meet potential dates at bars, events, and through friends and colleagues. However, once you reach your 40s, those social sources dry up, making it much harder to meet new people.
In addition, many people in their 40s have already been in long-term relationships or marriages, making them less likely to be open to new experiences.
All of these factors make it difficult to find a compatible partner when you're dating after 40.
What are the odds of finding love after 40?
The prospect of finding love after 40 can feel hopeless. After all, the dating pool shrinks considerably once you reach this age, and it can be hard to find someone who shares your interests and values.
However, there are still plenty of fish in the sea, and there are certain things you can do to increase your chances of finding love at this stage in life.
For starters, try expanding your social circle by joining a club or taking a class. This will give you a chance to meet new people who share your passions. You can also try online dating, which is increasingly popular among adults of all ages.
Finally, don't forget that love isn't always easy to find, but it's worth the wait. So don't give up hope; with a little effort, you just might find the love of your life after 40.
What is the age range for eHarmony?
eHarmony is a dating site that is great for people over the age of 40. The site uses a scientific approach to matchmaking, and it relies on detailed profiles and algorithms to pair users.
eHarmony's main goal is to help people find long-term, committed relationships, and it has been successful in this for many users. The site does have a few drawbacks, however; for example, it is not as popular as some other dating sites, and it can be difficult to find matches in certain areas.
Overall, though, eHarmony is a good option for people over 40 who are looking for serious relationships.
Is 40 too old for Hinge?
There's no hard and fast rule for how old is too old for Hinge, but 40 might be pushing it. This isn't necessarily because people in their 40s are inherently less attractive or dateable than people in their 20s; it's just that Hinge has a reputation as a "hookup site for the younger generation."
And while there's nothing wrong with using Hinge (or any other dating app) to meet new people and potentially find love, it's important to be honest with yourself about what you're looking for.
If you're primarily interested in a long term relationship, you might want to give Hinge a pass and try one of the many other dating apps out there. But if you're open to finding a casual fling on Hinge (or any other platform), then go for it! You're never too old to find love.
Bottom Line
There are a few reasons why people over 40 should consider using dating sites. First, it can be difficult to meet new people as you get older.
Your social circle may be smaller than it was in your 20s, and you may not have as many opportunities to meet new people. Dating sites can provide you with a larger pool of potential dates to choose from.
Second, dating sites can help you filter out incompatible prospects. For example, if you're looking for someone who shares your interests and values, you can use a dating site to find matches that meet your criteria.
Third, dating sites can provide you with a level of anonymity that can be helpful if you're not ready to start dating someone in your everyday life. By communicating with potential dates online, you can get to know them better before taking things to the next level.
For these reasons, dating sites can be a great option for people over 40 who are looking to find love.