Anniversaries are always special, but a third anniversary is significant. You and your spouse have had great years together, so you'll want to find the right gift to celebrate the occasion.
Whether you want to give a traditional, modern, or gift outside the box, finding the right present for your partner can be challenging.
If you're struggling to find third-anniversary gift ideas, you and your partner will love the thoughtful gifts below. Choose one of these options, and your anniversary present will be a hit!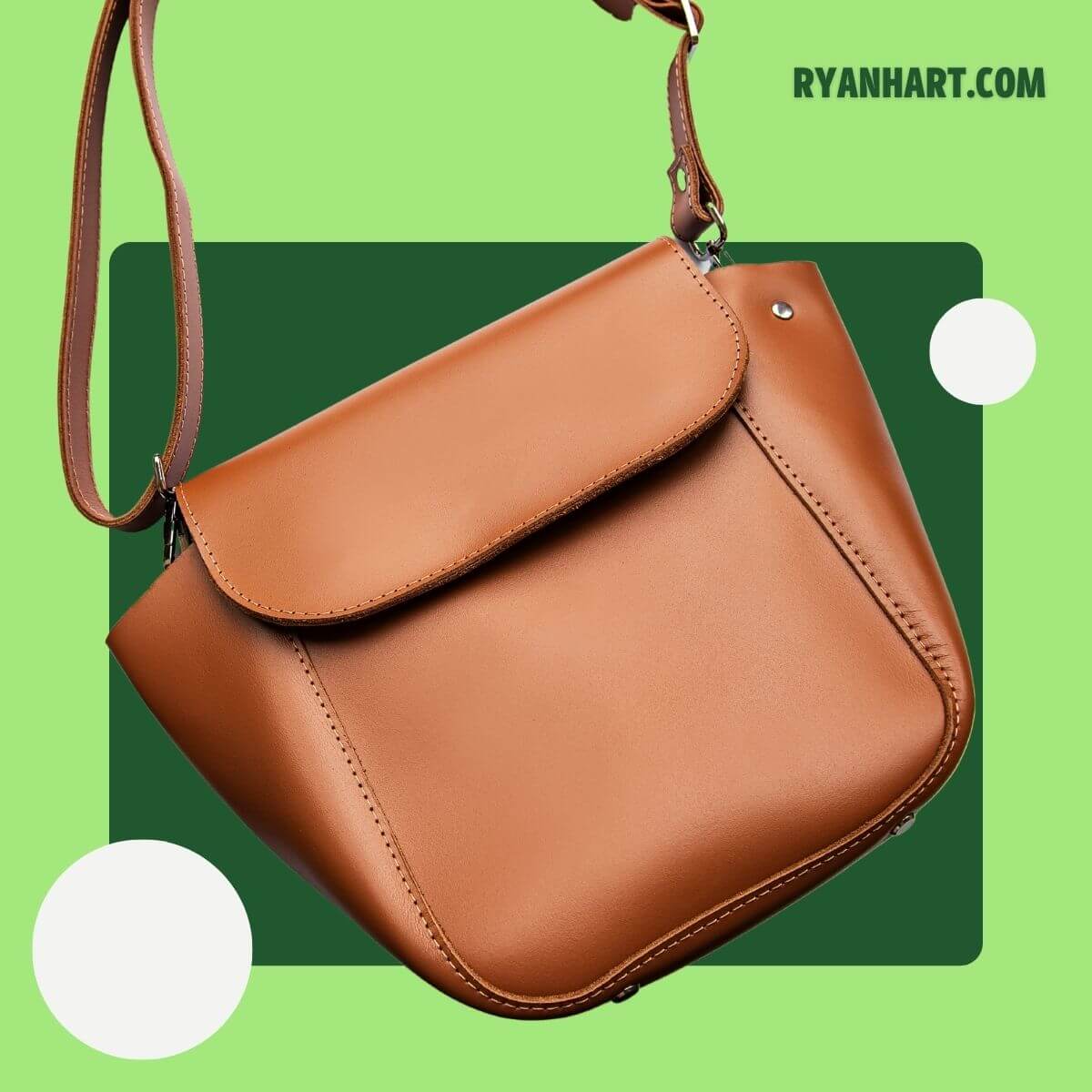 What is a traditional 3-year anniversary gift?
Leather is traditional for three-year anniversary gifts, while glass and crystal are more modern options. Keep in mind that these gift suggestions are guidelines, not firm rules. You'll love these ten anniversary gift ideas, from traditional gifts to unexpected presents!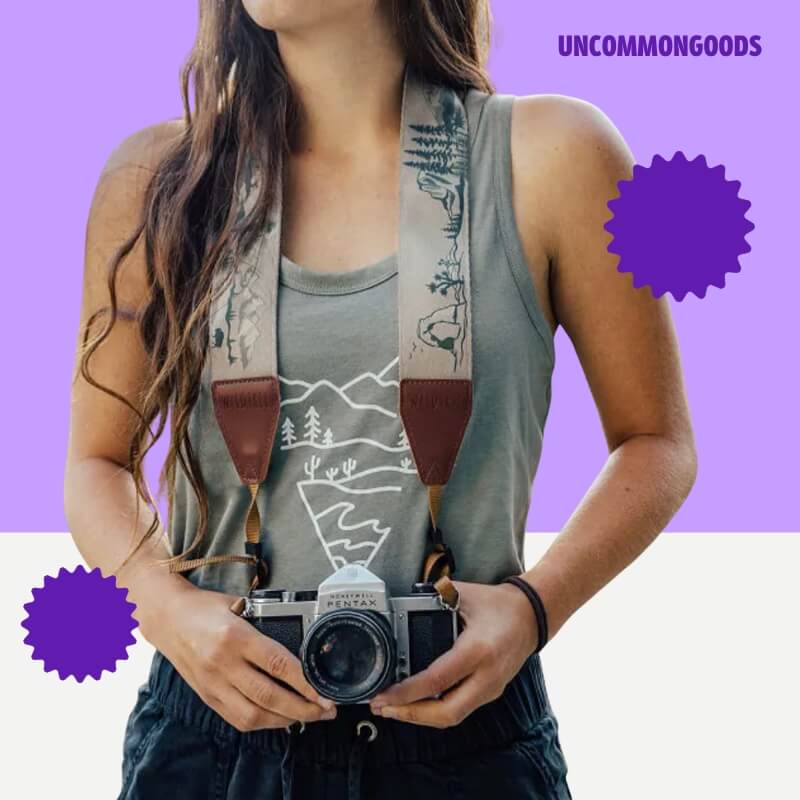 If you like the look of leather but prefer a vegan-friendly gift, you'll love this sturdy and stylish camera strap. The thick strap feels comfortable against the neck, and it's emblazoned with a design that celebrates National Parks! It's a fantastic gift for a budding photographer.
A basic neck strap like this is easy to throw on or take off. Since the strap is so thick, your partner can carry around their camera without neck pain. Your spouse can take lots of pictures as you make more memories together.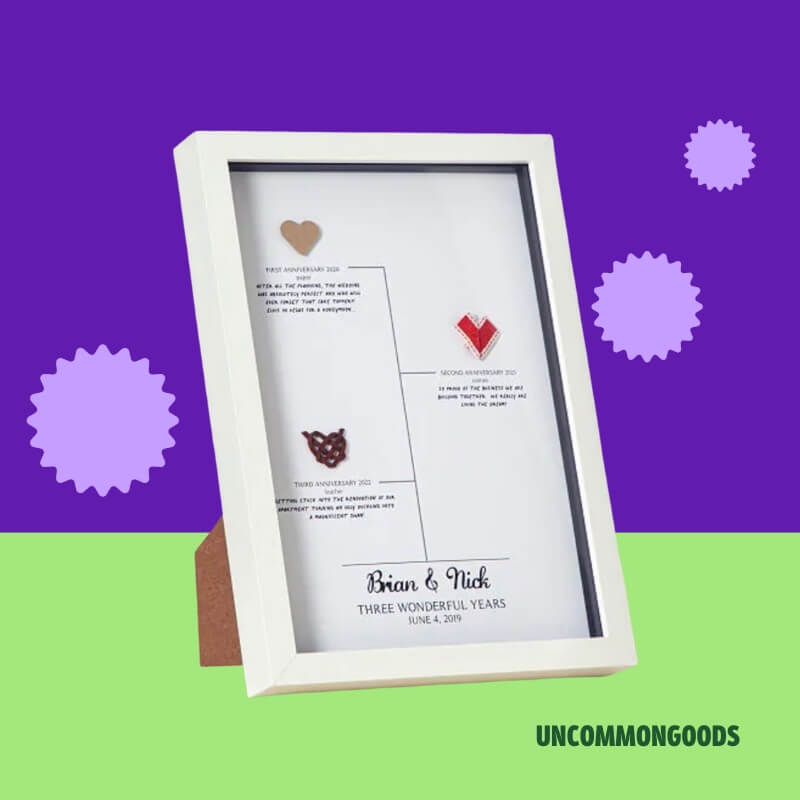 Every anniversary is a time for celebration. This unique, customizable shadow box
is the perfect way for you and your partner to commemorate your time together. After it's personalized, it'll provide a timeline of your marriage, and you can even write in your most cherished memories.
Your anniversary is all about you and your spouse. So why not give them a gift that's one-of-a-kind? In the future, you can look back at this gift and see how far the two of you have come together.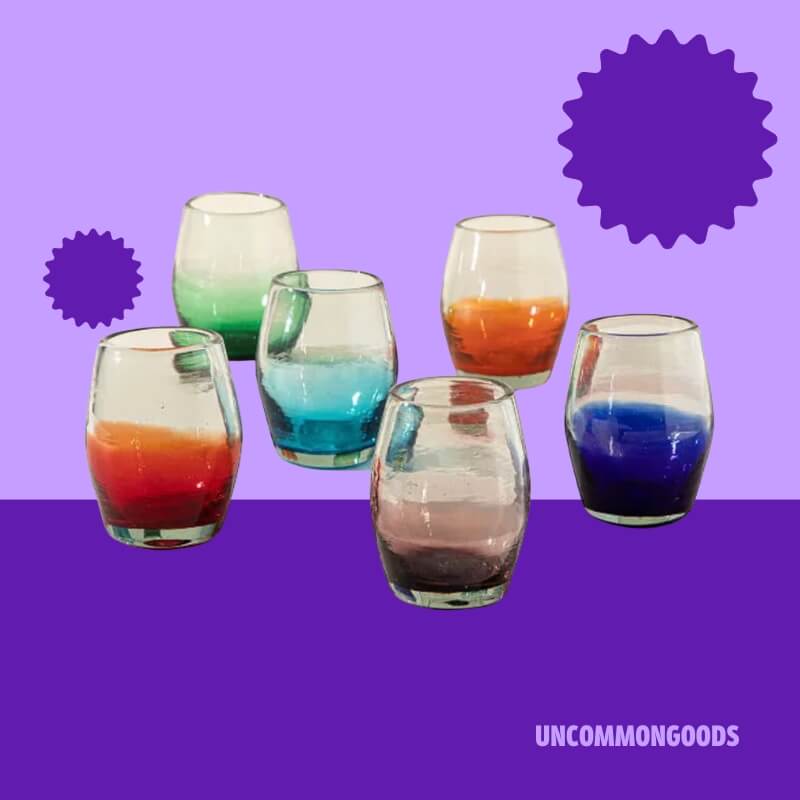 Any wine connoisseur would be thrilled to receive this stunning set of multicolored wine glasses
. These breathtaking glasses were designed by artist Alfredo Garcia-Lucio and are made from recycled glass. The set includes six glasses in total, all handmade in Mexico.
Since the glasses are made by hand, no two sets of glasses are exactly the same. You and your spouse will want to use these glasses every time you enjoy a glass of wine, and your guests will love them as well. The bright colors and stemless design really make them stand out!
Jewelry is a romantic gift that's perfect for occasions like anniversaries. This beautiful set of gold earrings features sparkling diamonds and brightly-colored jade. Effy Hematian, a trained engineer known for his distinctive, beautifully crafted jewelry, designed the earrings.
While the earrings are delicate, the bright green jade will add a bold pop of color to any look! Even though the earrings dangle, they're lightweight and comfortable to wear. Best of all, if you need gift ideas for a future anniversary, a necklace from the same collection matches the earrings perfectly.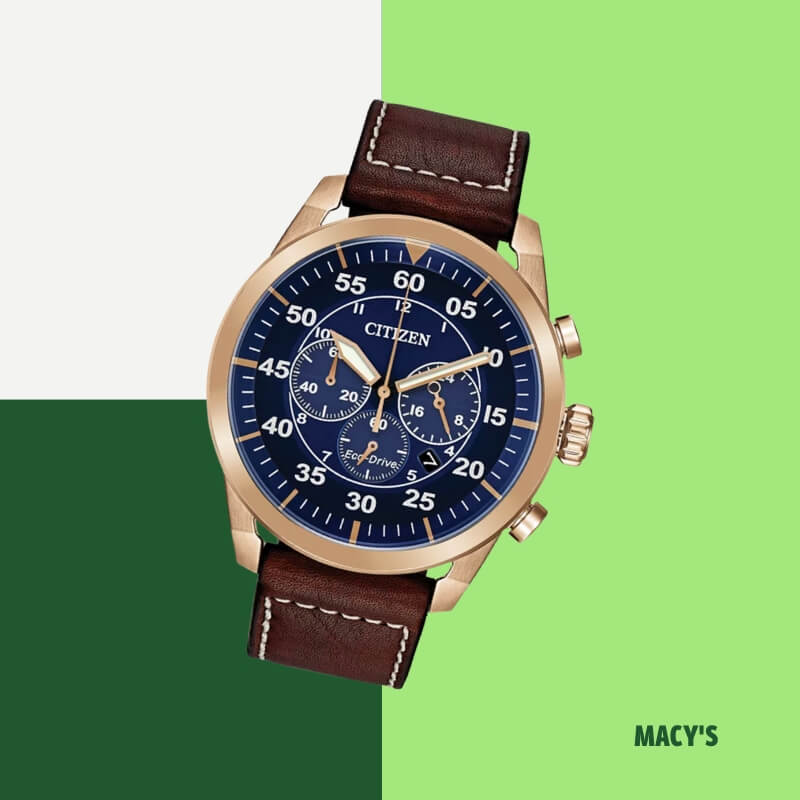 Citizen is known for its durable, high-quality watches. This elegant watch features a brown leather strap, making it an excellent option if you're looking for three year anniversary gifts. The timepiece is encased in stainless steel with a rose gold tone. It's a stylish, well-made wristwatch with a buckle enclosure.
Replacing watch batteries can be frustrating, but thankfully, that won't be an issue with this timepiece. It's powered by the sun, meaning it doesn't need any batteries. The watch is water resistant, displaying both the date and the time, making it a perfect wristwatch.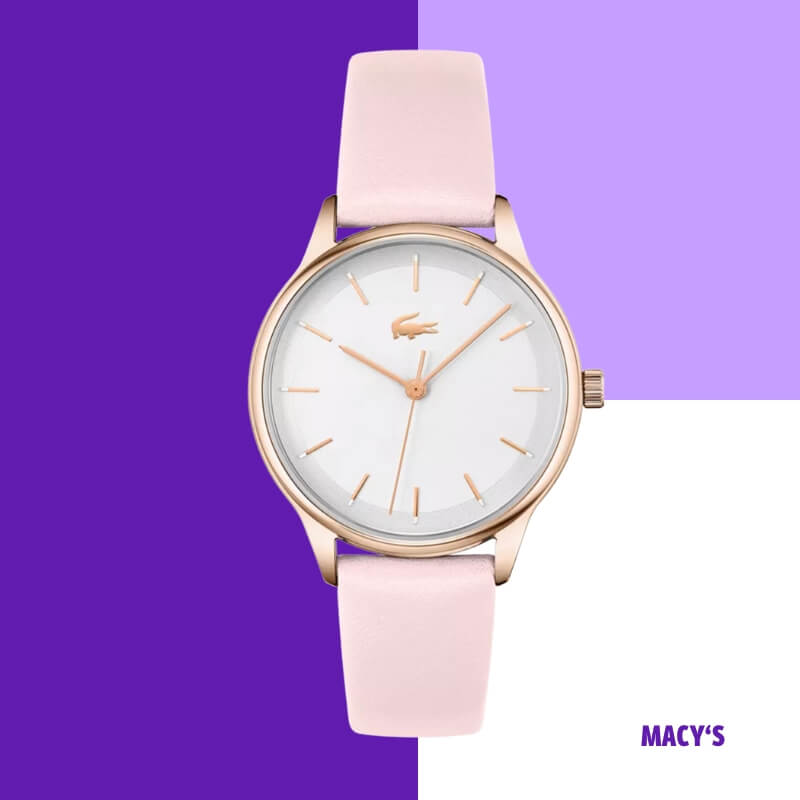 If you're searching for a feminine wristwatch with a leather strap, you'll love this beautiful option from Lacoste. Founded in 1933, Lacoste is a leading French brand known for its stylish products and distinctive alligator logo. While the pink leather strap already stands out, the watch also has a stainless steel enclosure with a rose gold tone.
This is a slim watch that will look lovely on any wrist. The design will pair beautifully with casual outfits and can be worn with formal looks as well. It's a versatile watch your partner will always want to wear!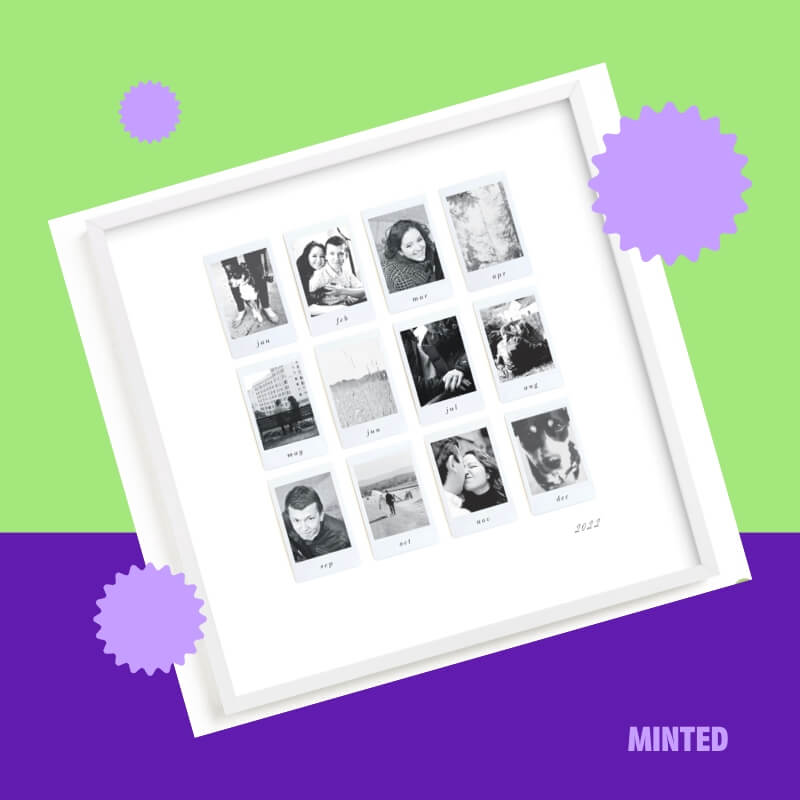 Finding room for all your favorite photos of you and your partner can be challenging. You can display these pictures in one place with this sleek framed collage. It comes in several sizes, and you can choose from several frame styles.
The white wood frame will look great in many living rooms, but other options include a whitewashed herringbone frame and a metal frame with a brass finish! You'll be able to work with a photo designer to create a collage your spouse will love!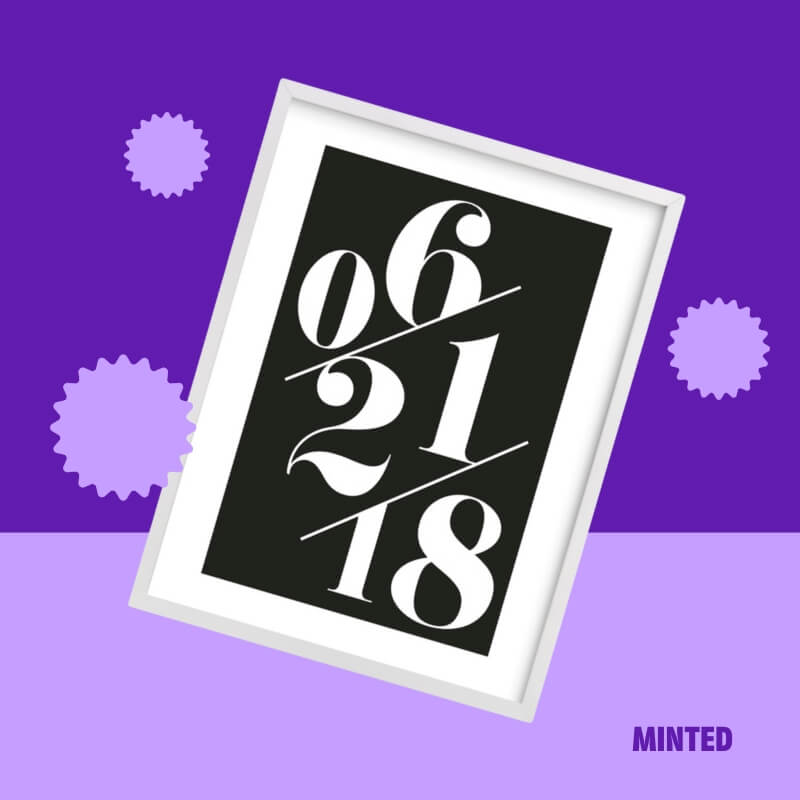 Your anniversary is a date you'll want to remember forever. So why not memorialize the date with this sleek wall art? This custom art print looks impressive on its own, but you could also display it alongside some of your favorite wedding photos.
Not only will you be able to specify your anniversary date when you order this frame, but you'll be able to personalize the present in other ways. For example, you can choose the color of the art print and even pick out the frame you love most. These touches will make the final gift feel even more special!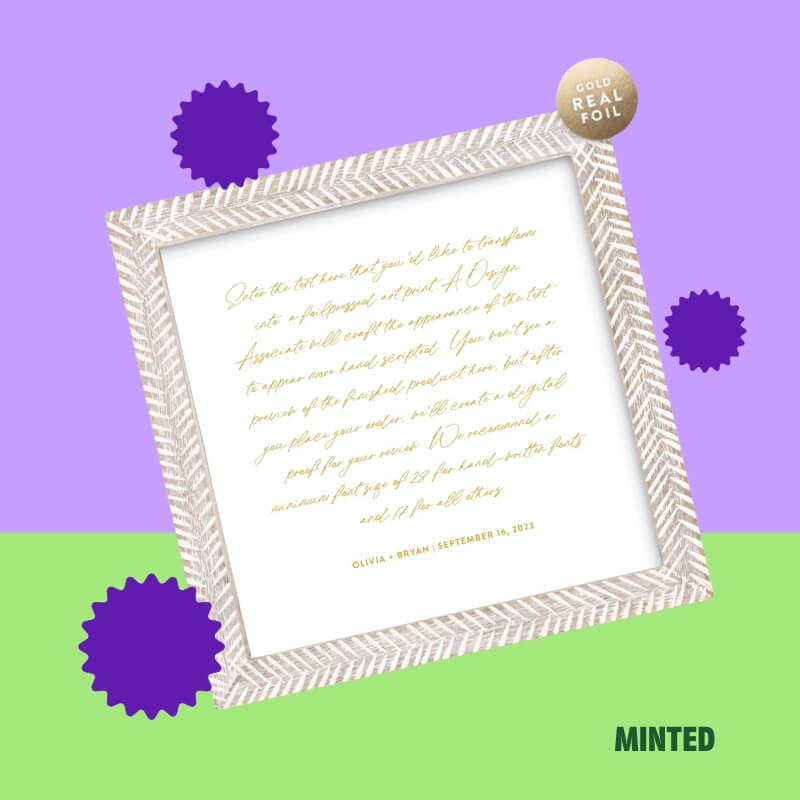 Did you and your spouse write your own wedding vows? Instead of keeping those custom vows on a scrap of paper, you should display them where everyone can see them. This custom gift from Minted allows you to turn your vows into a foil art print that you can display.
Hearing your vows was a magical moment for your spouse, and you can bring back those feelings by giving them the vows as a gift. This is an incredibly romantic present that will make a big impact on your partner. They'll want to read your vows over and over again!
Pearl earrings are simple, timeless, and surprisingly versatile, making them a popular three year anniversary gift. Although pearl jewelry is known for its elegance, these earrings can also be worn to work or paired with more casual outfits. Best of all, these studs are made from 14k white gold and feature genuine freshwater pearls.
Jewelry trends change over time, but a pair of pearl earrings will never go out of style. Sometimes, jewelry sits in a box, but these earrings are something your spouse will be able to wear all the time. They'll think of you whenever they put these earrings on.
Bottom Line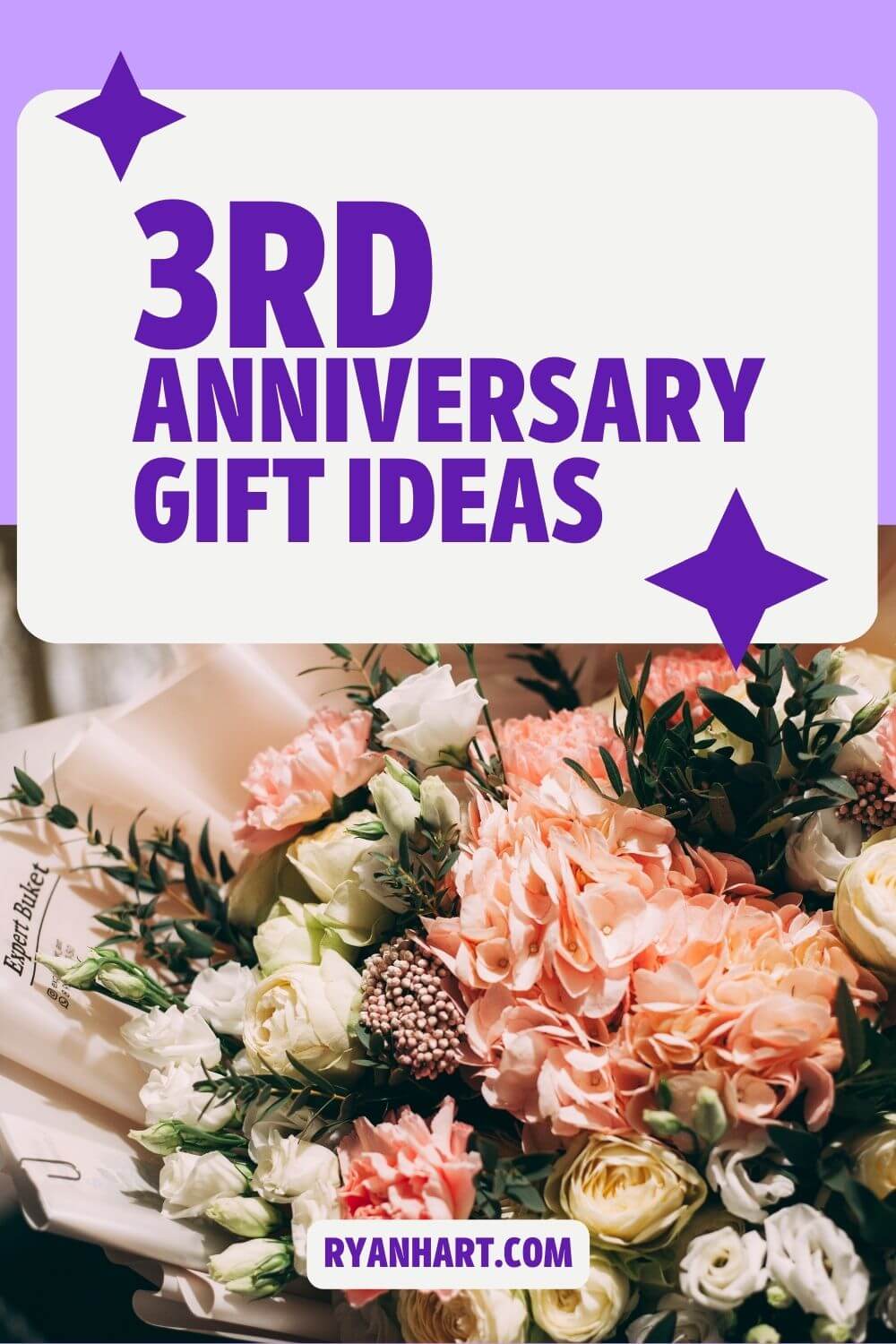 To sum it up, finding the perfect 3-year anniversary gift is all about showing your love. Think about your spouse's likes and what makes them happy.
Remember, it's not just about the gift, but the memories you create. So, pick a special present and celebrate your love story. Cheers to three years and many more to come!