Using Tinder is an easy way to meet new people, especially when looking for a date or romantic relationship.
Tinder is one of the most popular dating apps available in the world today. This app enables you to find love within a few clicks.
Before you start clicking and swiping your way towards love, it is important to understand exactly how this app works.
In this article, you will learn all about Tinder, including how it works and what the icons, symbols, or buttons represent.
Ready to meet local singles near you? Zoosk has over 35 million members that are looking for love.
Tinder Profile Icons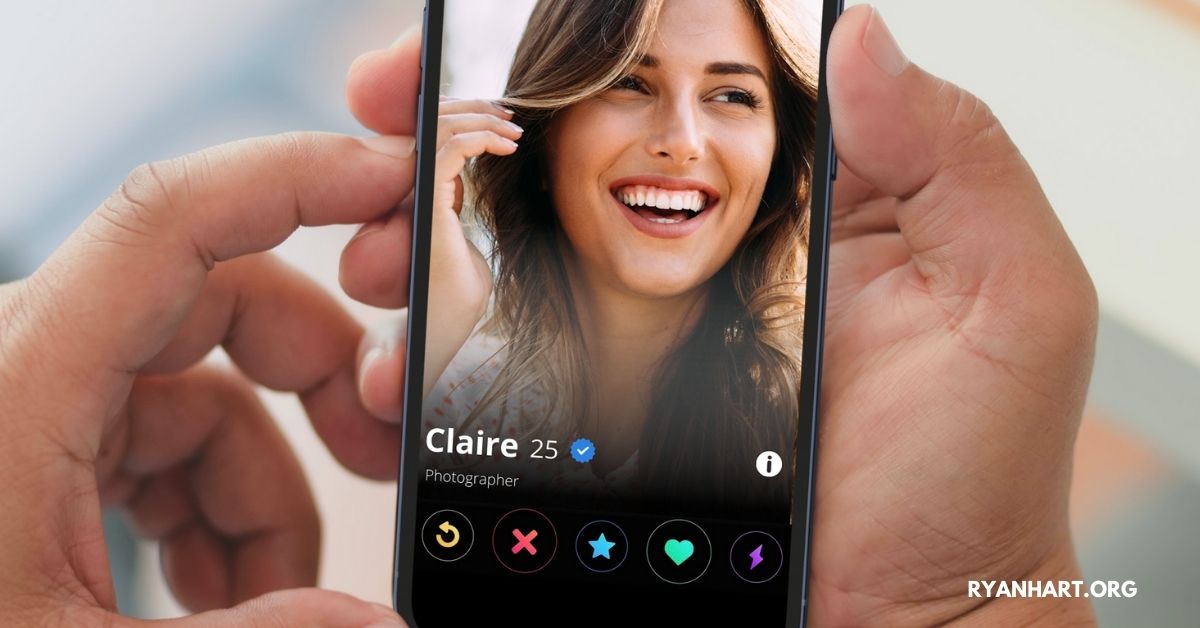 Each person on Tinder gets their own profile page which features their name, age, gender, orientation, location, short bio or description, and photos of themselves.
When viewing another person's profile on Tinder you'll be presented with a number of different icons or buttons that you can use to interact with the app.
Here's what each icon means:
Blue Checkmark
The blue checkmark is a new feature that Tinder introduced in order to verify the authenticity of users.
To be awarded the famous blue checkmark, you will need to verify your identity with Tinder. This can be done by uploading two additional selfies inside the settings page of the app.
When the process is complete Tinder will then send you a message to let you know that your profile has been verified.
If your profile doesn't have this little blue checkmark next to it, it means that you haven't verified yourself.
Rewind Symbol
The Rewind button lets you undo your last swiping action. It will let you change your decision if you accidentally swiped left, right, or used a Super Like.
It basically works as your "Tinder Undo Button" to ensure that you get the chance to go back and change your mind about the profiles you were matched with.
This feature is only available to premium members that have a Tinder Plus, Gold, or Platinum membership.
Red X Symbol (Swipe Left)
The red X icon can be used to indicate that you are not interested in a profile. It performs the same action as swiping left on a photo.
The swipe left action will remove the profile from your view without any further interaction.
If you tap the X icon then the profile will automatically be hidden from your future view.
Blue Star (Swipe Up)
The blue star on Tinder is a Super Like button. When you click the blue star on a profile you like, they will be notified that you liked their profile. You can also swipe up to send a Super Like instead of clicking the blue star button.
If someone sends you a Super Like you will see a blue star around their profile.
Free users get 1 Super Like per day and Premium users get up to 5 to use how they wish.
Green Heart (Swipe Right)
Use the green heart icon to like a profile on Tinder. Swiping right on a profile performs the same action as clicking the green heart.
The green heart is the most important feature of Tinder. If you see someone you like, you can press the green heart to like that person. From there, they will be notified that you like them and will be given the option to swipe right on your profile in return.
If two people swipe right on each other's profiles, then they are both notified that it's a match, and they can begin messaging each other.
The green heart is important because it makes it easy to express your interest in someone else. There are no limits on how many people you can like. If someone likes you back, then you have made a match!
Purple Lightning Bolt
The purple lightning bolt is your Tinder profile boost button. When you activate this feature you will become one of the top profiles in your area for the next 30 minutes.
A boost can help get you more matches in less time, if you are eager to gain some momentum on the app.
When the boost is complete you will see a purple icon next to the profiles that matched with you during the boost period.
Tinder Gold and Platinum subscribers receive one free Boost per month but you can purchase additional boosts at any time within the app.
Share Button
The share button located at the bottom of a users profile page allows you to share the match with one of your friends if you think they would be a good fit. The person you share the match with will have 72 hours to swipe left or right before the link expires.
This feature allows you to play matchmaker with your friends. So if you see someone that would be a good match for one of your friends, try using the Tinder share button.
Gold Heart (Tinder Gold)
Tinder Gold subscribers have access to some really useful features that are not available on the free plan. One of the most useful features is being able to see who has already liked you.
After you sign up for the Tinder Gold plan you get special access to a page that lists the profiles of people who have swiped right on you. Also, when looking at an individual profile, you will see a gold heart with three little lines, indicating that they already liked your photo.
Black Heart (Tinder Platinum)
The black heart icon is a feature of the Tinder Platinum subscription. This feature allows you to see when someone has already liked your picture, giving you an opportunity to match with them instantly.
Premium members get access to a page that displays a list of users that have already liked your profile. Click on one of these profiles and a black heart with three small lines will appear next to their name.
Gold Diamond
The gold diamond icon is part of the Tinder Top Picks feature. Every 24 hours the Tinder app will select a small group of profiles near you that are similar to other profiles you've liked in the past.
If you click on a user profile you will see a Gold Diamond next to their name if they are one of your top picks for the day.
Tinder Message Icons
Blue Camera
The blue camera icon in the Tinder chat window gives you the option to have a face to face video chat with your match.
Before you can start a video chat, both you and your match need to activate the Face to Face feature:
Click on your most recent chat conversation with that match
Tap the blue video icon at the top of the screen
Slide the toggle to the right to unlock Face to Face
Blue Shield
The blue shield icon is part of Tinder's safety features. When you click on this button it will give you the option to report the user or unmatch with the profile.
If you accidentally match with someone, click the blue shield symbol at the top of the chat box and select unmatch.
Blue Double Check Mark and Plus Symbol
Under each of your messages on Tinder is a Blue Double Check Mark and Plus icon. This icon represents Tinder's read receipts premium feature.
When you click on this button you will be given an option to purchase read receipts in packs of 5, 10, or 20. You can use one read receipt credit per match.
When activated this feature will allow you to see whether your match read your message or not.
This feature can be really useful if you want to know if your match has read your message and is ghosting you. On the other hand, it might give you reassurance that they haven't read your message yet, which is why they haven't responded.
Although this is a great feature, not everyone wants to share this information with potential matches.
Here's how to turn off read receipts within the app:
Go to the settings menu
Tap manage read receipts
Uncheck the box
When the box is unchecked, read receipts will be turned off for all conversations in the app.
Green Dot
The green dot icon is an indication that the user was active within the last 24 hours. This feature is only available to Tinder Gold and Platinum members.
This information can be valuable when starting a conversation with a new match. You don't want to waste time messaging people that have not been active on the app recently.
If you know someone was recently active, you will ultimately have a higher chance of getting a response to your message.
Remember, that just because another user doesn't have a green dot, does not necessarily mean they have not been active recently.
You can disable showing your active status to other Tinder premium members by adjusting your activity status within the app.
Red Dot
The red dot icon within Tinder indicates profiles that are new matches within your account. You may also see the red dot when you receive new messages or other notifications within the app.
The red dot can appear on profile photos along the top row of the app, or on profile photos within the message inbox screen.
Noonlight
The Noonlight button, which looks like a blue circle, is a safety feature within the Tinder app. In order to use this feature you must download the separate Noonlight app and connect it to your Tinder account.
Noonlight is a third-party service that allows you to share your location information with selected friends, family members, and authorities if you need emergency assistance.
When Noonlight is connected to your Tinder account you can share the time and location of your dates with your friends so they know where you are going.
If at any time during the date you are worried about your safety, you can click the Noonlight emergency button to notify authorities of your location and that you need assistance.
The Noonlight app is free to use with limited features. Premium plans are available.
Now It's Your Turn
And now I'd like to hear from you.
What was one thing you learned from this article?
Are there any Tinder icons I missed that you want to know more about?
Either way, please leave a comment below and let me know!