Tinder is a dating app that allows users to find potential matches based on their location. Users can swipe right if they're interested in the other person or left if they're not.
If two users both swipe right, they can message each other. But, if a user decides they no longer want to chat with another person, they can unmatch them.
You can also delete a match if you swiped right by mistake. Either way, it's not the end of the world.
Unmatching means that the other person will no longer be able to message you, and you will no longer appear in their list of matches. However, Tinder does not notify the other person when you delete them.
Looking for lasting love? Try the eHarmony compatibility quiz to get matched with local singles near you.
Here's how to unmatch on Tinder:
First, open the app and go to your messages.
Find the person you want to unmatch and open the conversation.
In the top right corner, click the shield icon (iPhone) or the three dots (Andriod)
Select "UNMATCH"
It's that simple. If you accidentally match with someone or change your mind, don't worry - you can always unmatch.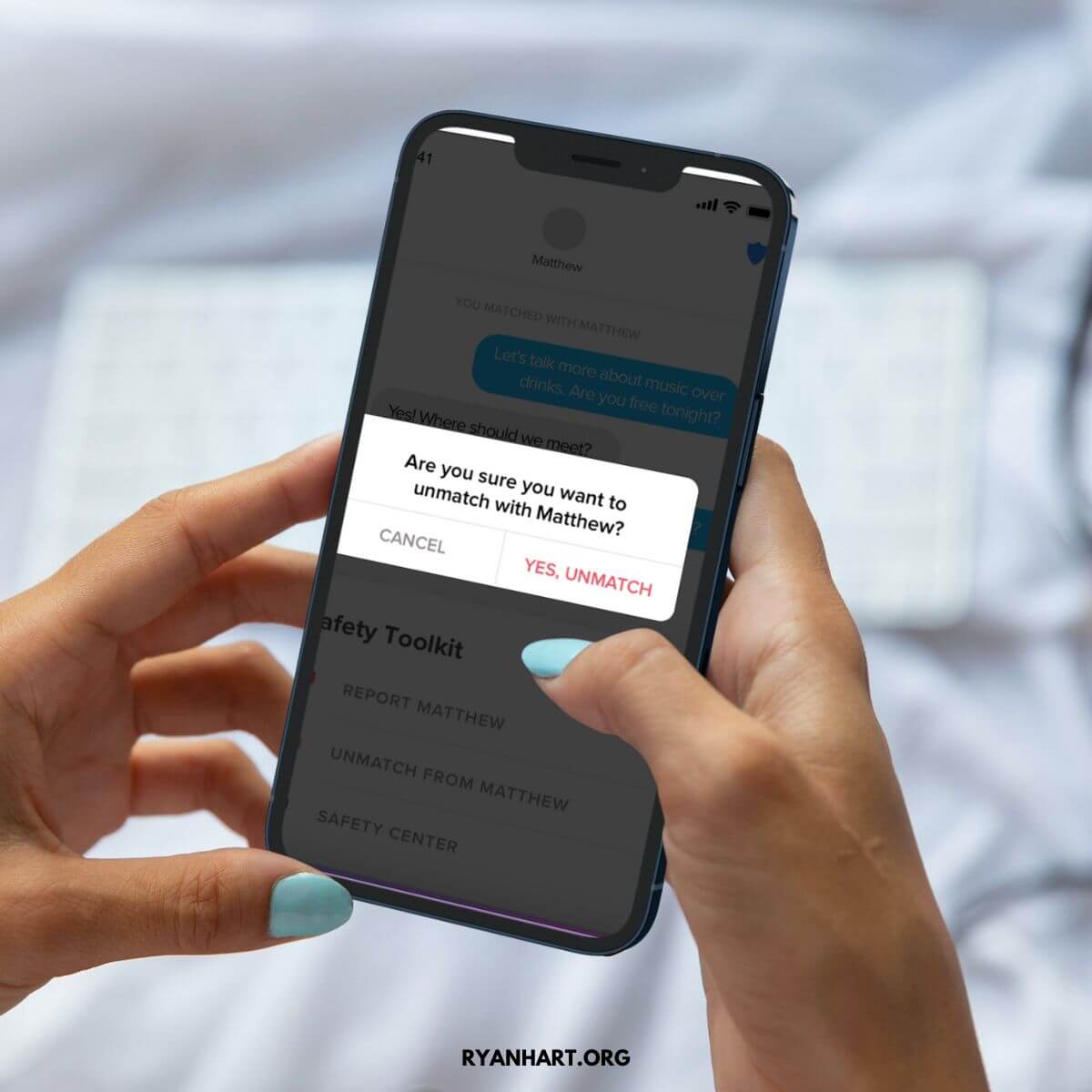 Can You Delete a Match on Tinder?
To delete a match on Tinder, go to your conversation list and tap on the shield icon next to the person you want to delete. This button will reveal the option to unmatch that person.
Once you confirm, Tinder will remove you from their list of matches and delete them from yours. Remember that this is a permanent action you cannot undo, so only do this if you are sure you want to end the match.
Unmatching with another person will also delete your messages with them.
How Do You Delete All Tinder Matches?
If you're someone who uses the Tinder app regularly, you may eventually find yourself wanting to delete all of your matches. So whether you're taking a break from the app or are ready to start fresh, here's how to delete all Tinder matches in just a few simple steps.
First, open the app and go to your profile page. From there, tap on the "Settings" icon in the top-right corner. Next, scroll down and tap on the "Delete Account" option.
Finally, confirm that you want to delete your account by tapping the "Delete" button. Once you've followed these steps, all your Tinder matches will disappear!
Are you tired of swiping on Tinder but still searching for lasting love? We recommend trying eHarmony - the most trusted name in online dating.
Does the Other Person Get Notified if You Unmatch on Tinder?
When you unmatch someone, the other person does not get notified. Once you've unmatched someone, they'll disappear from your list of matches, and you won't be able to see their profile or message them again.
So if you're planning to ghost someone on Tinder, you can rest assured that they won't find out until (and unless) they stumble across your profile again.
However, unmatching is a big deal on Tinder. Not only does it mean that you're no longer interested in the person, but it also prevents you from ever seeing their profile again.
So if you're unsure whether you want to end things with someone, let them go quietly.
Do Tinder Messages Disappear After You Unmatch?
If you unmatch someone, they'll disappear from your messages completely - and you won't be able to see their profile anymore. So, unmatching them is the way to go if you're trying to play it cool and make someone think you've lost interest.
Of course, there's always a chance they'll pop up again if they restart their account and start swiping in your area again. But for the most part, once you've been unmatched, you're off their radar entirely. So, unmatching is the way to go if you want to disappear from someone's message queue.
Bottom Line
There's no shame in admitting that you're not satisfied with the quality of your Tinder matches. Maybe you swiped right on a few people who turned out to be total duds, or you're just not having much luck with the app.
Whatever the reason, you may consider starting over from scratch by deleting all your matches. But is this the best way to improve your Tinder game?
For starters, it's important to note that there's no guarantee that you'll have any better luck the second time. You might run into a few more intriguing profiles, but you could also end up right back where you started.
If you're truly serious about finding someone special with online dating, try out a different app with a higher-quality user base.
While Tinder may be the most popular dating app out there, there are better apps for finding love. For one thing, Tinder is famous for hookups and casual flings, while eHarmony is perfect for people who are looking for a long-term relationship.
eHarmony is also more comprehensive in terms of its feature set, offering in-depth personality quizzes and matchmaking based on your answers.
So if you're tired of constantly swiping left on Tinder or just looking for something a little more serious, eHarmony may be worth checking out.