Mail-in watch repair services have become more popular recently, offering customers the convenience of shipping their timepieces to experienced professionals for repair and maintenance.
With so many options available, it can take time to determine which repair shops offer the best service and value.
In this article, we will explore some of the best watch repair shops, highlighting their services, pricing, and customer feedback.
Who repairs watches near me?
From battery replacements to complete overhauls and restorations, these companies have the necessary expertise and equipment to repair and maintain a variety of watch brands and models.
So, let's dive in and explore some of the best watch repair services available today:
Swiss Watch Services offers a wide range of repair services for watches, including simple tasks like changing a battery or replacing a crystal, stem, and crown, as well as more complex tasks like complete overhauls or technical revisions.
The company specializes in servicing and repairing mechanical, automatic, and automatic chronograph watches, as well as offering Accutron service for some models. They also provide repair services for pocket watches, including some fusee movements.
In addition to repair services, Swiss Watch Services also offers refurbishment services for tarnished or water-stained dials and re-plating services to restore the original luster of timepieces.
The company offers a free assessment to determine when a timepiece may be in need of service. Customers can send their watches to Swiss Watch Services for repair or assessment.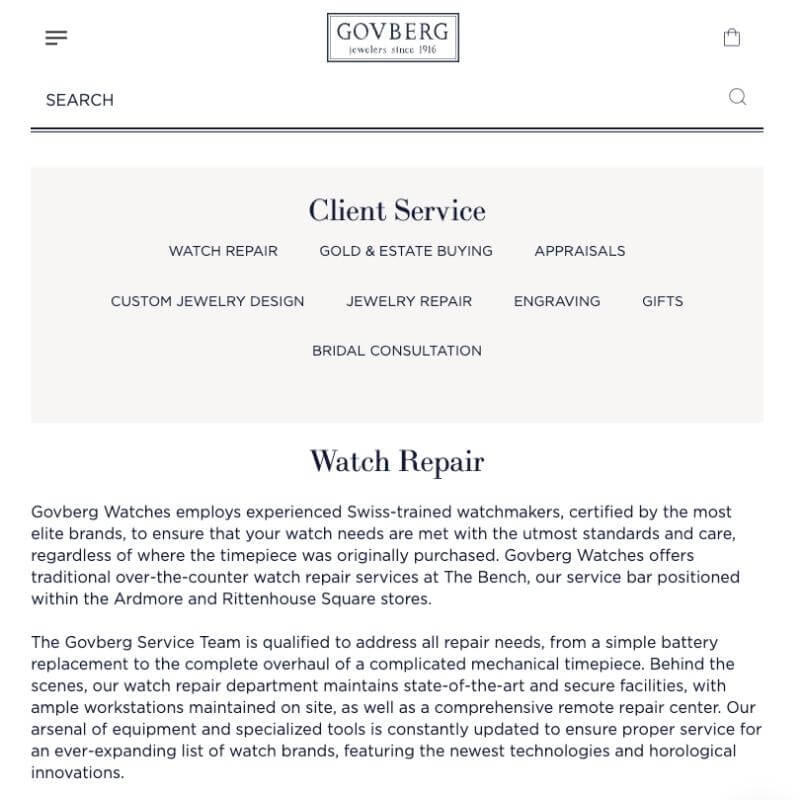 Govberg Watch Repair provides comprehensive watch repair services, employing experienced Swiss-trained watchmakers certified by elite brands. They can repair timepieces regardless of where they were originally purchased.
The company offers traditional over-the-counter repair services at The Bench, located within their Ardmore and Rittenhouse Square stores, as well as mail-in repairs.
Services range from simple battery replacements to complete overhauls of complicated mechanical timepieces. They are an Official Rolex Retailer and have the ability to process warranties and receive Rolex watches for servicing.
With dedication to staying up-to-date with the latest technologies and equipment, Govberg Watches is dedicated to meeting the diverse repair needs of its customers.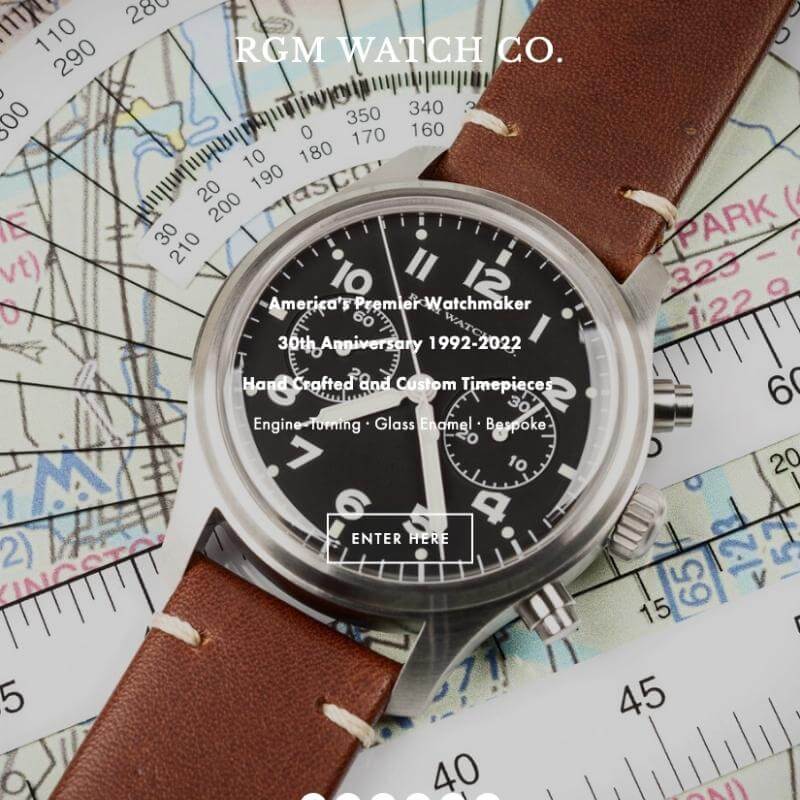 RGM Watch Co. is a specialized watch repair service provider in North America that caters to high-end luxury and complicated timepieces, both modern and antique.
Their services range from simple cleaning and lubrication to complete overhauls, and can manufacture parts that are no longer available.
RGM Watch Company has the necessary equipment and skilled watchmakers to perform services that none of their competitors can match, including the ability to mentor and train up-and-coming watchmakers.
Their services are not limited to specific brands as they service many brands of watches, and they are the official US service center for several brands.
RGM Watch Company believes in high-quality service and offers a one-year warranty on paid work performed. They accept various payment methods and suggest shipping watches by a traceable, insured method.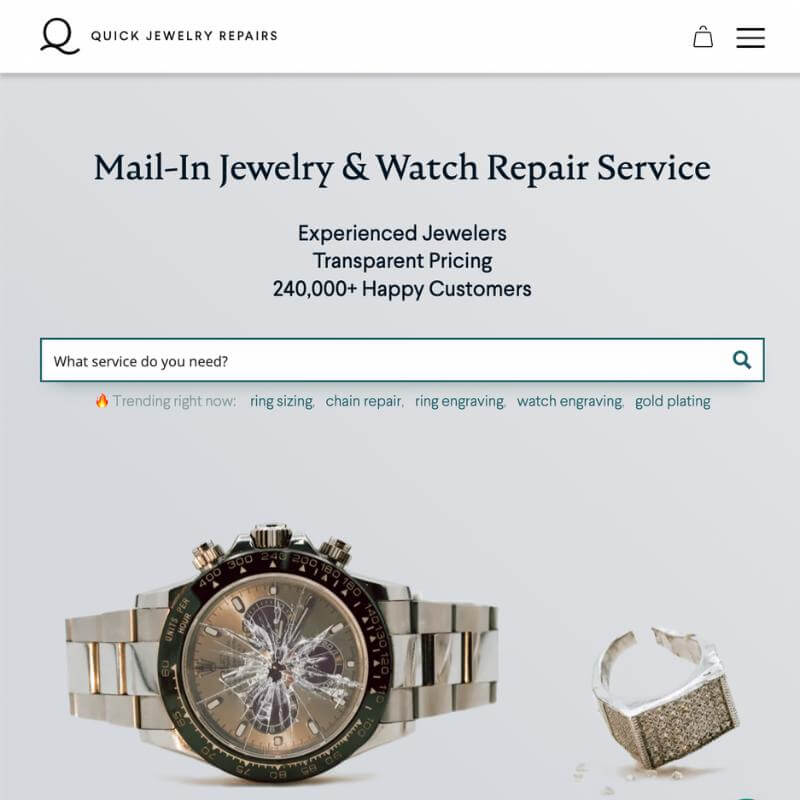 Quick Jewelry Repairs offers a variety of watch repair services, including battery replacement, crystal replacement, stem and crown replacement, watch band repair/replacement, cleaning and polishing, and overhaul services for both mechanical and quartz watches.
Customers can use the online mail-in service to send their watches for repair, and the company can accommodate most watch brands, including vintage watches. The prices for these services start from $5 for watch link removal and go up to $195 for watch overhaul services.
The company also provides a list of watch brands they service and repair, which includes popular brands such as Rolex, Omega, Cartier, and TAG Heuer, among others.
Grand Central Watch is a renowned watch repair company that offers services for both vintage and modern timepieces. They specialize in restoring vintage watches and have an extensive inventory of original watch parts that are no longer available in the market.
The company also offers a keepsake book for heirloom restoration, which includes photographs of the watch throughout the restoration process, details on the history of the timepiece, and the family history of ownership.
Vintage restoration services start at $850 and up. For modern watches, the company has a team of master watchmakers operating in a state-of-the-art workshop equipped with the latest technology necessary to properly service all luxury timepieces.
Among the services the company offers are chronograph watch overhaul, mechanical watch overhaul, quartz watch overhaul, ultrasonic cleaning of the band, refinishing case and bracelet, band sizing, crystal replacement and polishing, and battery replacement.
Customers can visit the store or use the online mail-in service to send their watches for repair.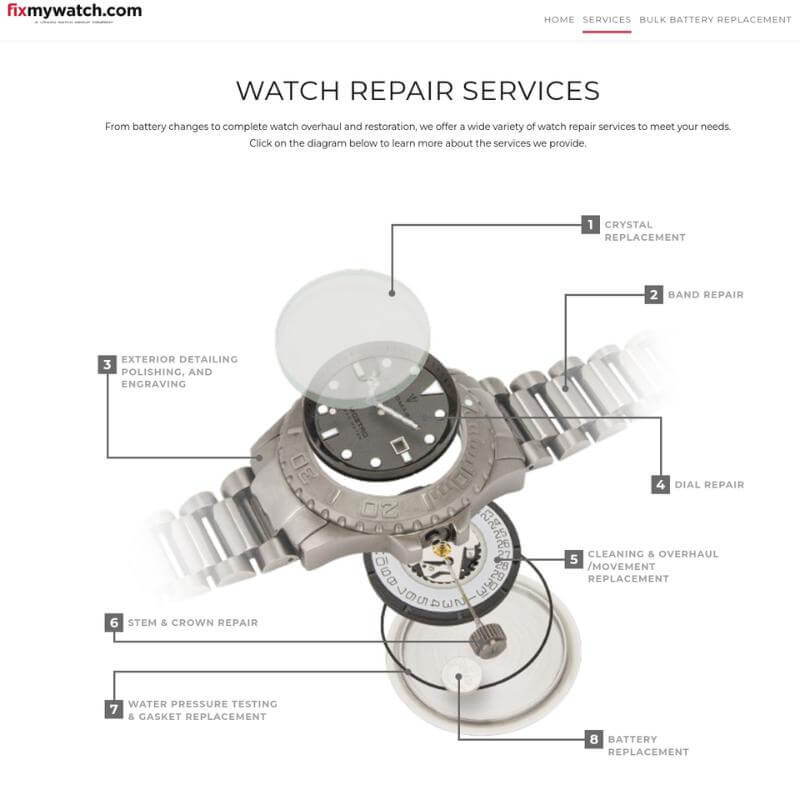 FixMyWatch offers a wide range of watch repair services, from simple battery changes to complete watch overhaul and restoration.
Customers can browse the services offered on their website and ship their watches to the company for repair using a courier service that provides a tracking number and optional insurance. Once received, certified technicians and watchmakers evaluate the watch and recommend services to repair or restore it.
After the customer approves the repair quote, FixMyWatch will fix and return the watch. The company prides itself on its mail-in watch repair services and has a team of certified technicians and watchmakers who have the expertise to repair and restore a variety of watch brands and models.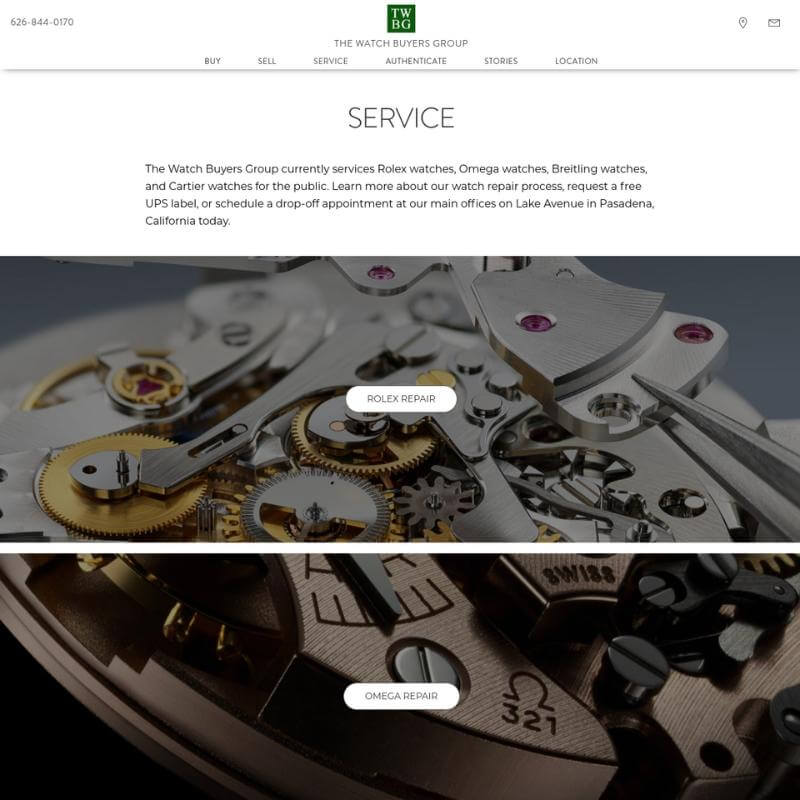 The Watch Buyers Group is a watch repair service provider that specializes in servicing Rolex, Omega, Breitling, and Cartier watches. Customers can learn more about the company's watch repair process, request a free UPS label, or schedule a drop-off appointment at their main offices in Pasadena, California.
The company offers a range of services, including battery replacement, crystal replacement, stem and crown replacement, and watch band repair/replacement. They also provide cleaning and polishing services to restore the original quality of the timepiece.
They have a team of experienced watchmakers who use advanced technology and specialized tools to service watches to factory specifications. The company offers competitive pricing and a quick turnaround time, with most repairs completed within 7-10 business days.
Customers can trust The Watch Buyers Group to provide expert advice on all technical aspects of their timepieces and deliver high-quality watch repair services.
What is a watch repair?
Watch repair is the skilled practice of fixing, refurbishing, or maintaining wristwatches. Expert watchmakers mend broken components, replace batteries, and ensure timepieces not only function accurately but also retain their visual appeal. Watch repair is an intricate process that requires training and a steady hand.
How long does a watch repair take?
Repair duration varies, influenced by the complexity of the issue and the repair shop's workload. Basic tasks such as battery replacements might be swiftly completed within hours, while intricate repairs may require a few weeks for precise execution. It's important to factor in repair duration before making a decision on where to take your device. Researching the repair shop and asking for input from others who have used it can help you select one that will get the job done in an acceptable amount of time.
Can any type of watch be repaired?
Most watch types are reparable, encompassing mechanical, quartz, and automatic watches. Skilled watch technicians possess the expertise to work on a diverse array of watch styles and brands, addressing various repair needs. Possible services include battery replacements, tightening links or straps, replacing broken bands, and cleaning watches.
How much does a watch repair cost?
Repair costs are contingent on factors like repair intricacy and watch type. Simpler tasks such as crystal replacements generally have affordable costs, whereas more intricate repairs might come with a higher price tag. Requesting a cost estimate beforehand aids in informed decision-making. Furthermore, it is advisable to shop around for a reputable watchmaker rather than opting for the cheapest repair. This ensures quality repairs and reliable service. Ultimately, while there are many watchmakers available, carefully researching their qualifications and reviews will yield the best results.
Bottom Line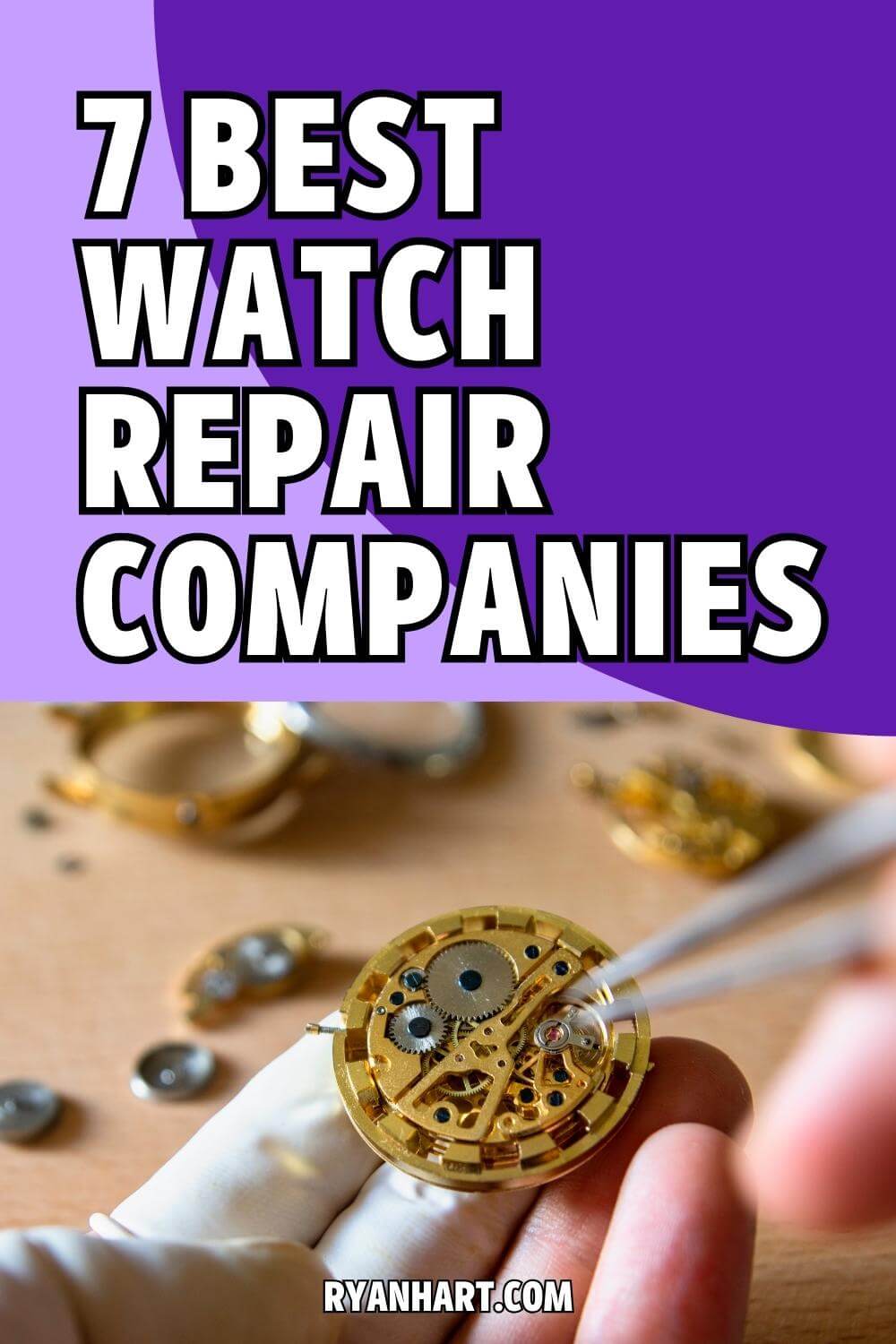 We hope you enjoyed our tour of the best watch repair companies. These are the superheroes of the watch world. They swoop in when your watch is in trouble and save the day.
No matter if your watch is new or old, fancy or simple, these companies know how to make it tick-tock again. They treat every watch with respect and do their best to fix whatever's wrong.
Remember, your watch tells more than just time. It tells a story - your story. So when it needs a little TLC, these are the companies to call. They'll make sure your watch keeps telling your story for many years to come!