Wedding guest jumpsuits and rompers are a great alternative to dresses. Unfortunately, finding a jumpsuit that's also wedding-friendly isn't always easy.
These ten jumpsuits are flattering, fun, and available in a wide range of styles and colors. Once you check these jumpsuits out, you'll find the perfect wedding outfit in no time!
What is the best jumpsuit for wedding guests?
Whether you're looking for a classic jumpsuit or a wedding guest romper, the best jumpsuit is one that makes you feel confident! These ten jumpsuits are all great options for wedding guests.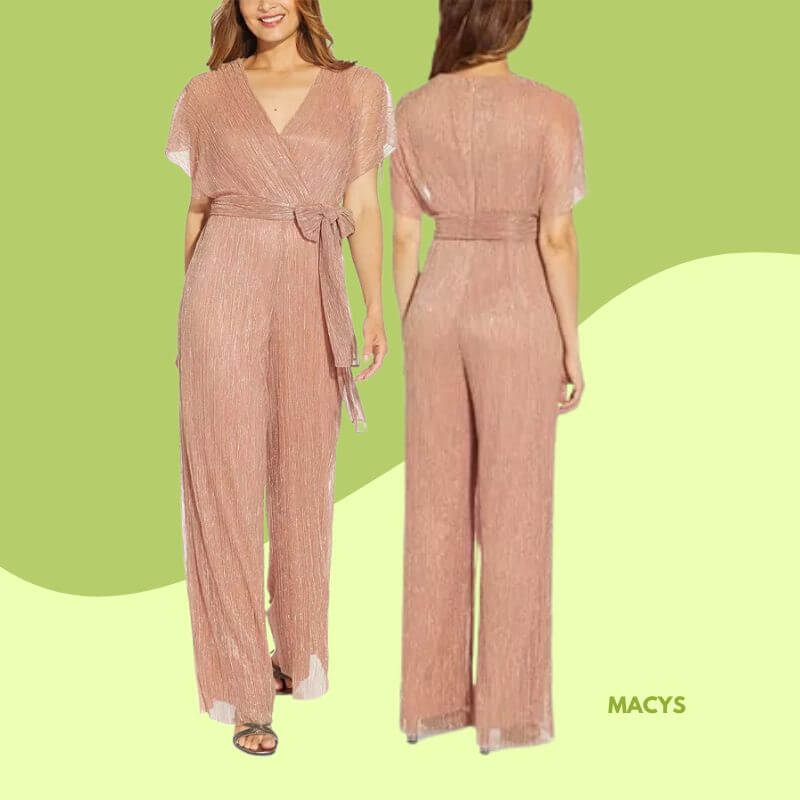 This shimmering jumpsuit from Adrianna Papell is available in rose gold and black. Since Adrianna Papell was founded in 1980, the brand has focused on creating outfits that make all women feel beautiful. The brand creates high quality clothing that's made to last.
This jumpsuit is fully lined and has a zipper in back for a perfect fit. A tie detail helps cinch in the waist and adds visual interest. This is a stunning, easy-to-wear wedding guest jumpsuit that's sure to make a big impact.
Thanks to its sophisticated shimmering fabric, this jumpsuit is an especially great option for evening wedding guests.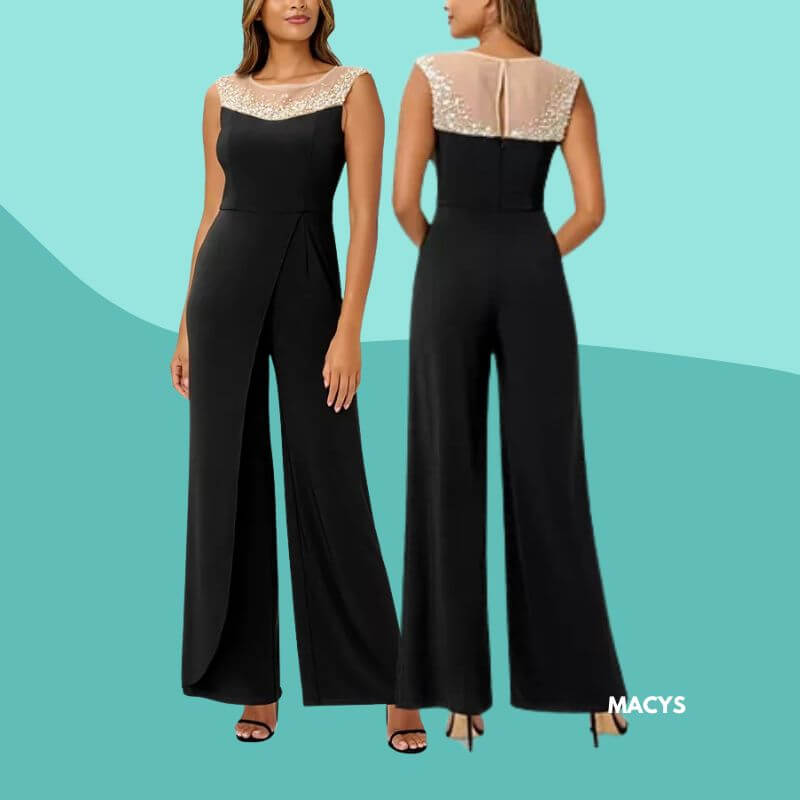 This sleek black jumpsuit has all kinds of flattering details, like a wide-leg silhouette and a detailed boat neckline. Thanks to the sequins along the neckline, this outfit will let you sparkle even if you wear minimal jewelry. This may be a black jumpsuit, but it's still incredibly unique.
It has a back zipper closure and is fully lined, which can increase comfort and keep the jumpsuit in great shape for longer. If you invest in this jumpsuit, you'll be able to wear it to multiple weddings!
The silhouette also makes this an excellent option for other formal occasions.
This jumpsuit is a fantastic choice for black-tie events. It's also a great option for anyone searching for a plus-sized dressy jumpsuit.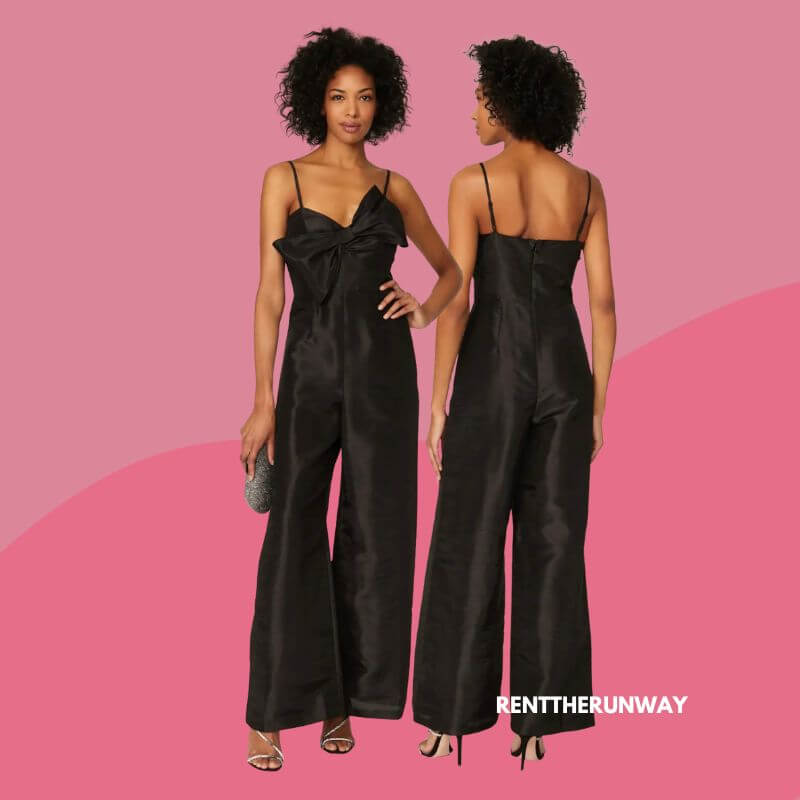 Hutch is known for their versatile, feminine clothing, and this jumpsuit lives up to that reputation. Made from luxurious black satin, this wide-leg jumpsuit is comfortable but is still incredibly elegant. Once you put this jumpsuit on, you'll feel like you belong on the cover of a magazine!
The square neckline is flattering on all body types! It also features an oversized bow, which adds visual interest and gives this sleek jumpsuit a playful vibe! It's a chic jumpsuit that can be paired with all kinds of accessories, from sparkling jewelry to bright red shoes.
This is a fantastic option if you're looking for a chic wedding guest outfit that also has pockets!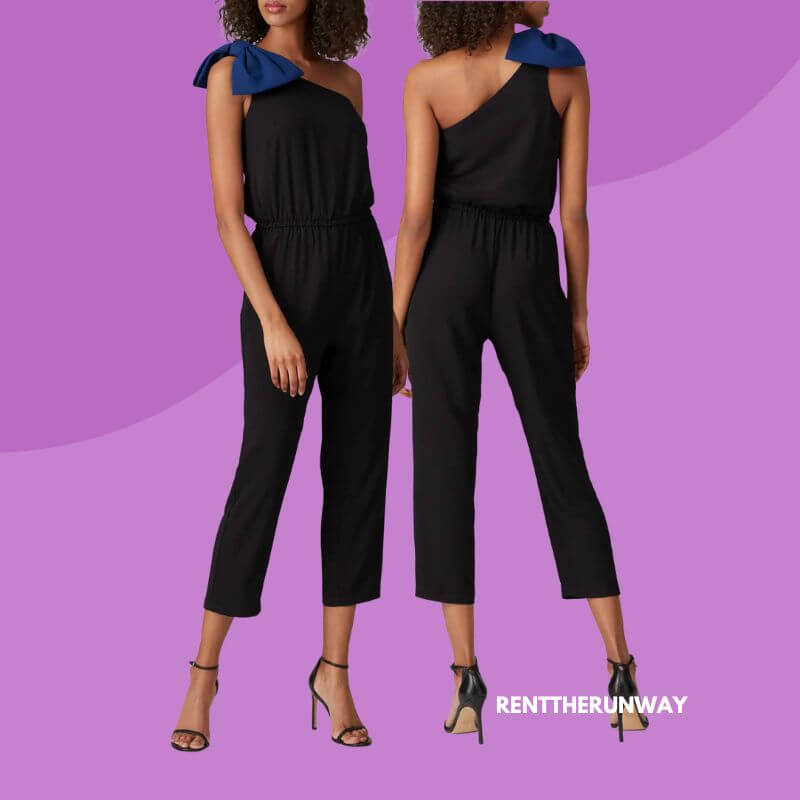 This dressy, form-fitting jumpsuit is made from a sleek black crepe material. The one-shoulder neckline is incredibly flattering, especially on people with wider shoulders. A blue bow detail adds a pop of color to the look.
Not only is the jumpsuit partially lined, but a hidden side zipper helps to ensure the perfect fit. While the jumpsuit looks fantastic, you can dress it up with accessories like belts! The crepe fabric is breathable, making this jumpsuit comfortable to wear in any season.
Since this jumpsuit is slightly cropped, it's an especially great choice for people on the shorter side.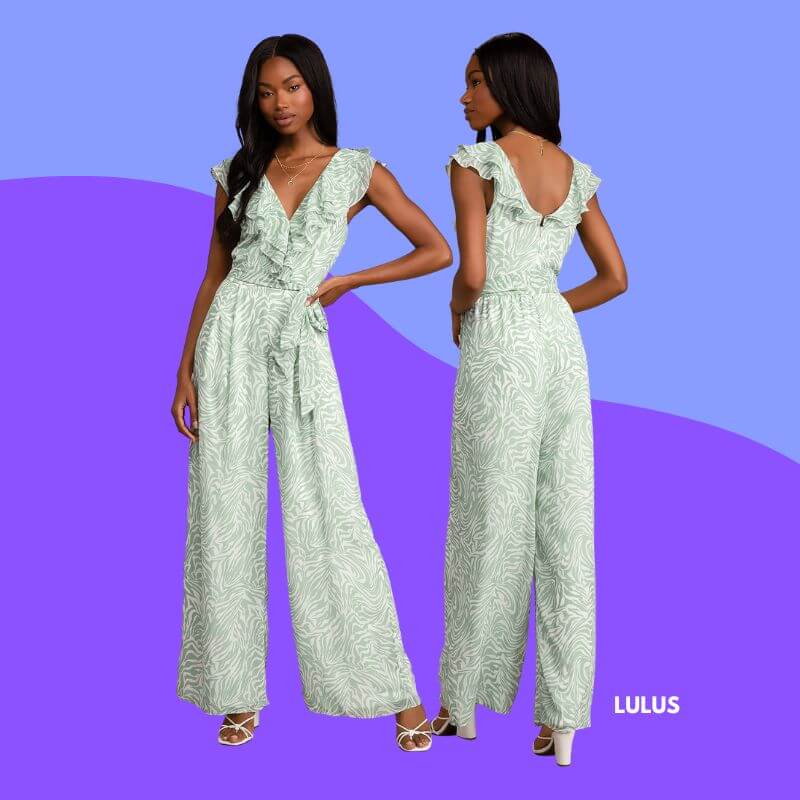 With its flowy wide legs and flouncy ruffles, you'll feel like you're on vacation from the moment you put this jumpsuit on. It's made from lightweight chiffon, making this an ideal option for summer weddings. Thanks to its high waist, this jumpsuit can make your legs look miles long!
This jumpsuit has a distinctive green pattern that looks like an animal print. There's also a tie at the waist that helps to ensure a more flattering fit.
This is the perfect jumpsuit for wedding guests at summer events. Reviews say the jumpsuit has a slightly snug fit, so you may want to size up when you order.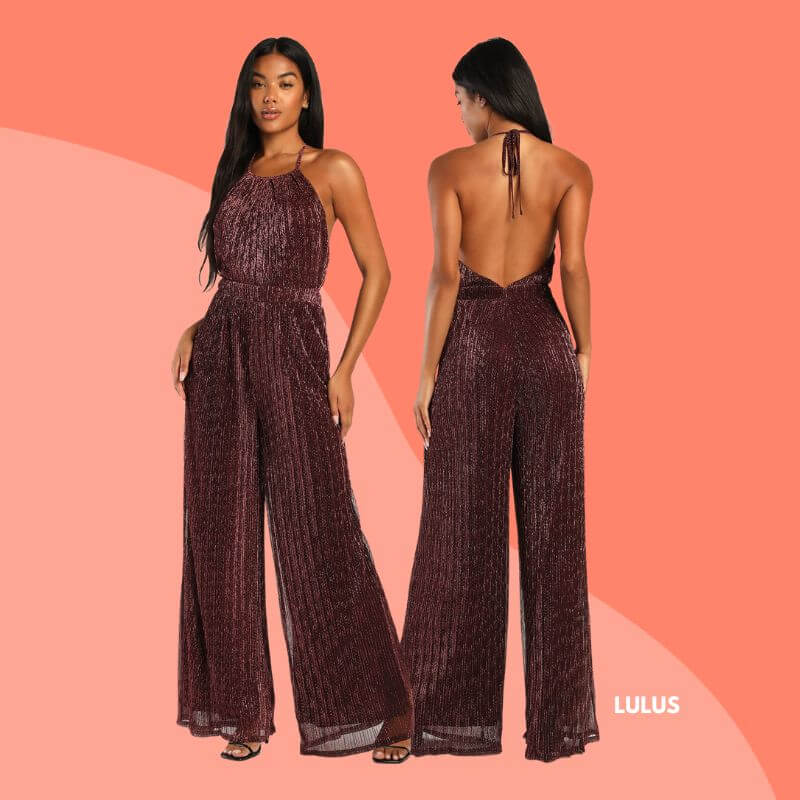 This gorgeous jumpsuit is available in a deep plum and a rich gold color. It's fully lined and is covered in a sheer fabric with shimmering lurex threading. Since it's made from a stretchy fabric, it's also very comfortable to wear.
The halter neckline and wide-leg pants are very flattering, as is the banded waist. It also has an open back, which really makes this jumpsuit a standout! It's an excellent choice for weddings and all kinds of events.
If you want to show off your back but still want an outfit that's wedding appropriate, this jumpsuit is a terrific choice.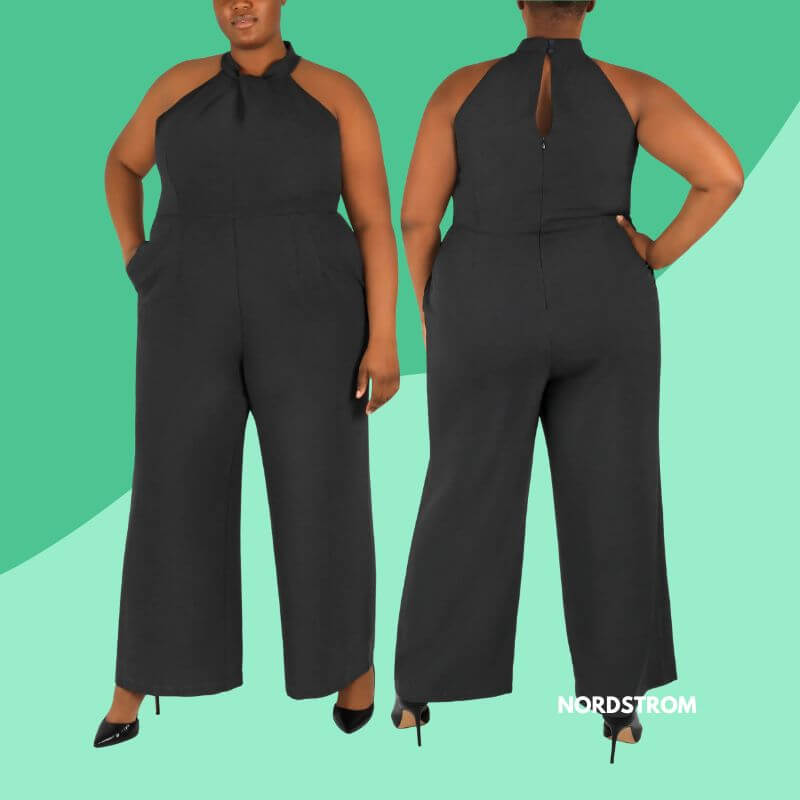 This sleek plus-sized jumpsuit is available in burgundy and black. While it has a classic design, it also has a distinctive twisted neckline. It's a timeless jumpsuit that still feels unique.
In addition to being lined, this jumpsuit is machine washable! With its flattering halter neckline and elegant back zipper, this is a formal jumpsuit that you'll want to wear again and again. It's polished and elegant but keeps you comfortable from morning until night!
Anyone looking for plus-sized jumpsuits for weddings will want to check this piece out.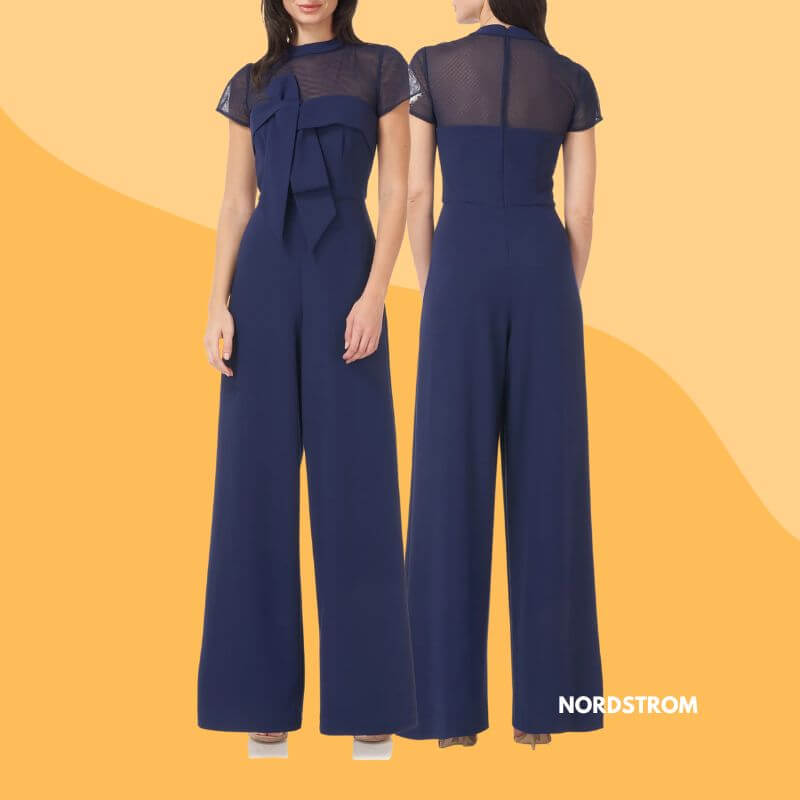 JS Collections is known for making flattering occasion wear with beautiful feminine details. This stylish and sophisticated navy jumpsuit is an excellent example of what the brand is known for. It has a high illusion mesh neckline and a lovely twisted bow along the bodice.
Since this wide-leg jumpsuit is made from a stretch crepe fabric, it's very comfortable to wear. While many jumpsuits are sleeveless, this jumpsuit has short sleeves that provide a little extra coverage.
If you want a formal jumpsuit with sleeves, you'll be thrilled with this wedding outfit.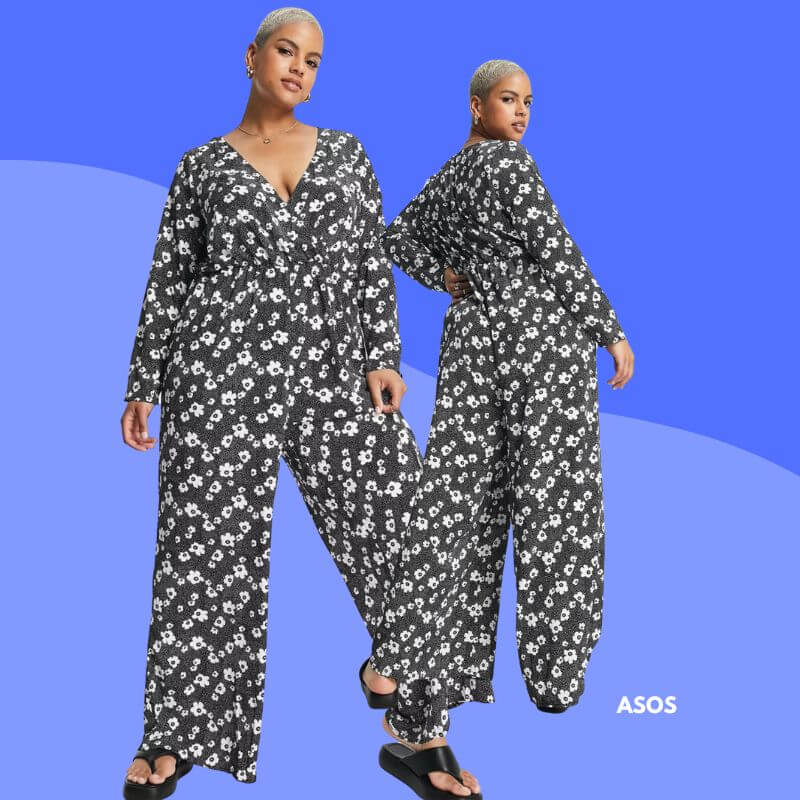 This playful plus-sized jumpsuit has long sleeves, a relaxed fit, and an adorable floral pattern. It's made by Glamorous, a British brand that takes inspiration from vintage designs.
While this jumpsuit provides plenty of coverage, the v-neckline shows off a hint of skin. It's made from a soft, plain woven fabric and is machine washable, allowing you to wear this jumpsuit again and again. The fabric is wrinkle-resistant, making this a nice option for destination weddings.
If you want a comfortable plus-size wedding outfit that will give you plenty of coverage, you can't go wrong with this option!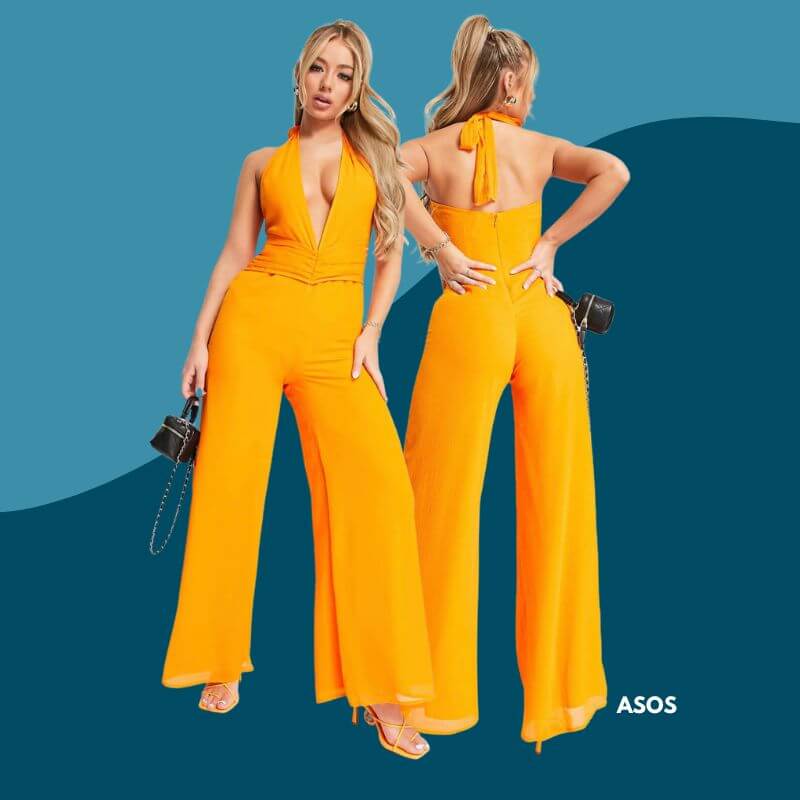 This bold orange jumpsuit is sure to make a statement. It is an eye-catching color, and it has plenty of standout features to appreciate, like a plunge halter neckline and an open-tie back.
The jumpsuit is made by AsYou, a brand known for its trendy, body-conscious clothing. It's made from a lightweight textured woven fabric and is machine washable. Even though this is a wide leg jumpsuit, it still has a slim fit.
If you want an attention-grabbing outfit, you'll love this jumpsuit's bright colors and edgy details.
Can you wear a jumpsuit to a wedding?
When it comes to attending a wedding ceremony as a female guest, jumpsuits should definitely be an option! Contemporary, free-spirited styles such as this are an absolute must have in any wardrobe, and they shouldn't just be relegated to night attire.
They can provide a modern alternative to dresses that easily transitions from day time ceremonies to evening receptions, allowing the guest to stay comfortable all throughout the day.
Moreover, jumpsuits come in many different styles so it allows for individuals to express their personal unique style while still adhering to more formal dress codes.
Is a jumpsuit considered formal wedding attire?
Yes, a jumpsuit is acceptable formal wedding guest attire. On-trend and stylish, a jumpsuit adds an extra touch of sophistication to any wedding ensemble. It can be accessorized with statement jewelry or a belt to further dress up the look.
Not only is it comfortable and consists of only one piece so you don't have to worry about mixing and matching pieces, but it's also perfect for attending outdoor weddings in warmer climates.
Can you wear a jumpsuit instead of a cocktail dress to a wedding?
Jumpsuits offer just as much fashion and elegance as a cocktail dress, and are also quite comfortable. With mesmerizing hemlines and unique textures, jumpsuits can be tailored to anyone's style.
Not only do they flatter any figure but they present a sense of attitude which can inject new energy into the wedding festivities.
Bottom Line
This year, step outside the traditional wedding guest dress code and make a statement with an eye-catching jumpsuit or romper. Not only can they be just as stylish as a dress, but they are also incredibly comfortable and bring an element of fun to your look.
With so many different styles on offer, you'll have no difficulty finding something that suits your body type and flatters your figure. From trousers with halter necks to strapless designs with chiffon skirts, you're sure to find something unique for that special event.
What's more, jumpsuits and rompers are multi-functional pieces which can be worn by day or night - so even after the wedding is over you'll still be ready for all of your other summer events!