Shopping for a wedding guest dress gets easier if you know the style and location of the event. If you know the wedding will be held in a ballroom, you're leaning towards formal attire. If held on the beach, you can go pretty casual.
Make sure to check your invite to see if a dress code has been included.
No matter the style, there are many places to find dresses for formal occasions like Nordstrom, Macy's, and David's Bridal. If you need something more casual, head to Amazon or Lulu's.
These shops will have something for your formal weddings and a beachfront affair. You'll definitely find wedding guest dresses to say yes to in this list. We found retailers that have various styles, price points, and a wide range of sizes.
Here is the round-up of the five best places to buy cheap wedding guest dresses!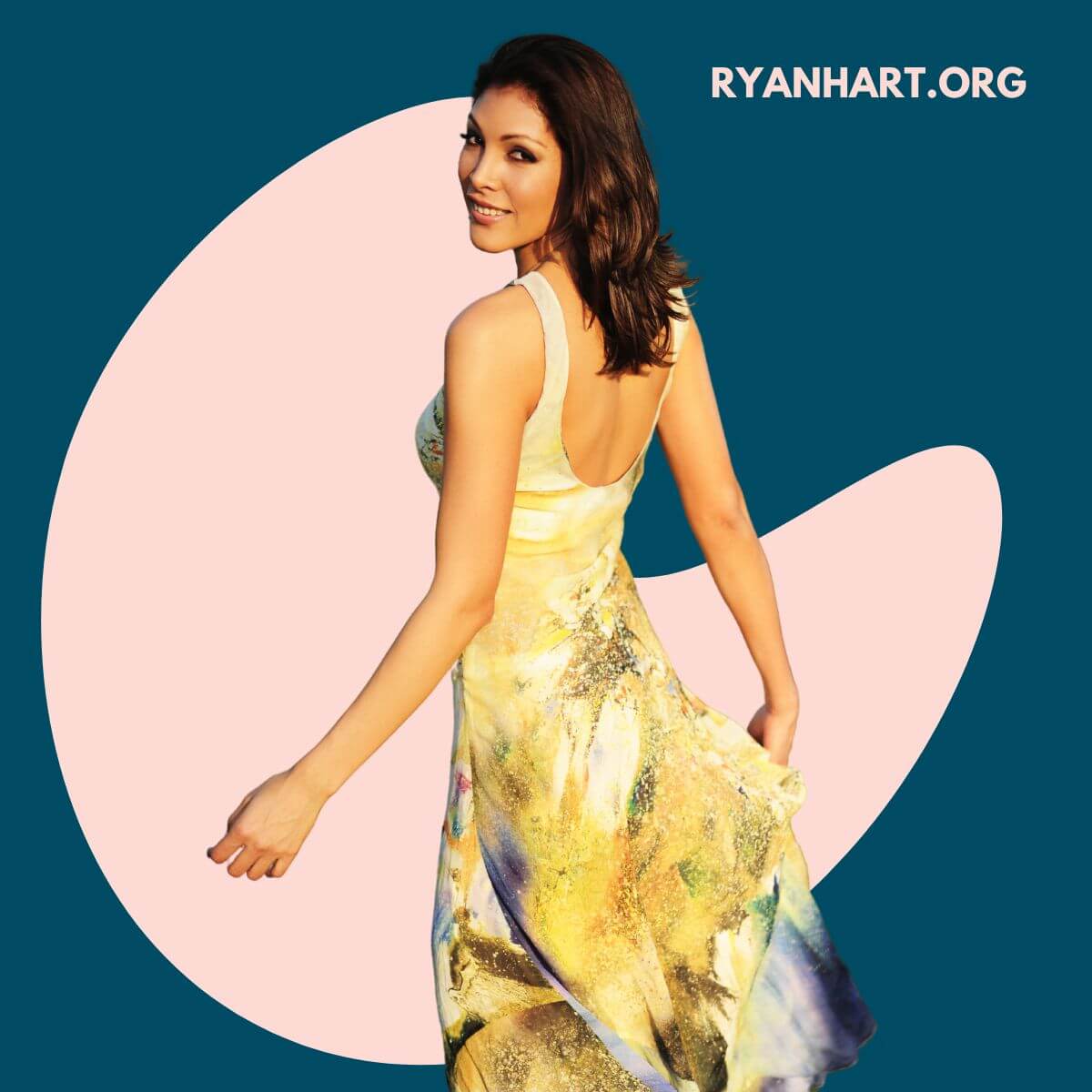 Where to Buy Wedding Guest Dresses?
I've assembled a list of the five best places to buy wedding guest dresses for your next big event. I have you covered with retailers with selections that are unique and won't break the bank!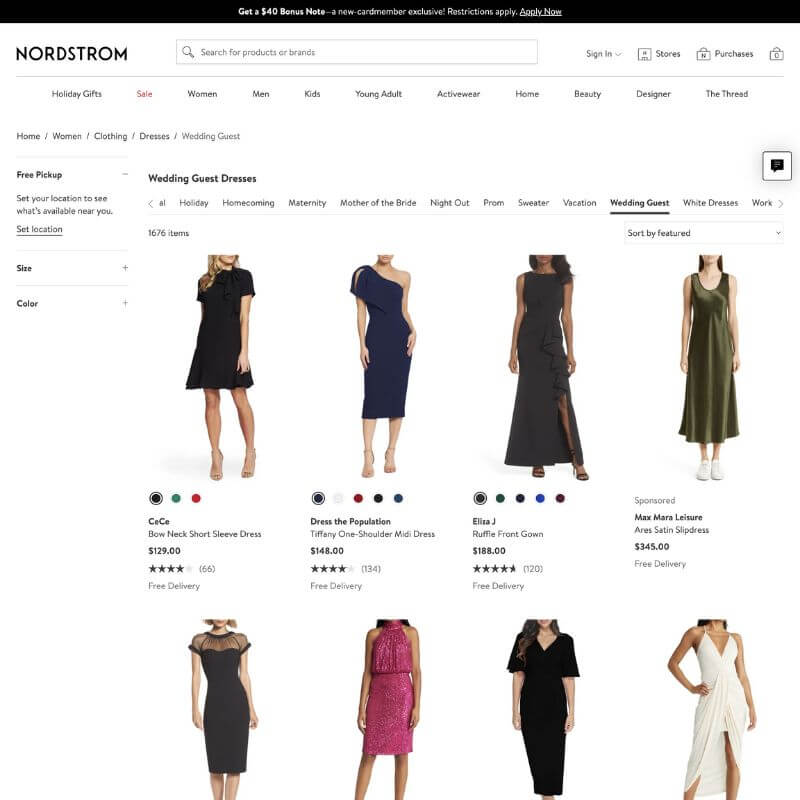 Nordstrom has plenty of dresses by designer labels for any season. While some offerings are more expensive than others, there are a few affordable options. Shop in-store, get help from their staff, or hop online and find what you need with pretty quick shipping available. While online, you can sort through with filters to find just what you need.
Highlights:
Nordstrom offers quick shipping if you're looking for something at the last minute.
You can also find your shoes and accessories while in-store or online
Great return policy
Great range in sizes available for most styles
Free shipping is available!
What Nordstrom Does Best: Great service! When shopping online, you can place the dress on hold at your local Nordstrom to try it on before buying. They also offer free alterations on your dress.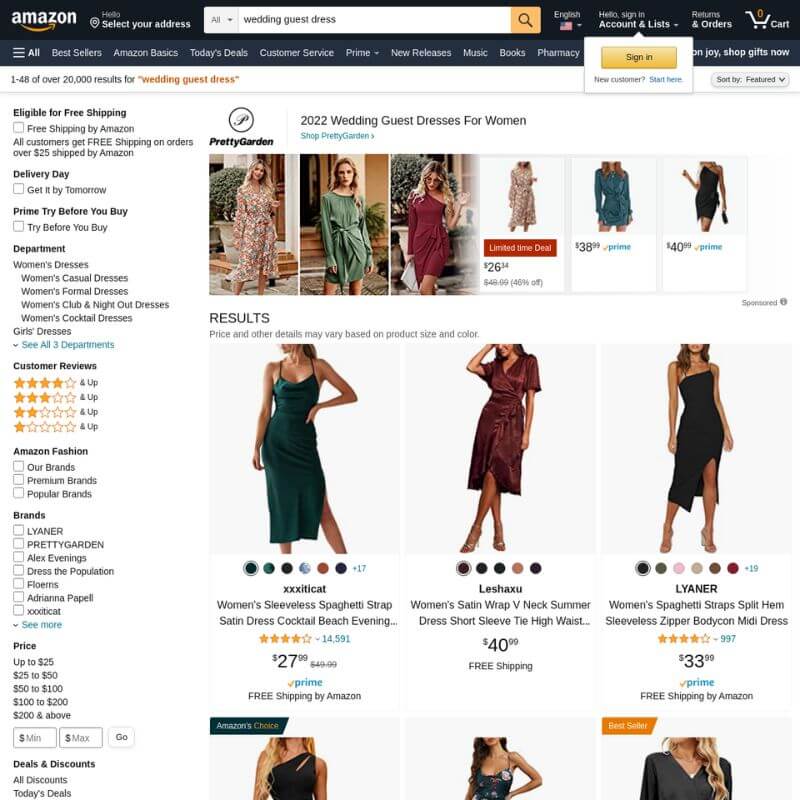 Amazon has so many brands offering an extensive assortment of formal dresses for weddings in different sizes and styles you can get delivered to your door in a matter of days. You can also find some significant savings. When you're shopping, you can see reviews; some are video reviews. Other buyers offer a lot of information about the sizing, quality, and what they like or dislike about the product they received.
Highlights:
Regular, petite, and plus sizes are available.
Quick shipping, you'll know the date before you put it into your shopping cart.
Incredibly detailed reviews and video reviews from verified buyers
Hundreds of wedding guest dresses in so many styles
Free delivery for Prime members
What Amazon Does Best: Give you the real deal! Their rating and review system is extra! Really! It's all from verified buyers, and there is a question section so you can ask what you need to know before you buy.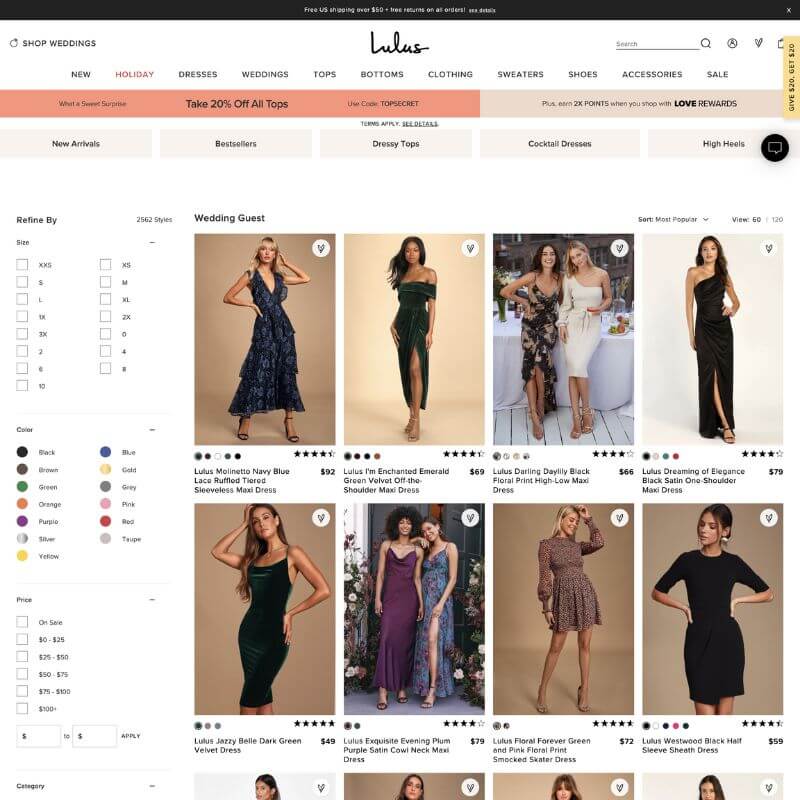 Lulus offers some luxurious looks at affordable prices. The company provides filters to narrow your search for wedding guest dresses. And the finds are beautiful and unique!
When shopping online, you can filter for the season, the style of the wedding, and more. Lulus has it all when shopping for a conservative choice for grandma and a fun style for your teen!
Highlights:
Great pricing with most finds under $100
Good, detailed reviews on every product
Quick shipping and even a wait list if your favorite piece isn't in stock
Free shipping for orders over $50
Easy return policy with free shipping within ten days!
What Lulus Does Best: Wide variety and pricing! So many styles, sizes, and colors are available at reasonable prices.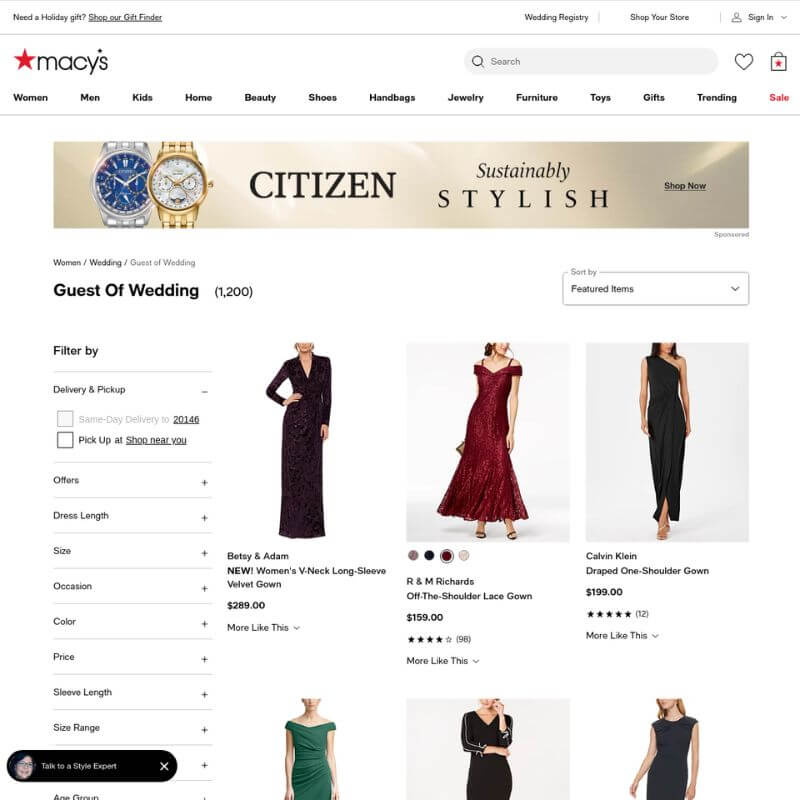 Macy's offers dresses to wear to a wedding, from very formal to casual. When shopping online, you can filter to find the right wedding guest dress for your next event. You can find trendy looks and classic dresses for every age group. You'll find high-quality selections that you can wear again to other events.
Highlights:
Over 800 wedding guest dresses are available
Macy's has guest dresses in sizes 0-24
They offer a 90-day return policy
Use your Macy's coupons and stack them for a great deal!
While shopping at Macy's, you can also pick up the accessories, shoes, and wardrobe for the guys in your family!
What Macy's Does Best: Availability! They are all over the country, online, and offer so many choices from which to choose.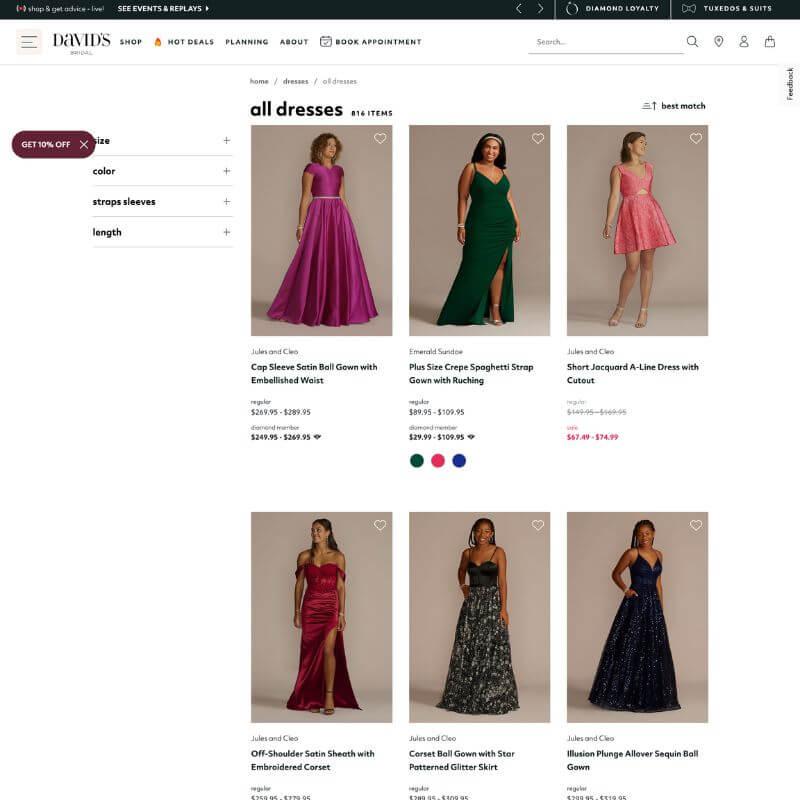 You're sure to have heard of David's Bridal if you attend formal events regularly. People clamor to David's for prom, wedding, and banquet attire, and they have plenty of wedding guest dresses for your next event. They offer affordable and trendy selections as well as some classic styles for every age group.
Highlights:
David's Bridal has dresses in sizes 0 – 26
Affordable pricing
Wide selection
Shop in-store in their many locations or online
What David's Bridal Does Best: Weddings and formal events are their specialties. It's what they do! When you enter David's Bridal, you know that the staff is experienced enough to help you make the right pick. And the company has been around offering formal attire since 1950.
Check Prices at David's Bridal
What should a woman wear to a wedding as a guest?
The standard wedding dress code for guests is usually semi-formal. For women, this typically means wearing a dress or skirt and blouse, or a suit.
Dresses can range from modest tea-length styles to full-length gowns depending on the time of day and the event's formality. Heels are common, but flats are also acceptable.
Respecting the couple's wishes regarding the dress code is essential. If the invitation does not specify a dress code, it is safe to assume that semi-formal or business casual attire is appropriate.
Finally, guests should ensure that their clothing is comfortable and appropriate for the occasion. While weddings can be formal affairs, they can also be quite long, and it is vital to be able to move and dance comfortably.
What should guests not wear to a wedding?
It is generally best to avoid super casual clothing, like jeans or sweatshirts, and opt for something a bit more dressy, like a sundress or a nice blouse and skirt combo.
In addition, guests should avoid wearing anything too low-cut, short, or tight. Avoid anything too revealing or sexy, as this can be inappropriate for a religious ceremony or conservative event.
While it is essential to look nice, it is also important to remember that this is a formal occasion.
Finally, guests should make sure their shoes are appropriate for the venue. For example, if the wedding takes place outdoors, it is best to avoid high heels that could sink into the grass.
What colors are not OK to wear to a wedding?
It is also generally advisable to avoid wearing white, as this color is reserved for the bride.
In terms of dress colors, darker shades are generally more appropriate for formal weddings, while lighter colors may be more suitable for casual affairs and beach weddings.
Additionally, it is essential to consider the time of day when choosing an outfit. For example, a daytime wedding may call for a lighter-colored dress, while an evening wedding may warrant a more glamorous look.
Is it rude to wear red to a wedding?
Red is considered one of the most taboo colors to wear to a wedding, as it is seen as a sign of disrespect. In many cultures, red is associated with danger or passion, making it an inappropriate choice for a happy occasion like a wedding.
Additionally, red is a very bold color, and wearing it can steal the attention away from the bride. If you're unsure what color to wear to a wedding, it's always best to avoid anything too bright or flashy. After all, it's the bride's day to shine.
Is it OK to wear a black dress to a wedding?
While black is a somber color, it can also be stylish and elegant. Black has been a popular choice for eveningwear for many years, and it is increasingly worn at weddings.
A black dress can be an appropriate choice whether you are attending a formal black-tie affair or a more casual celebration. Of course, it is always important to consider the overall tone of the wedding before selecting your outfit.
If the bride and groom have specifically requested that guests wear brightly colored clothing, such as at a beach wedding, you may want to choose something else. However, if the wedding is not overly formal and the couple has not made any specific requests, a black dress could be appropriate.
Of course, you don't want to upstage the bride, so choosing a simple style that won't steal the spotlight is essential.
Can you wear a floral print to a wedding?
Whether a pretty sundress or a chic maxi skirt, floral is always a crowd-pleaser. But is it appropriate for a wedding? The short answer is yes!
Wearing floral to a wedding is perfectly acceptable as long as you avoid white and other light colors that might blend in with the bride's dress.
Floral patterns are an excellent choice for a summer wedding. They convey a sense of fun and excitement and can help you stand out in a sea of neutral-colored dresses.
If you want to make a statement with your wedding guest outfit, don't be afraid to reach for a pretty floral pattern. Instead, you'll be sure to stand out in all the right ways.
Can I wear a sparkly dress to a wedding?
If the wedding is formal, it's probably not appropriate to wear a sparkly dress with sequins or other embellishments. However, if the wedding ceremony is more casual, you may be able to get away with a flashy dress.
It's essential to consider the overall tone of the wedding when deciding what to wear. If unsure, it's always best to avoid sparkles and choose a more subdued outfit.
Can I wear a long dress to a wedding?
Whether or not you can wear a long dress to a wedding depends on the dress code. For example, if the dress code is "black tie," you should wear a floor-length gown.
If the dress code is "cocktail attire," you can wear a short cocktail dress or a long one that falls just above the ground.
If the dress code is "business casual," you should avoid wearing a dress that is too formal or casual.
Generally, it's OK to go with a floor-length gown as long as it's not too formal or flashy.
However, it's always a good idea to check with the bride or groom first. They'll likely let you know if they have specific dress code requirements.
What should an overweight woman wear to a wedding?
When it comes to weddings, everyone wants to look their best. But for overweight women, finding the right outfit can be a challenge.
The key is to choose an outfit that is both flattering and comfortable. A-line dresses are an excellent option for women with larger midsections, providing coverage without adding bulk.
Empire-waist dresses are also a good choice, as they draw attention to the chest and away from the stomach. If you're worried about your arms, look for a dress with sleeves or pair a jacket with your dress.
And don't forget accessories! A pretty stole or scarf can help camouflage problem areas, while a statement necklace will draw attention upward.
Bottom Line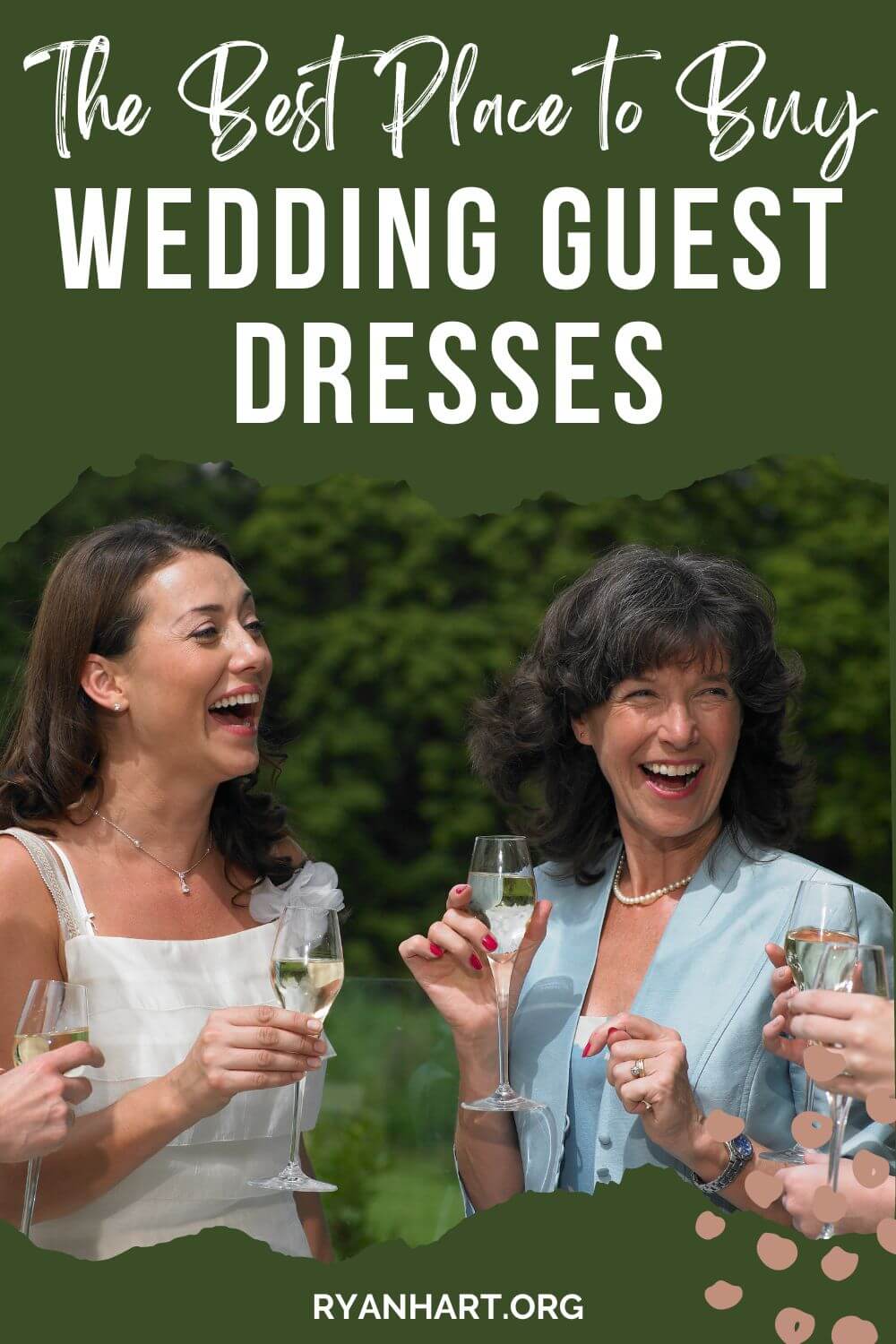 When it comes to wedding guest attire, there are a few things to remember. First, you'll want to select a dress that is appropriate for the level of formality of the wedding.
Second, you'll want to pick an outfit that flatters your figure and compliments your style. And last, you'll want to find a dress that won't break the bank.
With all these factors to consider, shopping for a wedding guest dress online can be a great option. There are a wide variety of dresses to choose from, so you're sure to find something that meets all your criteria.
And because you can shop at your own pace and from the comfort of your own home, you can take the time to find the perfect dress without feeling rushed or stressed.
So if you're looking for the perfect wedding guest dress, consider shopping online. You're sure to find what you're looking for - and at a great price!