A black tie wedding is considered to be the most formal dress code for guests. If you've been invited to a traditional wedding, you must know what to wear so you don't show up in a dress that is inappropriate.
That's why we rounded up this beautiful selection of black-tie wedding guest dresses sure to make you look and feel your best on this special day.
Choose from one of these elegant dresses, and you'll be sure to turn heads when you walk into the room.
What is the best dress for a black tie wedding?
Choosing the right formal wedding attire is easier than you think. Here are our top picks for the best black tie wedding guest dresses: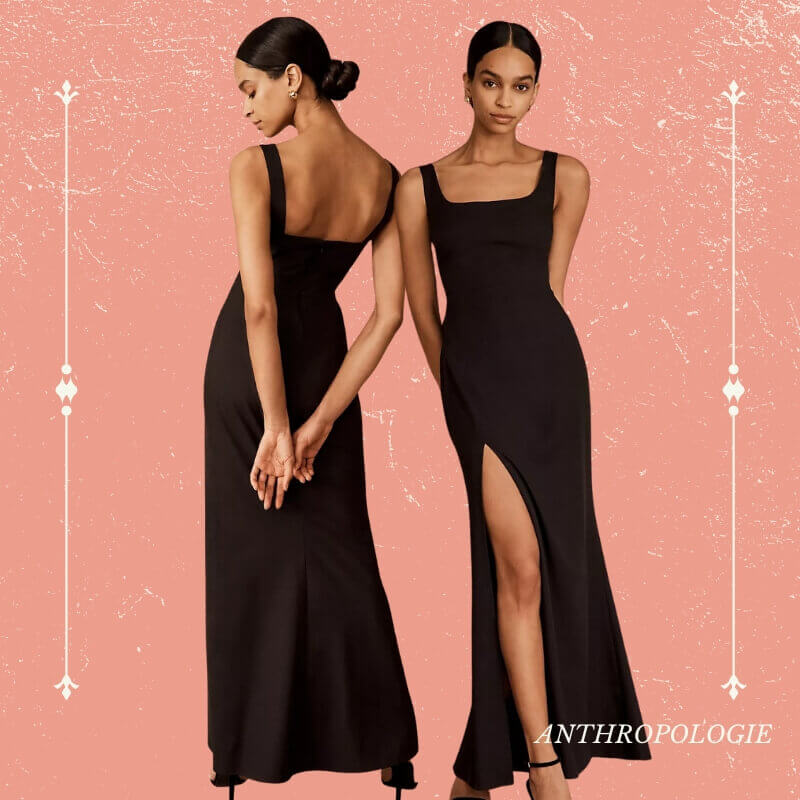 This Catarina Crepe Maxi Dress is ideal for a formal wedding. While it comes in black, you can also get it in lilac, cocoa, and midnight blue.
Its crepe fabric will keep you cool and comfortable no matter how long the day is. The square neckline and tall slit make this dress even more comfortable.
Available in both standard and plus sizes, this dress is sophisticated enough for a black tie wedding but still fun to wear.
If you are struggling with whether this dress is the right choice, trust BHLDN's expert stylists to help guide you towards the best possible dress, whether online or in person.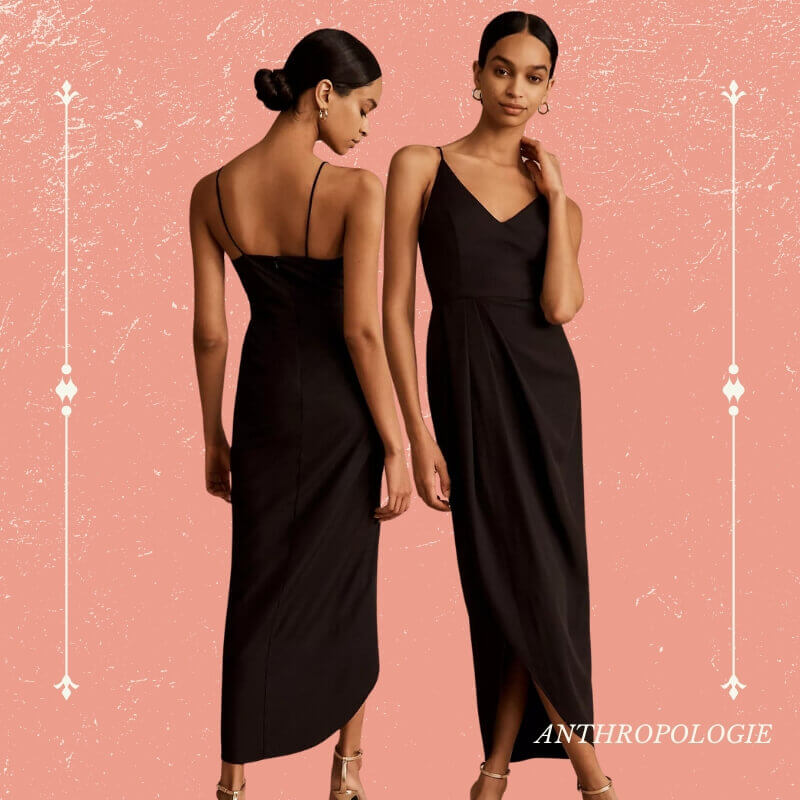 One of the best formal wedding guest dresses out there is this V-Neck Crepe Dress. Available in midnight black and forest green, this dress is stunning.
The tulip skirt makes it easy to wear, no matter your size or shape. You can enjoy yourself from the vow exchange straight through to the end of the reception, thanks to the dress's comfortable spaghetti straps and the v-neckline that gives the dress its name.
If you are worried that your black tie dress might not offer enough chest support, your worries are for nothing. Despite its low neckline, you can easily wear this dress with a bra.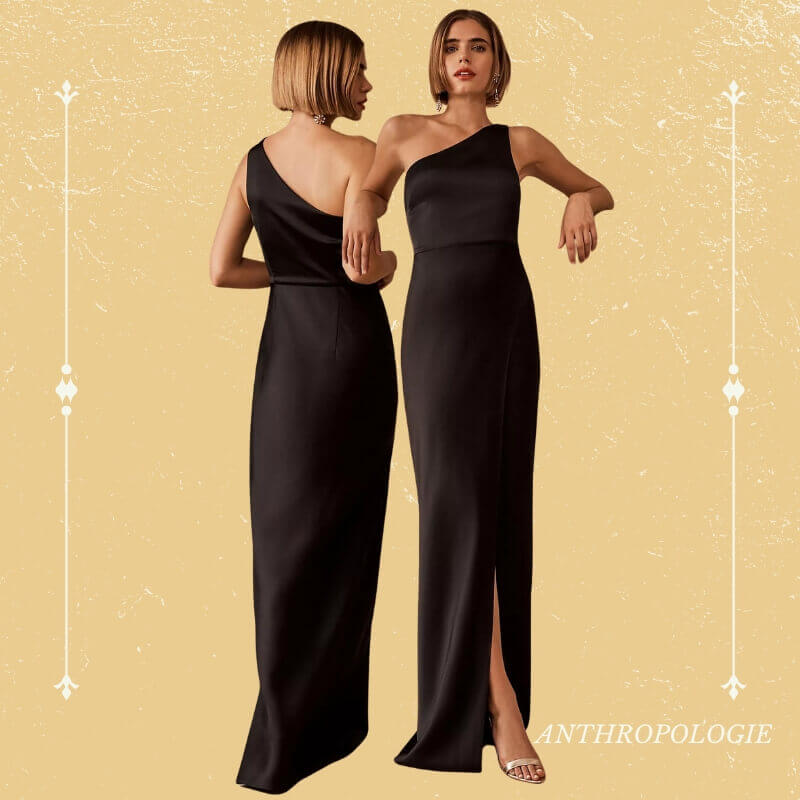 This Satin Charmeuse Dress is a suitable dress for a black tie wedding. However, you may want to reserve it only for special occasions. While many formal wedding guest dresses can be washed at home, this one requires professional cleaning.
But despite that, the polyester lining and side zipper make it an excellent choice for weddings. This dress is both comfortable and stylish.
If color choice is important to you, you'll be happy to hear that this Satin Charmeuse Dress comes in an assortment of colors, including champagne, cinnamon, dusty blue, and dark berry.
This dress also pairs well with a strapless bra, making it even more comfortable to wear if that's your preference.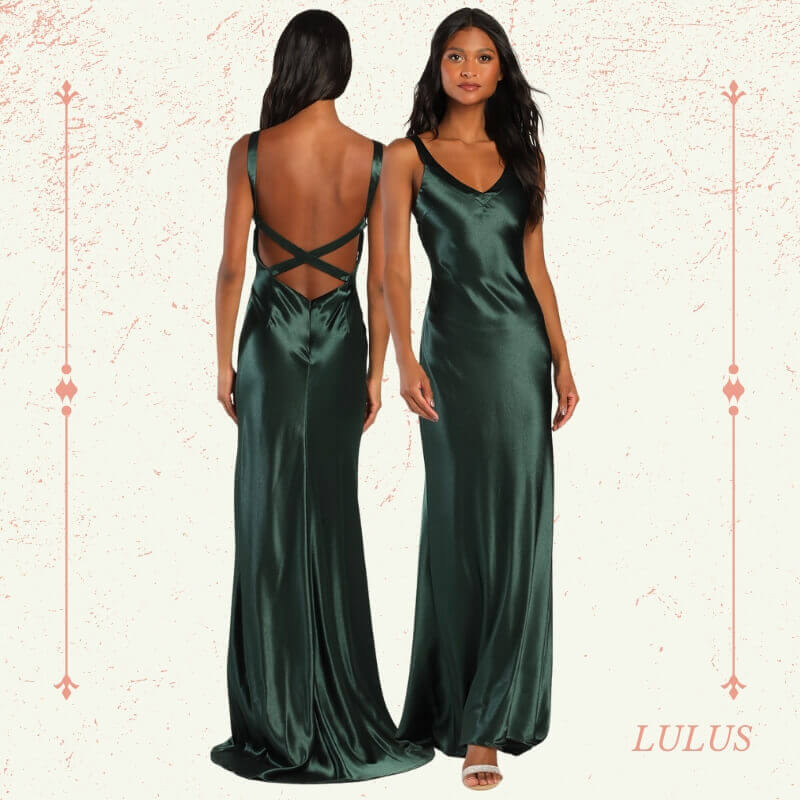 This Satin Strappy Maxi Dress is full-length and glossy, giving it a sleek and exciting style. Its wide straps and plunging v-neckline make it comfortable to wear.
The bodice makes it the perfect fit for many women's bodies. The hidden zipper in the back means the dress is easy to get in and out of but still looks classy and sophisticated.
If you struggle to choose just the right accessories to go with your black tie dress, Lulus is great at recommending jewelry, bags, and makeup that pair well with the dress.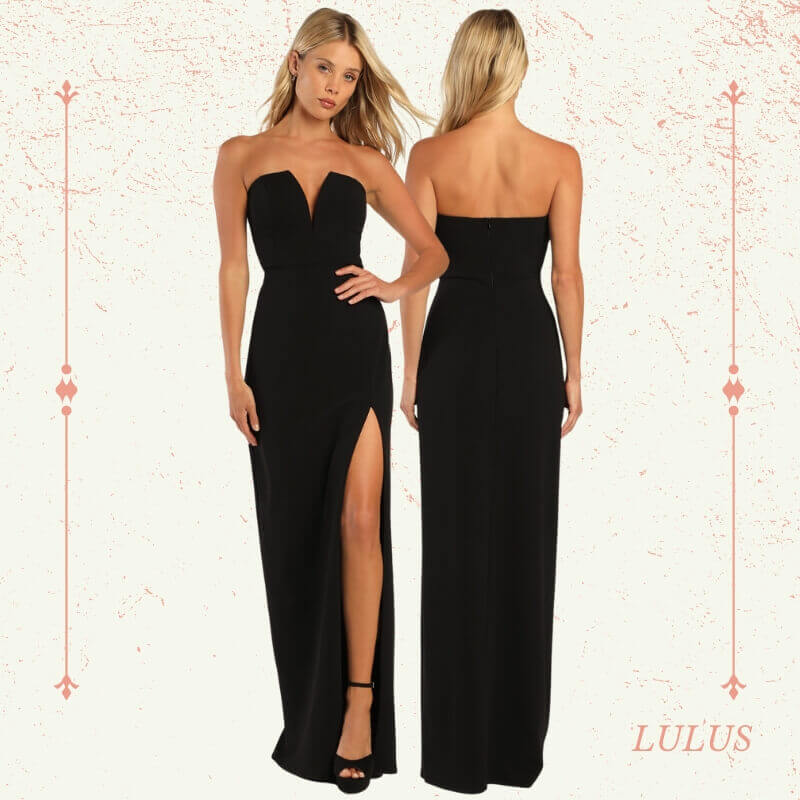 This Strapless Maxi Dress is stretchy and soft, making it easy to be a mover and shaker at any wedding you attend. Its strapless bodice means it's easy to slip in and out of too.
The skirt will skim your body, and the high-fitted top will keep everything in place while you dance the night away. And since you can wash it by hand, you'll want to pull it out of your closet every time you need a dress for a black tie wedding.
If you've found the perfect Lulu dress, but they don't have it in your size, there's no need to worry. All you have to do is email them your size and the dress you want. They will let you know as soon as it's back in stock, so you don't have to keep checking back.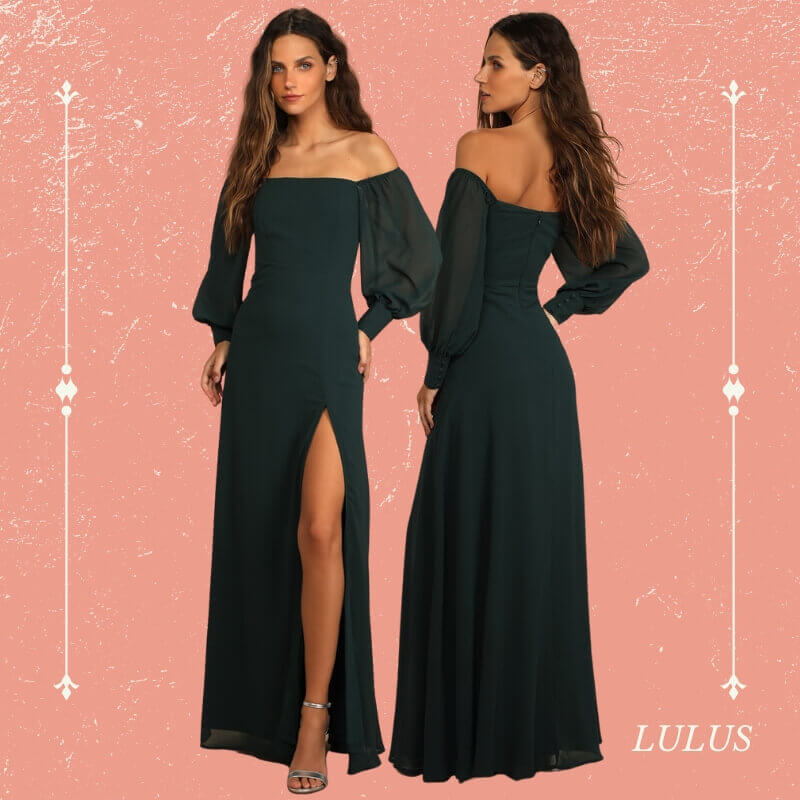 This Off-the-Shoulder Maxi Dress is perfect for the romantic in you. It's easy to feel like the belle of the ball in this dress.
You'll love the balloon sleeves, complete with button cuffs. The elastic makes the sleeves of the dress comfortable even after a long day. And the elegant side slit will leave your legs free to move.
The dress is strong enough to support you no matter how much you move around.
With very specific product details available, Lulus makes it easy to quickly determine if this dress is one you'd enjoy wearing or if another choice would be better for you.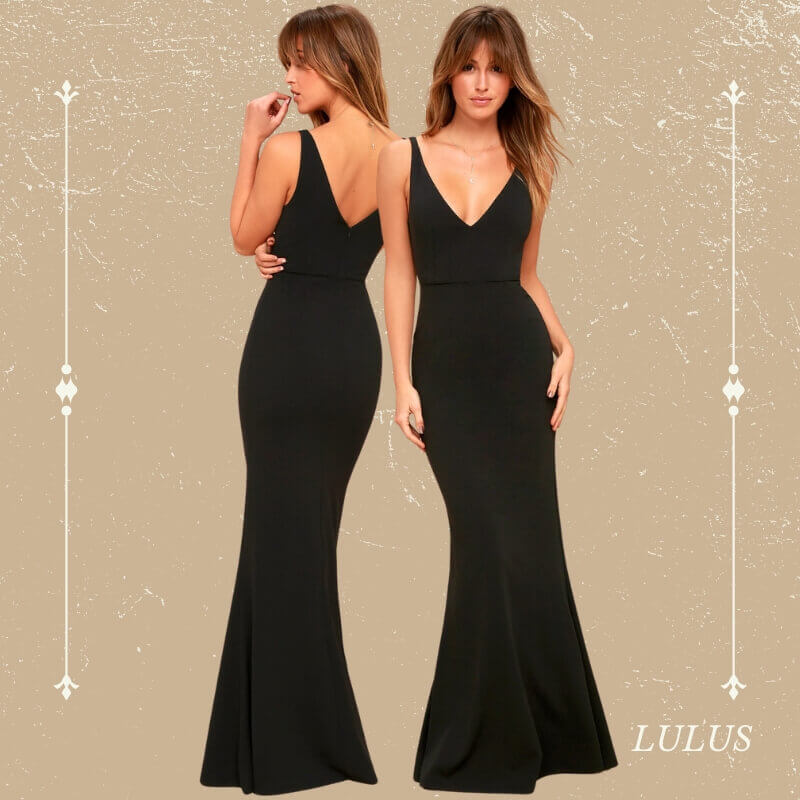 This Sleeveless Maxi Dress is medium weight, so you won't get too overheated or too cold wearing it. The stretch knit fabric means you'll be just as comfortable by the end of the day as you were at the beginning.
Its flared hem keeps your legs and feet covered for the ultimate in formal wedding guest dresses.
The next best thing to seeing yourself in the dress you're considering is seeing another real woman in it. Models can be picture-perfect, but regular women like you will happily share photos of themselves wearing this dress to help you better understand how it might look on you.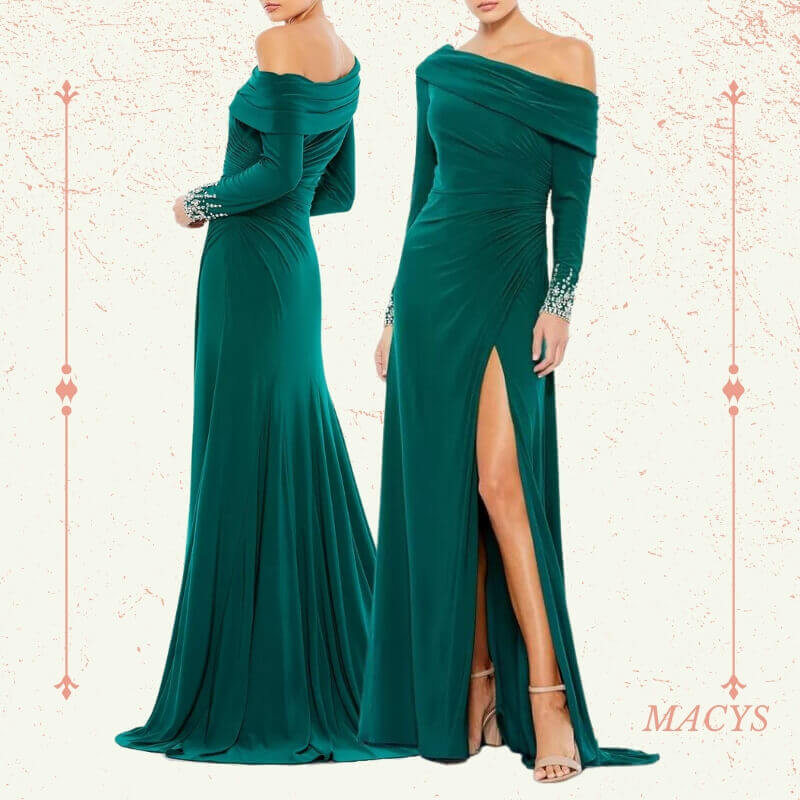 This One-Shoulder Long-Sleeve Gown will make you look and feel like a million dollars. Its cuff sleeves make it ideal for evening weddings, and the high front slit keeps you comfortable all night long.
The off-the-shoulder style of this dress is a classic look you can't go wrong with.
If you're not entirely sure what size you would need this dress, all you have to do is submit your measurements on the Macy's website, and it will tell you exactly what to get based on your height and weight.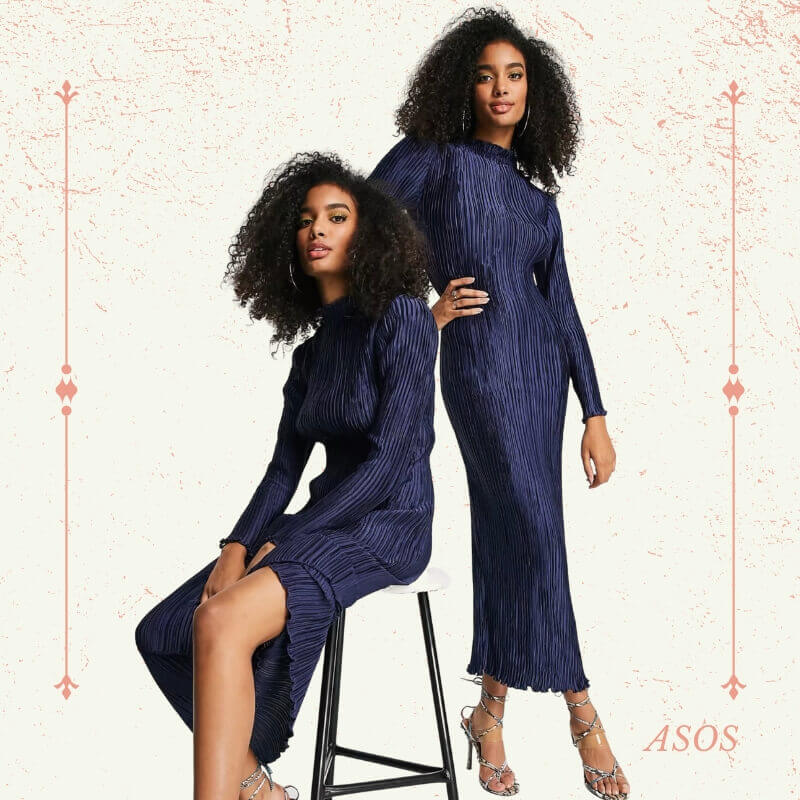 This Long Sleeve Satin Plisse Maxi Dress is not for the faint of heart. Its eye-catching texture means you'll make quite an impression at any wedding you wear it to.
The soft material makes it a dress you'll want to wear every chance you get.
When models are pictured wearing an Asos dress, it's always paired with gorgeous shoes. So Asos will recommend a pair to go with any dress you choose.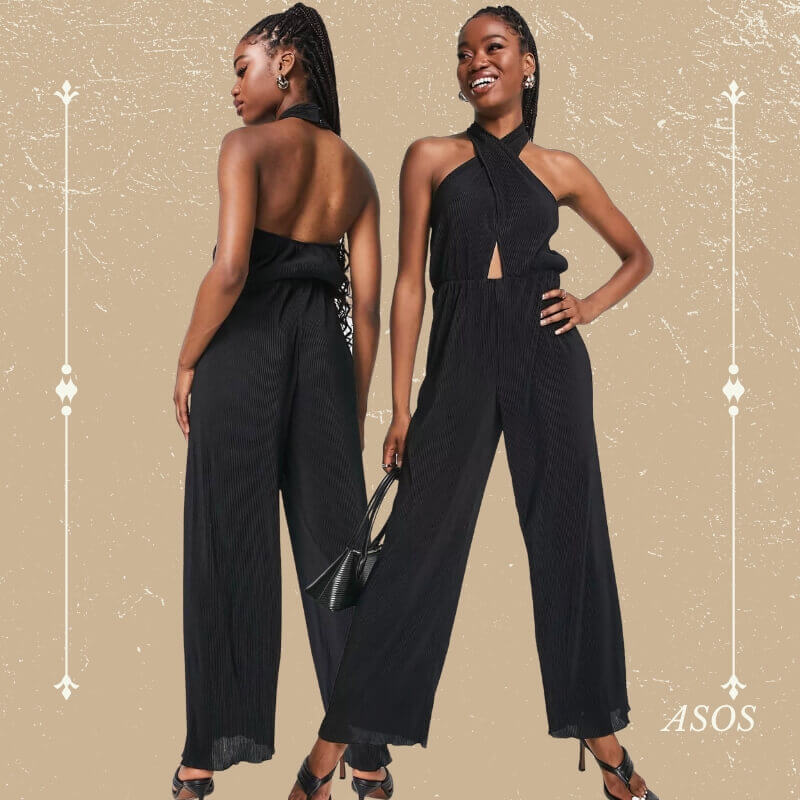 Dresses aren't for everybody, so luckily there are great dress alternatives like this Halter Jumpsuit in black.
Its wide legs and cross-front straps make it both comfortable and stylish. And the best part is, your arms will be free of any possibly annoying sleeves.
If it's your first time shopping with Asos, they are constantly offering discounts and promo codes for new customers.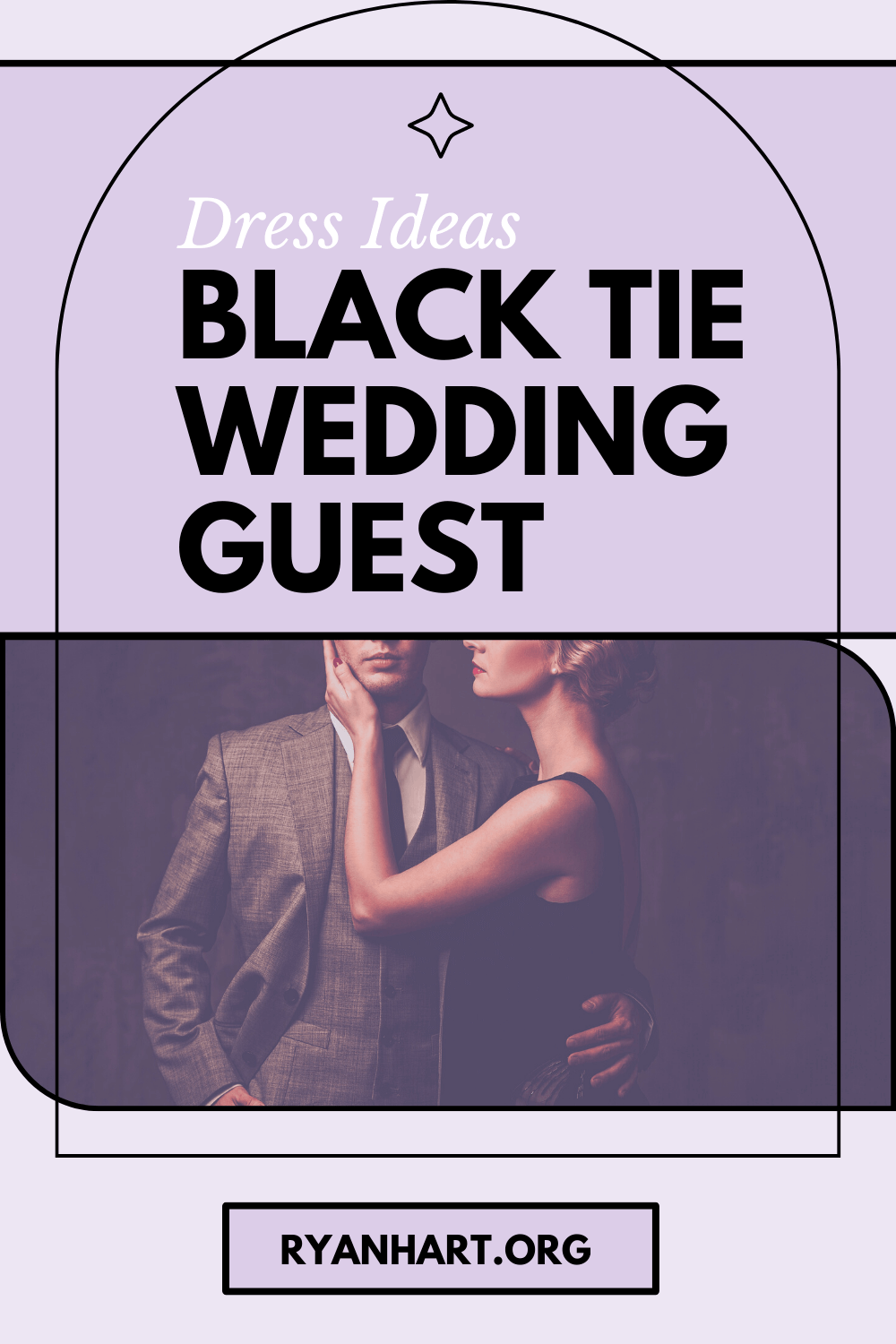 What Should Women Wear to a Black Tie Wedding?
When attending a black-tie wedding as a guest, it is essential to dress accordingly. For women, this typically means wearing a formal gown or cocktail dress.
If you're unsure what to wear, err on the side of caution and choose a long and relatively conservative dress. Avoid anything too revealing or flashy, as this will be inappropriate for the occasion.
Regarding accessories, stick to simple jewelry and avoid anything too loud or flashy. Remember that less is more when it comes to black tie attire, so keep your look elegant and understated.
Bottom Line
One of the most important things to consider when attending a black-tie wedding is what to wear.
Generally, female guests should avoid anything too revealing or casual. Instead, opt for an elegant dress that makes you feel confident and comfortable.
If you need help figuring out where to start, look at these retailers: Lulus, Anthropologie, and Asos. Each store offers a wide range of dresses perfect for black-tie weddings.
And if you still need to decide what to wear, feel free to ask the bride or groom for guidance. After all, they want you to enjoy their big day as much as possible!