The best wedding registry websites make it easy for guests to find and purchase the perfect gifts and provide a range of valuable features for couples. Among other things, a gift registry will allow couples to:
Create and manage their registry from one convenient location.
Choose from a wide selection of products from all the best brands.
Take advantage of exclusive discounts and deals on registry items.
Get expert advice on creating the perfect registry.
In short, choosing the right online gift registry can make planning a wedding easier and more enjoyable. With so many different websites available, it is important to take the time to find the one that meets your specific needs.
Read on to discover five of the best wedding registry sites:
Where to Register for Wedding Gifts
The best place to register for wedding gifts will be different for everyone. You'll want to find a site that not only has all the items you want to register for, but is also easy to use and navigate.
With so many options, it can be tough to know where to start. Here are five places for couples to find the best wedding registry for their wedding planning needs: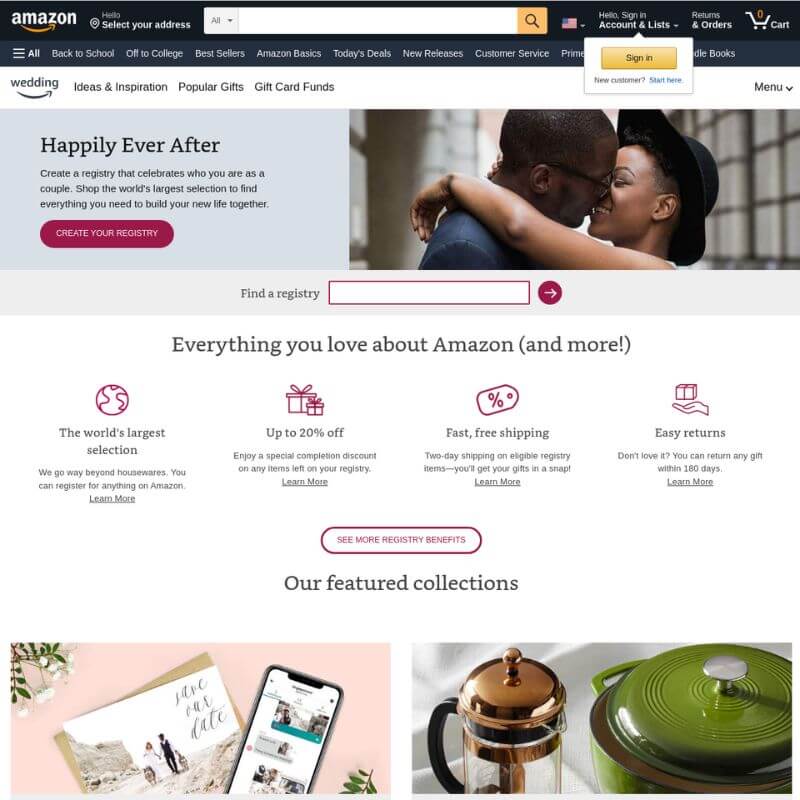 Amazon is a large online retailer that offers a wide variety of items, including books, electronics, clothing, and furniture. Simply put, if there's a gift you want, Amazon probably sells it.
Amazon is known for its low prices and fast shipping, and its Prime membership program offers free two-day shipping on eligible items.
Highlights:
Guests can shop for the perfect gift anytime and anywhere
Amazon Prime members have access to fast shipping
Competitive prices for a wide range of products
Huge selection of items
Special perks such as discounts for registered couples
What Amazon Does Best:
Amazon is a one-stop shop for all your registry needs. You can add items from any website to your registry, and the site will keep track of prices and release dates for you.
Amazon is a great option for couples who want to give their guests plenty of choices.
Create Your Registry on Amazon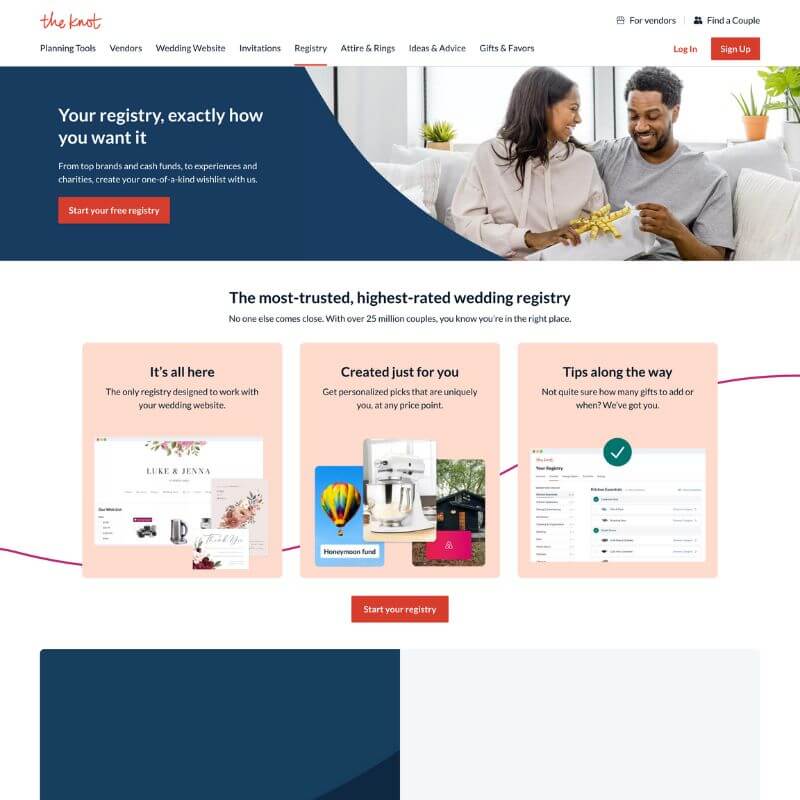 The Knot is a wedding registry company that helps couples manage their wedding plans and gifts in one place. The Knot offers a variety of services, including a wedding website, vendor directory, wedding planning tools, wedding registry, and guest list management.
Highlights:
Wide range of items to choose from
They offer a variety of ways to track and manage your registry
Offers a variety of discounts and deals on wedding registry items
Expert guidance to help couples make the most of their registry
Helpful resources like a wedding budget calculator and wedding checklist
What the Company Does Best:
The Knot also provides a directory of wedding vendors and a wedding shop where couples can purchase wedding-related items. The Knot is a popular choice for couples because it is easy to use and offers a wide range of services.
The Knot is an excellent choice for couples looking for stress-free wedding planning tools.
Create Your Registry on The Knot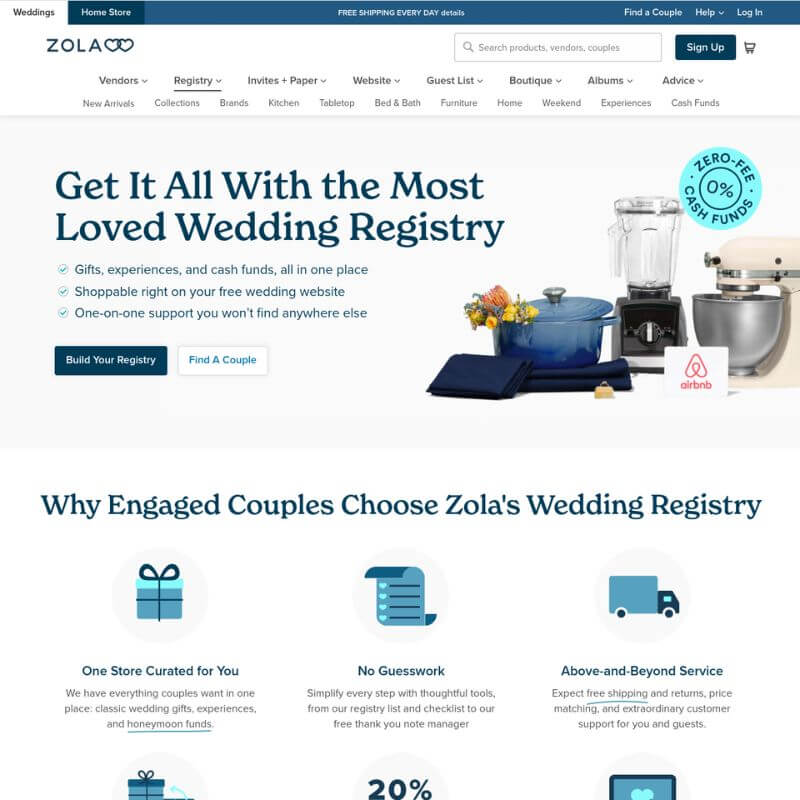 Founded in 2014, Zola is a wedding registry company that offers couples a wide range of products and services. In addition to traditional registry items such as china and silverware, Zola also offers planning tools and honeymoon funds.
Highlights:
Large selection of unique wedding items
Zola also offers cash funds, experiences, and honeymoon funds
Users can add photos and descriptions to each item, so guests will know exactly what to look for
Provides a handy checklist of essential home items
Responsive customer service team for inquiries
What the Company Does Best:
Zola is a convenient and user-friendly wedding registry that can make gift-giving and wedding planning much easier for both couples and their guests.
With Zola, couples can easily create a wedding registry that fits their needs and style.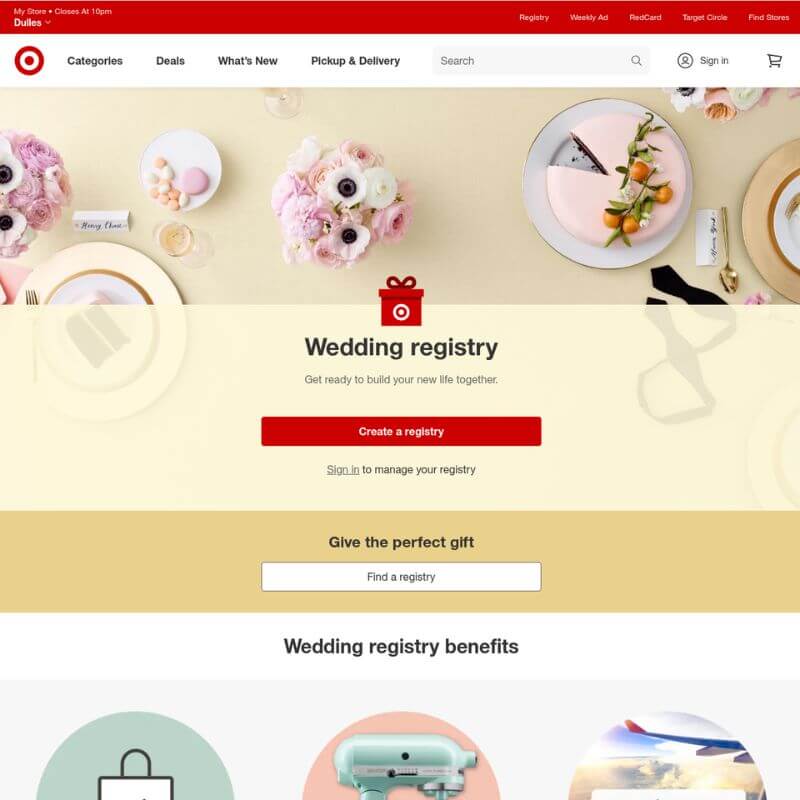 Target is one of the largest discount retailers in the United States, offering a wide variety of products, including clothing, home goods, electronics, and more. Target is known for its low prices and convenient locations and is a popular destination for shoppers looking for great deals.
Highlights:
Easy to return or exchange gifts if necessary
Offers a wide range of brands at various price points
Target offers a wide range of items, from appliances to bedding to clothing, making it easy to find everything in one place.
Completion discount for items left unpurchased in the registry.
Gives guests the option to purchase items online or in-store
What the Company Does Best:
Target's selection, convenience for couples and guests, and discount make it an ideal place to set up a gift registry.
Target is an excellent option for couples looking for an affordable and convenient way to create their wedding registry.
Create Your Registry at Target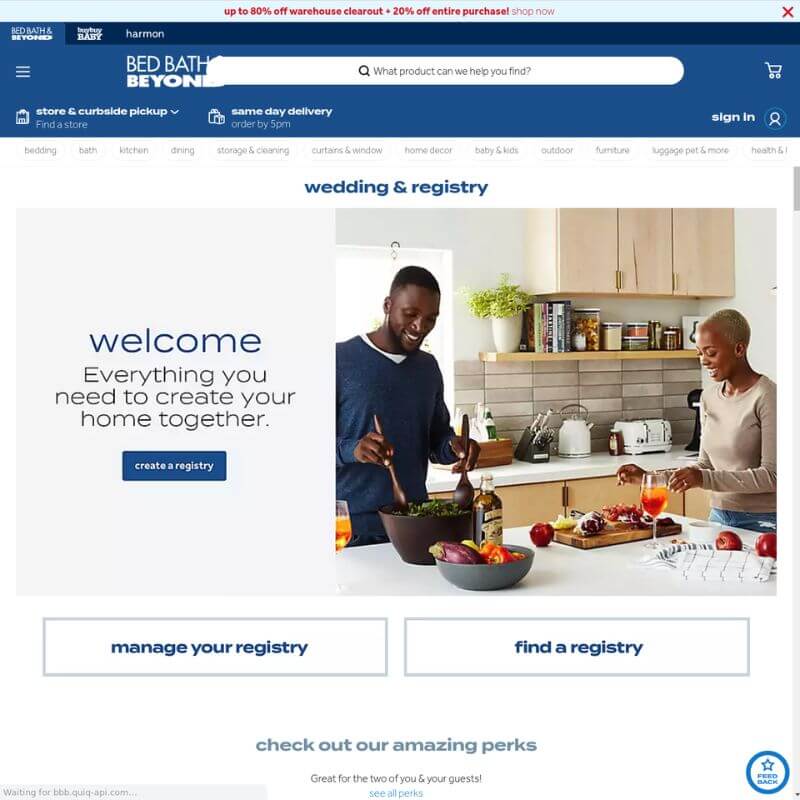 Founded in 1971, Bed Bath and Beyond has over 1,500 stores across the United States and Canada. The company sells a wide range of products for the home, including bedding, bath towels, kitchen electrics, cookware, and storage items.
In addition to its retail stores, Bed Bath and Beyond operates a convenient online store and a free online gift registry service.
Highlights:
Offers a wide variety of items, from kitchen appliances to bedding to small home decor items
Convenient return policy for gifts
Personal shoppers who can help put together the perfect registry
Online registry that can be accessed anytime
Offers a wide variety of perks for members of their wedding registry program
What the Company Does Best:
Bed Bath and Beyond is a popular choice for couples registering for wedding gifts. They have a good reputation for quality products and excellent customer service.
Bed Bath and Beyond is an excellent choice for couples looking for a comprehensive and user-friendly wedding registry.
Create Your Registry at Bed Bath and Beyond
What is a Wedding Registry?
A wedding registry is a digital list of items a couple would like to receive as gifts from their guests. Traditionally, the bride and groom would compile the registry together and then provide a link to the registry website along with their wedding invitations.
The registry typically includes items the couple needs for their new home, such as dishware, small appliances, or linens.
Today, many couples create their registry online, which makes it easier for guests to shop for the perfect gift. In addition, some couples choose to add more unique items to their registries, such as honeymoon experiences or charitable donations.
Overall, a wedding registry is appropriate for couples to let their guests know what gifts would be most appreciated.
What Should You Put on a Wedding Registry?
A well-stocked home should have all the necessities, from cookware to linens, and a wedding registry is a perfect opportunity to acquire them.
Whether you are starting from scratch or looking to replace old items, here are some essential things to put on your wedding registry:
In the kitchen, cookware is a top priority. If you don't have a set of pots and pans, now is the time to get one.
You'll also need some basics like knives, spatulas, and serving utensils. Don't forget about small appliances like a blender or coffee maker. And if you are entertaining often, consider registering for serveware such as serving plates and bowls, serving utensils, and wine glasses.
For the bedroom, start with the basics like sheets and towels, then add some extras like blankets and throws, pillows, and bed skirts.
Add items like throw blankets and pillows, picture frames, and candles in the living room. And don't forget about storage! Closet organizers and shelves are always appreciated.
These are just some ideas to get you started. Be sure to talk to your friends and family for their input on what you should put on your registry. Finally, and most importantly, have fun!
Creating your registry is an exciting first step in building your new life together.
How Much Do Guests Spend on Wedding Gifts?
While there is no set amount that guests should spend on a wedding gift, it is essential to consider the couple's needs and budget when shopping for a gift.
A good rule of thumb is to spend approximately the same amount you would on a nice dinner for two at a restaurant. Average wedding gift prices range from $100 to $150 in the United States.
Of course, if you are close friends or family members of the couple, you may want to consider giving a little more. But, ultimately, the most important thing is to buy a gift that you know the couple will appreciate and use.
With so many choices available, from registry items to cash, it can be helpful to consult with other guests or the couple themselves to get an idea of what would be most appreciated.
Bottom Line
While some couples may view registering for wedding gifts as an impersonal process, there are actually several reasons why registering online can be advantageous.
First, it allows guests to see the couple's needs and wants in one convenient place. Second, it takes the guesswork out of gift-giving, making it easier for guests to find a present that the couple will genuinely love and appreciate.
Finally, it can help ensure that the couple receives items they need, rather than receiving duplicate gifts or things they do not want or need.
In short, registering for wedding gifts online can be a great way to ensure the couple gets everything they need to start their life together.