Choosing the best engagement ring is just as important as planning your proposal. However, with engagement rings often costing thousands of dollars, most Americans choose to finance their purchase.
Fortunately, several financing options are available to help you buy the ring your partner deserves without breaking the bank.
One of the most common ways to finance an engagement ring is through jewelry store credit cards, which often offer interest-free financing for a set period of time. Other options include personal loans, lease-to-own programs, and layaway plans, each with its own benefits and drawbacks.
In this article, we'll explore the various financing options available for purchasing an engagement ring, including the pros and cons of each. It is essential to understand your options in order to make an informed decision and find the best way to finance a wedding ring: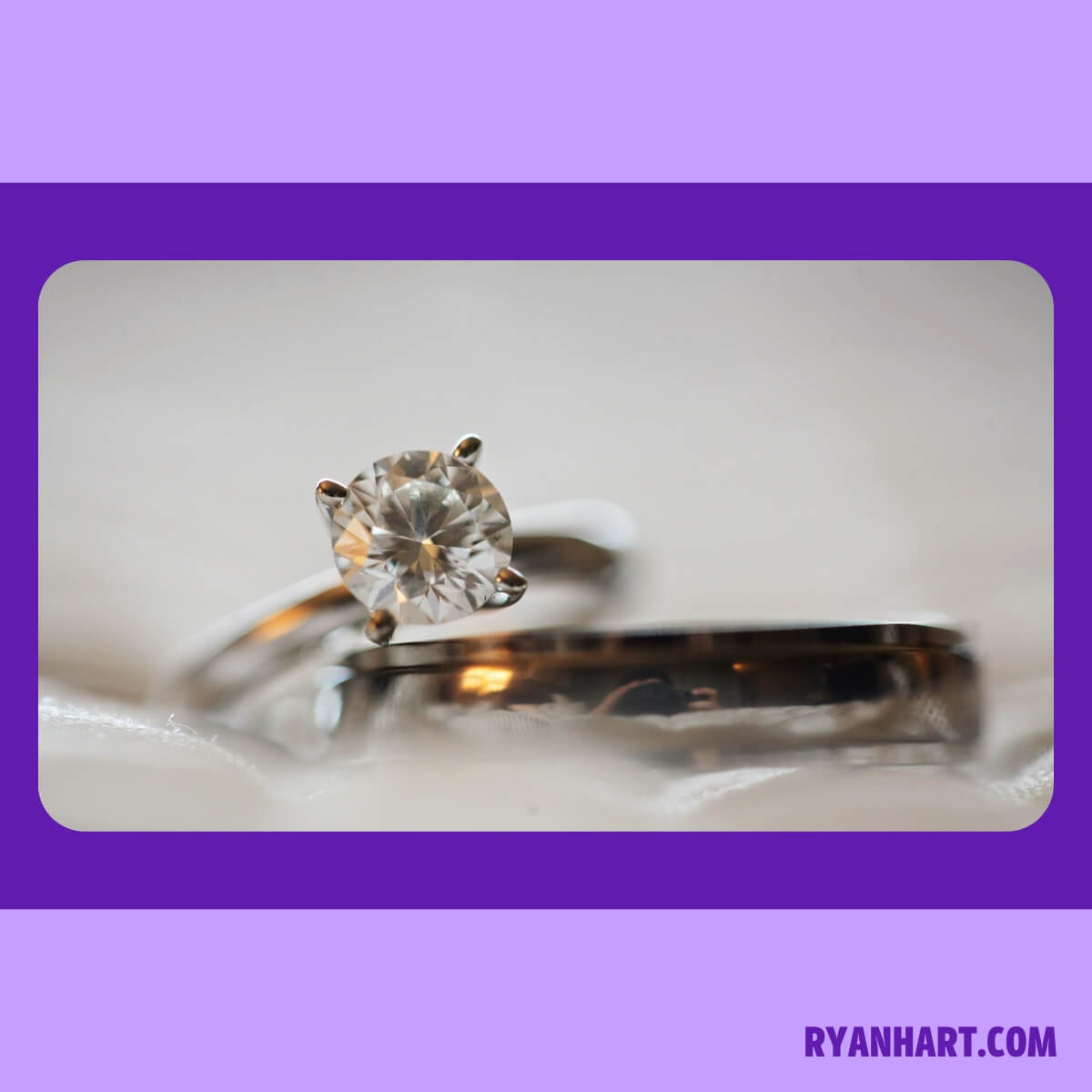 Where to get financing for an engagement ring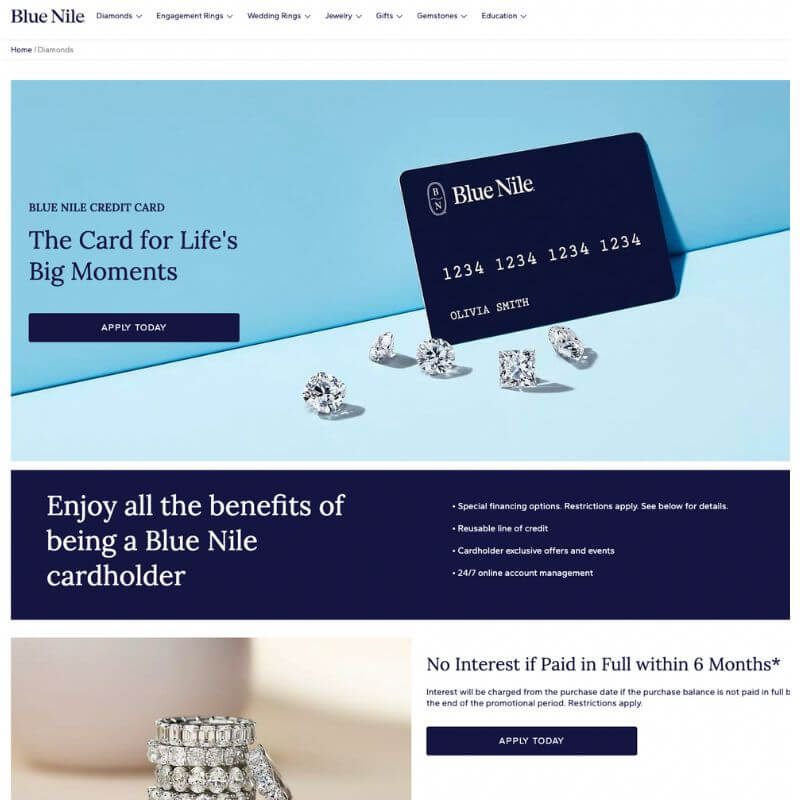 A Blue Nile credit card is an affordable way to finance an engagement ring because it offers promotional financing options that allow you to pay for your purchase over time without accruing interest.
For example, if you make a minimum purchase of $1,000, you can take advantage of the "No Interest if Paid in Full within 6 Months" plan. This means that you will only be charged interest if you pay off the full promotional balance before the end of the 6-month period.
If you don't pay off the balance in time, you will be charged interest from the purchase date at the standard Purchase APR. This plan also requires minimum monthly payments, but you'll need to make larger payments to avoid interest.
In addition to the promotional financing options, the Blue Nile credit card also offers a 9.99% APR with 24 monthly payment plans for purchases of $2,000 or more. With this plan, you'll pay a monthly payment amount that equals the purchase amount and estimated interest for the length of the offer divided by the number of months in the offer.
Overall, the Blue Nile credit card provides flexible financing options that can make an engagement ring purchase more manageable and affordable for many customers.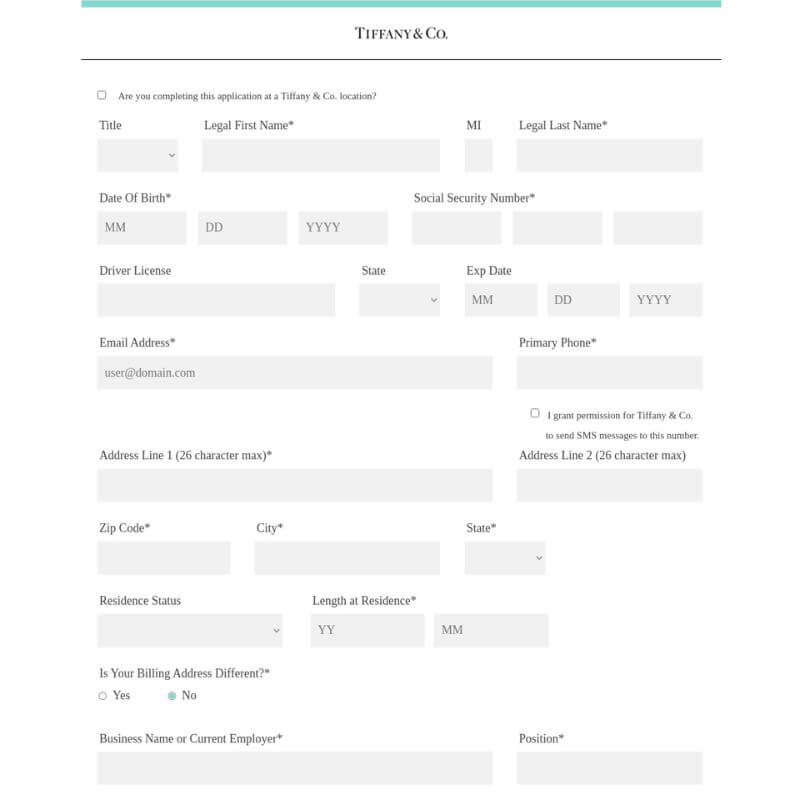 If your heart is set on a Tiffany engagement ring, there's no need to compromise on your dream ring. Tiffany & Co offers financing options to help you confidently make your purchase. You can complete an online application and select the ring designs you truly love, knowing that you have payment options available to you.
To apply for financing, simply fill out a form on their website. Once approved, you can pay your bill online or activate monthly electronic billing statements for your convenience.
The interest rate varies depending on the amount financed and the length of the payment plan, but it ranges from 9.99% to 24.99%. There are six to sixty-month payment plans available, and the minimum monthly payment is $50 or 3% of the outstanding balance, depending on which is greater.
Customers can also choose to pay off their balance early without penalty. Overall, the financing terms offer flexibility and convenience for customers who want to purchase a Tiffany engagement ring.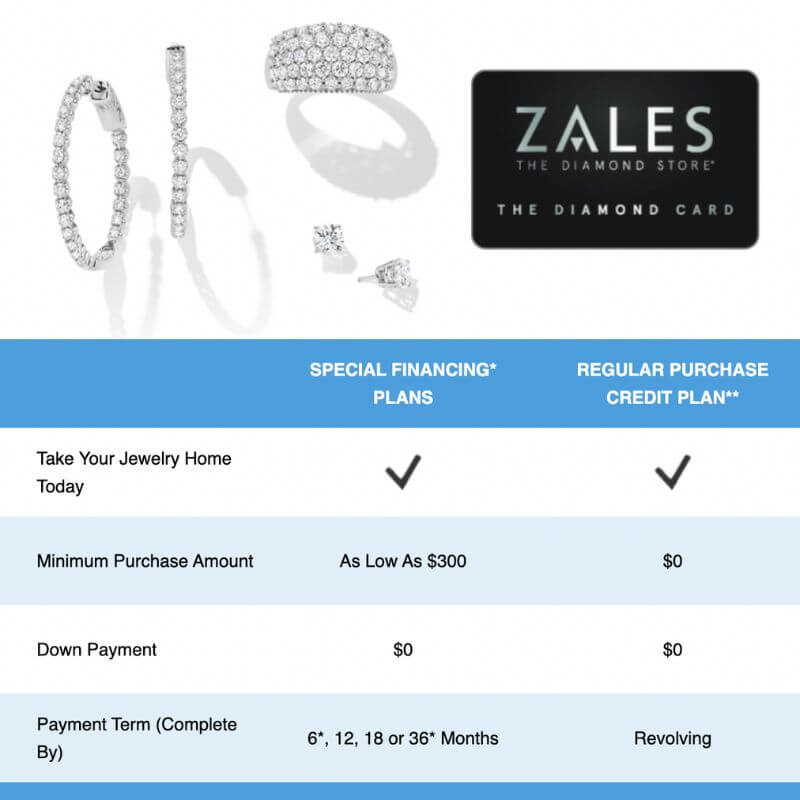 Zales offers a variety of financing options for customers who want to purchase an engagement ring. The Diamond Credit Card allows customers to make minimum payments and offers promotional financing for single transactions.
Zales also offers Progressive Leasing, a lease-to-own program requiring a $79 initial payment plus tax. Depending on the item selected, the remaining lease payments will be determined.
Customers can also apply for financing through Affirm, which offers payment options with 0-36% APR rates. The payment options through Affirm are subject to an eligibility check and depend on the purchase amount, and a down payment may be required.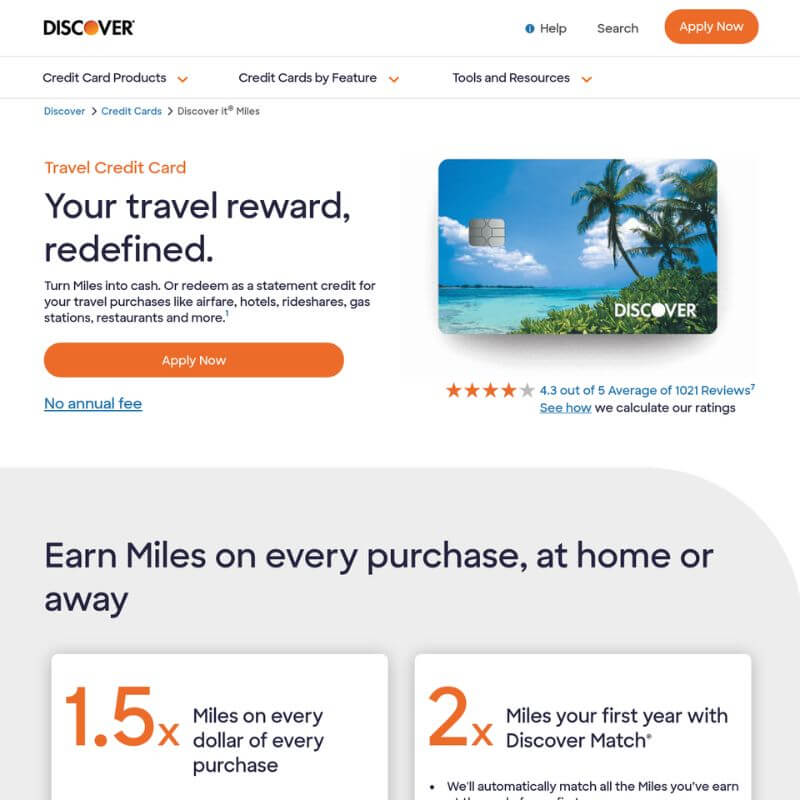 Discover it® Miles is a travel credit card that offers rewards on every purchase, including airfare, hotel stays, car rentals, groceries, gas, and bills.
The card has no annual fee, and Miles are redeemable for cash or statement credits on travel purchases, including airfare, hotels, gas stations, restaurants, and more. Miles also never expires.
The card is accepted nationwide by 99% of credit card-accepting establishments, according to the Nilson Report for February 2023. The card offers unlimited 1.5x Miles on every purchase, and there are no blackout dates for redeeming Miles. The card also includes security benefits and service perks.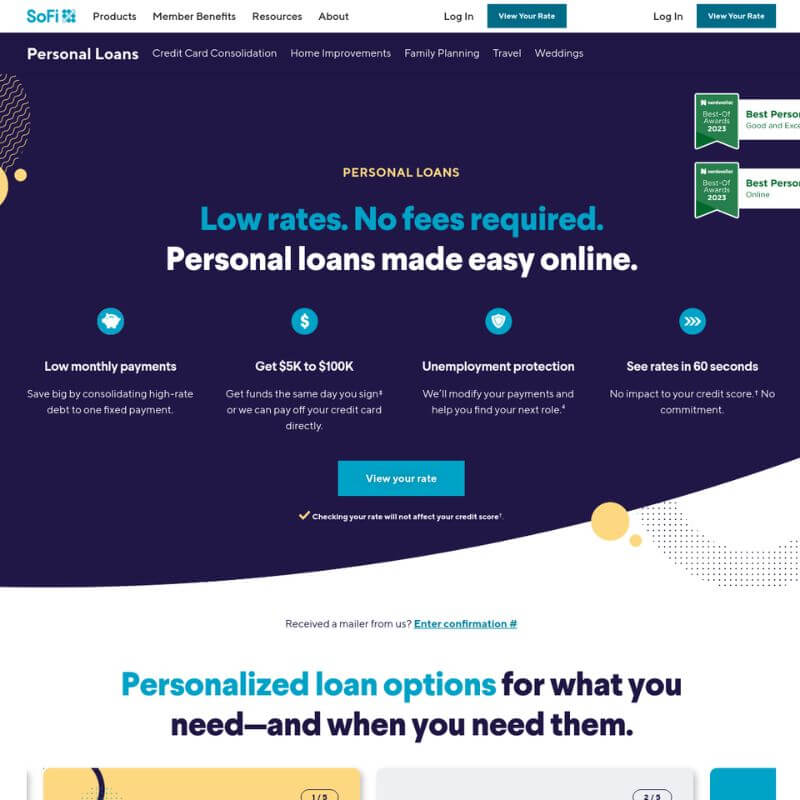 SoFi Pesonal Loans offer several benefits, including affordable interest rates, easy repayment terms, and no fees. As a SoFi member, you can also access exclusive benefits such as financial planning advice, career coaching, and discounts on estate planning services.
Additionally, SoFi offers resources such as credit score monitoring, budgeting and spending tools, and investment portfolio summaries.
SoFi personal loans can help you finance your wedding or engagement ring without straining your budget while also providing you with valuable financial resources and support.
Brilliant Earth offers competitive financing options for engagement rings, including Affirm Financing, Wells Fargo Jewelry Advantage Credit Card, PayPal, Apple Pay, bank wire, credit cards, and layaway plans.
Affirm Financing provides 0% APR monthly repayment plans to well-qualified buyers. The Wells Fargo Jewelry Advantage Credit Card offers special terms for qualifying purchases charged with approved credit.
PayPal and Apple Pay allow for easy checkout using existing accounts. If you acquire financing from another source, transferring money via a bank wire offers a 1.5% discount for US and Canadian orders.
For customers that plan, layaway plans require a 20% deposit and regular minimum payments.
The flexible payment options offered by Brilliant Earth help customers purchase their dream engagement ring without financial stress.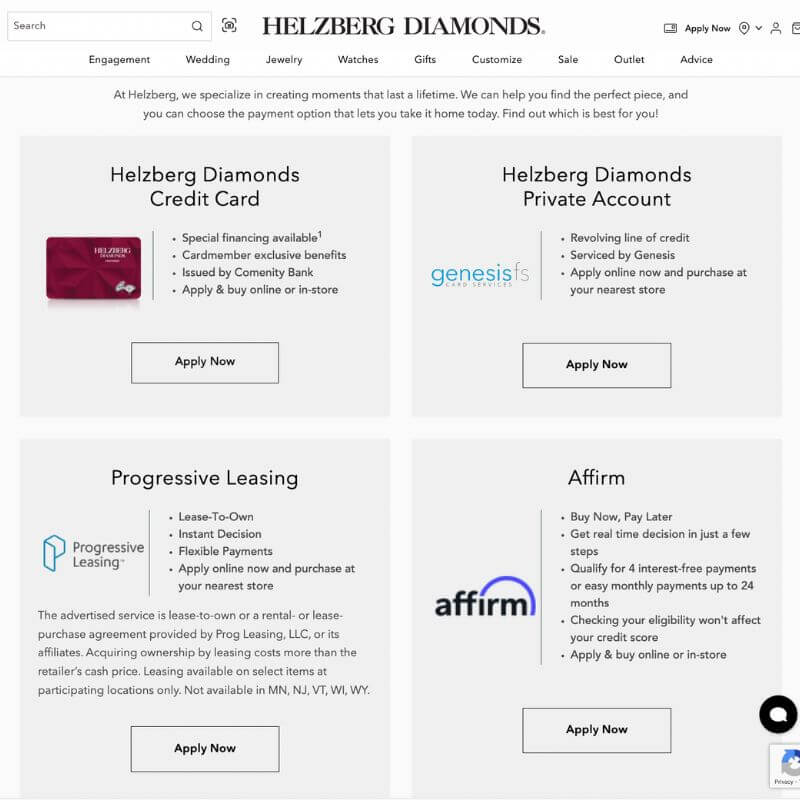 Financing options at Helzberg include the Helzberg Diamonds Credit Card, Helzberg Diamonds Private Account, Progressive Leasing, Affirm, and PayPal.
The Helzberg Diamonds Credit Card offers special financing options, including zero down payment and no annual fee, with 6 to 12 months interest-free periods for purchases over $299 or $999.
The Helzberg Diamonds Private Account provides a revolving line of credit with flexible payment options.
Alternative financing options through Progressive Leasing offer lease-to-own options with instant decisions and flexible payments. Similarly, Affirm allows for manageable monthly payments of up to 24 months with real-time decisions.
PayPal offers convenience and security with options for paying in four interest-free payments on qualifying purchases.
Frequently Asked Questions
What is engagement ring financing?
Engagement ring financing is a way for people to buy special rings for proposing marriage, even if they don't have all the money at once. Instead of paying the full price upfront, they can make smaller payments over time. This helps make the expensive rings more affordable.
How does engagement ring financing work?
When you want to buy an engagement ring, you can visit a jewelry store or a website that offers financing. They'll ask you to pay a smaller amount of money upfront, called a down payment. Then, you'll make regular payments every month. These payments continue until you've paid off the whole cost of the ring.
Can I get approved for engagement ring financing?
Whether you're approved for financing depends on your credit. Credit is like a report card for how good you are at paying back borrowed money. If you have good credit, it's easier to get approved. But if your credit isn't so good, you might need someone with good credit, called a co-signer, to help you get approved.
What happens if I can't make the payments?
If you can't make your payments on time, there might be extra fees. Plus, it could make your credit worse. Credit is like your money reputation, so it's important to make payments on time. If something unexpected happens, it's a good idea to talk to the jewelry store or company. They might help you figure out a solution.
Bottom Line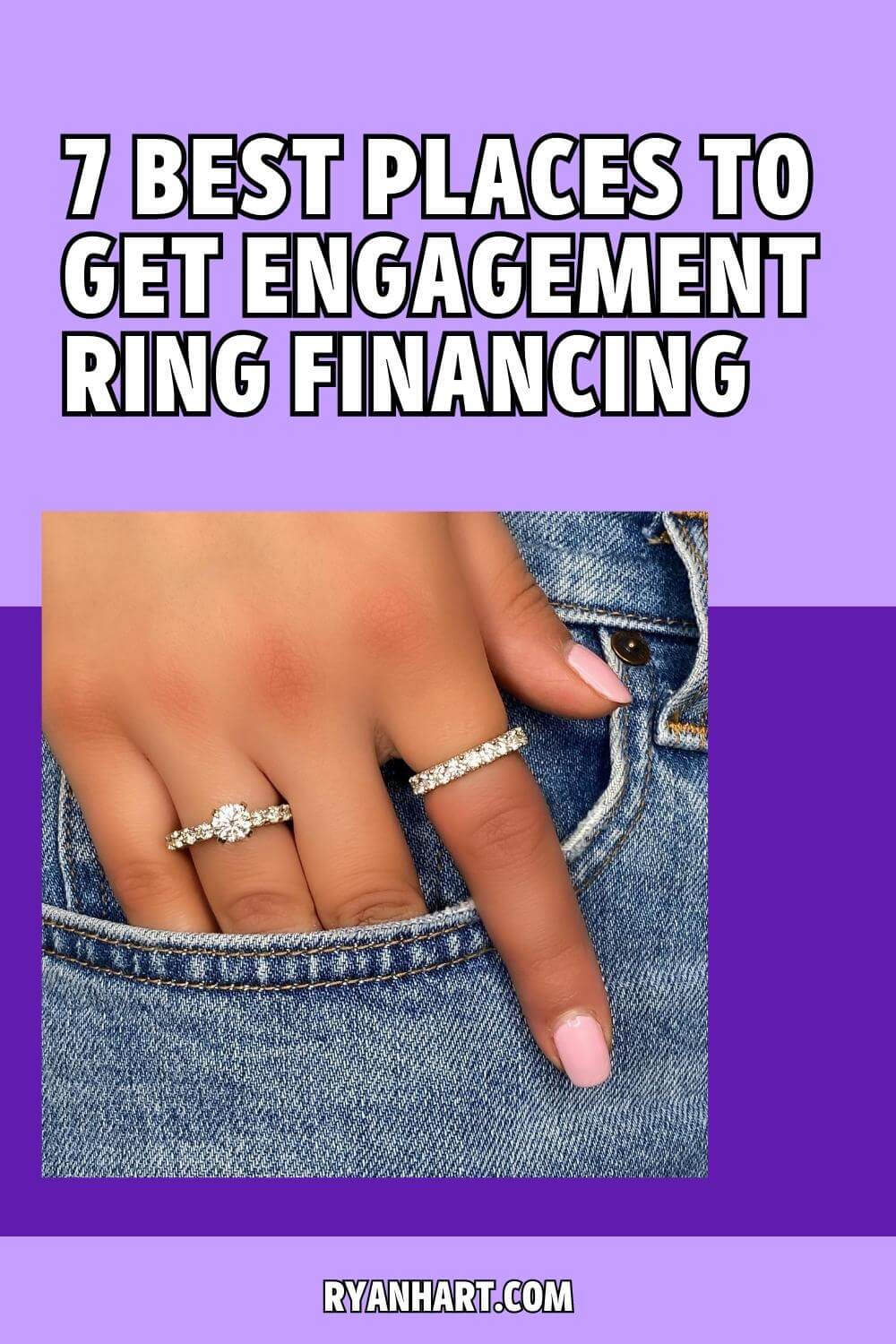 Well, we've reached the end of our chat about engagement ring financing. I hope you've learned a lot and feel more confident about your options. Whether you decide to save up, use a credit card, or get a loan, the key is to do what's right for your situation.
Don't forget, it's not about how much you spend on the ring, but the love and commitment it symbolizes. So take your time, do your research, and make a decision that feels good for you.
And most importantly, have fun with it! After all, this is a special time filled with joy and anticipation. Good luck on your journey to finding the perfect ring!