As a stylish mom, you want to look amazing at your daughter's wedding. But, it can be hard to find the perfect pantsuit.
You see, once you find the right outfit it still must complement the bridesmaid dresses and the wedding's overall theme.
In this article, we'll explore the best Mother of the Bride pantsuits for the big day. Together, we'll find the outfit that makes you feel like a superstar mom!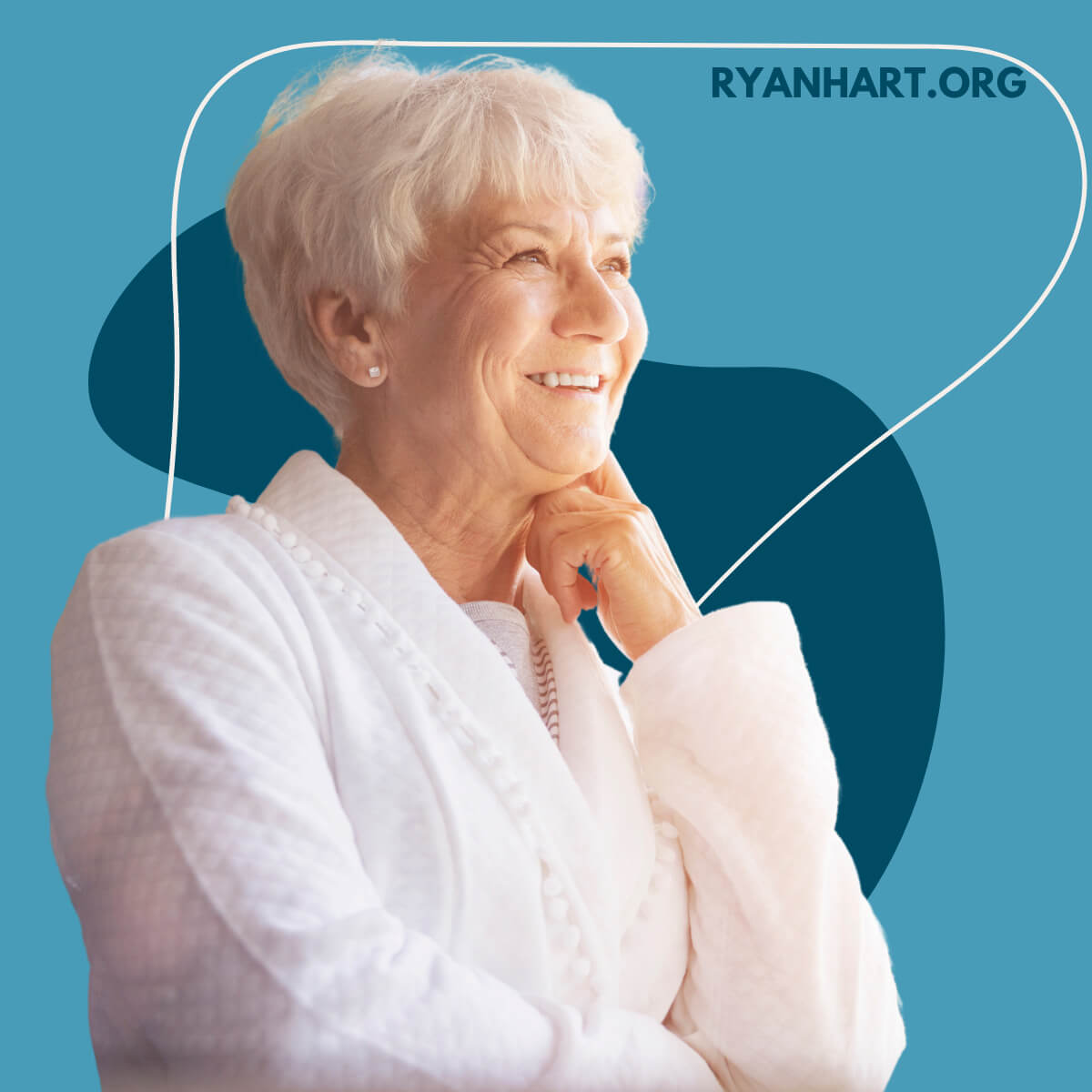 What are the best pantsuits for mother's of the bride?
The best mother-of-the-bride pant suits should have a touch of style to help you look and feel more comfortable at the wedding. They should be made of fabrics that feel comfortable on just about any frame or person.
With these ideas in mind, let's look at the top 10 best pant suits for the mother of the bride: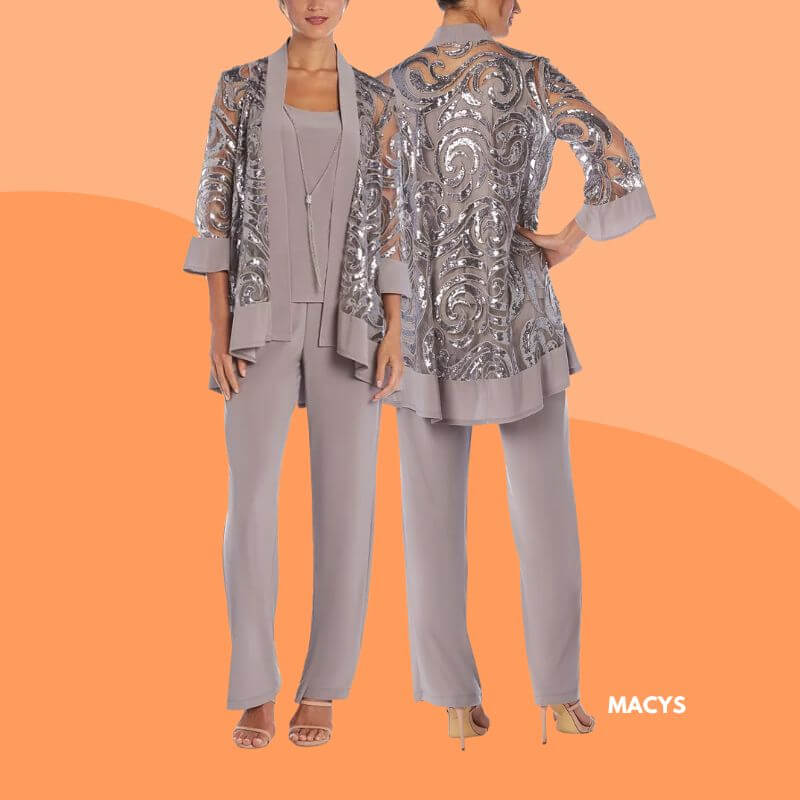 This pantsuit for the mother of the bride is an attractive combination of a sequin-lined top with lace throughout its design. The smooth top and bottom are reasonably conservative but attractive, with a lower neckline giving the mother a bit of extra style.
Why we like this pant suit:
We love this pant suit as an option for the more sober-minded mother. It isn't exactly old-fashioned but has a stylish look that helps a mother look great without revealing too much. We think this suit works well in both casual and more formal wedding settings.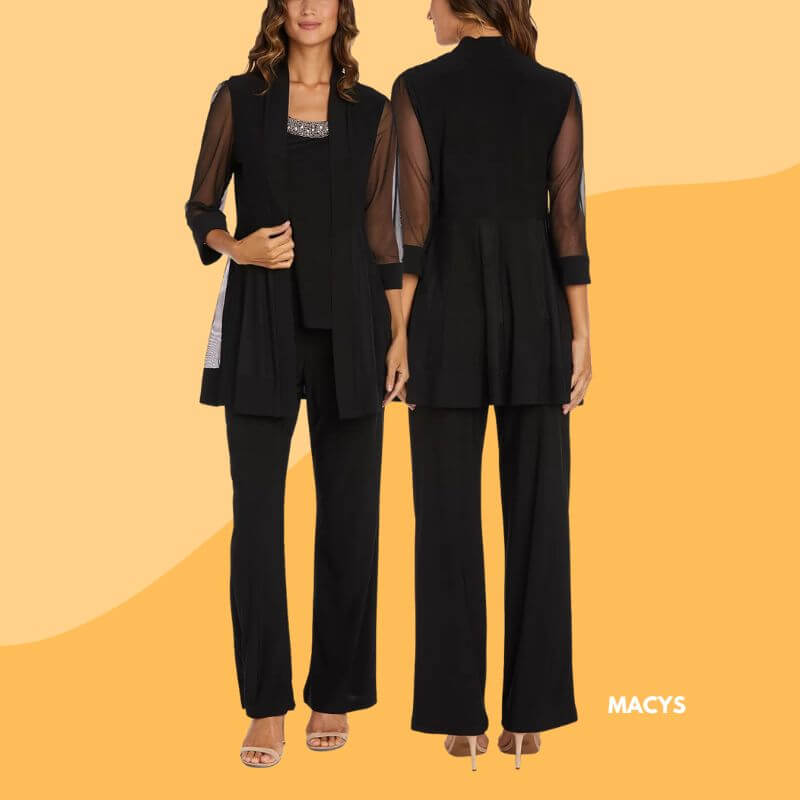 This gorgeous layered pant suit is a great look for the stylish mom who wants to stand out at her daughter's wedding. Its beautiful lace sleeves, attractive jacket, bejeweled neckline, and appealing style will help you look great without drawing attention from the bride.
Why we like this pant suit:
A stylish mom will love this pant suit because it will provide an immediately appealing look that will draw eyes without being too flashy. It will help the mother of the bride fit into a ceremony with ease and create an appealing look.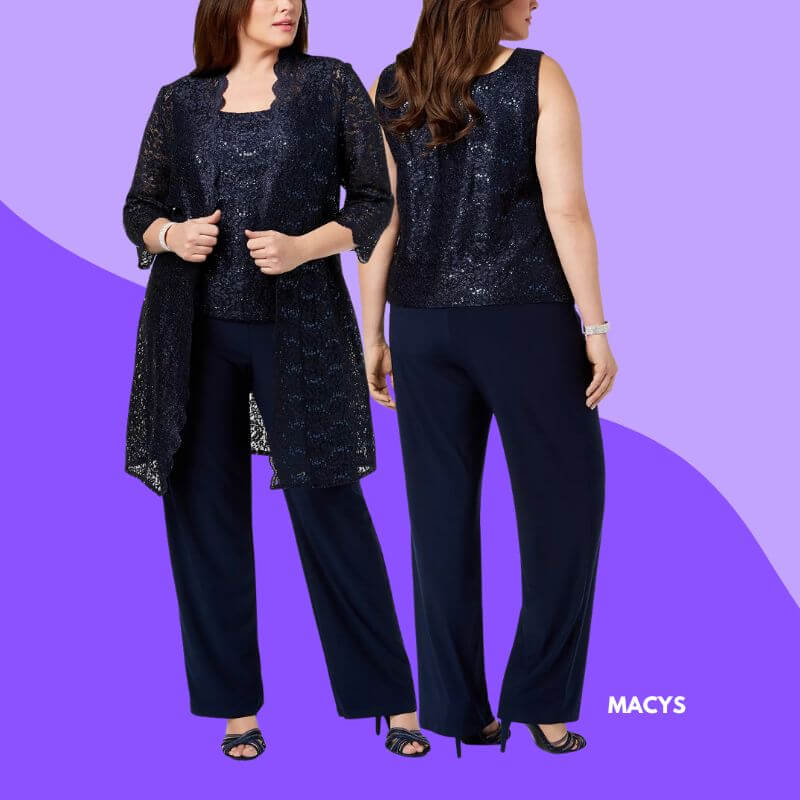 Are you looking for a pantsuit for a mother of the bride who thinks a bit outside the box? This suit may be the best option for you. It pairs an attractive and light lacy jacket with an attractive sequined pantsuit with dense black color and texture.
Why we like this pant suit:
The unique sequin and lace of this mother-of-the-bride pant suit make it great for more casual weddings. It has a touch of pagan or new age look to it that provides a suitable look for outdoor ceremonies and works well when transitioning to the wedding's reception.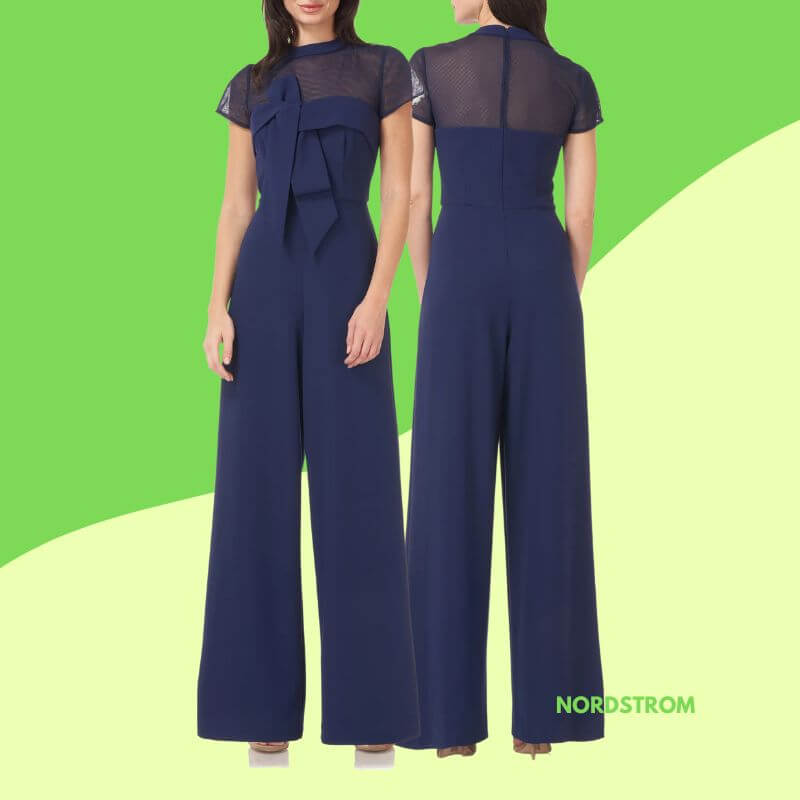 Here's another stylish pantsuit that will look great on any mother of the bride. It has a gorgeous one-piece feel that includes an attractive mesh top on the back and top chest, along with bows and other decorative features. It's subtle but stylish and could easily be worn for more than one occasion.
Why we like this pant suit:
Any mother who wants an attractive, comfortable, stylish pantsuit will love this option. Its simple but elegant style fits into just about any wedding look. The light and open material work well for summer weddings as well, giving it a diverse range of potential uses.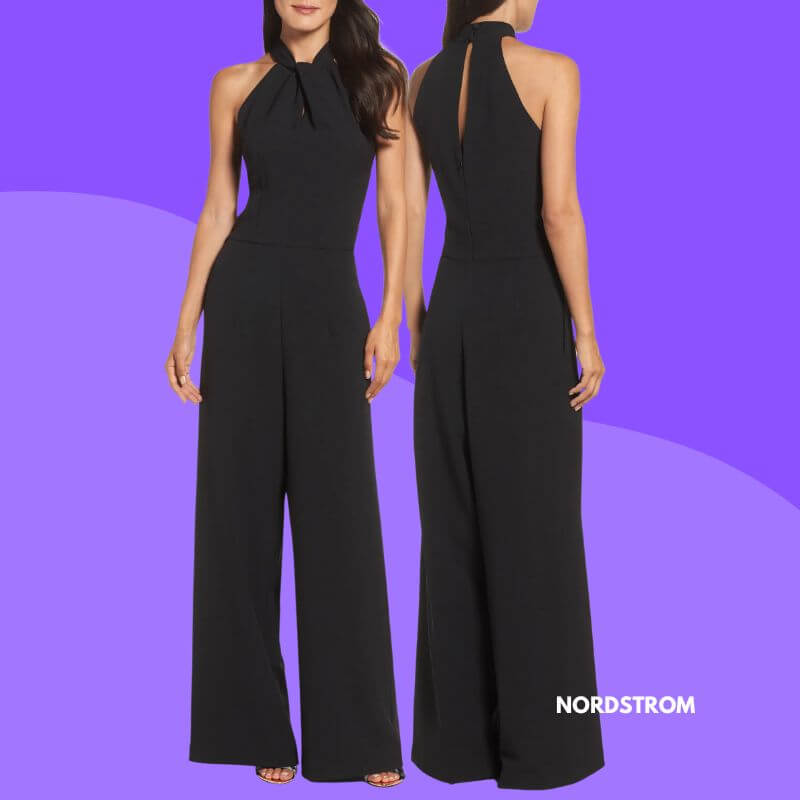 The best wedding guest pant suits are attractive and accentuate the mother's body without making her appear gaudy. This slightly riskier jumpsuit is a beautiful one-piece suit with open shoulders and back straps that make it gorgeous without being too obvious.
Why we like this pant suit:
Try this pant suit if you're a petite and slim mother with fantastic curves. It accentuates your body's shape without being too obvious or flashy. The open-shoulder design will definitely catch more than a few eyes without taking attention away from your daughter.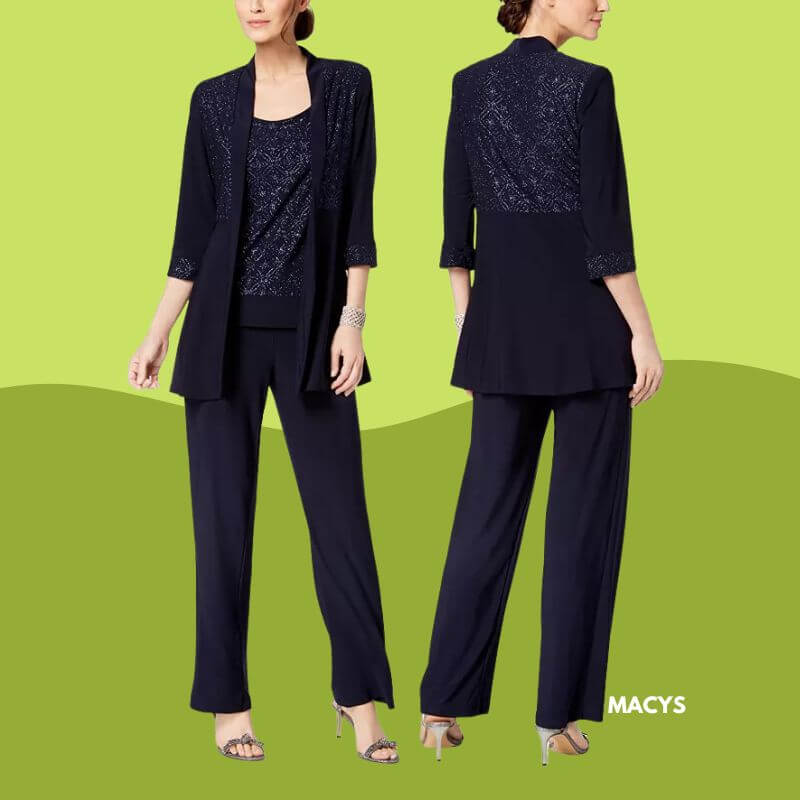 Glitter might seem flashy, but this pantsuit uses it right. It adds a little to the jacket and top to provide a slightly eye-catching style.
However, it pairs the glitter with a conservative look and darker color that helps balance the flash of the glitter with the subtlety of the darker tones.
Why we like this pant suit:
This subtle pantsuit has just enough flash to make it perfect for any wedding. The glitter will catch the eye without overwhelming the senses. Furthermore, the subtle overall feel makes it an excellent pantsuit for the mother of the bride with a shyer personality.
Some may simply want a pantsuit that looks great without a lot of fuss. This simple design has a two-piece look with a one-color design and a mid-length v-neck. The open sleeves provide a bit of flash for a suit that's otherwise reasonably low-key but appealing.
Why we like this pant suit:
Mothers who want a subtle look that won't overwhelm their daughter's big day will love this pantsuit. Its low-key style, including the open sleeves, should help her look great without being flashy. It's also an excellent option for plus-sized moms because it comes in a custom-fit design.
Three-piece designs like this work well for wedding guest pantsuit designs. It comes with a long jacket that provides some style and flash to the design and a gorgeous top and bottom that make it easy to relax on the dance floor during the reception.
Why we like this pant suit:
We love the classy but gorgeous pantsuit style, with its sweeping cloth and frills along the jacket. Its modern style makes it look great for casual weddings and outdoor ceremonies. However, it also looks great in more formal or religious ceremonies.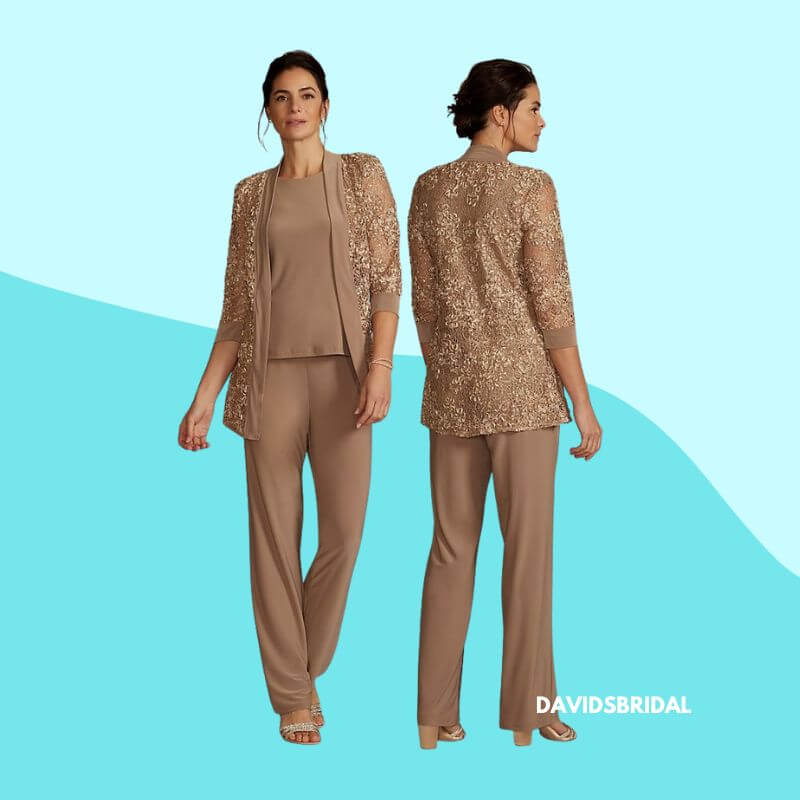 Here's another attractive three-piece option that works well as a mother-of-the-bride pantsuit. Its slim design and one-color top and bottom fit perfectly into most wedding ceremonies. The embellished jacket gives it a slight flash that helps the mother stand out without being too obvious.
Why we like this pant suit:
We suggest this pantsuit for a bold mother who wants to stun when she walks down the aisle. Its gorgeous look fits just about any style, skin tone, and size. However, it is low-key enough not to become the talk of the town after the ceremony is over, keeping all eyes on the bride.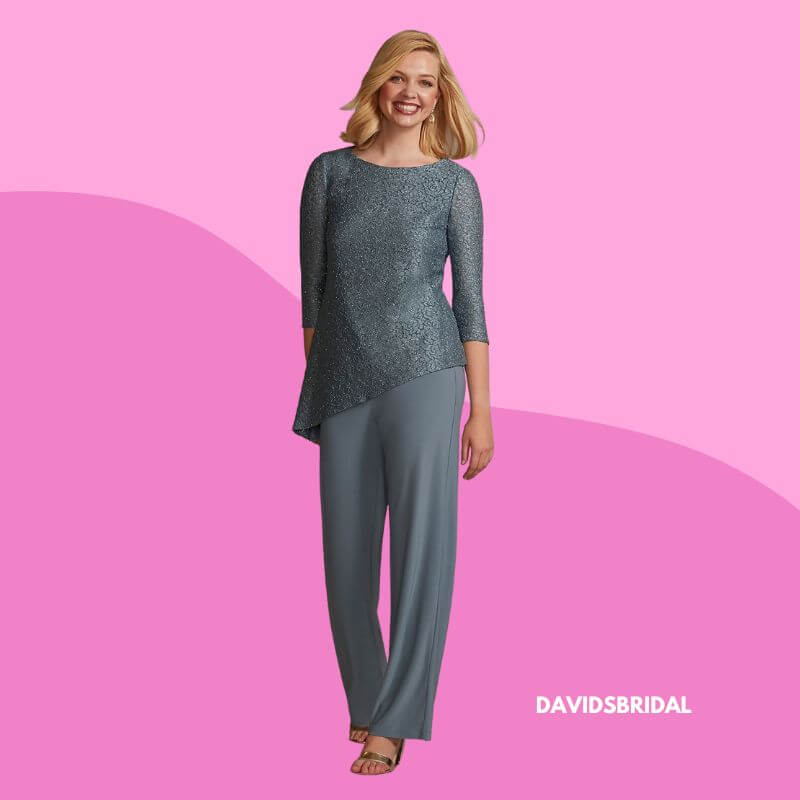 This two-piece pant suit a dark top with an asymmetrical hem and a lighter-colored bottom. It is a simple but effective design that provides plenty of breathing room for the mother and an attractive overall style that blends well with many wedding looks.
Why we like this pant suit:
This asymmetrical pantsuit is great for mothers who want a slightly different look that helps them stand out on their daughter's wedding day. The textured top is a particularly nice touch and gives this pantsuit a little more kick to its overall subtle style
Bottom Line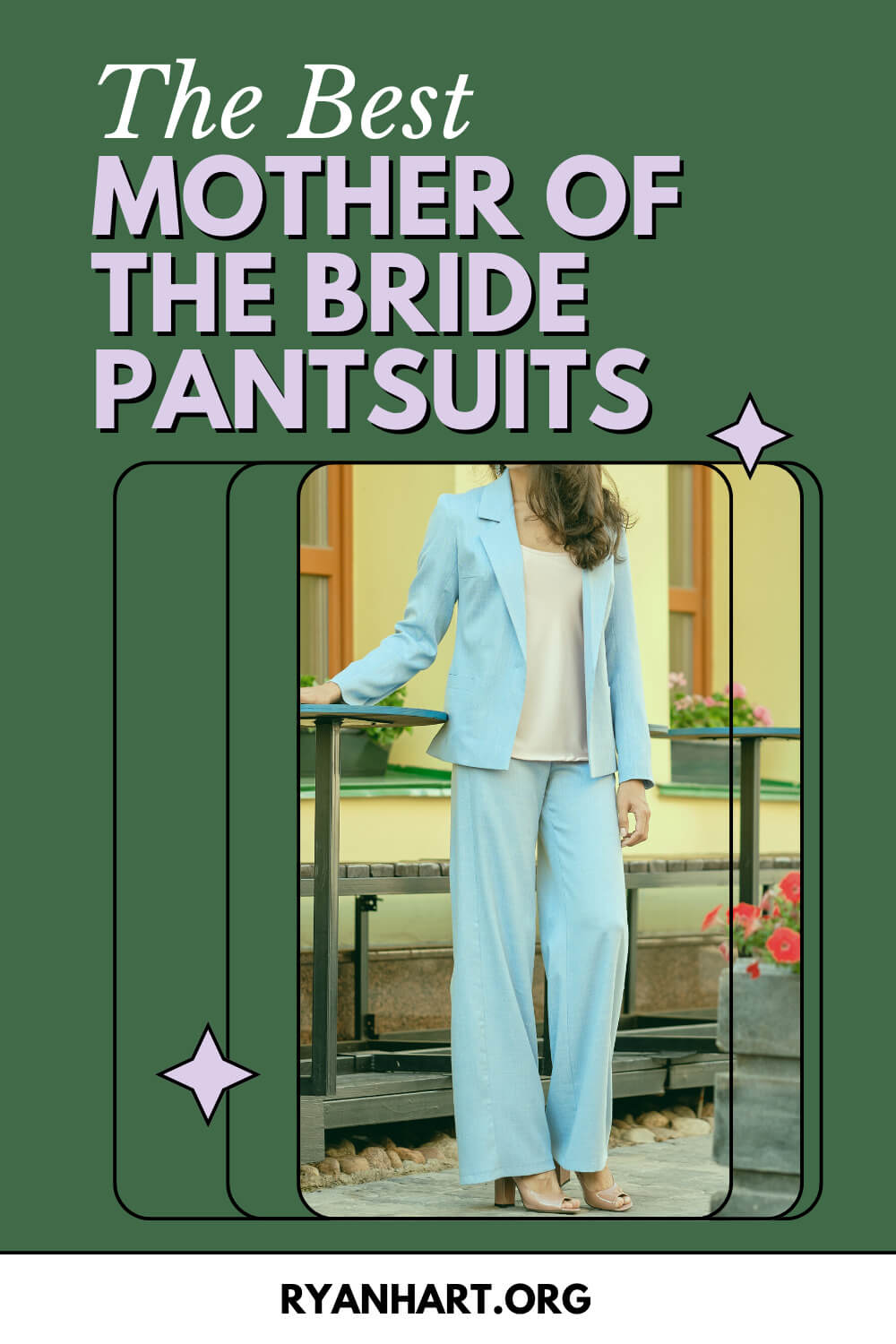 In the end, finding the perfect Mother of the Bride pantsuit is all about feeling great and looking fabulous. You'll shine on your daughter's big day with the right color, style, and fabric.
Remember, it's important to feel comfy and confident. So, try on different pantsuits, find your favorite, and add some lovely accessories. You'll be the most stylish person at the wedding!