Your son is getting married, congrats! While the bride wants to look nice on her big day, so do you. The best way to go about this is to narrow your selection of mother of the groom dresses down to a few, so you can easily pick one.
The good news is that a few retailers offer an impressive selection of dresses for the groom's mother. The process of choosing one can be too overwhelming unless you shop smartly.
Let this guide steer you in the right direction.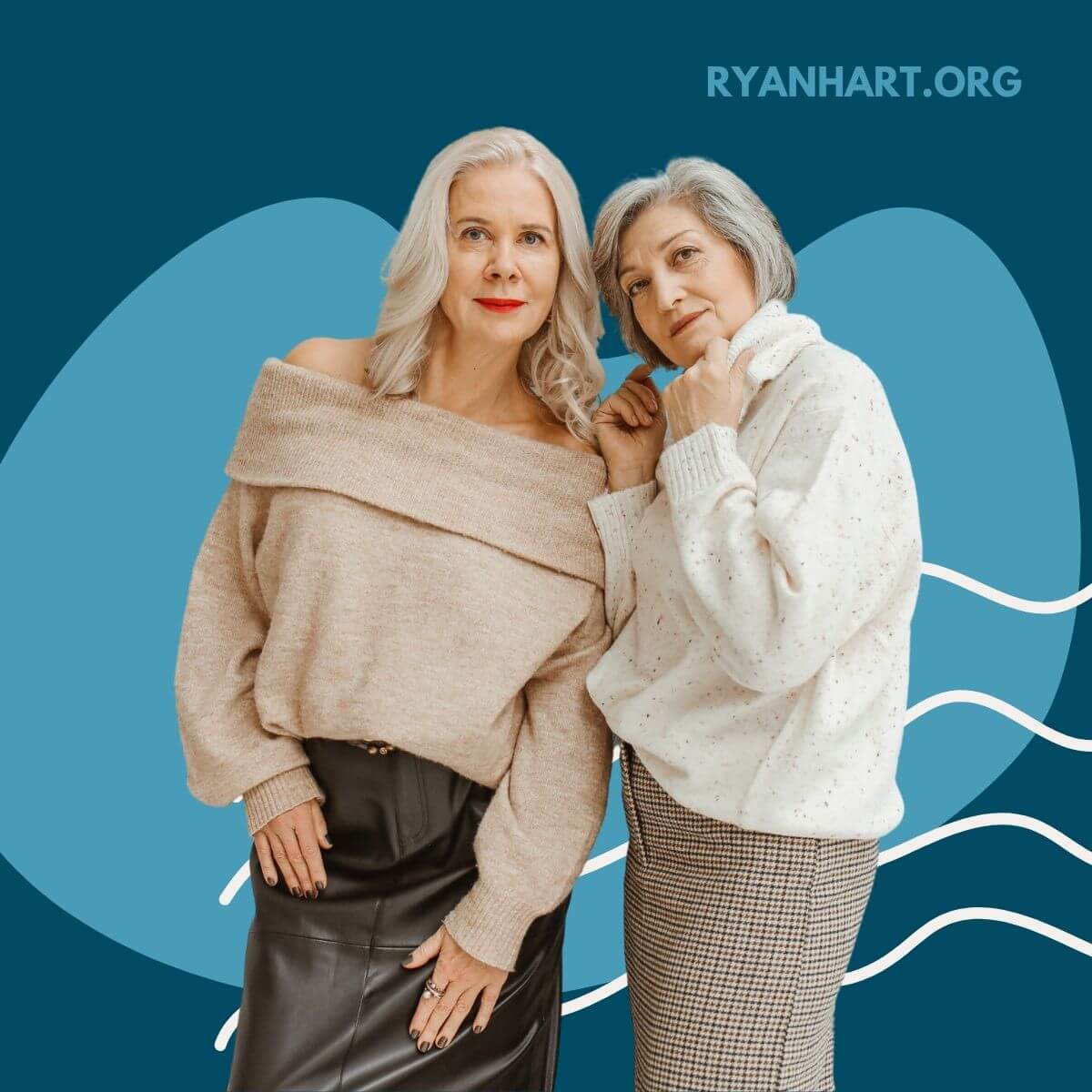 Where To Buy Mother Of The Groom Dresses?
The industry's top retailers are your best bet for finding just the right dress. So, without further adieu, here are the best places to buy mother of the groom dresses.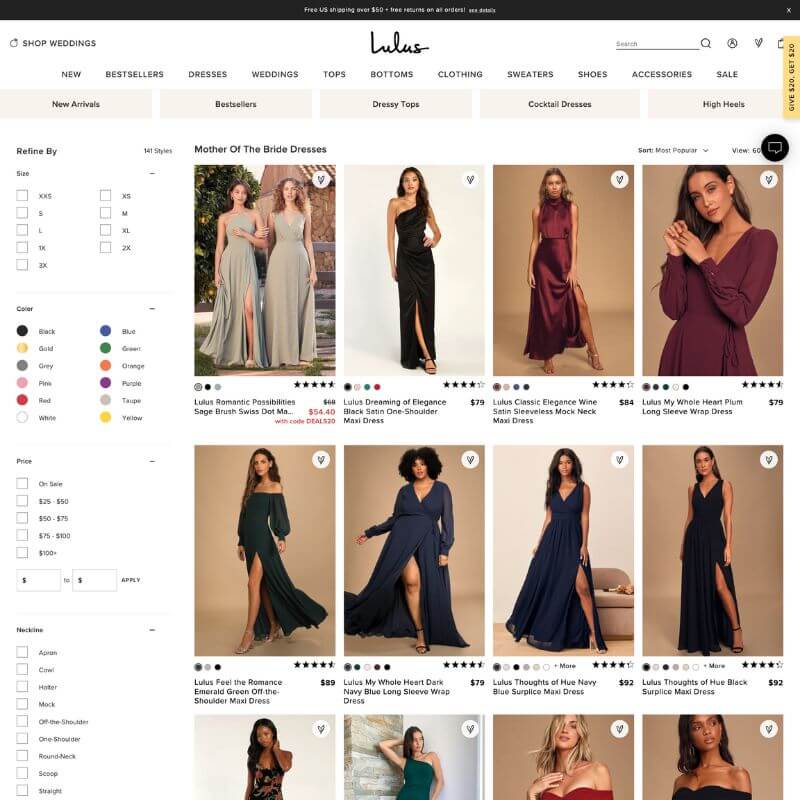 For a mother on a budget, Lulus is a dream come true. You don't have to break the bank to find the perfect dress for your son's wedding. There's never a need to save up before you make your purchase.
So browse the dresses they have, all the while knowing none of them are outrageously priced.
What Lulus does best:
Thanks to their search filters, Lulus makes it easy to find the ideal mother of the groom dress in a hurry. Choose your color size, neck cut, and length to immediately narrow your choices down.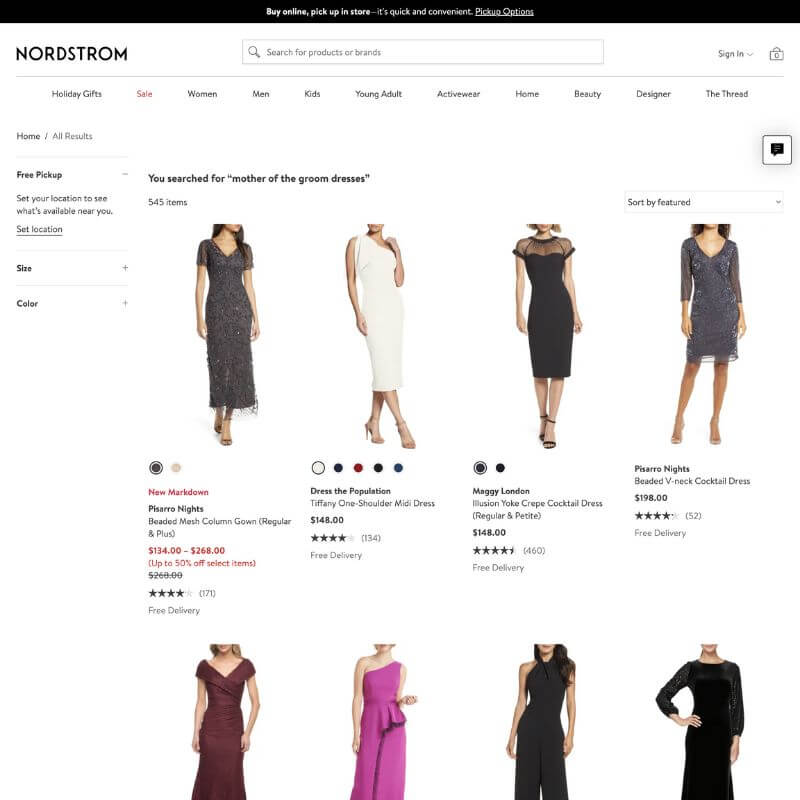 Nordstrom is a popular choice for the discerning woman who wants the highest quality mother of the groom dresses. The picture of elegance, this retailer will have you looking like a million bucks on your son's wedding day. And with reviews from other customers, you can get a feel for which dress you prefer, based on what other women do.
What Nordstrom does best:
Nordstrom makes it easy to find the perfect fit regardless of your body size or type. You'll never settle for a dress that doesn't compliment your figure.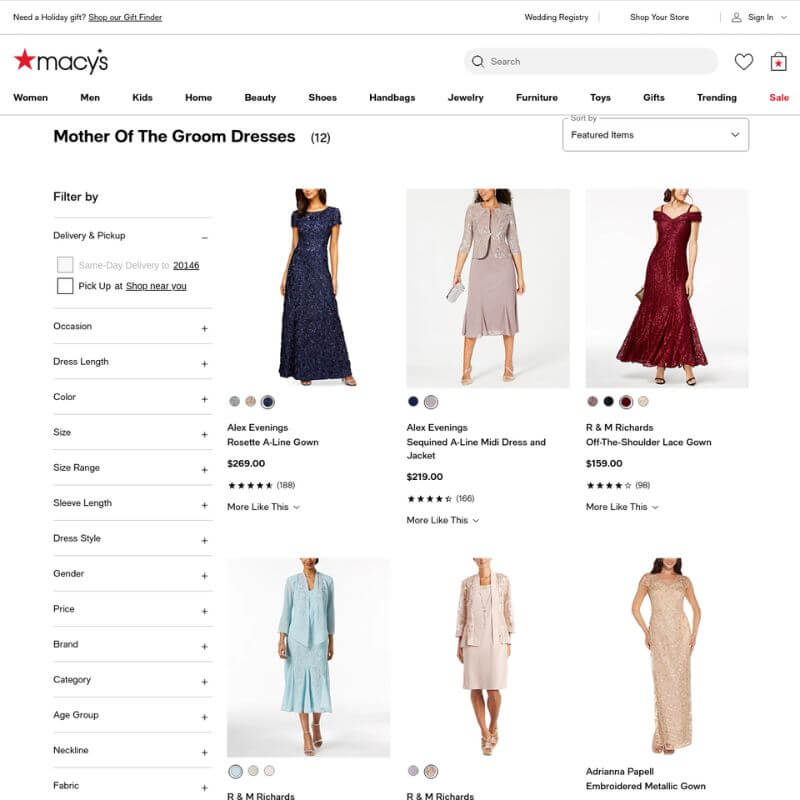 Macy's offers a variety of different styles when it comes to mother of the groom dresses. Some are flashy, while others are more muted. Either way, a single browsing session may be enough to find the dress you want for your son's big day. If you like one particular dress, the site will recommend similarly styled dresses.
What Macy's does best:
You can search by brand or price if your heart is set on something specific. Picky shoppers will find that Macy's has something that meets their standards.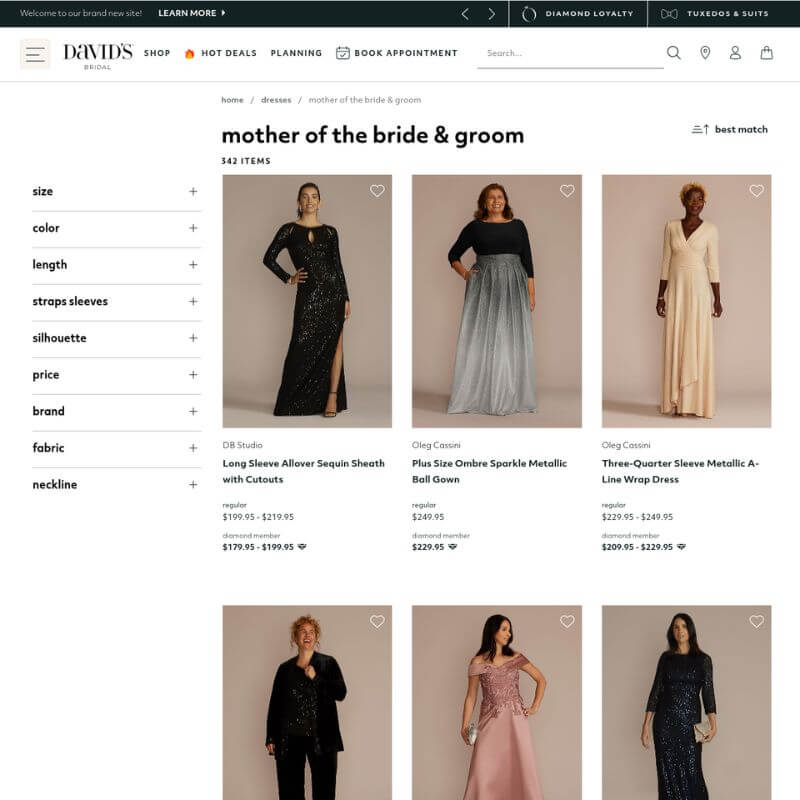 David's Bridal is one of the biggest retailers in the industry. For many brides and mothers of the grooms, it's the only place to shop. And if you're a Diamond member, you can get a discount on almost any dress. With such a wide variety to choose from, you are never limited.
What David's Bridal does best:
Wedding experts are always on hand to help you find the right dress.
You can reach them by online chat, text, or phone call. David's Bridal also has a blog full of tips on choosing the best dress for your body type.
Check Prices at David's Bridal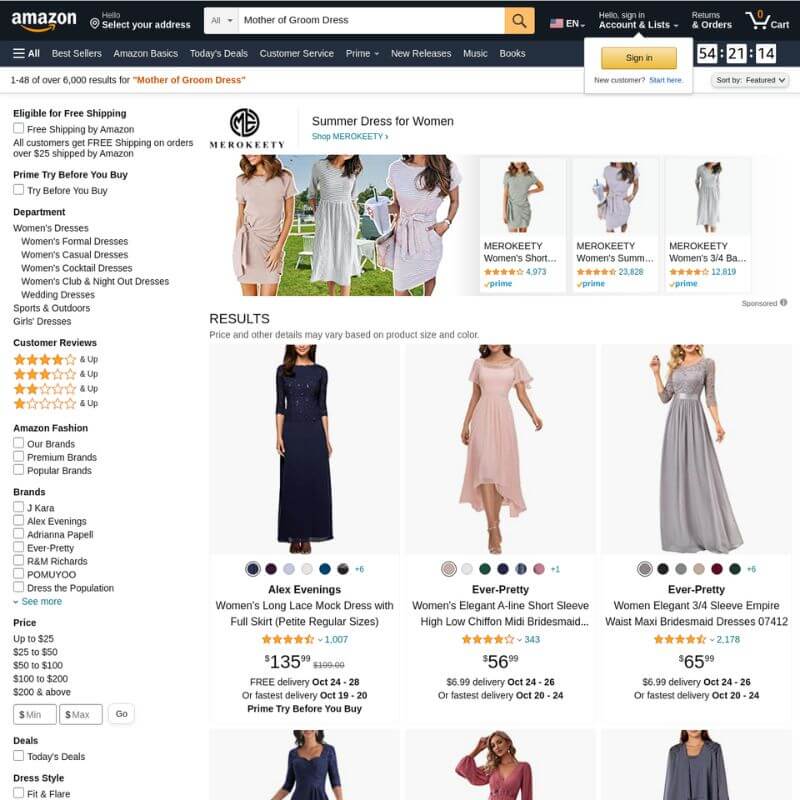 No matter where you live, Amazon makes shopping for almost anything easier. If bridal shops and department stores aren't your scene, Amazon provides a great alternative.
For each mother of the groom dress they sell, you can see the many colors and patterns you have to choose from. The retailer also helps you narrow down your choices based on dresses women who wear the same size as you have selected.
What Amazon does best:
When having a vast selection of dresses to choose from without leaving home is important to you, Amazon is the place to shop. And with so many shipping options, you'll have your dress before you know it.
What should I wear to my son's wedding?
The mother of the groom should aim for a classic and elegant look. A pantsuit or dress in a neutral color is always a good choice, and avoid anything that is too flashy or attention-seeking.
The goal is to blend in and support the bride and groom on their special day. The mother of the groom should choose an outfit that is both stylish and appropriate for this once-in-a-lifetime occasion.
Take into account the time of day and overall formality of the wedding. If the wedding is taking place in the evening, you may want to opt for a long dress or pant suit.
For a daytime or more casual affair, a shorter dress or even separates can be appropriate.
Also consider the venue and location. If the wedding is taking place outdoors, you may want to choose lighter fabrics and colors that won't overheat you. Conversely, if it is an indoor winter wedding, you'll want to go for something warmer.
Finally, make sure your outfit compliments the bride's dress. You don't want to upstage her on her big day, but you also want to look good in photos together.
What color dress is the grooms mother supposed to wear?
In terms of color, it is generally considered appropriate for the mother of the groom to wear a neutral color such as black, blue, ivory, or gray.
However, she may also want to coordinate with the bridesmaids by wearing a complimentary color from the wedding palette.
Ultimately, the most important thing for the mother of the groom to remember is that this is her son's special day, and she should do whatever makes her feel comfortable and beautiful.
What should the mother of the groom not wear?
The mother of the groom should avoid wearing anything too flashy or attention-seeking. This is not the time to try out a new trendy style or make a fashion statement. Instead, opt for something classic and elegant.
Second, avoid anything that might upstage the bride or overshadow her on her big day. Remember, this is her day, and she should be the center of attention.
When choosing an outfit, avoid anything that is too white, as this can give the impression that she is trying to steal the bride's thunder.
Finally, it is important to respect the wishes of the bride and groom when it comes to attire. If they have requested that guests dress in a certain way, it is best to follow their directions.
Is it OK to wear the same color as the mother of the bride?
Yes, it is perfectly acceptable for mothers on both sides of the wedding party to wear similar or complementary colors. In fact, it can be a stylish and elegant choice!
Of course, there are a few things to keep in mind if you coordinate wedding day outfits with your future mother-in-law. First, it's important to make sure that both mothers are on board with the idea and comfortable with matching outfits.
It's also a good idea to avoid any colors that may be too similar to the bride's dress - you don't want to upstage the star of the show!
Instead, opt for complementary shades or complimentary colors from opposite ends of the color wheel. coordinated look is sure to be a hit with everyone on your big day!
Bottom Line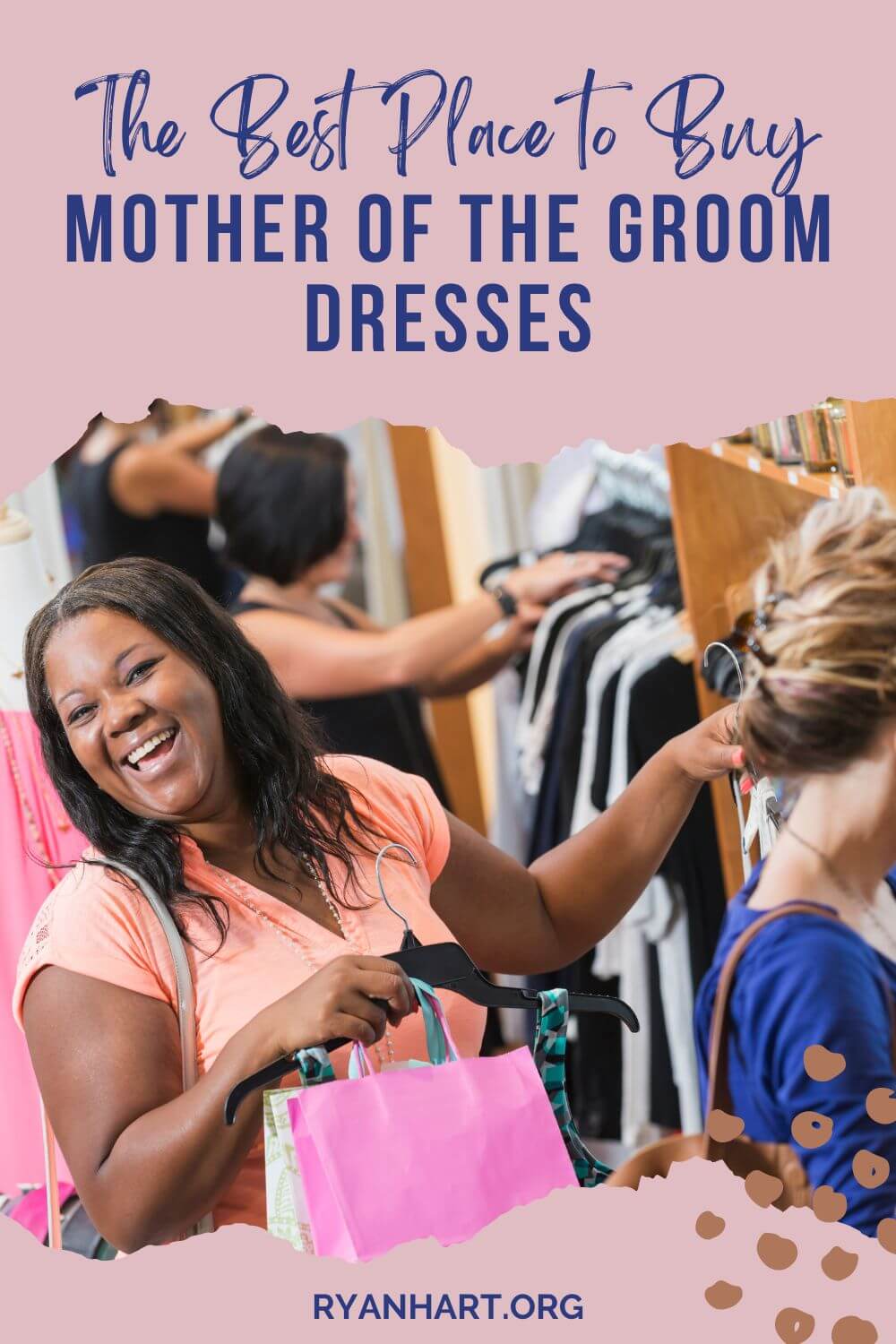 Shopping for the perfect dress can feel like a hopeless venture, especially for mothers of the groom before their son's weding.
Not only do you want to find a dress that looks good on you, but you also want to make sure it coordinates well with the bride's dress and the overall theme of the wedding.
With so many factors to consider, it's no wonder many mothers of the groom opt to buy their dress online. Shopping online gives you a much wider selection to choose from, and you can easily compare prices and styles before making a decision.
Plus, you can often find discounts or free shipping offers that can help save you money. And if you're not sure what style of dress to look for, there are plenty of websites that offer style Inspiration or even virtual styling services.
So if you're searching for the perfect mother of the groom dress, shopping online at one of our recommended websites is a great place to start.