When it comes to choosing a wedding dress, the choices can seem overwhelming. You'll probably find yourself learning a lot about dress styles and materials that you never knew before.
But even more overwhelming (if that's possible) are the prices. It may seem impossible to choose a beautiful gown for your wedding day without spending thousands of dollars.
Luckily, sites like Amazon offer affordable and beautiful options, many of them made by small dress makers. Read on to learn about our top recommendations for buying wedding dresses on Amazon.
What is The Best Wedding Dress on Amazon?
When you start browsing wedding dresses on Amazon, you might be surprised by what you see. You'll find a huge range of styles, cuts, colors, and prices — which, of course, means that there is something for almost everybody.
As far as which one is best, that comes down to what you are looking for. These wedding dresses range from simple and understated to elegant and attention-grabbing.
You'll even find some for well under $100, which might seem amazing considering what you'll pay in a bridal shop. Check out the best wedding dresses on Amazon below: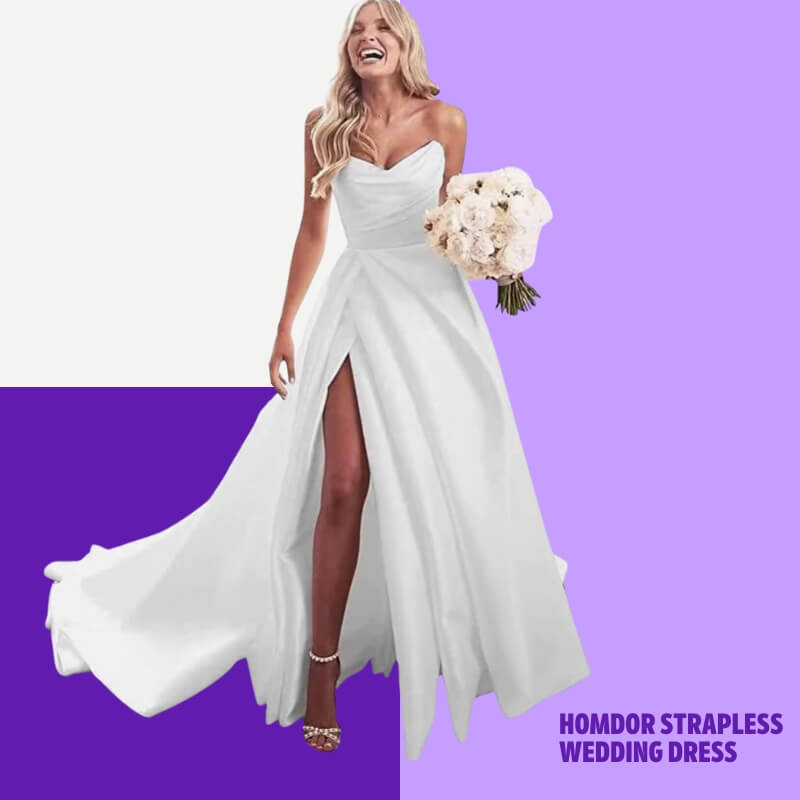 The Homdor Strapless Wedding Dress showcases a classic, elegant style with a modern flair. Featuring a full skirt with a thigh-high slit, the gown is as classy or as daring as you make it. It has a V-neck to accent any of your jewelry or other accessories.
The pure-white A-line skirt also has what every bride wants in a wedding dress: pockets! These are perfect for storing rings, accessories, or personal items that you need within reach on your big day.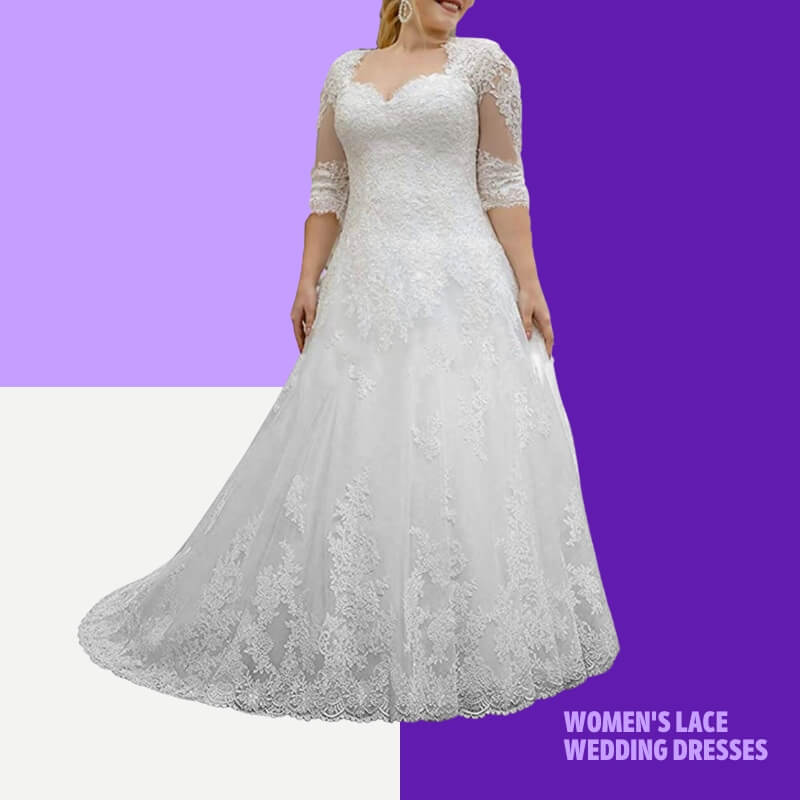 This affordable, plus-size wedding dress is made in stunning organza with lace appliqué. The elbow-length lace sleeves offer a bit more coverage for a religious wedding or cooler weather.
Other highlights of this beautiful gown include the illusion back (with buttons) and sweetheart neckline for an attractive accent.
For a final touch, the chapel-length train will follow you down the aisle, catching everyone's eye as you pass. Made by a small business, Women's Lace Wedding Dresses can be customized to your measurements.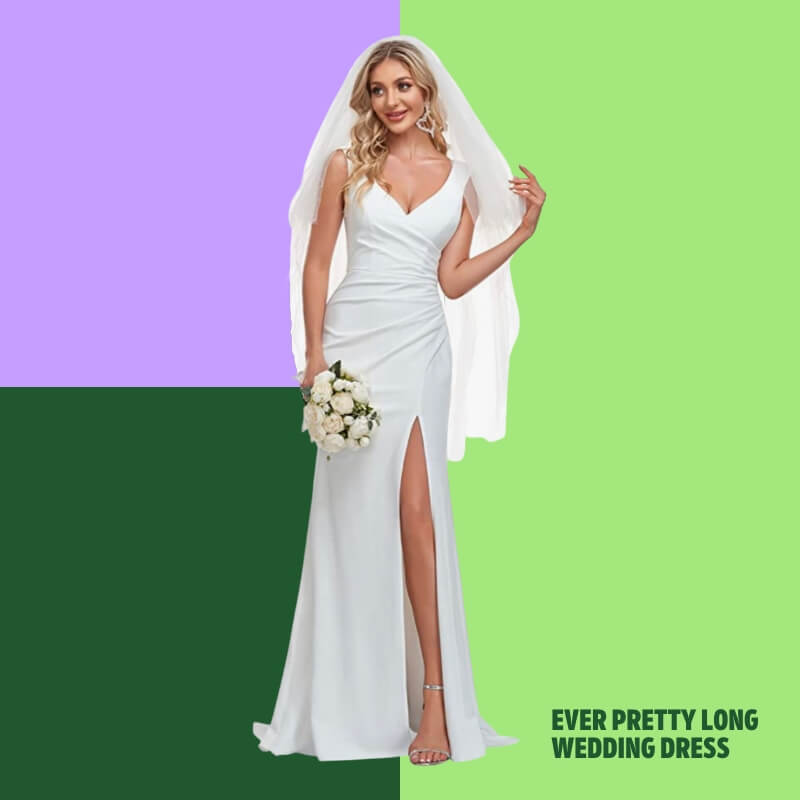 If you have long dreamed of looking chic and elegant on your wedding day, Ever Pretty Long Wedding Dress is your answer — without having to break your budget.
The gown offers a striking silhouette, bodycon fit, and fishtail skirt. The thigh-high slit completes the look. Brides looking for a daring but still tasteful wedding dress will love this sleek option, which is perfect for weddings of all styles. It also has a small train to add a touch of elegance.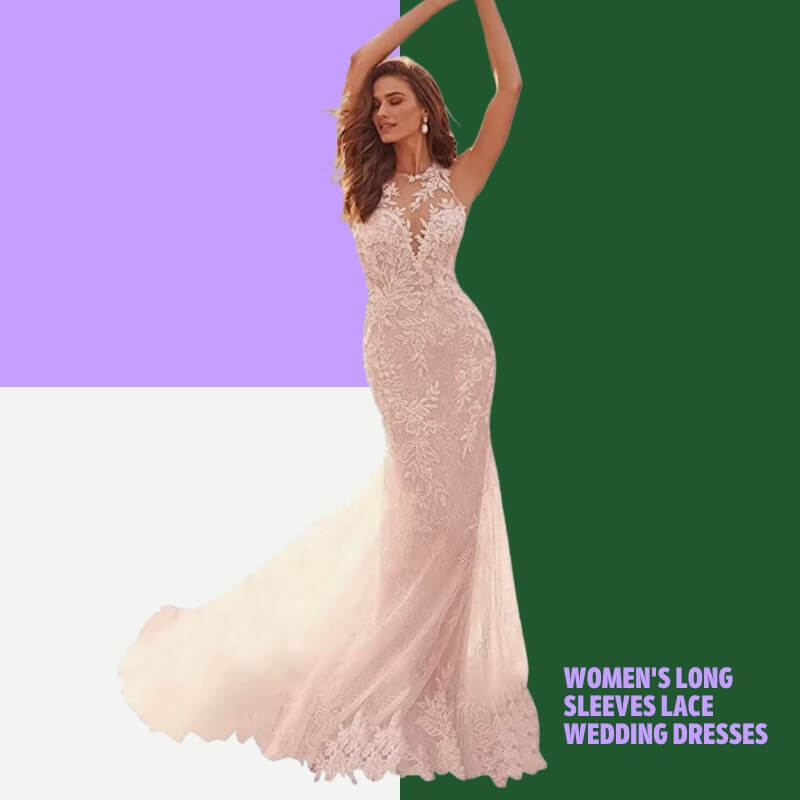 If you prefer a ballgown style, these Women's Long Sleeves Lace Wedding Dresses are a perfect choice for your wedding day. The skirt toes the line between an A-line and a true ballgown with a full tulle, elegant, and festive skirt. The intricate lace applique adds interest to both the bodice and the skirt.
The deep V-style neckline also features lace that adds a floral note to the top of the gown. Other additions include delicate beading, making this an intricate and beautiful dress perfect for the bride who wants to look like a princess.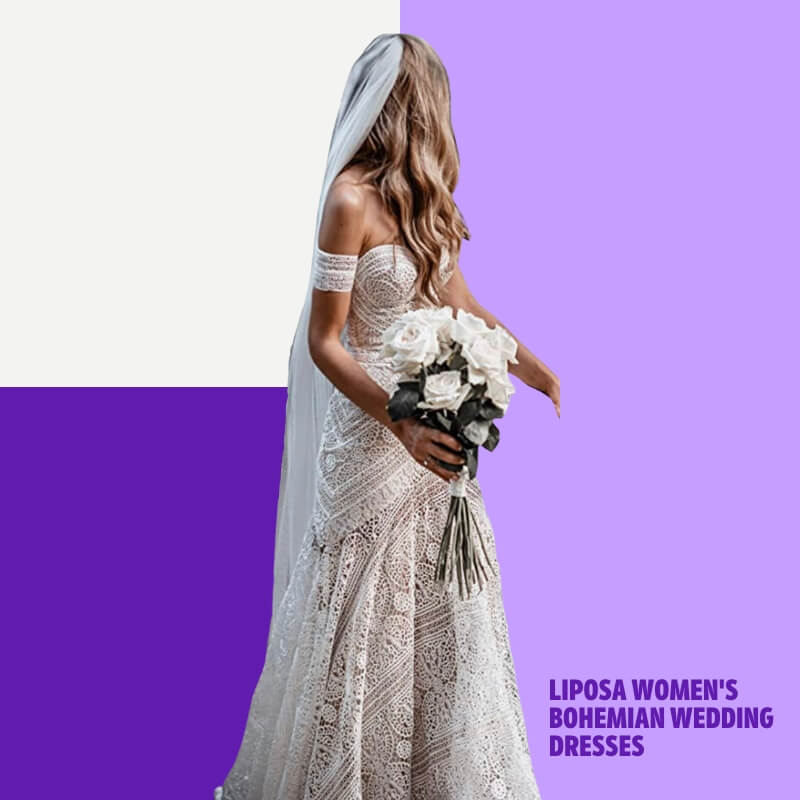 Bohemian wedding dresses are enjoying a return to the spotlight, with many brides preferring a flowy and comfortable but still beautiful look. Lace is a popular material for these dresses, offering a nod back to simpler fabrics.
These Liposa Women's Bohemian Wedding Dresses marries Bohemian simplicity with chic elegance. The gown features intricate lacework over a nude slip and has detachable armbands to provide multiple options for your wedding day. This look is simple and elegant and draws the eye exactly as it should.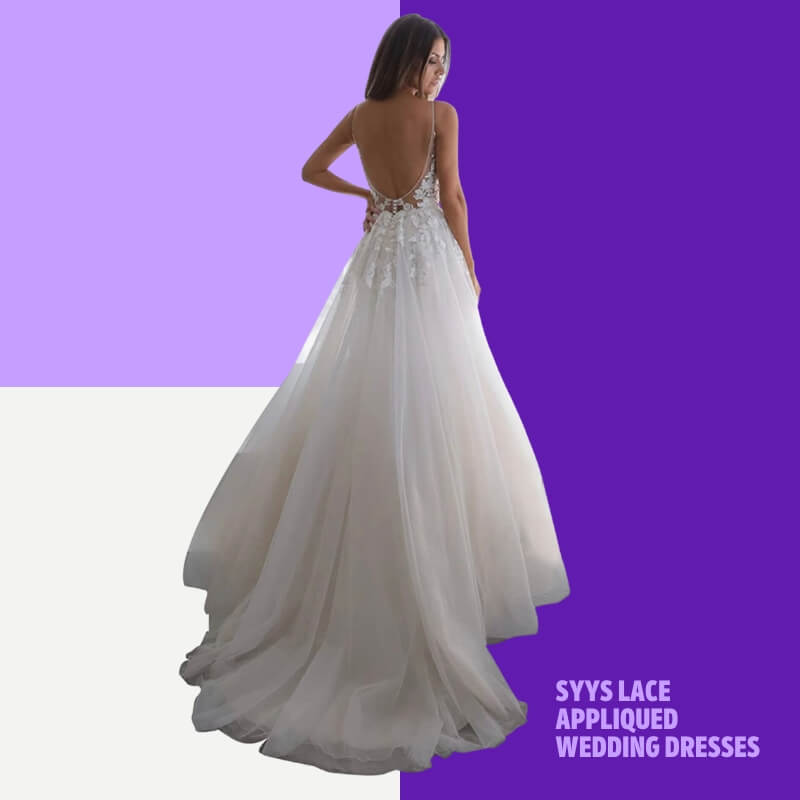 If you are looking for something summery, elegant, and eye-catching all at once, theSyys Lace Appliqued Wedding Dress might be the perfect choice for you. It features a deep V-neck with lace applique, making it a daring but tasteful choice.
The low scoop back features more lace detailing extending down into the full white tulle skirt (though an ivory option is also available!). The full train adds the perfect final touch to this elegant ensemble.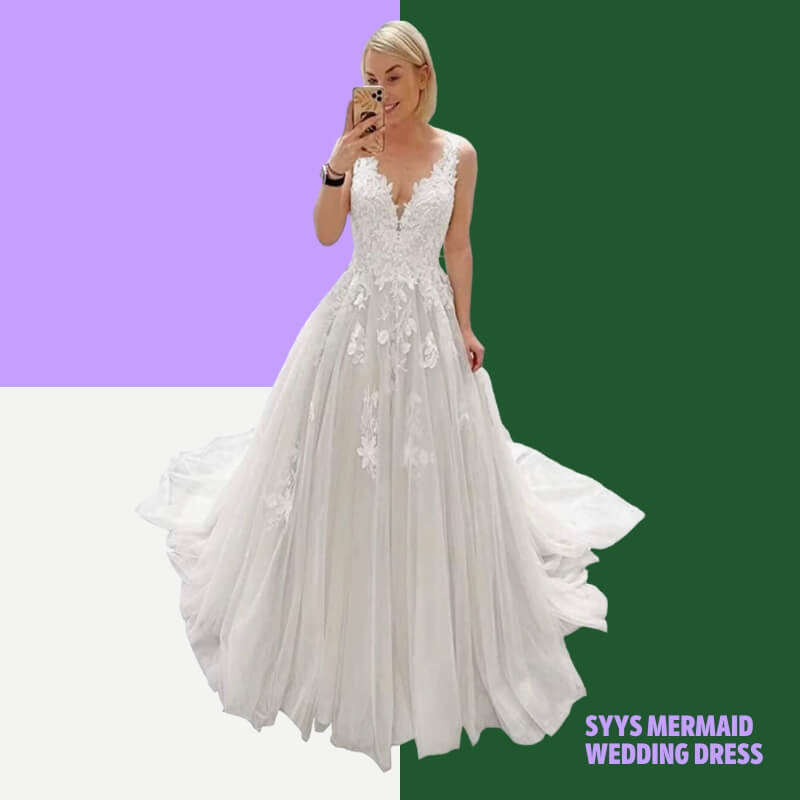 Mermaid dresses have long been popular because they combine a form-fitting silhouette with a flared, full skirt. This perfectly combines elegance with a playful touch that will speak to every bride who has dreamed of a princess dress.
The Syys Mermaid Wedding Dress is largely unornamented, letting the beauty of the silhouette speak for itself. The exception is a light detailing along the bodice, which extends into the beautifully light, airy skirts. This dress will make any bride look ethereal!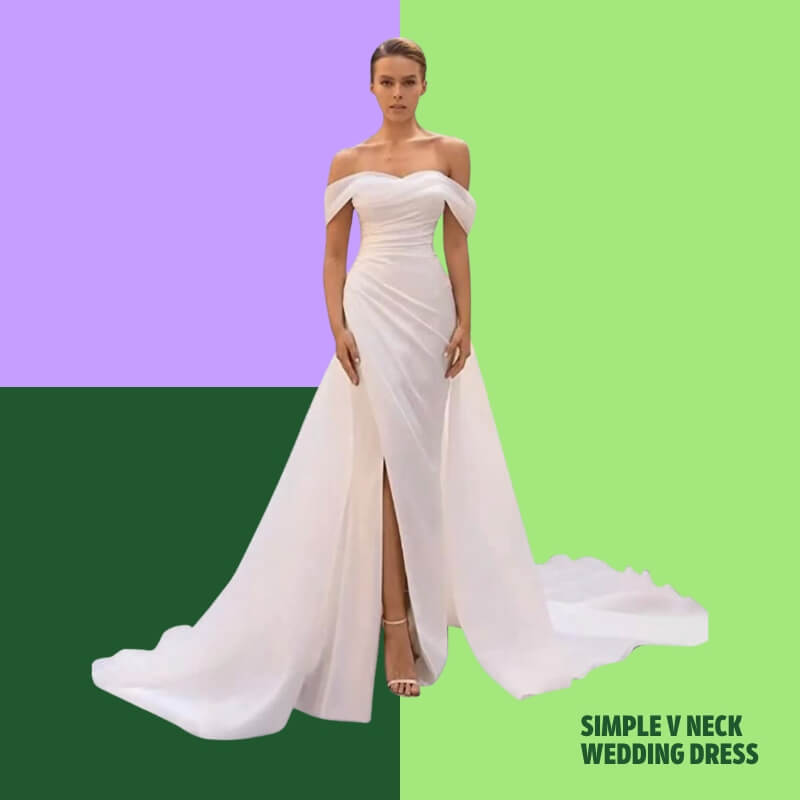 When it comes to a beach or garden wedding, you want a casual and comfortable dress, light and airy, and of course, beautiful. This Simple V Neck Wedding Dress is the perfect look. It will look right at home in any venue, but it's perfect for an outdoor wedding.
The gown can be ordered in either white or ivory, featuring spaghetti straps and a V neckline over a full skirt. The versatile style will look right at home with a veil, wreath of flowers, or no headpiece at all.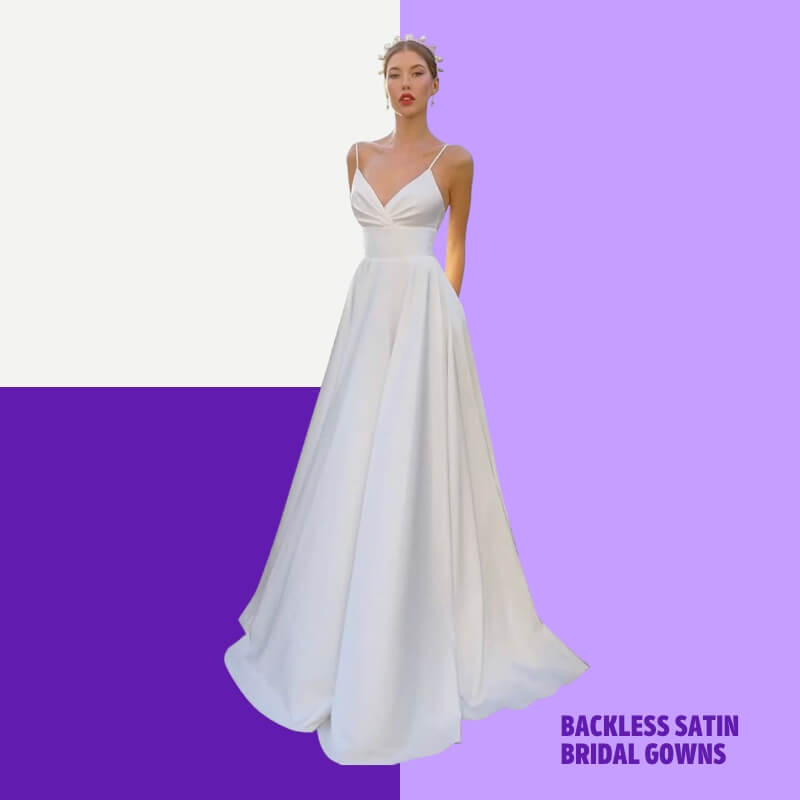 While some brides prefer lace with a lot of detailing, others opt for a sleeker look. These Backless Satin Bridal Gowns are beautifully smooth and elegant. Although the material is satin, it still offers a wider A-line silhouette with a full skirt.
The result is a look that is both classic and modern all at once — and it will draw every eye to you on your big day. The spaghetti straps and low back make it an excellent choice for an outdoor wedding, though it would fit in just as well in almost any setting.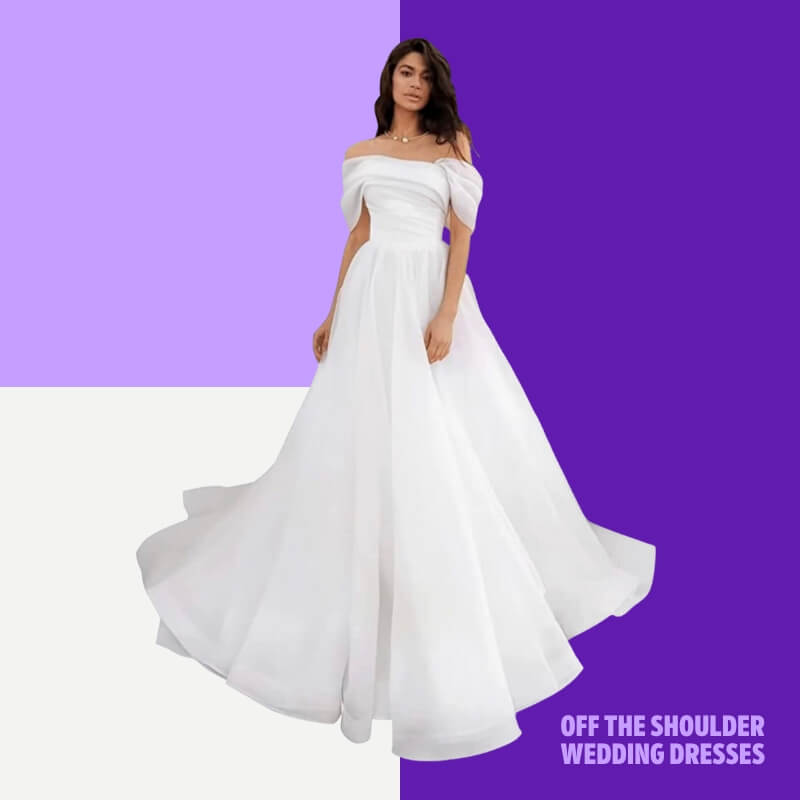 If you love an old-fashioned princess look, these Off the Shoulder Wedding Dresses are an excellent choice for you. This is certainly not your average wedding dress, featuring plenty of volumes in the full skirts and in the sleeves and an intricate woven design in the collar.
Made from tulle and organza, this is light and airy enough for an outdoor summer wedding — and will certainly look beautiful in one. The romantic gown is fit for a fairytale wedding at any time of the year.
Frequently Asked Questions
Are Amazon wedding dresses good quality?
Yes, many wedding dresses on Amazon are of good quality. Make sure to read customer reviews and check the seller's reputation before buying to ensure a great purchase. Always look for low shipping fees and try to find dresses with free returns in case you need to exchange sizes or colors. Lastly, be aware that most wedding dresses will need alterations – so factor that cost into your budget as well. Happy shopping!
Can I return a wedding dress I bought on Amazon if it doesn't fit?
Most Amazon sellers offer returns, but check the specific return policy for the dress you're interested in. Always try to order well in advance to allow time for exchanges or alterations. For more information on the returns process, look at Amazon's help page. Additionally, consider talking to customer service if you have any questions about a specific policy or item. It's best to double check before making your purchase and ensure that you're getting the dress you want!
Can I get a custom-sized wedding dress on Amazon?
Some sellers offer custom sizing for their wedding dresses. Contact the seller directly to discuss your measurements and any additional fees for custom orders. The extra fees may include a design fee, fabric costs, and the cost of bringing in a seamstress to make adjustments. Make sure to confirm details such as the delivery date and return policy before committing to any custom order. It's also important to note that it is likely no returns or exchanges will be accepted on customized orders, so you should make sure you are 100% certain about the dress before making the purchase.
How long does it take for an Amazon wedding dress to arrive?
Shipping times vary depending on the seller and dress style. Many dresses ship within 1-2 weeks, but custom or made-to-order gowns may take longer. Check the estimated delivery date. Dresses are shipped via USPS, FedEx, or UPS depending on the seller. Each listing should indicate which shipping method is used. Please note that rush orders may incur additional fees. All shipments require a signature upon delivery. Be sure to track your package and be ready for its arrival!
Bottom Line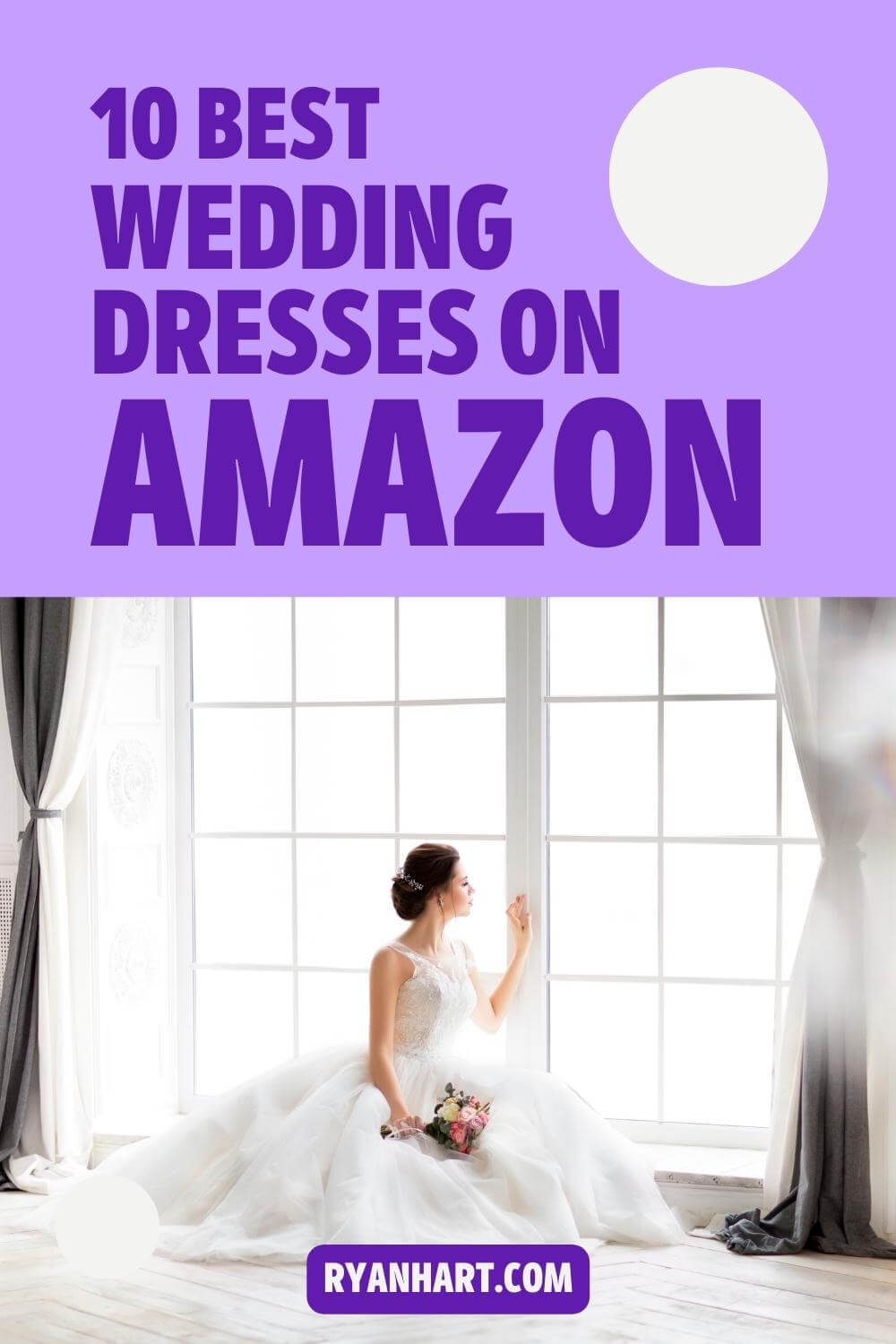 As you finish your search for the perfect wedding dress on Amazon, keep in mind that there are many lovely and affordable options available. Be sure to read customer reviews, measure yourself carefully, and check the seller's reputation before making your purchase. With a little patience and research, you can find a stunning gown that fits your style and budget. And remember, it's not just about the dress – it's about how you feel wearing it on your special day. So trust your instincts, and choose a dress that makes you feel confident and beautiful. Here's to finding the perfect Amazon wedding dress for a memorable and enchanting wedding celebration!