Bachelorette parties are an excellent way for a bride-to-be to cut loose with her best friends one last time before tying the knot with her partner.
These parties can get a little wild sometimes and often have fun and unforgettable gifts that make the experience even more enjoyable. Thankfully, you can give your guests many unique bachelorette party gifts to ensure they remember their experience forever.
The following ten will provide you with plenty of excellent choices.
What are the best gifts to give to bachelorette party guests?
The best gifts for bachelorette party guests should remind them of the event and provide something they can use after the party. Other gifts can play on the idea of the party itself and include fun favors that your guests will enjoy.
Take a look at the ten items below to find gifts and party favors that will make your last splash as a single lady that much more enjoyable.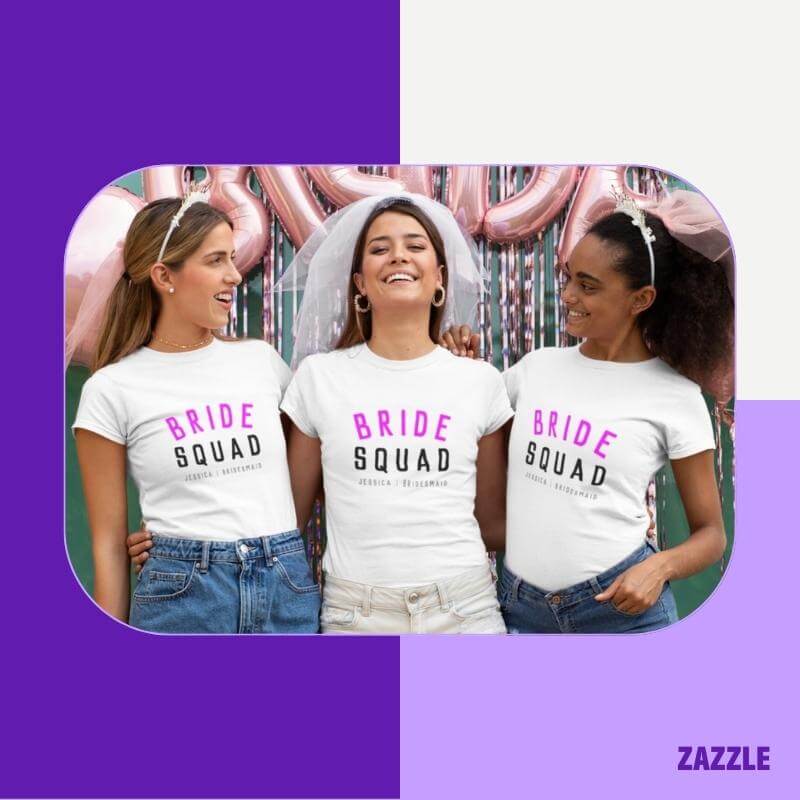 Do you plan on hitting up a lot of locations for your bachelorette party and need something that keeps you closer together? These cute Bride Squad shirts feature customized text and bright colors that make your party members easy to find. They'll also show off your big day with style and give your guests something to remember your party by forever.
Why we love this gift:
Are you and your girls tight and hang out often? They'll most likely love these shirts. They're attractive, simply made, and durable and will give you a helpful reminder of your big day.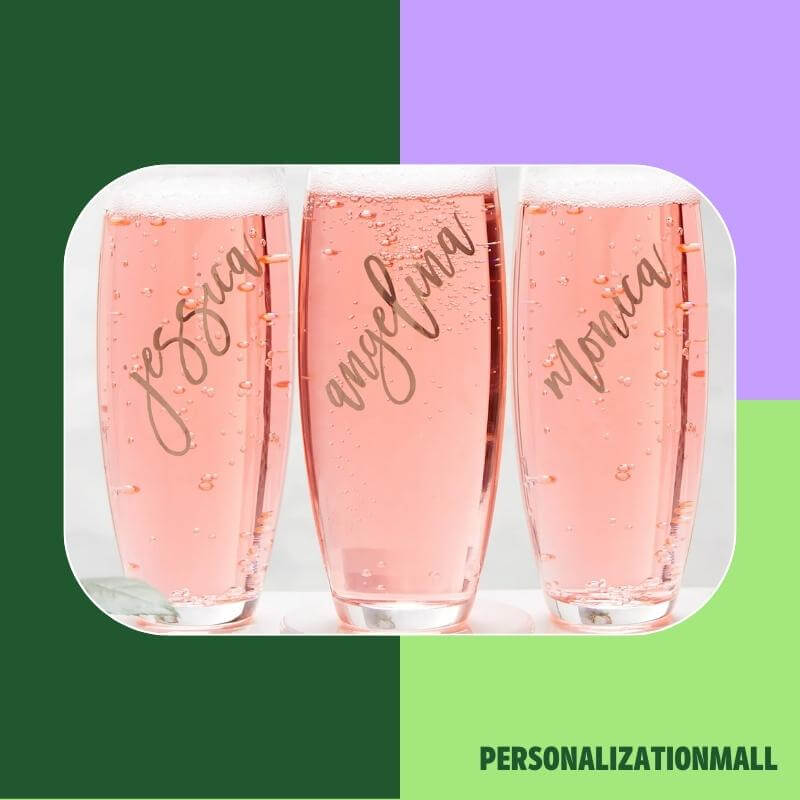 Not all bachelorette parties turn into wild parties. Some are more subdued and subtle while still providing plenty of fun. These gorgeous stemless champagne flutes will provide you with a personalized item for each guest. You can enjoy champagne during your party with them and then use them whenever you want some wine or champagne with dinner.
Why we love this gift:
Do you want a party with a little more class and fewer wild antics? These glasses should give you a subtle and appropriate look to compliment your more low-key celebration.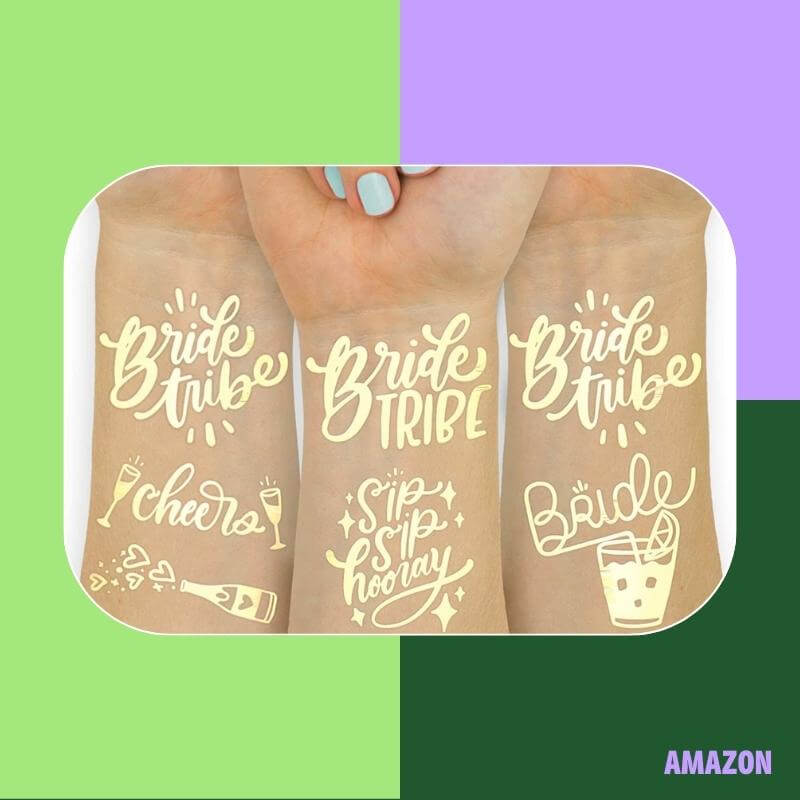 Looking for something a little fun and silly that will make your bachelorette party a lot more fun? Try these simple temporary tattoos. They come in sheets, apply easily to your skin, and come off with just a shower or two. However, they're strong enough to last a fun night out on the town and won't wear away in a few hours. That makes them an excellent option for an on-the-go bachelorette party.
Why we love this gift:
Anyone who loves tattoos but who doesn't want to permanently alter their skin for a party will love this gift. They create a uniform style for your guests and easily wash away once the party is over.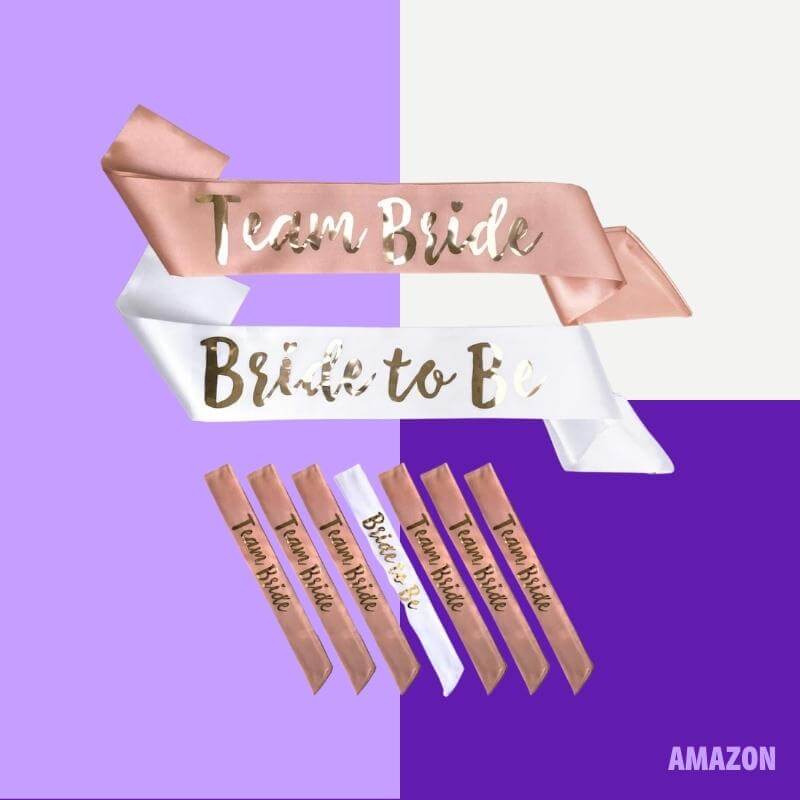 These gorgeous sashes give you and your party guests a fun decoration to wear during your big night. Put them on at home and then take off for the night, looking like a bride with a mission. Each set has seven sashes, and the rose-gold color combination blends well with many styles. You can adjust your fashion to match the sash or vice versa and let everyone know your big day is coming soon.
Why we love this gift:
These gorgeous sashes will work well for anyone who wants a uniform style during your party. You can then hang them up in your home as a memento of your unforgettable night.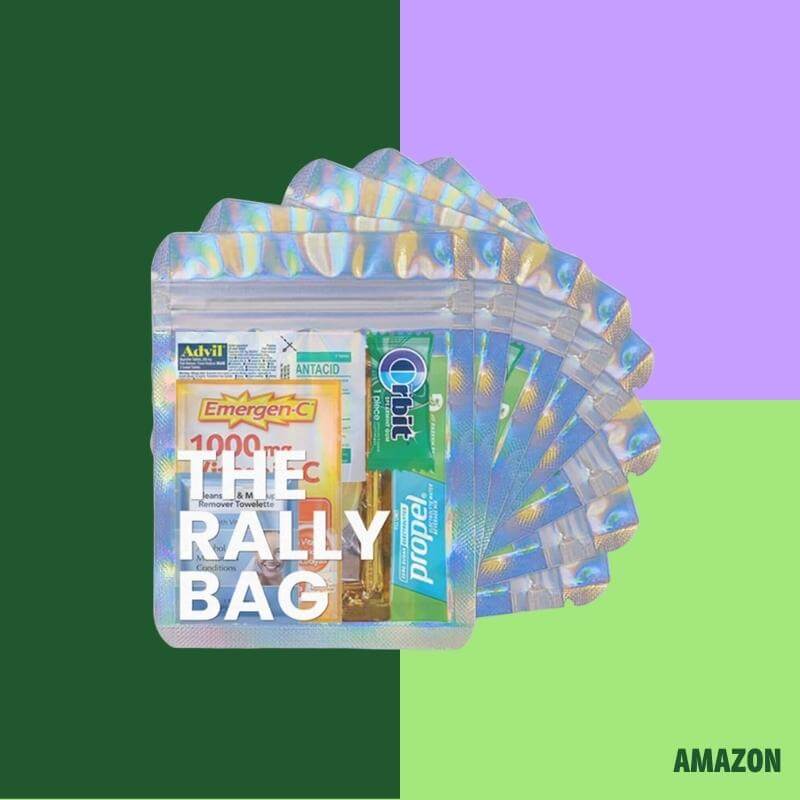 Let's be honest: many bachelorette parties turn into drinking competitions reasonably quickly. You're probably already planning what alcohol you want to drink on that big night and dreading when the hangover hits the next day. Thankfully, this simple hangover kit includes various items, like over-the-counter painkillers and gum, to make "the next day" easier to handle.
Why we love this gift:
Anyone who plans on a night of drinking will enjoy this gift for their guests. While it's somewhat silly in concept, the items inside will help your guests (and you) bounce back from one too many drinks.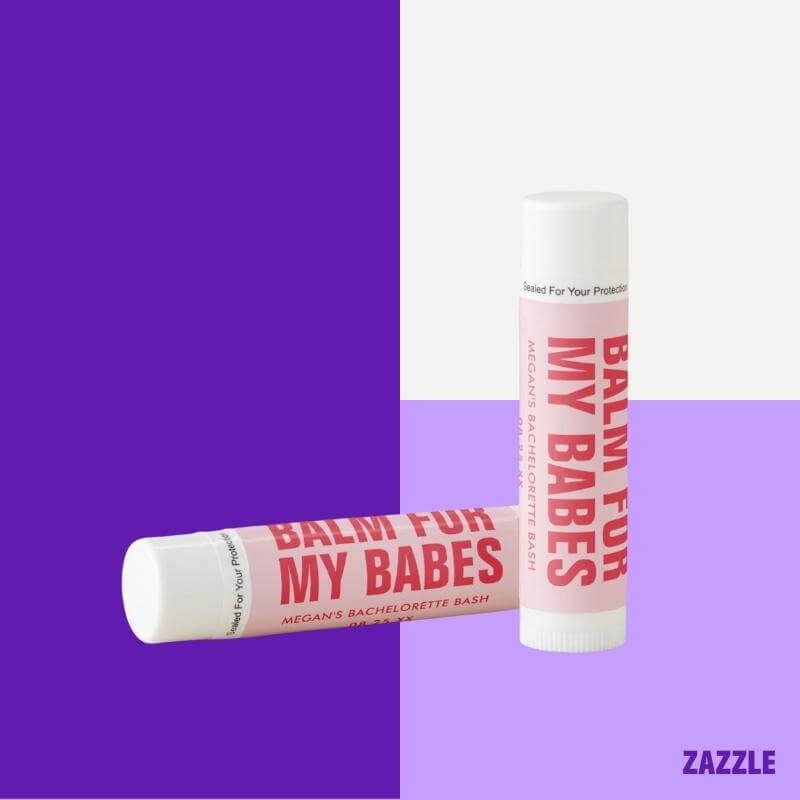 Lip balm isn't just a valuable tool for keeping your lips moist but a fashion statement. If you and your girls plan on a long night out on the town and need cute and attractive lip balm, this gift should work well for you. Its simple but colorful design creates a uniform style between you and your girls. Even better, it'll keep your lips from getting chapped during your following big line of shots.
Why we love this gift:
If your girls are as addicted to lip balm as you, they'll love this cute gift. It will ensure your lips stay soft and moist through a long night of fun.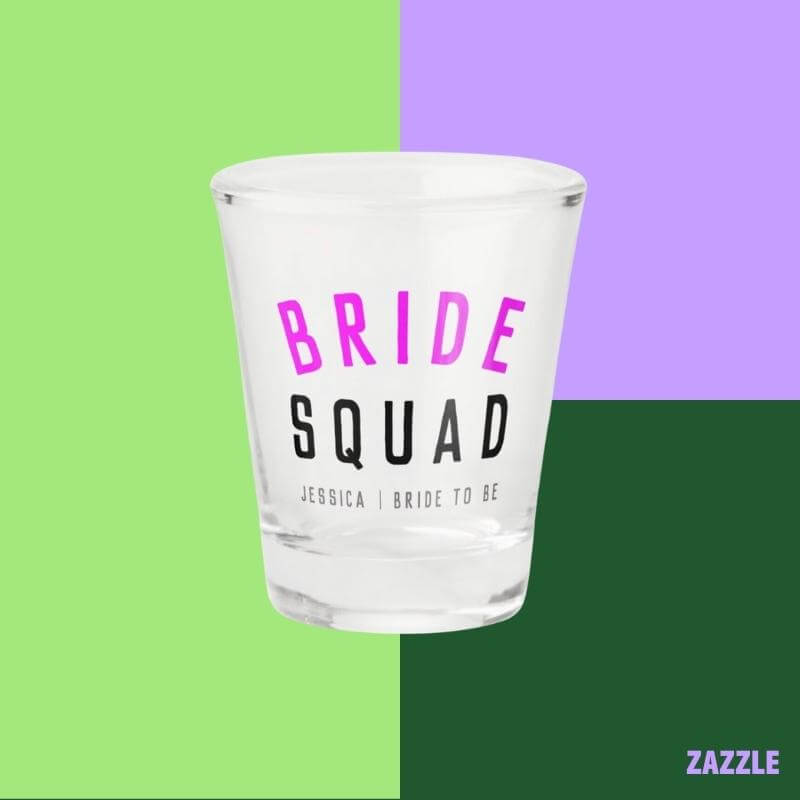 You and your girls will be taking a lot of shots during your bachelorette party, and you want glasses to make this experience even more unforgettable. Thankfully, these "Bride Squad" shot glasses use a simple but attractive style that will make them stand out. Their sturdy and durable design will help them last many rounds during your party and beyond.
Why we love this gift:
If you plan on getting the customized shirts mentioned above, you'll love these shot glasses. Branded with the same "Bride Squad" logo, they'll create a cute style and give your guests something to use at home on their drinking nights.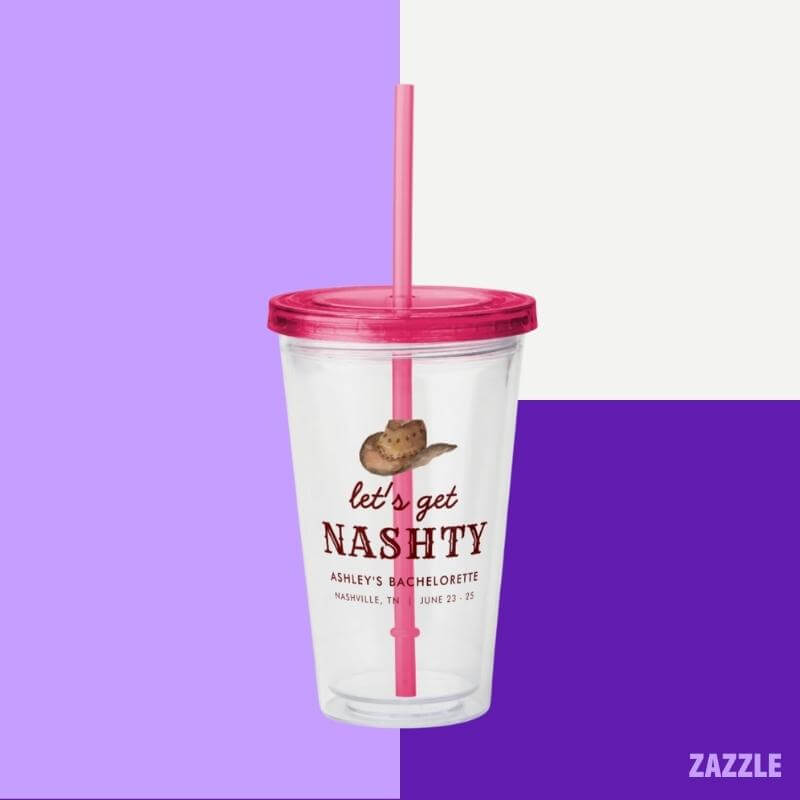 Some bachelorette party gifts are practical only during the event and not beyond. However, favors like this party cup are more valuable. It features a personalized logo with a cute straw and top, making it useful for years. Use it during the party for your mixed drinks, and then send them home with your girls, who will remember your fun night every time they use the cup.
Why we love this gift:
If you want a cute tumbler for just about any drink, this gift will work well. Create a customized logo and style that fits your bachelorette party and its overall style.
Champagne is exciting because it's rarely drunk outside of party situations. However, you can gift guests these mini champagne bottles to enjoy during and after your party. They have the same taste and attractive style as a larger bottle of Chandon California Brut Sparkling Wine but are more compact, making them easier to store and bring along during your adventure.
Why we love this gift:
These mini bottles of champagne work perfectly as a party favor but can also be taken home for a quick shot of delicious champagne. You can even keep them around for your next get-together after the big party.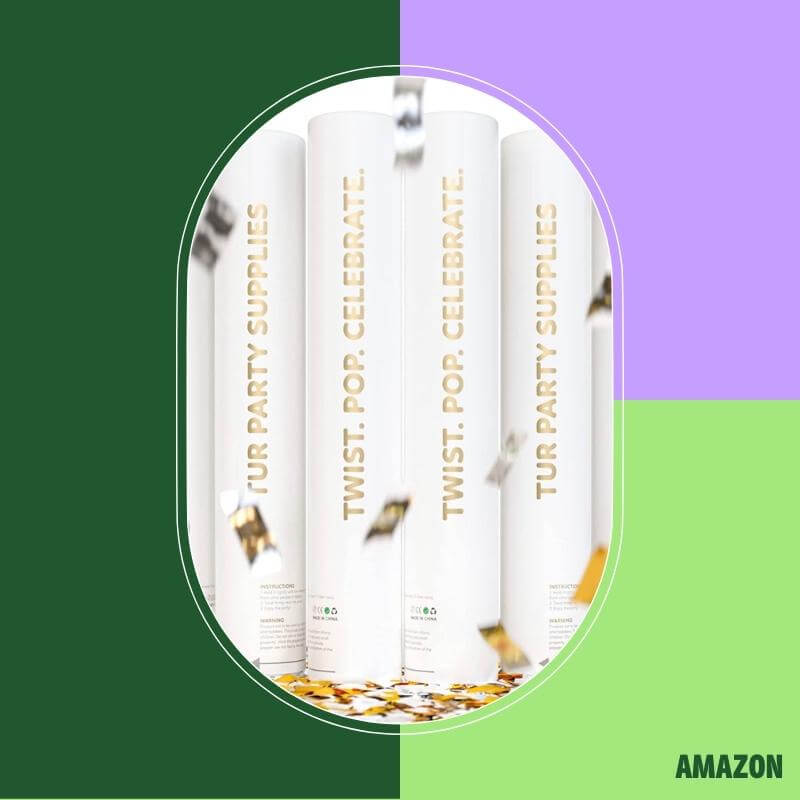 During your bachelorette party, there are going to be many moments of levity that you can punctuate with a confetti popper. Simply pull the string, and the confetti will pop out at the end. It's probably best to use these at an in-home bachelorette party to ensure you don't make a mess at a restaurant or bar.
Why we love this gift:
These tubes are a great option if you want to have a fun and messy party. They'll celebrate your big day in style, and while they create a bit of a mess, it's more than worth it.
Bottom Line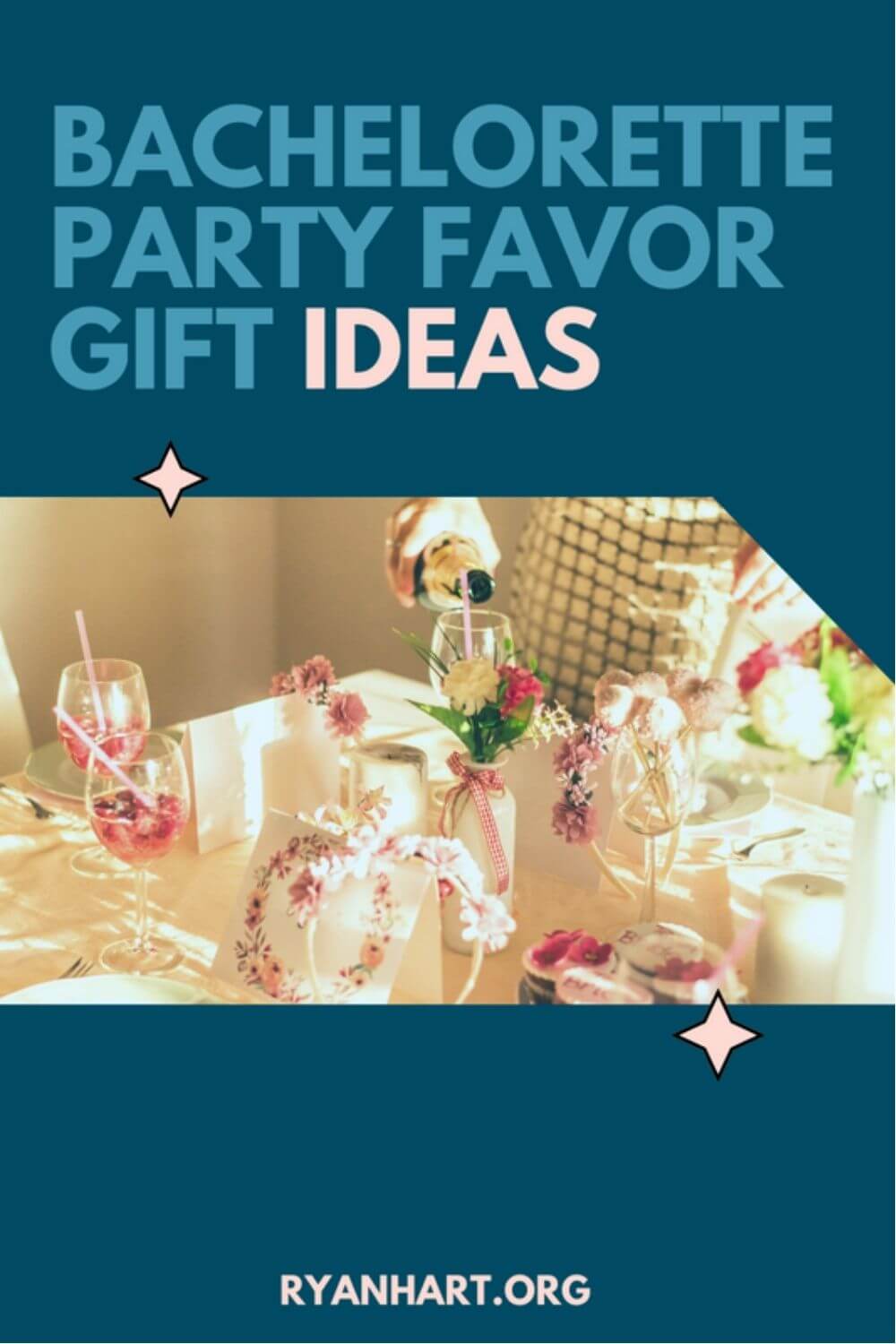 A great bachelorette party favor or gift is something that reminds your guests of the fun time they had at the party. It should be a small, special item that is both fun and useful.
Some popular ideas include personalized items, like keychains, cups, or T-shirts with the bride's name and the date of the party. These gifts help everyone remember the happy moments they shared together.
Another idea is to choose a favor or gift that matches the theme of the bachelorette party. If the party has a beach theme, you could give out cute sunglasses or beach towels.
If it's a spa-themed party, you could give small bottles of lotion or pretty nail polish. The most important thing is to pick a gift that your guests will enjoy and that will remind them of the special time they had celebrating the bride-to-be!