When planning a wedding, one of the tasks you need to complete is choosing a mother-of-the-bride gift. While this is your big day, it's also a day most mothers dream of from the time their children are born.
And since the bride's parents often shoulder the cost of the wedding, Mom deserves a nice gift for her efforts. These gifts should be chosen carefully to mark the occasion appropriately.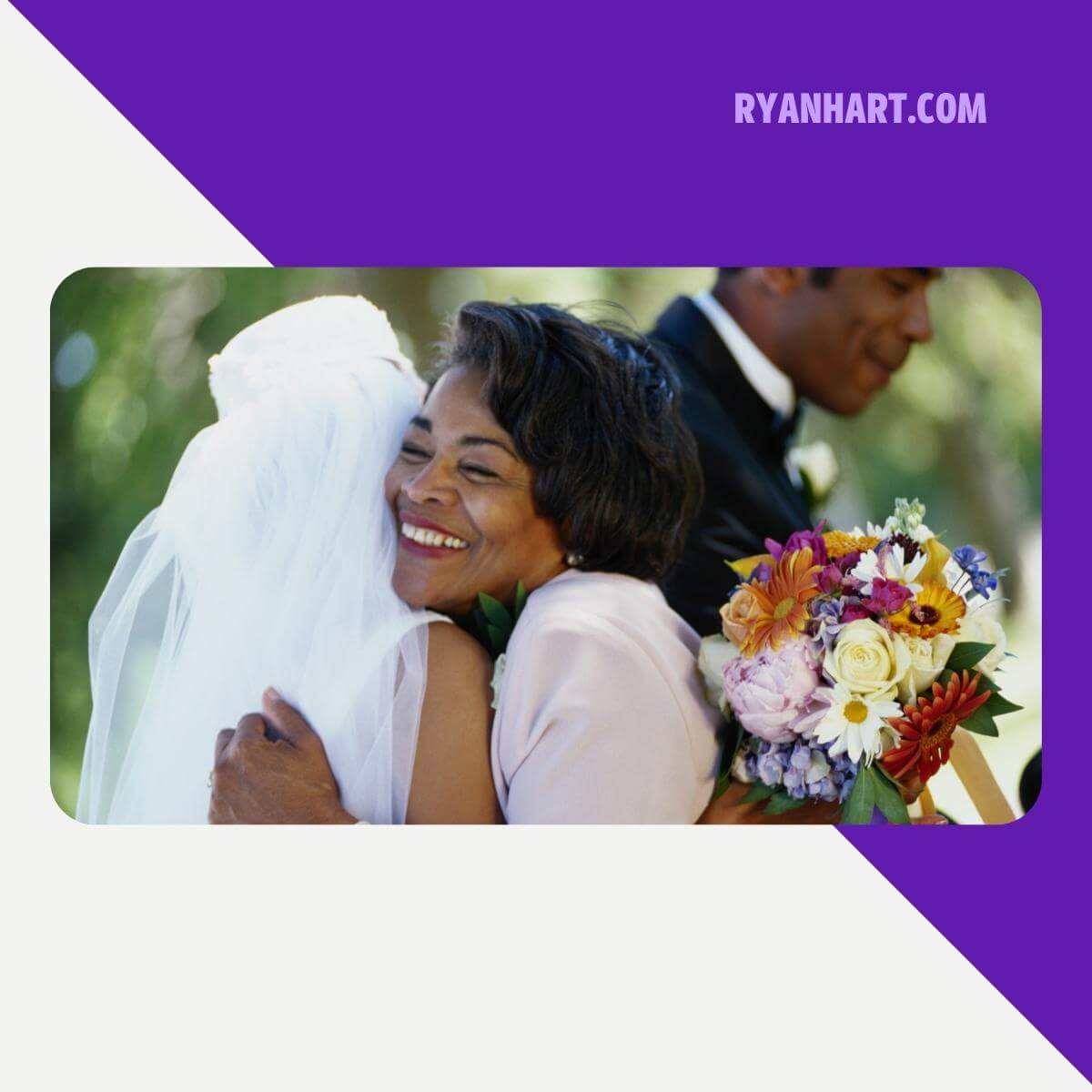 What are the best gifts for mom on your wedding day?
Some gifts are a better choice than others, here are our top picks for the best mother-of-the-bride gifts: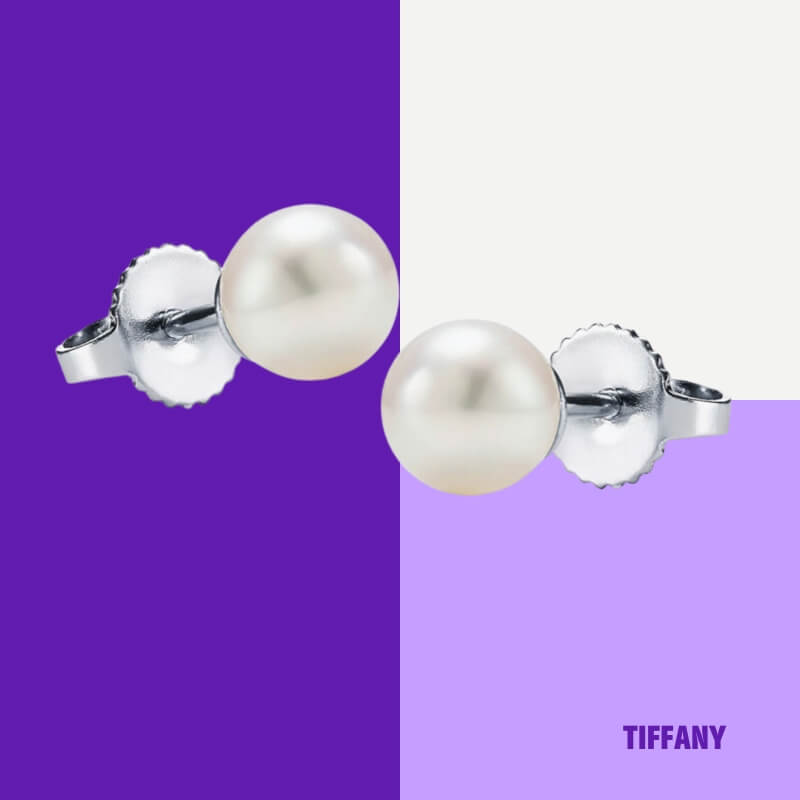 Pearls symbolize wisdom acquired through life experience, making them the perfect gift for any bride's mother on the occasion of her wedding. So the Tiffany Signature Pearls are a particularly fitting gift.
These classic earrings stand the test of time and will last a lifetime, just like your marriage. And if you're environmentally conscious, you'll love that Tiffany makes it a point to only use responsibly sourced materials in all their products.
Why we love this gift:
You can show your mom how much you love and appreciate her by gifting her with Tiffany Signature Pearls earrings. She'll be proud to add them to her jewelry collection.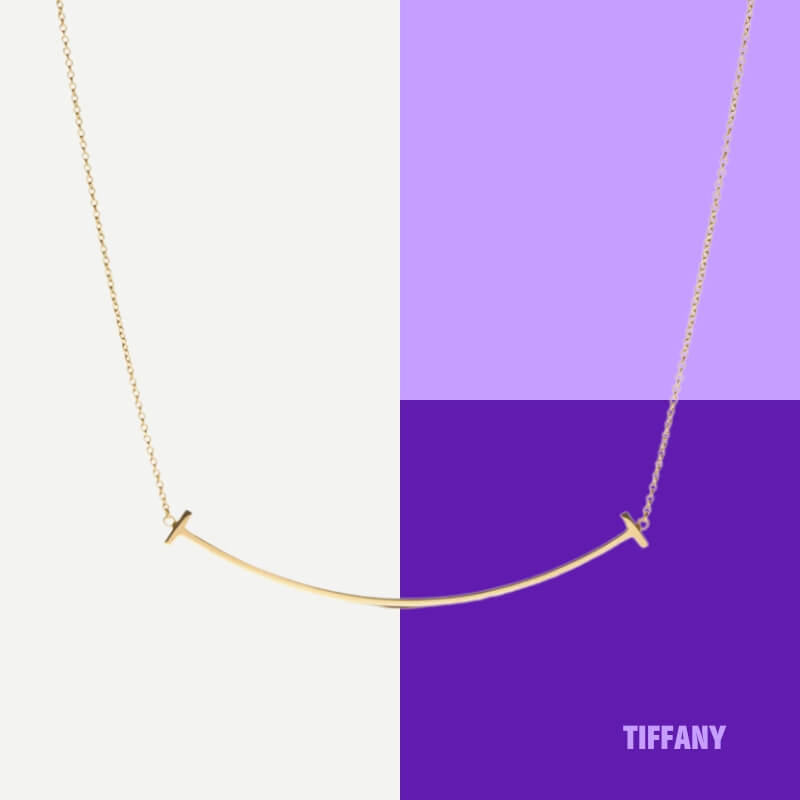 Make mom happy by gifting her with theTiffany T Smile Pendant. It pairs perfectly with other necklaces as a delicate pendant to show your mother how much she's loved. This beautiful yellow-gold necklace will make any woman feel beautiful whenever she wears it.
Why we love this gift:
The simplicity of the Tiffany T Smile Pendant is in its beauty. It symbolizes the happiness of every mother on the occasion of her daughter's wedding.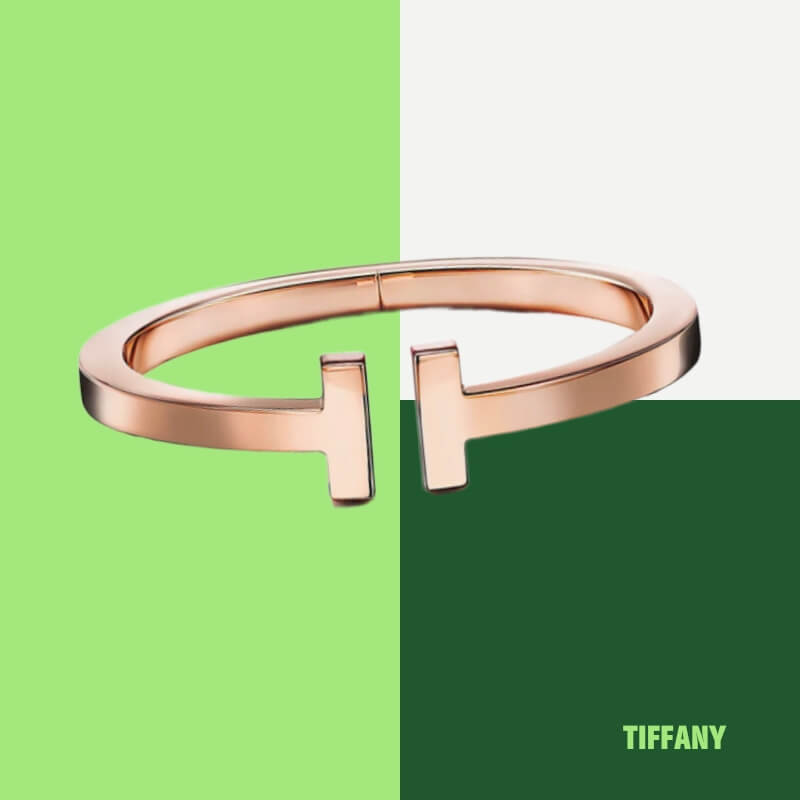 For the sophisticated mother of the bride, consider the Tiffany T Square Bracelet. It makes a bold statement, and its rose gold color is appealing and easy on the eyes.
Whether your mother wears it alone or with other bracelets, she'll look like a million dollars every time she puts it on.
Why we love this gift:
The Tiffany T Square Bracelet will show your mother how much you love her and appreciate everything she's done for you. This style of bracelet will always be a trendy choice in jewelry.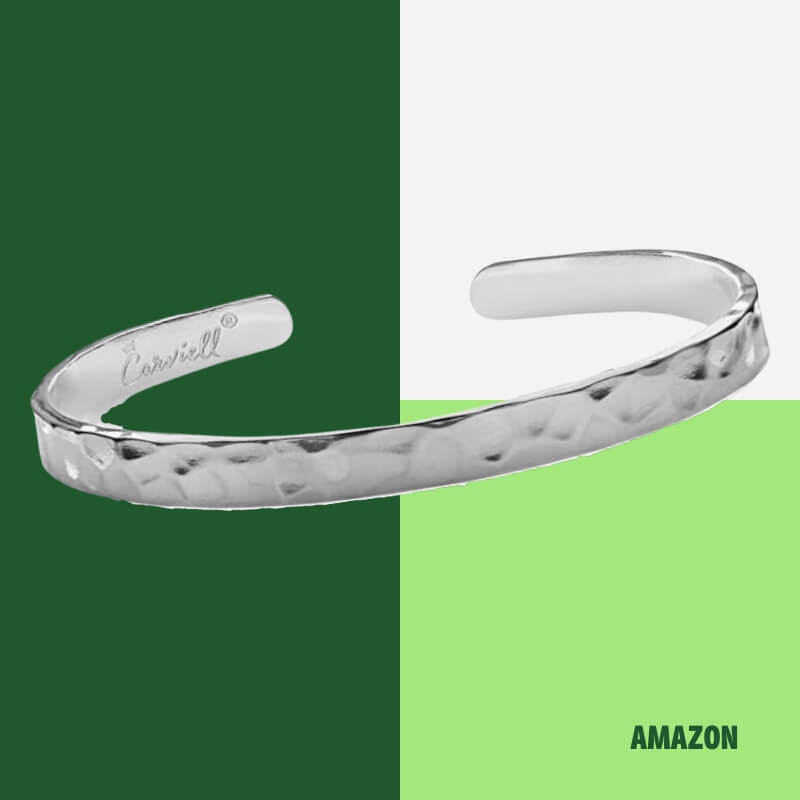 Carviell Bracelets are easily adjustable, making them ideal for women of all sizes. But the best part of these bracelets is that they can be personalized.
You can choose from more than a dozen sayings, finding just the right words to convey your thanks and appreciation to your mother.
Why we love this gift:
The ability to personalize the quote on the bracelets means you can gift your mom with a message that will stay with her for life.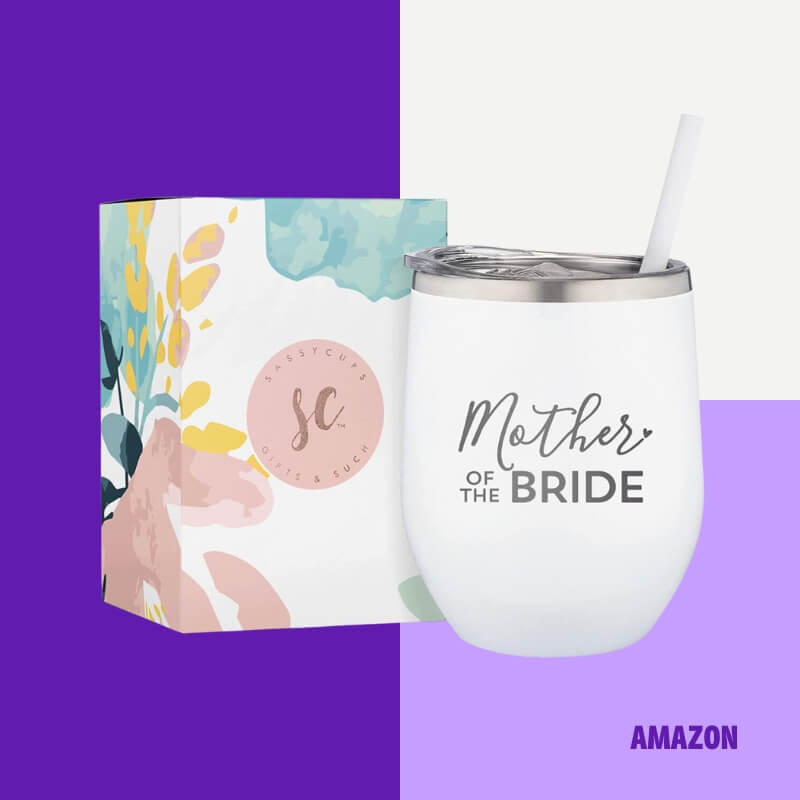 For the mom who's all over the place on a typical day, the Mother of the Bride Engraved Stainless Steel Tumbler Cup makes a great gift.
Its double layers of insulation are designed to keep drinks at the right temperature for a long time. You can tailor the tumbler cup to your mom's personality with a great selection of colors and designs.
Why we love this gift:
These tumblers are eco-friendly, so you're helping to save the environment while still gifting your mother with something she can use forever.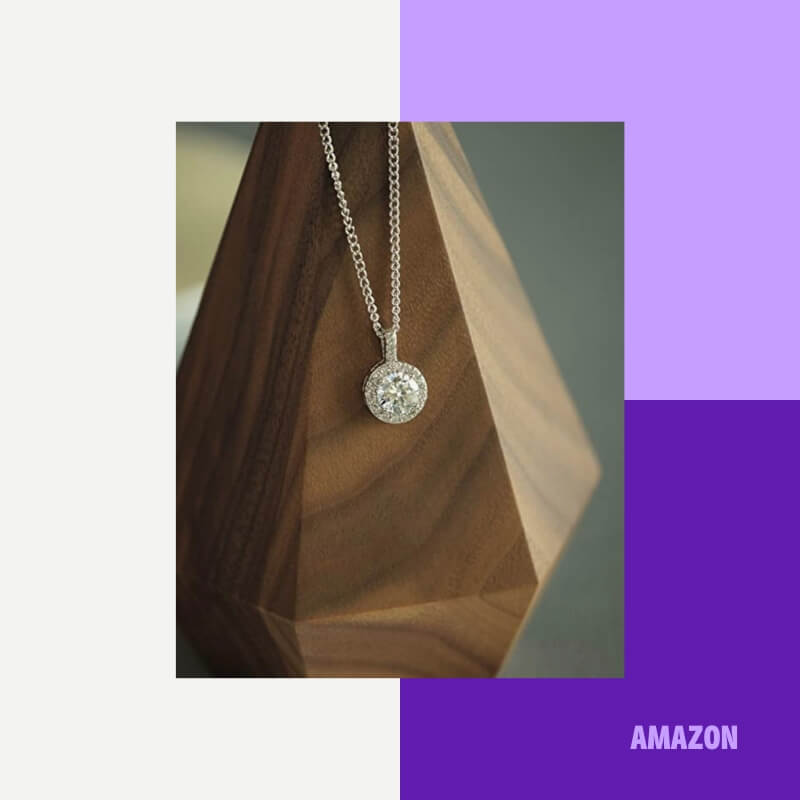 Since the groom's mother is just as important as the bride, consider getting her the Mother of The Groom Necklace. It was handmade to thank the groom's mother for everything she's done for him. The adjustable necklace varies in length from 15 inches up to 18 inches.
Why we love this gift:
The gift box includes a card where the groom can write a personal message to his mother.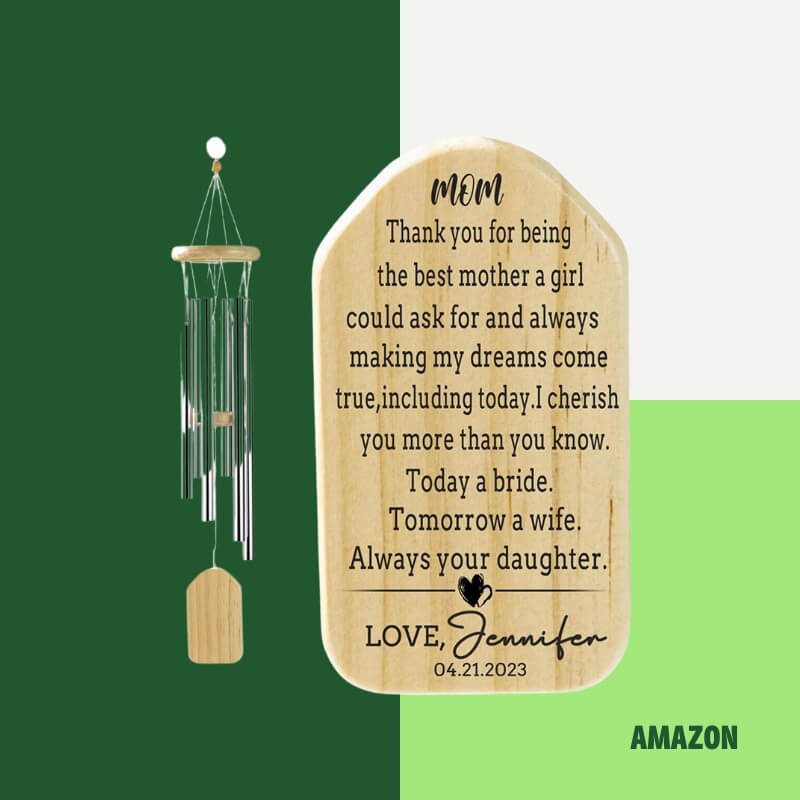 If mom already collects them, the perfect gift is the Custom Mother of The Bride Gift Wind Chime. It's just the right size to enhance the decor of any porch or garden. Every time she hears it jingle, she'll think of how special your wedding day was.
Why we love this gift:
The Wind Chine can be customized with her name, a special message, and your wedding date.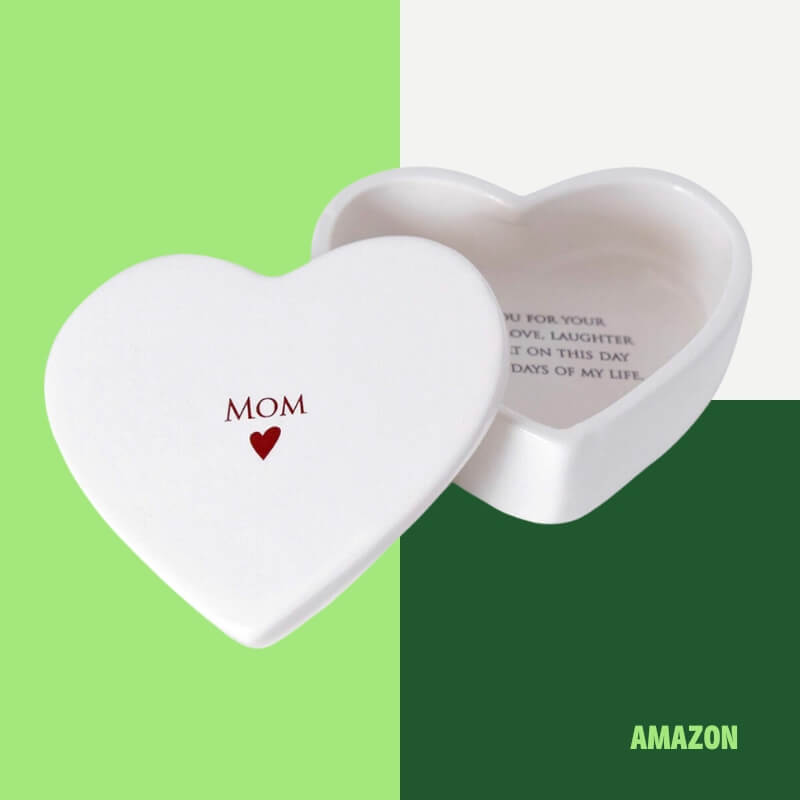 For the mom with a small jewelry connection, the Heart Shaped Jewelry Keepsake Box is a very fitting gift. Made of clay, the box can be personalized with one of four sayings, or it can simply say, Mom. Every time Mom opens this keepsake box, she'll see the message chosen for her.
Why we love this gift:
This simple but meaningful gift will delight the mother of the bride or the groom, or even both.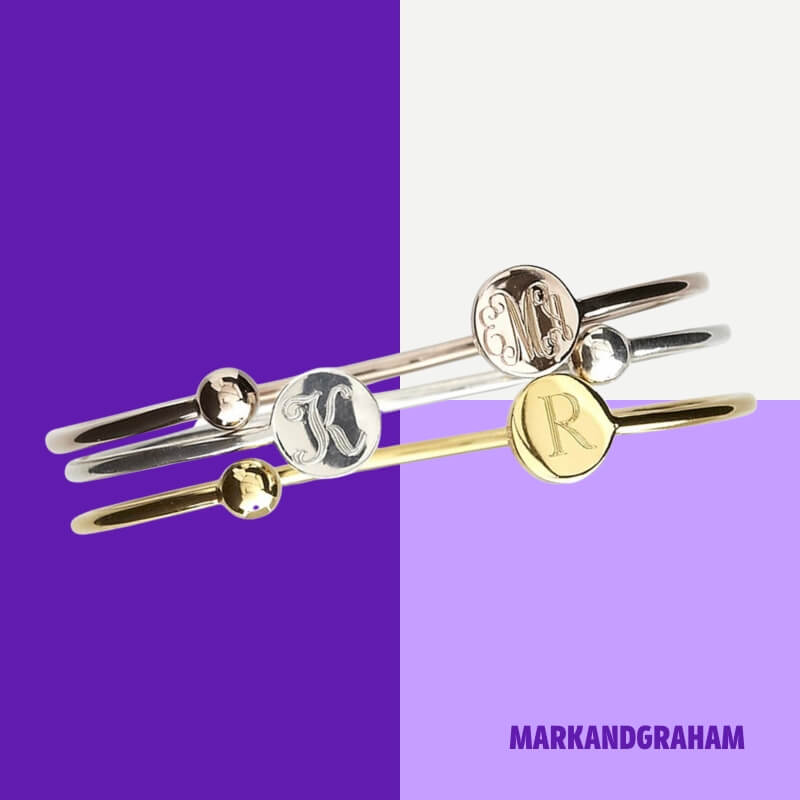 Consider the Sarah Chloe Elle Bangle, available in sterling silver, gold, or rose gold, for a gift as unique as your mom is.
You can even have a personal message engraved on this bangle bracelet. This bracelet pairs well with others, making it perfect for the mom who loves jewelry.
Why we love this gift:
This beautiful bracelet can be worn every day when properly maintained.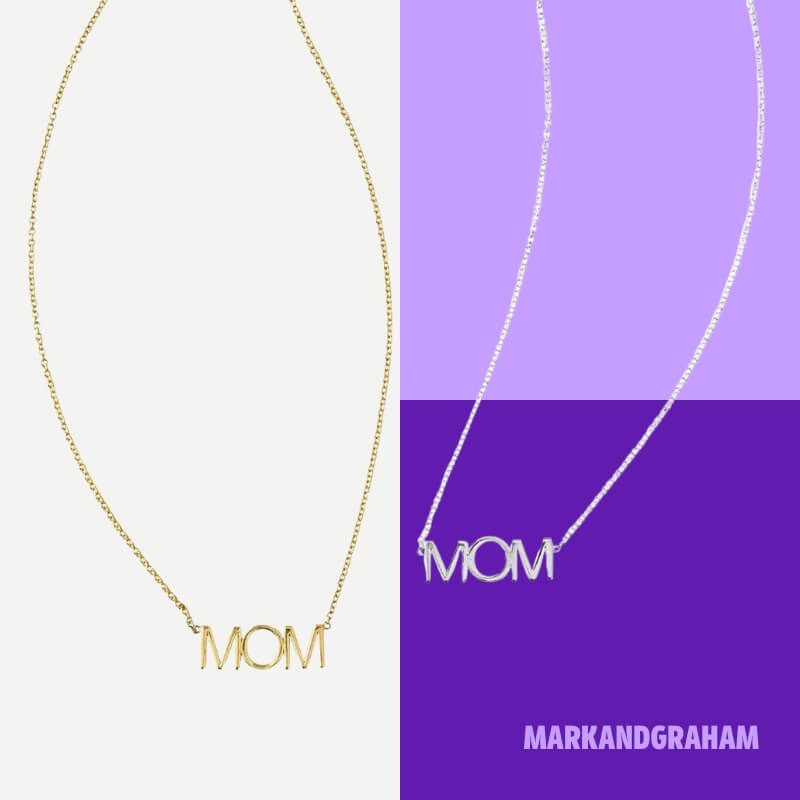 You can spell out for her how much you love your mom when you gift her with the Maya Brenner Pendant Necklace.
This necklace comes in silver or gold and is a simple, understated way to tell your mom how you see her. The word mom is spelled out in beautiful script.
Why we love this gift:
The Maya Brenner Pendant Necklace is a unique necklace that your mom will always be proud to wear.
What are some thoughtful gift ideas for the mother of the bride?
Thoughtful gifts for the mother of the bride often include personalized items like jewelry with her initials or a heartfelt note. Consider things like custom bracelets, picture frames with special photos, or a beautifully bound journal for her to record her thoughts and experiences.
Is it customary to give a gift to the mother of the bride?
Giving a gift to the mother of the bride is a lovely way to thank her for her help and support during the wedding planning process and on the big day itself.
A nice idea would be something special that the mother of the bride can use and cherish for a long time. It could be a piece of jewelry, a personalized item, or even a simple but heartfelt card expressing your gratitude. No matter what you decide to give her, it's sure to bring a smile to her face.
What type of jewelry makes a good gift for the mother of the bride?
Jewelry that is elegant and timeless, like a pendant necklace, pearl earrings, or a bracelet with a heart charm, makes a wonderful gift. Personalizing the jewelry piece with her initials or the wedding date can add a special touch.
Are there any non-traditional gift ideas for the mother of the bride?
Consider her hobbies and interests when choosing a non-traditional mother of the bride gift. If she loves gardening, a beautiful plant or gardening tools could be a perfect gift.
For a book lover, a special edition of her favorite novel or a new release from a favorite author might be appreciated. Whatever you decide on, make sure it's from the heart and show her just how much you care!
Bottom Line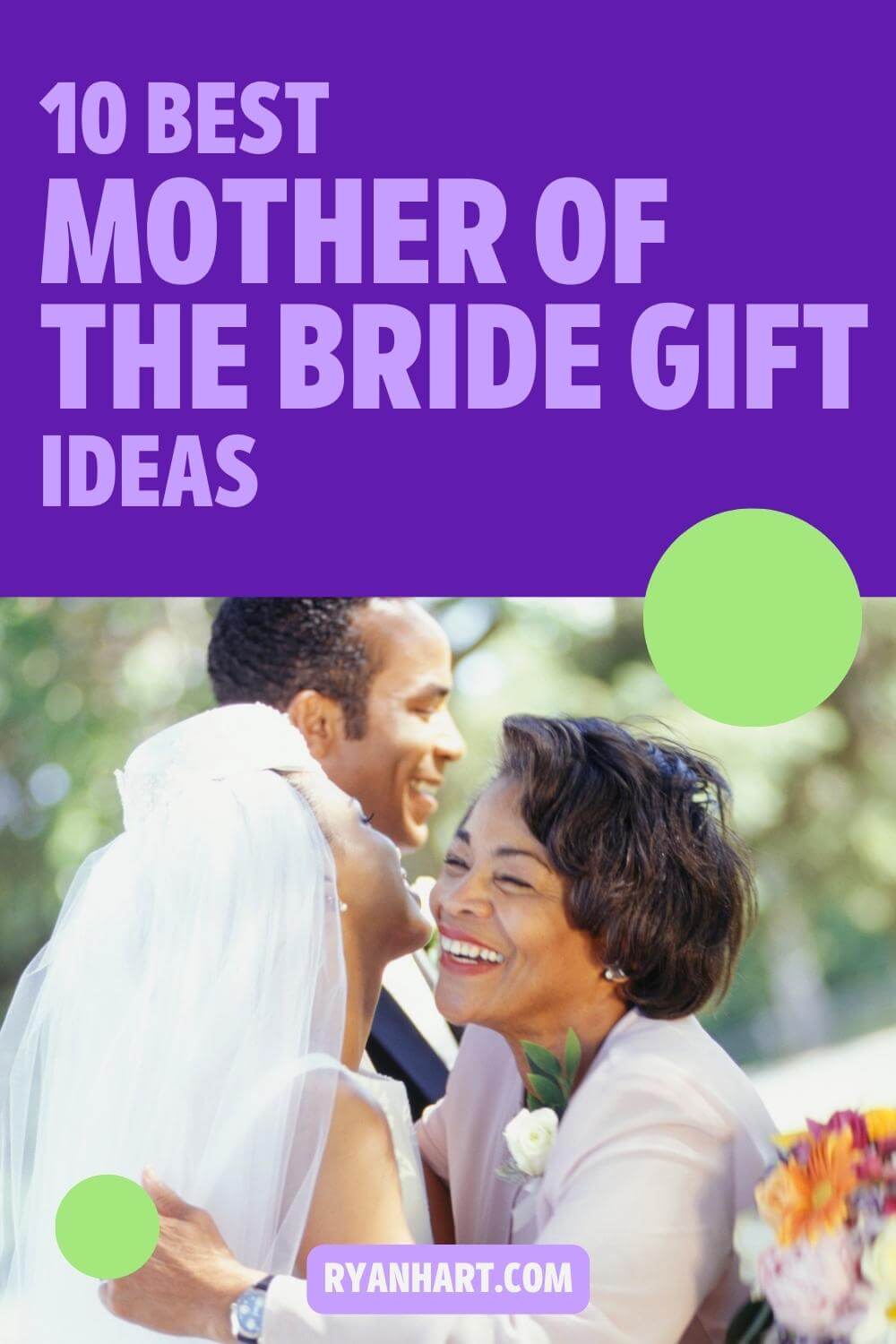 Choosing the perfect gift for the mother of the bride is a wonderful way to show how much you care. It's a chance to thank her for all the love and support she's given, not just during the wedding planning, but over the years.
Whether it's a piece of custom jewelry, a heartfelt letter, or a special photo frame, the most important thing is that it comes from the heart.
Each gift has its own unique charm, and whichever one you choose, it will surely be appreciated. After all, it's the thought and love put into the gift that truly matters!