They say that diamonds are a girl's best friend, but the truth is that diamonds come in all kinds of colors, shapes, and cuts.
One of the most elegant gemstone shapes is the oval cut. This stunning style elongates the fingers and can be offset by other gemstones in different cuts.
If you are looking for an engagement ring that is timeless and elegant but still unique, an oval ring could be a perfect choice.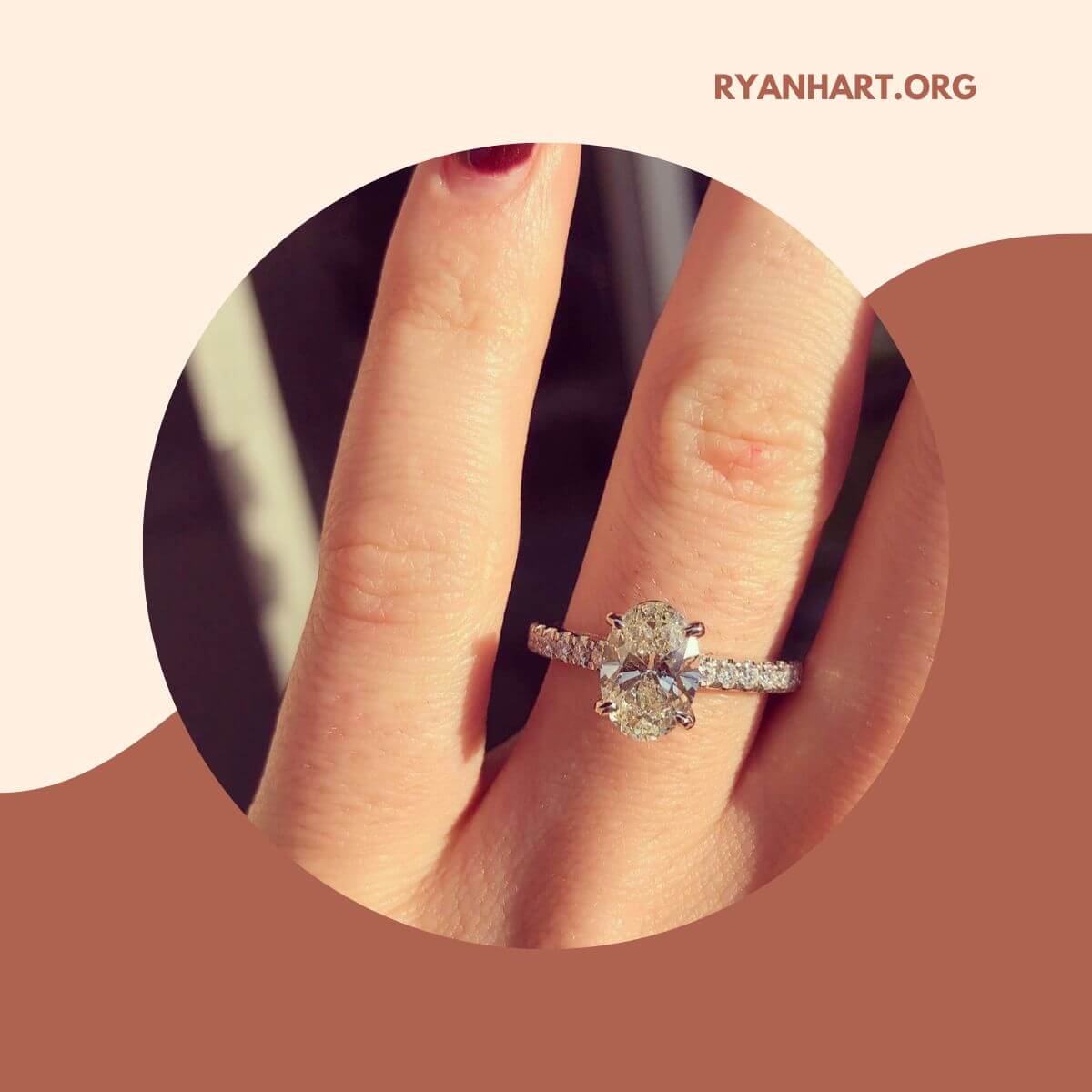 What are the best oval engagement rings?
As any jeweler will tell you, there are many types of oval engagement rings. These range from oval-cut solitaire diamonds to oval diamonds offset by other gemstones.
There is endless variety in design, color, cut, and other details. One oval diamond ring might be nothing like the next!
As for which type of ring setting is the best, this largely comes down to preference. Some are very ornate, while others are minimalist.
Ultimately the style you choose is up to you! Read on to learn about our top recommendations for the best oval engagement rings.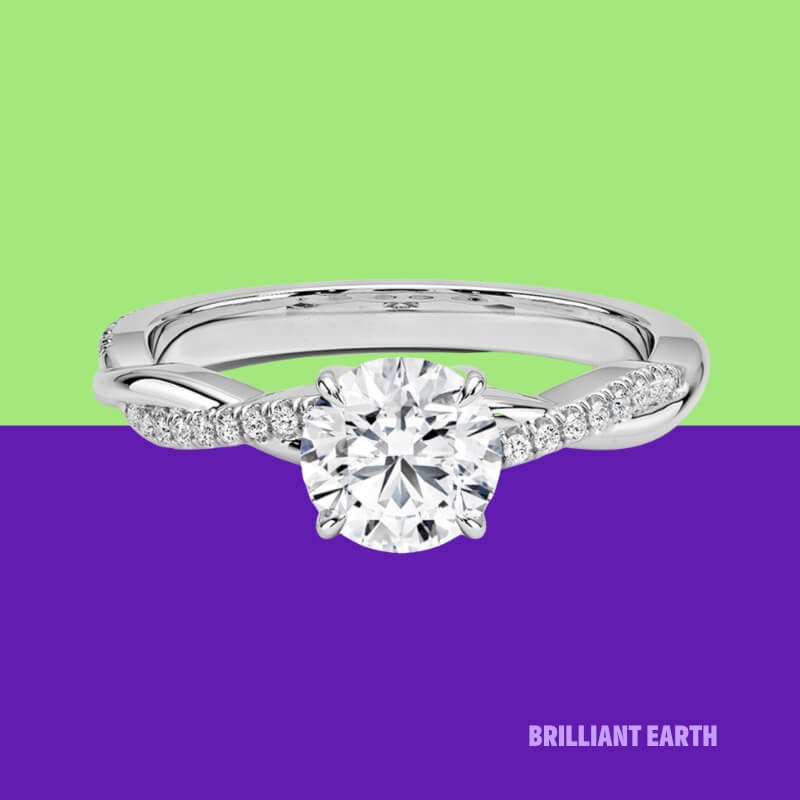 The Petite Twisted Vine Diamond Ring can be customized into any shape you prefer, including oval and pear. The central stone is offset by a strand of pavé diamonds, arranged like twisting vines around the ring.
With options of white gold, rose gold, yellow gold, or platinum, this breathtaking ring can be customized to your preference.
The smaller diamonds lend it an elegant, floral feel, highlighting the central oval gem. This is the perfect ring for someone whose style is both classic and unique.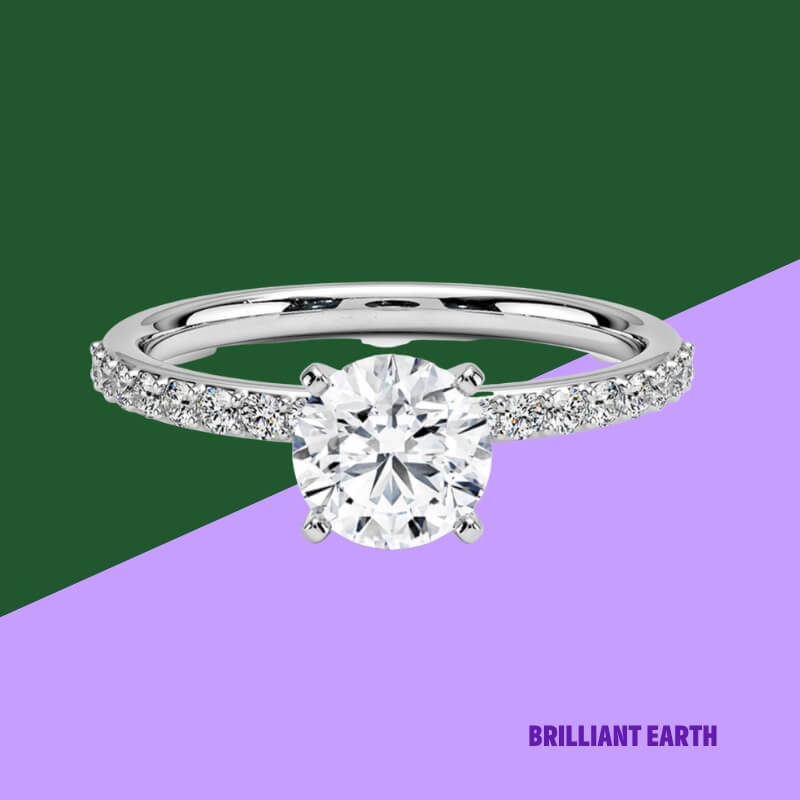 If you are looking for an engagement ring that stands out, the Petite Shared Prong Diamond Ring from Brilliant Earth may be the perfect choice. This elegant ring features a pronged central gem that draws the eye, supported by a half-ring of smaller diamonds around the band.
The oval diamond can be customized up to two carats, making it as subtle or ornate as you prefer.
This engagement ring catches the eye, making it ideal for those who want to shout the good news to the world.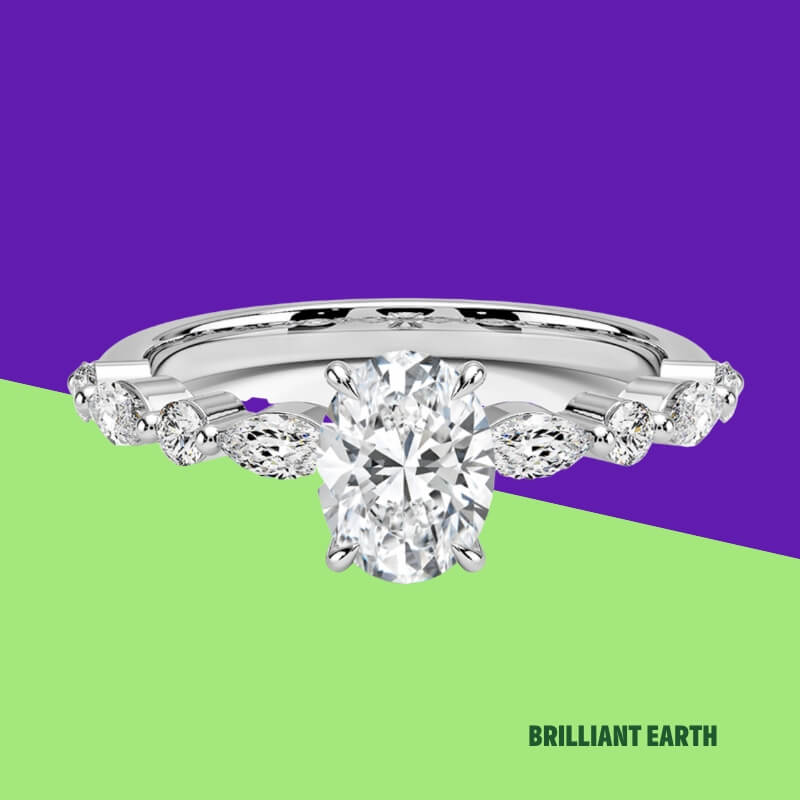 This Versailles diamond ring from Brilliant Earth is visually fascinating, making it stand out from the crowd.
It uses alternating diamond shapes in round and marquise cuts to draw the eye around the band. The central oval diamond can be customized up to two carats.
As with most of the offerings from Brilliant Earth, you may opt for a band in white gold, rose gold, yellow gold, or platinum. This elegant ring is perfect for the person whose style values uniqueness and standing out.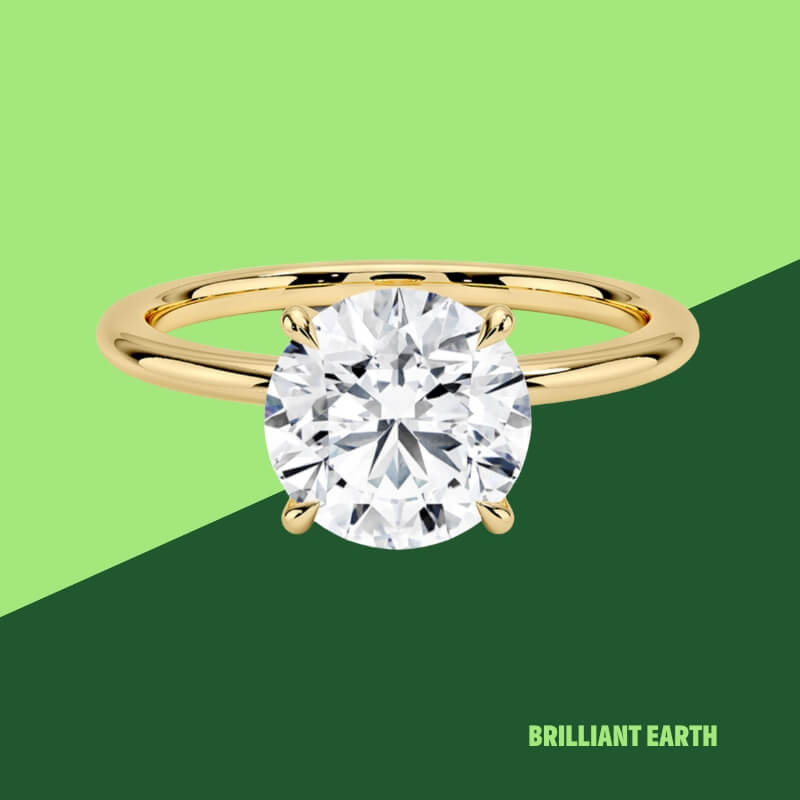 The Petite Elodie Solitaire Ring is about as classic as you can get — which might be why it is so attention-grabbing. This extra-large oval diamond can be ordered up to five carats and is the sole gem on the gold band. In other words, it is impossible to miss.
Crafted in a sleek and elegant style, the Petite Elodie is about as traditional as possible. This is perfect for someone who loves minimalistic but eye-catching jewelry.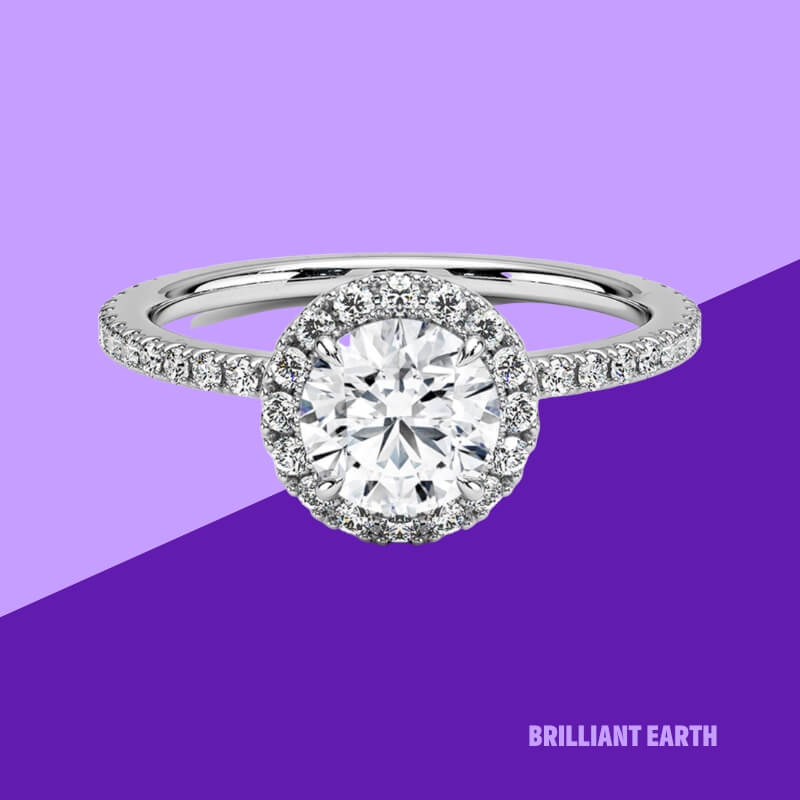 The Waverly Halo diamond ring gets its name from its mesmerizing design, which features a central oval diamond surrounded by a wreath of smaller diamonds.
These are further offset by the band of scalloped pavé gems along a band of 18k white gold, yellow gold, rose gold, or platinum.
This stunning engagement ring, made from lab-created gems, will be a conversation piece wherever you go. It's the perfect choice for anyone who wants an engagement ring that is not only beautiful but also completely one-of-a-kind.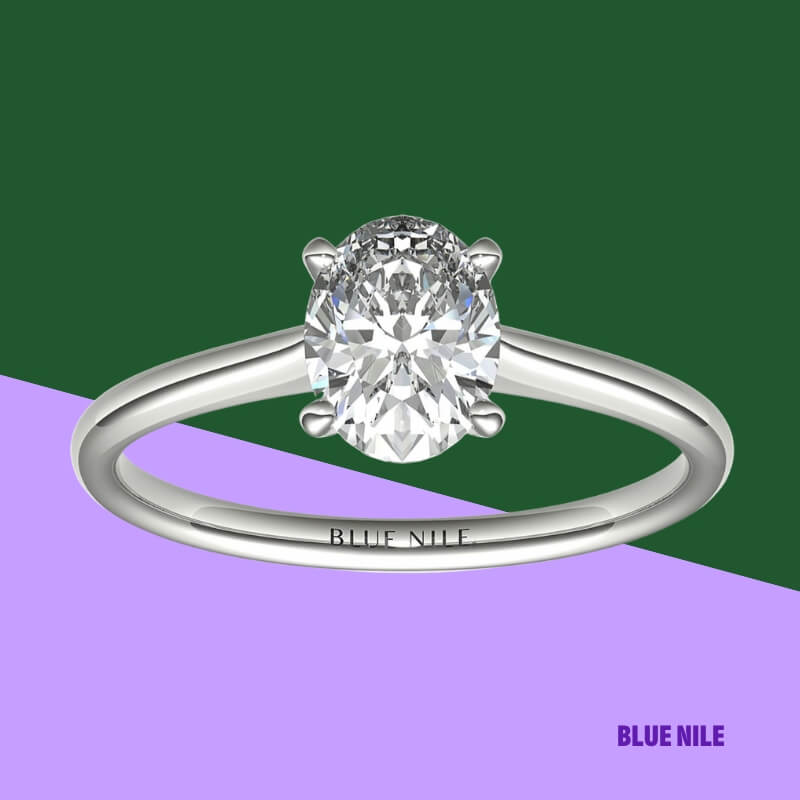 The petite solitaire engagement ring features a single oval diamond of up to five carats. It lets the gemstone take centerstage, with a raised setting that draws the eye. You can choose from several options for the band, from 14k white, rose, or yellow gold, to 18k yellow gold or platinum.
This ring is evidence of why a solitaire diamond is the most classic engagement ring — it is stunning in its elegant simplicity. If you love traditional beauty, this lovely ring is for you.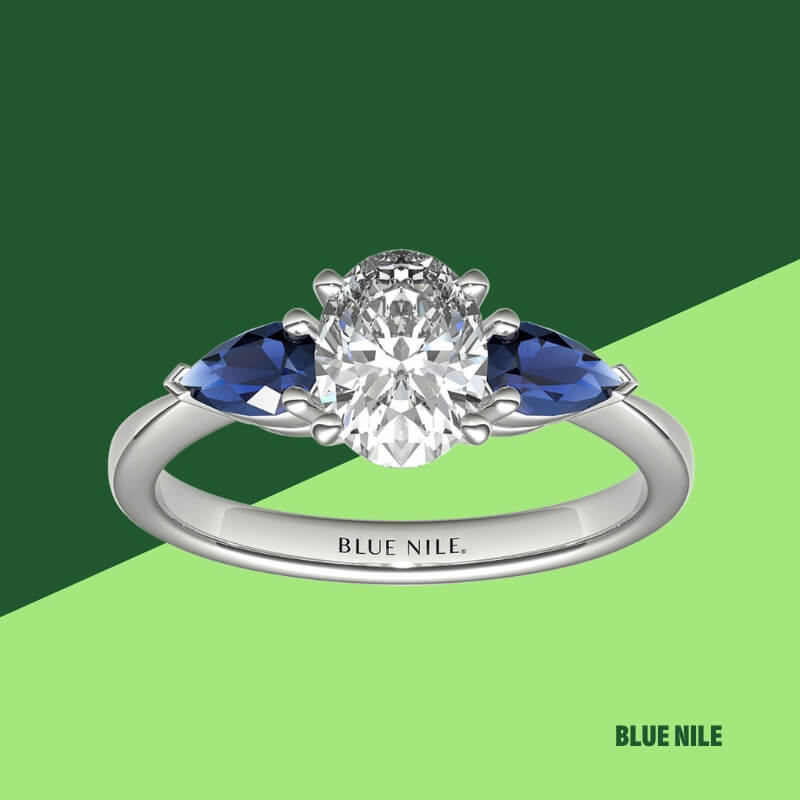 Oval rings have many subcategories; one of the most popular is the pear-shaped ring. The Classic Pear Shaped Sapphire engagement ring is eye-catching because of its unique shape and the addition of sapphires that add a pop of color. These draw the eye to the center gemstone, a stunning oval diamond.
A band of either platinum or 18k white gold further compliment the palette. This is one engagement ring that stands out from the crowd. It's ideal for the person who wants to do the same!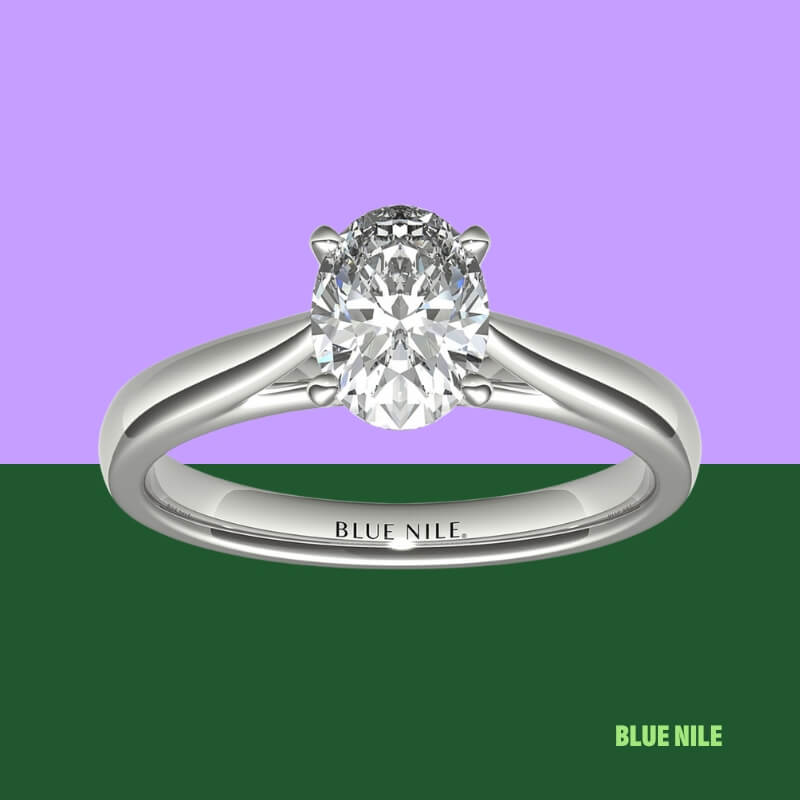 This Tapered Cathedral Solitaire engagement ring is proof that elegance and minimalism can go hand-in-hand. This simple and eye-catching gem is set against a white gold or platinum band. The tapered oval is a classic style that just can't be outdone.
Buyers may customize the gemstone size up to five carats to make it as subtle or showy as they prefer. This may be the perfect ring for lovers of simple, timeless styles.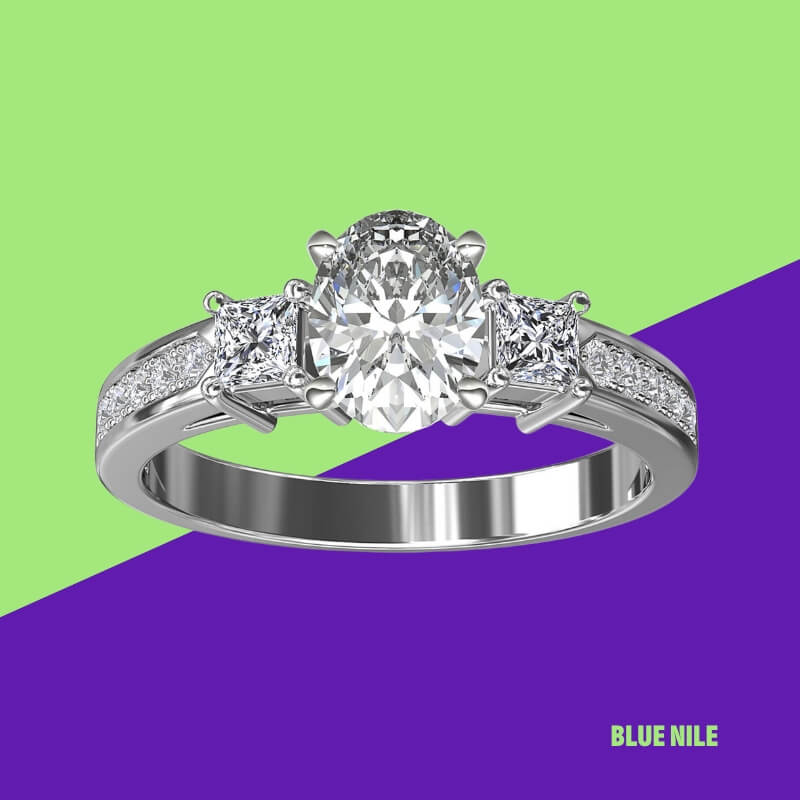 The three-stone princess cut pavé engagement ring features a stunning oval diamond flanked by two smaller princess-cut diamonds on each side. A row of small pavé diamonds runs halfway down each side of the ring for extra sparkle and shine.
Featuring a 14k white or yellow gold band and a total of 13 stones, this engagement ring is bound to captivate. If you love an opulent but elegant style, this could be the perfect oval engagement ring for you.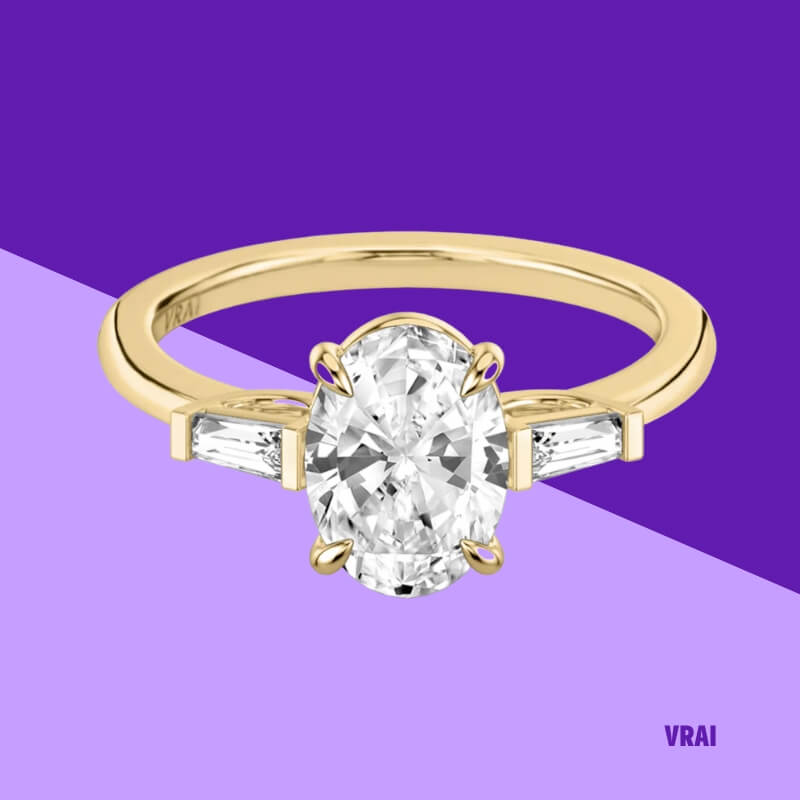 If you don't want a solitaire diamond but still prefer a simpler style, you will love the Three Stone Oval Engagement Ring from Vrai. This unique ring adds visual interest alongside the central oval diamond with two smaller diamonds in baguette cuts.
The raised setting ensures that the gems stand out on your finger, catching everyone's eye as you pass. These sustainably-sourced, lab-created diamonds mean you don't have to sacrifice ethical sourcing for style.
Bottom Line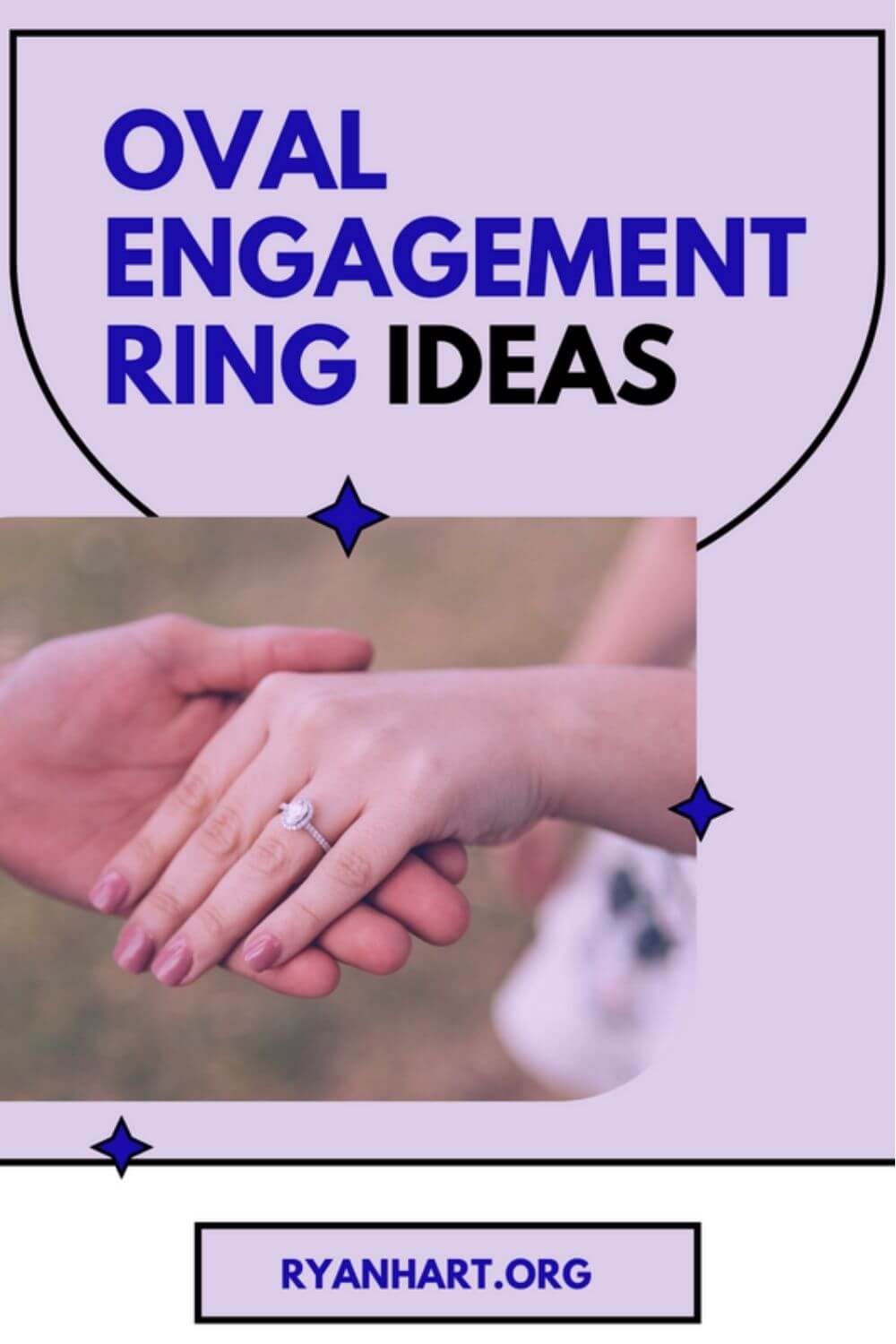 Oval diamond engagement rings are timeless because they are elegant and flattering on most finger shapes. The oval shape is also said to represent eternity, making it a popular choice for couples looking for a ring that will symbolize their everlasting love.
Here are some things couples should consider before buying a diamond engagement ring:
The budget. Diamond engagement rings can range in price from a few hundred dollars to tens of thousands of dollars. Setting a budget before you start shopping is important so you don't overspend.
The style. Many different styles of diamond engagement rings are available, so choosing a style your partner will love is important. You should also consider your partner's finger shape when choosing a style.
The quality of the diamond. The quality of the diamond is one of the most important factors to consider when buying an engagement ring. The four Cs of diamonds are cut, clarity, color, and carat weight. Choosing a diamond of good quality that will last for years to come is important.
The setting. The setting of the diamond is also important to consider. Many different types of settings are available, so you should choose one you think your partner will love. You should also consider your partner's finger shape when choosing a setting.
With these factors in mind, you are sure to find the perfect diamond engagement ring for your partner.