Chicago has many wedding venues located in the heart of the city. However, if a metropolitan wedding isn't your style, you don't have to drive far to find something totally different!
Right on the outskirts of Chicago, you'll find wedding venues ranging from boutique inns to charming family farms and elegant vineyards.
Whether looking for a place to celebrate an intimate party with a few friends or a grand gala with everyone you know, the Chicago suburbs have something for every couple.
Check out our top venue recommendations in the Chicago suburbs here!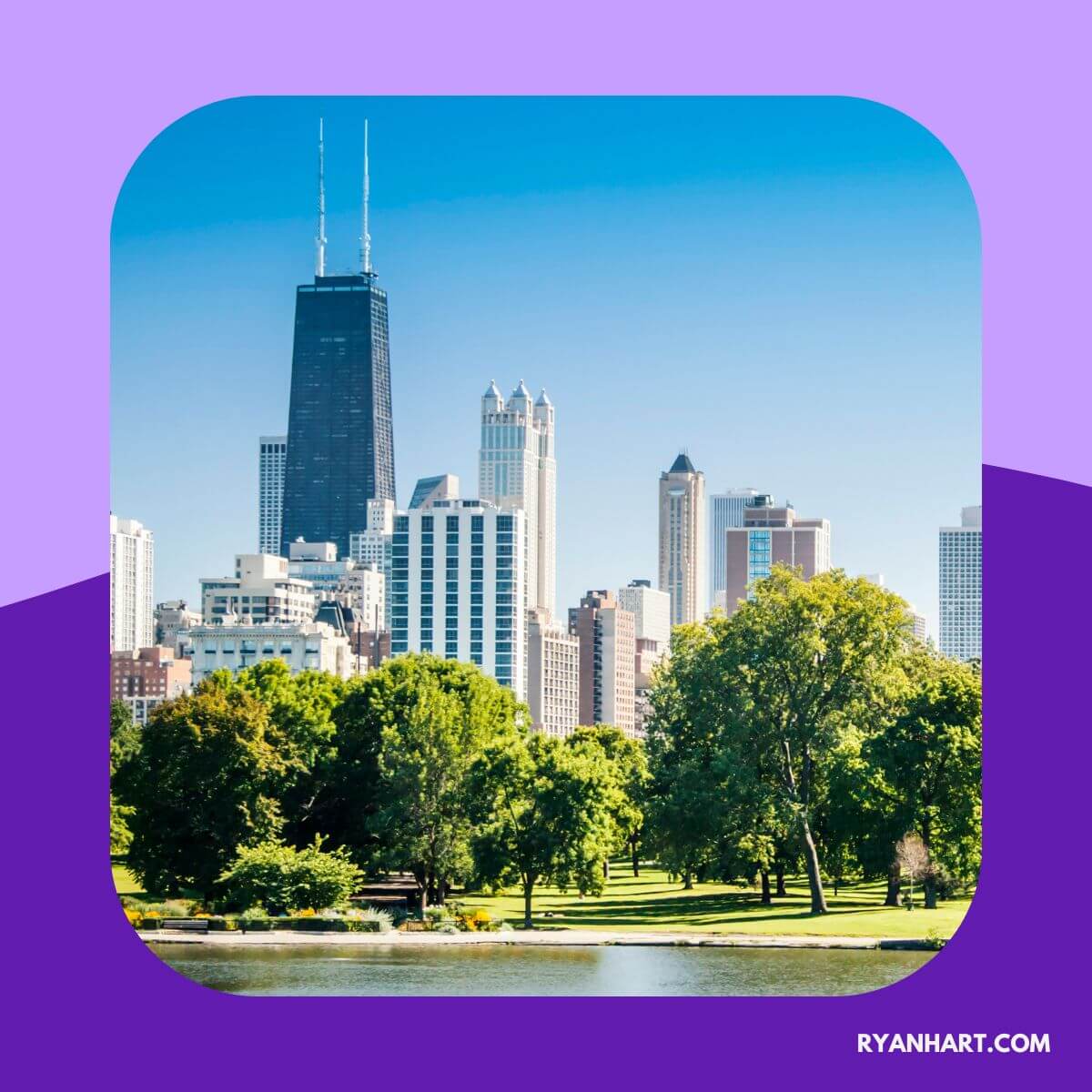 Where is the best place to get married in the Chicago Suburbs?
The greater Chicago area offers venues of all kinds in towns such as Elgin, Geneva, and Glen Ellyn. Some are simple spots in a beautiful natural setting, while others are upscale venues with entire wedding planning teams.
Whether you want to go big or keep things understated, it doesn't matter — these wedding venues in the Chicago suburbs have something for everyone. Check out our top recommendations below!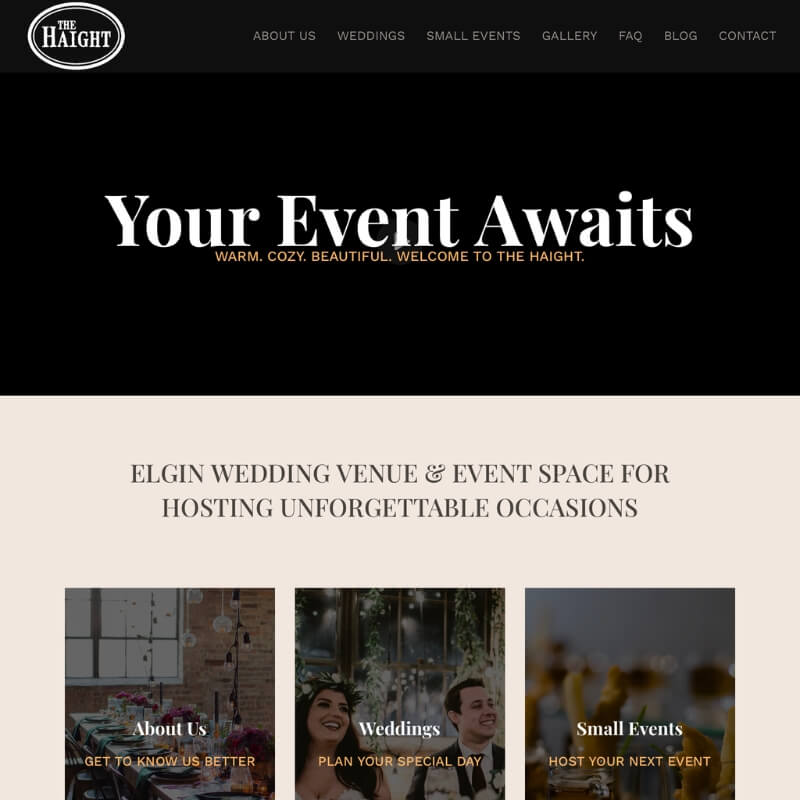 The Haight is located in Elgin, on the outskirts of Chicago. Once a historic warehouse built in 1890, it is now a family-owned event venue where you can design your day from start to finish. Against the backdrop of exposed brick, wooden beams, and high ceilings, your reception can be as elegant or casual as you make it.
The Haight also includes a reception room with space for up to 220 people, three bar areas, a lounge, and two private rooms for getting ready.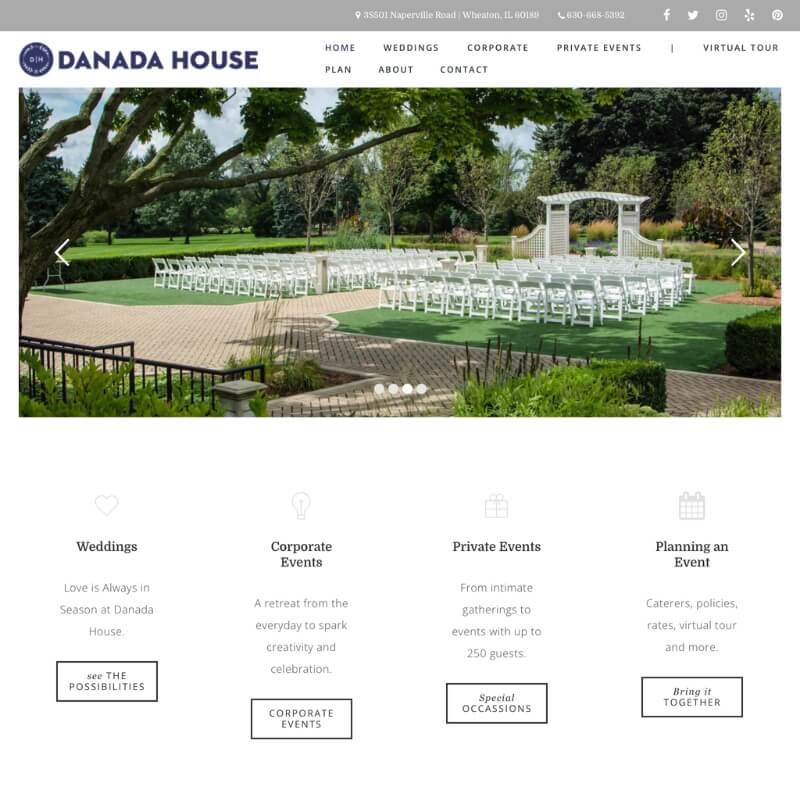 Danada House is a stunning historic family home that has been turned into one of the Chicago area's most elegant wedding venues. The white brick house sits on nearly 800 acres of pristine farmland in Wheaton, Illinois, including a 23-stall stable.
Danada House offers indoor and outdoor ceremony and reception venues, including an all-season atrium. The spaces here accommodate up to 250 guests, making Danada House the perfect choice for a larger wedding.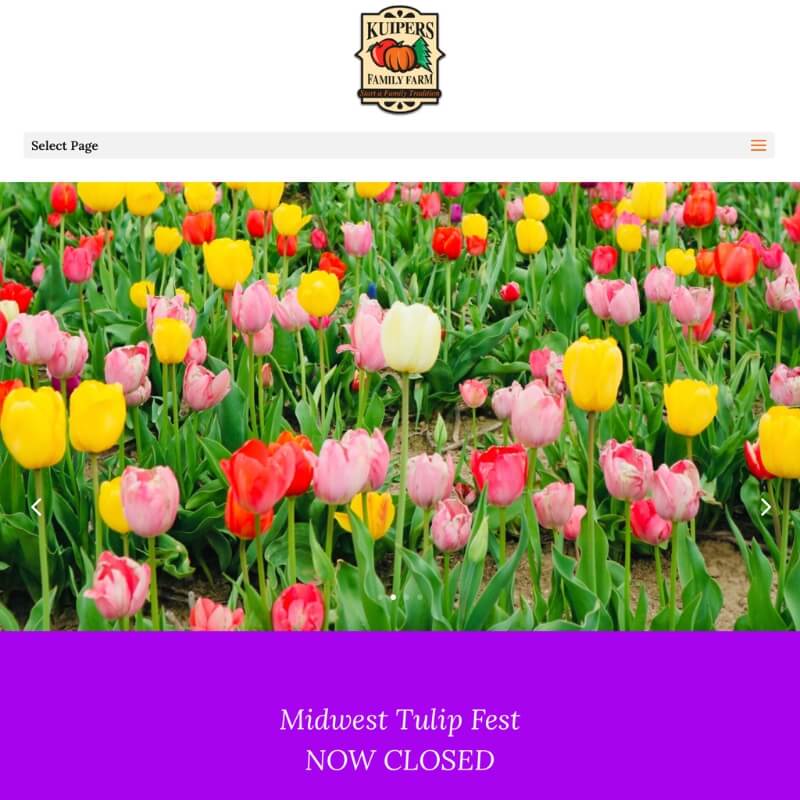 Kuipers Family Farm is located just on the outskirts of Chicago, yet it feels worlds away from the bustling city. Here, you and your spouse-to-be can say your vows surrounded by 160 acres of pristine farmland.
You can celebrate your special day in view of the apple orchard or the old barn with its exposed wooden beams and soaring ceilings. Kuipers Farm even offers catering and drinks menus, chairs for both your ceremony and your reception, and many other special offerings.
If you're looking for a charming and quiet place to celebrate your wedding in the Chicago suburbs, look no further than the Herrington Inn & Spa. This quaint boutique hotel overlooks the Fox River in Geneva, IL. With the look of a historic European inn, the Herrington features beautiful architecture, beautifully furnished rooms, and an on-site restaurant.
Weddings can take place in the charming outdoor courtyard overlooking the river. The inn also offers the services of a wedding planning team to help you clinch all the details of your big day.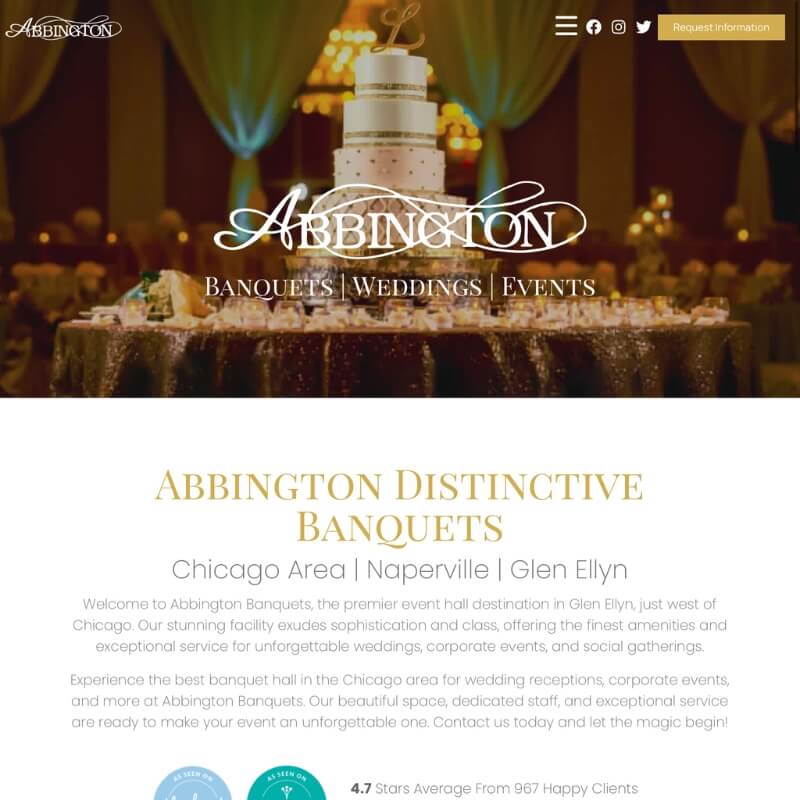 The Abbington is one of the greater Chicago area's most beautiful and elegant banquet halls. Located in Glen Ellyn, this enormous hall has space for up to 1,300 guests — making it the perfect choice for a wedding with an extensive guest list.
You'll have access not just to the grand ballroom but also to an ample banquet space and foyer, allowing everyone to be comfortable. In addition, the Abbington offers a wide range of wedding services, from floral design to catering menus and more.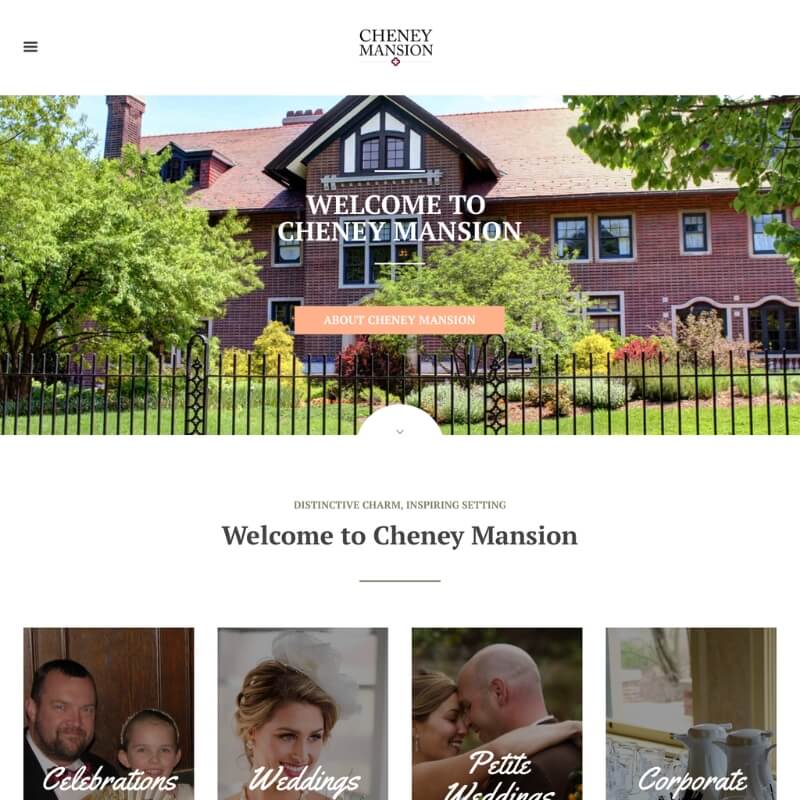 Cheney Mansion is a beautiful historic building in Oak Park, within easy driving distance of downtown Chicago. The mansion, built in 1913, features stunning period architecture overlooking two acres of gardens and lawns.
You and your significant other can exchange vows against the backdrop of the nearby forest and tree-lined fountain or in one of the elegant mansion rooms. Cheney Mansion includes a ballroom perfect for larger celebrations or an elegant dining room for parties of up to 50.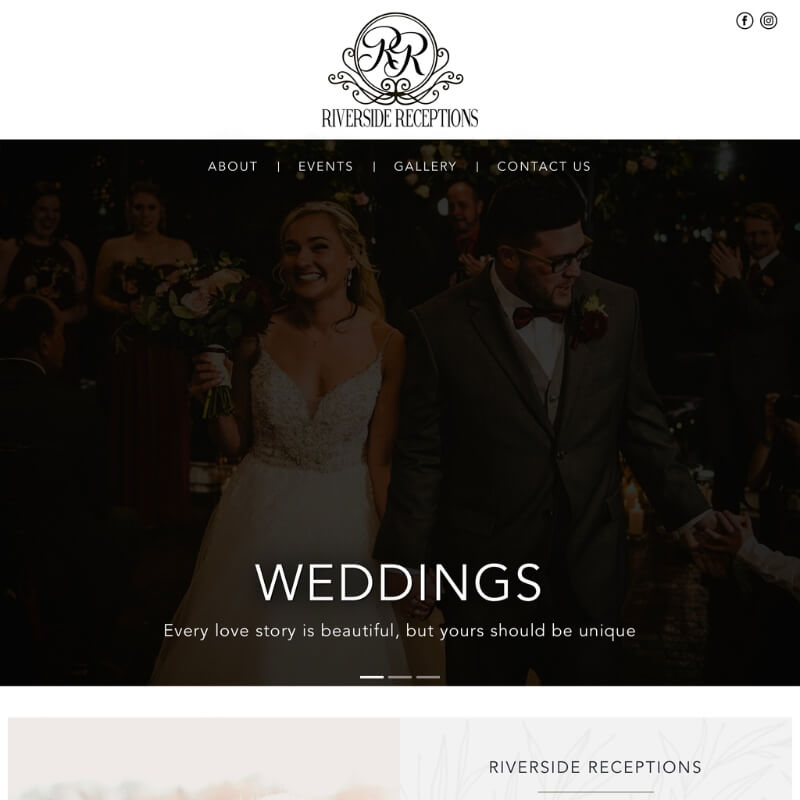 Riverside Receptions and Conference Center is a historic property that perfectly balances nature and culture. Nestled in the quiet countryside near the Fox River, this award-winning venue has everything you need for parties, large or small.
You can hold your ceremony or reception in one of three elegant indoor rooms, including one overlooking the river or in the outdoor courtyard. The center's wedding team is ready to help you plan every detail of your special day, whether you want a small affair or the party of a lifetime.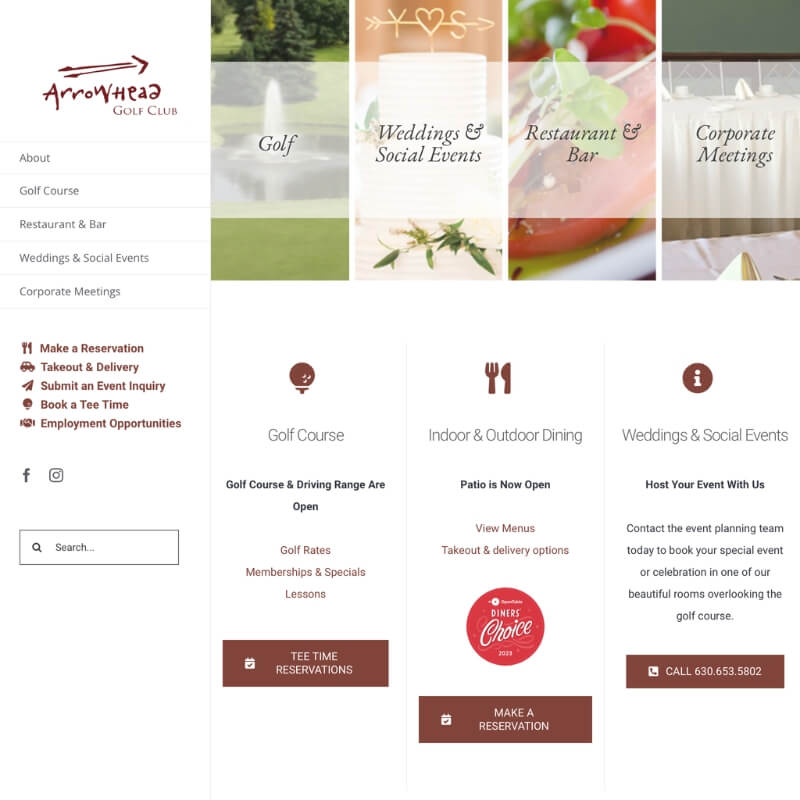 Arrowhead Golf Club is famed for being the first golf course in Illinois, built in 1924. Today, it remains one of the most exclusive golf clubs in the greater Chicago area and has become an elegant wedding venue.
Set against the background of Herrick Lake Forest Preserve, Arrowhead Golf Club offers a beautiful location to celebrate your wedding day. You and your party will have exclusive access to the entire top floor of the club, featuring elegant architecture and 360-degree views of the surrounding greenery.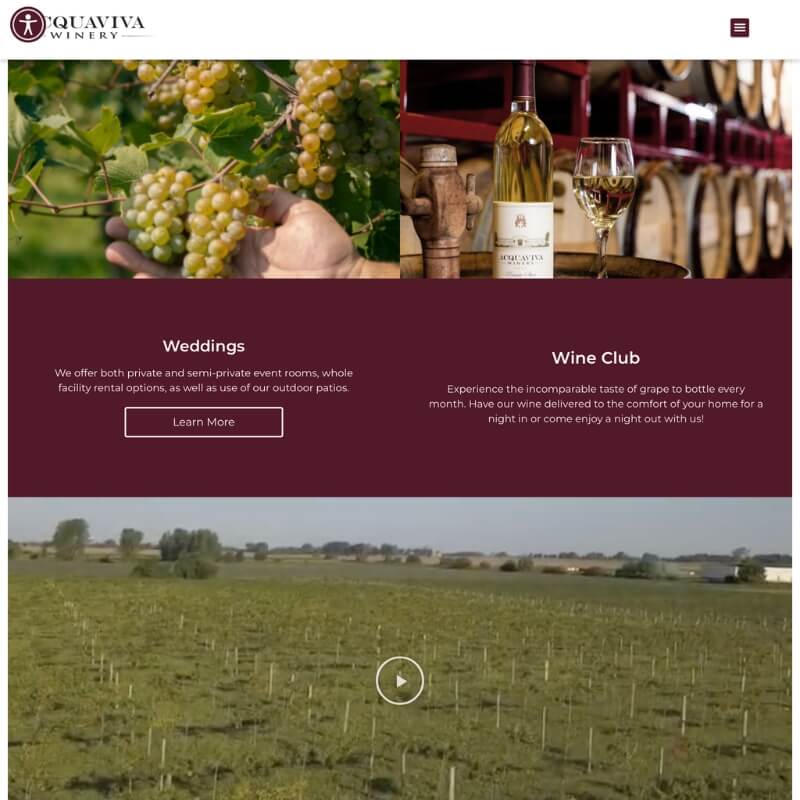 Acquaviva Winery is a family-owned vineyard and winery in Maple Park, IL. While the surrounding growing lands are stunning, the winery is best known for its unique Italian-style architecture, which provides the perfect backdrop for your big day.
This award-winning venue offers indoor and outdoor spaces so you can find the spot that fits your wedding vision. Whether that means celebrating in the Neopolitan-style indoor banquet room or on the sculpted grounds, Acquaviva Winery has a beautiful space for every couple.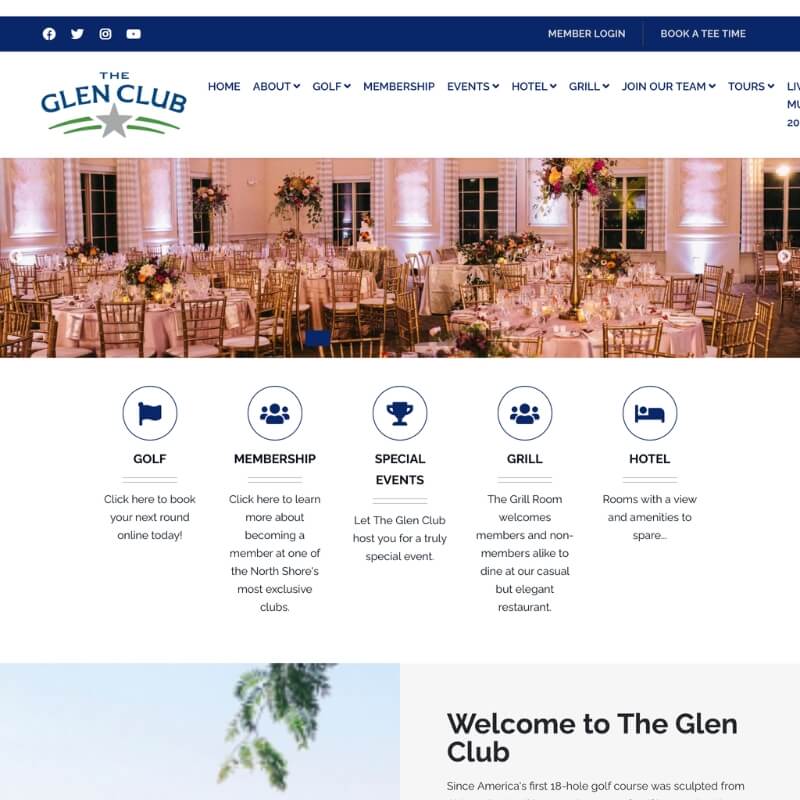 The Glen Club is an award-winning golf course located in Glenview, IL. Featuring stunning views of the surrounding countryside and the Chicago skyline, this venue also offers the perfect space to celebrate saying "I do."
The Glen Club has won many awards for its wedding venues and offerings, including the grand ballroom overlooking the gardens and lake, the bridal balcony, and the grounds themselves. A venue that drips with elegance in every detail, this is the place to go for an upscale wedding your guests will never forget.
What is the average cost of renting a wedding venue in the Chicago suburbs?
The cost of renting a wedding venue in Chicago suburbs can vary depending on the location, size, and amenities. On average, it can range from $5,000 to $10,000. Certain factors can also drive up the cost even more, such as additional decorations and catering services. Additionally, some venues may require an event insurance policy to be purchased before the rental agreement is finalized.
How far in advance should I book a Chicago wedding venue?
It is recommended to book a wedding venue in Chicago suburbs at least 12 to 18 months in advance to ensure availability and avoid last-minute rush. I would suggest visiting different venues to get a good idea of what is available. Keep in mind that there may be additional fees for decorations, catering, etc., so be sure to check on all the details before signing any contracts.
Do wedding venues in the Chicago suburbs offer catering services?
Yes, many wedding venues in Chicago suburbs offer in-house catering services. However, you can also choose to bring in your own caterer. It is important to speak with your venue and confirm any restrictions they have in place. Some venues may require that you use their catering services, while others allow outside caterers but may have a fee associated.
Do wedding venues in the Chicago suburbs offer outdoor spaces for ceremonies and receptions?
Yes, many wedding venues in Chicago suburbs offer beautiful outdoor spaces for ceremonies and receptions, including gardens, courtyards, and gazebos. Most can accommodate up to a few hundred guests, but larger spaces are also available. Depending on the venue, amenities such as catering and furniture may be included in the rental cost.
Bottom Line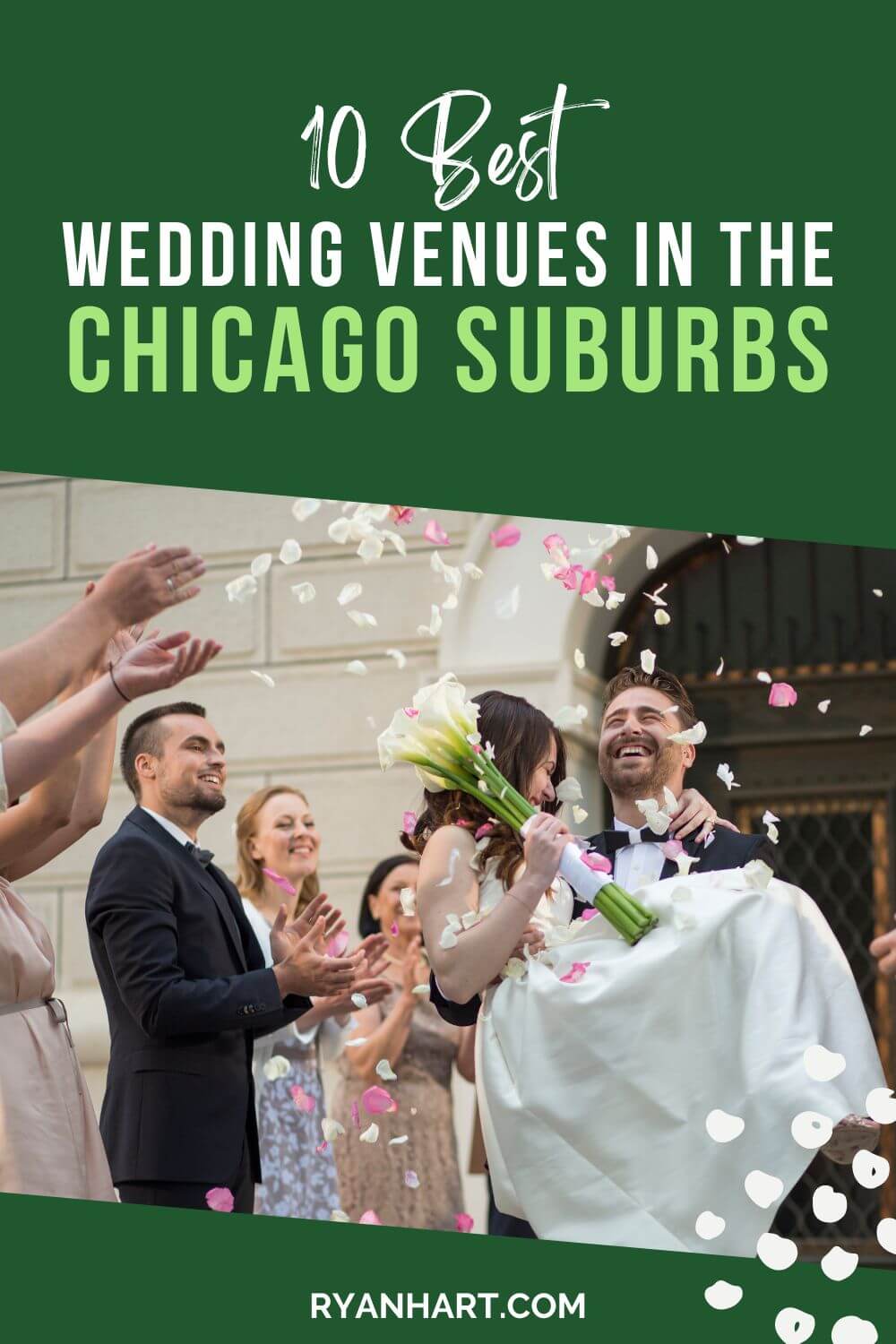 In conclusion, the Chicago suburbs offer a plethora of stunning wedding venues that cater to different styles and budgets. From rustic barns to elegant ballrooms, there is a venue for every couple's dream wedding.
With unique locations such as gardens, museums, and historic landmarks, couples can add a touch of personality and character to their special day. The suburbs also boast excellent transportation links, making it easy for guests to travel to and from the venue.
With so many options to choose from, the Chicago suburbs are a top choice for couples looking for a memorable and picturesque wedding venue.