For most brides, the most important decision is their wedding dress, with the venue being a close second. Trying to decide where to hold one of the most momentous moments in your life can be difficult.
So if you're looking for the perfect spot to say "I do" in So Cal, you've come to the right place!
I've assembled a list of Southern California's top seven best wedding venues. These locations are perfect for planning an intimate ceremony or large lavish party.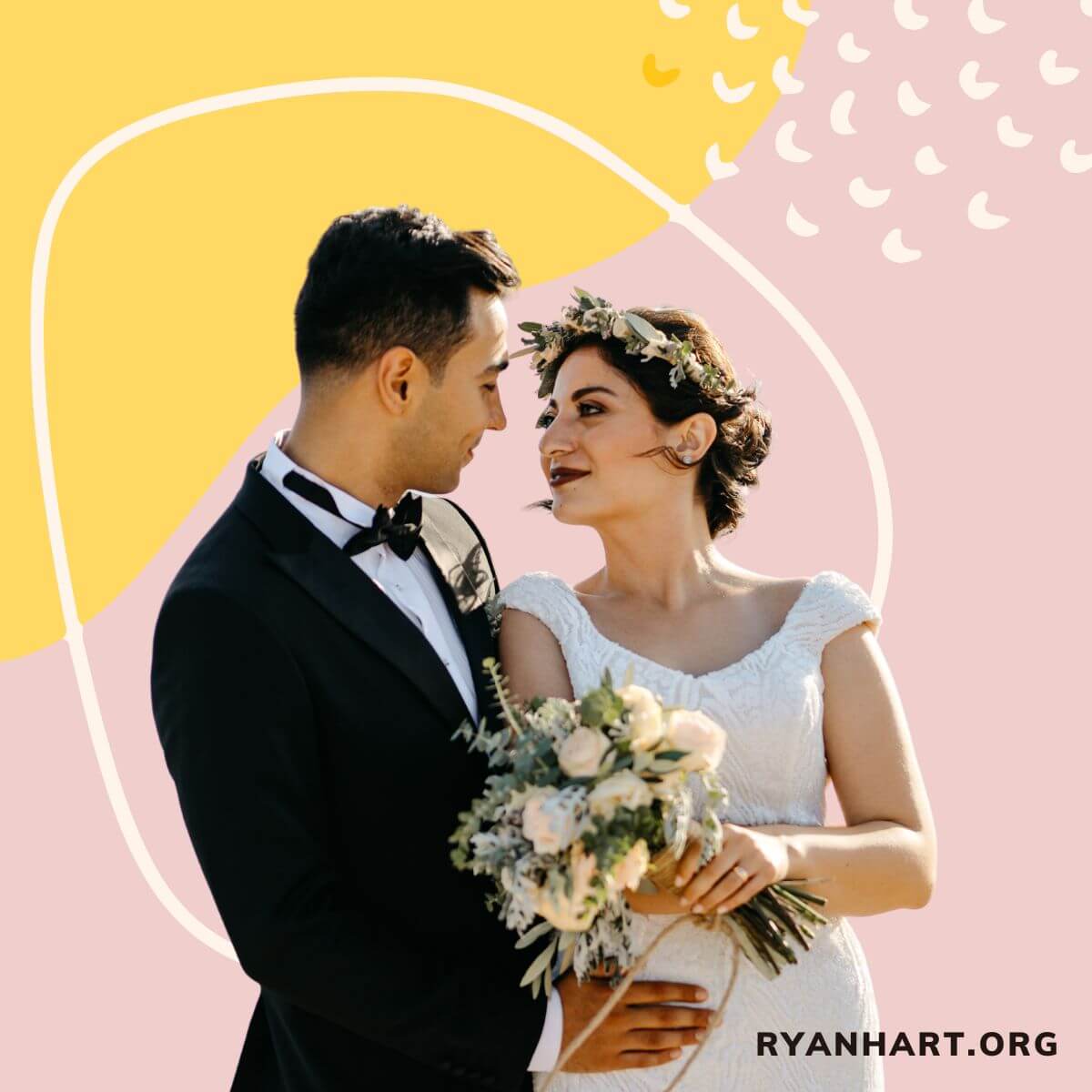 What is the Best Wedding Venue in Southern California?
Let's get to it; here are the seven best wedding venues in Southern California: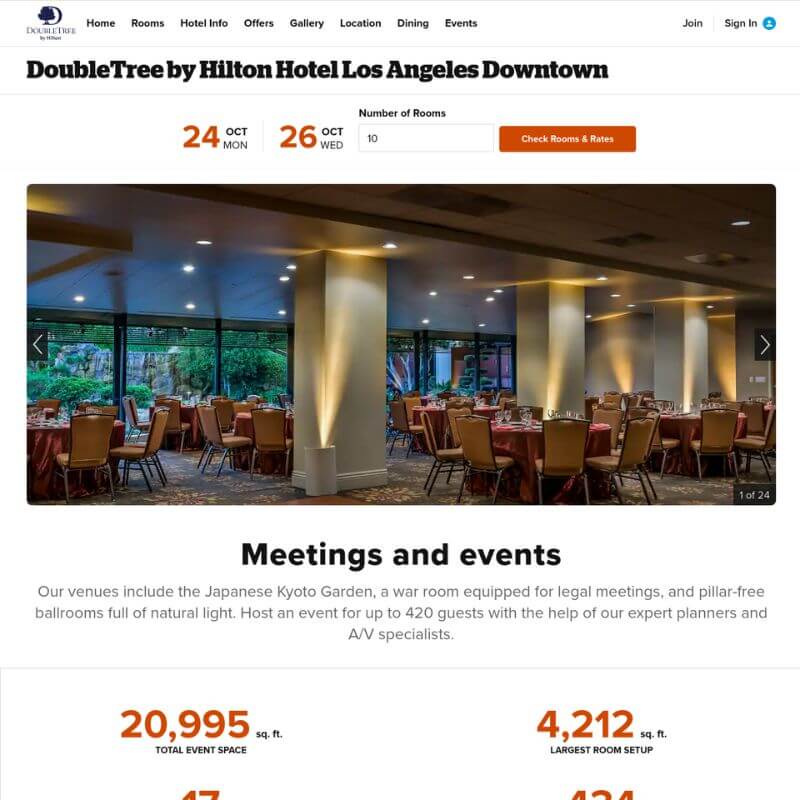 The Double Tree by Hilton Hotel Los Angeles Downtown is a gorgeous location for a charming garden wedding. If you'd rather have your event indoors, possibly in a ballroom, they have you covered with three options! But the real gem of the hotel is the rooftop Kyoto Gardens adorned with manicured foliage and waterfalls to set a serene scene.
A wedding planner is on duty to coordinate everything from gift check-ins and discount rooms for guests to a custom wedding menu and audio equipment for the perfect reception music to ensure your wedding is a smash.
What the DoubleTree by Hilton Los Angeles Downtown Does Best:
Convenience and style! Book your guest's rooms from your attendee website. The beautiful and unique wedding settings are sure to please!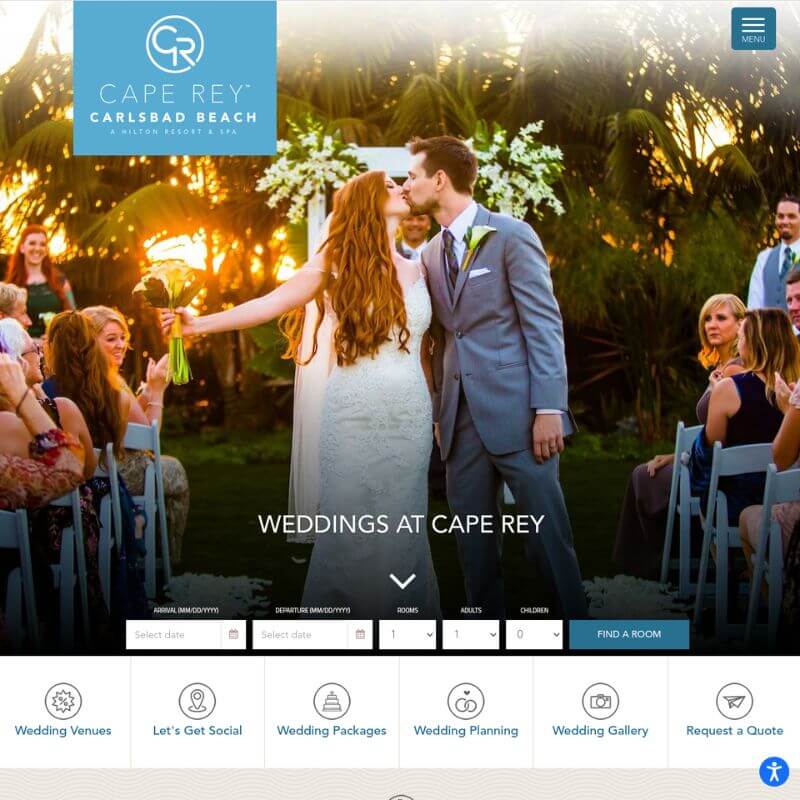 Did you say beach wedding? The Cape Rey Carlsbad Beach has the perfect spot high above the water with gorgeous ocean views. The venue employs renowned chefs and pastry chefs to ensure your wedding cuisine is unforgettable.
Choose a wedding package, and they coordinate everything, including your rehearsal dinner, discount rooms for guests, the wedding day, wedding showers, and farewell brunches.
They focus on the big picture and the small details. Along with the oceanfront event venue, Cape Rey offers the Shearwater Ballroom, which accommodates parties from 80 to 350. For small gatherings of up to sixty, the Pelican Watch & Terrace is perfect, offering indoor and outdoor ocean view spaces.
What Cape Rey Carlsbad Beach Does Best:
Virtual proof! Take a look at their website for a peak at real weddings held on-site. The website also details the available menus for food and spirits!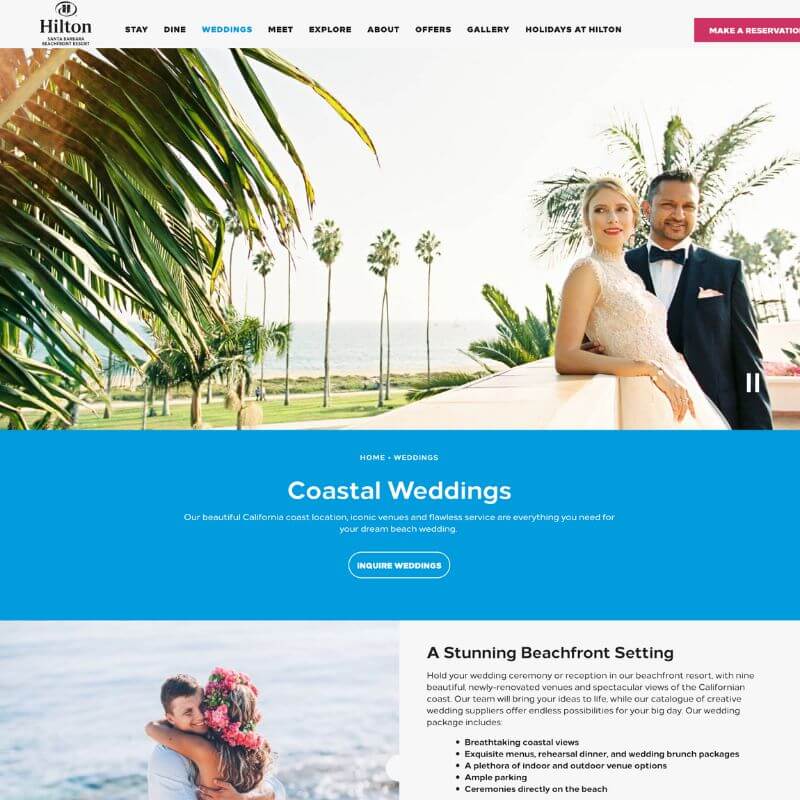 Hilton Santa Barbara Beachfront Resort sits near the shores and offers spaces indoors and out. They are all about concierge service and customization. If you're hosting a large event of seven hundred, the Plaza del Sol rotunda can accommodate you with views of the Pacific.
The Reagan Room & Terrace is perfect for small weddings of less than 180. The Spanish Style resort features dazzling architecture, culinary mastery, and personal wedding planning. Included among The Knot's Best of Weddings in 2021, Hilton Santa Barbara has everything you need for the perfect wedding experience.
What Hilton Santa Barbara Beachfront Does Best:
Inclusion! They specialize in producing spectacular ethnic weddings. Their catering team is experienced in everything from Southeast Asian to Kosher cuisine.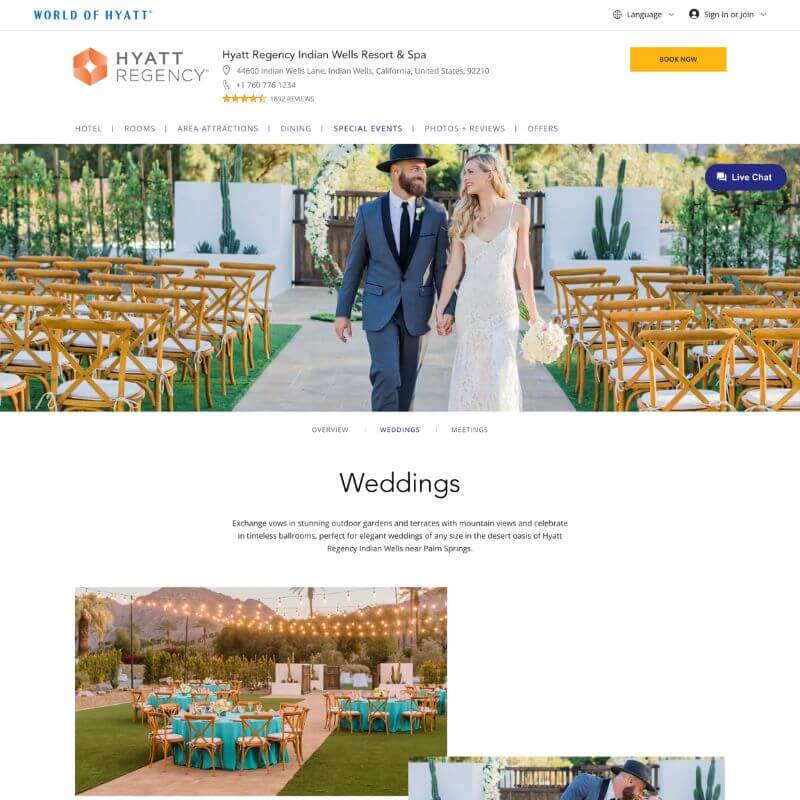 Hyatt Regency Indian Wells Resort & Spa in Palm Springs offers a variety of twenty-six options with scenes of greenery, the Santa Rosa Mountains, and even the Indian Wells Golf Course.
Weddings, intimate and grand, are welcome, and their expert wedding team will help with all the details. Have your wedding shower, rehearsal dinner, ceremony, and day-after wedding brunch all on-site. They offer fully mobile dance floors, risers, and audio-visual support to ensure you party the way you like.
What the Palm Springs Hyatt Regency Indian Wells Resort & Spa Does Best:
Convenience & variety. They have assembled wedding packages to accommodate up to one thousand that can be produced in a variety of indoor and outdoor settings around the property.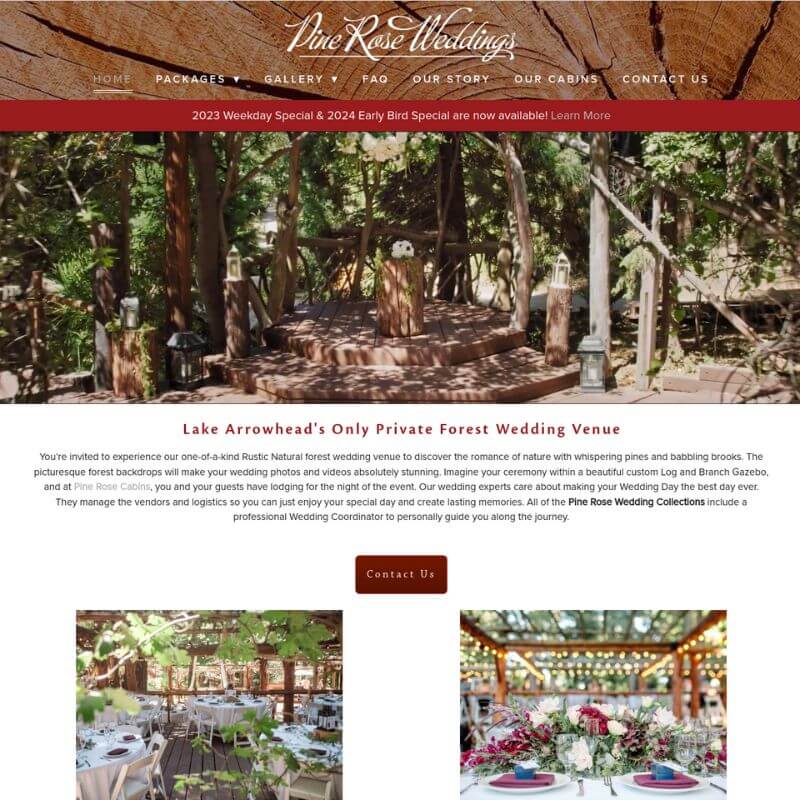 Nature lovers rejoice! If your happy place is right in the arms of Mother Nature, Lake Arrowhead: Arrowhead Pine Rose is your wedding venue! Named one of the "Top 10 Unique Wedding Destinations" by Harper's Bazaar, this ten-acre oasis offers wedding ceremony and reception spaces and overnight accommodations for everyone.
Imagine saying your vows among wisteria and twinkle lights with the sounds of flowing water and nature nearby. Enjoy your honeymoon right on-site in the Rustic Romance cabin featuring a stone fireplace and jacuzzi tub.
What Arrowhead Pine Rose Does Best:
Ease! The team has created wedding collections at all price points, making it easy for you to say I do.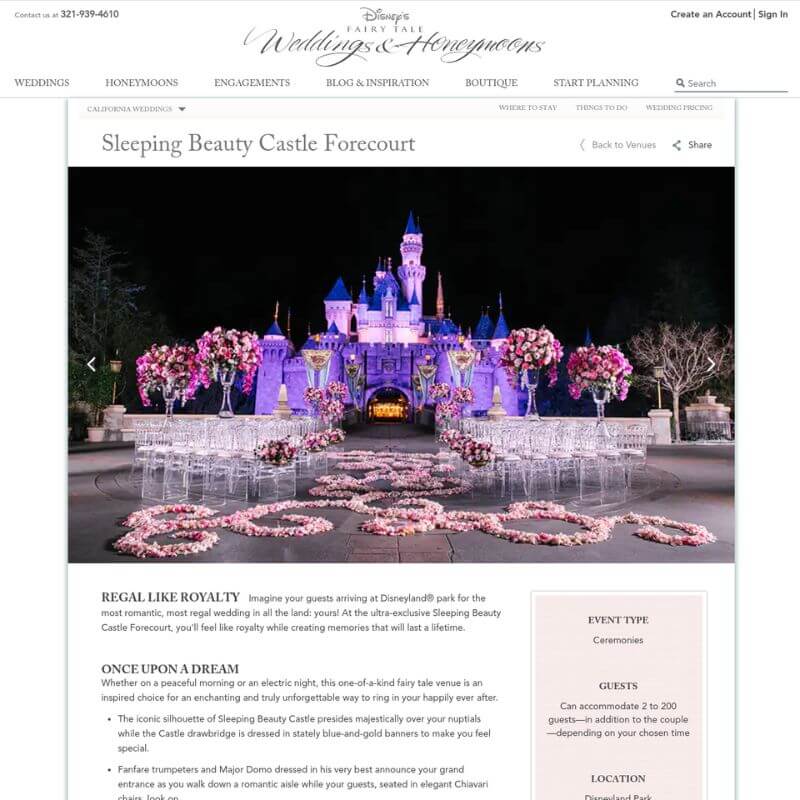 Ready for a fairytale experience? Disneyland: Sleeping Beauty Castle Forecourt awaits. Held before opening or after the park closes, your enchanted wedding ceremony will be held before the Sleeping Beauty Castle silhouette.
Your wedding march is to the sounds of a classical harpist, and after you say your vows, head to a Disneyland Resort hotel or the Small World Mall. The reception will include beverages, hors d' oeuvres, champagne, a buffet, wedding cake, and a DJ to spin records for you and your guests to dance the night away.
What Sleeping Beauty Castle Forecourt at Disneyland Does Best:
Enchantment! It's the most magical place on earth. And on the website, you can create a dream board to keep all your favorite wedding ideas.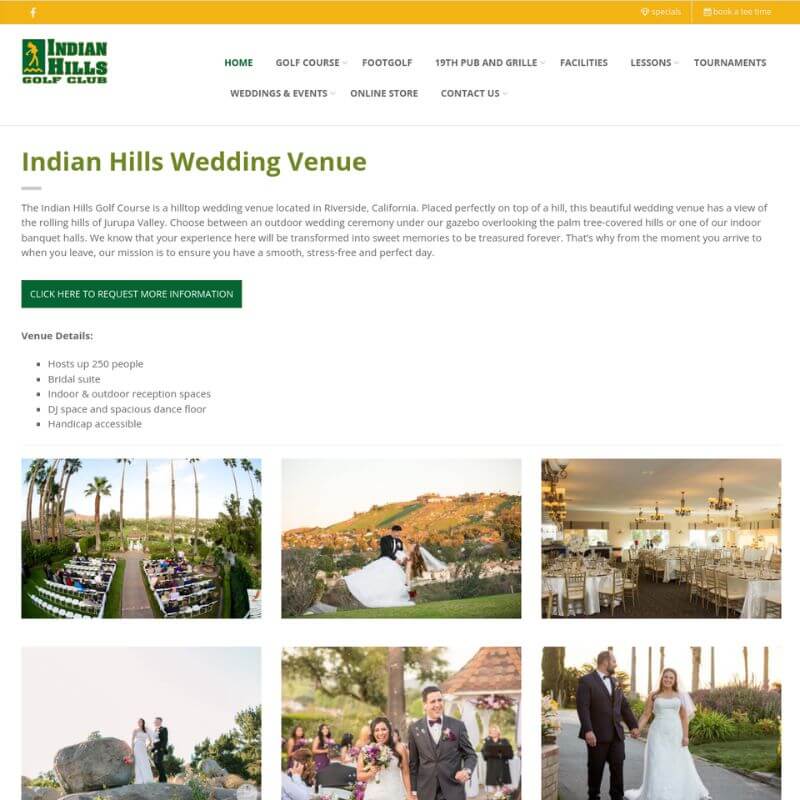 Say your vows overlooking Jurupa Valley and the Sycamore Canyon Wilderness Park at Riverside's Indian Hills Golf Club. Choose from an intimate reception in the garden or a larger event in a ballroom for up to 250 guests.
The staff is there to plan your event with an all-inclusive package. They will coordinate your vendors, direct your guests, handle audio-visual, and more!
While you prepare in your private dressing suite, your guests will enjoy spirits in the garden or ballroom while enjoying the city lights twinkling below. The banquet facility is available for five hours, and you'll also have an hour for rehearsal.
What Riverside Indian Hills Golf Club Does Best:
Simplicity! The easy packages put everything together, and you choose which works best for you!
What makes a great wedding venue?
Couples choose to get married in a variety of places, from churches to ballrooms and even on the beach. It's important that you look around and consider some things as you search. Look for venues that offer:
Event Planning. Get help to make everything flow unless you are hiring your own wedding planner.
Equipment. Up-to-date technology so you can play videos, music, and allow guests to make speeches.
Lodging. Affordable hotel rooms for guests, even if it's not on-site.
Customization. Decor options to make your wedding unique and suit your needs.
Atmosphere. Make sure you can achieve whatever atmosphere you hope to create within the venue.
Space. Plenty of room to accommodate your wedding party and guests without feeling crowded.
Availability. This is a no-brainer. Start looking early and ask if the venue is available on your date if that date is important to you.
How much do wedding venues cost?
Wedding venues can vary widely in price, depending on several factors. For example, the size and location of the venue will be two of the most significant determinants of cost.
A large venue in a major city will be more expensive than a small venue in a rural area.
Other factors that can affect cost include:
The time of year.
The day of the week.
Any special features or amenities that the venue offers.
In general, couples can expect to spend anywhere from a few thousand dollars to several hundred thousand dollars on their wedding venue. The best way to get an accurate estimate is to contact several venues and ask for a quote.
Where can I get married in Southern California?
There are many beautiful places to get married in Southern California. There are plenty of options for couples who love the outdoors, from beaches to mountains.
For those who prefer a more urban setting, plenty of chic hotels and restaurants would make the perfect backdrop for a wedding.
And, of course, there are countless scenic vineyards for couples who want to celebrate their love with a glass of wine.
What is the average cost of a wedding in Southern California?
The average cost of a wedding in California is $30,000, according to The Knot's annual survey of nearly 15,000 couples.
These prices are significantly higher than the national average of $28,000. So what explains the high cost?
A large part of it has to do with location. Southern California is home to some of the most expensive real estate in the country, and venues tend to charge premium prices for weddings.
Additionally, many couples use professional vendors for their wedding day, which can drive up costs.
However, there are ways to keep costs under control; for example, choosing an off-peak date or a less popular location can help to save money.
Bottom Line
Southern California is one of the most beautiful places in the world, and it's no wonder that so many couples choose to get married here. With its stunning beaches, rolling hills, and picturesque sunsets, the Sunshine State provides a perfect backdrop for any wedding.
The region also offers various venues and services to accommodate any budget. From extravagant estate weddings to intimate beach ceremonies, there's something for everyone in Southern California.
And guests will never be bored with so many things to do and see.
Whether you're looking for a traditional church ceremony or a unique outdoor setting, Southern California has everything you need for a perfect wedding.