For many years, spring and summer were the most popular time of the year to celebrate a wedding. More recently, however, fall has become more popular, with September and October hosting more weddings than any other month.
If you're planning a fall wedding, you are probably looking for elegant invitations to match the season and the style. Check out our top recommendations for fall wedding invitations below, whether you're planning a big autumn bash or an intimate celebration with family.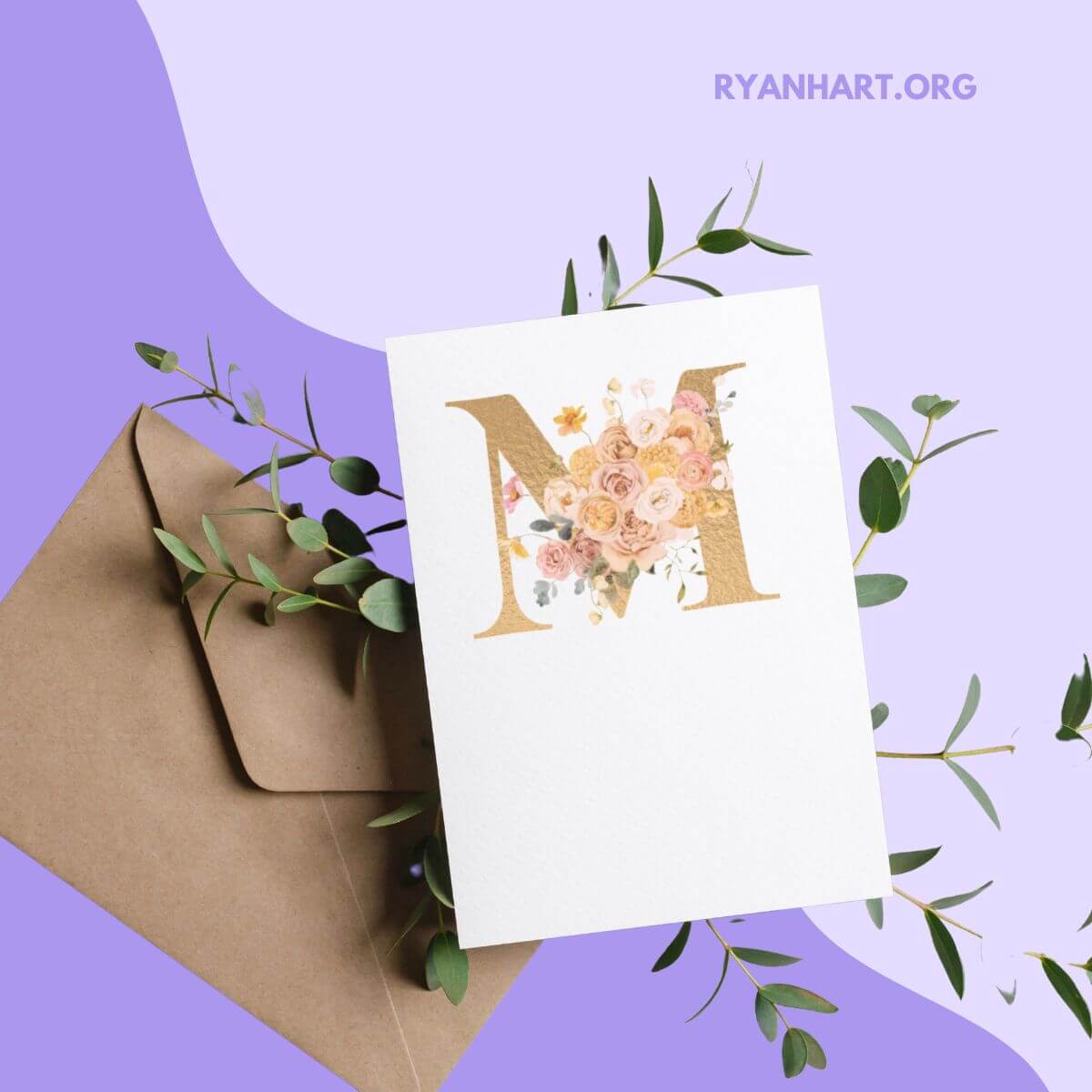 What are the best fall wedding invitations?
Fall wedding invitations come in every style and design imaginable. There are no set rules for what qualifies as autumnal in style, so feel free to make your own decisions!
Maybe you live in a cold climate and love emphasizing those classic fall colors, or perhaps autumn is still warm and bright in your area. There is no need to limit yourself based on the time of the year.
You will find fall wedding invitations with prominent nature themes and others that pay tribute to the season with a subtle color palette. There is something for everyone. Read on to learn about our top fall wedding invitation recommendations to decide which is perfect for your big day.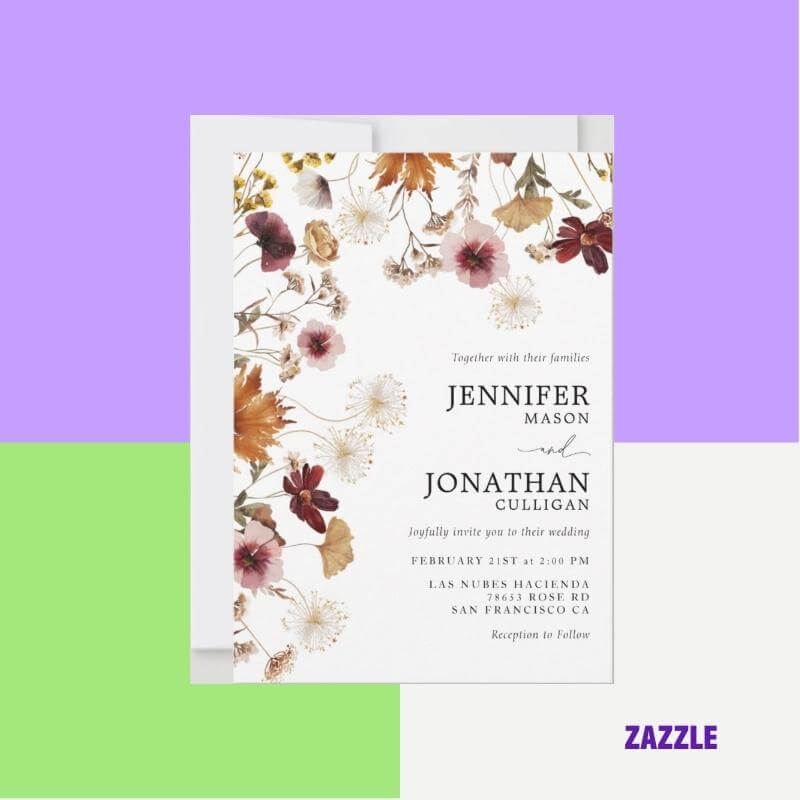 These Burgundy Boho Fall Floral Photo Wedding Invitation perfectly capture the look of autumn flowers. Featuring a frame of burgundy blossoms and fall leaves, they include a wine-colored frame with your favorite photo of you and your significant other.
This gorgeous invitation feels elegant and personal, with a splash of striking color that is perfect for an autumn day. If you are looking for a wedding invitation template that is romantic but eye-catching, this is the perfect choice.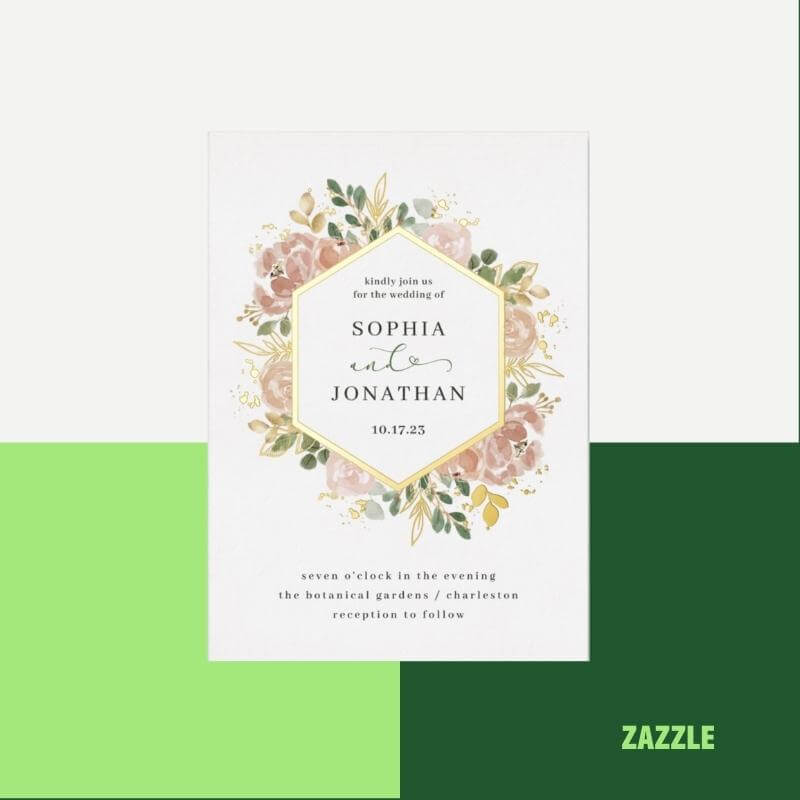 Whoever said that you can't still pay tribute to the gorgeous blooms of the summer at a fall wedding? These Elegant Neutral Watercolor Floral invitations from Zazzle feature a lush, monochrome bouquet in blush pink offset by green and yellow leaves.
You can customize the inlaid foil in gold, rose gold, or silver. You can also change the invitation shape to make it uniquely your own. If you love classic, romantic styles, this is the perfect wedding invitation for your big day.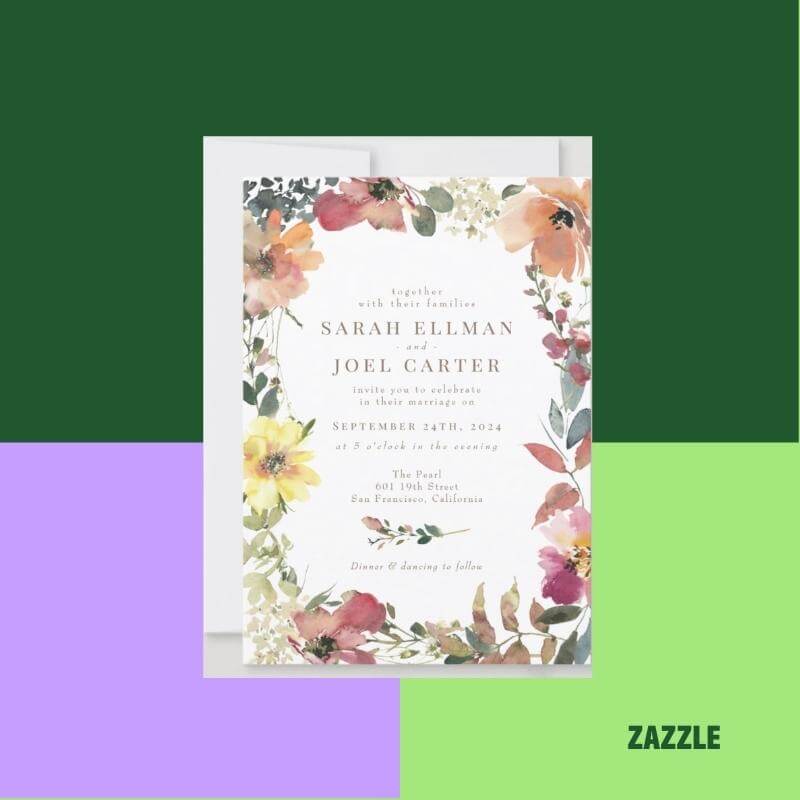 TheseElegant Boho Wildflower Wedding Invitations don't look like any regular invitation at first glance. Instead, they give the impression of a work of art, featuring stunning watercolor flowers in eye-catching colors.
You can customize the type of paper for a more rustic or polished look as you prefer. Painted in shades of red, green, yellow, and pink, this invitation evokes the feeling of the last blooms of the summer, making them perfect for an early autumn wedding.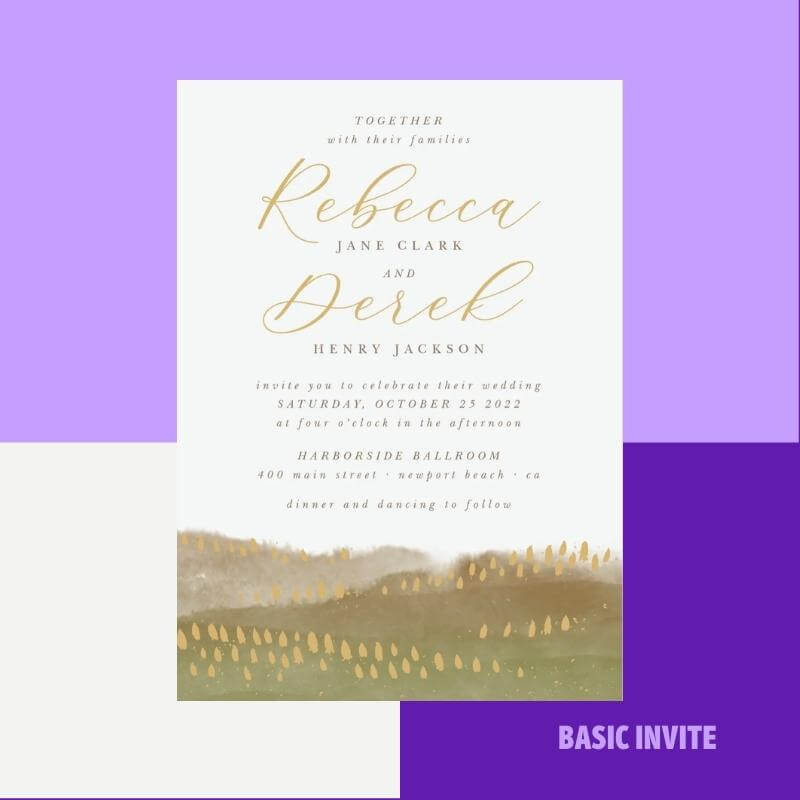 Who said that flowers were your only option for decoration? This one-of-a-kind Moody Mountains wedding invitation from Basic Invite offers a natural, outdoorsy scene that evokes the feeling of an autumn morning.
This stunning watercolor illustration is set off by foil lettering in the color of your choice, including gold, green, chestnut, and mocha. The result is beautiful and, more importantly, totally unique. If flowers aren't your style, you will love this nature-inspired, eye-catching wedding invitation.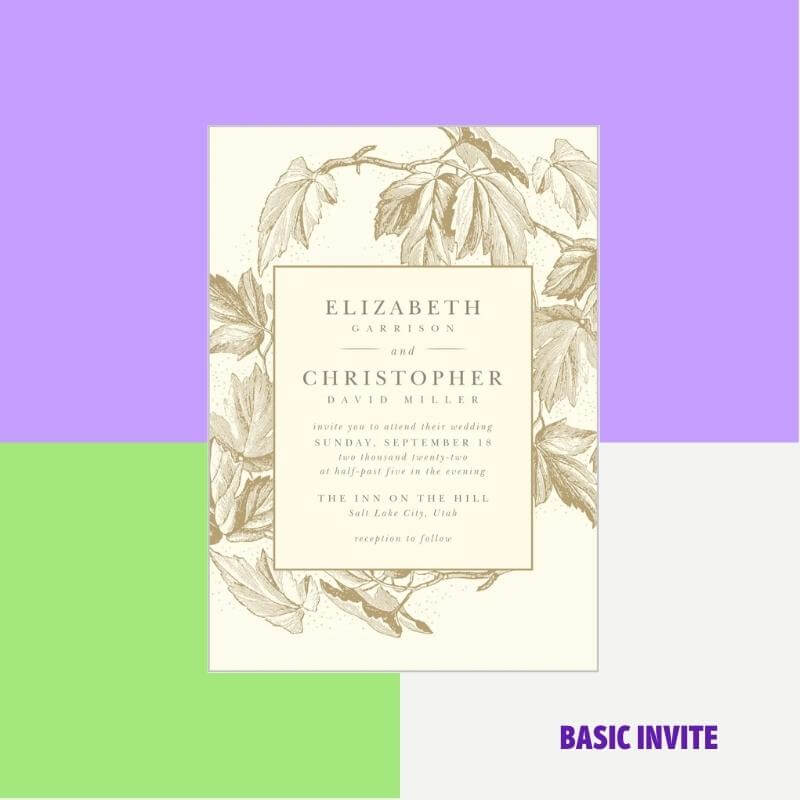 Does autumn garner fond memories of important times in your life? With any luck, your autumn wedding will be a new good memory of the season. These Vintage Autumn wedding invitations from Basic Invite invoke this romantic nostalgia.
The invitation can be customized in several colors and shapes, featuring a background of monochrome leaves set off by a chic frame. This is an invitation full of classic elegance — one that will make you smile as you pull it out of a memory box many years from now.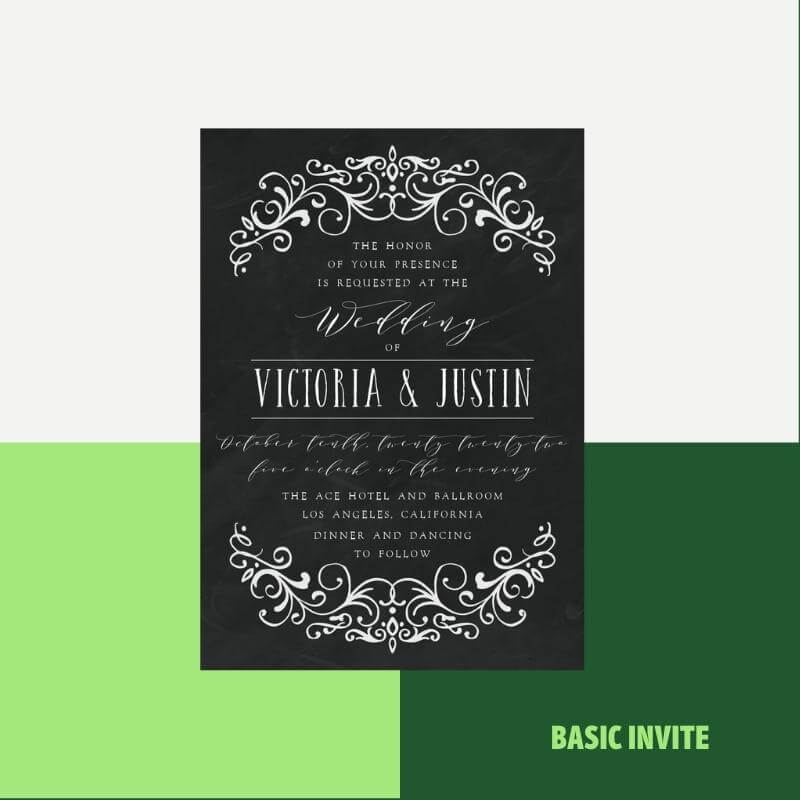 October brings with it thoughts of Halloween. If you are planning a wedding near this holiday, these Gothic Magic Wedding Invitations will fit the style to a T. Of course, they're not exclusively reserved for Halloween weddings; this sleek style is appropriate for weddings at any time of the year.
With an eye-catching black background, the invitation lets the elegant calligraphy be front and center, framed by elegant borders. Whether you're planning a spooky wedding or just love this elegant look, the invitation is ideal for any celebration.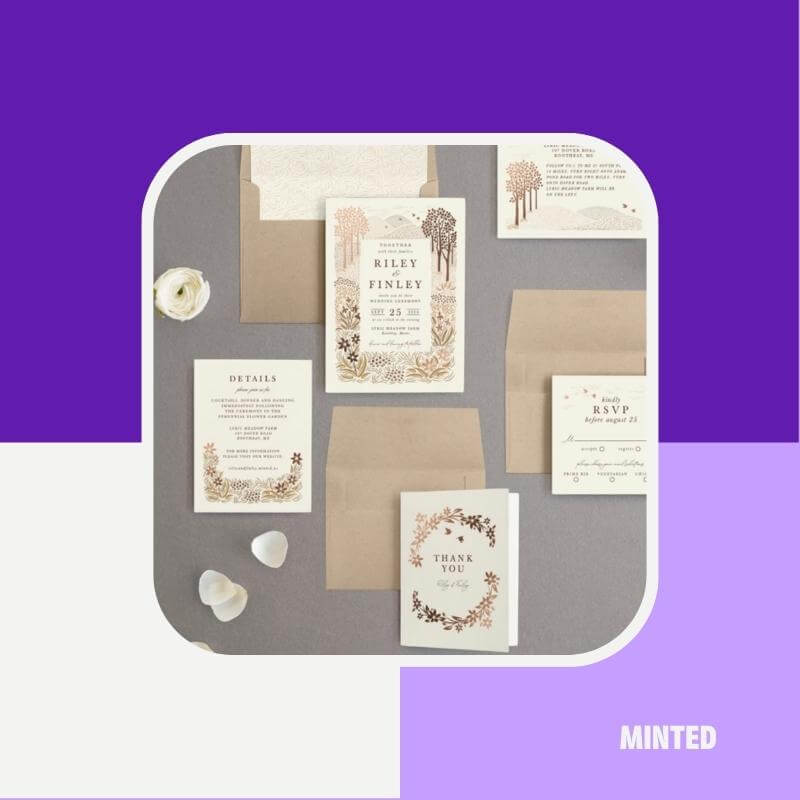 Does autumn conjure up memories of heading to the countryside to pick apples, go on hayrides, or simply enjoy the blue September skies? These In the Country wedding invitations from Minted feature a gorgeous farmland scene in monochrome foil.
This is a wedding invitation made to stand out from the crowd. You can customize both the paper color and the foil inlay, making it uniquely yours. If you love artistic invites, this is perfect for catching your guests' eye.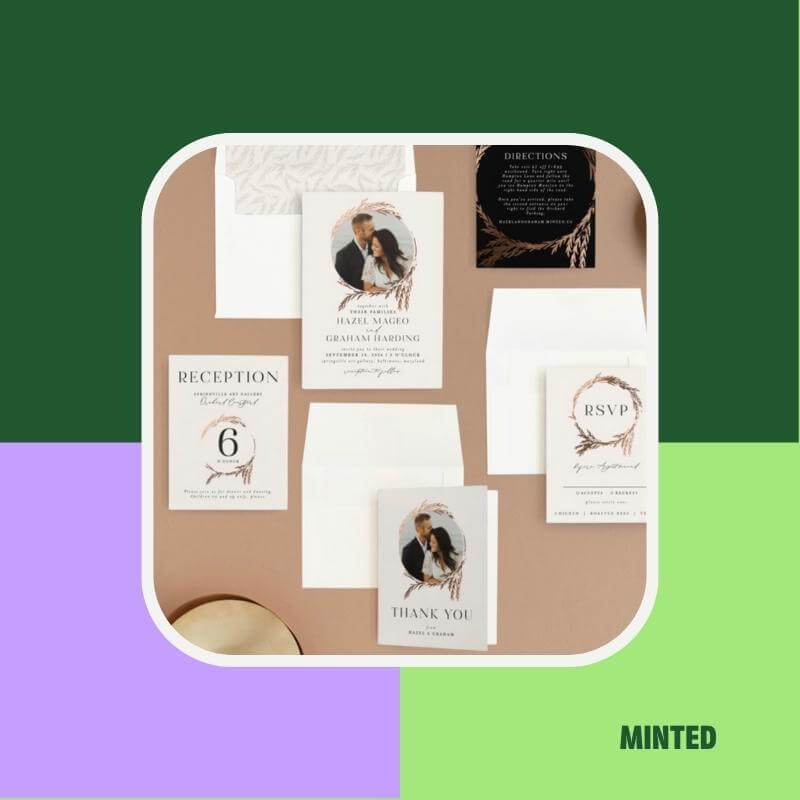 Are you a big fan of understated elegance? This Locket Foil-Pressed wedding invitation from Minted draws the eye with a simple frame of golden wheat and a personal photo.
Choose your favorite photo from your engagement shoot and set it off with a frame of shiny gold foil (or choose your preferred color to make it your own). The invitation's charm comes from its simplicity, though you can customize it extensively. Choose your own paper texture and color, invitation shape, foil color, and more.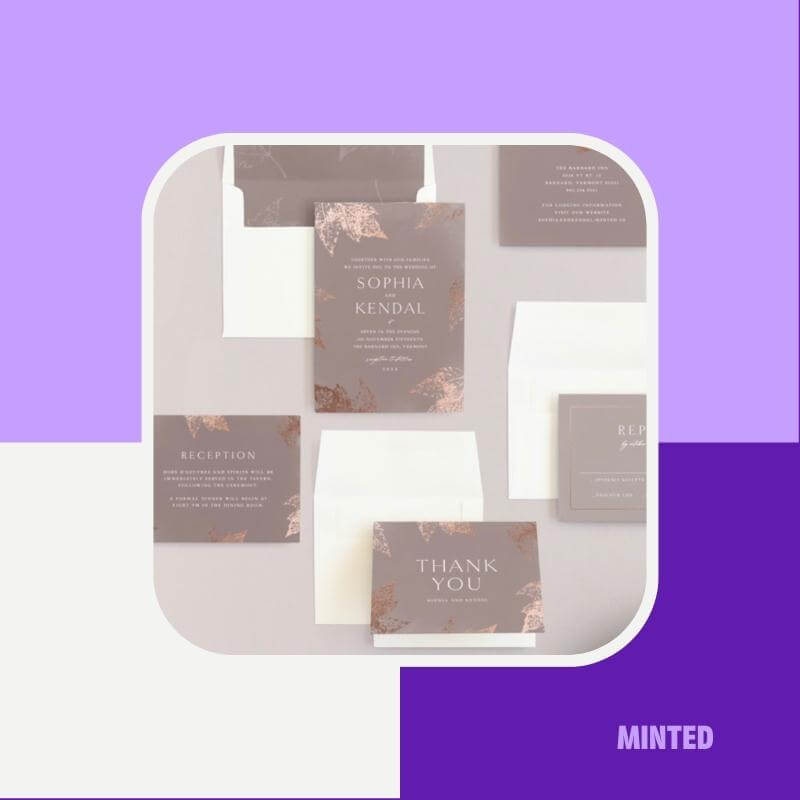 The suitability of this invitation is right in the name! TheAutumne Foil-Pressed wedding invitation features a simple design surrounded by fall leaves. The pattern almost resembles lace, giving an elegant appearance to the design.
The frame surrounds the central text, and you can customize each element — text, design, and paper — to be your preferred color. This elegant and minimalist fall-inspired wedding invitation is suited to almost any wedding style, from traditional to modern.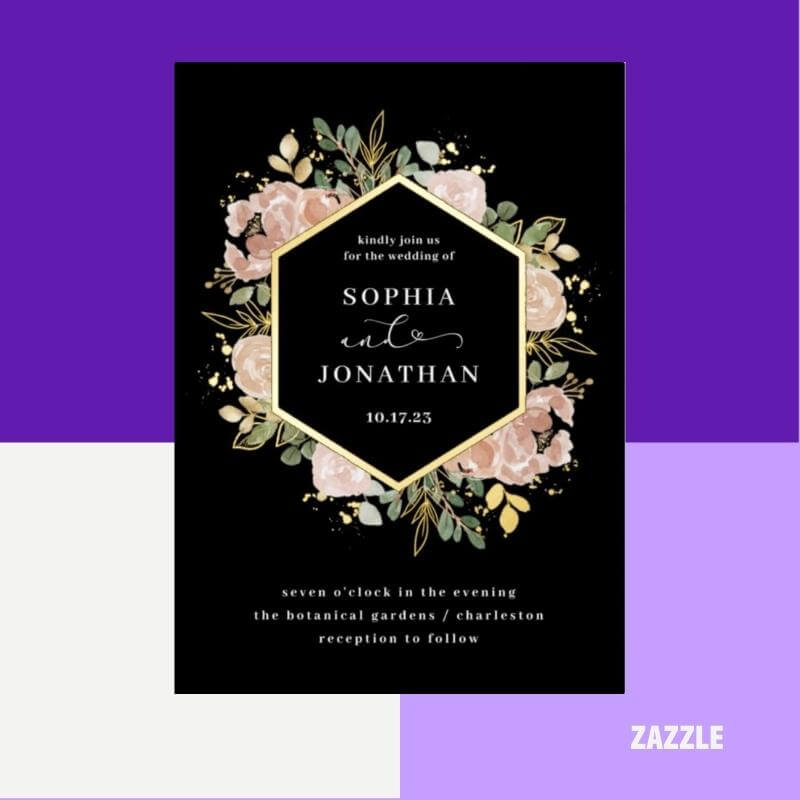 Talk about an invitation that stands out. These Elegant Neutral Watercolor Floral wedding invitations from Zazzle use the drama of a black background to make the soft pink flowers stand out in the foreground. These surround a foil frame in gold, rose gold, or silver.
The result is a dynamic and chic wedding invitation that perfectly combines style and elegance. If you are a bride- or groom-to-be who loves to stand out from the crowd, you can't do better than this dramatic wedding invitation.
Bottom Line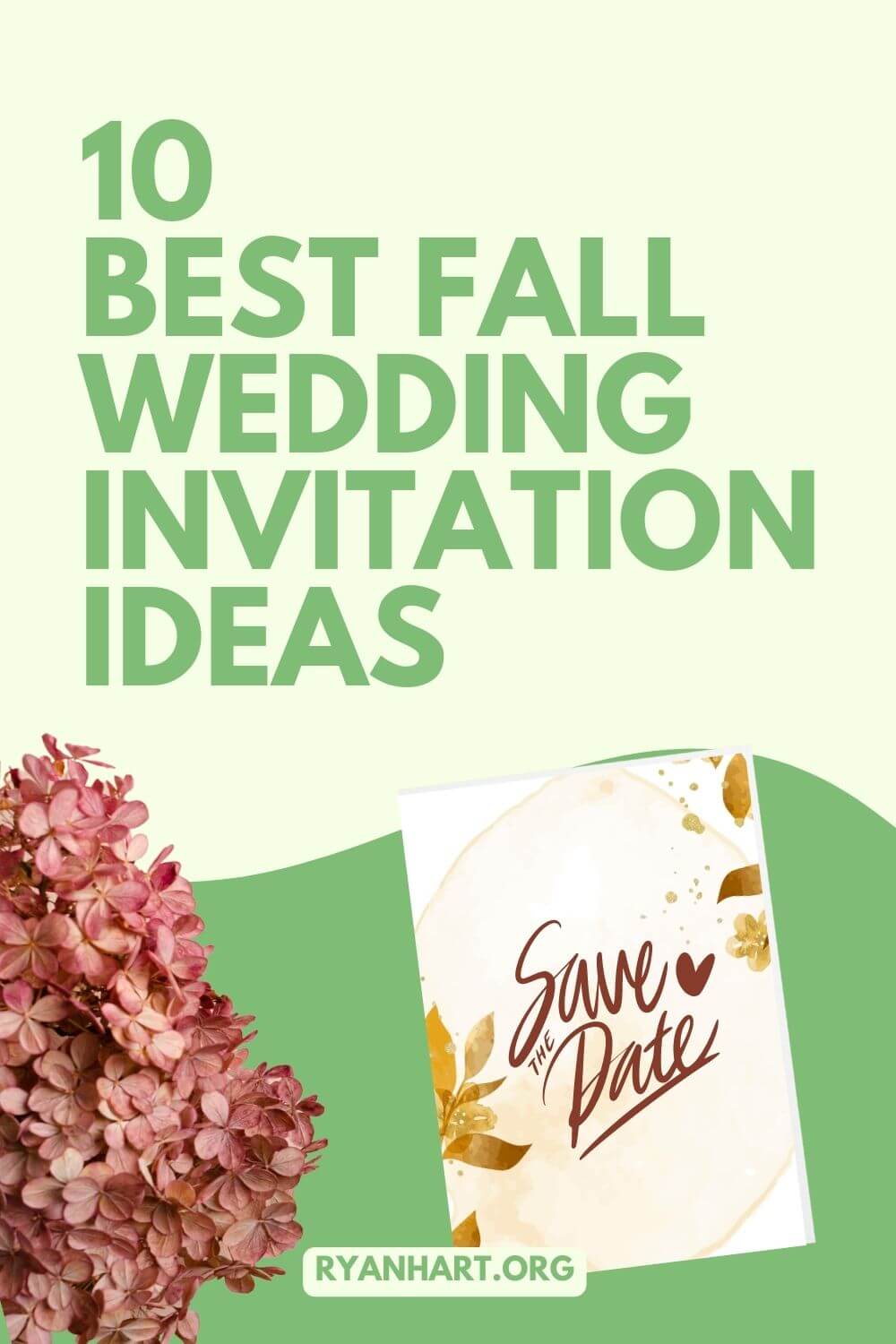 When picking a wedding invitation design for a fall wedding, you'll want to focus on colors that represent the season.
Fall is all about warm and cozy hues like oranges, reds, yellows, and browns. Mixing these colors in your invitation can give it a beautiful autumn vibe. You can even throw in some deep greens or purples for a little extra pop!
When it comes to invitation themes and designs, fall has so many amazing symbols you can use, like leaves, pumpkins, or even a rustic barn look. You can choose a design that highlights these elements to make your invite feel extra festive.
And don't forget about the font! Make sure it's easy to read but also has some personality.
Just remember to have fun and work together as a couple to choose the perfect invitation template. Your fall wedding will be unforgettable!