The digital age has made ordering all the paper products you need for your wedding much easier. Once, brides- and grooms-to-be had to go into a physical store and choose their wedding stationery from what was available.
These days, ordering save-the-dates and invitations is as easy as clicking through a website. But this convenience comes at a price: you can't always get a good idea of what the invites look like in person. That is why many websites have started offering free samples to people looking to buy.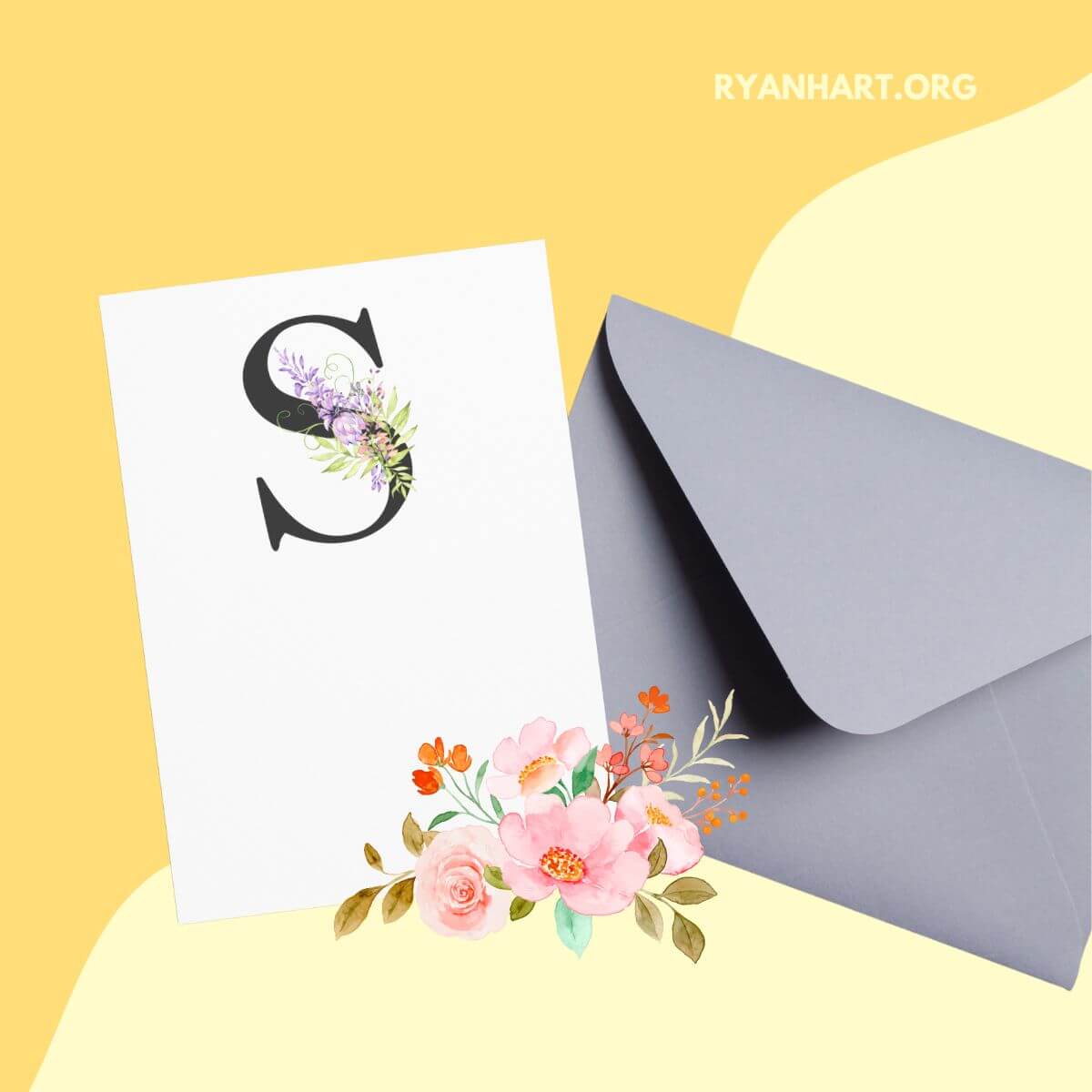 Which companies offer sample wedding invitations?
Sample wedding invitations aren't a given with every wedding website you use. Some don't offer samples at all, while others provide the option of a certain number of free samples and even the ability to customize samples with your information. These websites are the best places for getting high-quality, low-cost samples to help you plan!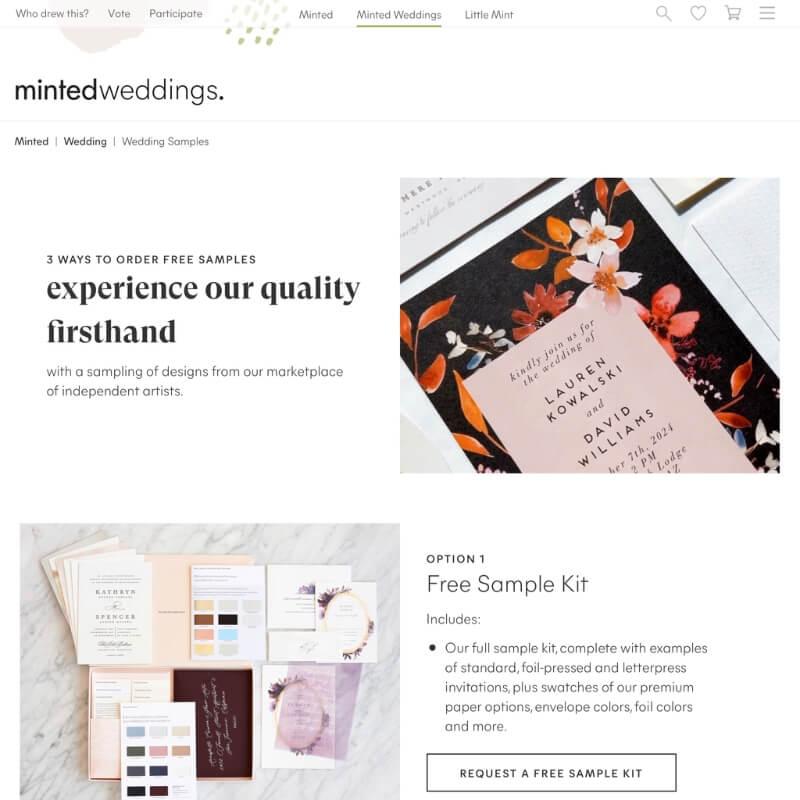 Minted offers a variety of handmade invitation designs made by independent artists and small businesses. You can order a variety of sample packages for a small fee, allowing you to compare and find your perfect wedding style.
In fact, the basic Sample Kit is free! This offers a variety of invitations and paper swatches for you to compare. You can also order a free Sample Kit along with a personalized Save-The-Date. Your third option is to order up to ten paper samples to get a full idea of what Minted offers.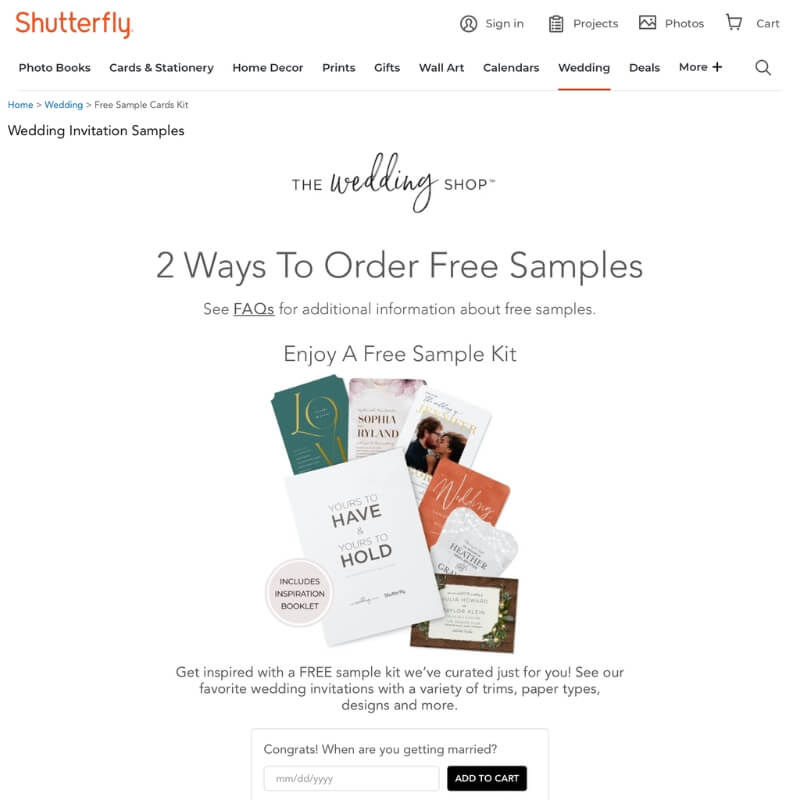 Shutterfly is best known for offering photo prints, but you can also find beautiful, budget-friendly wedding invitations on the site. If you are considering getting your wedding invitations from Shutterfly, you can order free samples to compare!
There are two ways to do this. First, you can opt for a free sample kit, which includes up to five invitation samples. Alternatively, you can order a personalized sample kit with your names, photo, and wedding dates. This is an economical way to get great wedding samples and inspiration.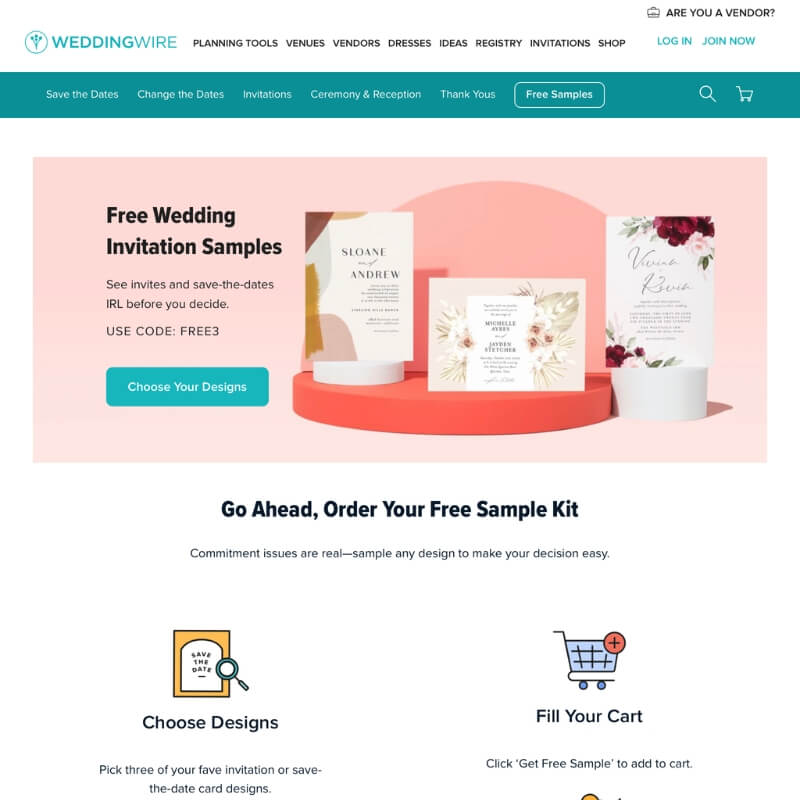 Wedding Wire is one of the most highly-respected wedding planning sites around. But you may not know that you can also order your wedding invitations through this website.
Before you choose one, you can order samples for wedding invitations and save-the-dates. Wedding Wire lets you choose up to three designs to sample for free. This is a great way to compare if you are having a hard time choosing between a few specified designs.
Order samples from Wedding Wire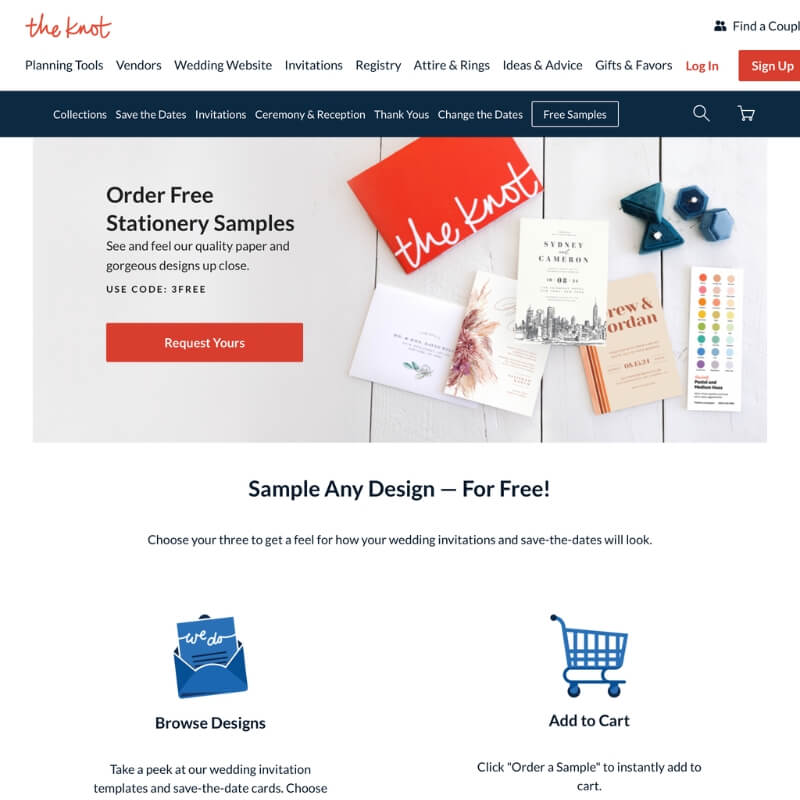 The Knot has been one of the most famous wedding-planning websites for over 20 years. Recently, the website has expanded its offerings to include wedding invitations, save-the-dates, and much more.
If you are having trouble choosing the right wedding invitation, The Knot invites you to choose three pieces to compare. These can be either invitations or save-the-dates, allowing you to get an idea of the full style of your wedding stationery. These are completely free, so they are a great way to compare your options without breaking the bank.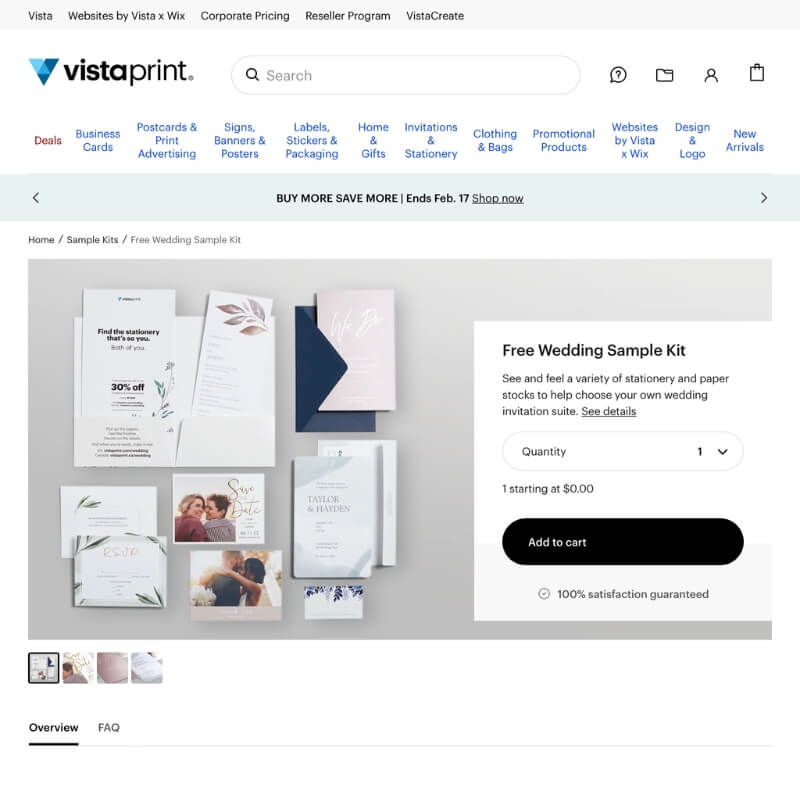 Vistaprint has become popular as a place to design and print personalized holiday cards, wedding invitations, photo books, and much more. The website has hundreds of designs, so it might be challenging to settle on one!
If you are struggling to make a choice, Vistaprint offers a free 10-piece sample kit. This lets you see all the pieces that will be included in your wedding planning process, including Save The Dates, invitations, envelopes, place cards, and thank you cards. This truly extensive offering lets you envision your wedding's style from start to finish.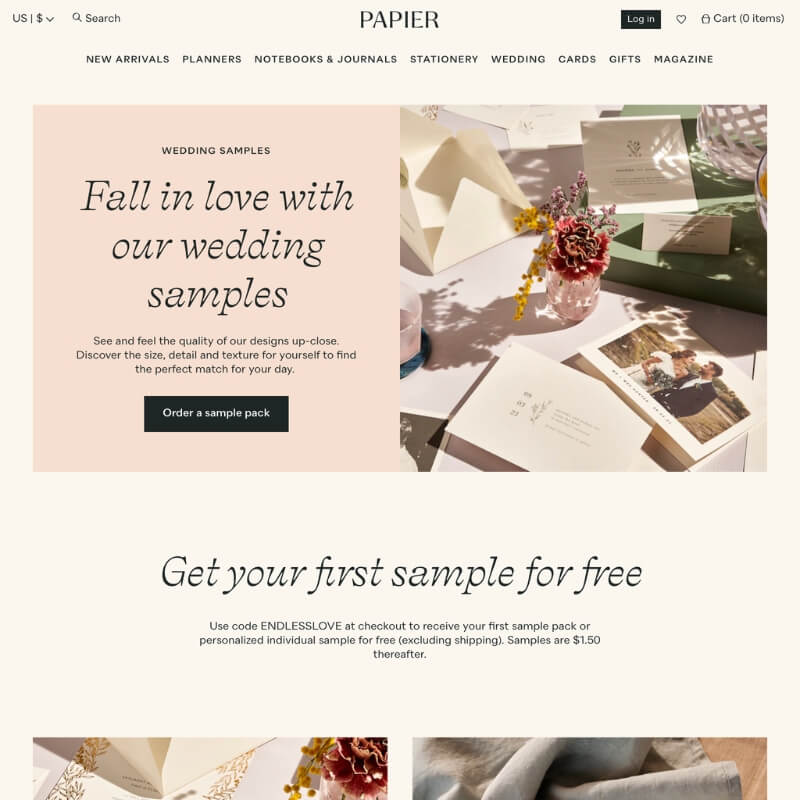 Papier might not be as well-known as the other companies on this list, but it's a website worth exploring! This eclectic stationery store offers unique and eye-catching designs made to stand out from the crowd.
You can order a sample kit if you are browsing the wedding invitations. This includes eight designs to give you an idea of what Papier offers. The first sample pack is free; subsequent orders are just $1.50. You can also order a personalized sample for a small fee.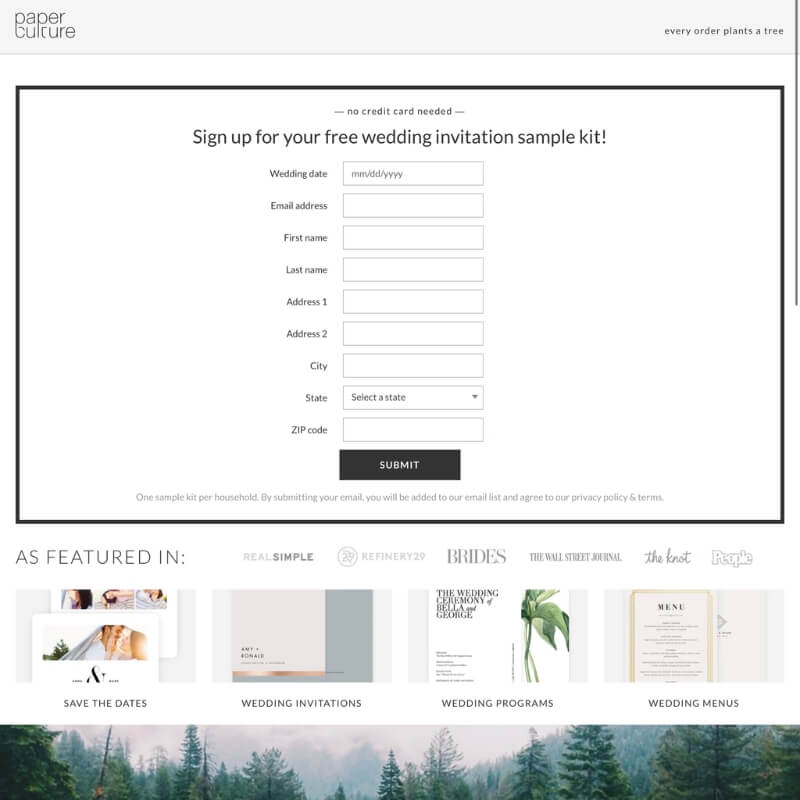 PaperCulture is an award-winning wedding stationery website providing one-of-a-kind, sustainably-sourced invitations, save-the-dates, RSVP cards, and much more. You can choose from the predesigned templates or upload your own design.
The wedding sampler options can be customized with your name and wedding information before you purchase — and it is completely free. That means you get to see exactly what your invitations and other stationery will look like as you prepare for your big day.
Order samples from PaperCulture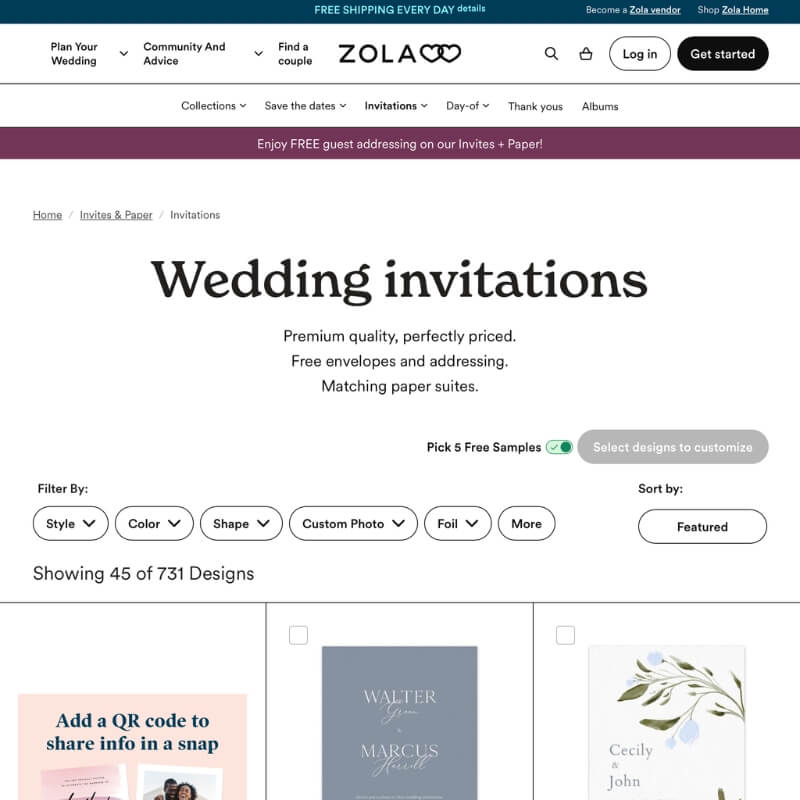 Zola is a popular wedding-planning website with resources galore. One of many is their extensive wedding invitation category, which features wedding stationery for every budget and style.
When you browse the selection at Zola, you can choose five designs to customize at no cost. That includes your personal information, photos, and wedding details, so you can get the perfect idea of how your final choice will look. If you're looking for tons of designs and the ability to sample at no cost, Zola is a great choice.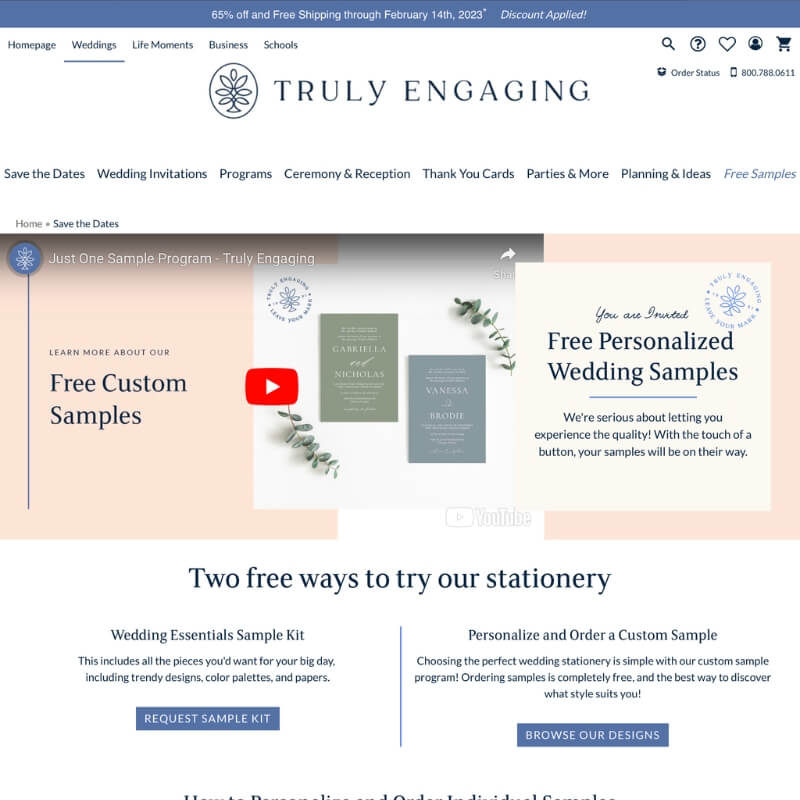 Truly Engagingg offers stationery for all kinds of events, including everything you need for planning your wedding. When browsing wedding stationery, you can get a free sample in one of two ways. First, you can order Truly Engaging's sample kit, which lets you compare various items, designs, and color palettes.
You can also order personalized items with your wedding information. This includes wedding invitations, save-the-dates, RSVP cards, wedding programs, and thank-you cards. Truly Engaging offers more free sample items than almost any other website!
Order samples from Truly Engaging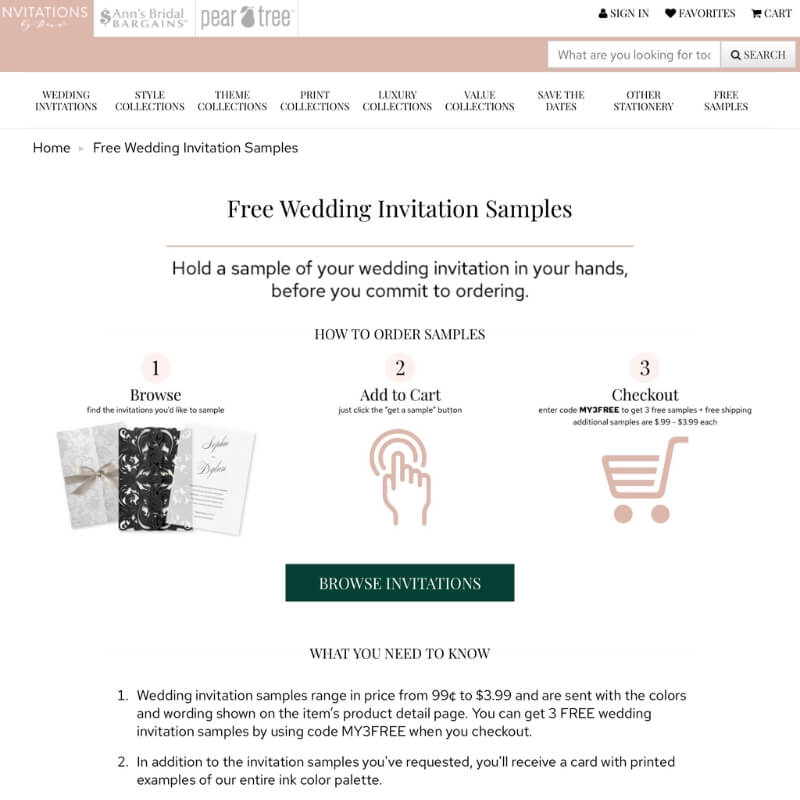 Invitations by Dawn is a company that has been printing custom wedding stationery for more than four decades. These stunning and budget-friendly invitations offer something for weddings of every style and tradition. However, if you aren't sure which style is perfect for your big day, Invitations by Dawn has free samples available.
Once you use up your free samples, further samples range from 99 cents to $3.99 a piece, making them highly affordable. Though you can't customize the samples, they give a great idea of what the paper feels and looks like
Order samples from Invitations by Dawn
Bottom Line
Wedding invitation samples are a great way to see what different styles and designs are available before you make a final decision. Many wedding invitation companies offer free samples, so you can order a few different ones to compare. This can be helpful if you're not sure what you're looking for or if you want to get a sense of the quality of the paper and printing.
When you order wedding invitation samples, be sure to pay attention to the following:
The style of the invitation: Do you like the overall look of the invitation? Is it formal or informal? Does it match the style of your wedding?
The quality of the paper and printing: Is the paper thick and high-quality? Is the printing clear and crisp?
The price: Wedding invitation samples can be expensive, so be sure to factor that into your budget.
The turnaround time: It can take several weeks to receive wedding invitation samples, so be sure to order them well in advance of your wedding date.
Once you've ordered a few wedding invitation samples, take some time to compare them and decide which one you like best. This will help you narrow down your choices when you're ready to order your final invitations.