The luck of the Irish will be on your side when you get married in Ireland. Considered one of the most beautiful countries in the world, there are many wedding venues in Ireland where all your dreams for your big day will come true.
However, planning a destination wedding from across an ocean is no easy feat.
We've compiled a list of the ten best wedding venues in Ireland to help you plan your dream wedding.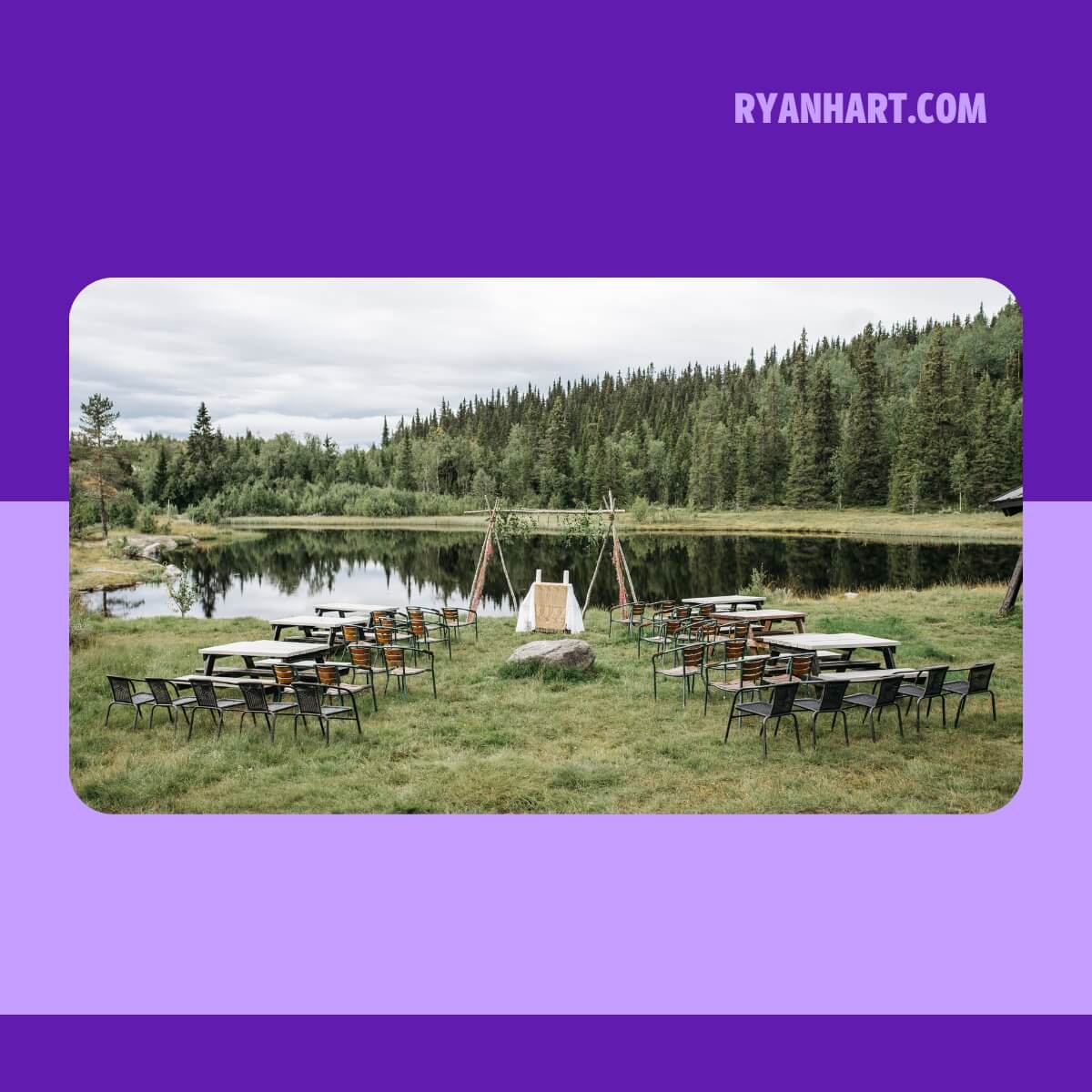 Where is the best place to get married in Ireland?
Here are the best Ireland wedding venues: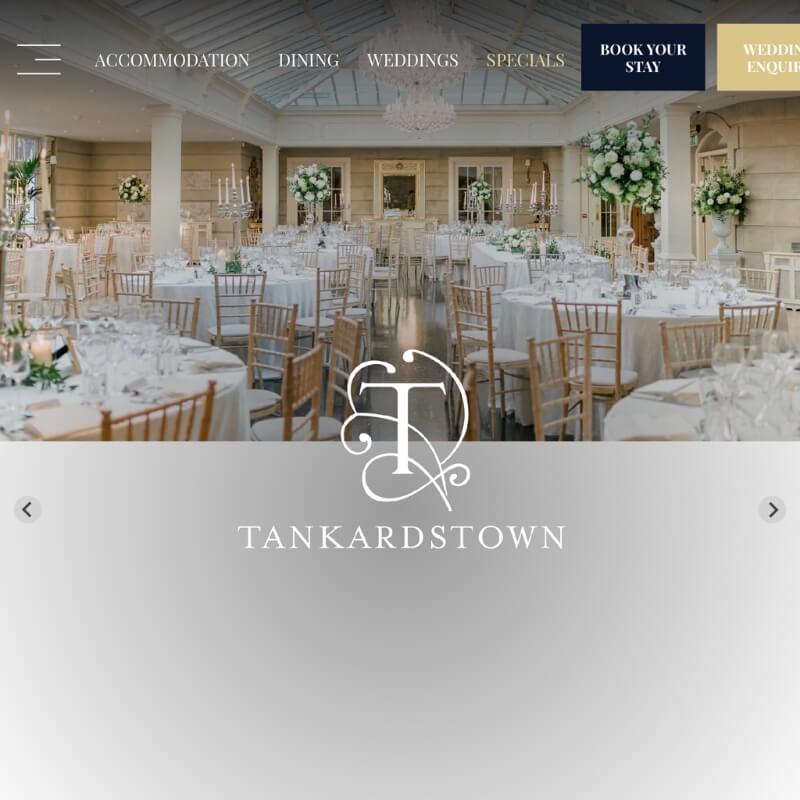 If you've always wanted to get married at a quaint house in the country, Tankardstown is the right wedding venue for you.
Cocktail hours are held in the Main House, and a sit-down dinner reception can be held in the Orangery for as many as 250 guests.
However, the drawing rooms can be used for smaller weddings. And if you have your heart set on an outdoor wedding, your ceremony will be in the Walled Garden.
What Tankardstown does best:
Your ceremony will be as beautiful whether you hold it inside or outside.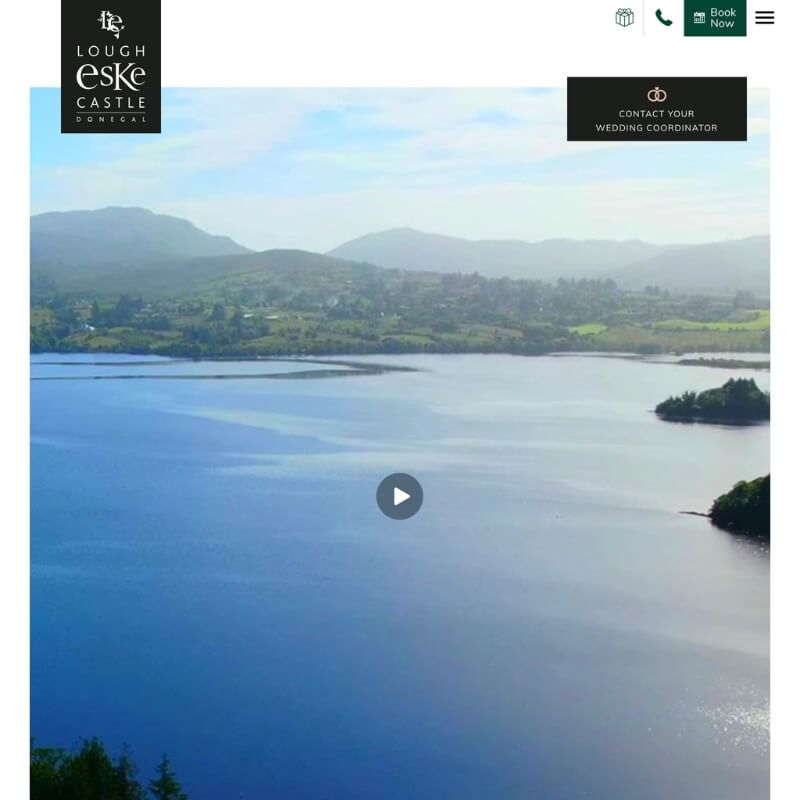 Some people dream of getting married in a castle. Your dream will come true when you plan your wedding at the Lough Eske Castle.
There are three different wedding packages you can choose from. All three packages include a red carpet to welcome you and your guests in style.
What Lough Eske Castle does best:
Though you can get married there any time of the year, the venue is particularly conducive to winter weddings.
You'll enjoy the warmth from the venue's fireplaces and the view of turrets beautifully covered with a layer of snow.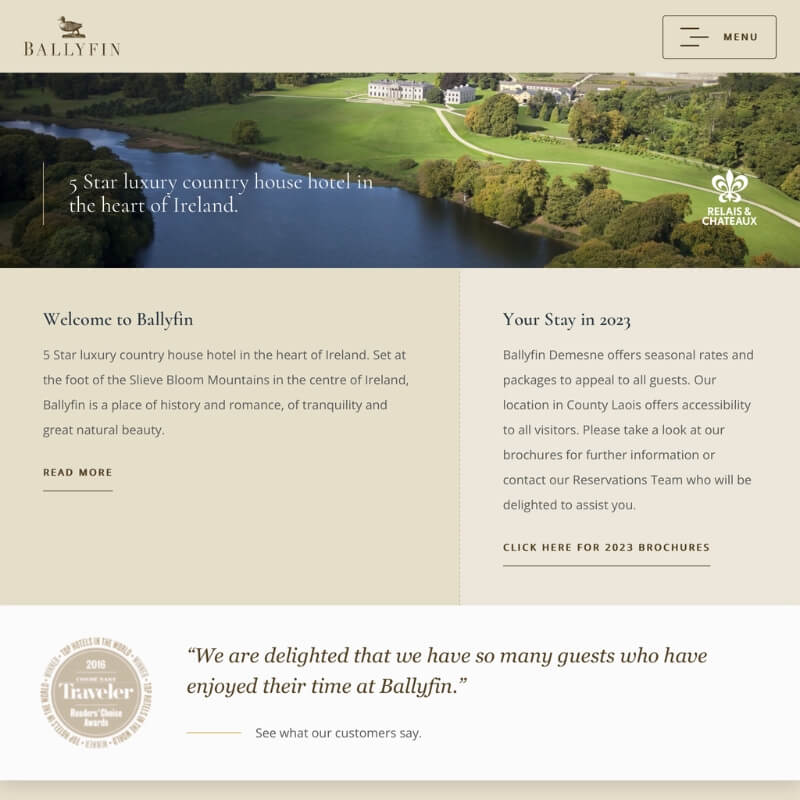 You're in the middle of everything Ireland has to offer when you book your wedding at Ballyfin Demesne. It is located below the Slieve Bloom Mountains.
The venue's dining room is ideal for cozy weddings of up to 70 people. For larger indoor weddings, you can hold your ceremony in the Ballroom with as many as 130 guests. And if you have your eyes on an outdoor wedding, the gardens and estate provide the perfect backdrop.
What Ballyfin Demesne does best:
Before your ceremony, you can relax and let the staff pamper you in one of their treatment rooms. In addition, you will have access to a hairstylist and a beauty therapist.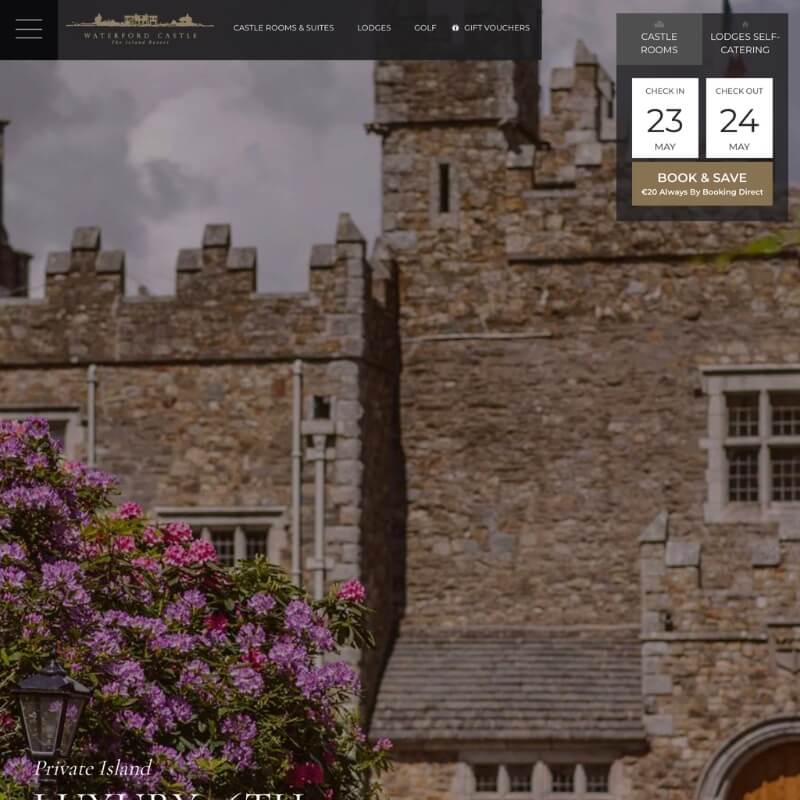 It's easy to have a fairytale wedding at Waterford Castle.
If getting married on a private island is your dream, you can't go wrong with this venue. The island spans 310 acres and offers unforgettable views of the River Suir.
When you get married here, you are getting married in a 16th-century castle. It's important to note that Waterford Castle can only accommodate weddings of up to 120 guests.
What Waterford Castle does best:
Waterford Castle accommodates both wedding and civil ceremonies. With the venue closed to the public, you and your guests will have the island to yourselves.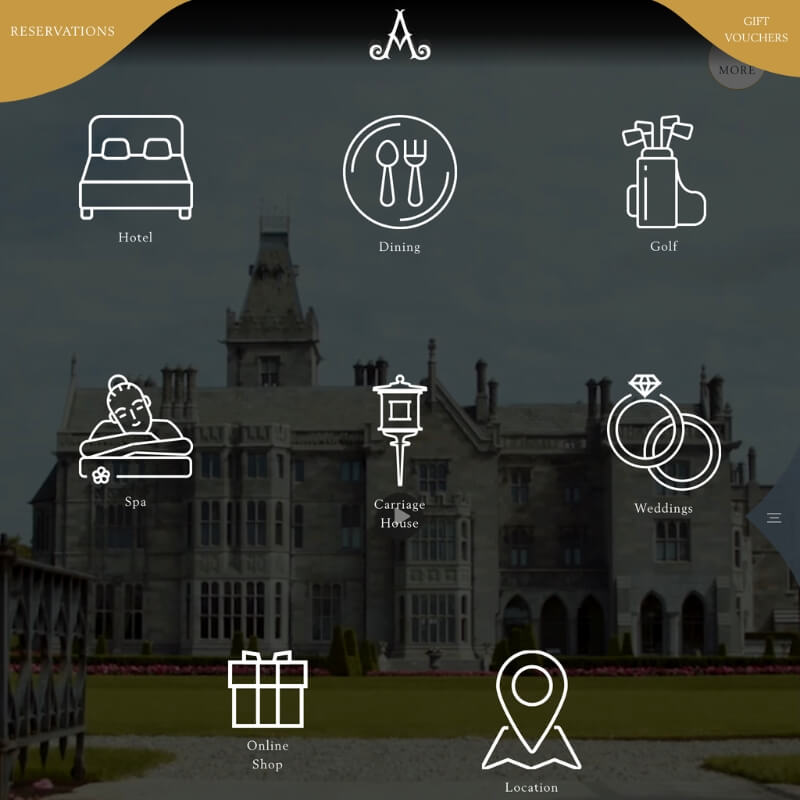 Adare Manor is one wedding venue that captures the beauty of Ireland. With a view of the River Maigue, you and your guests can relax in paradise.
The manor is located on 840 acres of land with plenty of room to explore, including its formal gardens. While indoor ceremonies are held in the Grand Ballroom, outdoor ceremonies are held at the Walled Gardens, with beautiful scenery surrounding you.
What Adare Manor does best:
With the option of renting the Manor House open to couples, you can have your wedding weekend in comfort and privacy with your family and friends.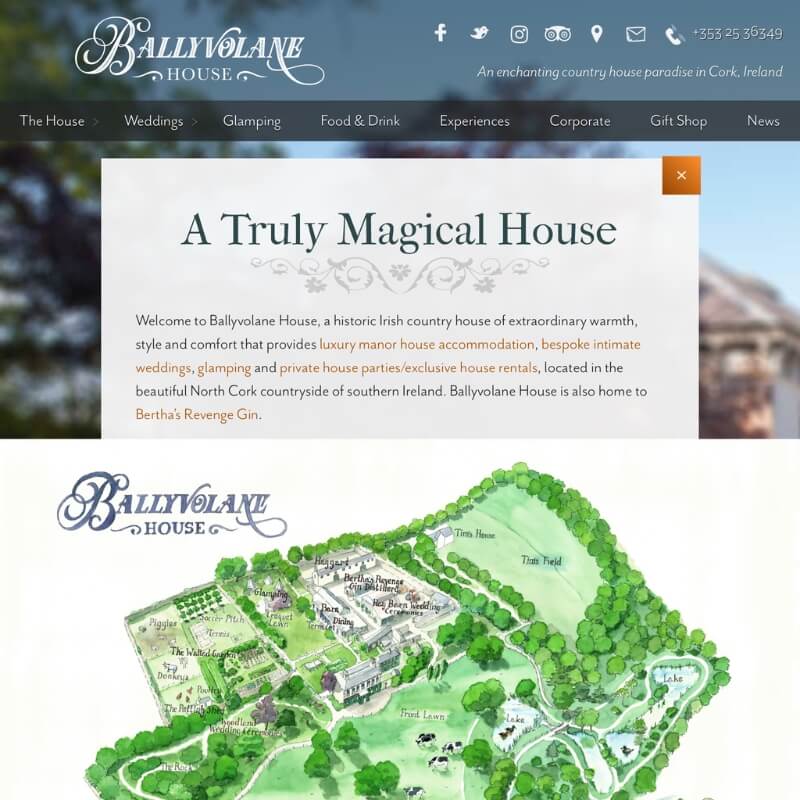 The Ballyvolane House is a wedding venue like no other. Located on Cork Island, this historic house has hosted many weddings for couples from all over the world.
Wedding receptions take place on the terrace, which provides a garden view. Its 16 doors, boasting glazed glass, keep cool or hot air out while allowing you to enjoy the scenery.
When it's time to move on to dancing, the attached stone barn provides the perfect dance floor.
For couples that prefer to take it outdoors for a summer wedding, ceremonies include vintage and antique chairs, an altar table, and tree-based lanterns.
Indoor wintertime ceremonies are held in the Pugin Room, which is only open to couples getting married. However, this is located in Lismore Castle, a 25-minute drive from the venue.
What Ballyvolane House does best:
If you hold your wedding between May and September, your guests can rent a Glamping Tent on the grounds of Ballyvolane House.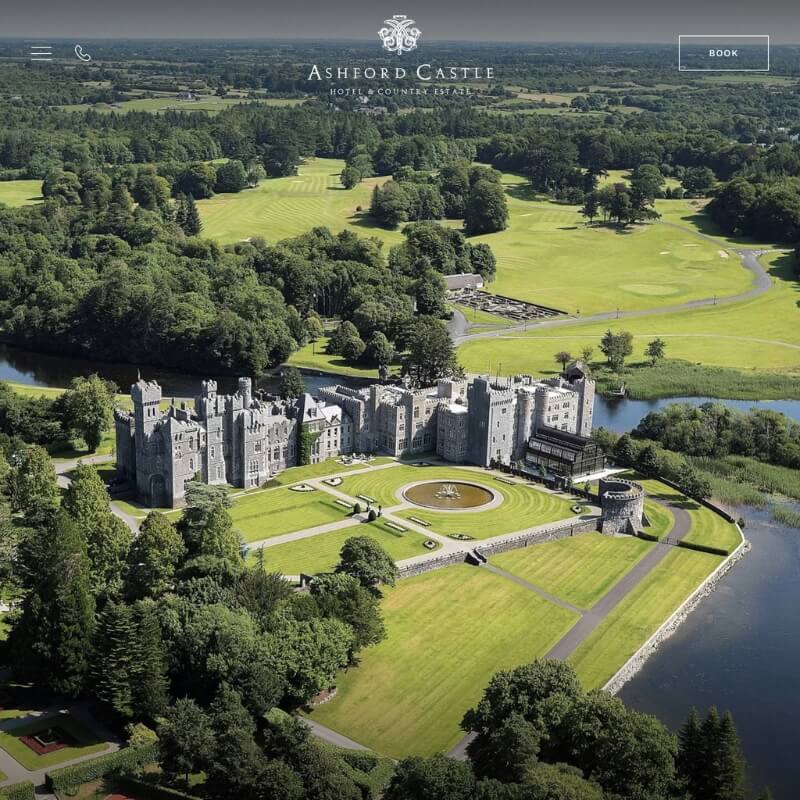 You don't have to throw a huge wedding to get married in a castle. Unlike many other venues in Ireland, Ashford Castle iAshford Castles best suited for small weddings of no more than 40 guests. However, they can accommodate larger weddings too.
The drawing room can accommodate weddings of as many as 160 guests. You can use a local church in or near the castle if you want a religious wedding.
For couples planning an outdoor wedding, the castle gardens are the perfect location for the ceremony.
What Ashford Castle does best:
Not only does Ashland Castle host weddings, but it also hosts vow renewals.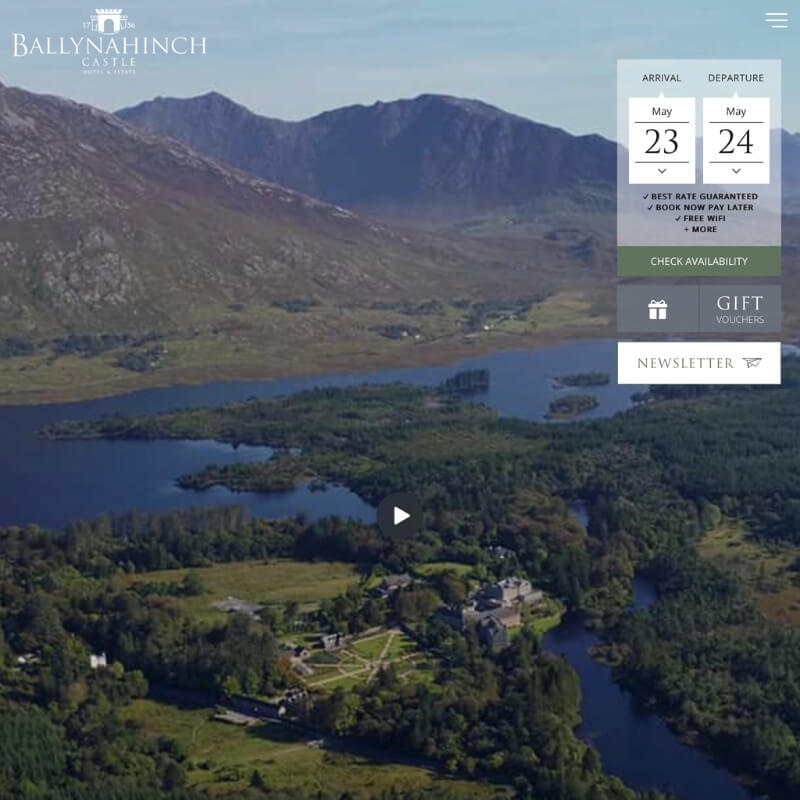 Some couples throw caution to the wind and book the Ballynahinch Castle for their weddings. When you book this venue, you'll be required to rent out all 48 rooms, with the guarantee of a two-night stay.
At least 100 guests must attend wedding receptions but not more than 140. This is the perfect venue for a country castle wedding.
What Ballynahinch Castle does best:
The fact that you have to rent the entire castle means that you can enjoy your wedding weekend in complete privacy, with only family, friends, and staff on the grounds.
There are five different locations within the Glenlo Abbey Hotel where you can hold your wedding. Which one you choose depends on the size of the event.
While small ceremonies are held at the Abbey, larger weddings can be held in the River Room.
The Corrib Room is where receptions are held, and its panoramic windows give you an excellent view of Lough Corrib.
What Glenlo Abbey Hotel does best:
When you hold your wedding at Glenlo Abbey Hotel, you'll have your wedding photos taken in the gardens and other areas around the estate.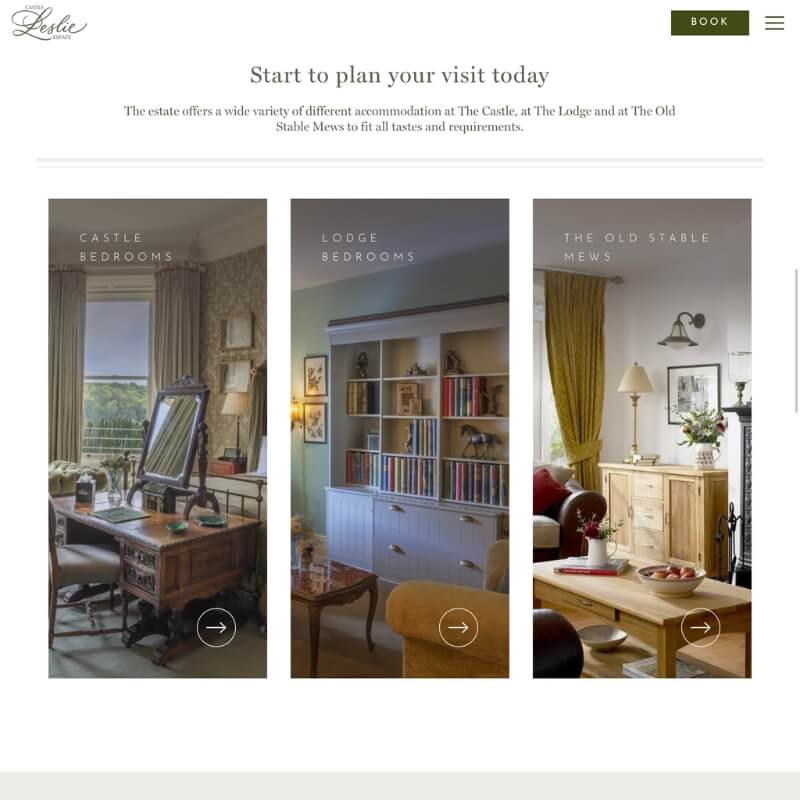 Castle Leslie is a popular venue for both small and large weddings. If you want to marry on a weekday, you can hold your ceremony inside the castle.
These weddings must include at most 70 guests. For a larger wedding, you can have your ceremony at The Pavilion, which holds as many as 260 guests.
What Castle Leslie does best:
Castle Leslie pampers you and your guests from arrival to departure.
What are the best times of year to have a wedding in Ireland?
The best times of year to have a wedding in Ireland are typically in the spring (March to May) and autumn (September to November). The weather is mild, and the scenery is beautiful.
How much does it cost to rent a wedding venue in Ireland?
The cost of renting a wedding venue in Ireland can vary widely depending on the location, size, and amenities. Some venues may cost as little as a few hundred euros, while others can cost several thousand.
Do I need to be a resident of Ireland to get married there?
No, you do not need to be a resident of Ireland to get married there. However, you will need to meet certain legal requirements, such as obtaining a marriage license and having a registered solemnizer perform the ceremony.
How far in advance should I book my wedding venue in Ireland?
It is recommended to book your wedding venue in Ireland at least a year in advance, especially if you are planning to get married during peak wedding season (May to September). This will give you plenty of time to secure your preferred date and make any necessary arrangements.
Bottom Line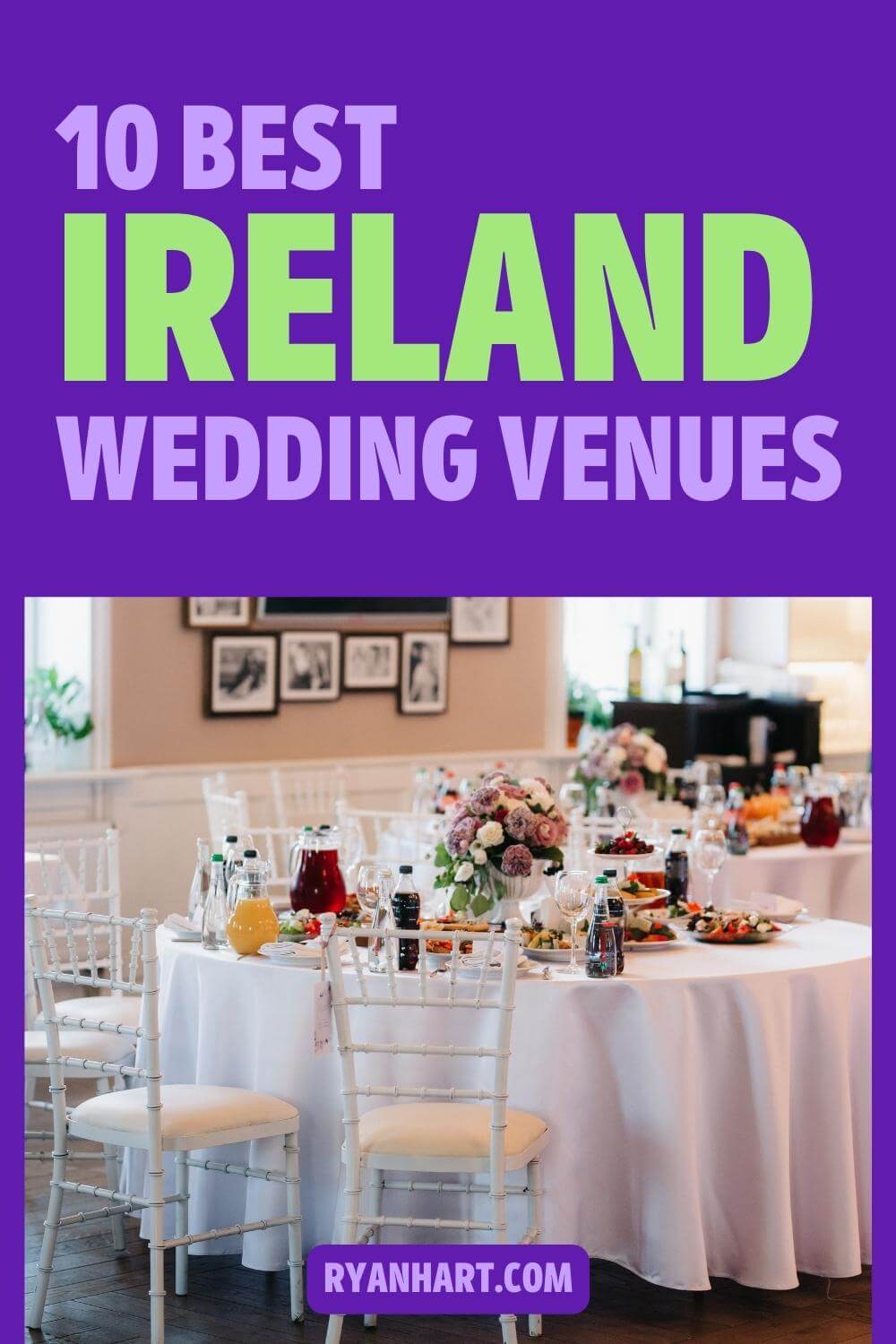 Ireland is a magical place to host your wedding, with its breathtaking scenery, rich culture, and charming venues. Ireland offers a unique and unforgettable experience for couples and their guests.
The country's combination of natural beauty and historic landmarks creates a romantic atmosphere that is hard to match.
The warmth and friendliness of the Irish people will make you and your guests feel right at home, ensuring that your wedding day will be truly special.
If you are looking for a destination wedding location that is both magical and unforgettable, then look no further than Ireland.