Are you struggling to create a dating profile that stands out from the crowd? If so, a dating profile generator might be just what you need!
These online tools use prompts and AI technology to help you create a profile quickly and easily, without the stress and pressure of creating the perfect bio on your own.
With a dating profile assistant, you answer a few prompts about yourself and let the generator do the rest. The tool will use your input to create a profile that accurately represents who you are and attracts potential partners.
Whether you're new to online dating or just looking to improve your profile, a profile generator is a useful tool to have around.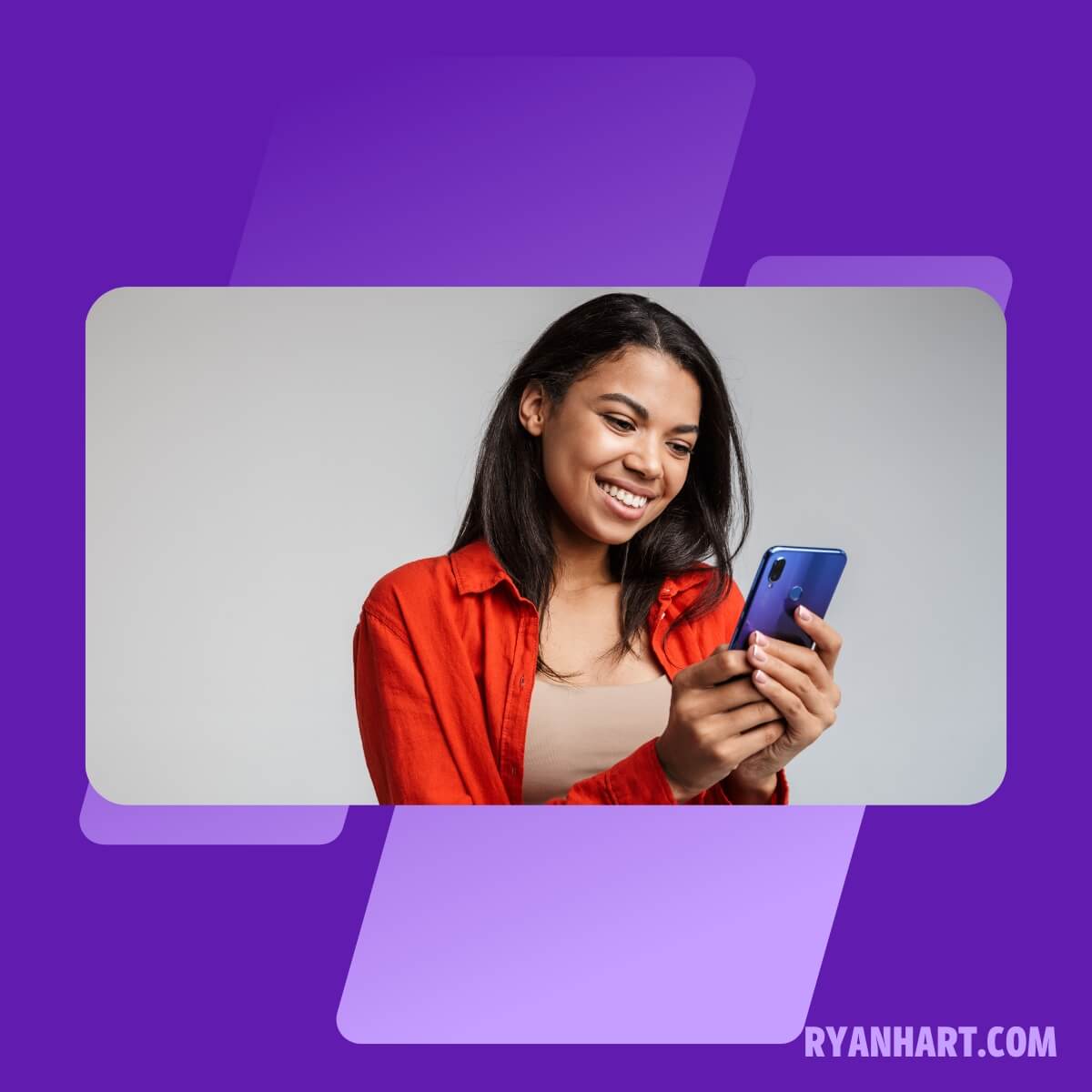 What is the best dating profile generator?
In this article, we'll explore the types of dating profile generators available, their benefits and drawbacks, and how to use them effectively.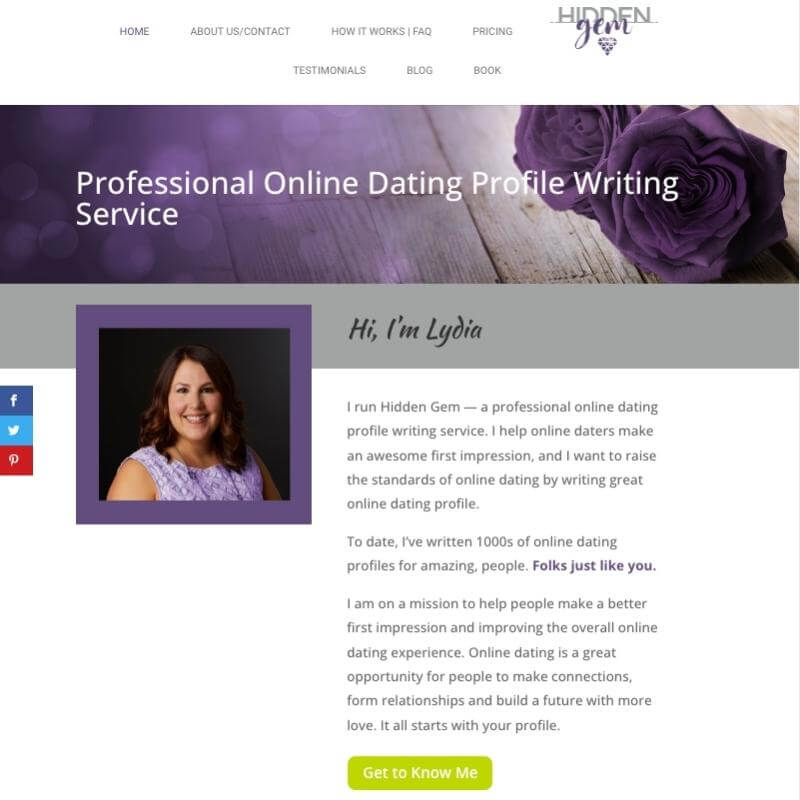 Hidden Gem is a specialized online dating profile writing service run by Lydia Kociuba. With years of experience, Lydia has written thousands of profiles for amazing people just like you.
Her mission is to raise online dating standards by writing great online dating profiles that showcase who you are and get conversations started. By having a well-written, polished profile, you can attract potential partners and increase your chances of finding love.
Plus, the service offers testimonials and a refund policy, so you can feel confident in the quality of the work.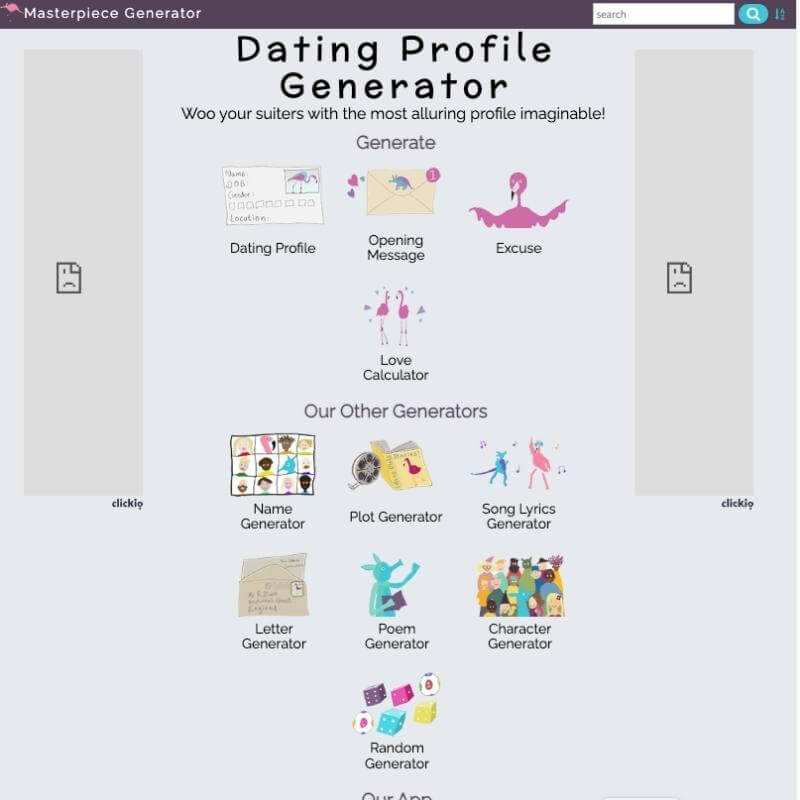 This DatingProfileGenerator can be helpful to singles who are looking to create an online dating profile quickly and easily.
The generator provides prompts for users to input information about themselves, including physical characteristics, personality traits, hobbies, jobs, and preferences in a partner.
The generator then creates a profile based on the user's input, which can be used on dating apps or websites. This tool can significantly reduce the amount of time and effort for singles who struggle with writing their profile or want to create one that stands out from the crowd.
However, it's important to note that the generated profile may not accurately reflect the user's personality or preferences, so it's always a good idea to review and edit the profile before using it.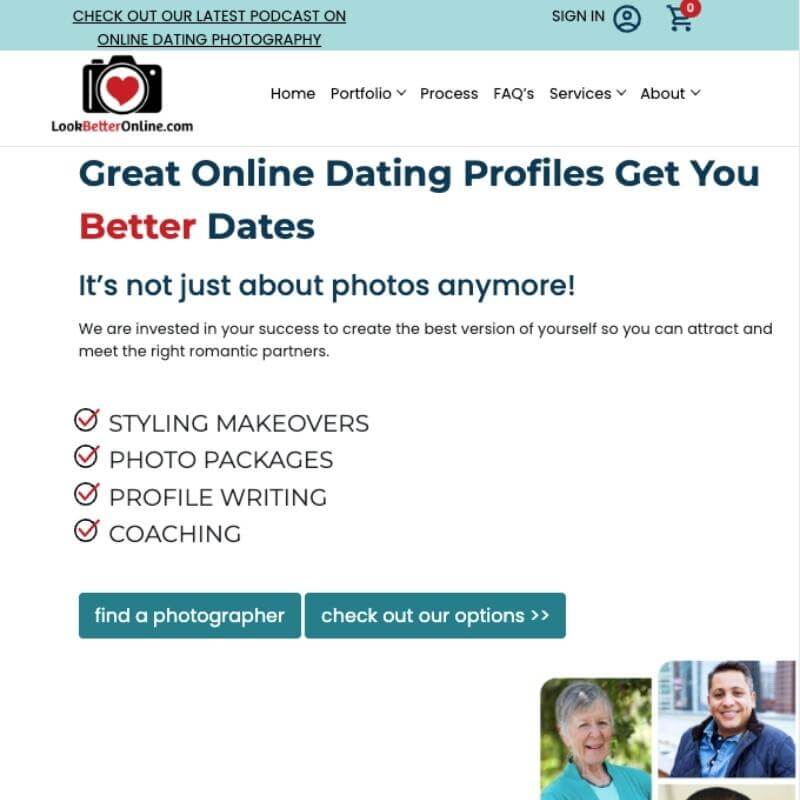 LookBetterOnline offers professional profile writing services to help singles improve their online dating profiles.
The site emphasizes that dating starts with a look, but it's the talk that gets the dates. Therefore, having an outstanding, original, and unforgettable profile is crucial to attracting potential partners.
LookBetterOnline offers three pricing packages to cater to the individual needs of clients. The packages range from critiquing the existing profile to writing a new one from scratch after an extended phone interview.
The site's professional writers will provide honest assessments, suggestions for changes, and personalized feedback to help clients create a profile that stands out from the crowd.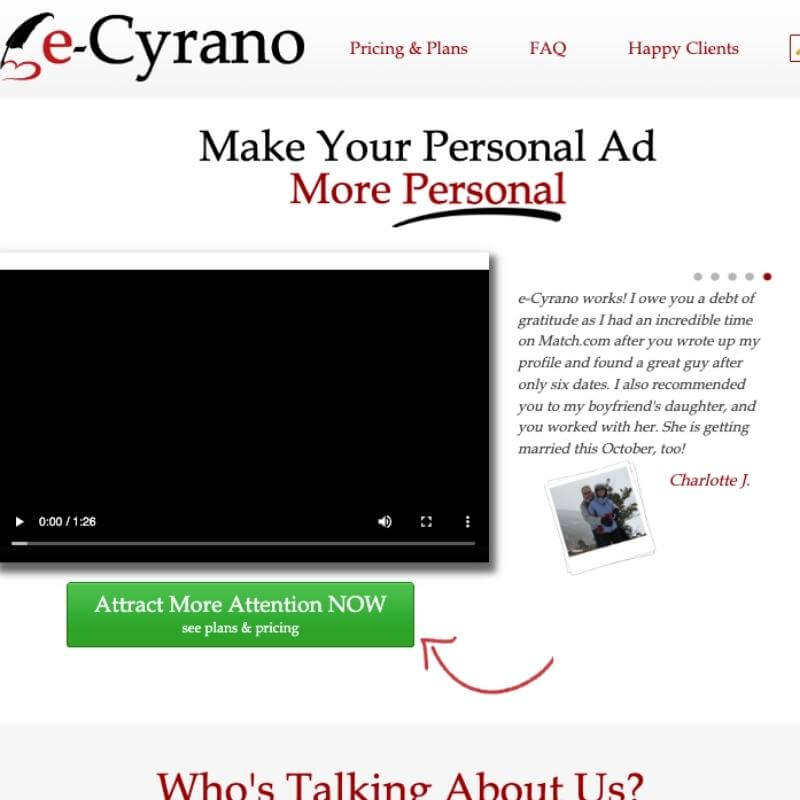 If you're struggling to get noticed on dating sites, E-Cyrano might be just what you need! This service offers professional profile writing to help you stand out and attract more desirable dating prospects.
The benefits of using e-Cyrano are clear: You'll capture your unique personality, get more winks, flirts, emails, and dates, and receive more interesting emails with your improved profile.
And the best part? Happy clients have found love thanks to e-Cyrano's help.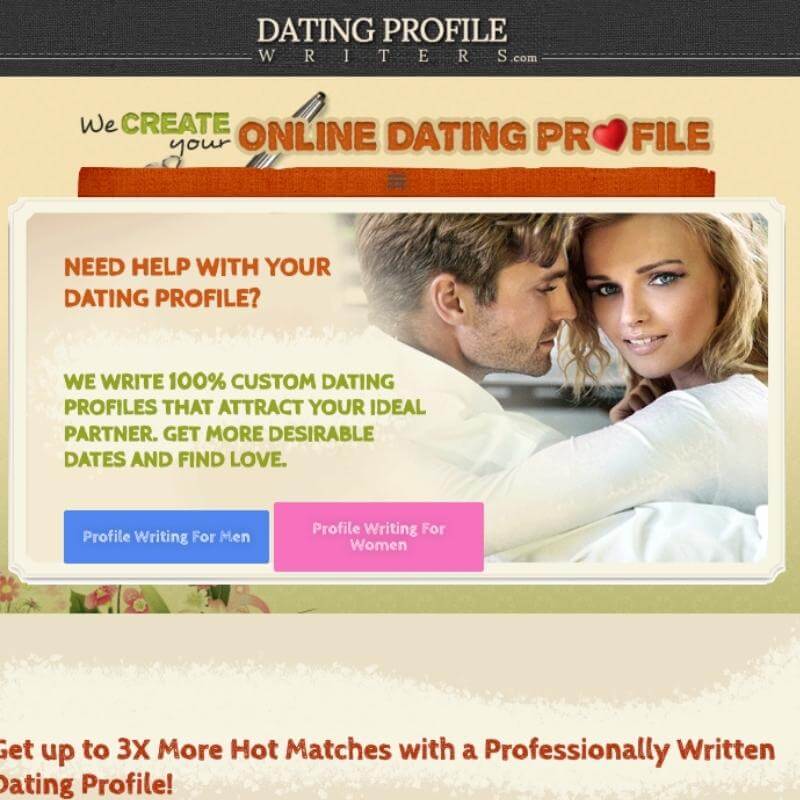 Dating Profile Writers offers custom profile writing for men and women, dating coaching, and other services like profile audits and app text message services. They can even help with specific dating apps like eHarmony, Bumble, and Tinder.
You'll get a customized bio crafted from scratch by a dating expert. Plus, they offer 1:1 support, expert photo selection, and unlimited revisions to ensure you're happy with your profile.
With over a decade of experience and over 35,000 satisfied clients, DatingProfileWriters is the perfect wingman to help you find love online. With a 100% satisfaction guarantee, you can be sure that they'll help you get the kind of profile that makes you smile and makes you feel confident.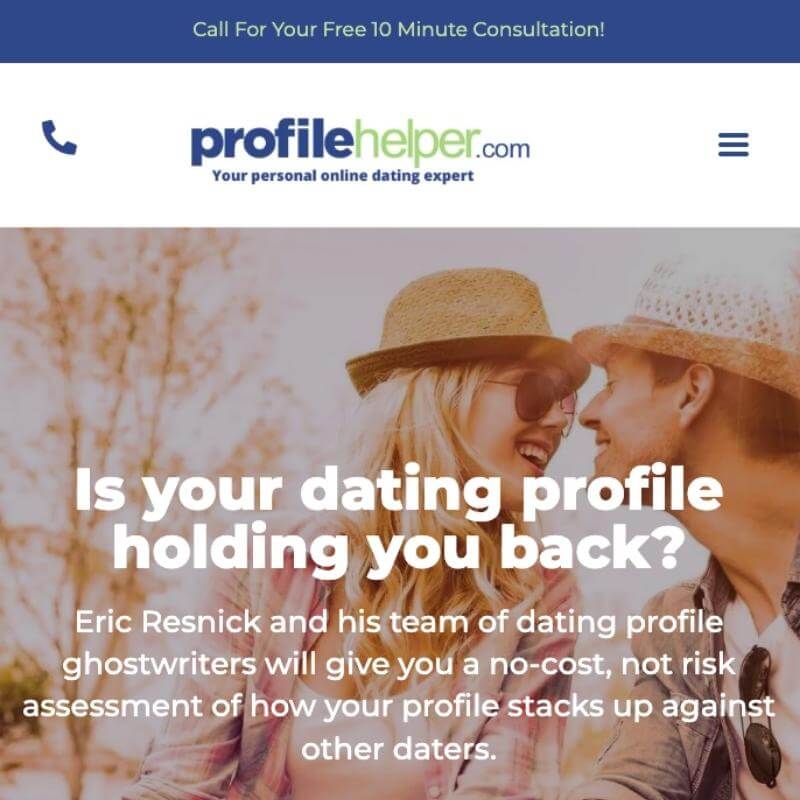 Profile Helper has helped over 40,000 single men and women improve their online dating lives. Their services have been spotlighted in major publications, including The New York Times, CNN, and Men's Health.
At ProfileHelper, you'll receive a no-cost, risk-free assessment of your current dating profile and personalized coaching to help you create an engaging bio and choose the perfect profile picture.
With a customer satisfaction rate of 99%, you can trust that their team of online dating experts will help you feel more confident and optimistic about finding love online.
Don't let a lackluster dating profile keep you from meeting that special someone. Let ProfileHelper help you create the perfect profile and improve your online dating life today!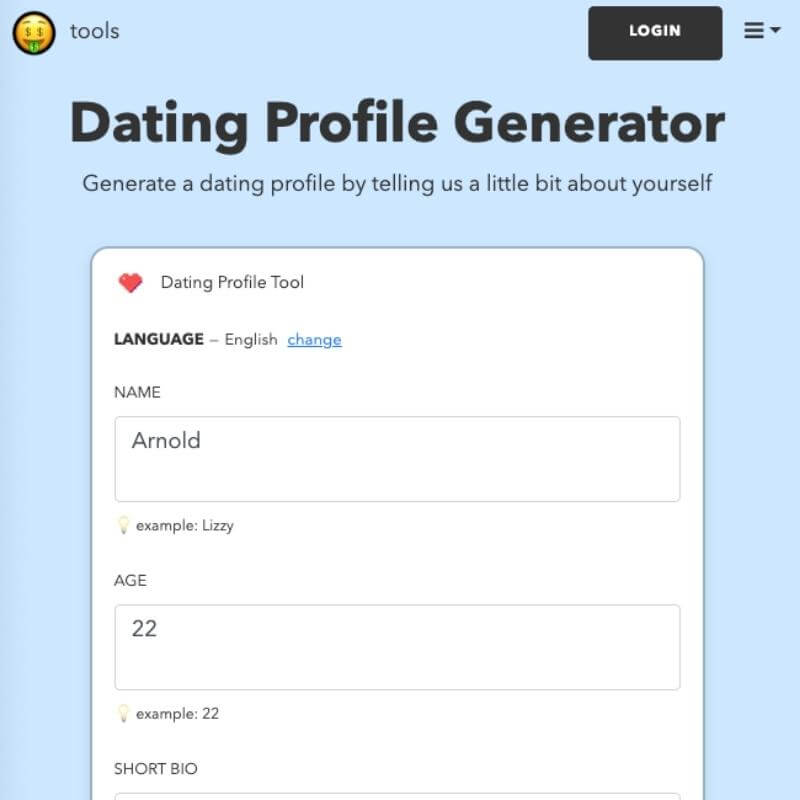 Dating Profile Generator is a fun and easy-to-use tool that only requires a few pieces of information from you and then uses AI to generate three unique dating profiles.
It takes the guesswork out of creating a profile from scratch and is perfect for those who are short on time or struggling to come up with the perfect bio.
Plus, the generator is specifically designed to work well for creating a Tinder bio. So, if you're looking to improve your online dating game and get more matches, give the Dating Profile Generator a try today!
Frequently Asked Questions
What is a Dating Profile Generator?
A dating profile generator is a special tool that helps you talk about yourself on dating apps. It's like a friendly helper that gives you ideas for what to say. You know, finding the right words to tell others about you can be hard, but an online generator makes it easier. It's like having a friend who knows how to make you sound interesting and cool.
How does a dating profile generator work?
The generator asks you questions, kind of like when you play a game or talk to a friend. These questions are about things you like to do, what makes you happy, and what you're like.
After you answer, the generator uses your words to make a story about you. It's like magic words that show others what you're all about.
Can I edit the generated profile?
Absolutely! The words the generator makes are like a starting point. You can change them to match how you talk and what you want to say. It's kind of like coloring a picture. The generator gives you the outline, and you can add all the colors you like to make it your own.
Can I use the generated profile on any dating app?
Definitely! The profile you make with the generator is like a story about you. You can use it on any dating app where you need to introduce yourself. It's like wearing your favorite shirt – it looks good no matter where you go.
Plus, it's easy to keep up with and customize so you're always showing off your best self. So whether you're into dating, networking, or just meeting new people, a profile generator should be a helpful tool for making a great first impression.
Bottom Line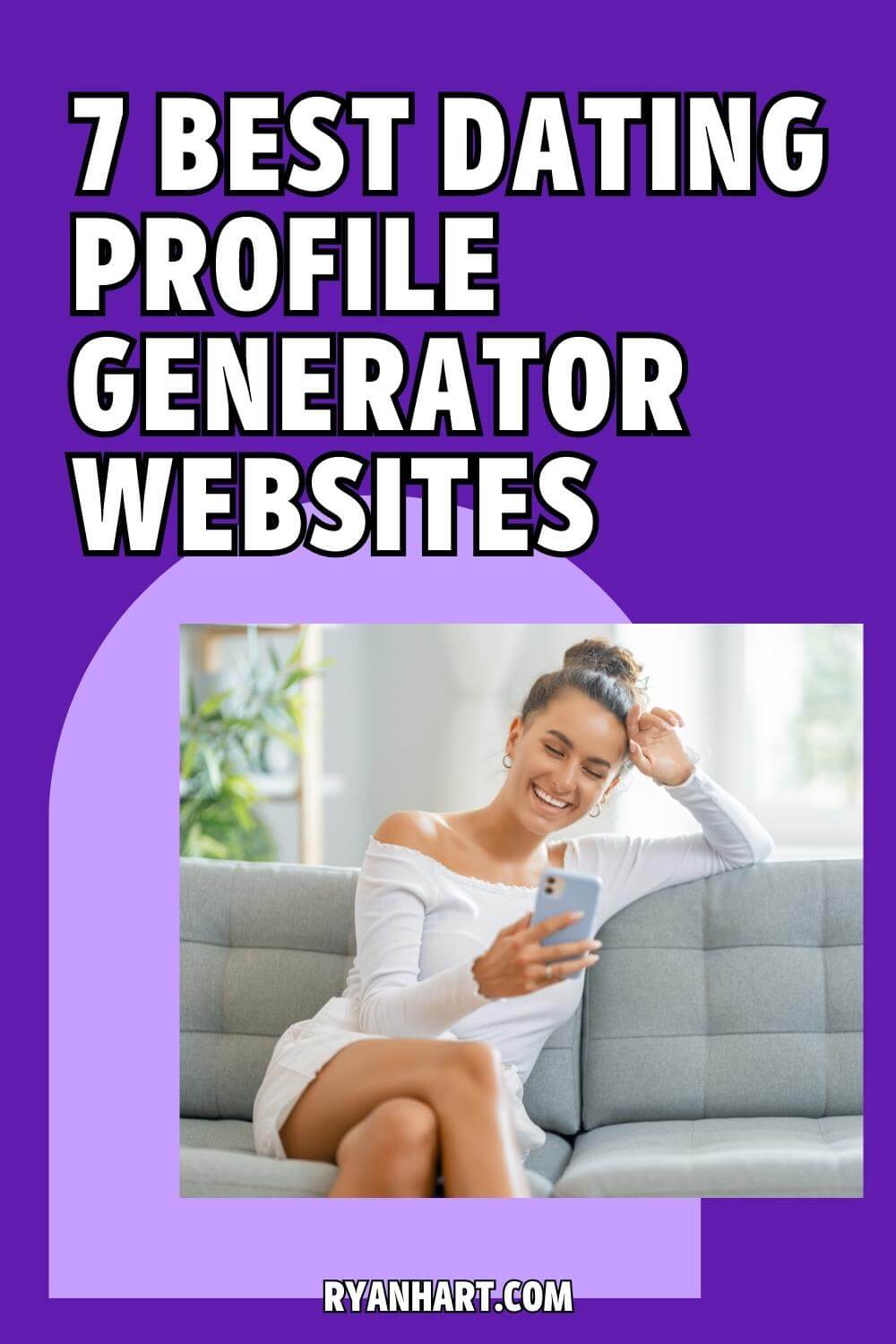 So, that's it, my friends. We've learned all about the best Dating Profile Generators. It's like a magic wand for your dating profile!
It can help make your profile stand out from the crowd and catch the eye of potential matches. Remember, the best profiles are the ones that show who you really are.
A Dating Profile Generator can help you do just that. It's like having a personal assistant to help you put your best foot forward in the world of online dating. So why not give it a try?
Who knows, with a little help from a Dating Profile Generator, you might just find the perfect match you've been looking for!