When planning a Caribbean vacation, the island of Saint Barthelemy often gets overlooked. Commonly referred to as St. Barts, this French-speaking island is a gem of the Caribbean.
In fact, if you're looking at taking a trip there, the question isn't where to stay — rather, it is how to choose from all the amazing resorts on the island?
Our comprehensive guide provides all the details you need to pick the perfect spot for your vacation.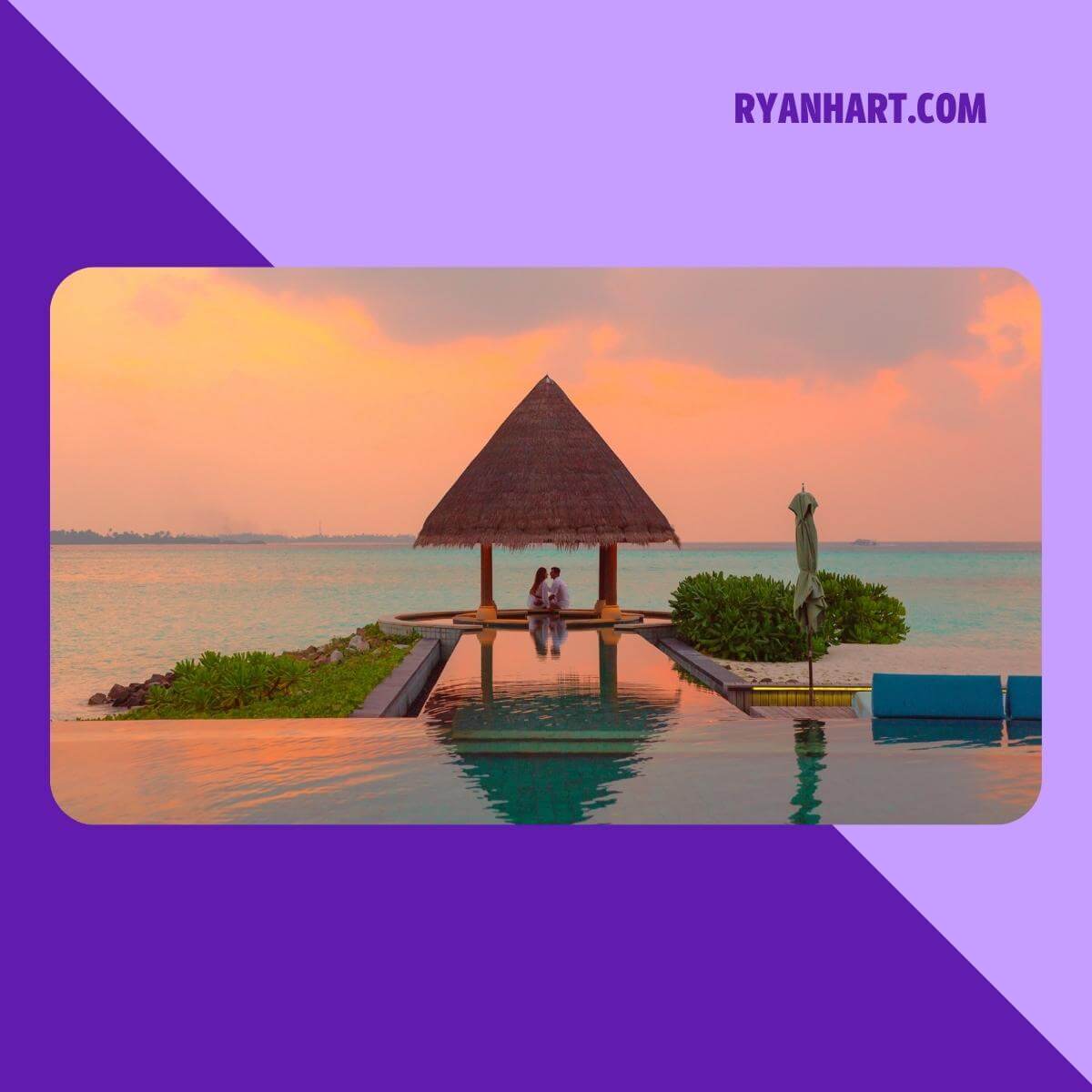 What is the best resort in St. Barts?
St. Barts might be a small island, but it has a surprising number of places to stay. Each of these has its own distinct offerings, public or private, large or small, against the tropical hill country or along the white sand beaches.
There are many things to consider when choosing a destination, from the atmosphere to the activities and more. Do you want a fun, action-packed trip full of adventure, or are you more of the lounge-on-the-beach-with-a-cocktail type?
These are all questions to ask yourself as you do your research. Read on to learn about the best St. Barts resorts and start planning your trip:
Eden Rock is appropriately named; when you're here, you may feel like you've stepped into paradise!
Located on St. Jean Bay, this luxurious resort was once a private estate. In its heyday, it catered to Hollywood's elite before becoming a resort where anyone could enjoy a getaway. The hotel is an excellent destination for visitors of all ages, with activities for adults and children alike.
It is known for its beautiful beach, nearby coral reefs, five-star amenities, and comfortable rooms overlooking the Caribbean. Eden Rock is the perfect place to bring your family or escape on your own.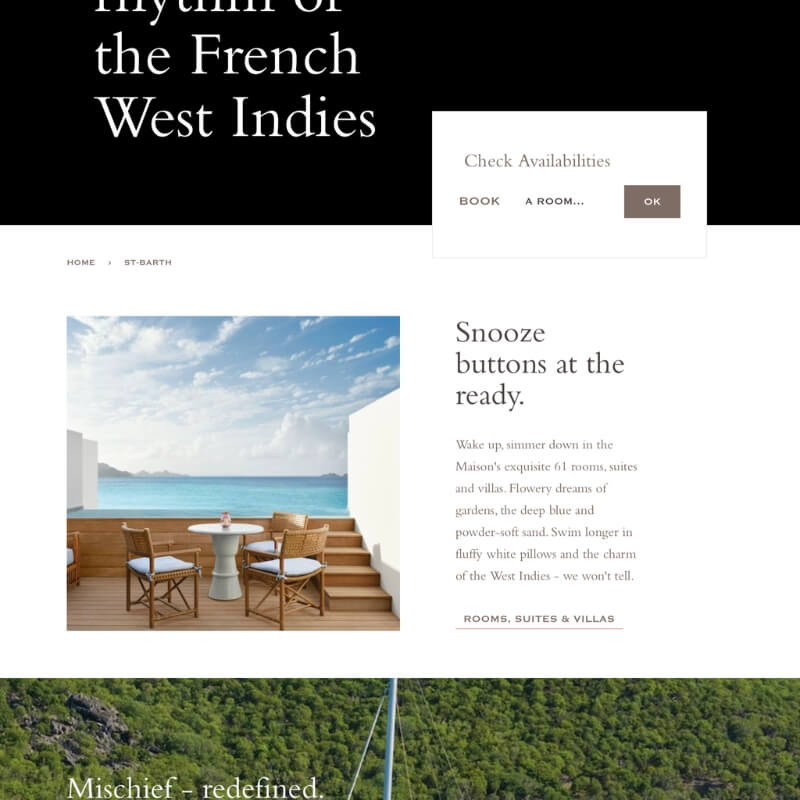 The Cheval Blanc (The white horse, in English) is an escape into paradise. This smaller resort has 61 rooms and suites, guaranteeing a personal experience unlike any other.
Whether looking for a world-class dining experience, the chance to relax in an award-winning spa, or just to relax on the beach, the Cheval Blanc has everything you need.
This resort is also perfect for those who are looking for unique adventures. You'll get the chance to rent paddleboards and jetskis, go snorkeling and boating, and explore the island and the sea as you've never seen them before.
Le Sereno Hotel is about as far as you can get from the crowded beaches of many other public resorts.
Located on the Grand Cul de Sac on St. Barts, this resort offers total privacy, making it possible to feel removed from the rest of the world.
All that matters here are the crystal blue waves and white beaches, the lush island, and the resort's many offerings.
From the full-service spa to the world-class dining options, Le Sereno has countless things to do and see. The lagoon is the perfect place for kitesurfing, snorkeling, or paddleboarding!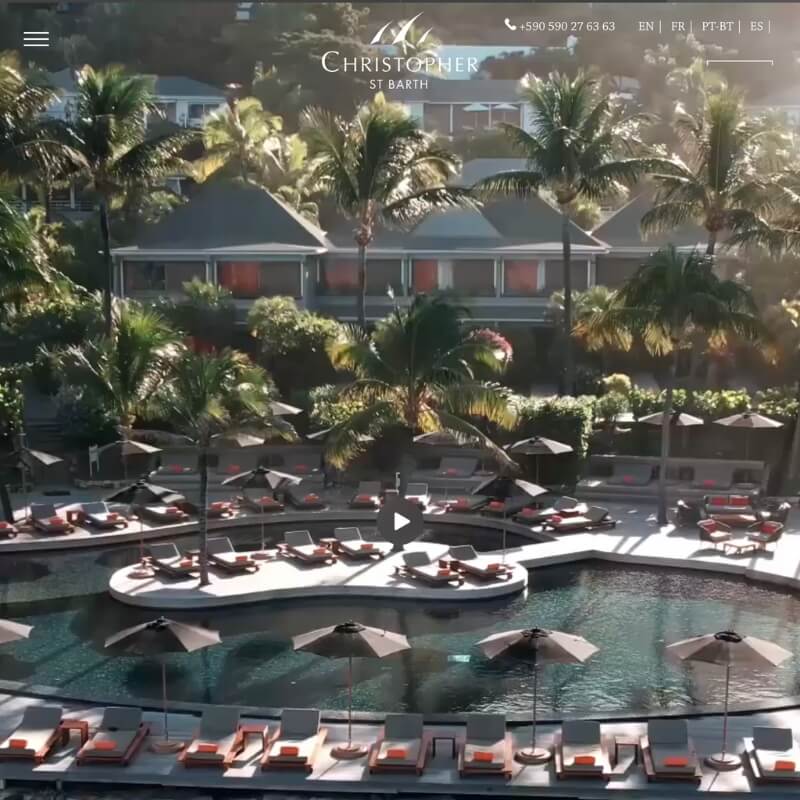 Hotel Christopher St Barth is a secluded resort located alongside Pointe Milou. This unique location provides shelter from the surrounding towns and a pleasant climate thanks to the gentle trade winds.
Although it feels like a private oasis away from the rest of the world, Hotel Christopher offers unhampered views of the other nearby islands. The resort is built in an attractive simplicity that helps draw attention to its stunning surroundings.
This is a place where you can truly immerse yourself in the beautiful nature of the Caribbean and feel like you are all alone in the world.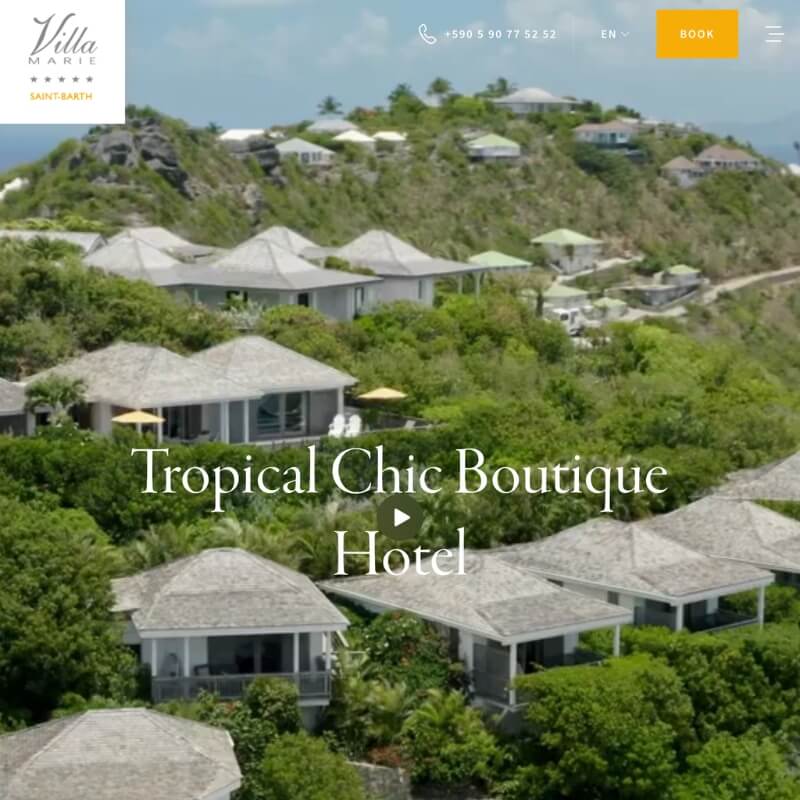 The Hotel Villa Marie is a 5-star hotel nestled in the Bay of Flanders on St Barts. This charming boutique resort offers the choice of 22 suites or bungalows, giving you the chance to enjoy a real home away from home.
You'll get to stay right on the ocean, waking up to the sounds of the beach around you. The stunning resort is decorated in a simple colonial style and offers things to enjoy, such as a world-class Italian restaurant, access to a private club, and an on-site bar and spa.
Villa Marie is a step away from the mundane and into paradise.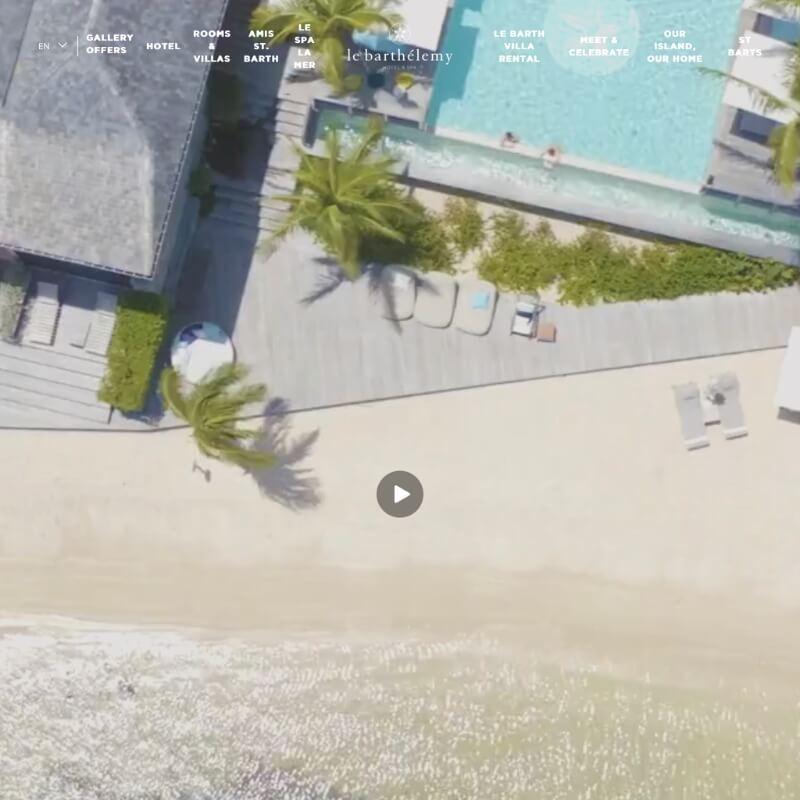 Le Barthelemy Hotel and Spa is one of the best-known and most popular resorts on St Barts.
Designed in Parisian style, this chic hotel combines the elegance of European architecture and design with the natural beauty of the Caribbean.
Le Barthelemy offers a variety of suites and villas, so you have all the space you need to enjoy your stay.
Hit the beach for snorkeling, lounge on the sand with a cocktail, or head to the spa for some pampering — everything is at hand when you visit this paradise.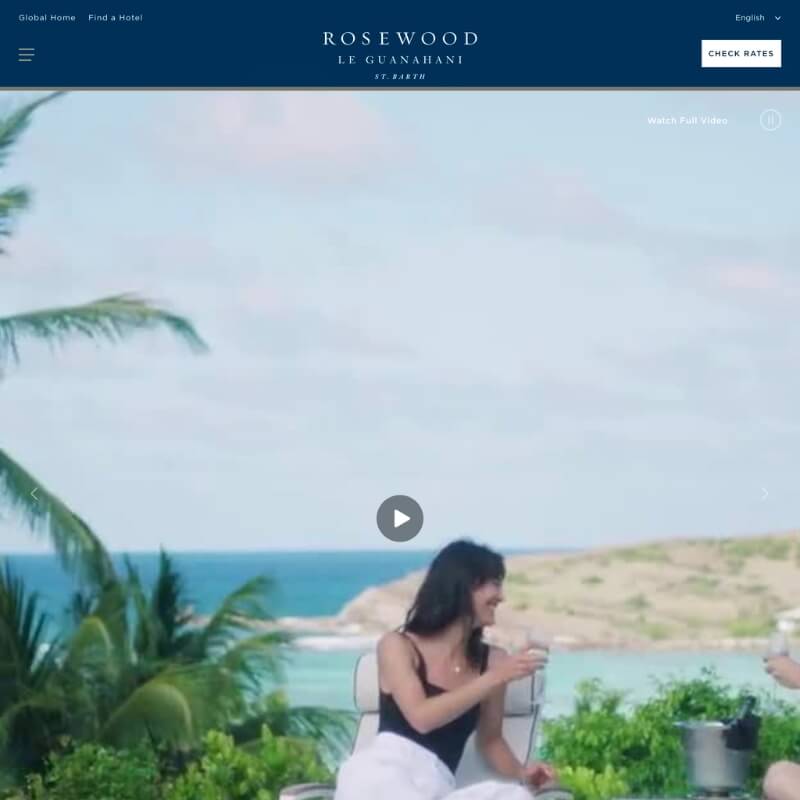 There are few resorts like Rosewood Le Guanahani St. Barth. This exclusive property sprawls over 18 acres, taking up an entire peninsula all on its own. The resort is totally private, so you might feel like you have part of the island all to yourself.
There is truly something for everyone at Rosewood Le Guanahani, from fitness options to island activities and fine dining. The resort offers spa services, family-friendly experiences, and the chance to explore both the sea and the tropical island.
Hiking is a particularly popular activity here, with bird's-eye views of the water, forests, and reefs.
Hotel Manapany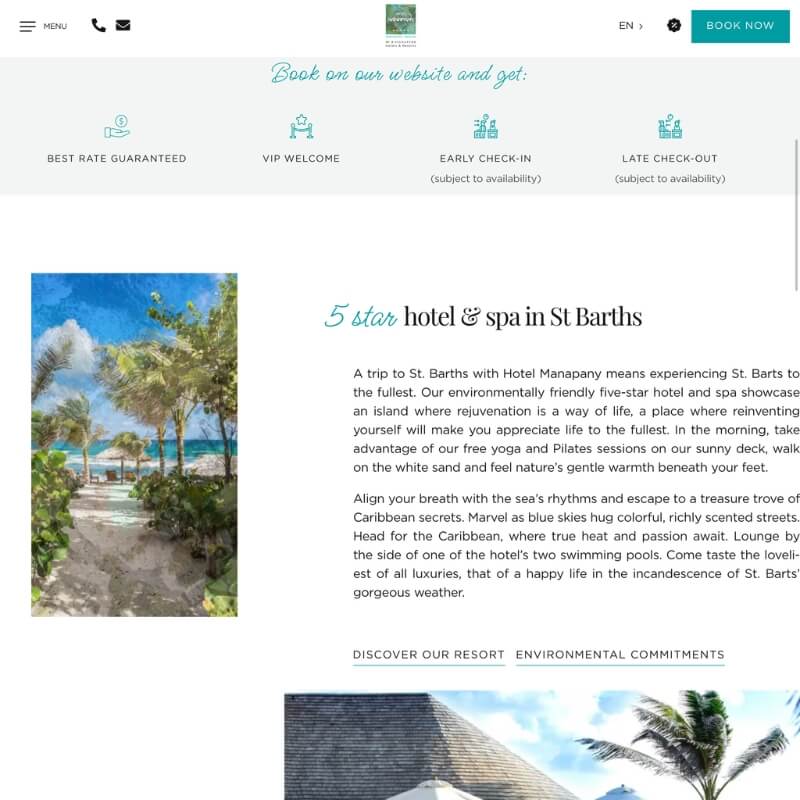 Hotel Manapany seeks to be a place of authenticity, wellness, and rejuvenation in the heart of St. Barts.
Everything about this resort is designed to help you feel renewed, from the treatments in the five-star spa to the morning Pilates sessions overlooking the beach.
The hotel offers a variety of rooms and suites, each with its own unique design, including the Tropical Suite, Ocean Suite, Panoramic Suite, and more.
The multiple on-site restaurants source their food locally, including freshly-caught fish and pineapple grown right at the resort, which you can enjoy right at the ocean's edge.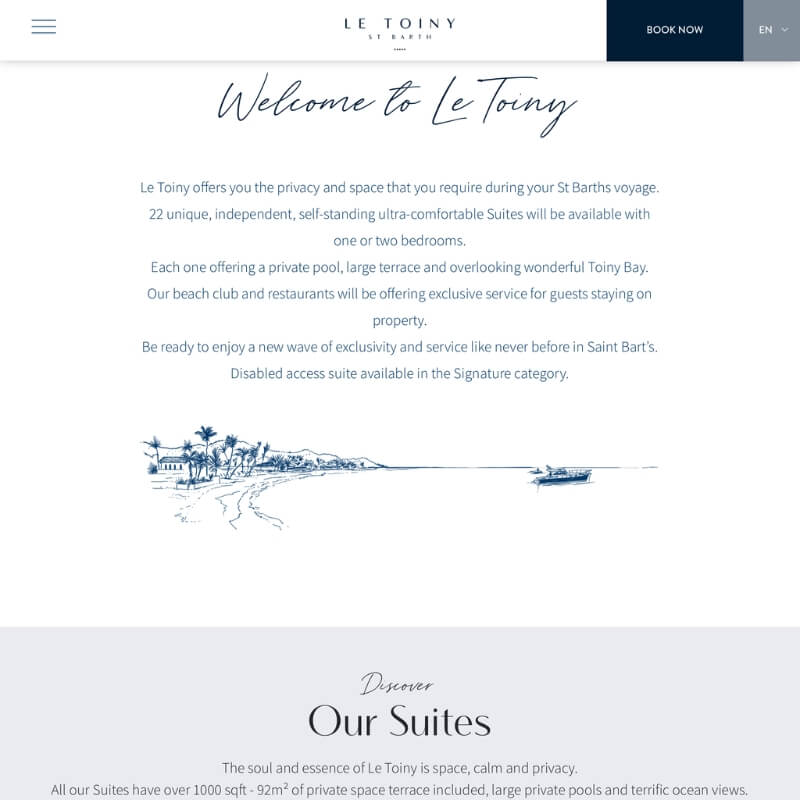 Hotel Le Toiny St. Barth offers a view of the island as you won't see it anywhere else. This hilltop resort looks down on the Ainse de Toiny, a breathtaking panorama of the Caribbean Sea and the island's lush jungle.
With just 22 villas, the resort feels like something truly special. One thing is certain: you will feel as though you have escaped to your own private oasis in the most beautiful place on earth.
You'll also have access to the private beach club to enjoy cocktails on the sand, a swimming pool, and more.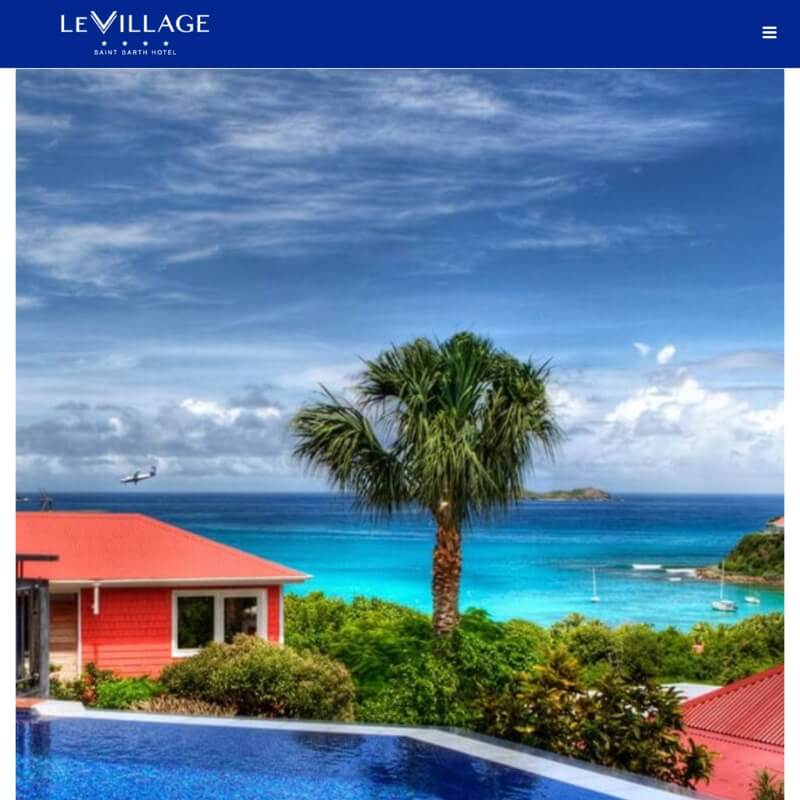 Hote Le Village is a family-friendly four-star resort in La Baie de St. Jean. It offers a unique experience that you won't find at many of the larger, more popular resorts: it is owned and operated by a local family!
The resort gets its name from its location within the village, just a few short minutes from the beach. This offers the chance to explore the shops, restaurants, and other attractions nearby and the hotel itself.
Why is St. Barts a great destination for couples?
St. Barts is a beautiful island with sandy beaches, clear blue waters, and stunning views. It's perfect for couples to relax, enjoy each other's company, and make special memories. There are plenty of activities to choose from, such as snorkeling, diving, sailing, and hiking.
Explore the charming French-style villages or take a dip in one of the many coves. Whether you're looking for a romantic getaway or an action-packed adventure, St. Barts has something for everyone!
Are there adults-only resorts in St. Barts?
Yes, some St. Barts resorts are adults-only, like the Hotel Le Toiny. These resorts offer a peaceful environment and special amenities just for grown-ups. If you're looking for a luxurious getaway, this could be the perfect choice for you.
St. Barts is also known for its vibrant nightlife and wide variety of activities that cater to all ages. There are plenty of family-friendly resorts on the island that offer fun activities and exciting entertainment options so everyone can have a great time.
What are the best activities for couples in St. Barts?
Couples can enjoy many fun activities in St. Barts, like swimming, snorkeling, sailing, and exploring local attractions. There are also romantic options like sunset cruises and candlelit dinners on the beach. And don't forget the amazing beaches and crystal-clear water!
St. Barts is a perfect spot for couples to enjoy an unforgettable romantic getaway. So why wait? Pack your bags and prepare for an amazing experience in St. Barts!
What is the best time to visit St. Barts?
The best time to visit St. Barts is between December and April when the weather is warm and dry. However, couples can still enjoy a great vacation during other times of the year. During the summer months, there are fewer tourists, which makes it easier to appreciate the island's beauty. The fall is also a great time to visit as temperatures remain mild and humidity is low.
Regardless of when you choose to visit St. Barts, there are countless activities for couples to enjoy, from exploring its beaches and historic sites to partaking in water sports and nightlife. Whether it's a romantic getaway or an adventure full of fun, St. Barts has something for everyone!
Bottom Line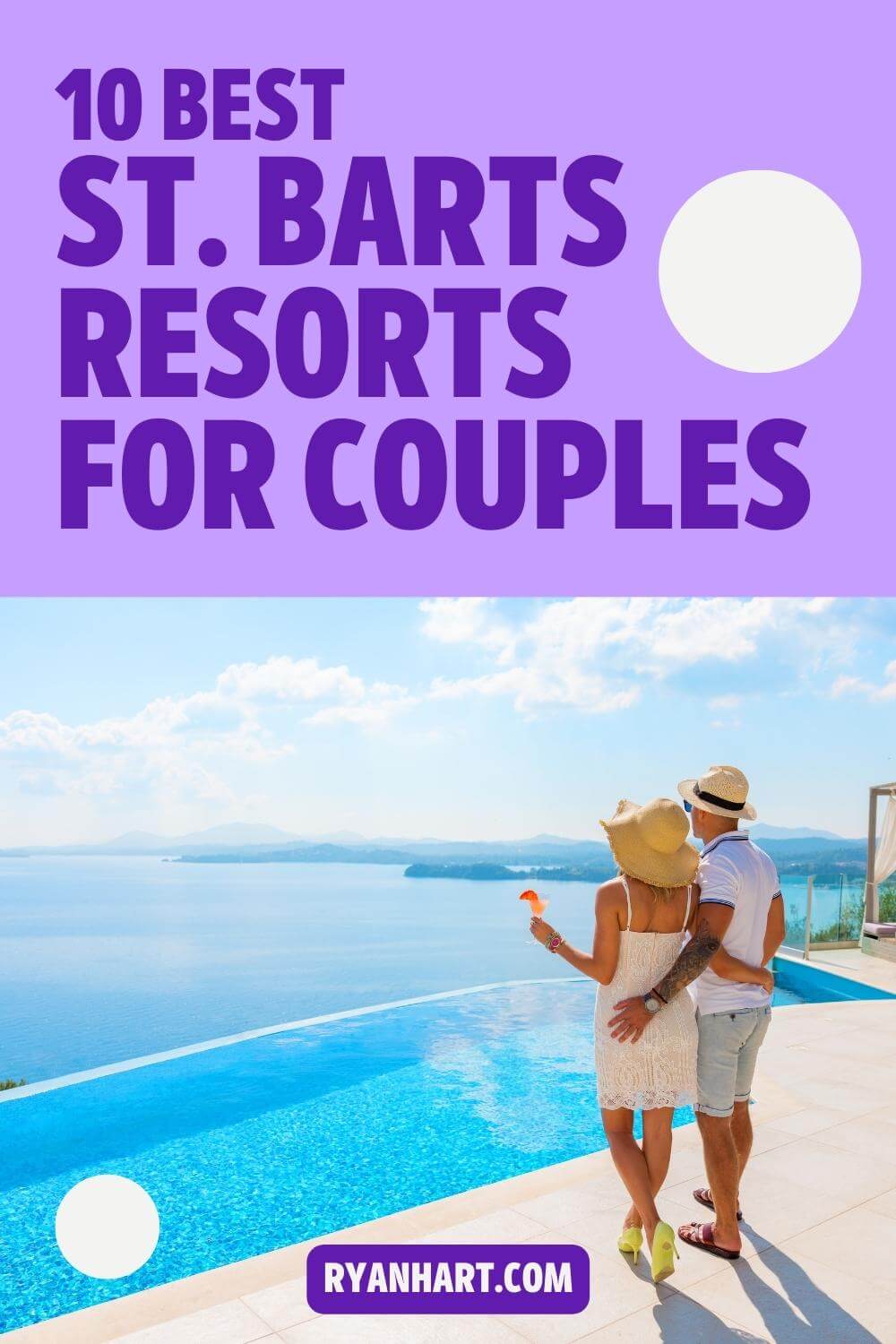 St. Barts is an incredible destination for couples looking to enjoy a romantic and unforgettable getaway. The island offers beautiful beaches, clear blue waters, and breathtaking views that create the perfect setting for lovebirds.
With many top-quality resorts catering to couples, you can find the perfect place to relax and spend quality time with your loved one. Choose from adults-only resorts, all-inclusive packages, or even plan your dream wedding or vow renewal ceremony in this tropical paradise.
Don't forget to explore the many fun activities available, like snorkeling, sailing, or enjoying a sunset cruise together.
So, if you're planning your next romantic vacation, consider St. Barts for an amazing experience that will leave you both with memories to cherish for a lifetime.