The 10th year of your marriage is something to be celebrated. A decade's worth of love should be marked appropriately. One way to do this is to give just the right gift for your spouse.
So, when it comes to 10-year anniversary gifts, the suggestions below are ideas that will dazzle the love of your life. All you have to do is figure out which will show your spouse how much you love and cherish them.
What is a Traditional 10-Year Wedding Anniversary Gift?
Aluminum is the traditional 10th anniversary gift. But if you aren't traditional, here are the best 10-year wedding anniversary gifts:
For a world traveler, there is nothing better than being able to map out all the places they've been. This makes the Personalized Wedding Anniversary Push Pin World Map an excellent gift to celebrate the places you've been together.
If your spouse has a taste for nostalgia, you can even get a vintage model of the world map. You can get an updated modern world map if your spouse is more modern. And to make it even more meaningful, you can add your names and the date of your wedding anniversary to the map too.
Why we love this gift
The personalized wedding anniversary push pin world map celebrates a decade of seeing the world together in a way that only couples in love can.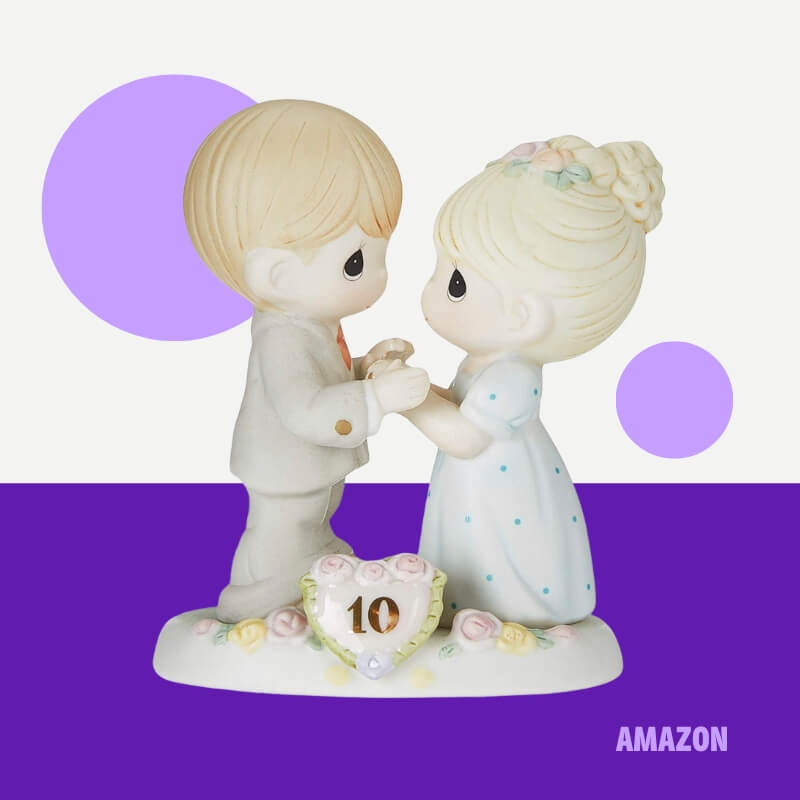 To melt your spouse's heart, gift them the Precious Moments A Decade Of Dreams Figurine. The figure depicts a couple who are head over heels in love with each other.
Clutching hands and looking into each other's eyes, this gift captures the love that you have shared for the last ten years with your spouse. Made of resin, it is a delicate and beautiful reminder of your love.
Why we love this gift
The tender love that is the basis of any marriage is perfectly depicted by this figurine of a couple just as in love now as the day they got married.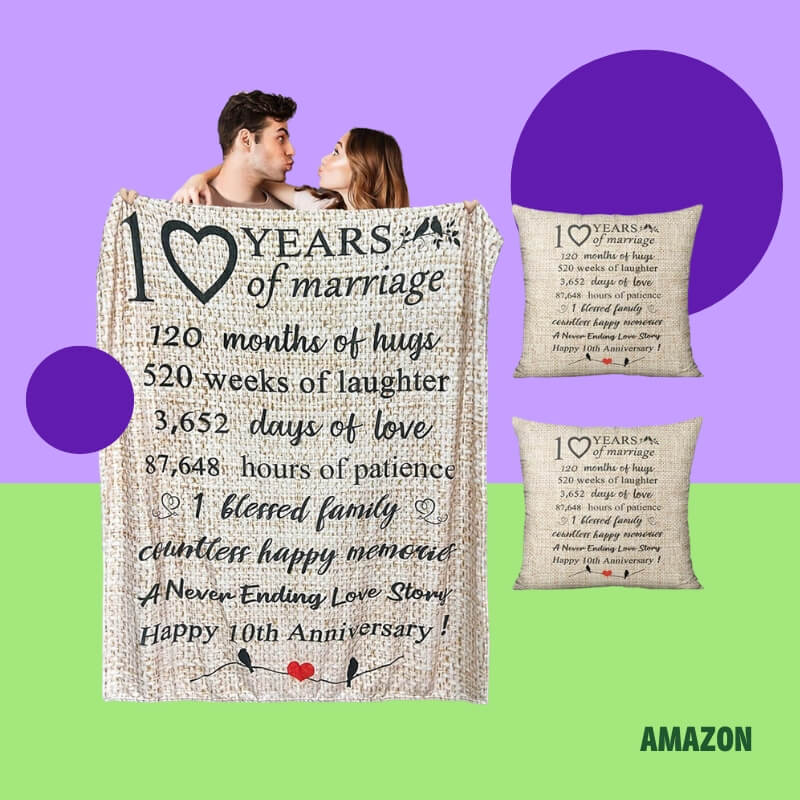 Your love should wrap each other in warmth. The perfect way to capture that warmth in a gift is a 10th wedding anniversary blanket. Made of flannel fleece, this blanket is durable and perfect for cuddling up with your spouse.
The blanket even comes with a pair of matching pillow covers. You can keep the blanket on your bed and coordinate it with your pillows.
Why we love this gift
What better way to mark your anniversary than with a blanket that reminds you how long you've been in love? The quote on the blanket captures what ten years of marriage entails, including love, laughter, and happy memories.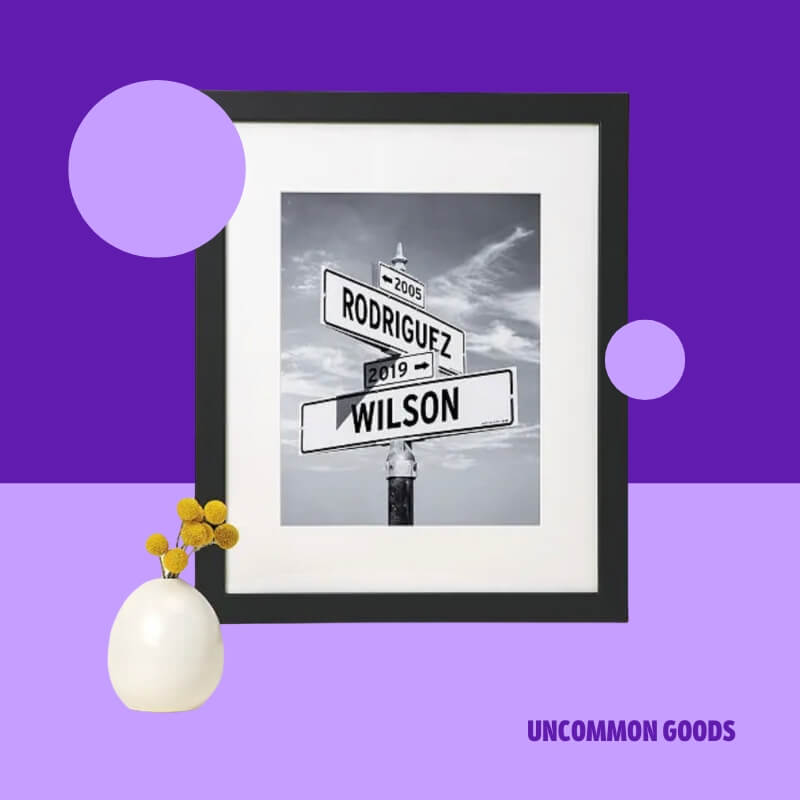 The Intersection of Love Photo Print is the perfect anniversary gift. It can be customized for whatever anniversary you are celebrating.
Since ten years signifies aluminum, this is the material you should order the frame in, though you can also get it in wood, platinum, silver, or gold. The sign uses your names as the street names. This gift captures the magic of where and when you and your spouse met.
Why we love this gift
Far from your typical anniversary gift, the Intersection of Love Photo Print is a unique gift that your spouse will never forget.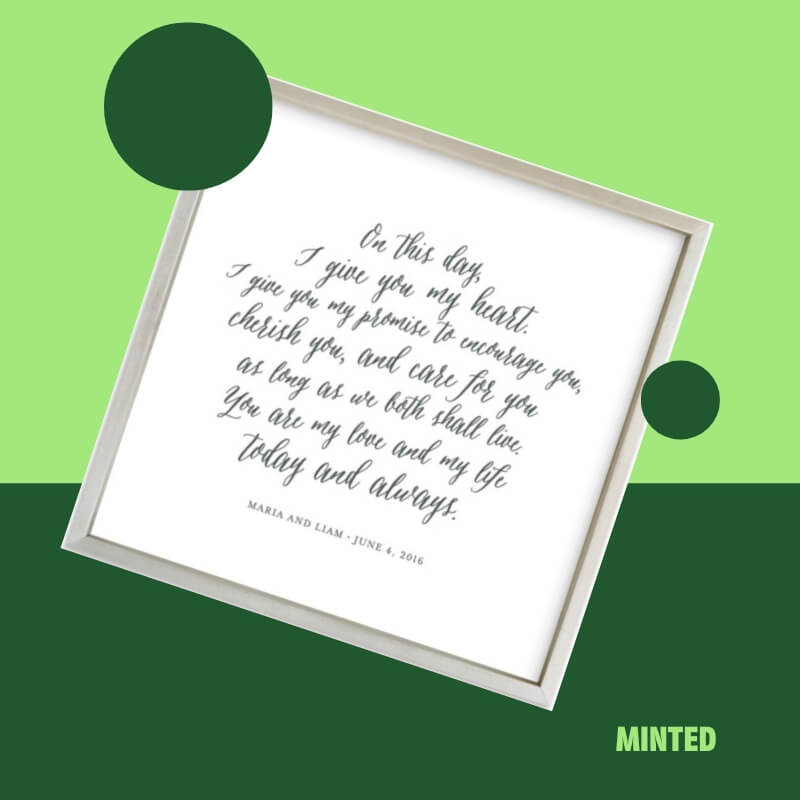 The words you say to each other on your wedding day set the tone for your marriage. The ideal anniversary gift is Your Vows as an Art Print to commemorate the vows you shared on that special day. You'll get a canvas print of those wedding vows, along with your names and the wedding date.
Why we love this gift
Despite its name, you don't have to have your vows stitched on the art print. You can submit any quote that is significant to your relationship.
If preserving memories of the first ten years of your marriage is important, gift your spouse the Circle Snapshot Mix Photo Art. You can submit up to 24 pictures arranged to make a framed collage you can hang anywhere in your home.
Why we love this gift
Circle Snapshot Mix Photo Art lets you display the most meaningful photos to you and your spouse.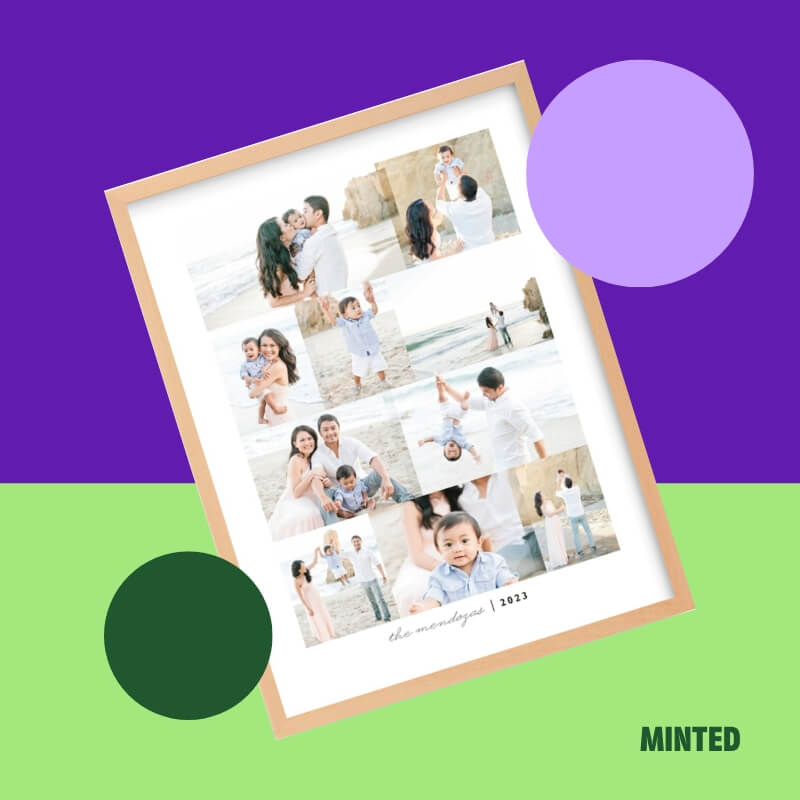 For another way to display photos from your relationship, the Modern Gallery Custom Photo Art gift is a good choice. Rather than being arranged in collage form, your photos are arranged in neat rows. Your names and wedding date can go under the photos.
Why we love this gift
The Modern Gallery Custom Photo Art lets you neatly display all the photos that represent your relationship the best. This gift tells a story without using words.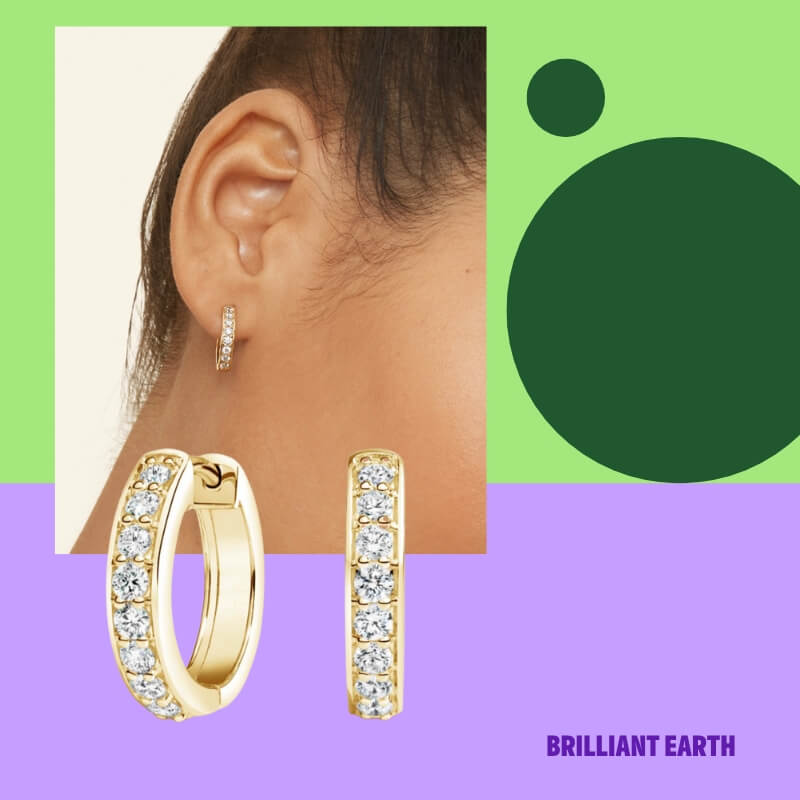 To dazzle your wife for your 10th anniversary, consider getting her a pair of Luxe Diamond Huggie Earrings. Simple but elegant, they are perfect for any woman who wears jewelry that isn't flashy. As diamonds set in gold, this is a pair of earrings your spouse would be proud to own.
Why we love this gift
They say diamonds are a girl's best friend, so gift your most important best friend with a pair she will cherish for decades.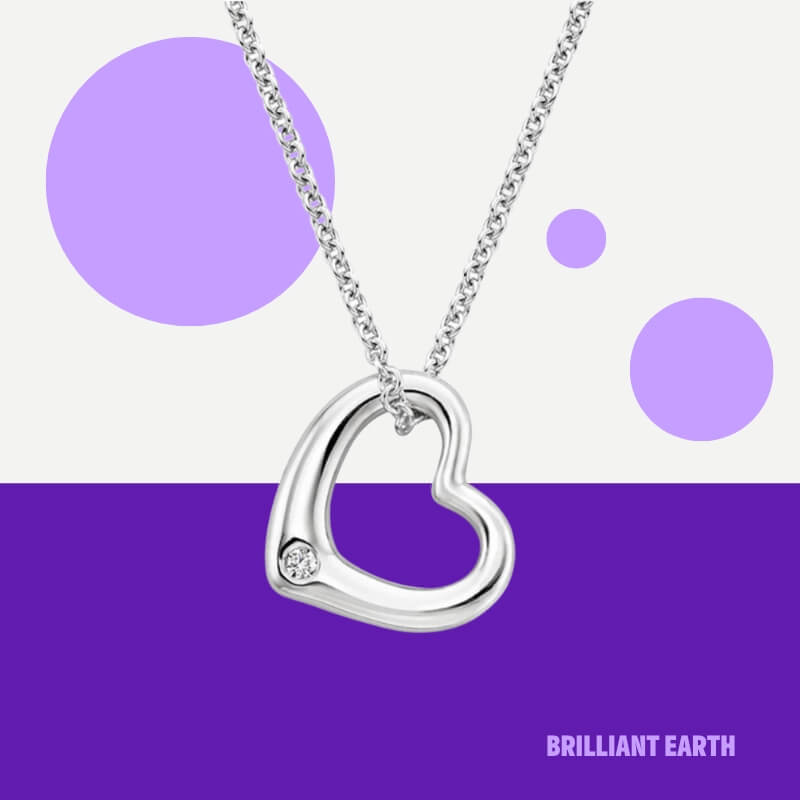 Nothing symbolizes love as much as a heart does. The perfect anniversary gift is the Heart Diamond Pendant to show your wife how much you love her after ten years of marriage.
However, if your wife already has diamonds, consider purchasing the sapphire pendant instead. Either way, she can wear this gift of love close to her heart.
Why we love this gift
A heart diamond pendant is a symbol of love that any woman would appreciate, showing her that she captured your heart and still has it.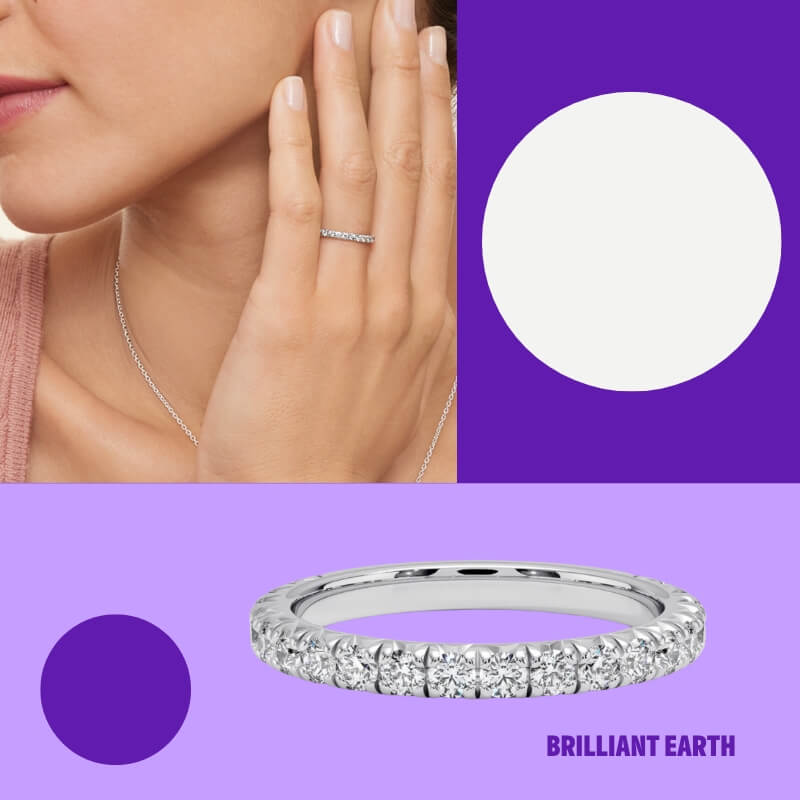 To mark your 10th wedding anniversary, consider gifting her the Luxe Sienna Diamond Ring. Its French set diamonds are placed perfectly, making this ring a breathtaking sight on your wife's finger. Every time she looks at it, she will be reminded how much she loves you.
Why we love this gift
Ten years of a happy marriage is all the reason you need to gift your wife a diamond ring. Every married woman wants to have one that she can proudly wear.
Bottom Line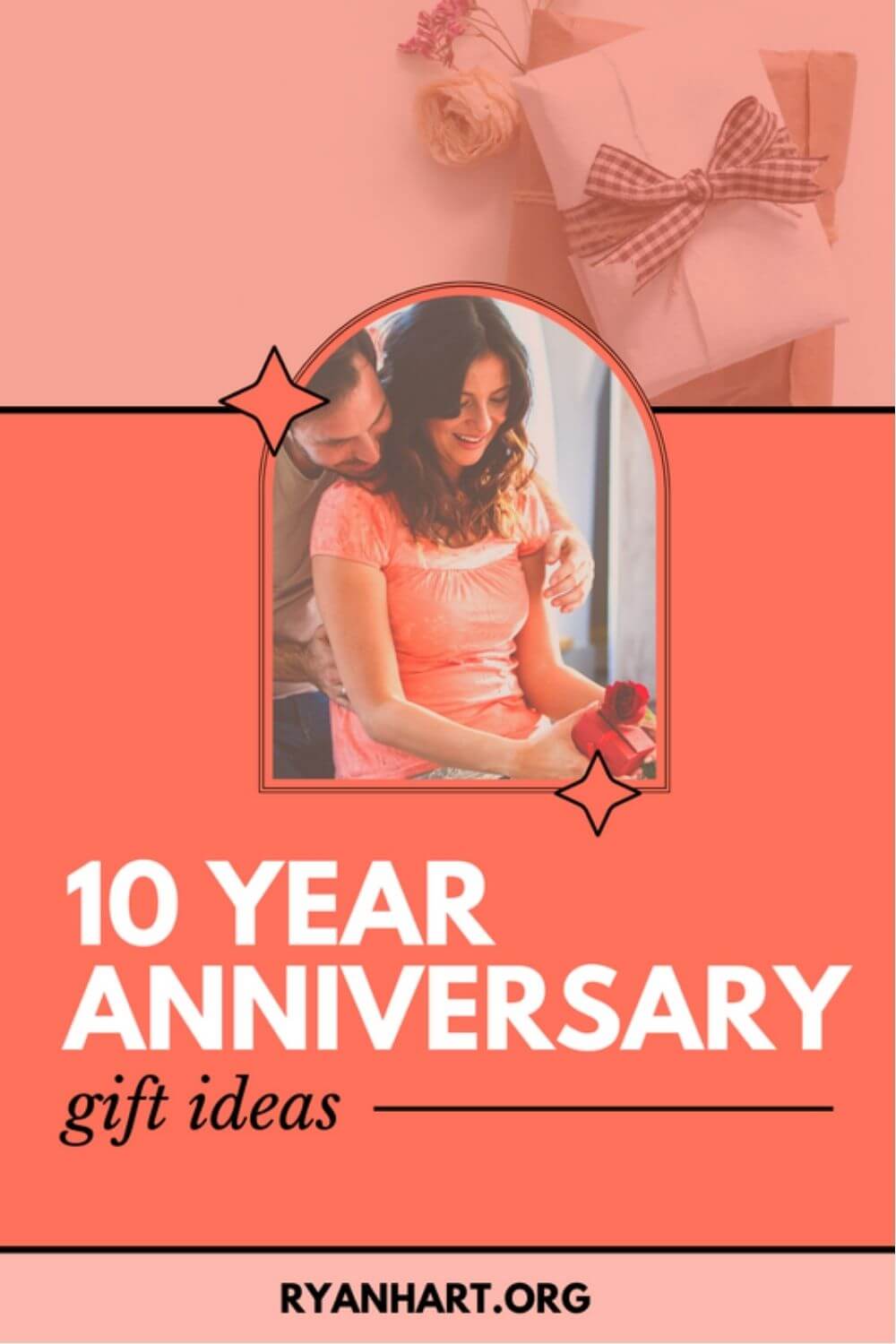 Celebrating ten years of marriage is quite an accomplishment and deserves to be commemorated with something special.
Buying your spouse a thoughtful gift isn't just about checking the milestone off your list - it's about showing them how much you appreciate everything you've shared.
Whether it's a thoughtful piece of jewelry, their favorite food, or tickets for a special event, finding the perfect present will be sure to make your spouse feel loved and remind them why you chose each other in the first place.