The Mexican coastline has countless beautiful spots that draw many tourists every year. But Playa del Carmen is particularly popular, thanks to its many resorts and hotels.
This stretch of coastline on the Caribbean Sea is full of natural beauty, with the Yucatan jungle at its back. It is no wonder this beautiful place has become one of the top spots for destination weddings!
So if you're planning a wedding in Playa del Carmen, we have some top recommendations for the best wedding venues in the area.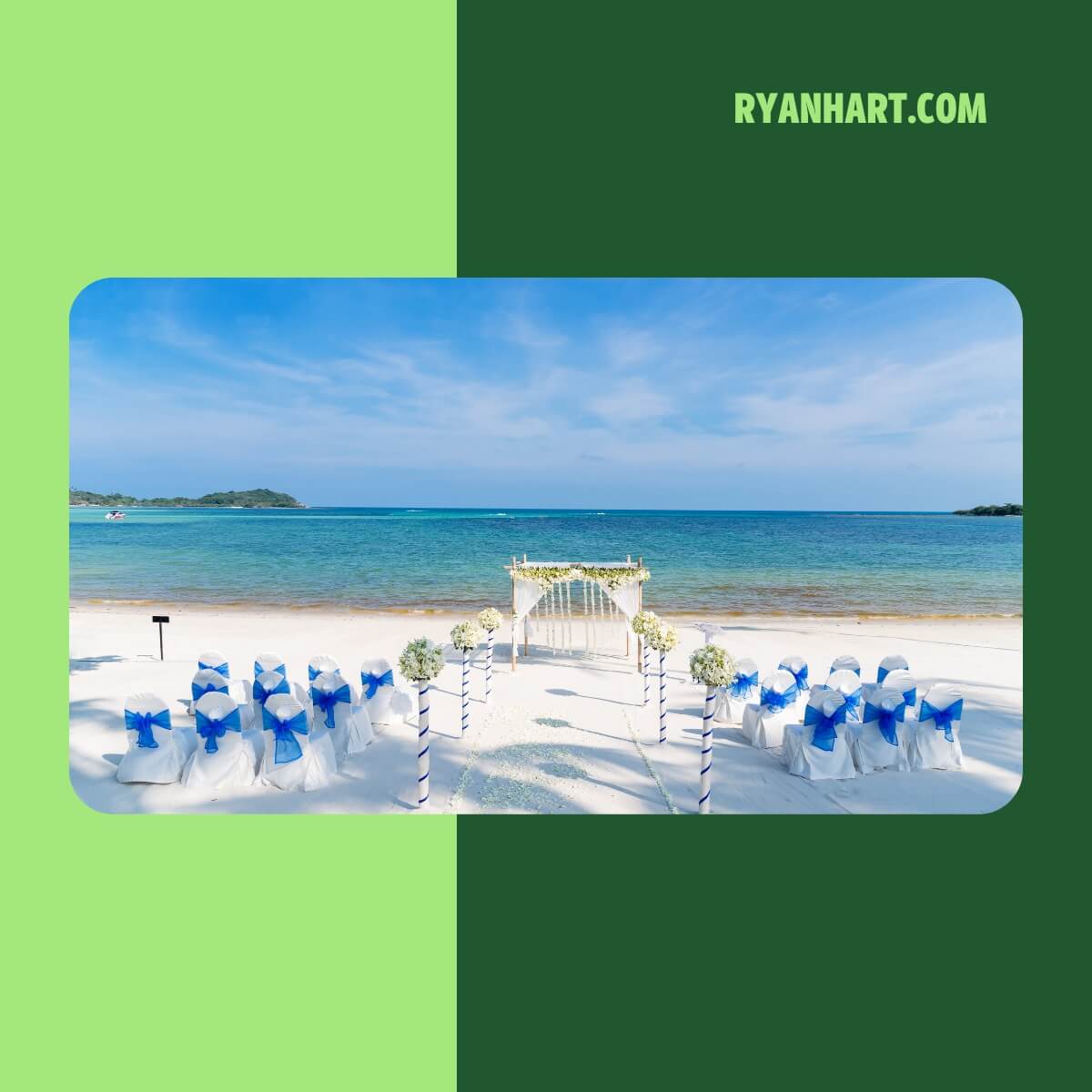 What are the best wedding venues in Playa del Carmen?
Playa del Carmen has a vast number of wedding venues. That is a good thing since it means you can find whatever experience you want! You will find everything from upscale, all-inclusive resorts to secluded, intimate spots on the edge of the lush jungle.
You can also find many resorts that offer wedding planning services. This is something to consider when you are choosing a spot for your Playa del Carmen wedding.
Here are the best places to get married in Playa del Carmen: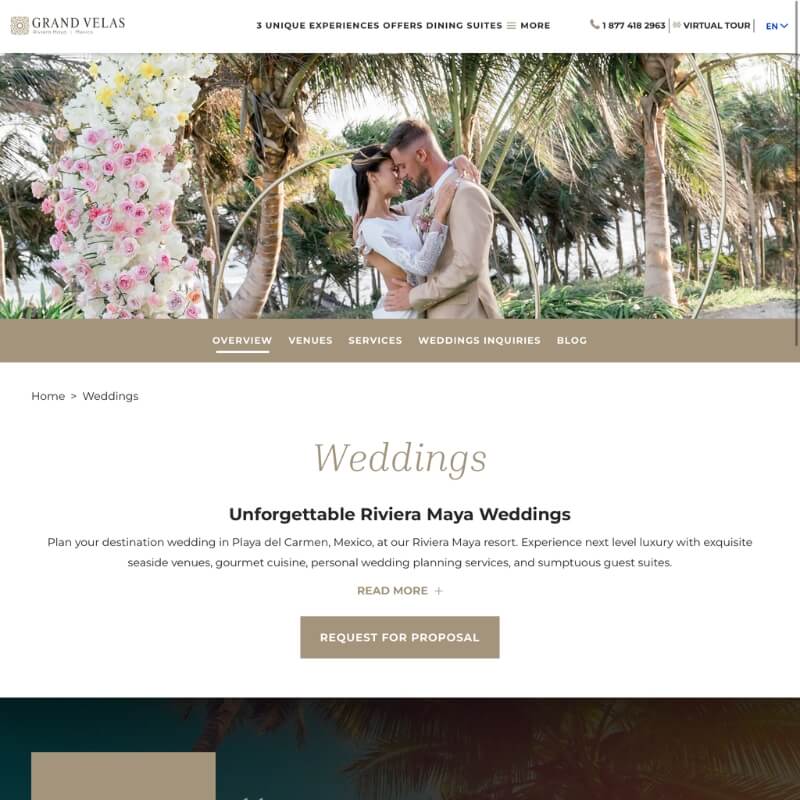 The Grand Velas Riviera Maya is the perfect place to celebrate your wedding, surrounded by Mexico's stunning ocean scenery — not to mention the lush trees of the nearby Yucatan jungle.
This all-inclusive resort offers everything you need to plan your one-of-a-kind wedding celebration, from an on-site salon to florists, musicians, chefs, and much more.
The Grand Velas offers a wide variety of ceremony and reception venues, from the outdoor zen garden to the Virgen de Guadalupe chapel and the ocean terrace.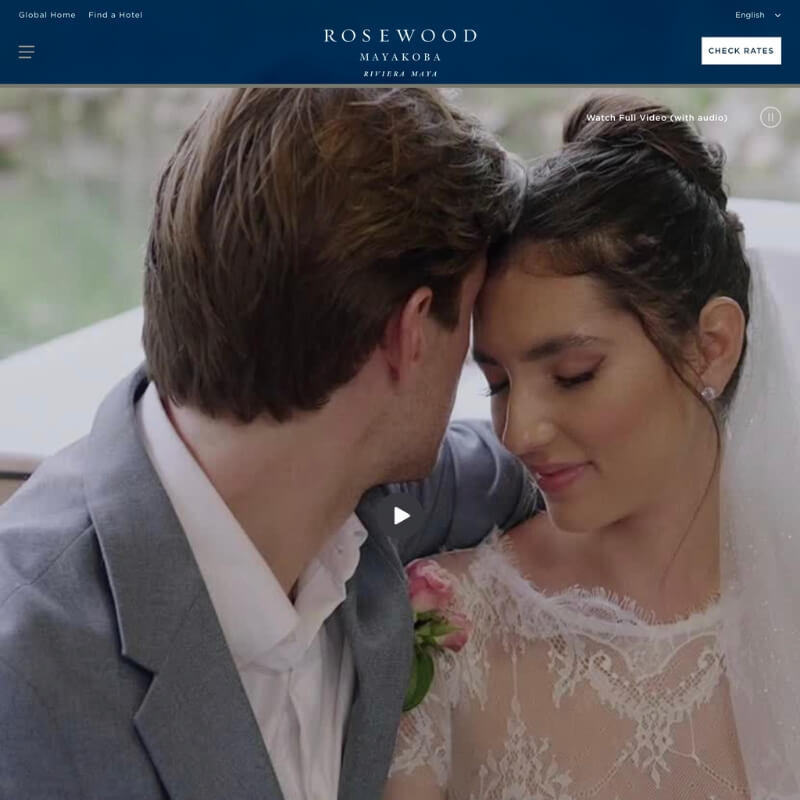 Rosewood Mayakoba is a resort nestled on the edge of the jungle, offering breathtaking views of ancient trees and the sparkling ocean.
When you plan your wedding here, you can expect it to be in a lush setting full of native plant life, flowers, and waterways.
Rosewood Mayakoba offers every kind of wedding experience, from simple, intimate ceremonies to elegant soirees with the whole family. The resort spa is also the perfect place to pamper yourself before your big day.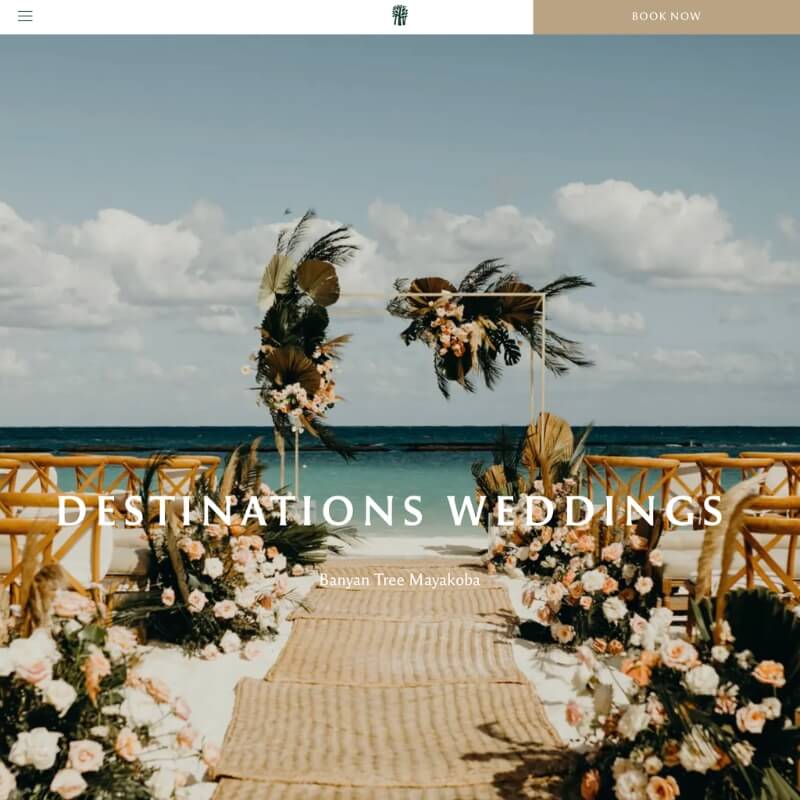 Banyan Tree Mayakoba is located on the Riviera Maya, a beautiful stretch of coastline offering stunning sand and sea views.
Here, you can enter an oasis of luxury and privacy with a resort that is yours to explore on your wedding day! Banyan Tree Mayakoba is all about being close to nature, so you can celebrate your nuptials surrounded by tropical mangroves full of native plant life.
If you love the idea of natural elegance, Banyan Tree Mayakoba is perfect for your big day.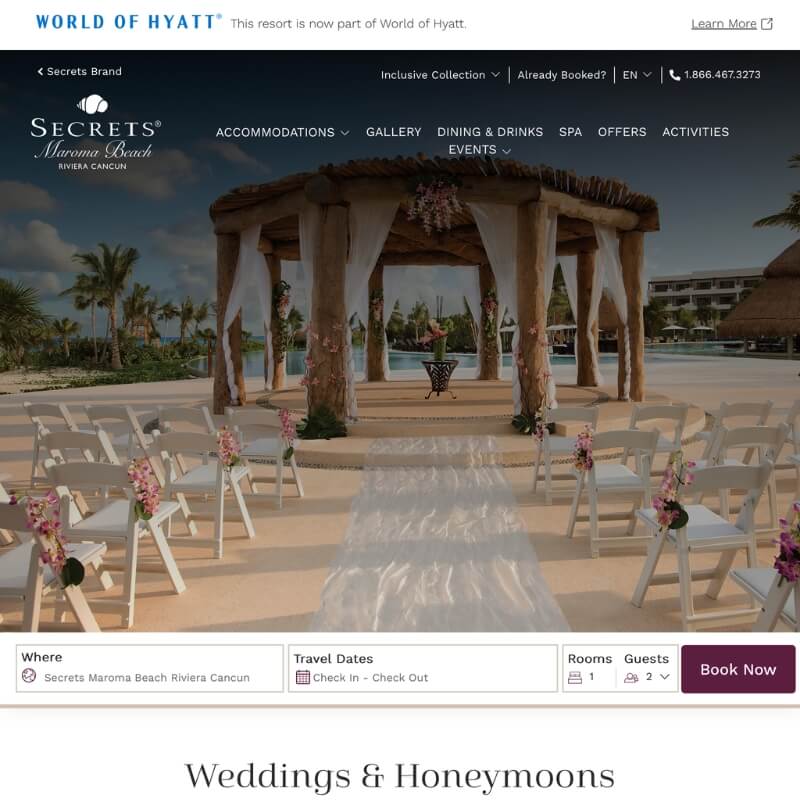 Secrets Maroma Beach Riviera Cancun has been voted one of the best beaches in Mexico and the world!
Surrounded by verdant tropical gardens in view of the sea, this resort is a private haven for you and your spouse-to-be.
With a wedding team ready to assist with every detail of your day, Secrets Maroma Beach is where you can have the Caribbean wedding of your dreams, no matter what those might be.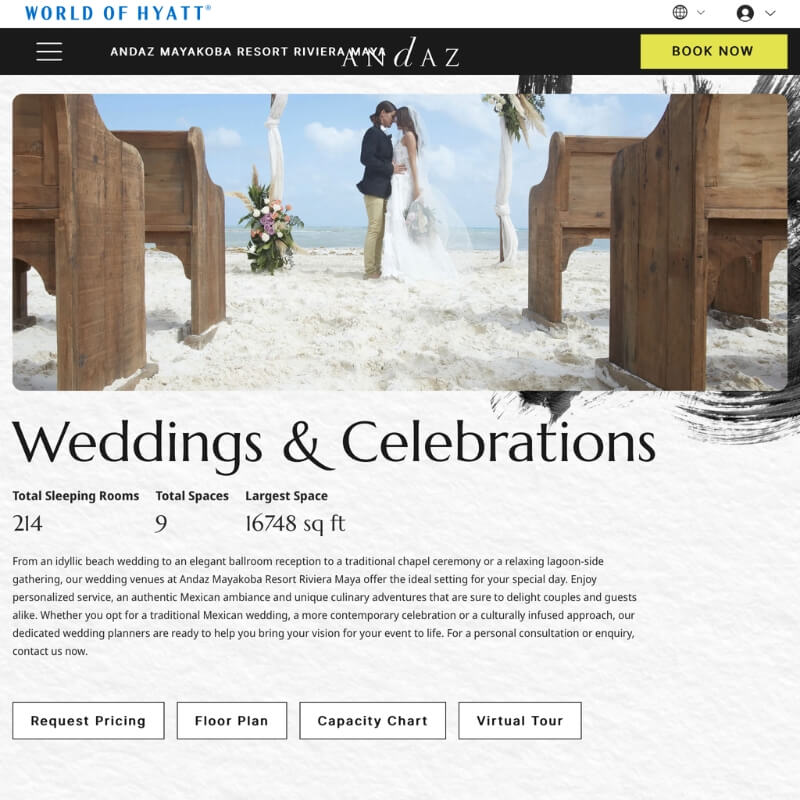 Andaz Mayakoba Resort is located on the Riviera Maya, among many other resorts and hotels. But this stunning property stands out from all the rest.
With nine distinct ceremony and reception venues, Andaz Mayakoba lets you have just the kind of wedding you have dreamed of.
Ceremony venues range from opulent ballrooms to charming chapels and the pristine white sand beach.
You will also have access to the unique cuisines of the five resort restaurants, which specialize in a variety of foods, including authentic Mexican dishes.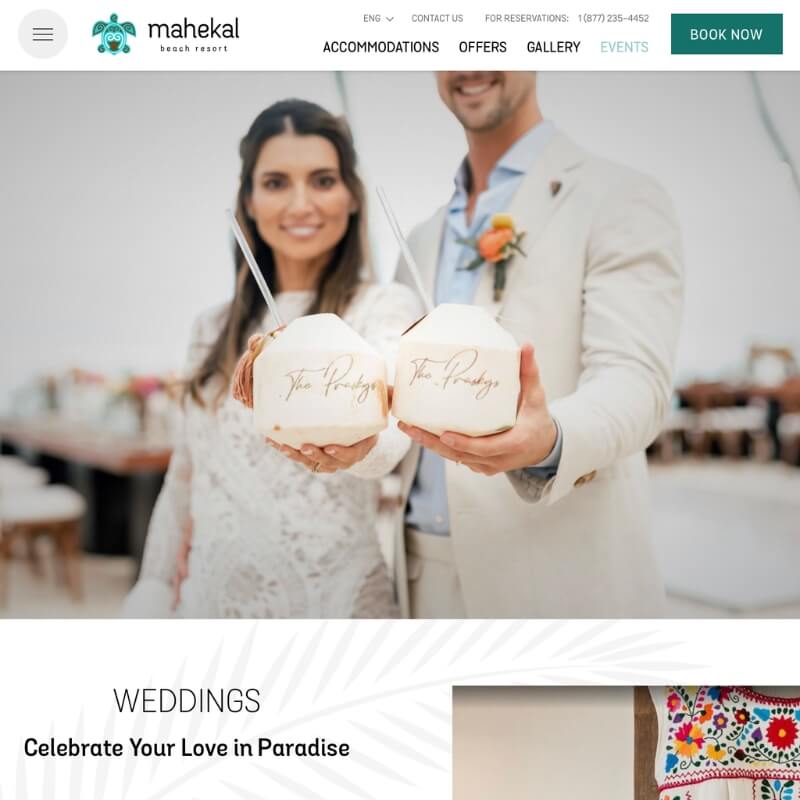 Mahekal Beach Resort will make you feel like you have stepped into another world on your wedding day.
Surrounded by tropical birds singing in the palm trees and the lush plants of the nearby jungle, you and your spouse-to-be can exchange your vows on the white sand beach.
You can also celebrate your wedding beside the pool or in the sculpted resort gardens. The Mahekal Beach Resort wedding planning team is ready to assist you with all your wishes for your wedding day.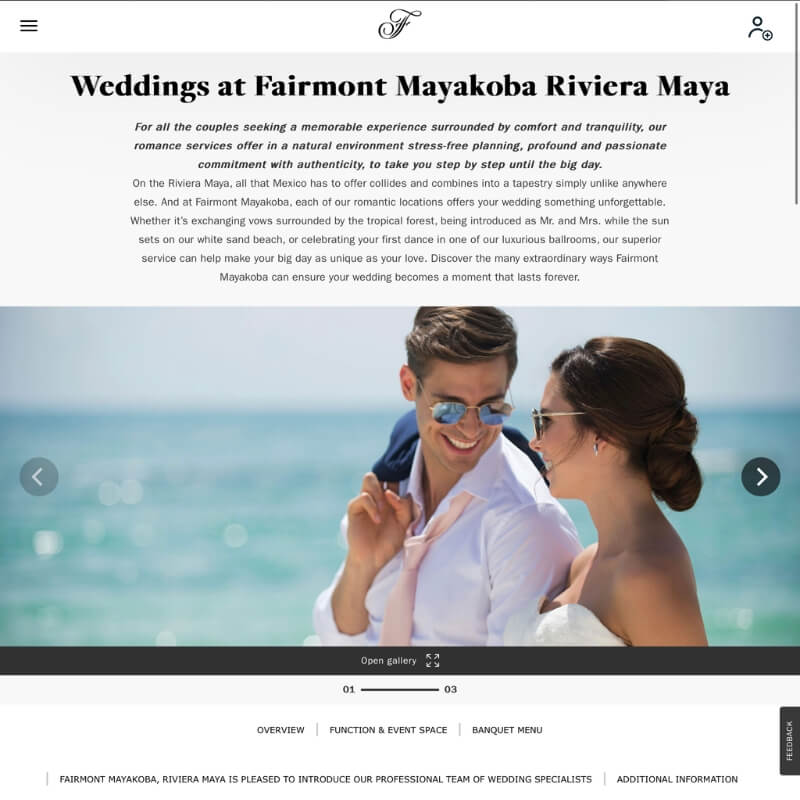 Fairmont Mayakoba is all about a retreat into the beautiful, private world of Playa del Carmen's most stunning natural setting.
On the edge of a tropical forest, you and your significant other can celebrate your wedding day exactly as you dreamed it.
Whether that means exchanging vows with the ocean at your feet or celebrating your marriage in the grand ballroom, Fairmont Mayakoba has something for every couple.
So if you're looking for the perfect tranquil oasis for your wedding day, this is the place to be.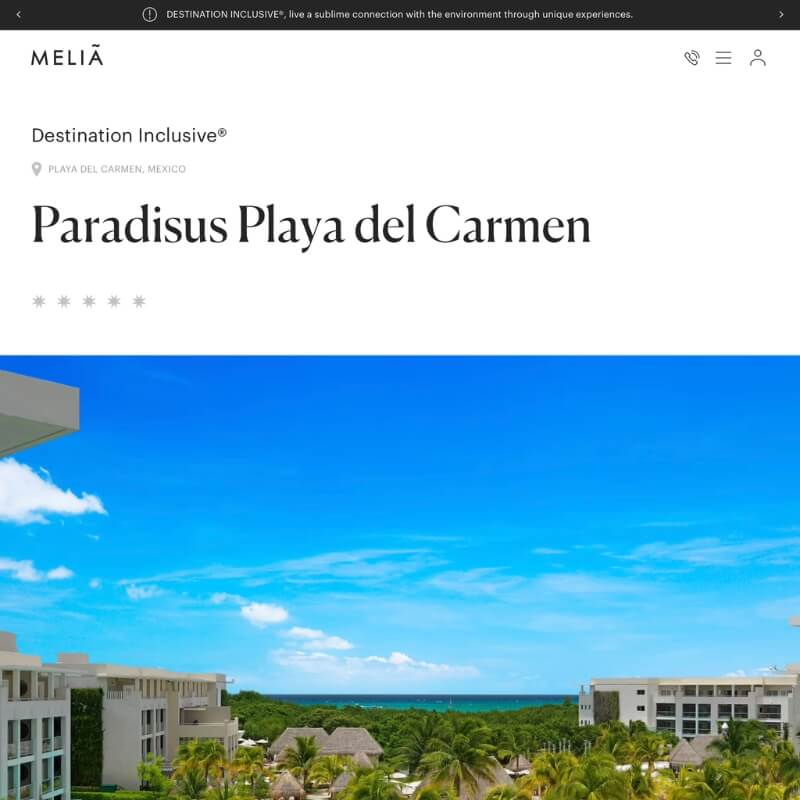 Paradisus Playa del Carmen is a stunning resort that seeks to share some of the most authentic parts of Mexican nature and culture. Located at the edge of a lush mangrove, this resort offers an escape into a world full of white sand dunes and quiet vegetation.
When you choose Paradisus Playa del Carmen for your wedding, you can access the whole resort, from the 17 event rooms to the charming outdoor venues and the menu of authentic Mexican cuisine prepared by top chefs.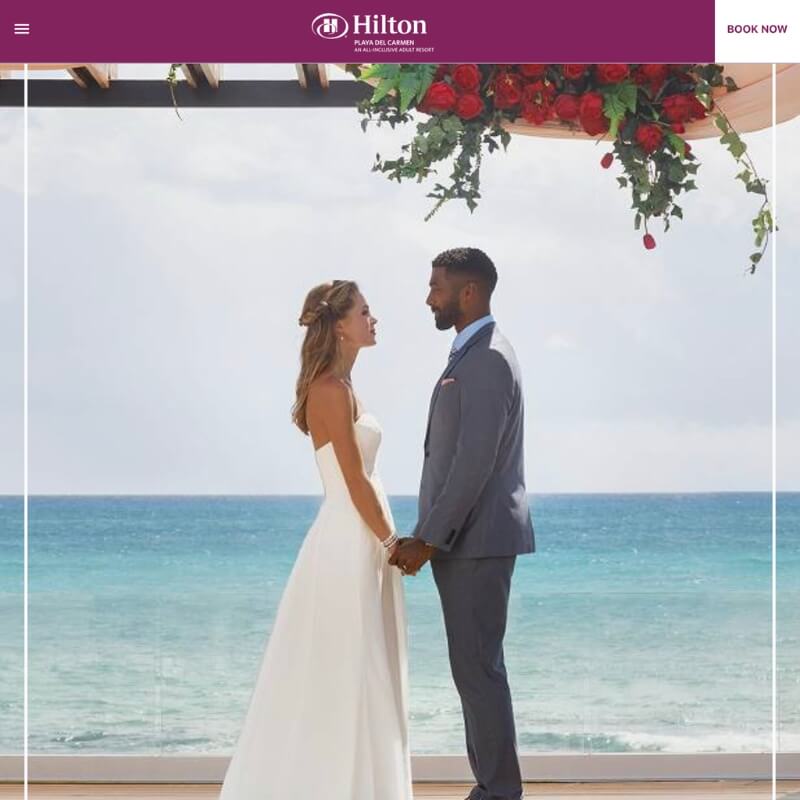 Hilton is known worldwide, but you've never experienced this hotel like in Playa del Carmen. This luxury resort offers a wide variety of wedding packages for every vision, from intimate weddings with just your closest family and friends to lavish parties with all your loved ones.
Celebrate your ceremony and reception on the private Pelicanos Beach alongside the resort restaurant, in the lush gardens, on the open-air deck, or in the grand ballroom with room for up to 300 guests.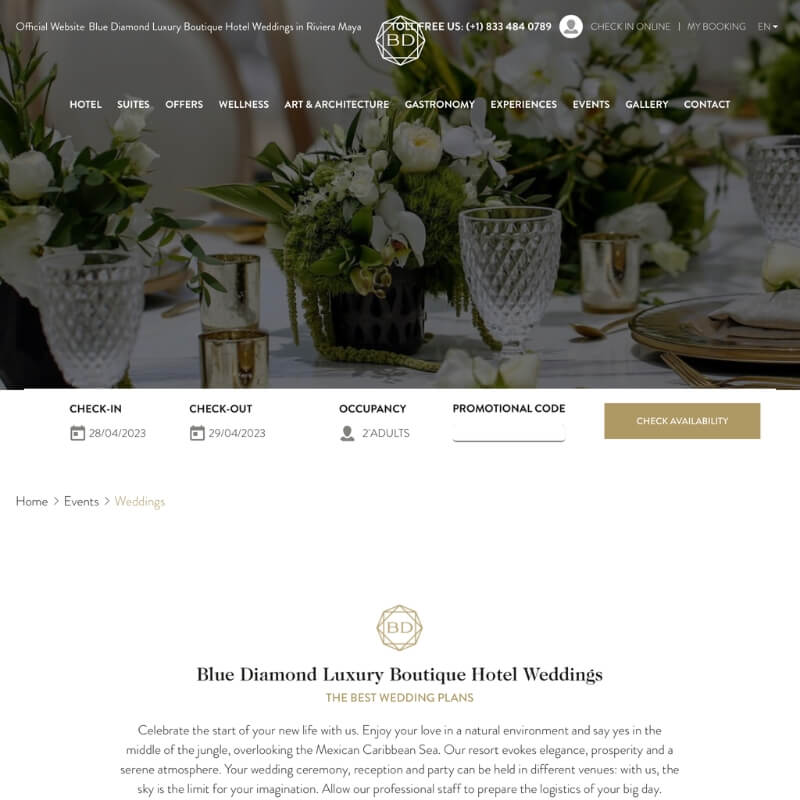 Blue Diamond Luxury Boutique Hotel is located deep in Playa del Carmen's tropical forest. This means you will be surrounded by natural beauty during your wedding and feel like you're stepping into your own private haven away from the world.
With an entire wedding planning staff and a vast variety of venues, this boutique hotel truly offers something for everyone.
You can even choose to host your ceremony, reception, and other events in different venues for a full experience throughout your celebration.
Are there all-inclusive packages available for weddings at Playa del Carmen venues?
Yes, many Playa del Carmen wedding venues offer all-inclusive packages that cover various aspects of your special day, such as venue rental, food and beverages, wedding planning services, decorations, and accommodations.
These packages can help simplify the planning process and often provide cost savings. It's essential to discuss the details of the all-inclusive packages with the venue representatives to ensure they meet your specific needs and preferences.
Can I have a beachfront ceremony in Playa del Carmen?
Absolutely! One of the primary attractions of Playa del Carmen wedding venues is the opportunity to have a beautiful beachfront ceremony.
Many venues offer private, pristine stretches of beach where you and your guests can enjoy a romantic ceremony with the sand under your feet and the sound of the ocean in the background.
However, some venues might have specific rules or restrictions regarding beachfront ceremonies, so it's crucial to confirm these details with the venue beforehand.
What is the best time of year to have a wedding in Playa del Carmen?
Playa del Carmen boasts a warm, tropical climate throughout the year, making it an ideal destination for weddings any time of the year. However, the most popular months for weddings tend to be November through April, when the weather is slightly cooler and drier.
Keep in mind that the high season may also bring higher venue prices and more tourists. If you're looking for more affordable options and fewer crowds, consider planning your wedding during the low season, from May to October, while being prepared for occasional rain showers.
Bottom Line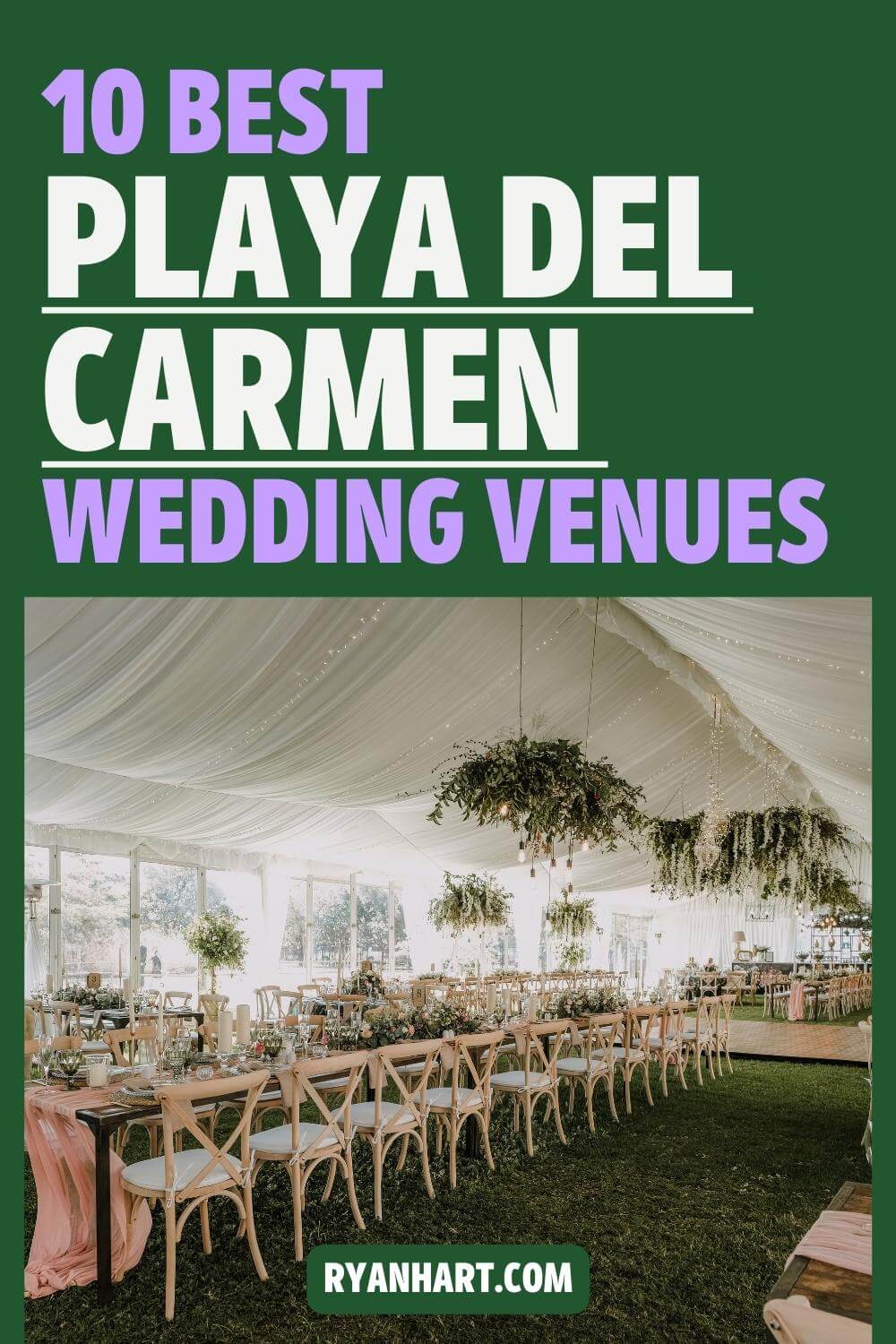 Imagine walking on the soft, warm sand with your bare feet while the sun paints a picture-perfect sky just for you. That's what you'll find in Playa del Carmen, a beautiful spot in Mexico perfect for the wedding of your dreams.
Playa del Carmen is famous for its crystal-clear turquoise waters and white sandy beaches, making it a magical place to say "I do." The gentle ocean breeze will keep you cool during your special day, and the stunning sunsets will leave you and your guests breathless.
Not only is Playa del Carmen a romantic place to get married, but it also has many fun things to do before and after the wedding. You and your guests can explore ancient ruins, like the ones at Tulum, or go on exciting underwater adventures, such as snorkeling or scuba diving.
The friendly people in Playa del Carmen are always happy to help and can provide you with everything you need for your big day, from delicious food to beautiful flowers. Plus, getting married in this amazing place can be more affordable than you might think.
So, if you want a wedding that everyone will remember, choose Playa del Carmen as the perfect setting for your love story.