Celebrating 50 years of marriage is a fantastic achievement that deserves a special anniversary gift celebrating your love. However, knowing what to get your spouse after so many years together can be challenging.
After all, you've bought them so many things over the years that you might be all out of ideas. Thankfully, we're here to help.
We found the best 50th anniversary gifts available today to make this search easier and more fun for you and your loved one. So, share this list with them so they know what to get you!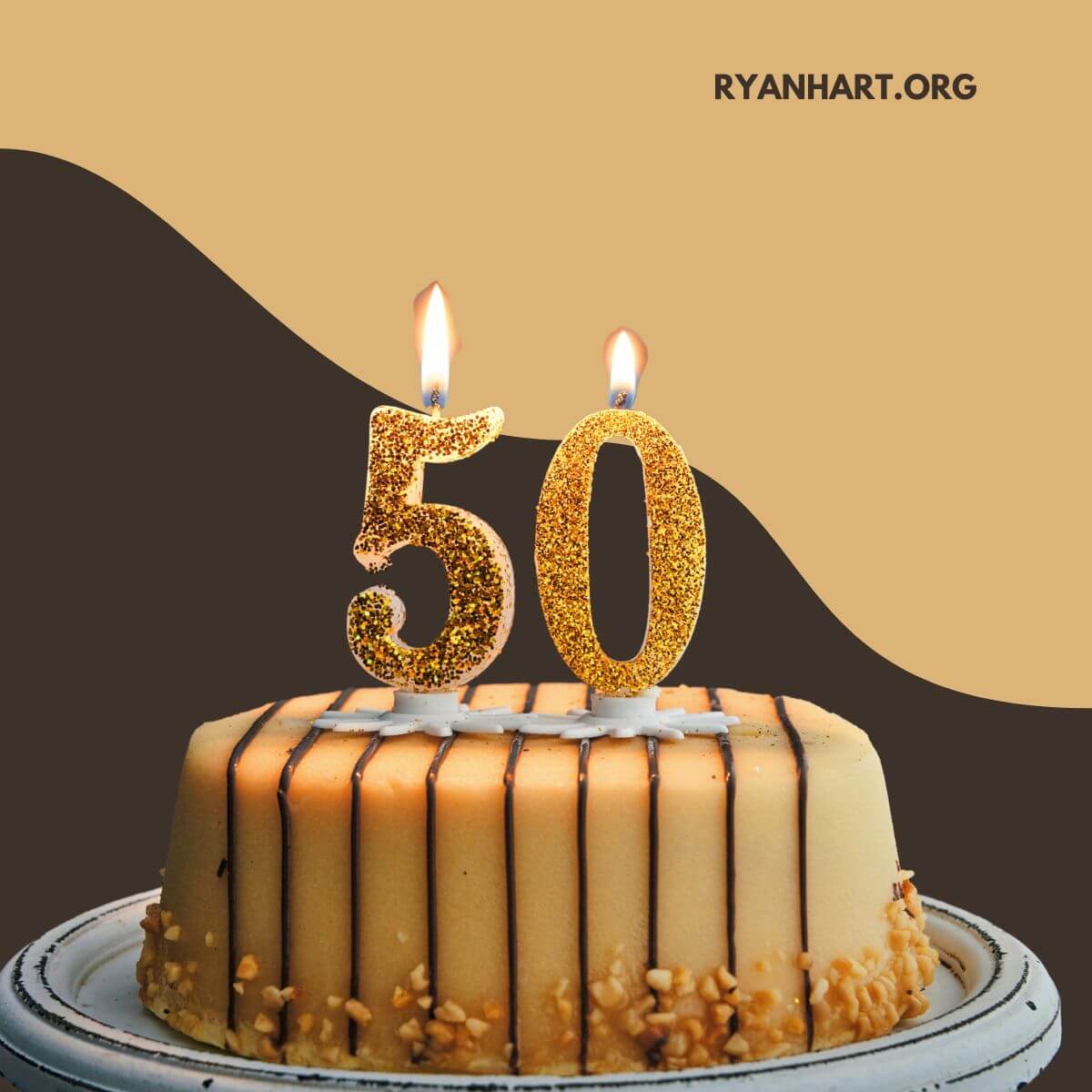 What is a traditional 50 year wedding anniversary gift?
The traditional 50th wedding anniversary gift is gold because any marriage that lasts 50 years has set a gold standard for all others to follow. Thankfully, you can find many 50-year anniversary gifts online, particularly in jewelry shops.
To help you find something your spouse will love, we collected today's ten best 50th anniversary gifts on the market. Look through these options to find something your spouse will love: we promise there's something for everybody available here.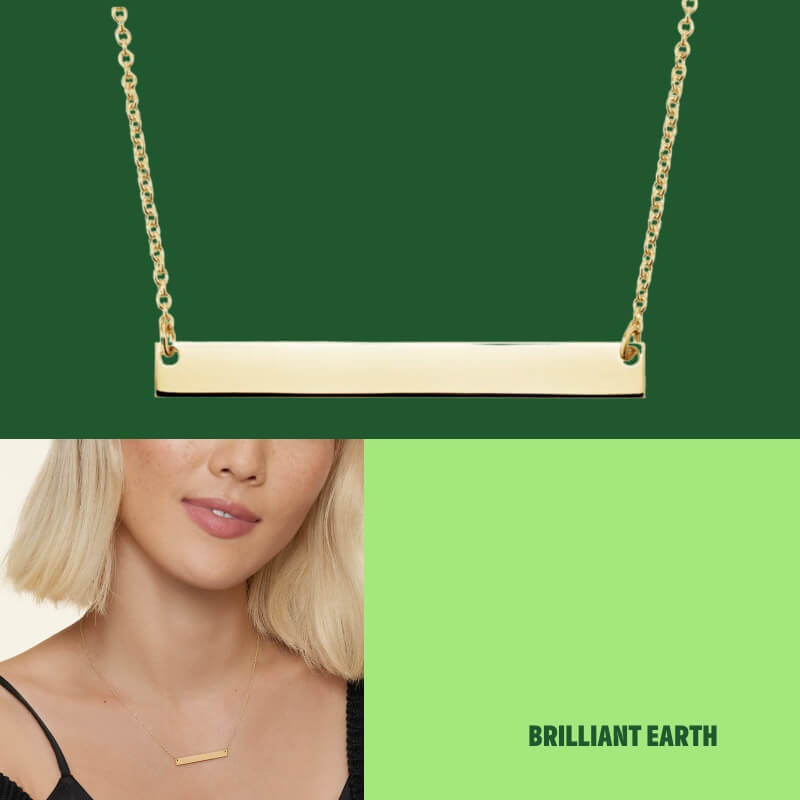 Brilliant Earth's gorgeous engravable horizontal bar pendant uses 14-karat gold to produce an attractive, minimalist style. It looks great on just about anyone and has a chic look that a modern jewelry fan will love, regardless of age.
Who Will Love This Gift
We suggest this gift to anyone who loves modern jewelry styles. Even if your spouse is well into their 70s, they can still easily show off this gorgeous and edgy look. It's perfect for anyone who wants to stay abreast of modern looks.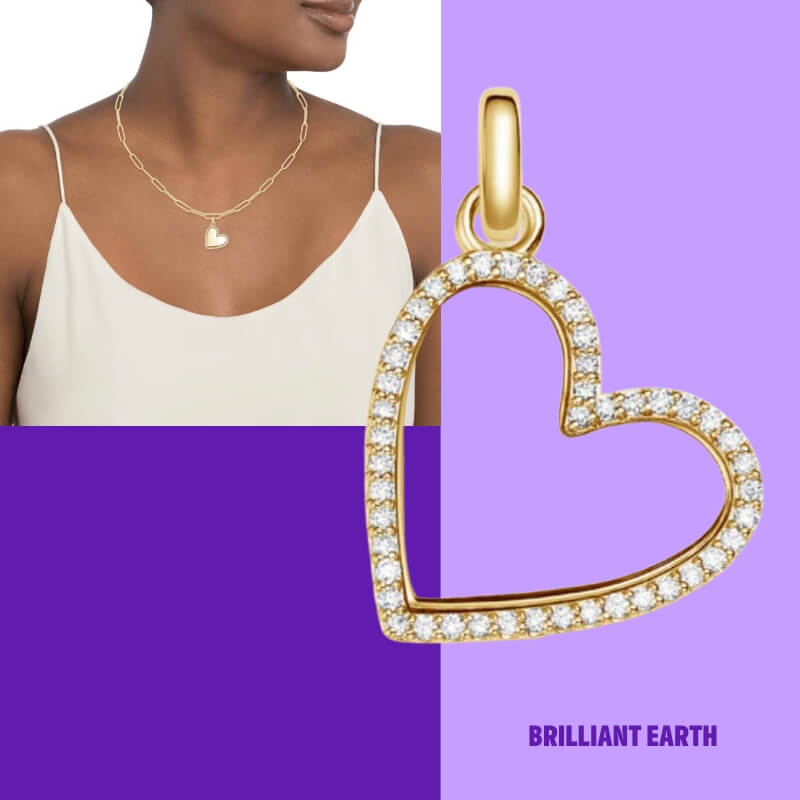 Though Brilliant Earth produces mainly modern jewelry styles, they also manufacture some great vintage designs. For example, this heart-shaped necklaceis tops when choosing 50-year anniversary gifts because it's sleek and elegant and uses colors that match just about any skin tone.
Who Will Love This Gift
Does your spouse love heart-shaped jewelry? Then, they'll likely love this necklace. Its gorgeous ring of diamonds will immediately catch the eye and make it a great option among 50th-anniversary gifts. It's something that can also be passed down to your children later.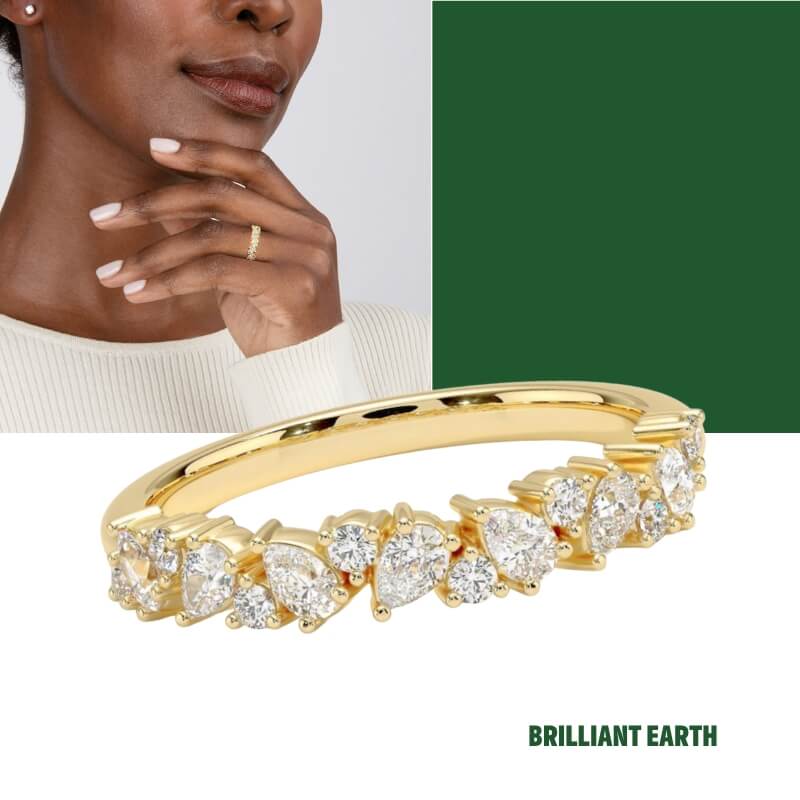 When your 50-year anniversary rolls around, you need a new ring to celebrate your love. How about an 18-karat design with multiple pear-shaped diamonds along the band? You or your spouse will love this Olivetta diamond ring, particularly as an anniversary band, if you want to renew your vows.
Who Will Love This Gift
If your spouse prefers more subtle looks and doesn't like being too flashy, they'll love this ring. While gorgeous, it keeps its style low-key and should look great on just about anyone. It's particularly lovely for stylish people who want a ring that stands out.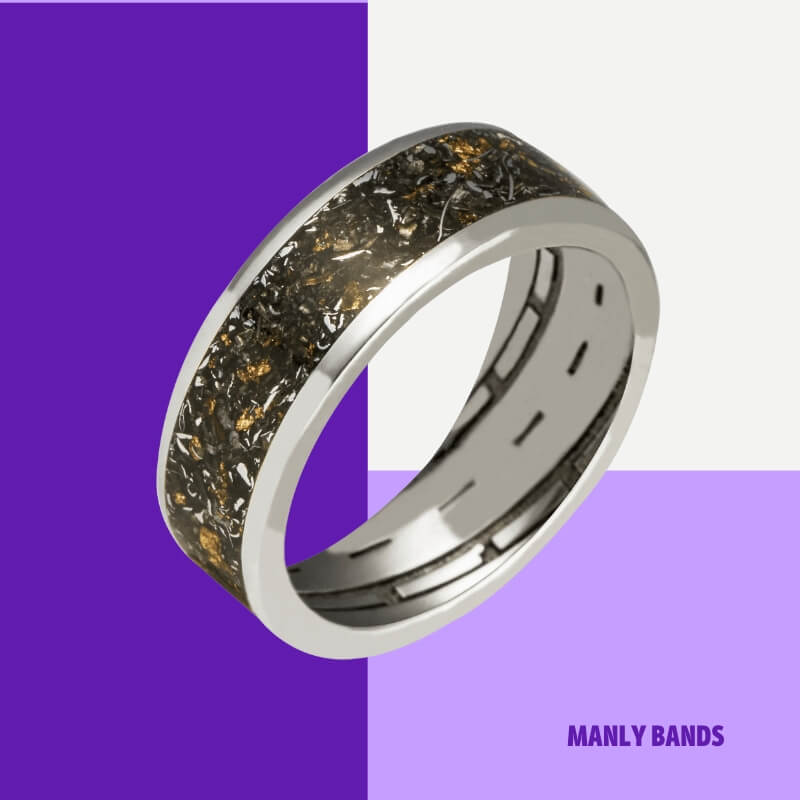 If your man loves jewelry but is too "manly" to wear anything flashy, try this solid gold ring from Manly Bands. The Admiral uses 10-karat gold and a dark band that blends in well with their hand but also looks great. It possesses the broad and sturdy feel men want in rings.
Who Will Love This Gift
Any "manly man" who feels nice wearing a ring will love this band. It fits snugly onto any finger and looks fantastic with most skin tones. We particularly love its dark and textured band colors, as they produce a look unique among other jewelry options on this list.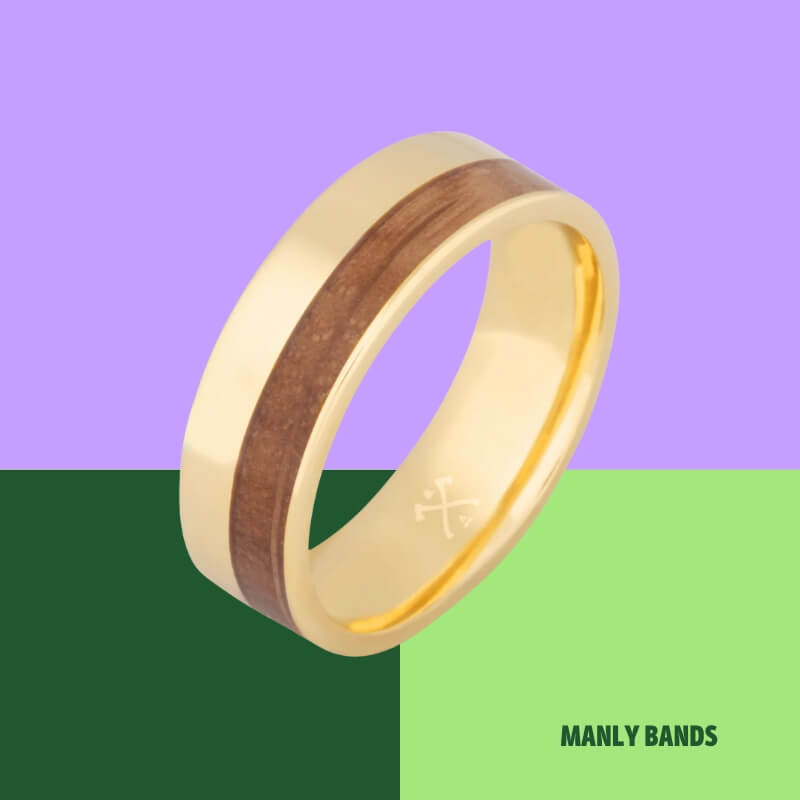 Is your guy a whiskey drinker who loves a little sweetness now and then? We think he'll adore The Honey. This golden ring includes a strip that uses a piece of a Jack Daniel's whiskey barrel. That gives it both a touch of style and toughness that your guy will love.
Who Will Love This Gift
Any man who isn't afraid to look great will wear this ring daily. Its lighter colors catch the eye, while its dark strip provides an appealing contrast that helps it stand tall among 50-year anniversary gifts. We suggest buying matching bands to make it even more meaningful.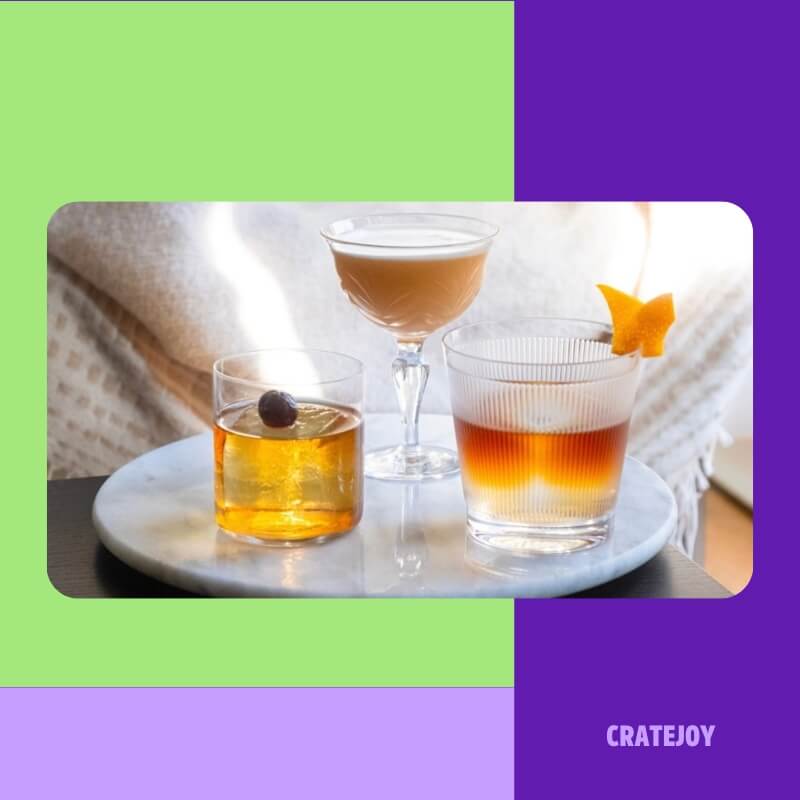 Do you and your spouse make cocktails regularly and love bonding over drinks? Then, you should give them the gift that keeps on giving with this Shaker & Spoon Cocktail Club membership. Every month, you get a box with ingredients and recipes to produce delicious cocktails daily.
Who Will Love This Gift
Anyone who likes making a nightly cocktail with their partner will obsess over this box. It's great if you want a 50th-anniversary gift that gives you something to do together every evening.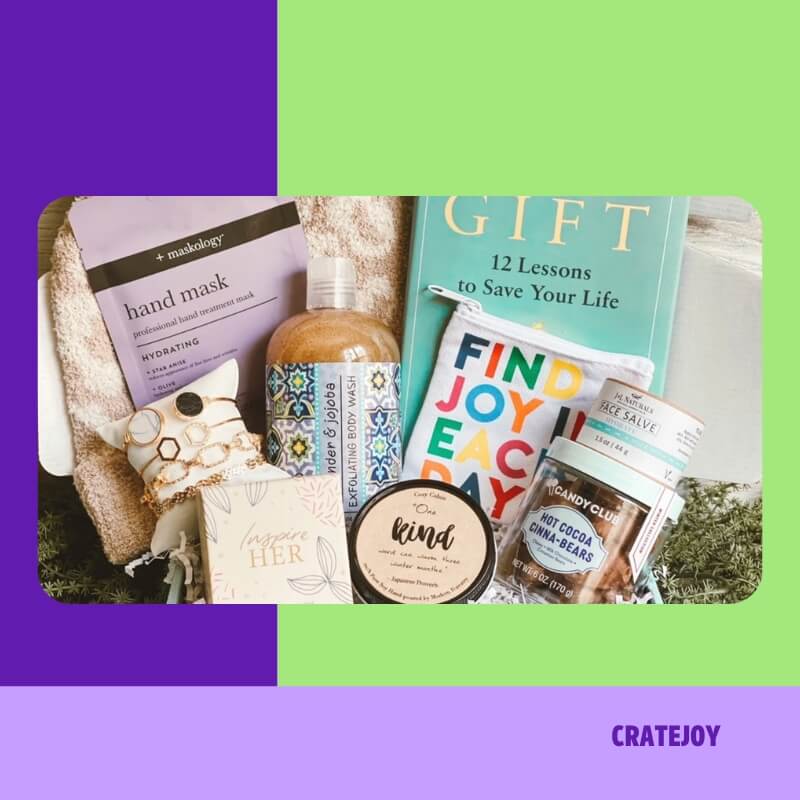 Anxiety can hit anyone at any time and can be hard to fight. Thankfully, you and your spouse can feel more hopeful with this Hopebox subscription. It includes regular gifts and motivational items designed to get you through life's hard points. It's a breath of fresh air that can keep you light and motivated.
Who Will Love This Box
Anyone who loves getting something fun and different regularly in the mail will love this gift. Its diverse range of anxiety-reducing items will help improve life for anyone who receives this gift. You can even get a two-person subscription to improve both of your lives.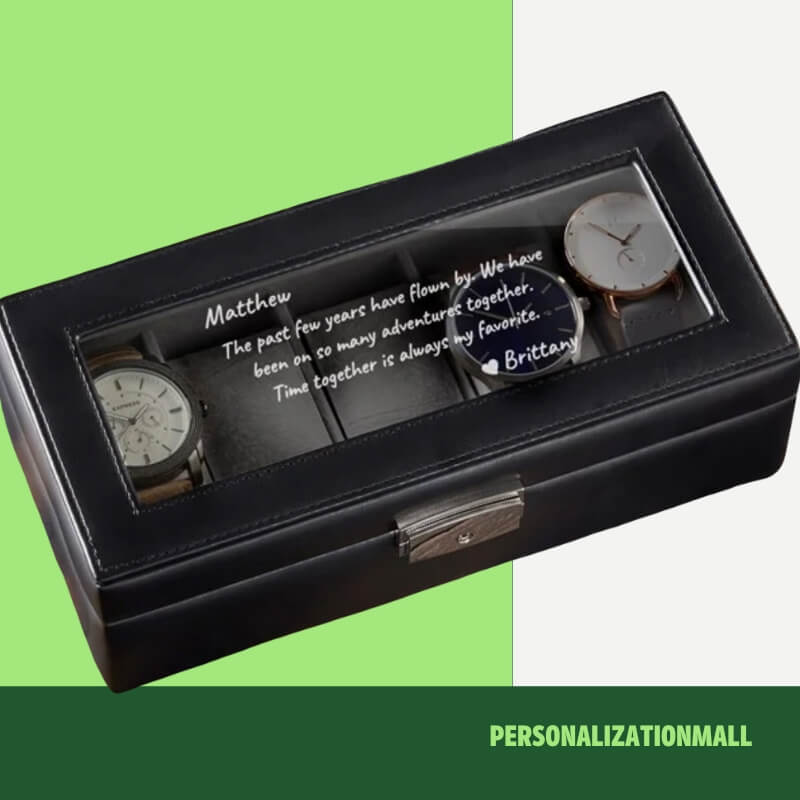 If your spouse wears fancy watches and needs a box to store them, they'll love this personalized leather box. It includes room for five watches under a glass cover for easier access. On the surface, you add a personalized message of love they'll see every time they use this box.
Who Will Love This Gift
Anyone who loves wearing watches will love this attractive and robust storage box. They'll particularly enjoy seeing your personalized greeting every time they put on or store their watch.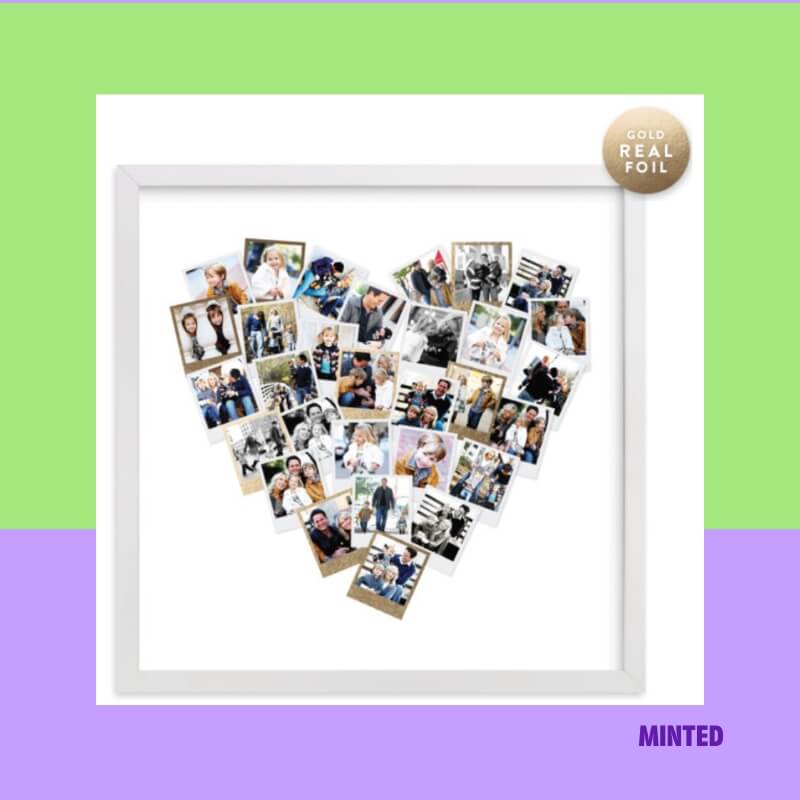 Photos showcase your marriage beautifully and highlight how you and your partner have grown together. Show them off with this attractive heart-shaped collage. Choose multiple pictures and send them to Minted, and they'll produce a 50-year anniversary gift you'll love.
Who Will Love This Gift
Any couple that obsessively takes photos will adore this beautiful heart-shaped photo collage. The artistically inclined will enjoy choosing pictures and laying them out to produce a unique look that makes your home more beautiful and interesting for visitors.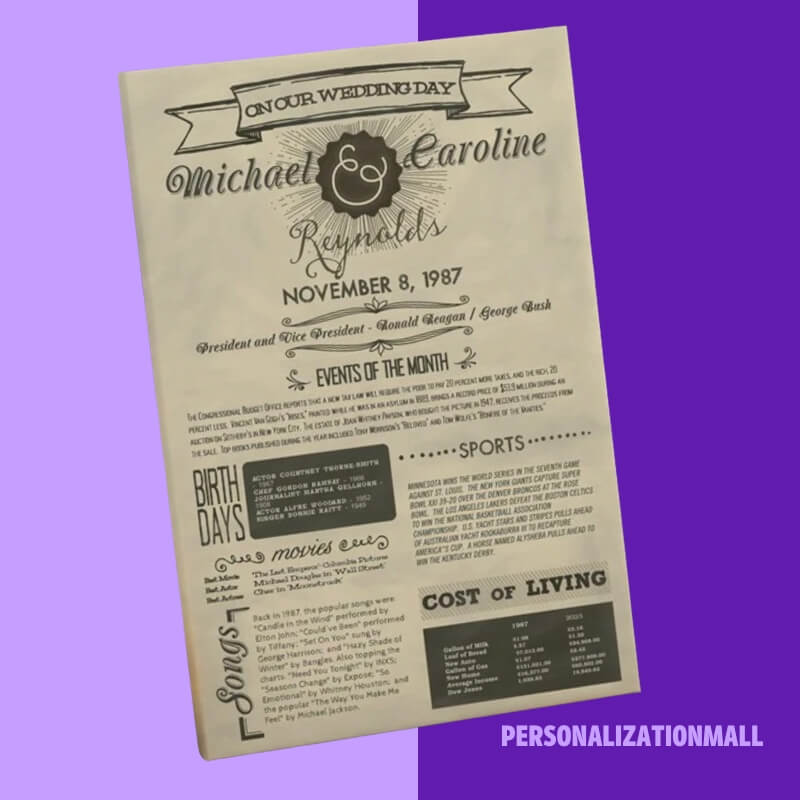 Last but not least on our list of 50th anniversary gifts is this unique and personalized poster. You get your names and wedding date engraved on it, and important events at the time. These include birthdays, sports events, popular movies, songs, cost of living, and political details.
Who Will Love This Gift
If you and your spouse are history buffs, you'll both love this gift. It provides a snapshot into life on your wedding day and brings perspective into how far you've traveled together as a couple. It hangs nicely on just about any wall surface, too.
Bottom Line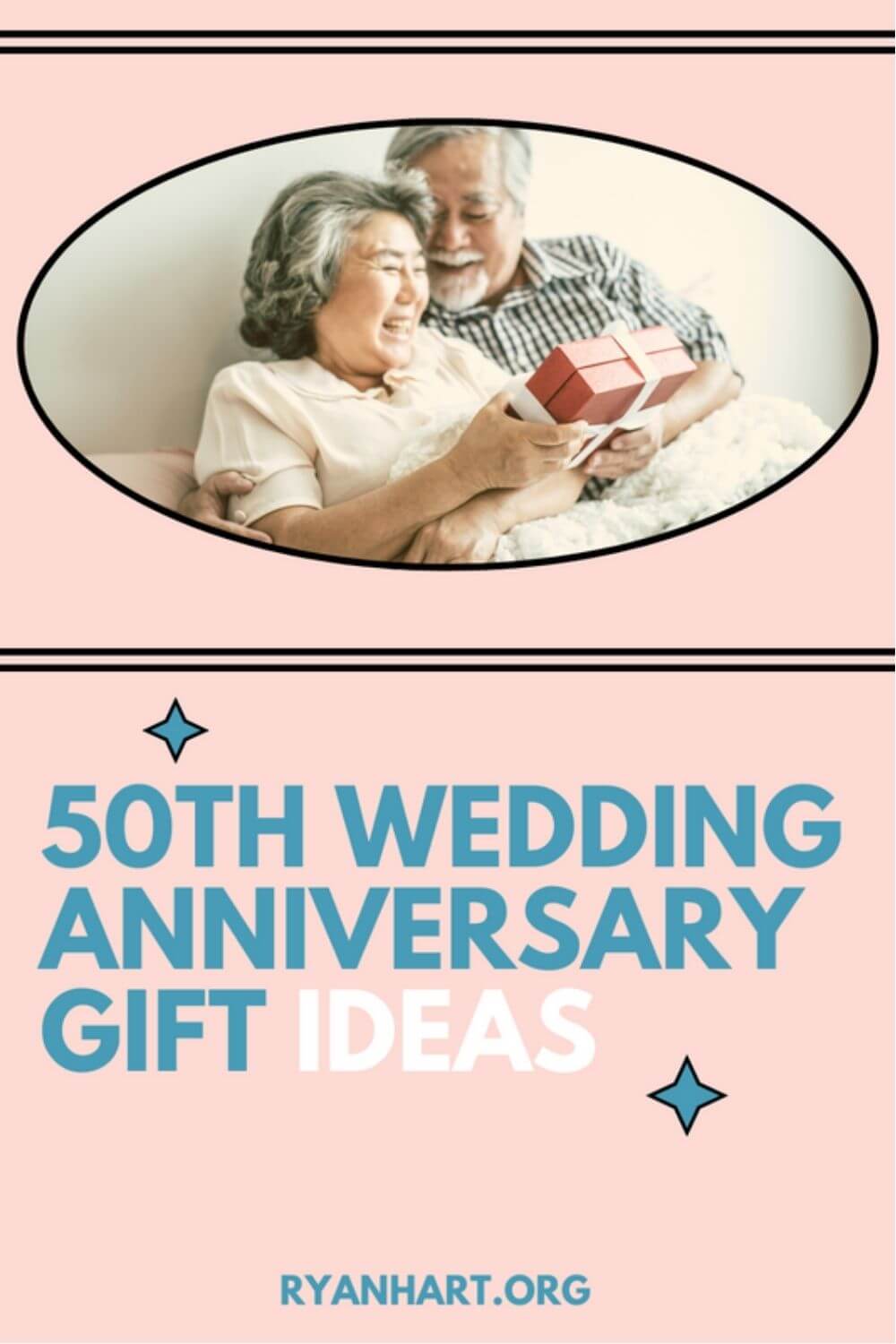 Choosing a heartfelt, 50-year wedding anniversary gift without spending too much can seem like a challenge. I mean, it's the "golden" anniversary, so it's easy to think that the only appropriate gift is something fancy and gold. But hold on a minute! Remember, it's the thought behind the gift that truly matters.
Take some time to think about the memories you've shared and the things your spouse truly enjoys. Maybe they love a certain hobby, or there's a special place you both cherish. Use these ideas to inspire your gift choice.
Just keep in mind that the most important part of your golden anniversary is celebrating your love and the life you've built together. So, focus on finding a gift that shows how much you care, and you'll make this anniversary one to remember without spending a fortune!