Table runners are an easy way to dress up your wedding tables and tablecloths. They come in various colors and styles and can enhance the look of your reception.
If you're looking for a unique way to add some personality to your wedding linens without breaking the bank, consider buying wedding table runners online instead of renting them. Many great online retailers sell table runners at discount prices, and you can find some fantastic deals.
Whether you need a classic white design or something more colorful, there are plenty of options for buying wholesale wedding supplies online.
Here are some of our favorite places to find beautiful, high-quality runners for your big day!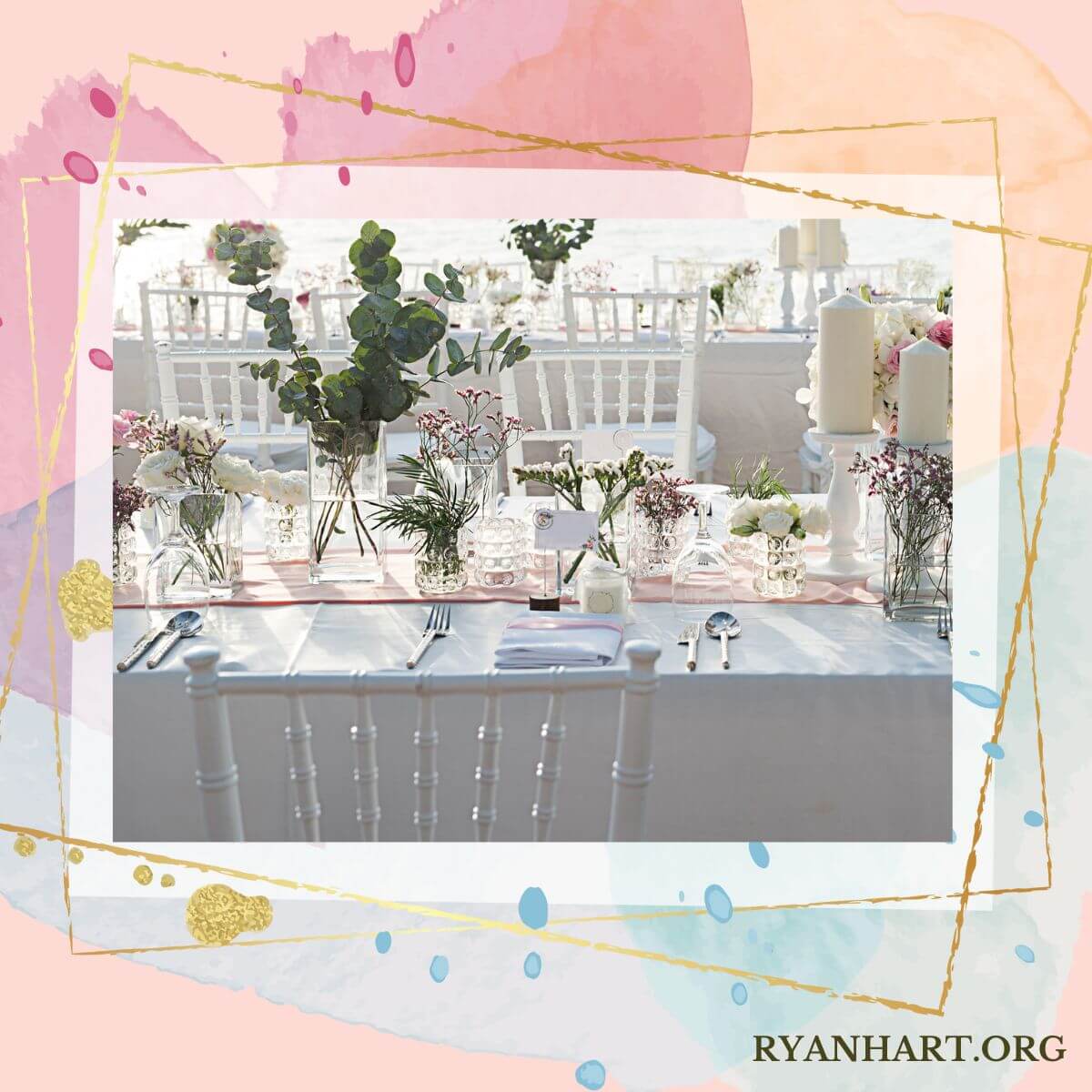 Where to Buy Wedding Table Runners
These retailers and wholesalers offer the best pricing, availability, variety, and customer service out there. Without further ado, here are the best places to buy wedding table runners: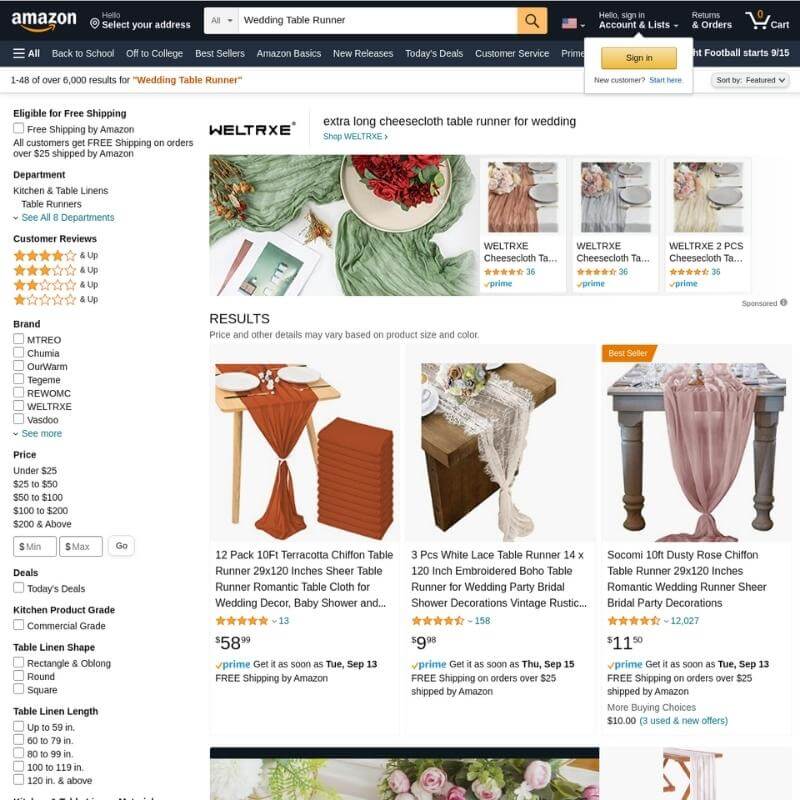 When you think of ANYTHING these days, you know you can type it into the Amazon search box and find it. Wedding table runners are no different.
Amazon has a wide selection of wedding supplies. While you may be able to find less expensive options on certain items, no retailer is offering the quick and cheap shipping they can offer when you have Amazon Prime.
Highlights:
Quick Shipping! Let's start with the fact that shipping is pretty fast with or without Amazon Prime. And with Amazon Prime, you can get your items in a couple of days without paying a dime for shipping.
When you're browsing through products, you can filter for almost anything.
Amazon reviews at the bottom of each product page are usually plentiful and informative. Some are even video reviews where you can see the product in the hand of an actual buyer.
No matter how small or large the table, Amazon has an option for wedding table runners.
What Amazon Does Best:
Amazon is perfect for wedding table runners when you need a hard-to-find size, need your products quickly, and don't want to spend a lot on shipping. It's also great for those who may be a little hard to please as you have comprehensive reviews of every product.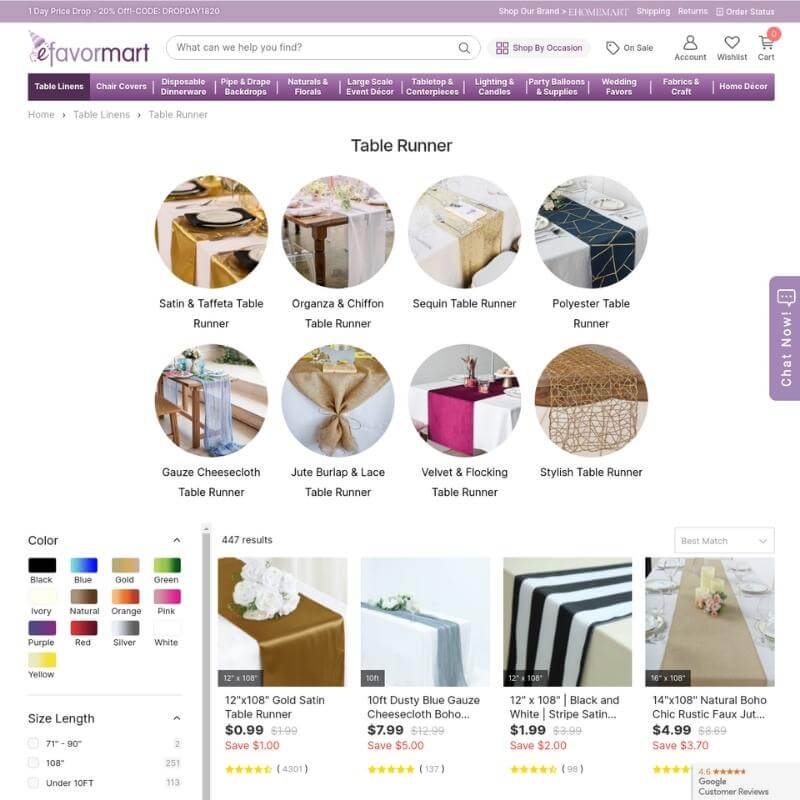 In the wedding supply business for two decades, eFavormart has a wide range of options for any budget or theme. This hub for wedding and party décor started as a two-person operation and has become one of the US's largest online retailers of event décor products. eFavormart has cut out the middleman and sells directly to you!
Highlights:
Weddings are their specialty! eFavormart has thousands of wedding products
Divided into themes to help you make the big decisions and quickly choose everything you need.
Orders over $150 (and we know how quickly things add up) ship for free. They also offer expedited shipping when you need your product quickly!
If you need help while shopping, the website offers a live chat
To get an exclusive discount, join the company's newsletter.
What eFavormart Does Best:
When you enter eFavormart's website, you know they have EVERYTHING you could ever imagine. And when the choices are overwhelming, go for the themed packages. You don't have to buy everything in the package, but it helps you keep your theme and get what you need.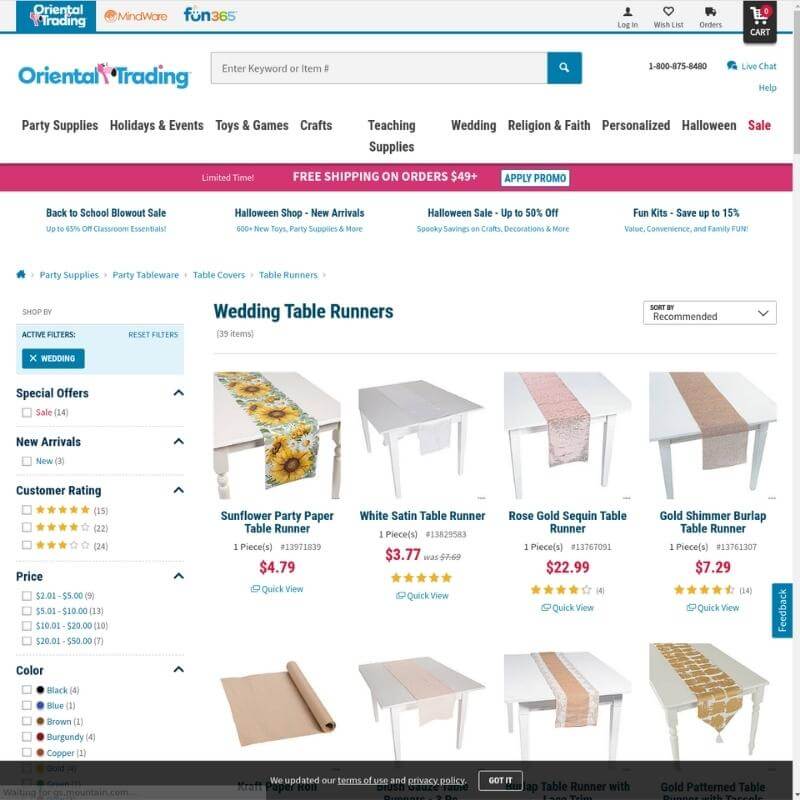 Oriental Trading has one mission – making life more fun, and they also help to make life's moments special. The company started decades before the internet, and the technology only upped its mission. The company has over 60K unique offerings. They tout "outstanding customer service, quick-as-can-be delivery, and a hassle-free exchange and return policy" to make the shopping experience easy.
Highlights:
The website is easy to navigate by choosing categories from the menu on the left or typing into the search bar.
Depending on when you order, the company offers free shipping on orders over $49
You can personalize your wedding runner with anything you'd like – monogram, date of the event, the new surname, or anything else you would like to include
What Oriental Trading Does Best:
Variety! Depending on your theme, you can find some pretty unique wedding table runners like moss or palm fronds.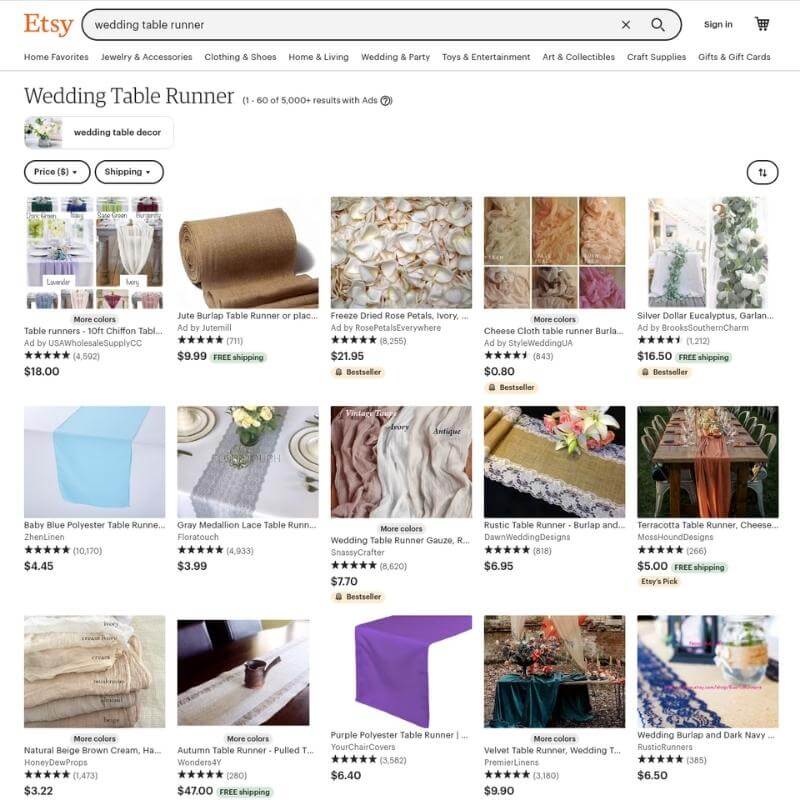 Etsy has become one of the largest marketplaces and specializes in unique and personalized finds. The company is all about keeping the human connection in e-commerce. Browse through the wedding shops, get to know the seller, check out reviews, and find something perfect for your wedding reception on the platform.
Highlights:
Pricing for wedding table runners starts at under $10.
You can tell the seller your wedding date and communicate with them before ordering.
Customization is essential with Etsy, and all shops offer personalization or custom sizes for wedding table runners.
What Etsy Does Best:
Etsy is for everyone, from glam mavens to bio-friendly consumers who want to know the exact composition of products they buy. When you need something custom and personalized, Etsy is for you!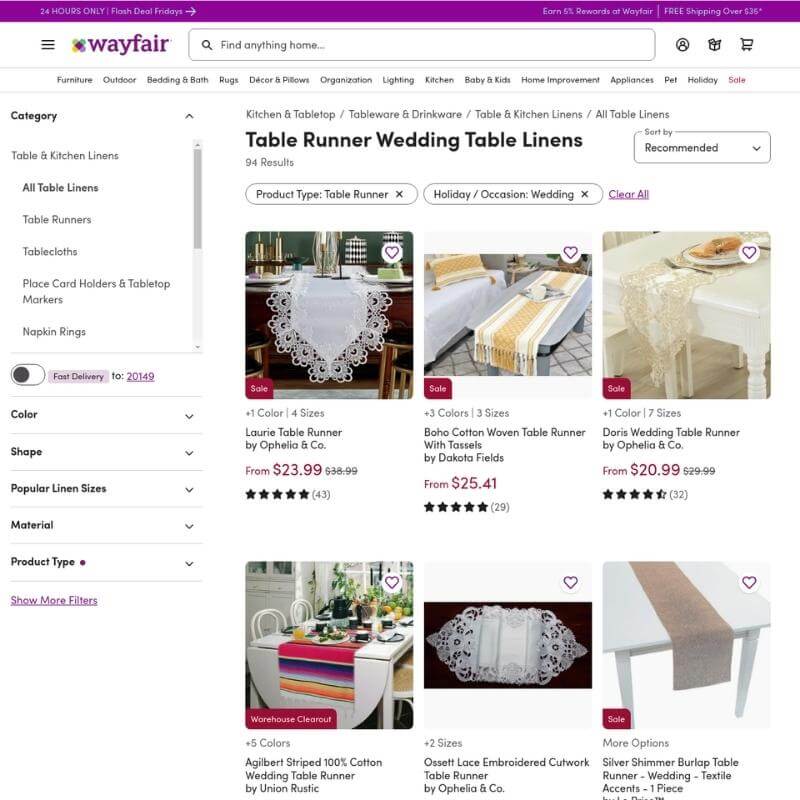 The global brand with eighteen fulfillment and thirty-eight delivery centers to remain stocked for its customers. Wayfair provides the power of choice with a variety of products to meet any style and taste. Known as a home furnishings and décor company, the company also offers wedding table runners to set the scene for your reception tables.
Highlights:
Remember to register for the Wedding Registry when shopping for your wedding table runners. They are the only option on our list with one!
Personalized and culture-inspired table runners are available.
Free shipping when your order hits more than $35
What Wayfair Does Best:
Wayfair has home goods, many of which work perfectly for weddings. Wayfair has simplicity covered when you're not looking for a glam option or anything over the top.
What are wedding table runners?
A wedding table runner is a narrow piece of fabric that is placed down the center of a table. Event planners can use it for decorative purposes or to protect the table's surface from spills and other damage.
Table runners come in various colors, patterns, and materials, so it is easy to find one that fits the theme of your wedding.
What are table runners used for?
While table runners are commonly used for decorative purposes, they can also serve several practical functions. For example, runners can help to protect your table from spills and stains.
They can also be used to create a focal point or add a splash of color to an otherwise bland table setting. In addition, you can use runners to conceal damage or wear and tear on your table.
How long should a table runner be?
A typical wedding table runner is about ten to twelve inches wide and 72 inches long. The size can vary depending on the specific runner and the overall look you are trying to achieve for your wedding reception tables.
For example, if you want a more elegant look, you may opt for a wider runner. Conversely, if you are looking for a more rustic feel, you may choose a narrower runner.
In terms of length, most runners will extend the entire length of the table. However, some couples prefer a shorter runner that only covers the center of the table. Ultimately, it is up to you to decide what size and style of table runner will best suit your needs.
How do you set a table with a runner and placemats?
There are a few things to remember when setting a table with a runner and placemats. First, the runner should be centered on the table, with equal space on either side.
You should space them evenly around the runner if you're using round placemats. If you're using rectangular placemats, they should be placed perpendicular to the runner, with the long sides Parallel to the edges of the table.
Once you've arranged the placemats, you can start adding silverware and dishes.
A wedding table place setting should include a dinner plate, salad plate, bread plate, water glass, wine glass, and coffee cup for a formal table setting. You can omit the salad plate and coffee cup for a more casual table setting.
When it comes to silverware, arrange it so that the forks are on the left side of the plate. Then position knives and spoons on the right. It is best to place glasses above the knives on the right side of the place setting.
Finally, don't forget to add a napkin! It can be folded and placed to the left of the forks or underneath the coffee cup if you're not using one.
Bottom Line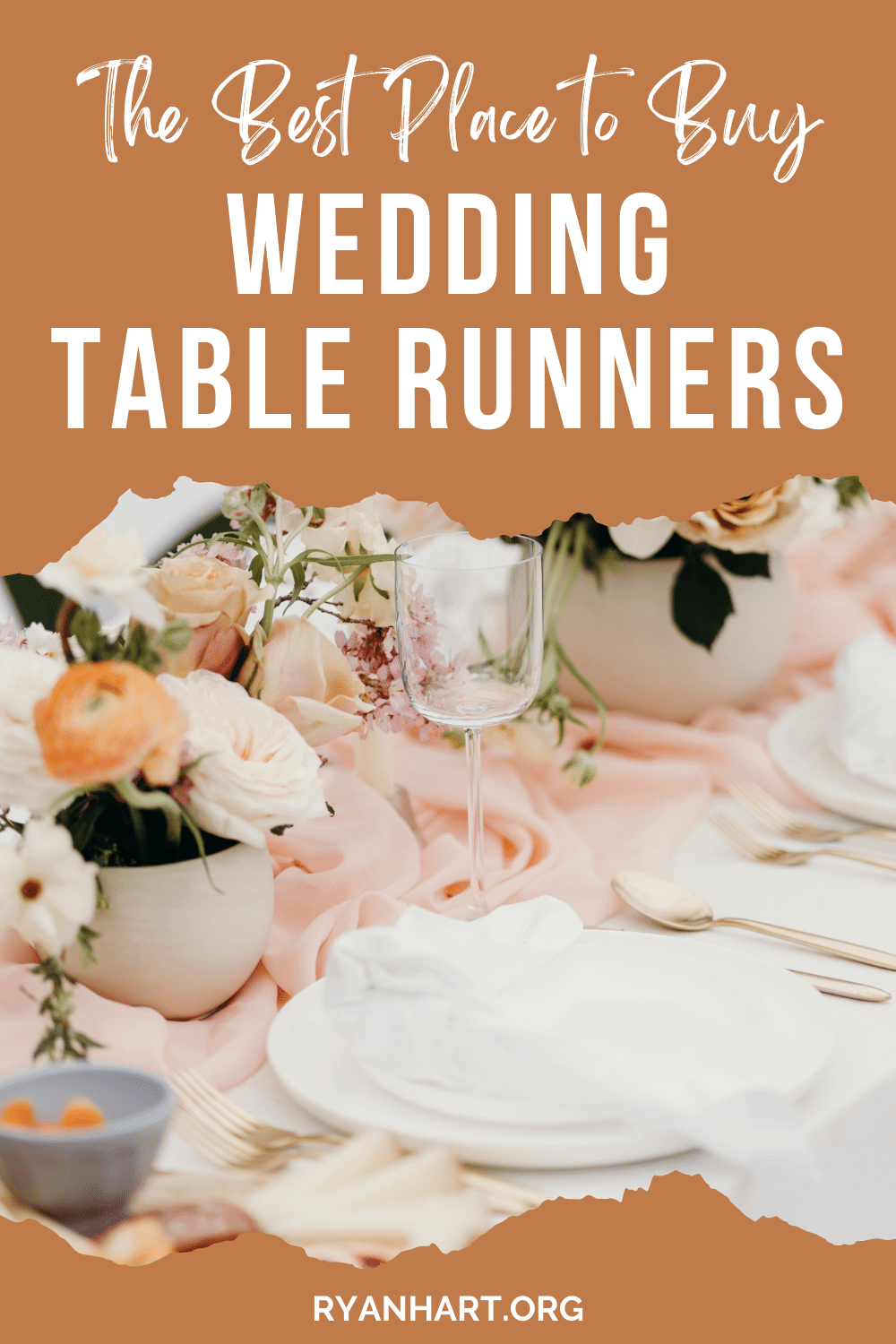 Buying wedding table runners online can save you a lot of money. Especially if you are planning a wedding on a budget, buying wholesale can help you stay within your budget.
Wholesale products are significantly cheaper than what you would find in a retail store, so you can save money by buying bulk. In addition, shopping online gives you access to a much more extensive selection of table runners than you would find in a local linen supply store.
You can find various colors, styles, and fabrics to choose from when you shop online. And if you need a specific size or color that you don't see available in stores, many online retailers offer custom ordering options.
So, if you are looking for a specific style or trying to stay within a tight budget, buying wholesale wedding table runners online is a great option.